Holidays at sea in Novy Afon: beaches, attractions, map and photos
Detailed photo article about sea vacations in Novy Afon resort in Abkhazia in 2022. Sights, beaches, map with GPS coordinates, where to stay, how to find accommodation, excursions, ways to get on your own and other useful information for tourists.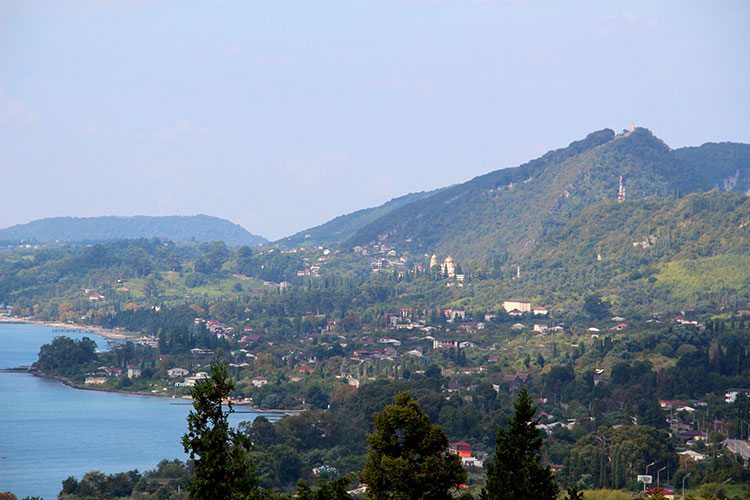 Novy Afon – sea vacations in Abkhazia
Novy Afon is a quiet and cozy Black Sea resort town in Abkhazia. Historically the place is known since the III century, when the town of Anakopia (Trachea) existed here. At the end of XIX century, monks from Greek Athos formed a monastery here. That's how the modern name of the city came – New Athos.
For those who like to combine lying on the beach with interesting excursions in the neighborhood, Novy Afon is a great choice. Definitely there will be something to see. If you come to rest at the sea in New Athos, you can allocate 2-3 hours every day to visit one or two attractions on foot (enough for a week). Beach infrastructure here is underdeveloped, so connoisseurs of rest exclusively on the beach is better to choose Pitsunda, Gagra or other resorts of Abkhazia.
Map of New Athos (Abkhazia)
Novy Afon on the map of Abkhazia:
The map is divided into layers, which you can turn off/on in the settings. After clicking on the label the GPS-coordinates of the selected object will be displayed.
New Athos sights
So, let's list what you can see in New Athos. All attractions are marked on the map in the relevant section of this article.
✔ New Athos cave
Description: New Athos Cave is the most popular tourist attraction not only in New Athos, but throughout Abkhazia. It is a large karst cave with ponds, which you have to travel by subway train.
GPS coordinates: 43.09065, 40.81001
Working time: Summer – daily, 9 a.m. to 7 p.m., seven days a week. Autumn-Spring – Wednesdays, Thursdays, Saturdays and Sundays from 10 a.m. to 6 p.m. The excursion lasts 1.5 hours.
Ticket price: Adults and children over 8 years old – 500 rubles, children under 8 years old are free of charge. 50 rubles for photography.
✔ Anakopia Fortress on Iverskoy mountain
Description: The ruins of medieval fortress Anakopia rise above New Athos on Iverskaya mountain at a height of 344 meters. There is an artificial spring with water on the territory. There is an observation platform on the tower. The ascent to the mountain is quite tedious, it is better to walk along an organized path. When we were there, a grandmother tried to take a shortcut on steep slopes and hurt her leg (by the way, do not forget to buy insurance before going to Abkhazia). The ascent takes about an hour. In the hot season is better to go in the morning or in the evening.
GPS coordinates: 43.09459, 40.80807
Ticket price: Entrance – 150 RUR. Parking – 100 RUR.
✔ Stalin dacha.
Description: There are only a few rooms in the house. There was a feeling that in the bedroom even someone sleeps there. Of all Stalin's villas in Abkhazia, allowed for the inspection of tourists, only this one we have not received a tour. I liked it the least of all.
GPS coordinates: 43.08872, 40.82626.
Ticket price: 100 rubles, access by car – 50 rubles/person.
New Athos Monastery.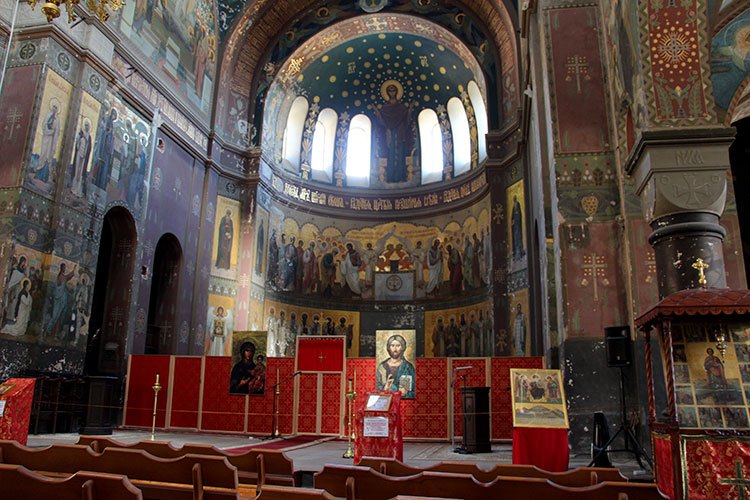 ✔ Church of Simon the Zealot
Artificial waterfall of Novoafon
✔ Psyrtskha station
✔ The Grottoes of Simon the Zealot
✔ Seaside Park
✔ Museum of Military Glory
✔ Waterfall in the Armenian Gorge (near Iversky mountain)
✔ Three pits
If you come to New Athos from other resorts of Abkhazia by public transport for one day, then you can take the following route for sightseeing: Seaside Park – New Athos Monastery – Simon Kananita Temple – artificial waterfall – Psyrtskha station – caves of Simon Kananita – New Athos Cave.

If have arrived on the car, it is possible to take before it "Three Cauldrons", a fortress Anakopia on Iversky mountain and Stalin's summer residence (from which you can without problems reach New Athos monastery directly, avoiding extortions of local businessmen and foot climbing in mountain, having saved forces, time and money).
Excursions to New Athos
From other resorts of Abkhazia
✔ Group . Excursions are sold everywhere in the resort area. Cost for adults and children – 400 rubles + ticket to New Athos cave 500 rubles (optional).
✔ Individual, i.e. with personal guide by car. The cost of such tour will be around 3500 rubles for a group of tourists (1-3 people) or 900 rubles per person (if the group is more than 3 people). Click here to see the description.
From Sochi (Adler).
✔ Group . You can go to New Athos from Sochi (Adler) for one day group tour. Prices and programs ask in tour.kiosks.
Individual. Cost – from 2400 rubles per person depending on the program and the number of people (example here).
Excursions to Abkhazia from New Athos
✔ Group excursions. Public excursions are sold in places of mass accumulation of tourists.
✔ Individual . Excursions with personal guide in his private car (usually SUV). It is convenient if you have a company/family 3-4 people. Can be ordered on specialized sites or by recommendation of friends. Examples are presented below.
Where to stay
Neighborhoods for accommodation can be divided into three zones: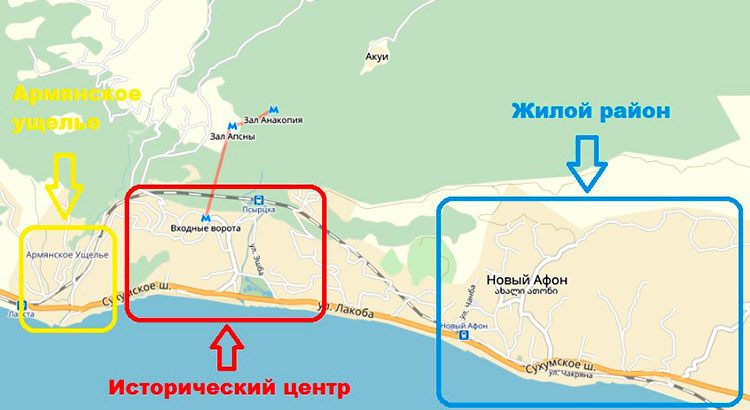 Neighborhoods of housing in New Athos on the map
✔ Residential area, where the main (most populated) part of the city is located – to the east of the historical part of New Athos. There are cafes, market, stores, railway station. Lodging is represented by numerous pensions, hotels and guest houses of various levels in the private sector. The area is shown in blue on the map at the beginning of this article.
The best deals on hotels and guest houses in the residential area:
– 9.2 out of 10 rating. Modern clean guest house. The rooms have a private bathroom, free internet (weak), air conditioning, TV, fridge, hairdryer, kettle. The sea is a 2-minute walk away. On the territory of their own restaurant. – Rating 8.5 out of 10. A new guest house. The rooms have free internet, air conditioning, TV, kettle. Private bathroom with hot water. The sea is across the street.
✔ Historical part of town, where the main attractions of New Athos. Lodging is represented by hotels and small private sector. Guest houses are mostly located on the hill, so it would not be pleasant for everyone to come back from the beach every day. There are cafes and restaurants around. The area is marked in red on the map at the beginning of this article.
The best offers for accommodation in the historical part:
– rating 8,9 out of 10. A new guest house with friendly hosts. Rooms have free internet, air conditioning, TV, kettle. Walking distance to attractions of New Athos. – Rating 8.8 out of 10. New hotel with spacious clean rooms, nice service. Located near the sea. Rooms have free internet, air conditioning, TV, hair dryer. Free private parking on site.
The Armenian Gorge (region of Topchana Street) is to the west of the historical part. It is a small private sector. The area is marked in yellow on the map of New Athos at the beginning of the article.
Best offers for housing in the Armenian Gorge:
– rating 9.3 out of 10. Guest house on the beach with responsive hosts. The rooms are clean, there is a kettle and air conditioning. Shared bathroom with hot water, toilet and kitchen. In the courtyard – dining area, barbecue and private parking. There is a cafe and a store nearby.
How to find accommodation
Accommodation in New Athos, as well as in other places in Abkhazia, can be found in the following ways:
Search on the spot .
Search in advance through contacts with friends.
Search through communities in social networks .
Search and guaranteed booking through specialized sites: booking.com/novyj-afon (hotels and guest houses), Daily (guest houses and private sector).
As part of the tour – you can see and book options on the websites Level.Travel, Travellata or Onlinetours.
The Sea and the Beaches of New Athos
Novy Afon resort is washed by the Black Sea. If it does not storm, the sea in New Athos is clear and clean. In the morning you can see dolphins.
The beaches are pebble. It is not pleasant to walk into the water and sunbathe on a pebble, so it is recommended to have special rubber shoes and flat mats – lounge mats.
In general all the beaches of Novy Afon are relatively clean and not overcrowded with tourists. But the infrastructure is underdeveloped. Changing rooms and showers are available in some places, but their condition leaves much to be desired. Benches and umbrellas can be found near large hotels (boarding houses). In the season on the shore in some places there are cafes.
The beaches to the east of the historic district (from Sukhum side) are the most popular, as they are situated in residential area of the town. The whole coastline is divided by breakwaters. The beaches are pebbly.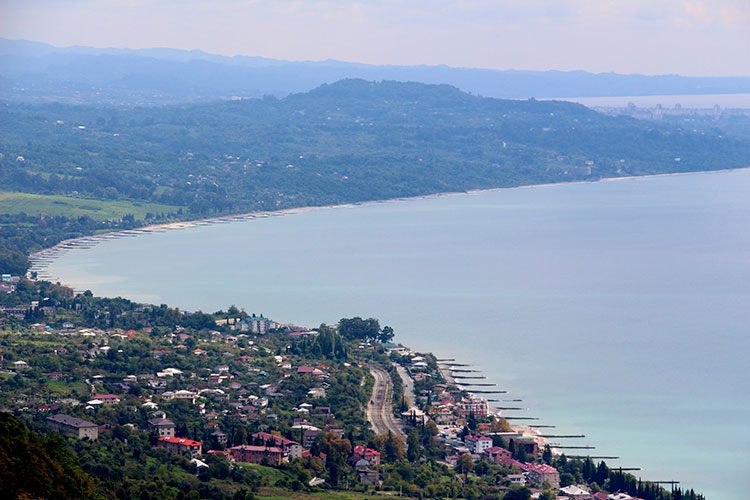 Beaches with breakwaters to the east of the historic district
✔ Beaches in the historic district . The beaches in the historic district are pebbly with little infrastructure in the form of changing rooms and showers. Parking for cars is paid and requires 150 rubles.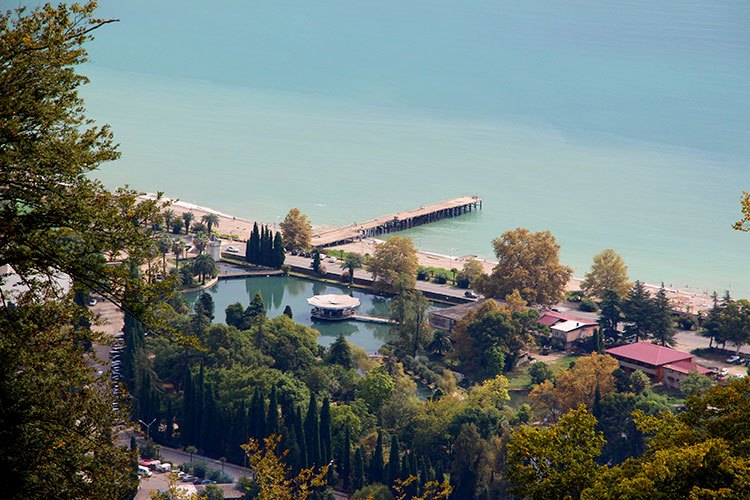 View of the beach in historic district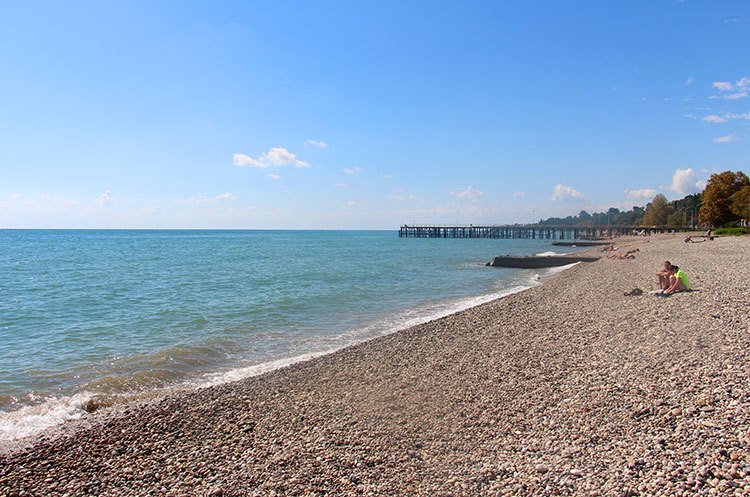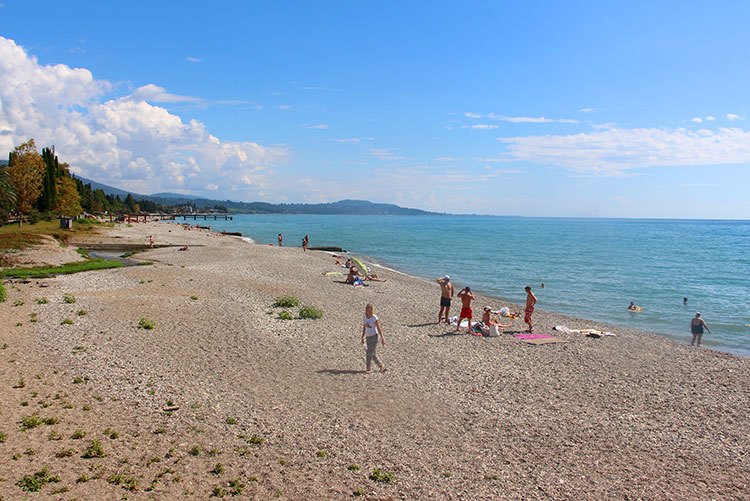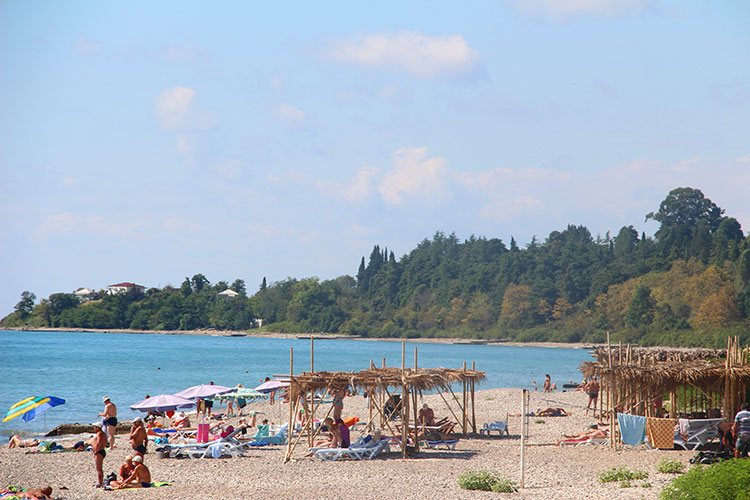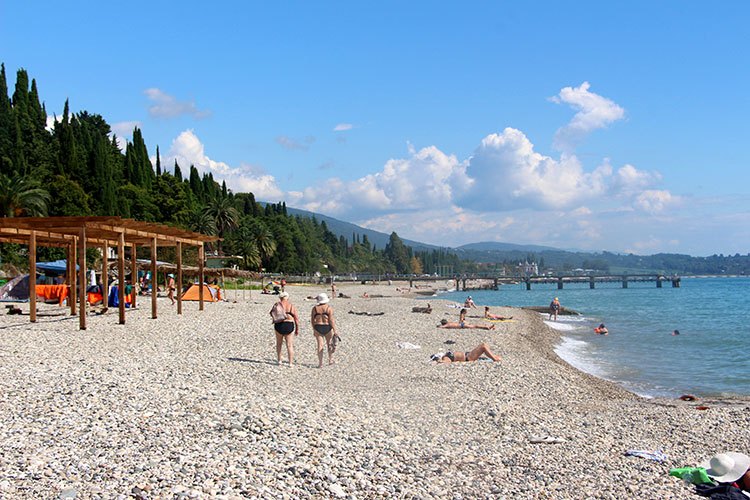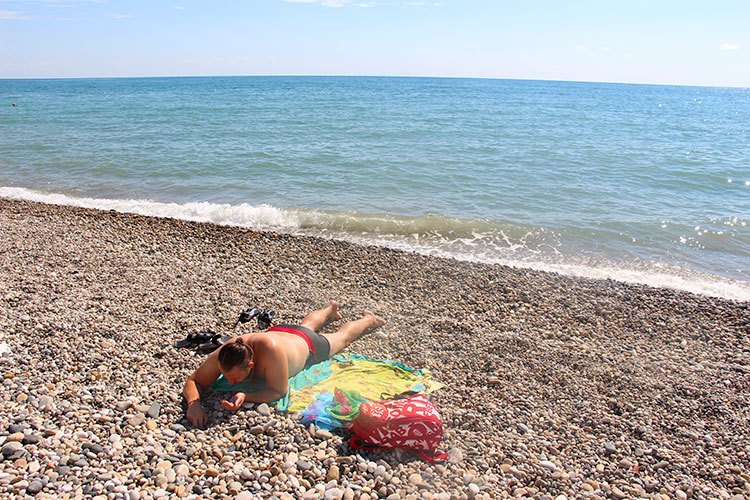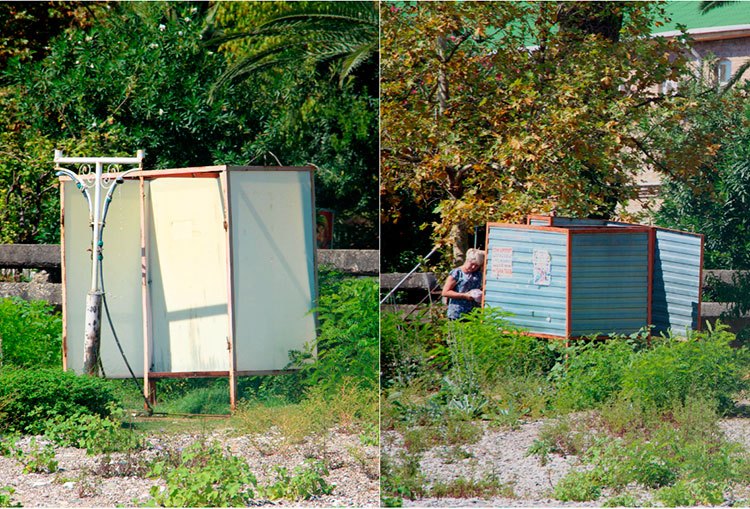 Rolling locker rooms and showers.
Beaches to the west of the historical district (Gagra and Gudauta sides). Here you can find sandy and pebble beaches of New Athos: there are pebbles by the water edge and sand in the sea.
How to get to Novy Afon
There are several ways to get to Novy Afon from other regions of Abkhazia:
By private car . The main asphalt highway leads from Sukhum, Gagra, Gudauta and other resorts to New Athos.
By public transport. Shuttles regularly go from the border Psou (≈150 rubles), Gagra (≈120 rubles), Sukhum (≈50 rubles) and other resorts of Abkhazia.
By cab . For example, a taxi ride from Gagra to New Athos will cost 1200-1300 rubles.
⚠ How to get to Abkhazia from Russia and Belarus is described in detail in the article by the link.
Authors of the article in New Athos
If you are going to Abkhazia to holiday by the sea in New Athos in 2022, but did not find the information you are interested in this article – ask questions in the comments, we will try to find an answer together.