Notting Hill
One of London's most upscale and respectable neighborhoods is located in the northern borough of Kensington. Notting Hill is known to Londoners and visitors for the film of the same name that has won over millions of viewers around the world.
It's hard to imagine, but just 50 years ago the Notting Hill area resembled a slum where robberies regularly occurred and racial discrimination was widespread. But that all changed when the neighborhood's streets became the set of a famous romantic comedy. Since then, Notting Hill has become popular in London, local property prices have risen, and more and more celebrities and rich people have come here.
Historical background
The history of Notting Hill began in the 19th century when the famous Ladbroke family decided to develop a vacant part of London as a luxury district. At the beginning of the 20th century most of it was developed and Notting Hill acquired the appearance of a rather quiet, largely middle-class residential area. But after World War II the situation changed as immigrants began to come here en masse. Housing costs began to plummet, the neighborhood was built up with slums, and ethnic strife worsened by the day.
But as England's authorities have been actively beautifying Notting Hill over the past few decades, its colorful houses and manicured streets make it hard to imagine such a dark period in history. Today, it's recognized as one of London's most expensive neighborhoods. Its neighborhoods are adorned with old buildings and mansions, and local artists, famous actors, directors, writers, and artists have replaced immigrants here.
To commemorate the interethnic conflict, Notting Hill hosts an annual carnival. On these days, people from different countries of Great Britain and tourists from all over the world come here.
Description and photos of the area
Notting Hill is located in the counties of Kensington and Chelsea. It shares borders with such London boroughs as Westbourne Green, Kensington, Shepherds Bush, Westminster, Hammersmith, Fulham and Bayswater.
One of Notting Hill's most popular streets is Quinsway, often called "Little Lebanon" by locals. It is known for expensive housing and a huge number of upscale establishments where you can sample Middle Eastern cuisine.
Another landmark located near Notting Hill is Hyde Park. It's a spacious, picturesque oasis where you can stroll the shady alleys, take a boat ride, speak at Speakers Corner, or play table tennis.
If you're a first-time visitor to London, then you certainly can't do without a Russian-speaking guide. You can book a sightseeing tour of the British capital on the Sputnik portal, where you can find a large selection of tourist routes.
Interesting facts
Some periods of Notting Hill's history are mentioned in the story "Napoleon of Nottinghill" by G. K. Chesterton.
Fans of the movie of the same name can easily find "the very house" in which the main character lived. It's on the left-hand side of Portobello Road and Wathborne Park Road. But be prepared that the exterior of the building has changed somewhat. The blue door, beloved by viewers, was sold at auction, and a plain black door is now placed in its place.
As you stroll through the cozy streets of Notting Hill, take note of the walls. Some of them are painted with quite interesting graffiti.
Be prepared for famous actors or musicians to be found on one of Notting Hill's streets. Many celebrities live in this cozy neighborhood. They include designer Stella McCartney, Robbie Williams, model Claudia Schiffer, composer Elton John and Blur frontman David Albarn.
What to see in Notting Hill
Portobello Market. It's a paradise for lovers of unique vintage pieces. Portobello Market is a large antique market located on Portobello Road. To find interesting paraphernalia here come not only residents from different parts of London, but also celebrities. For example, supermodel Kate Moss has been spotted here several times. And also the market is often visited by designers in search of inspiration for new collections. At Portobello Market you'll find books, jewelry, furnishings, and closet items. And between shopping you can listen to street musicians, drink coffee or mulled wine. By the way, the market is open at any time of year.
Bookshop. Another place where episodes of the comedy "Notting Hill" were filmed. Today, anyone can visit the store where Hugh Grant worked. It is located at 142 Portobello Road.
Brompton Oratory. The Brompton Oratory Catholic Church, erected here in 1884, is considered one of the area's main attractions. It is known for being London's largest church and the second largest church after Westminster Cathedral.
The Tabernacle. The entertainment and cultural center of the area where you can eat in restaurants, visit the gallery, go to a show in the theater and take part in various workshops.
Electric Cinema. The building is notable because it was built specifically for the film exhibit in 1910. Today it shows Hollywood film premieres and lesser-known films by British directors.
Coronet Cinema. Another interesting building located at 103 Notting Hill Gate.
Thanks to the colorful houses, many Notting Hill neighborhoods have become full-fledged landmarks. Quarters of former stables are especially popular with visitors, resembling ready-made movie sets.
Notting Hill Carnival
If you decide to visit this famous London neighborhood, then it is recommended to go here in August. This is the month when the carnival known throughout Europe is held here. It's a street procession that attracts around two million spectators every year. The colorful event lasts for two days, Saturday through Monday. The first day is full of family entertainment. The second day is reserved for samba dancers who parade through the streets in colorful masked costumes.
This tradition began in 1959 when the carnival was first held as a reconciliation of the different nationalities living in Notting Hill. Since then, the authorities of London have worked hard to smooth out interracial conflicts.
Today, most of the carnival participants belong to the British Afro-Caribbean community. They are residents of the islands of Trinidad and Tobago, who have lived in the surrounding areas since 1950. Despite the fact that such an epathetic spectacle was repeatedly tried to disperse, still the tradition has survived to this day. View the carnival schedule and program on the official website.
Notting Hill's facilities and lodging
The cost of real estate and rental housing in the area is high. For example, the average price to rent a two-bedroom apartment here will cost £2,000 per month. So Notting Hill is hard to call an area where tourists should stay.
As for institutions, where you can eat tasty and inexpensive, we recommend to pay attention to two restaurants. Electric Diner serves traditional English breakfasts and classic European dishes. You can also check out The Ledbury. It's notable for its hearty portions and reasonable prices.
How to get there
The best way to get to Notting Hill on your own is by subway. Get off at the station with the same name and take a short walk. In addition, you can get here by buses №27, №28, №31, №52, №70, №94, №328 and №452. This option is best if you're coming from Chelsea, Kensington or Knightsbridge.
To get your bearings faster, we recommend seeing the location of Notting Hill on a map.
Notting Hill – for early risers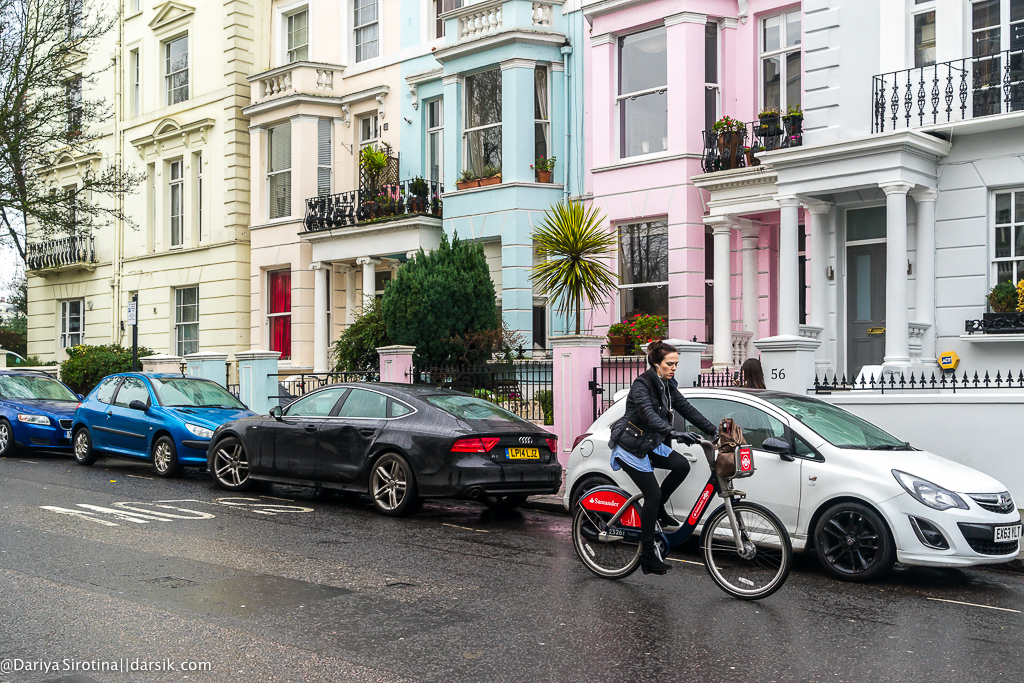 Made famous in the Hugh Grant/Julia Roberts movie of the same name, Notting Hill is a neighborhood that has become beloved by thousands of visitors thanks largely to its cinematic qualities. And if before the release of the film about the love story between a guidebook salesman and a movie star, this lovely part of London was only appreciated by locals, now every Saturday crowds of tourists flock here, wanting to find the very store, the very door, and at the same time to price the variety of things of different necessities in the Portobello Road market, the most famous in London. I got up early and got ahead of the tourist crowd.
Wild at heart is as much about London as it is about Notting Hill. The neighborhood strikes a fine balance of respectability (wikipedia insists that a lot of stars have apartments here), swagger (the August carnival is considered almost the largest in the world after the one in Rio), democracy (the market, whose main day is Saturday, offers to buy everything from Victorian dishes to a broom).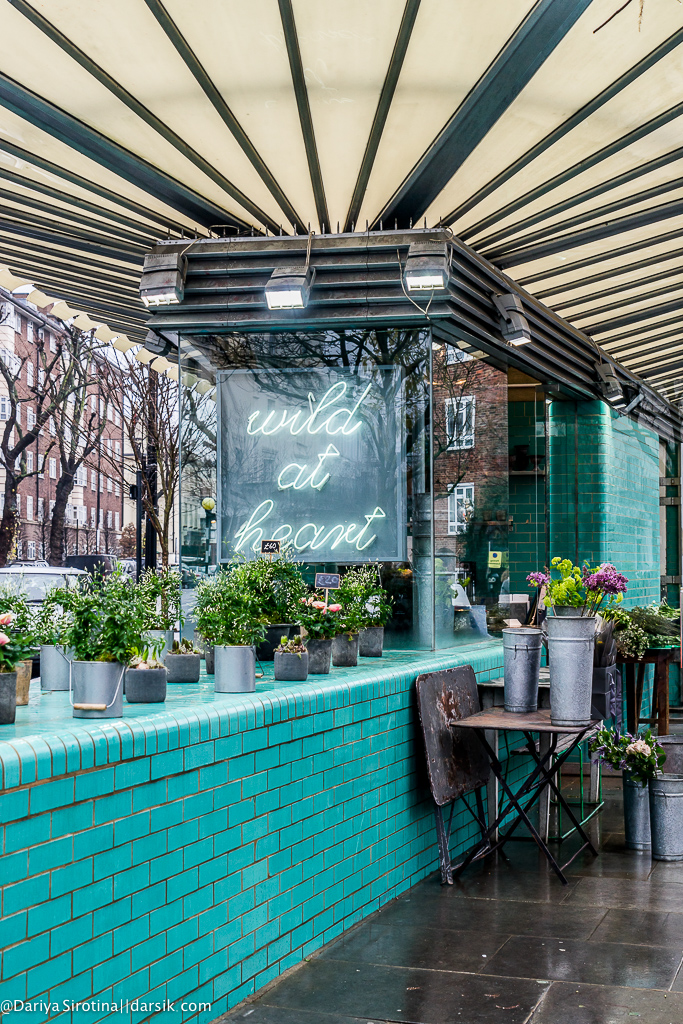 2. Notting Hill won't forgive you for being up late. On one of my previous visits to the city, I decided to dedicate Saturday to the legendary Portobello Market, but first stop by Jamie Oliver's for avocado bruschetta and a glass of juice. It was about 11 o'clock when I saw a huge crowd of people with cameras on their backs heading toward the market. I got scared and turned back.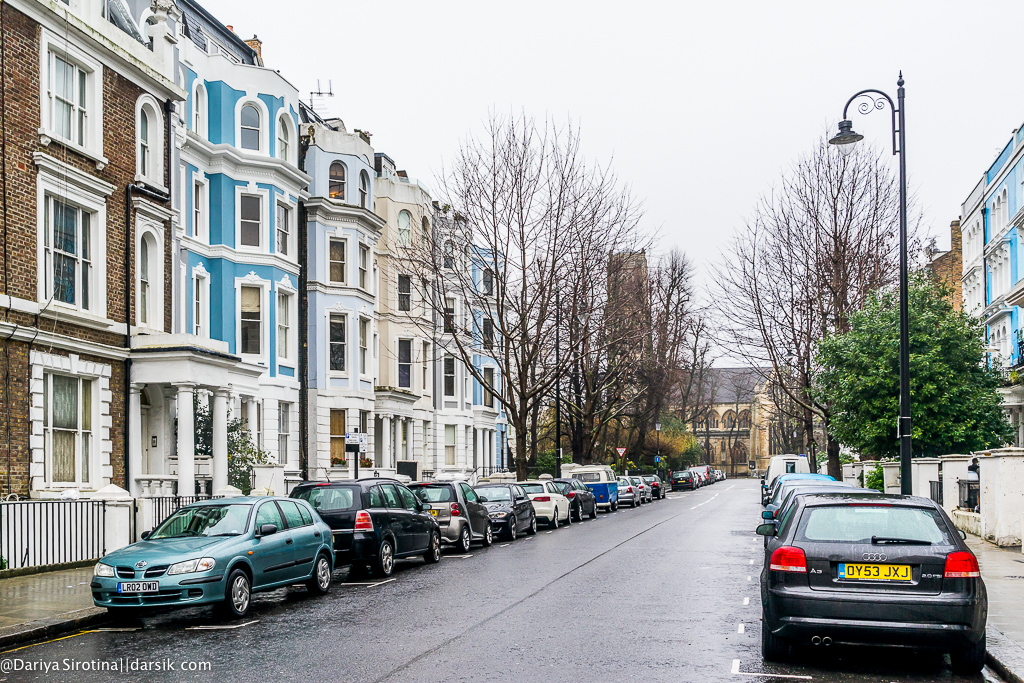 3. This time I got up early and was at the market at 9:15. It was the right decision!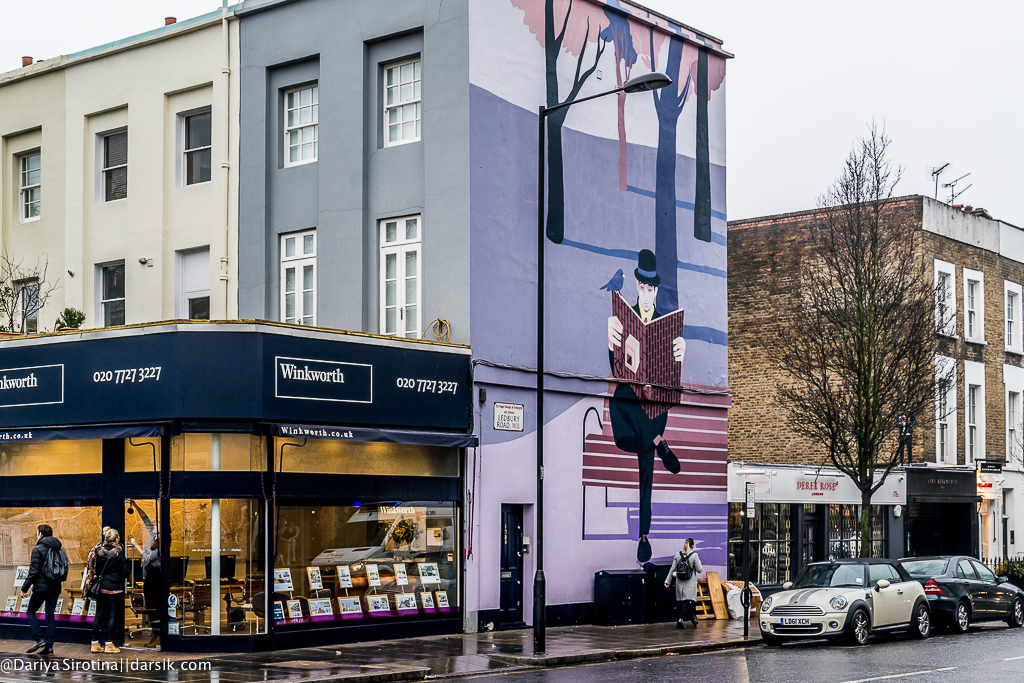 4. Notting Hill is known for the facades of its houses painted in different colors. The options range from rich hues to pastel colors.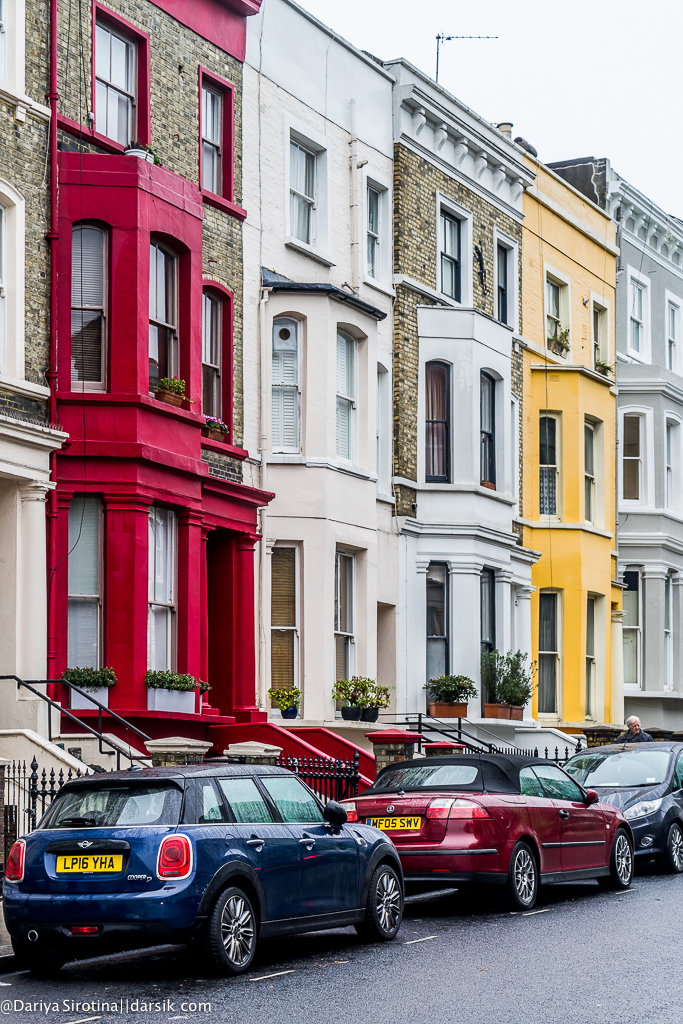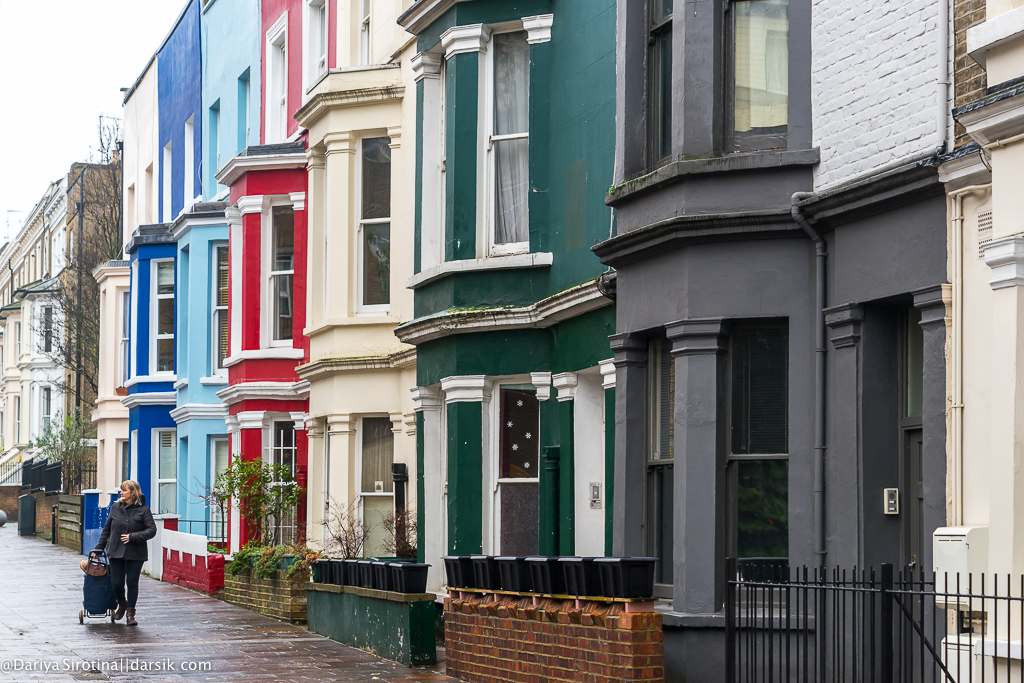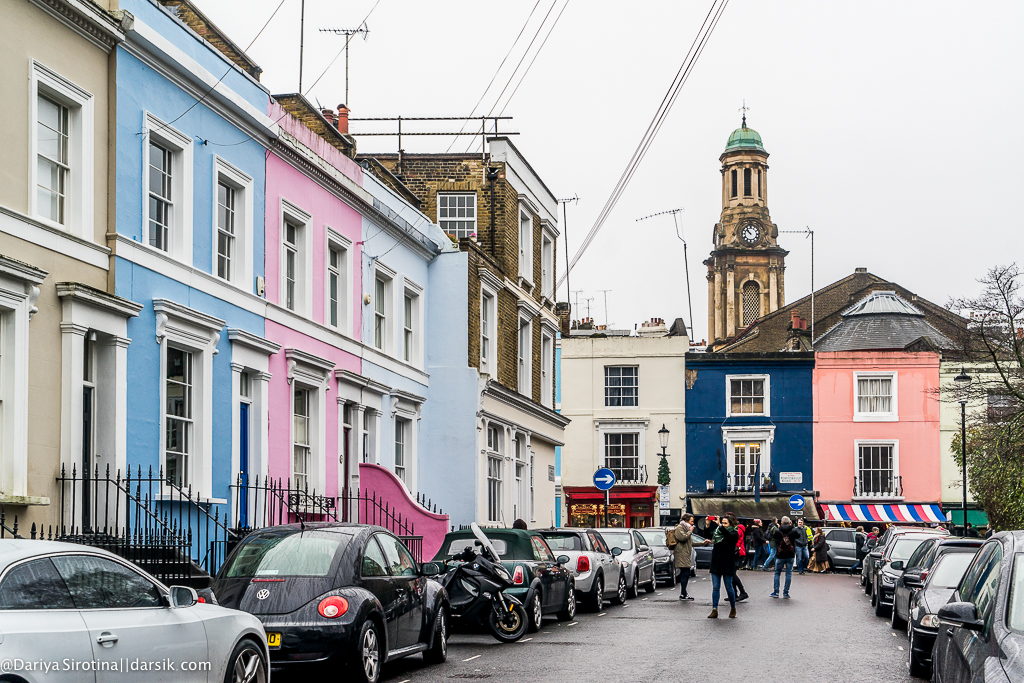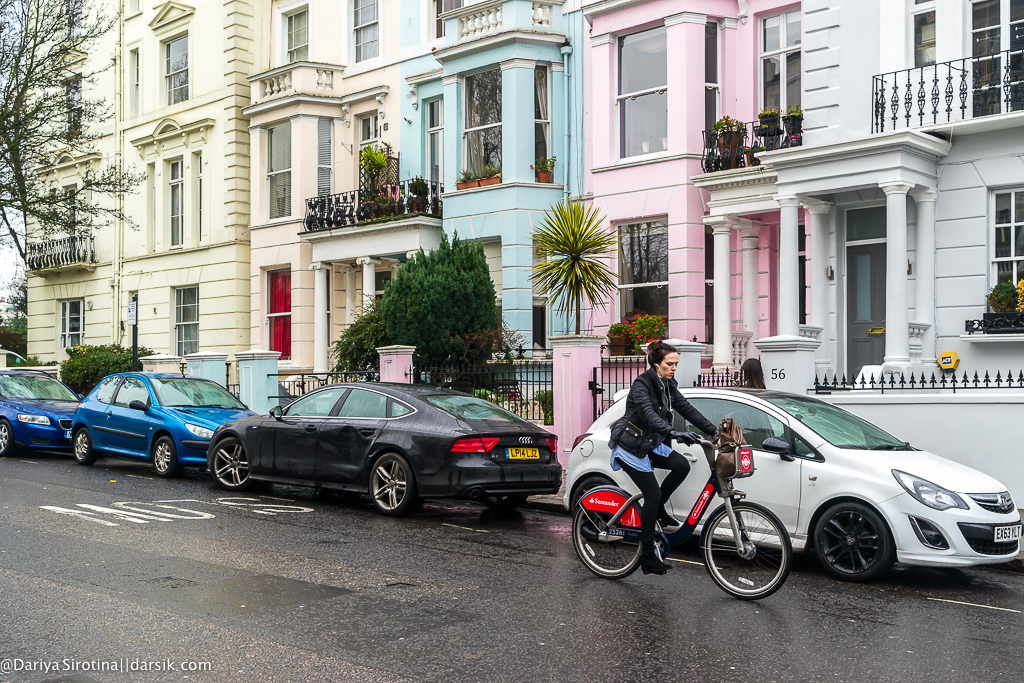 8. It's January, yes. In London. With palm trees.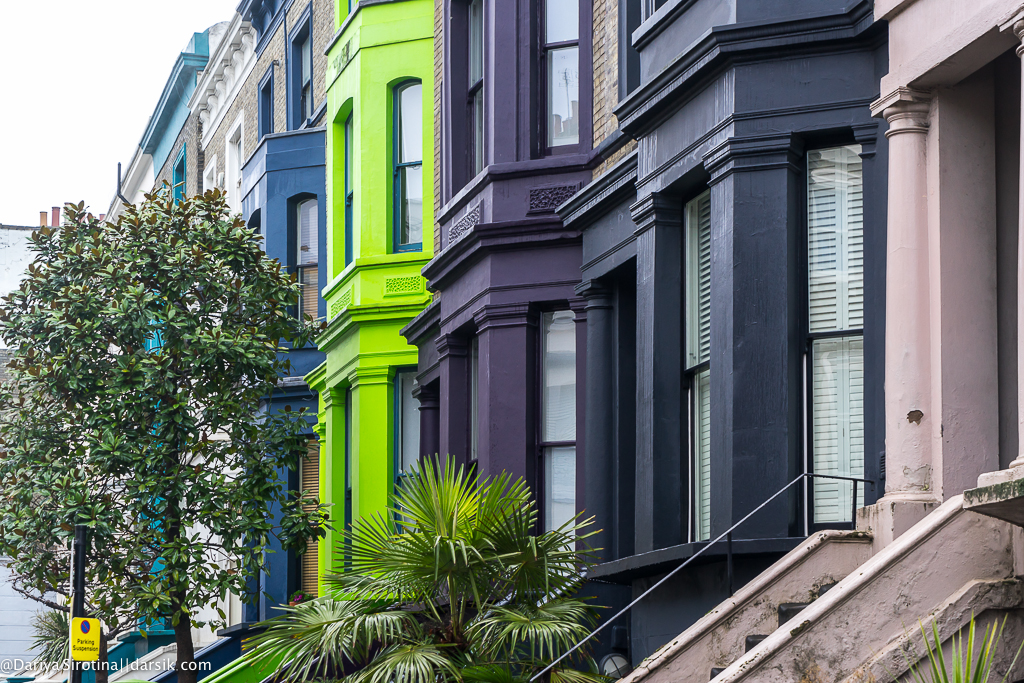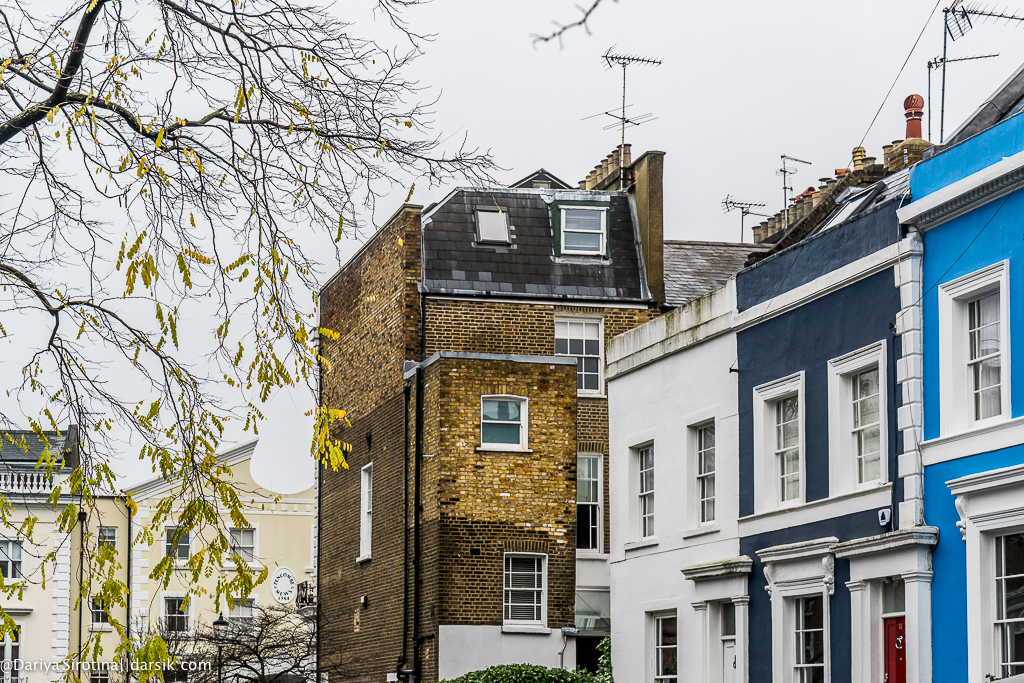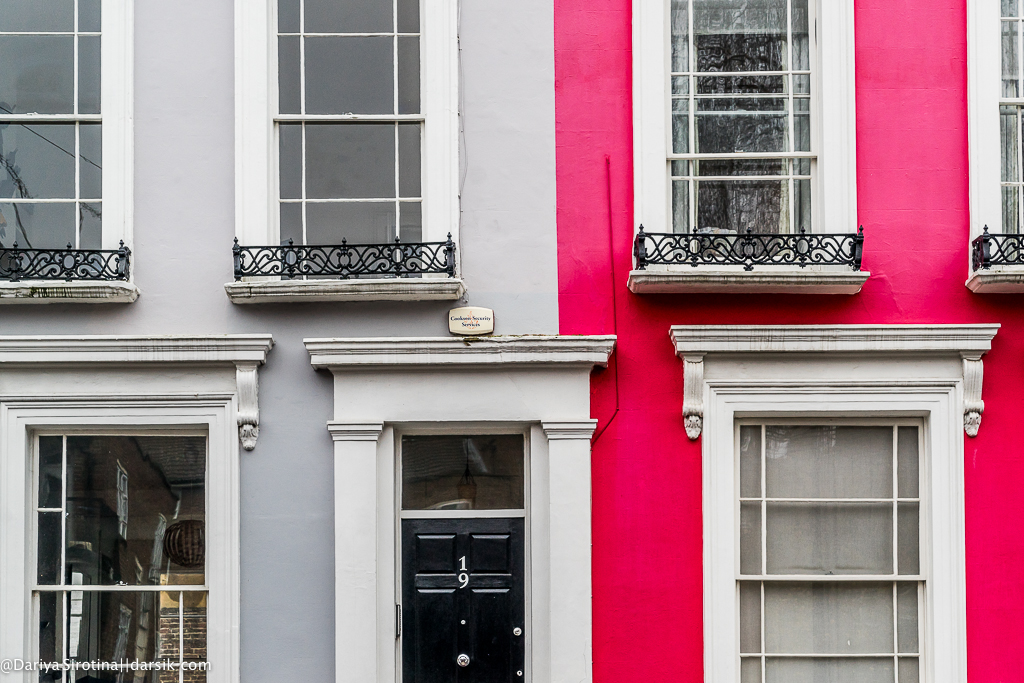 11. That same blue door from the movie, by the way, has long been repainted in black, to make it harder to find.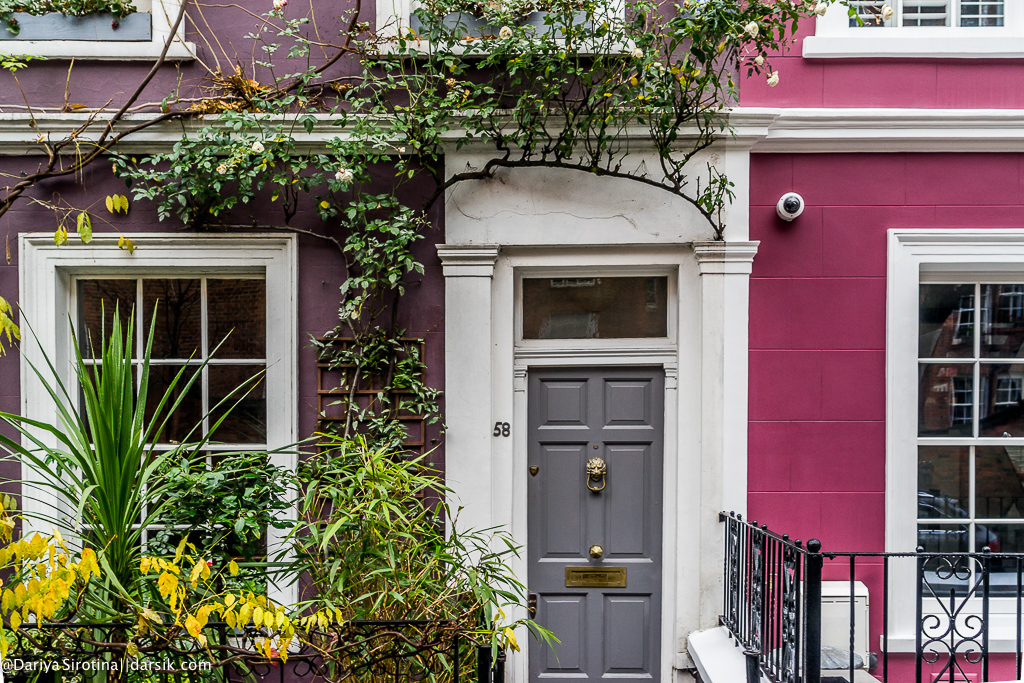 12. are there any connoisseurs here who can tell me why the houses here are the way they are now? I couldn't find any information on at what point the houses here decided to be painted and how the color was chosen.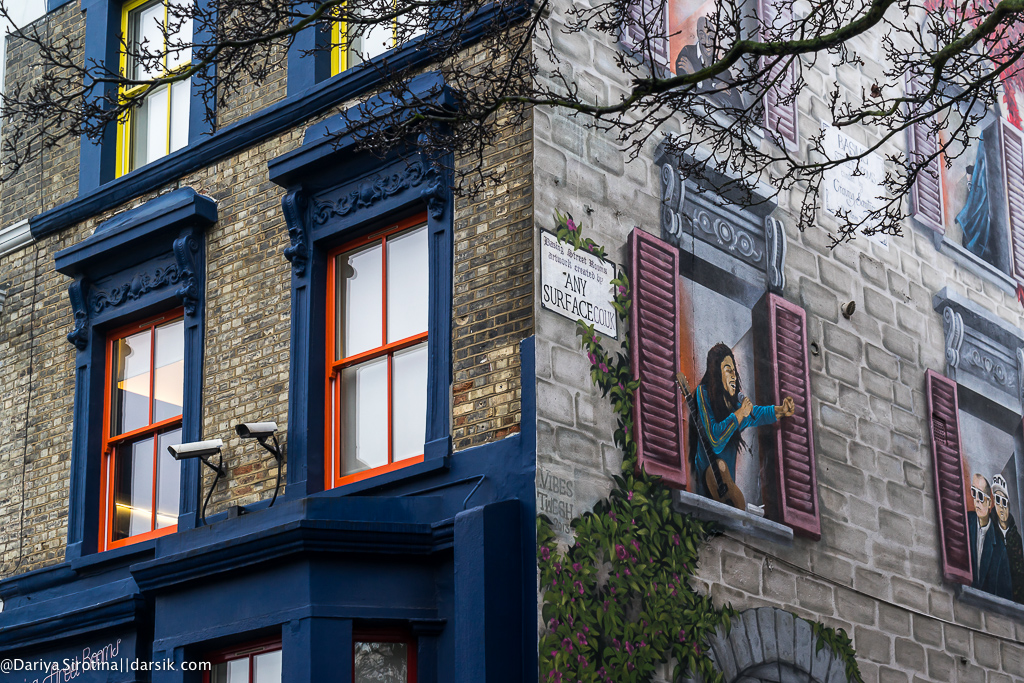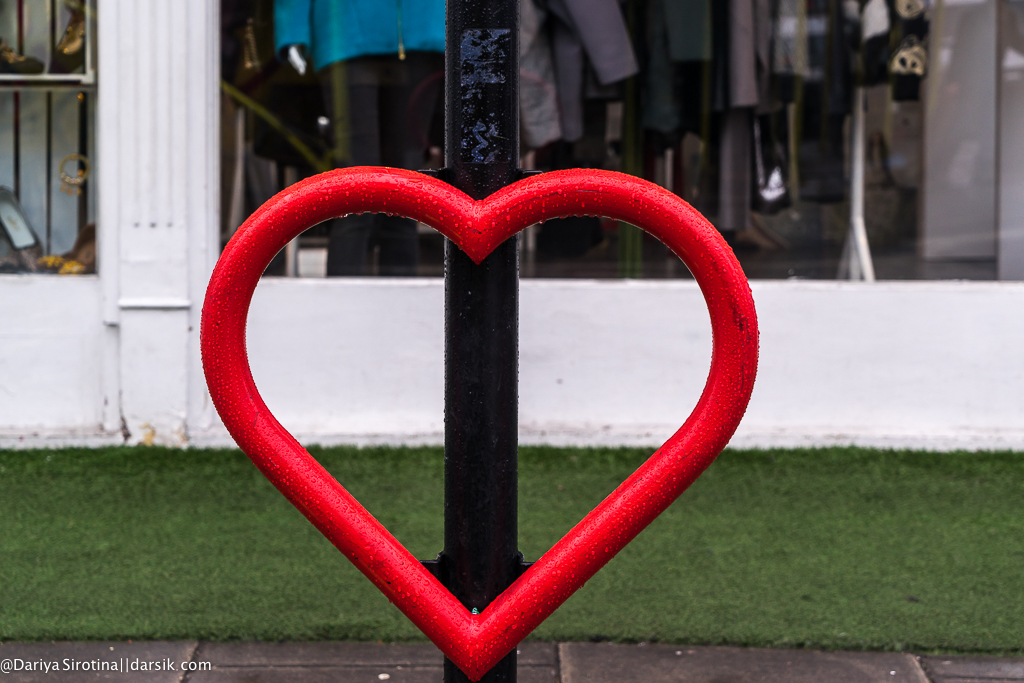 14. A beautiful contrast to the colorful houses is the traditional brick architecture. A bright suit with a modest lining – could this be about Notting Hill?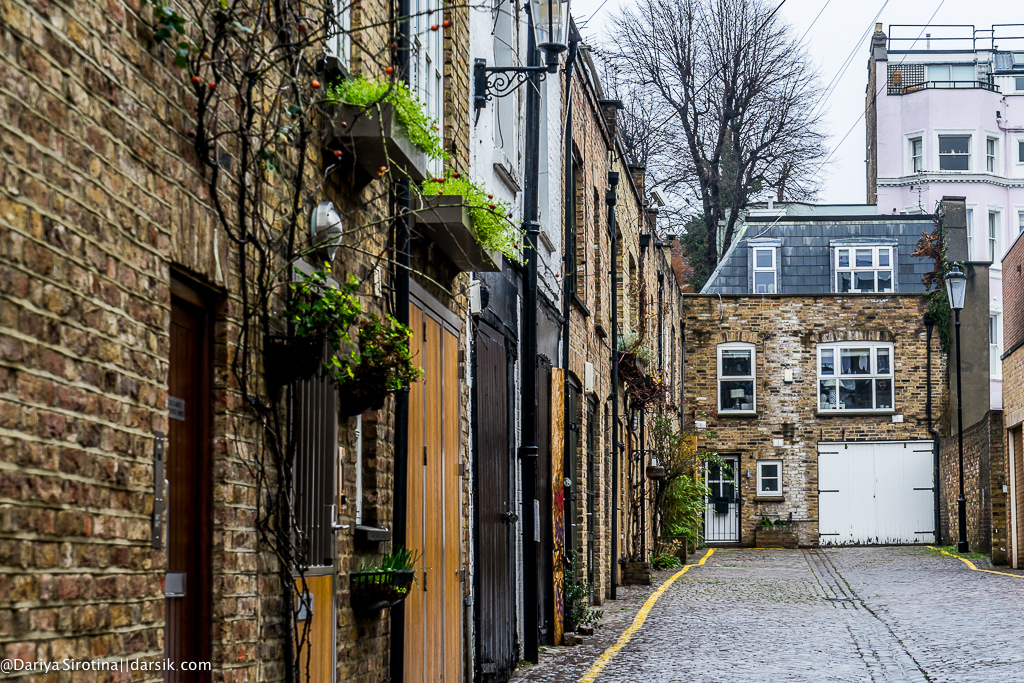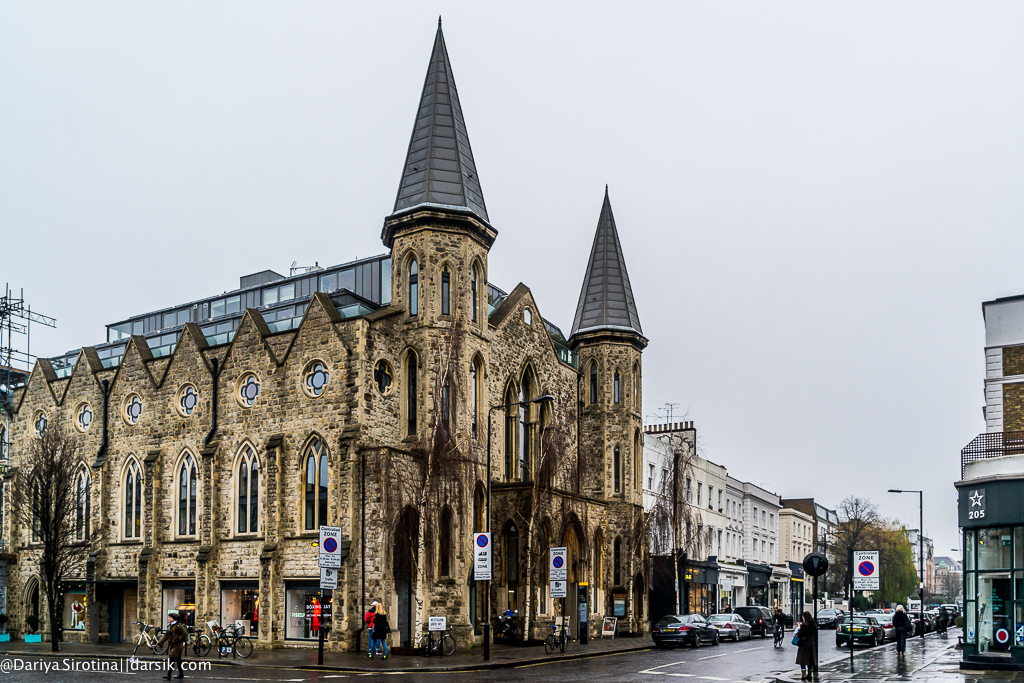 16. Saturday is the main market day. The bulk of the market is on Portobello Street, but you won't be lazy and turn down side streets to find more than one other busy stand.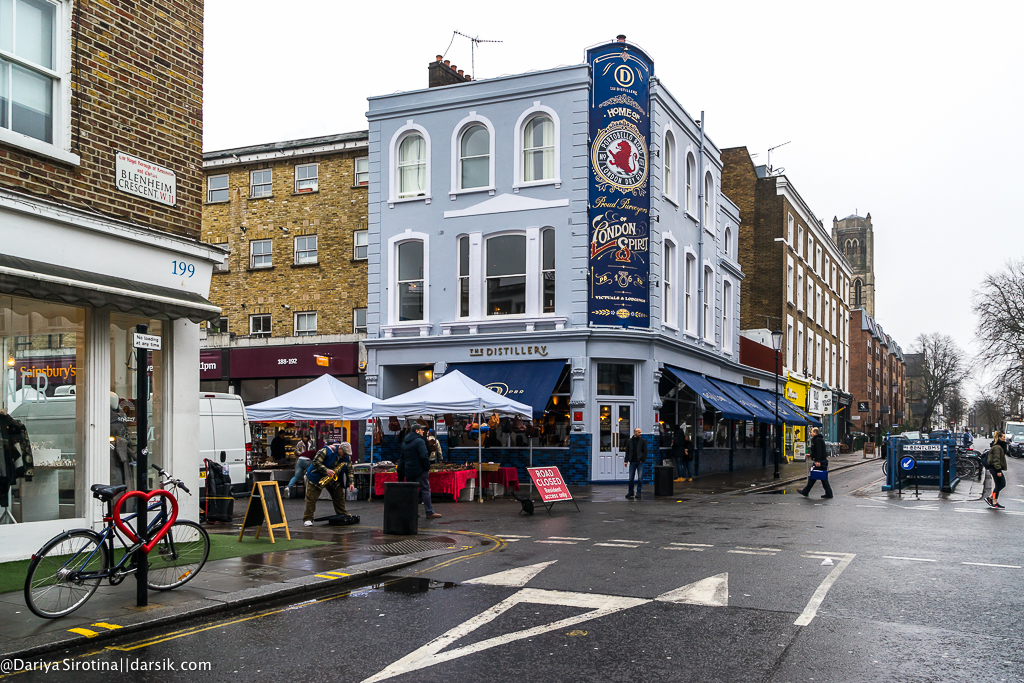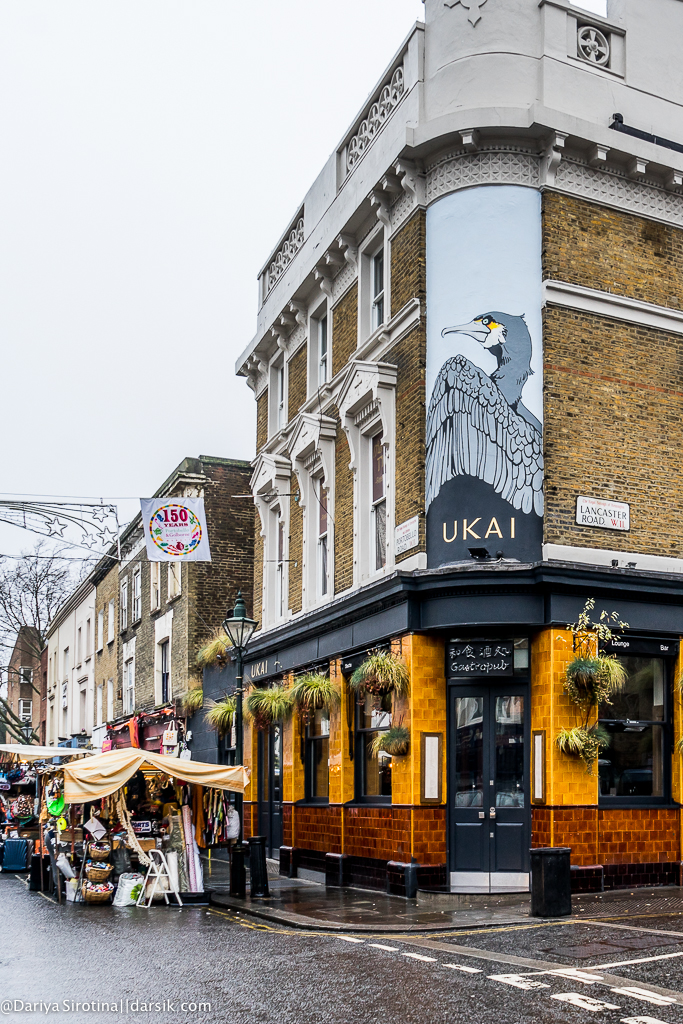 18. This is what the market looks like in the late morning – see how many people are there? Saturday is the main day to sell antiques in Portobello, and it seems to be the largest antique market in the UK. The stands are located on the first floors of the houses-if you look to the right side of the picture, you'll see signs to that effect. The antique dealers are apparently so fed up with people with cameras buying nothing that there is a sign in every window offering you to pay £1 for the opportunity to take pictures. Like, we're glad you like my stuff, but you have to pay, please.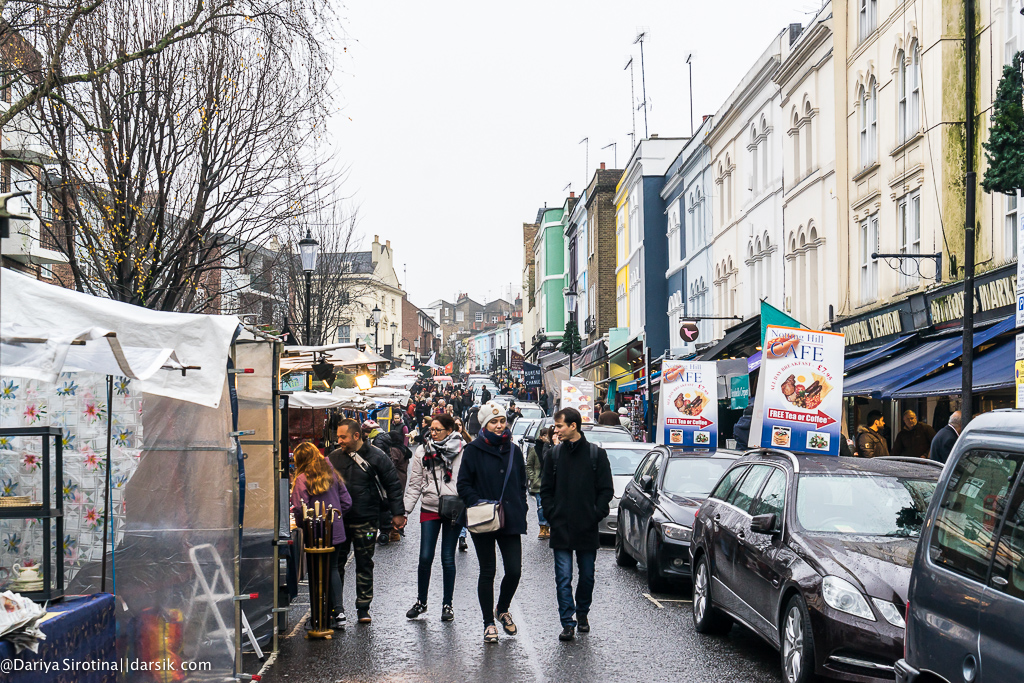 19. In Notting Hill, they sell not only antiques, but also food, flowers, clothes, souvenirs… In the background is one of the most famous cinemas in London, Electric Cinema, about which don't be lazy to read this insider's piece.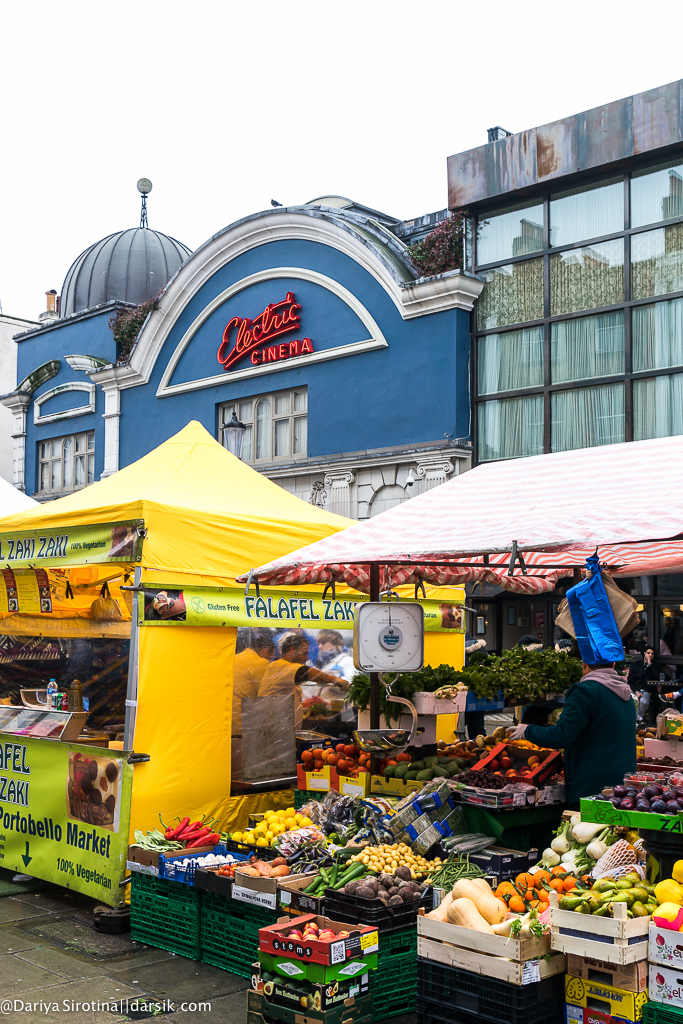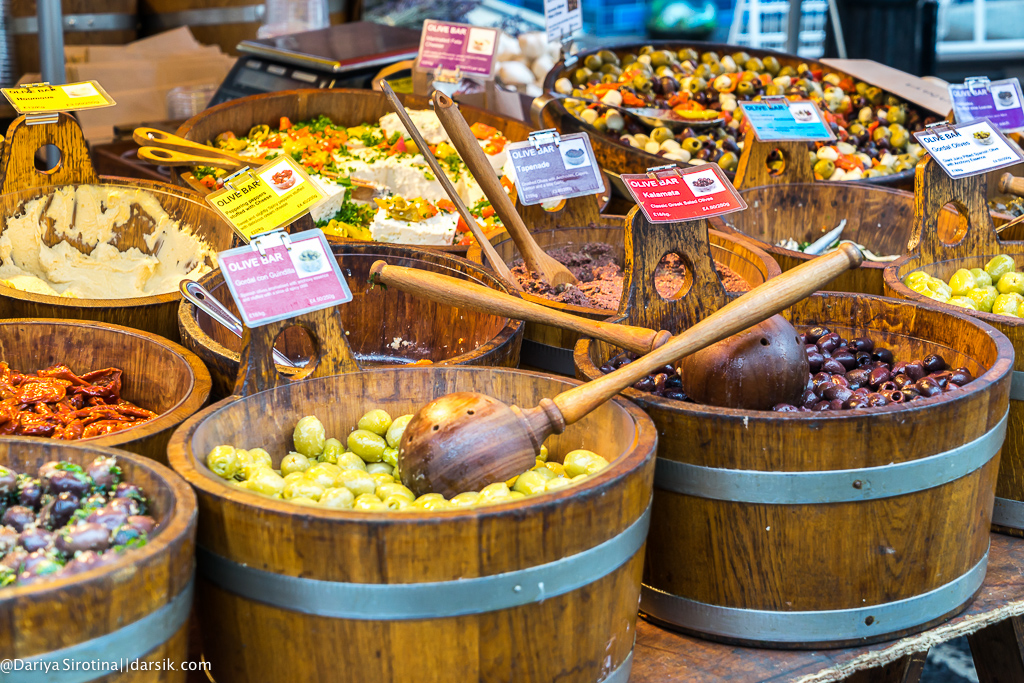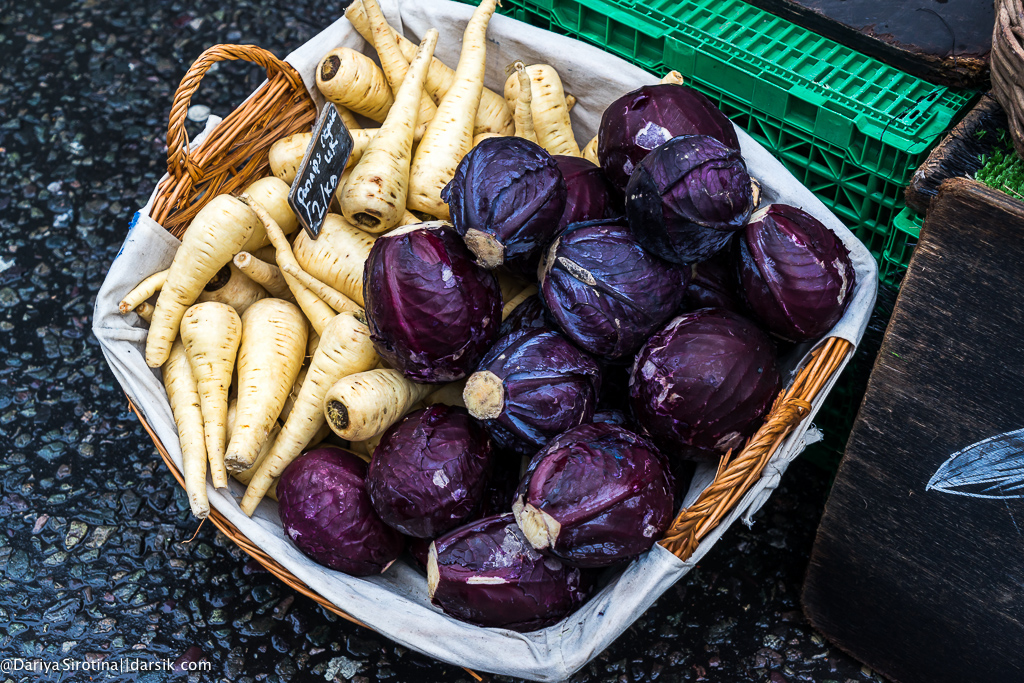 22. In January in London they sell willow. Willow.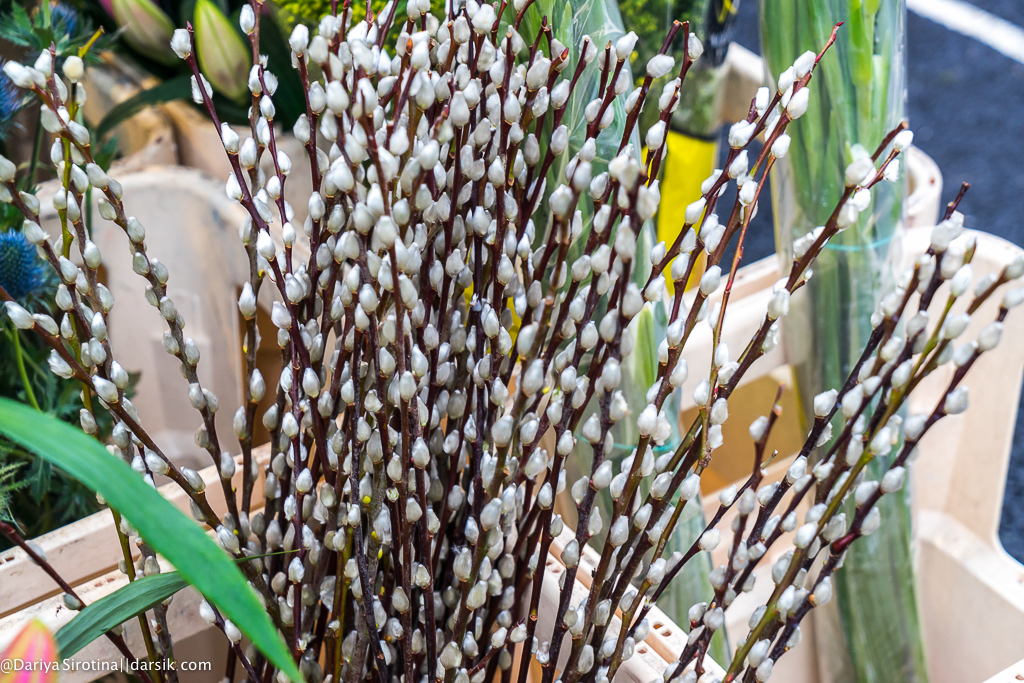 23. The same store from the movie with a commemorative plaque. Photographing the facade without tourists is a challenge, but I made it. Notting Hill has a lot of interesting stores – literally across the street there is a shop dedicated to cookbooks, where my spouse hung out for a long time.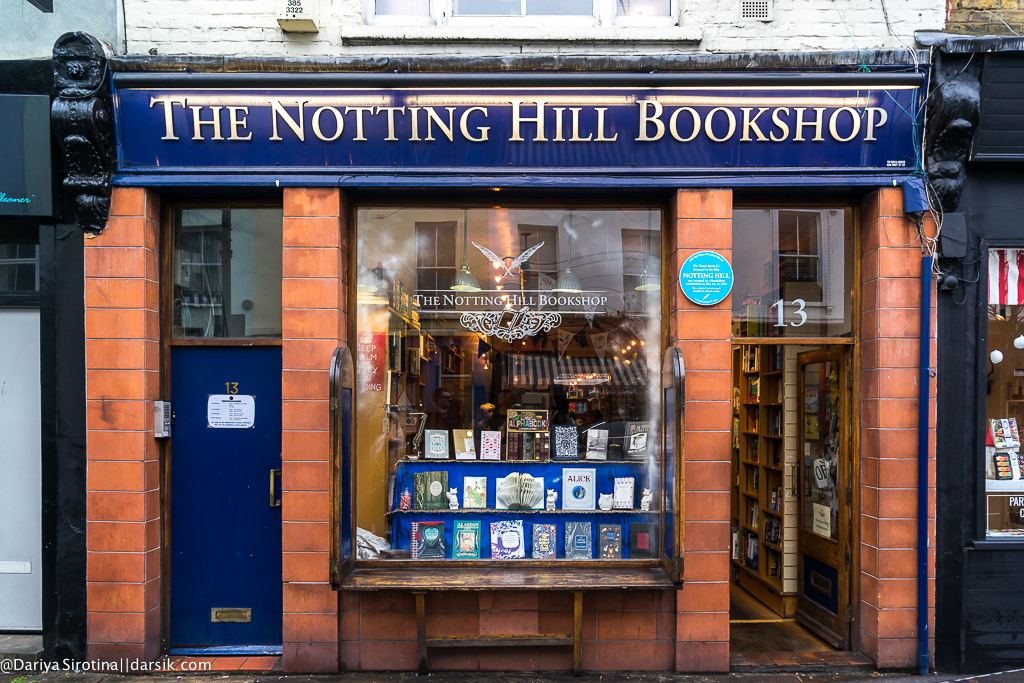 24. There's certainly no problem with food in the neighborhood. If you don't want to eat food from street stalls, choose any of the cafes to your liking. From 8-9 a.m. everything is open and waiting for guests.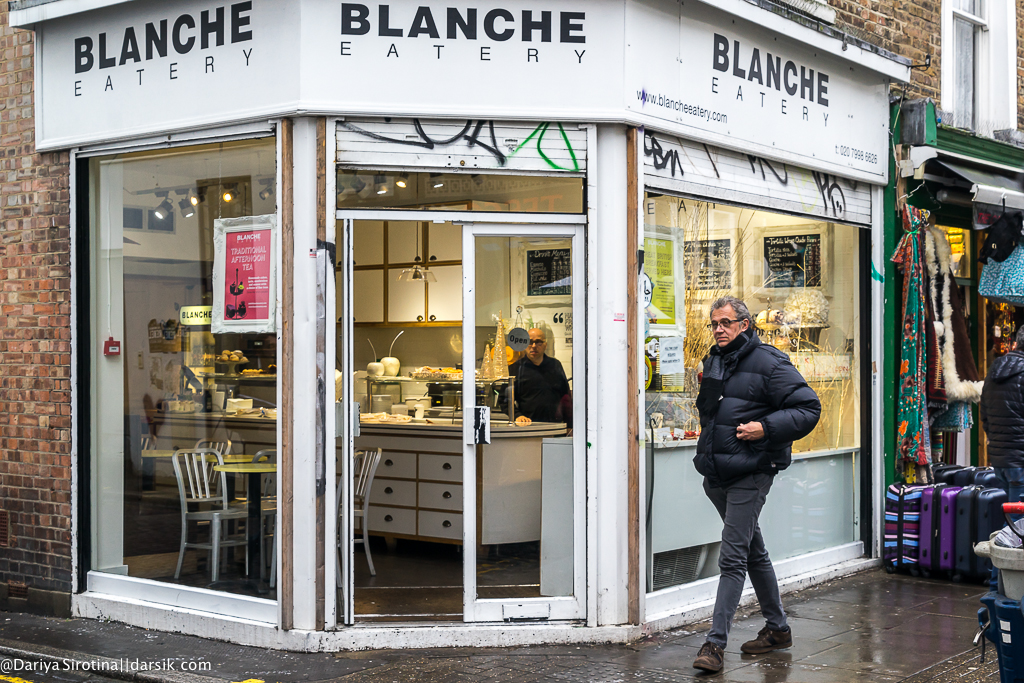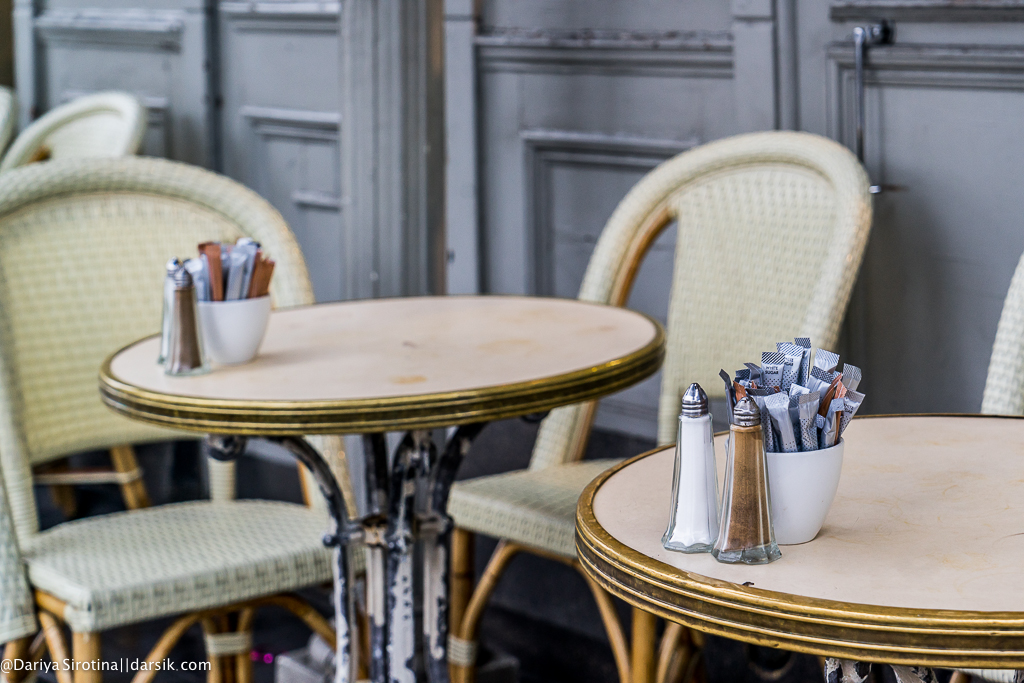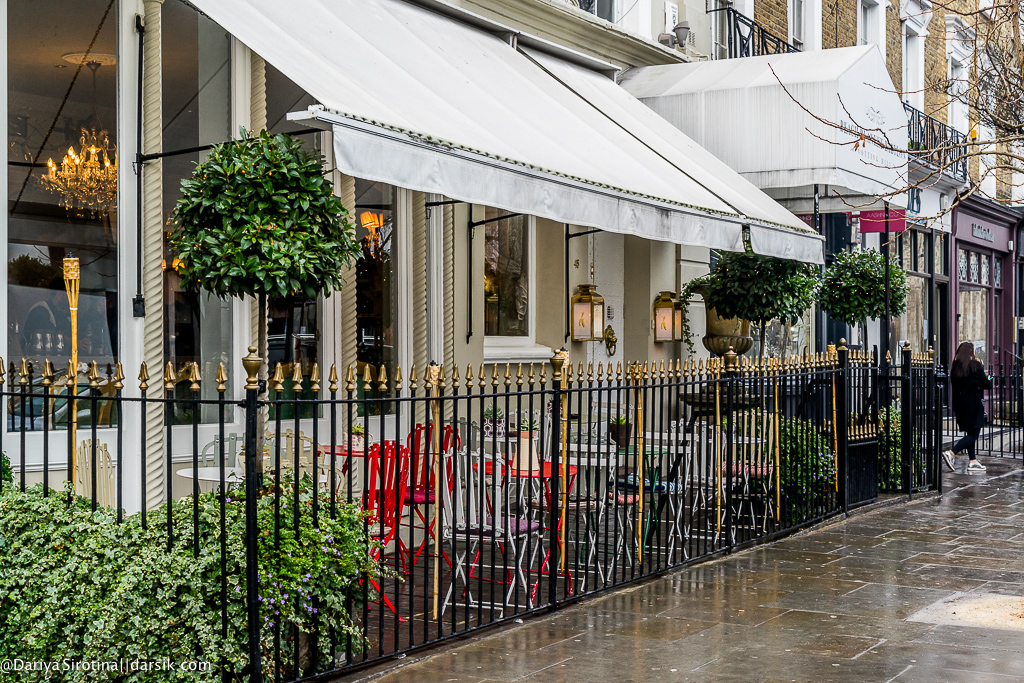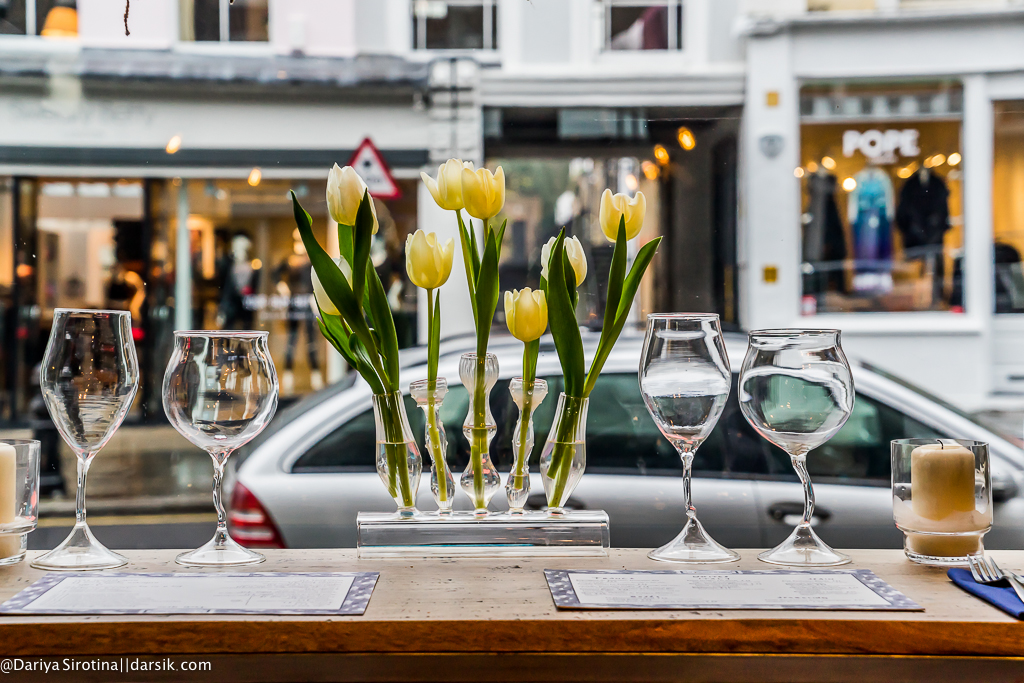 28. Farmacy is London's most famous vegetarian/vegan restaurant; not quite in Notting Hill, but it's on the doorstep.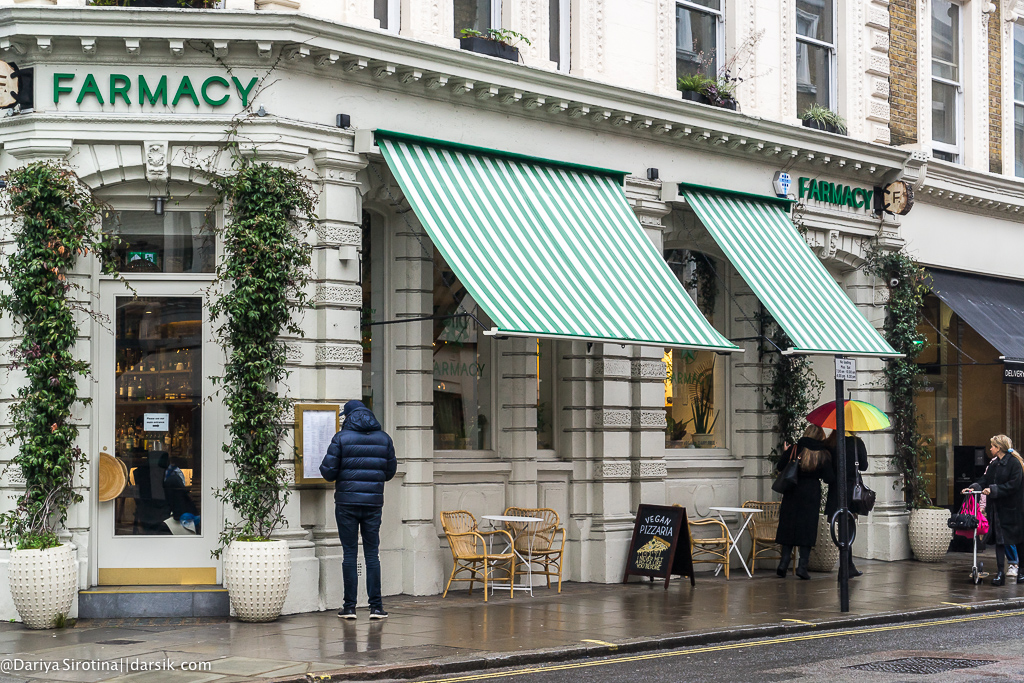 29. Once again, I suggest you start your day in this lovely neighborhood with an Australian breakfast at Granger & Co. Get ready for big portions, close tables, people-watching opportunities, and an early rise: to get a table on a Saturday, you should arrive at 8-8:30.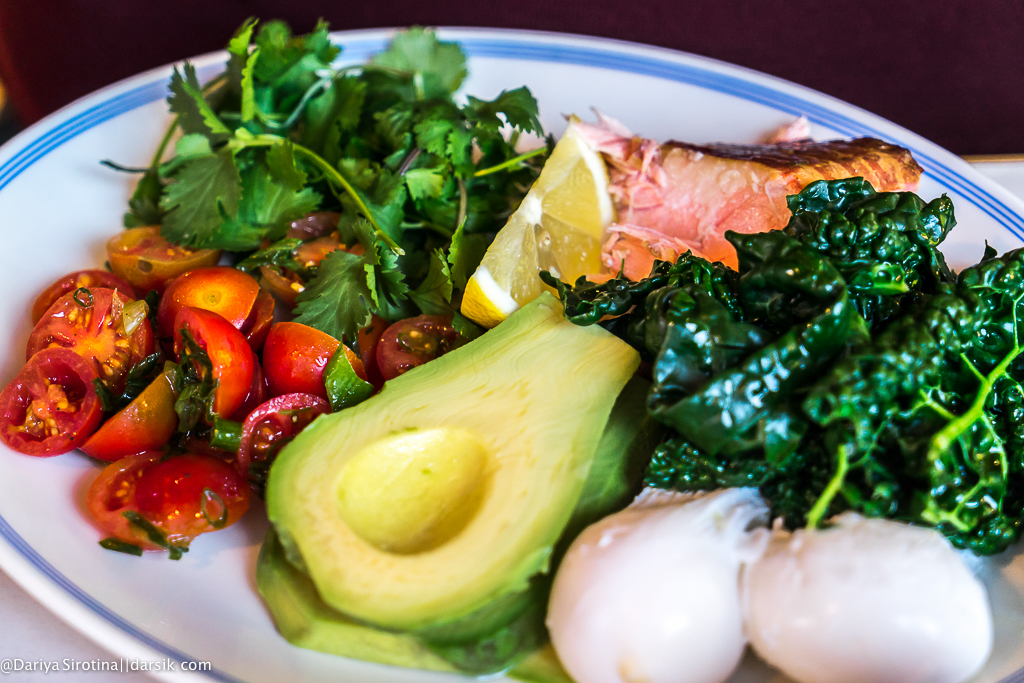 30. Because as early as 10.30-11.00 there is a line outside one of the most famous cafes in this part of London.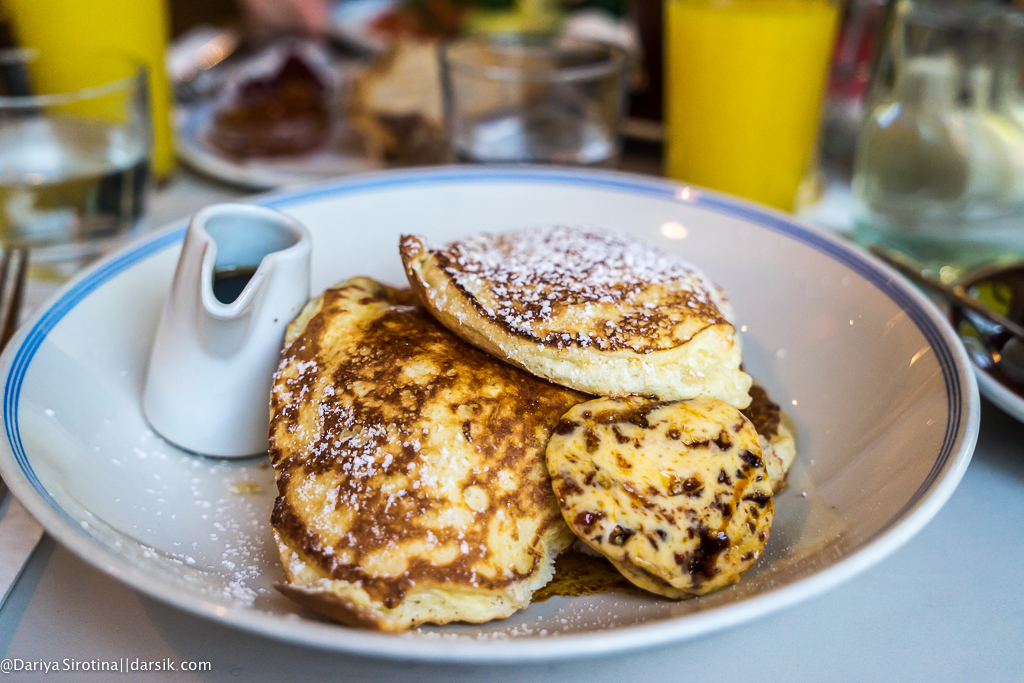 Notting Hill is definitely worth the walk, but the market itself didn't impress me much, maybe because I wasn't really in the mood to buy something and was still disappointed by the huge amount of tourists who had gathered at Portobello despite the cloudy and a bit rainy morning.
I'm sure many of you have been to Notting Hill. What are your impressions?