Colmar Christmas Market – Program and dates 2022
Top 6 Christmas fairs in Colmar. Program and dates, what to see and what to try. Souvenirs from the Christmas market in Colmar.
Content:
The cozy town of Colmar on the Alsace Wine Route gets fabulously beautiful before Christmas. The half-timbered buildings of the old center, twined with colored garlands, resemble gingerbread houses. Snow-covered, decorated Christmas trees appear in the cobblestone streets. Alsace is the most Christmas-time region in Europe: here they keep and honor the old traditions of hospitality and hospitality. Colmar's fairs are considered the most beautiful in France. Compare them on the scale only German Christmas markets can be.
The Christmas market in Colmar, actually consisting of six large bazaars, is a city-wide event with plenty of entertainment.
The Magie de Noël à Colmar, "The Magic of Christmas in Colmar," opens during Advent. It involves city officials, merchants, and ordinary citizens decorating their balconies and windows.
Every evening a dynamic light show – Magie des Lumières – begins in the center. Rays of illumination envelop the facades of ancient houses, fly upwards and melt into the sky. The city is transformed into a mystical "Land of Lights".
On the squares is a great concert program Colmar chante Noël – "Colmar sings Christmas". Adult and children's choirs, orchestras, and a brass band from the local conservatory perform.
And on the edge of the Champ de Mars on Place Rapp, an 800m² ice skating rink with night lighting is poured. The entrance fee is 1.70 €, and skate rental is 2 €. There are carousels, a train "Christmas caterpillar" runs, a winter bar welcomes guests.
Excursions in Colmar
Itineraries from locals on Tripster are an unusual way to explore the city. You can start with a sightseeing tour of Colmar. The small city has many interesting places that are easy to miss on your own in the maze of streets.
During the holiday period, you can choose a themed tour "Colmar – A Christmas fairy tale" – then the emphasis will be on the traditions of the Alsatian Christmas.
Colmar: Christmas Markets 2022
This year the Colmar fairs run from November 22 to December 29. Six fairs will open: each is a small village with welcoming hosts of merchants and craftsmen. "Art and tradition" is the motto of the Colmar markets. Architects and decorators develop individual pavilion designs to create a special and distinctive atmosphere for each fair.
Colmar's fairs are the best in France.
On the Place des Dominicains, 60 wooden houses will be installed. Here, at the foot of the Church of the Dominicains with its magnificent original 15th century stained glass windows, there will be an open exhibition of Alsace handicrafts. Woodcutters and glassblowers, artists painting Christmas tree decorations and other arts and craftsmen will bring their wares.
At the Dominicans Square you'll find wonderful Christmas toys and wonderful gifts. The official fair page is here.
The large-scale Christmas Fair of Colmar at Place Jeanne d'Arc is interesting in its architectural surroundings. Around the square stand traditional half-timbered houses and elegant mansions in the French classical style. The Christmas village of Place Jeanne d'Arc recreates the patriarchal Alsatian atmosphere. The bazaar specializes in local products. Local vendors will offer wines and brandies, bredelais, gingerbread, spices, foie gras, and sausages.
You can find out about the work of the fair on the official website www.noel-colmar.com.
The market of the Old Customs works on the square l'Ancienne Douane in the heart of Colmar. Exactly fifty trading houses (francais maisonette) are located around the Schwendi Fountain. The Koyfhus and the Renaissance staircase illuminate with twinkling lights as darkness falls. This creates a truly magical atmosphere (although this is the case everywhere in Colmar). The area is full of designer fashions and traditional Christmas decorations.
Colmar turns into a fairy tale just before Christmas
The Koïfhus internal Christmas market opens every year in the magnificent medieval Old Customs building, in the front rooms of the Koïfhus house. Before Christmas, craftsmen and designers – potters, ceramists and glassblowers, cabinetmakers, carvers, hat makers and skilled jewelers – gather here. On the first floor, historical interiors are set up with displays from the Toy Museum; books and antiques are on display in the Decapolis Room.
In the quiet neighborhood of Little Venice, located on both banks of the Loch Canal, opens Kolmar Children's Christmas Market . Here every year a mechanical moving nativity scene is set up, the roofs of the buildings are decorated with figures of reindeer, polar bears and wolves. Children are taken for a ride on horseback. You can pet live rabbits and lambs in the pen. There are rides and merry-go-rounds with big glowing horses moving all over the square. And most importantly, Per Noel's post office is up and running. He, if legend is to be believed, lives in the lanes of Petite Venise. At the children's fair, they put up a huge mailbox for the little ones to drop their messages there.
Christmas in Colmar is a month-long feast!
Colmar's new Christmas market opens for the first time this year on Cathedral Square. Le Marché gourmand is a gourmet market. It is dedicated to gastronomy, Alsatian cooking and haute cuisine. Colmar is not called the "city of gourmands" for nothing: there are several Michelin restaurants here. Nine master restaurateurs from various establishments will be cooking different dishes every day – from light snacks to complex desserts. Cooking shows are planned in the center of the fair. Local produce and delicacies will be available in the Christmas Village vendor rows.
Information about the Gourmet Market is available online.
What to try for food and drink
Colmar's pre-Christmas fairs impress with a variety of baked goods, alcoholic beverages and delicacies. All the best of Alsace are brought together in one place.
Alsatian pastries at the Colmar Fair
Bazaars sell liqueurs, brandies, mulled wine and beer, young Alsatian wines and local cellar vintages (an average of €2.5 per glass). For Christmas in Colmar there are many kinds of sweet pastries:
Gingerbread is baked with chocolate, honey, almond cream. And on the glazed surface they put festive symbols;
Confectionery counters offer Alsatian Bredele cupcakes with all sorts of fillings. And beautiful anise Sprengerle with an antique carved decoration;
traditional candied breads such as Berawecka and Christstollen are on sale;
You can enjoy hot, buttered Manalas buns right on the street. They are washed down with delicious French hot chocolate.
Everywhere you smell spices: anise, vanilla pods, cinnamon and cloves, and orange peel. For those who are hungry, there is Bekehoff pot roast with white wine, sweet Kugelhopf pasta with raisins, chicken stewed in Riesling, pumpkin soup, casserole quiche of leeks, eggs, spinach and ham. Munster cheeses, foie gras and sauerkraut are for sale.
Souvenirs and gifts at the Colmar Fair
In the markets of Colmar you can buy not only gastronomic gifts. It is worth paying tribute to the skills of the Alsatian potters, glassblowers, weavers and needleworkers.
Experts recommend buying ceramics from Soufflenheim and tableware from Marmoutier, Alsatian fabrics, hand embroidery, tablecloths, music boxes. As New Year's souvenirs from France it is worth buying classic Christmas tree decorations. Pay special attention to the magnificent glass balls "apples" from Maisenthal, Advent wreaths, wooden painted toys.
Question and answer.
How many Christmas markets are there in Colmar?
Six in total. And one of them, Le Marché gourmand on Cathedral Square, will open for the first time this year.
Which fairs are best in Paris, Strasbourg or Colmar?
One thing is certain: the most beautiful Christmas market in Colmar (all six fairs are considered one big bazaar). All thanks to the architecture, bridges and canals, which become the perfect backdrop for Christmas. But Strasbourg is a big city, and some might like it better. Paris is larger and more luxurious, but lacks the special charm that Colmar has.
Colmar is the most beautiful Christmas market in France
Colmar is a small town in France, sometimes called the Venice of France. This town is also famous for its half-timbered houses, Christmas market and magical atmosphere. A couple of days ago we visited Colmar and we would like to share with you a photo report.
1. What you need to know before going to Colmar. Colmar is the third largest city in Alsace. It is not only a city of beautiful old houses, but also the capital of Alsace wine.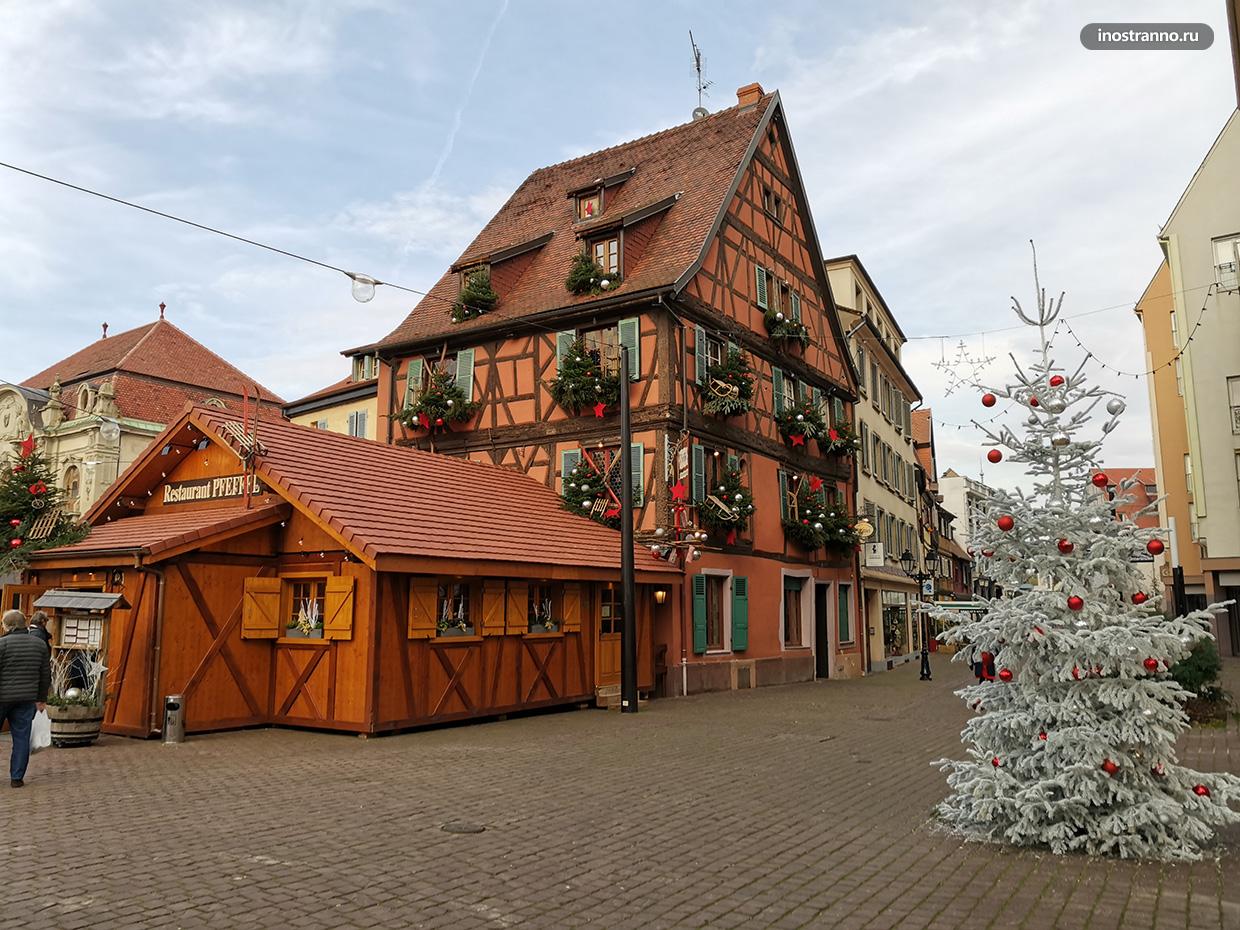 2. In fact Colmar is an open air museum with many architectural styles: late Gothic, baroque, classicist, Art Nouveau, eclecticism and many others. But most of all tourists like the area of Little Venice (La Petite Venise) with its canals and half-timbered houses.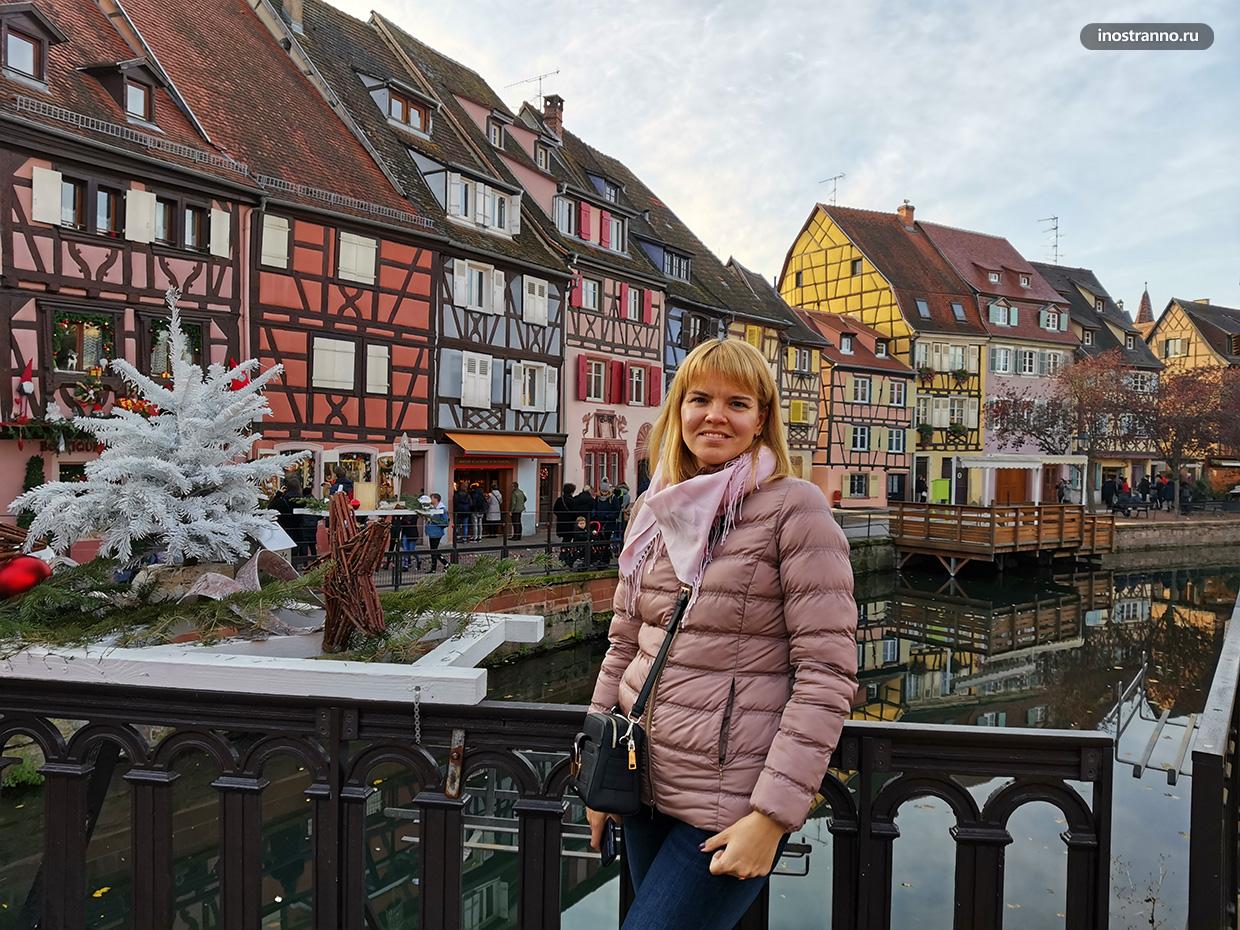 3. Weather in winter in Colmar is not very pleasant. But we were lucky – we visited the city at the end of November and it was +8 outside, the sky was nice blue and there was not a single cloud.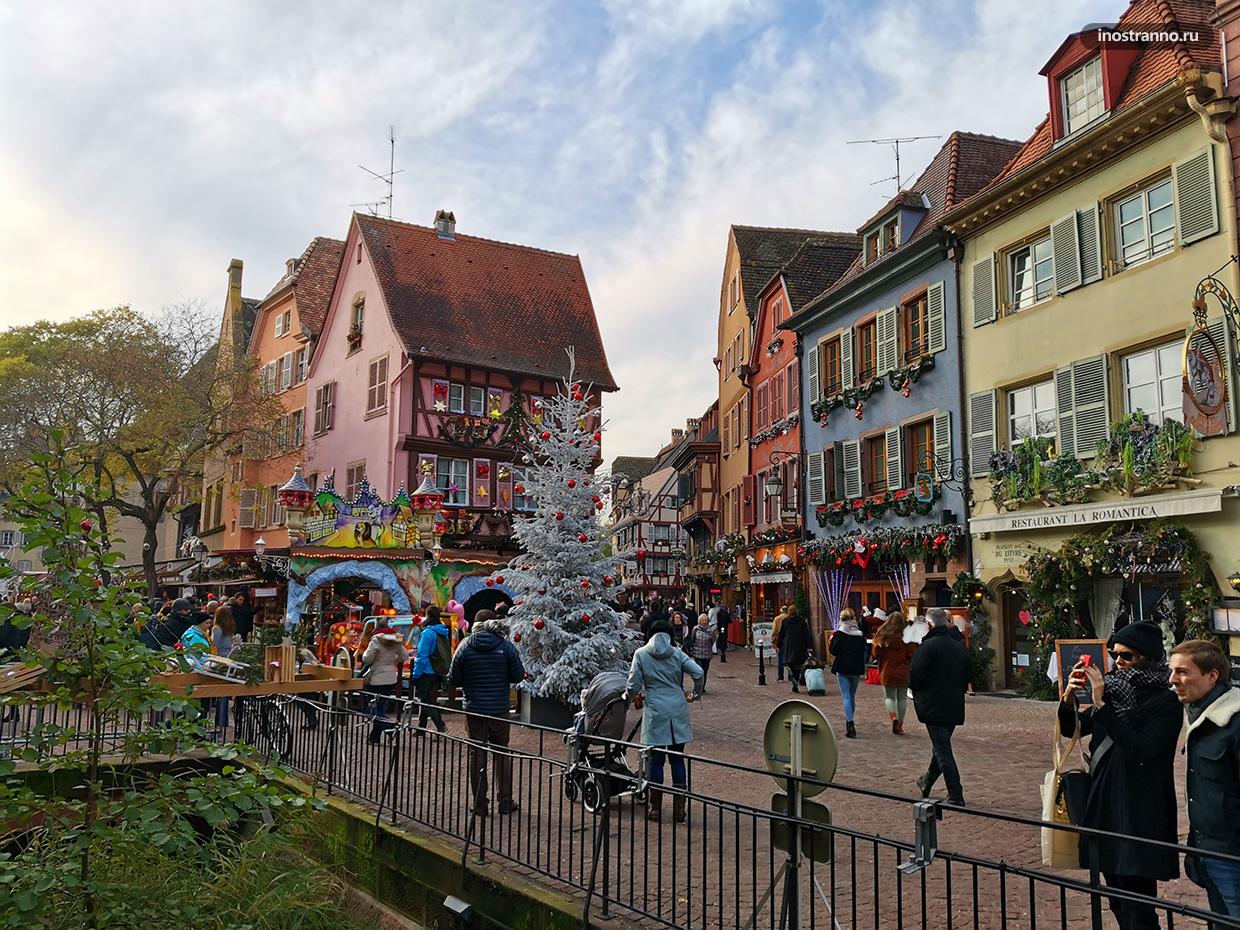 4. With hotels during the Christmas markets in the city is very tight, prices for overnight stays often exceed € 150, but even so hotels are sold out six months in advance, such as one of the best hotels in the city Novotel Suites Colmar Centre. So many travelers rent a car and stay somewhere in the neighboring villages. Or, like us, come to Colmar for a day from Strasbourg.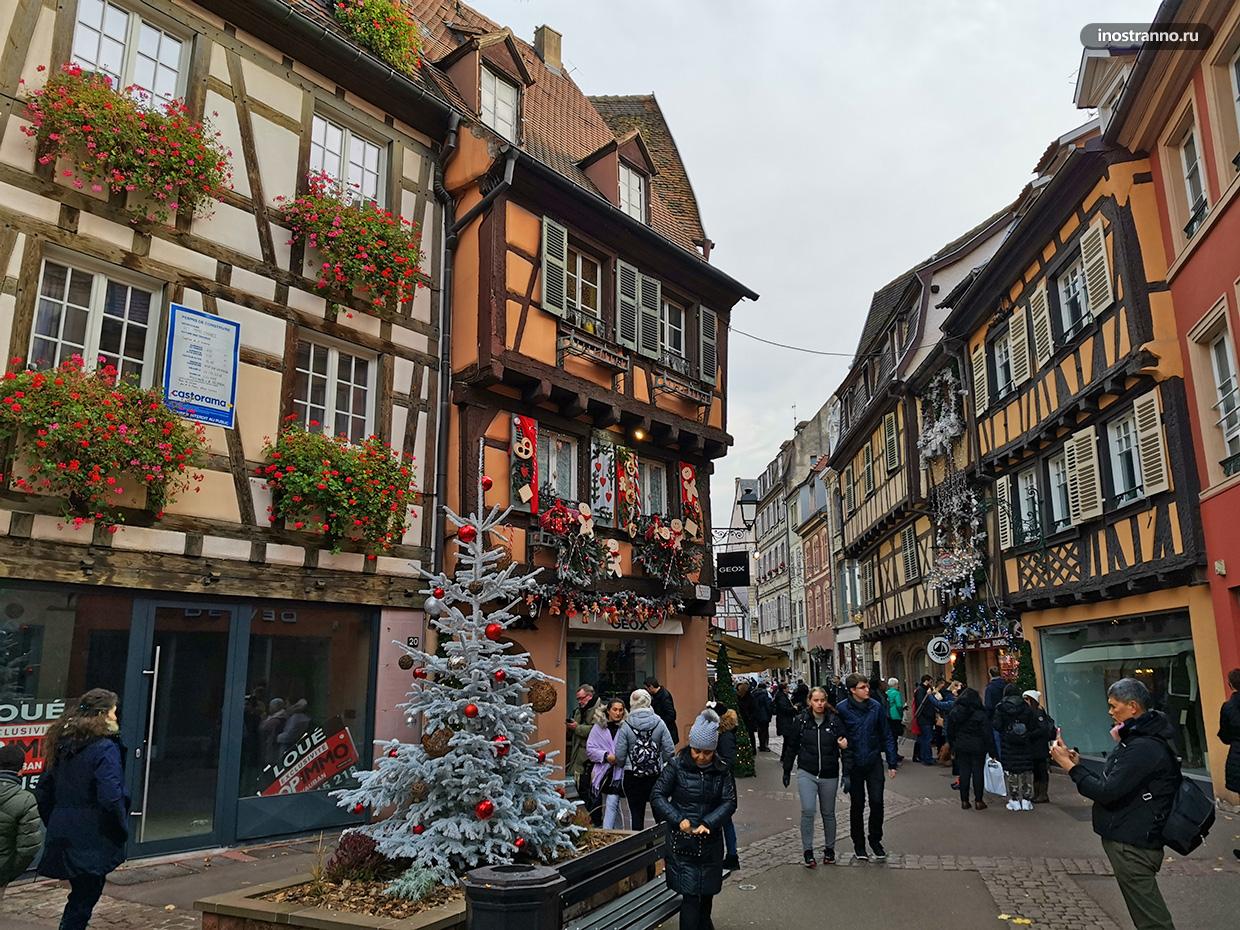 5. We arrived in Colmar by train on a Sunday at 10:30, and at that time there were quite few people in town. Most of the locals go out for folk festivities closer to lunchtime, and after a couple of hours, the crowds make it harder to get around the streets.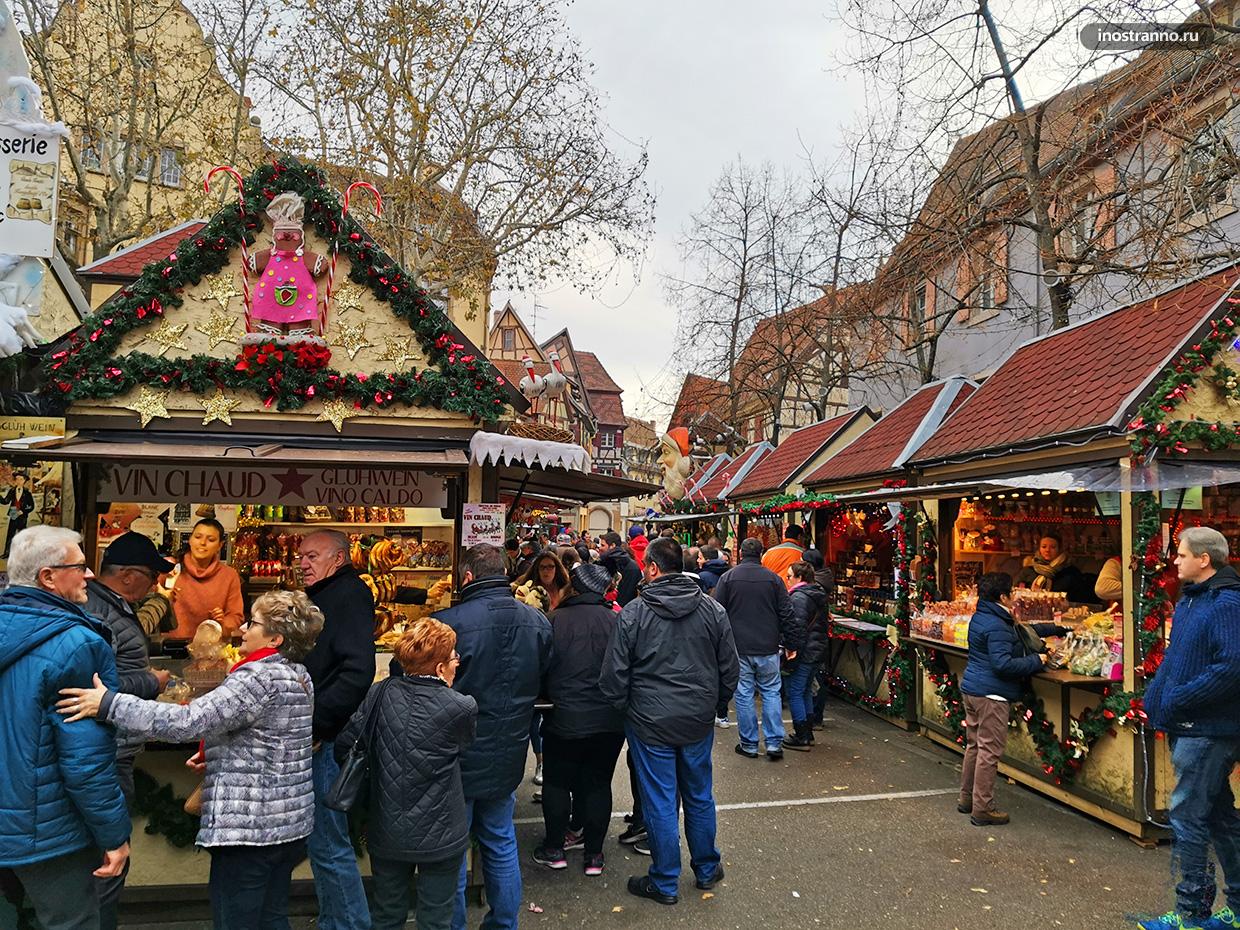 6. What do people usually do at Christmas markets? That's right: walking, socializing, eating goodies from the many stalls, and drinking mulled wine. A little background, mulled wine is a wine heated in a certain way, to which citrus fruits and spices are added.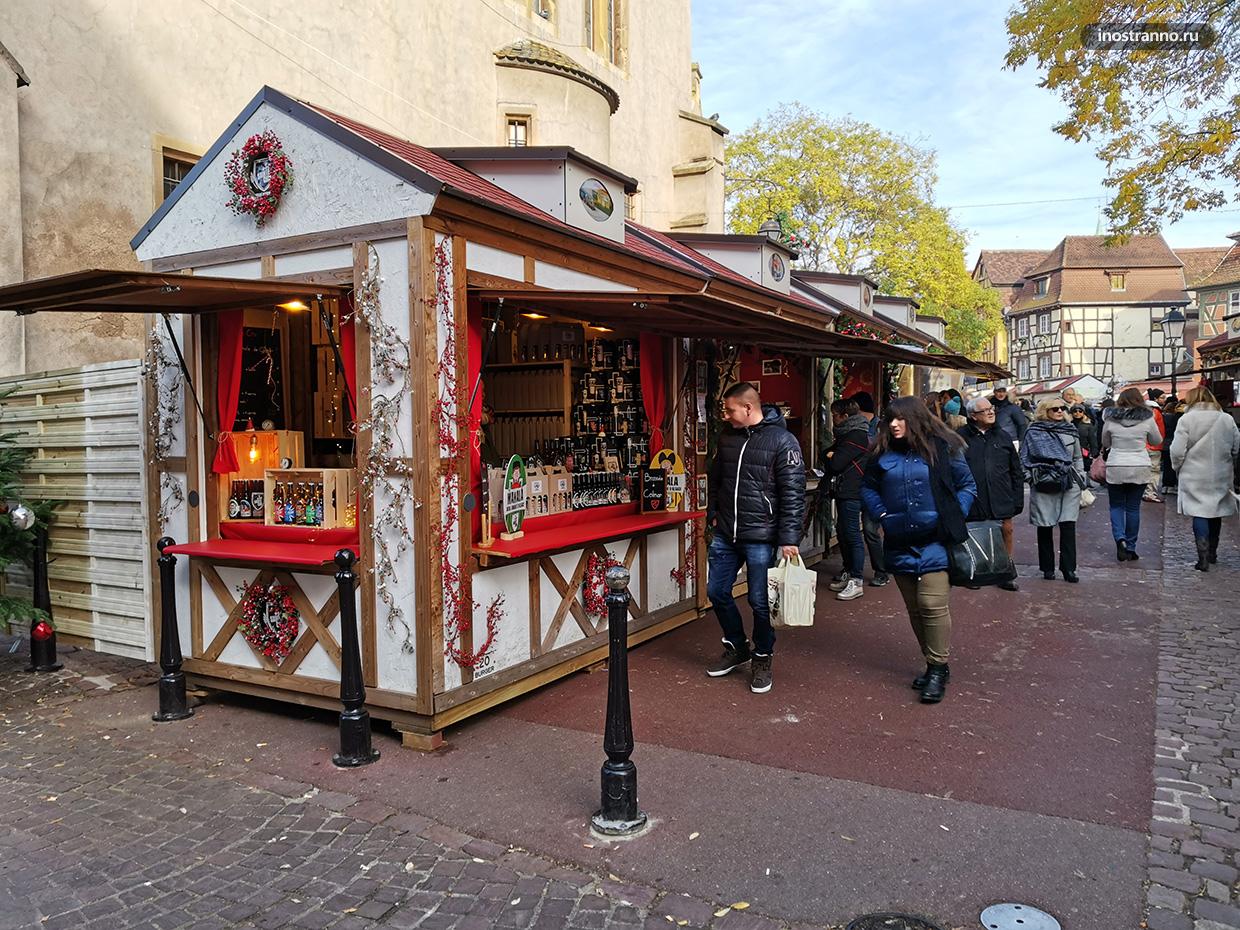 7. We decided to keep up, too, and bought mulled wine and brezzel to warm us up. Mulled wine in Colmar costs €2.5 – 0.2 liters, €3 – 0.25 liters, €3.5 – 0.3 liters. You must also leave a deposit for a plastic glass of €1. The glass is beautiful and very festive: it has a drawing with a Christmas theme on the walls. In Germany, for example, at the market in Nuremberg or the fair in Dresden you usually leave a deposit of €3-4 for the glass, but there are ceramic glasses. Mulled wine in Colmar is usually sold of white and red wine. Sometimes there is mulled wine with honey, but I don't like honey, and I'm allergic to it, so we bought the classic mulled wine of red wine. The mulled wine was very tasty, not like the Czech sour wine mulled wine at the Christmas markets in Prague.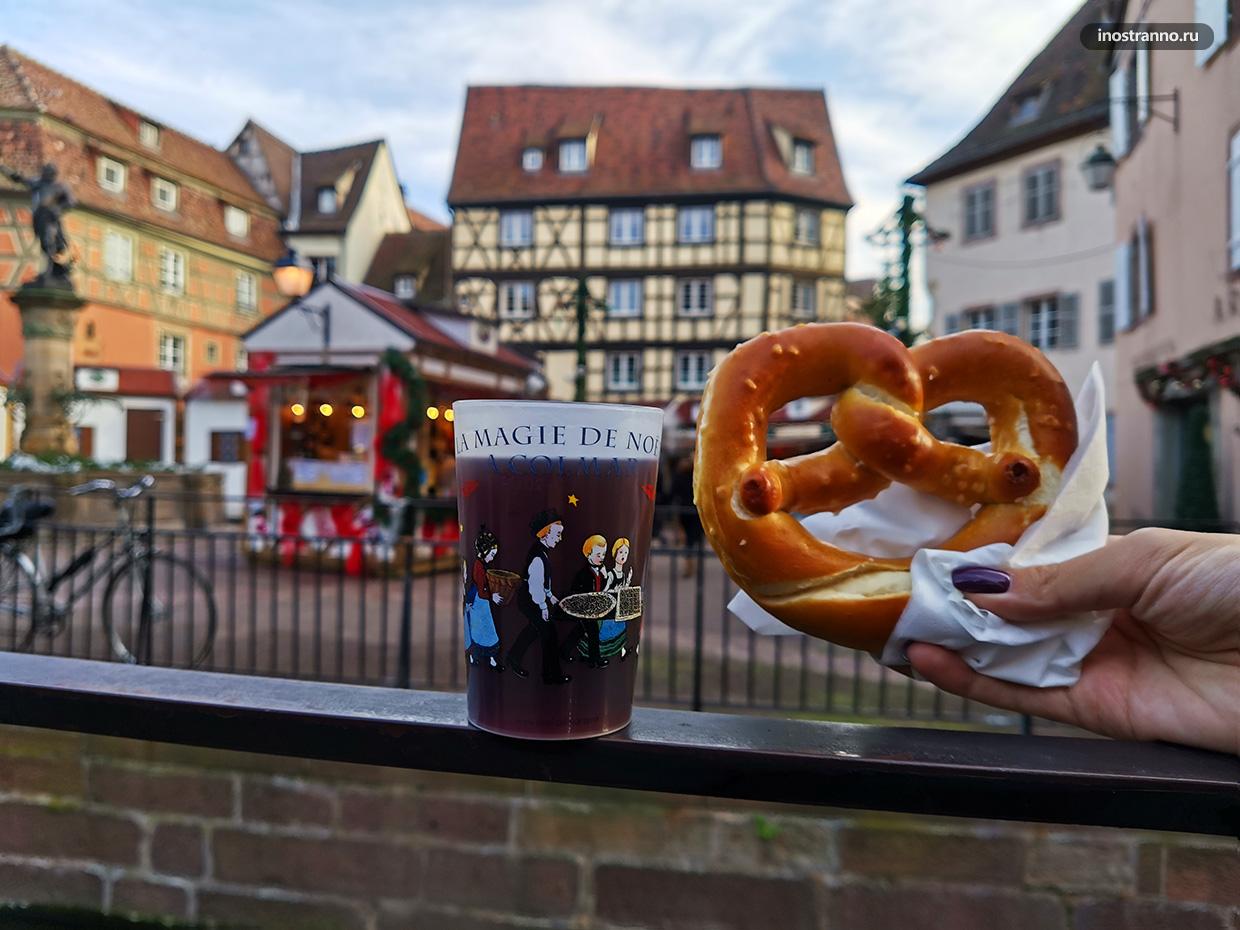 8. The house decorations create a special festive atmosphere. For example, on this house in addition to the garlands and stars on the windows placed plush polar bears and seals.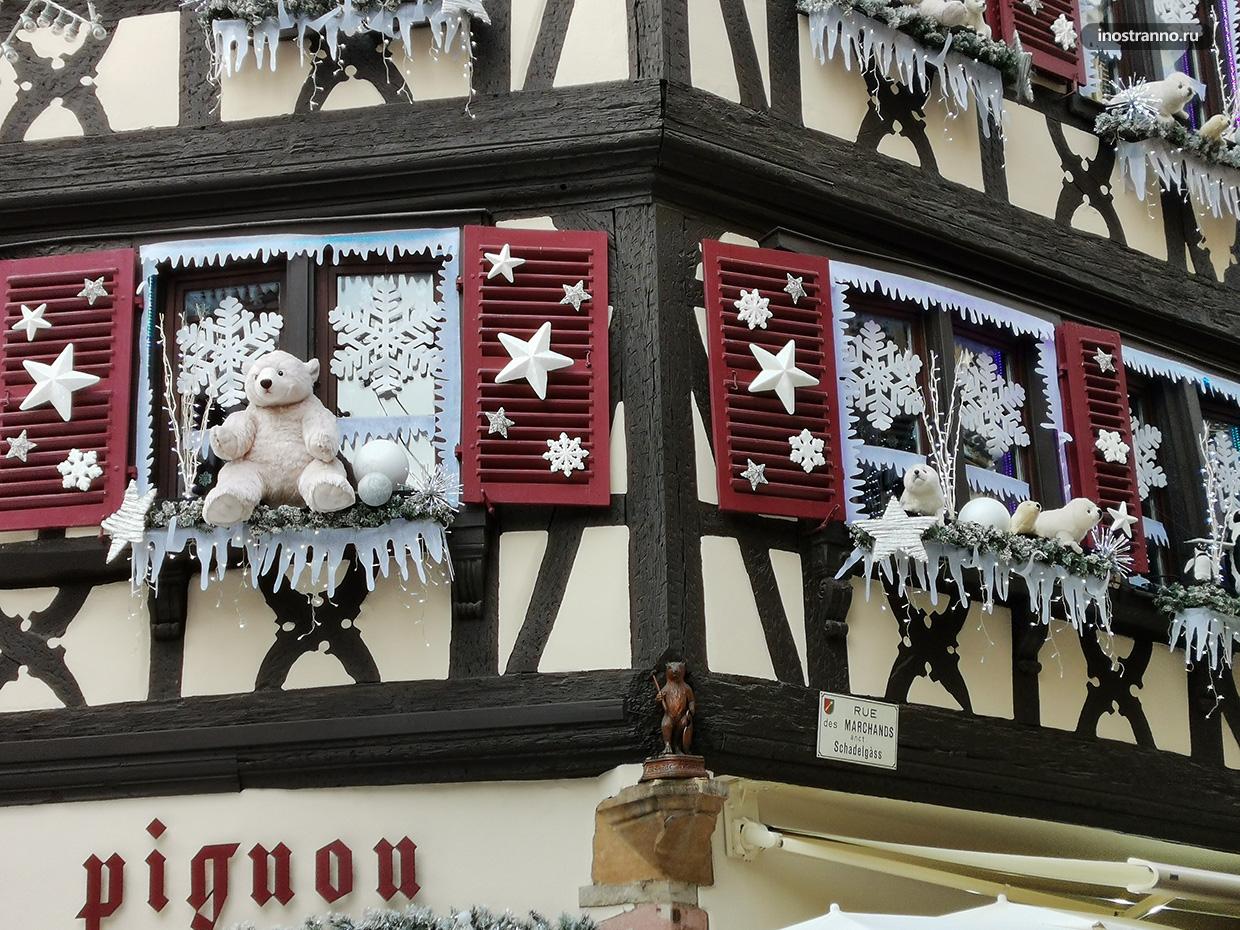 9. One of the symbols of Alsace is the stork, figures of which used to decorate many houses for Christmas, for example, in Strasbourg.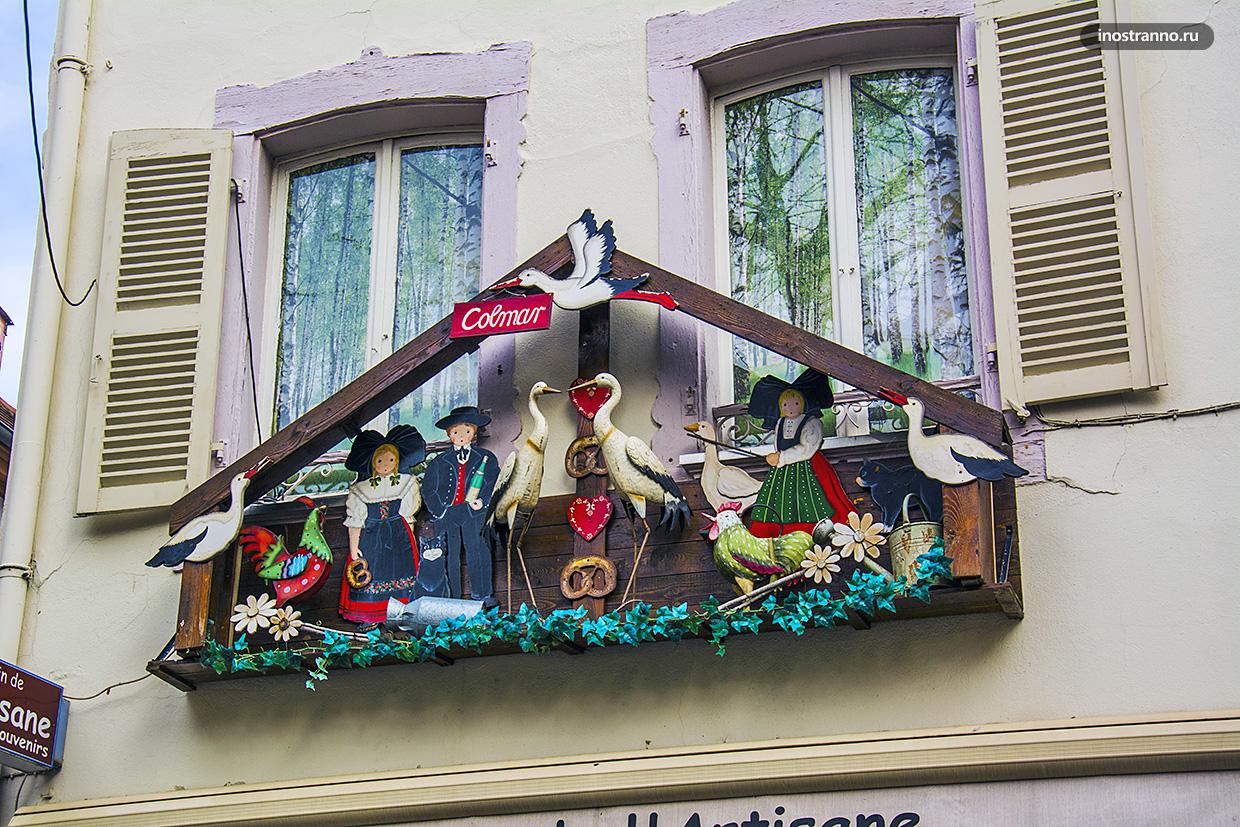 10. Nowadays, seals, polar bears, bunnies, reindeer and penguins are used.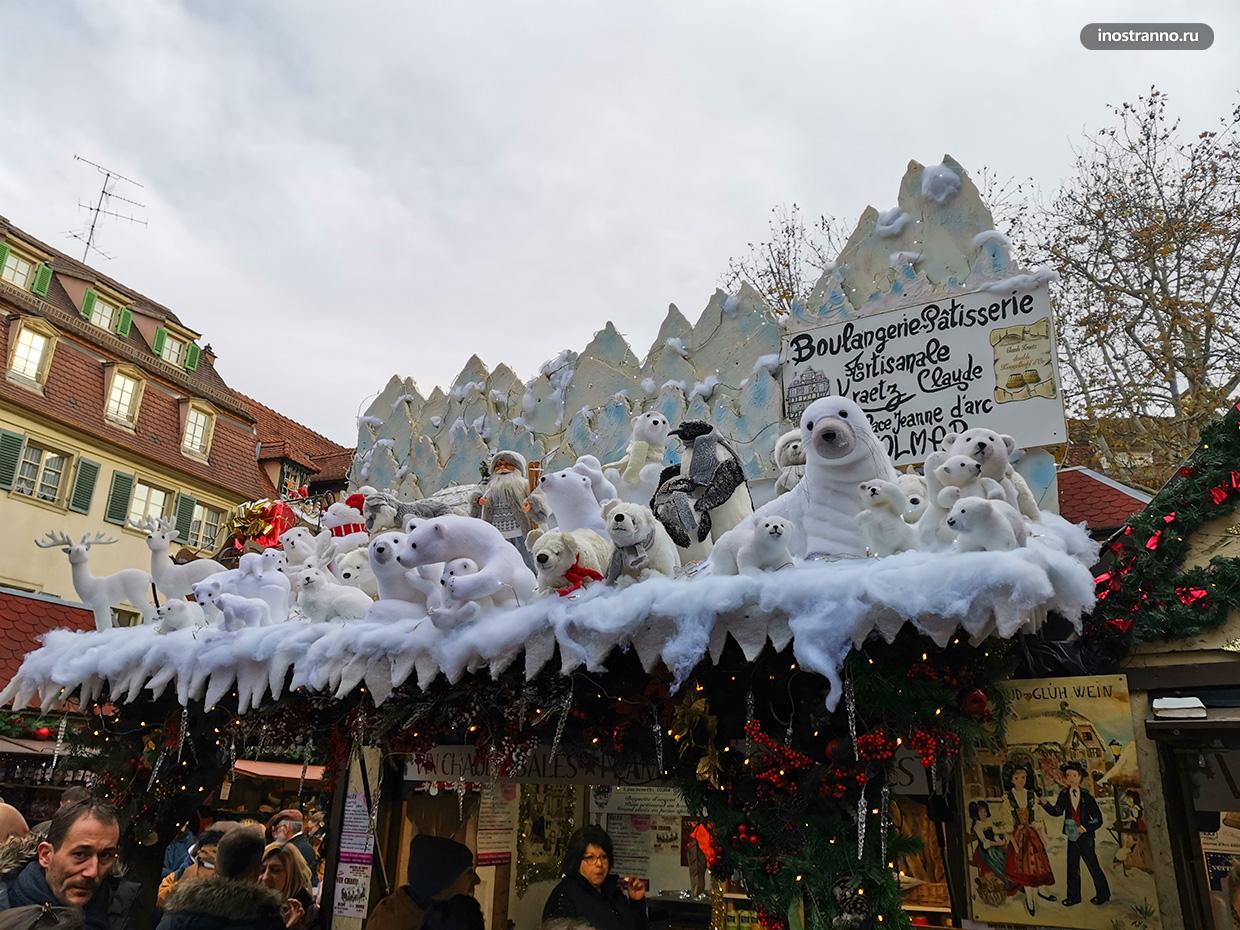 11. Christmas trees are sometimes decorated with brezels, a traditional German delicacy.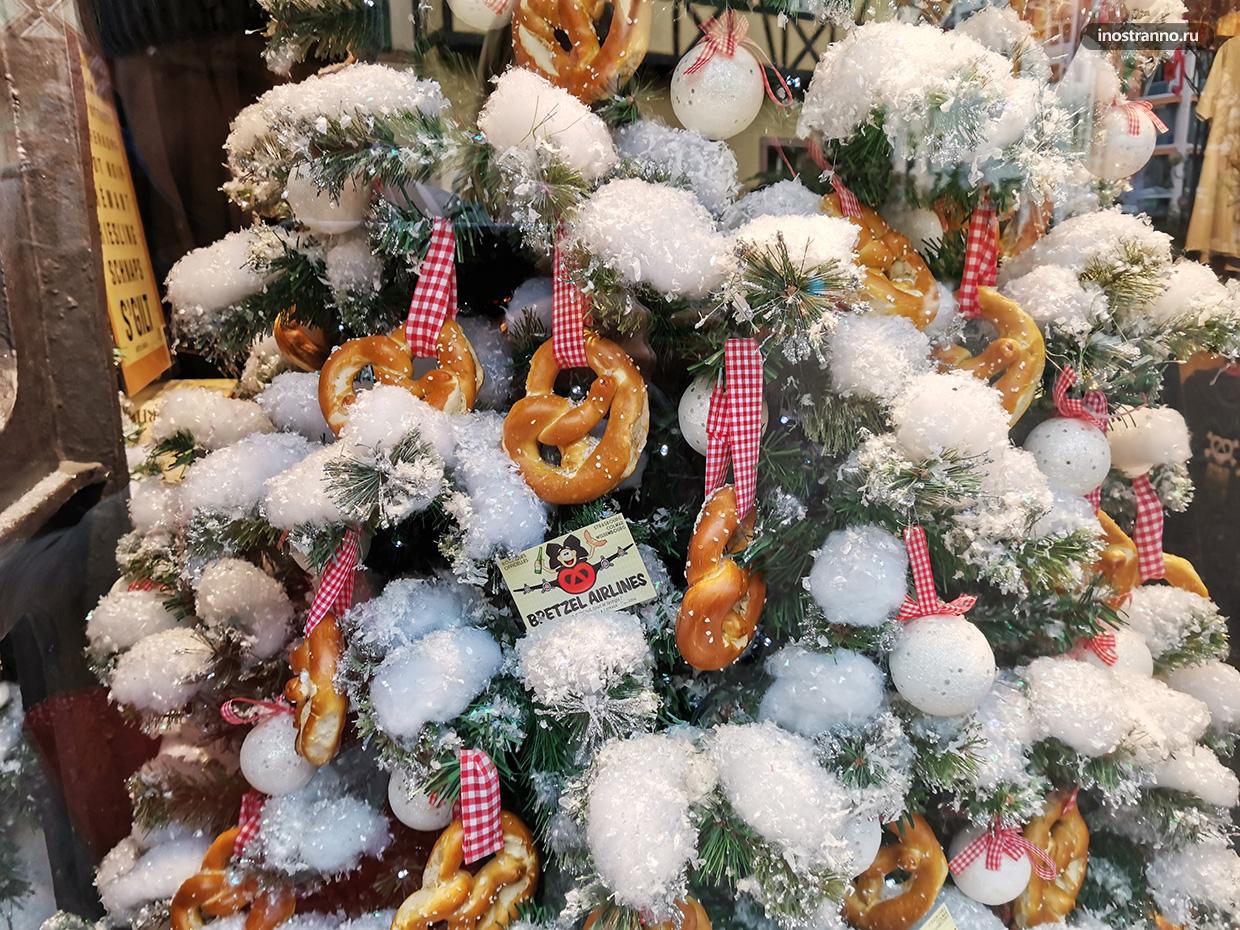 But in Colmar, most Christmas trees are decorated with imitation snow and simple brightly colored balls.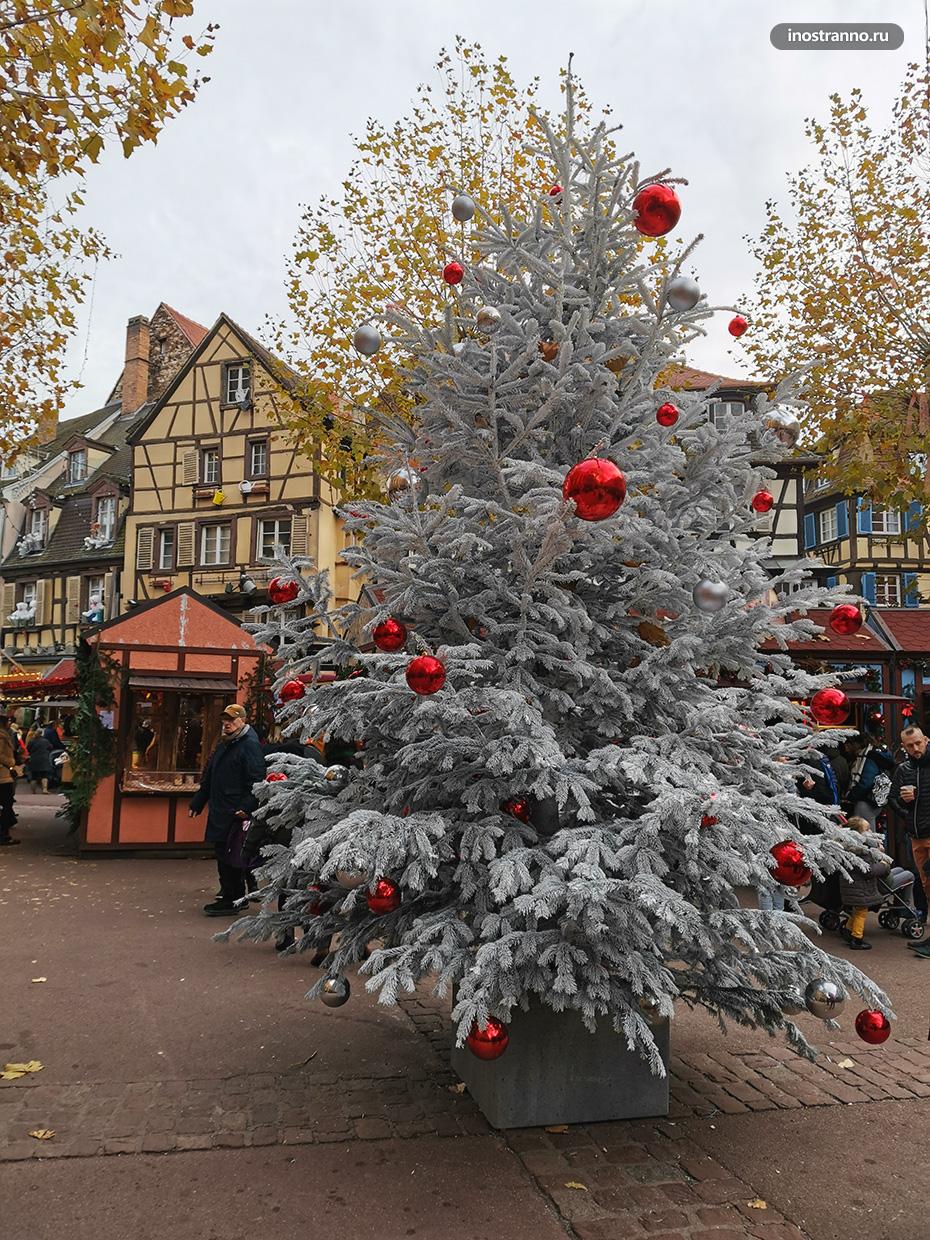 13. During the walk we realized that we were very hungry. But the Alsatian cuisine in the form of pale sausages, cabbage, dumplings or baguettes with bacon and cheese did not impress us, so we bought organic Angus calf burgers at one of the stands. The burger was so tender and delicious that we were thrilled. The cost of a hearty burger is €9.5.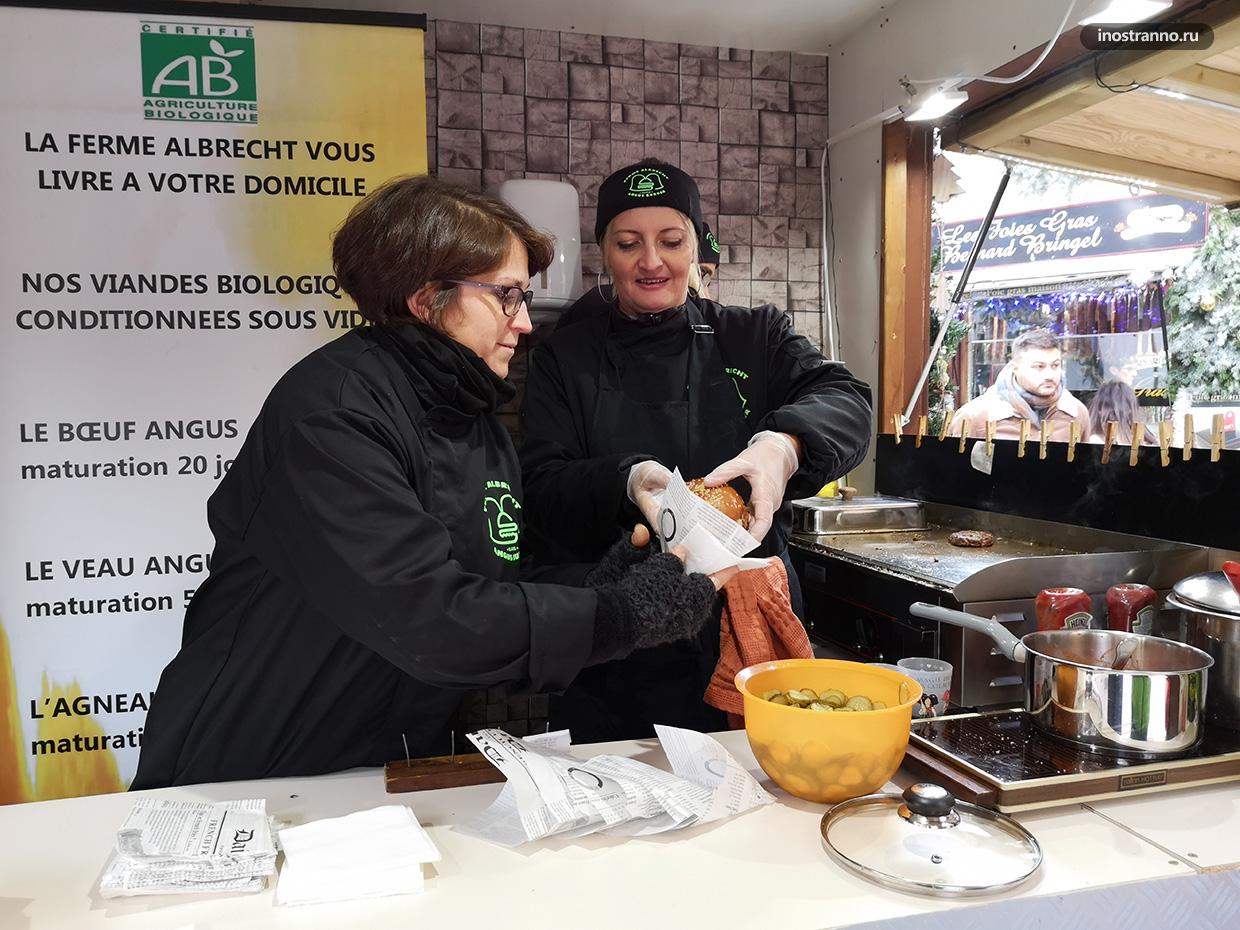 14. But back to looking around the tents and exploring the assortment. In addition to food, most of the stalls sell Christmas decorations, Christmas wreaths, and candle holders. But after last year's trip to Rothenburg an der Tauber and its Christmas Museum, most of the toys in the markets in Europe now we don't particularly like.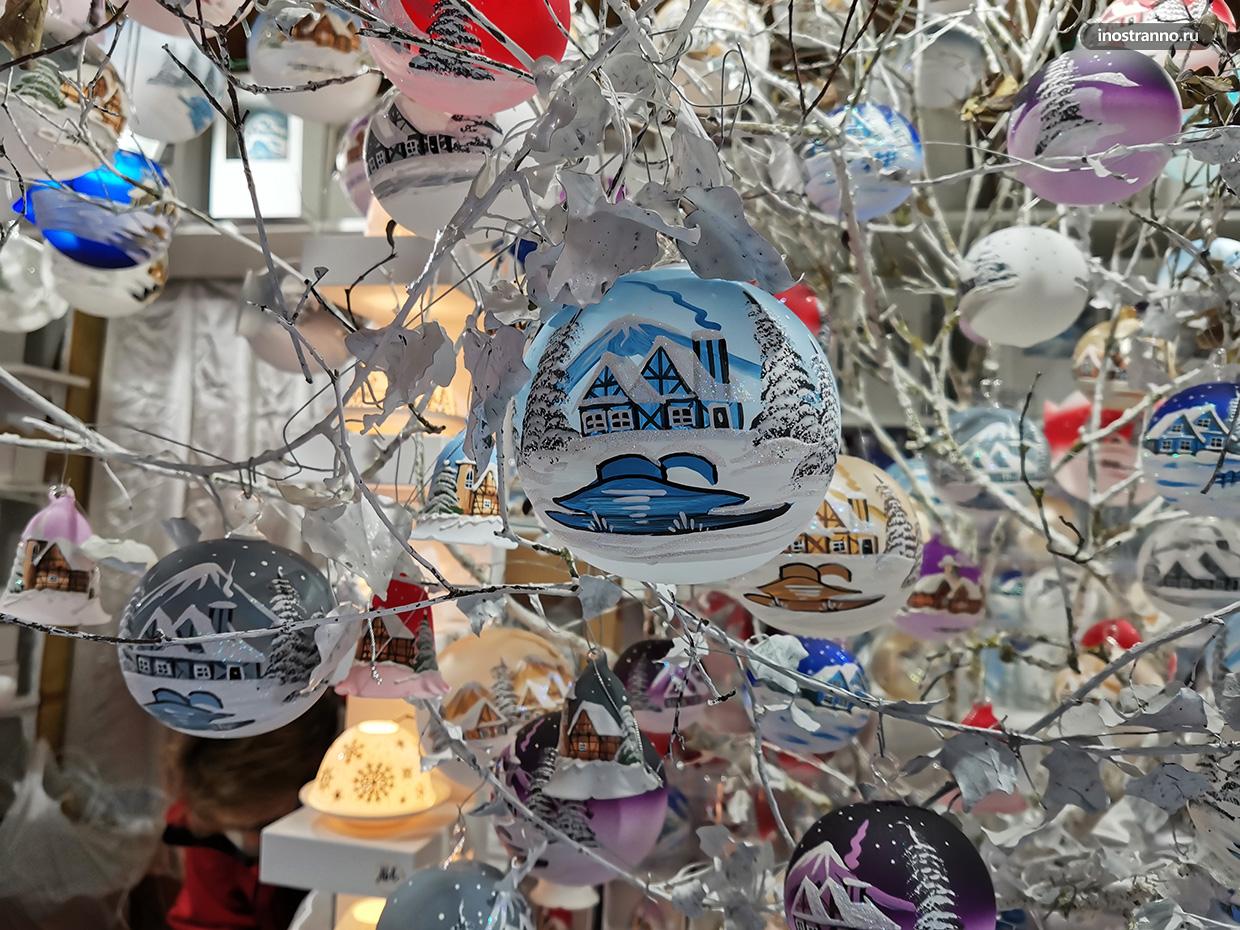 15. In addition to Christmas toys, the market sells a large number of trinkets in the form of gingerbread men, clickers, magnets and storks.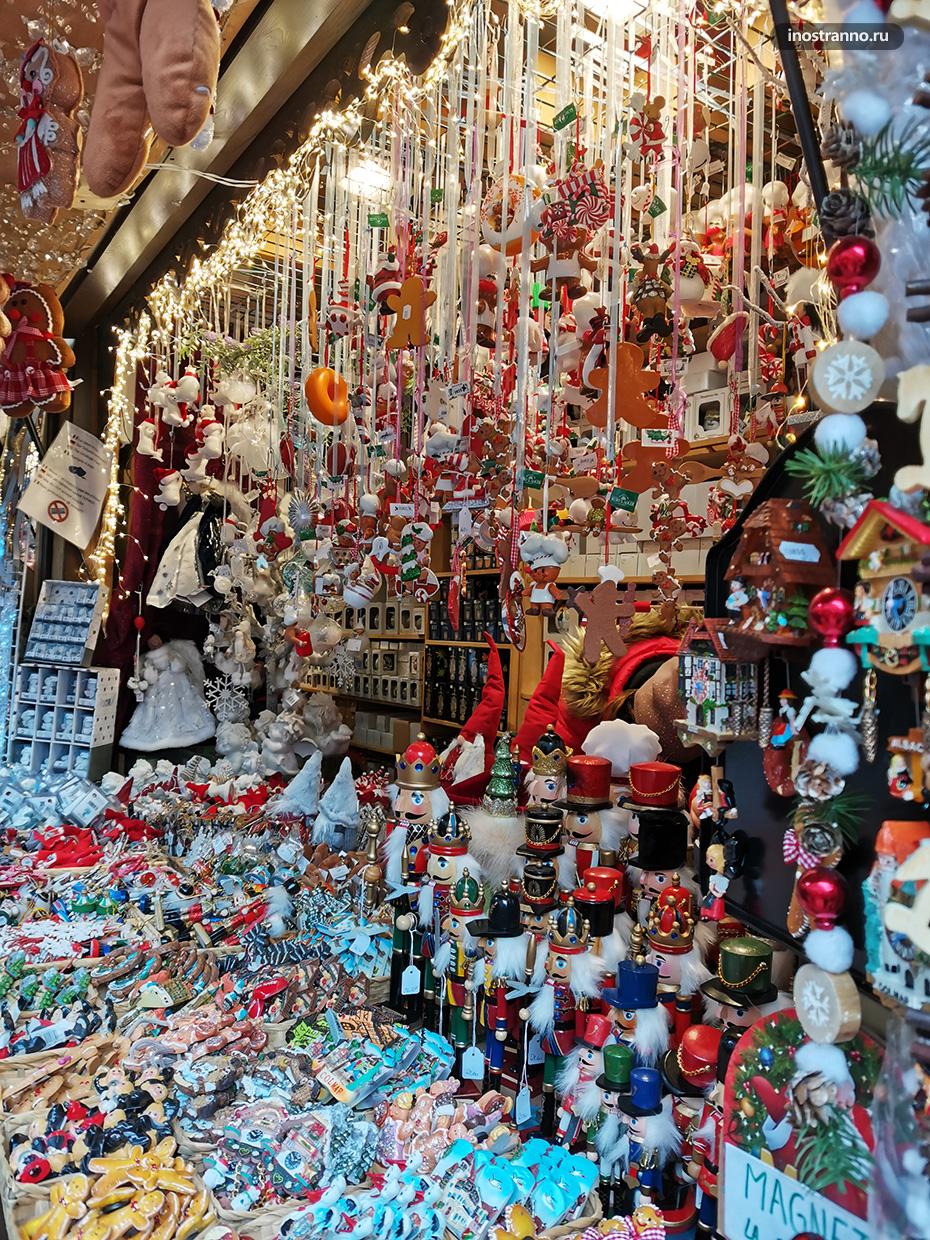 16. We bought a gingerbread man, which was the main prop for the photo shoot in Colmar.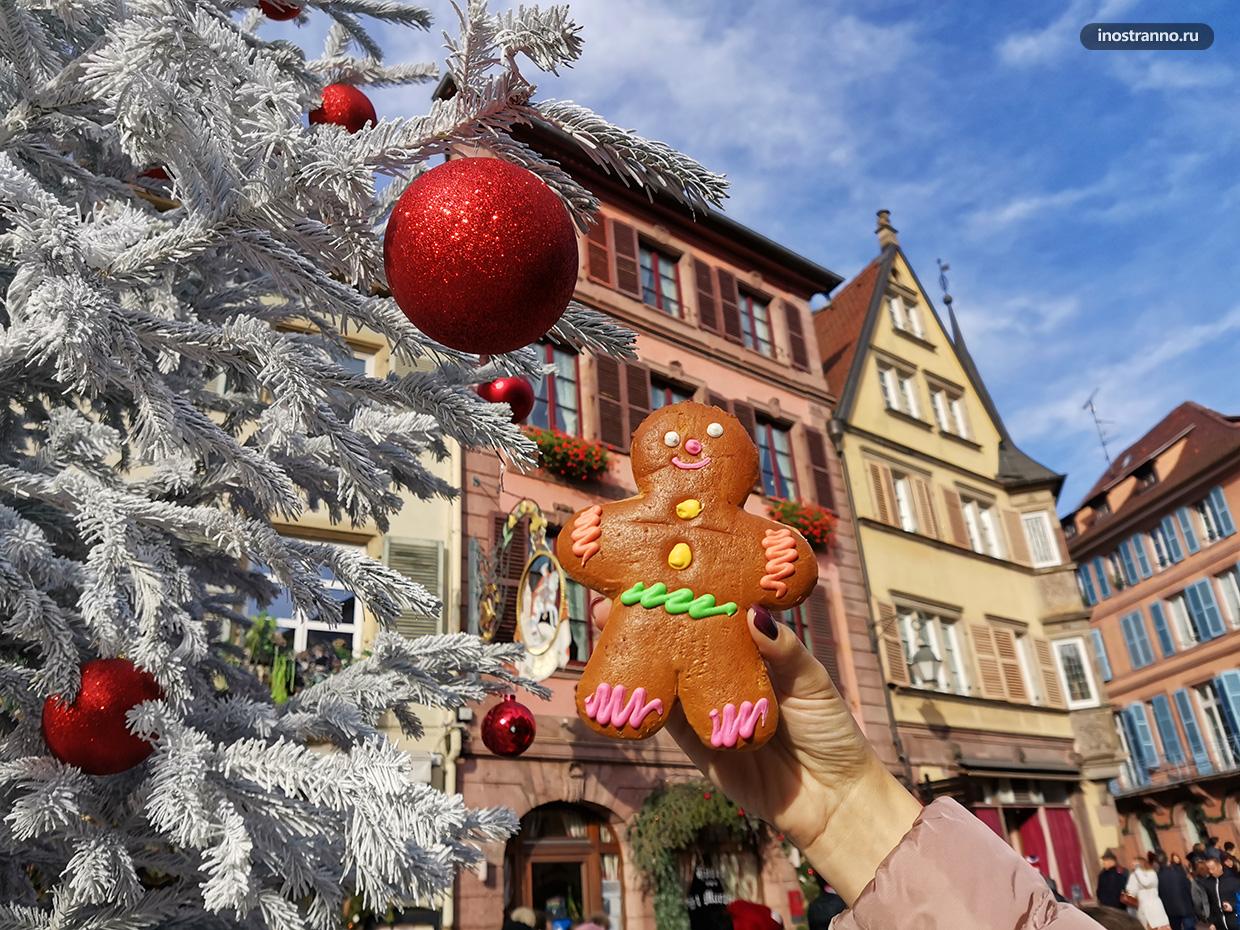 17. I forgot to tell you that the center of Colmar is completely pedestrian, the people here are mostly quiet and courteous, and the decorations help to create a really festive atmosphere of a fabulous Christmas.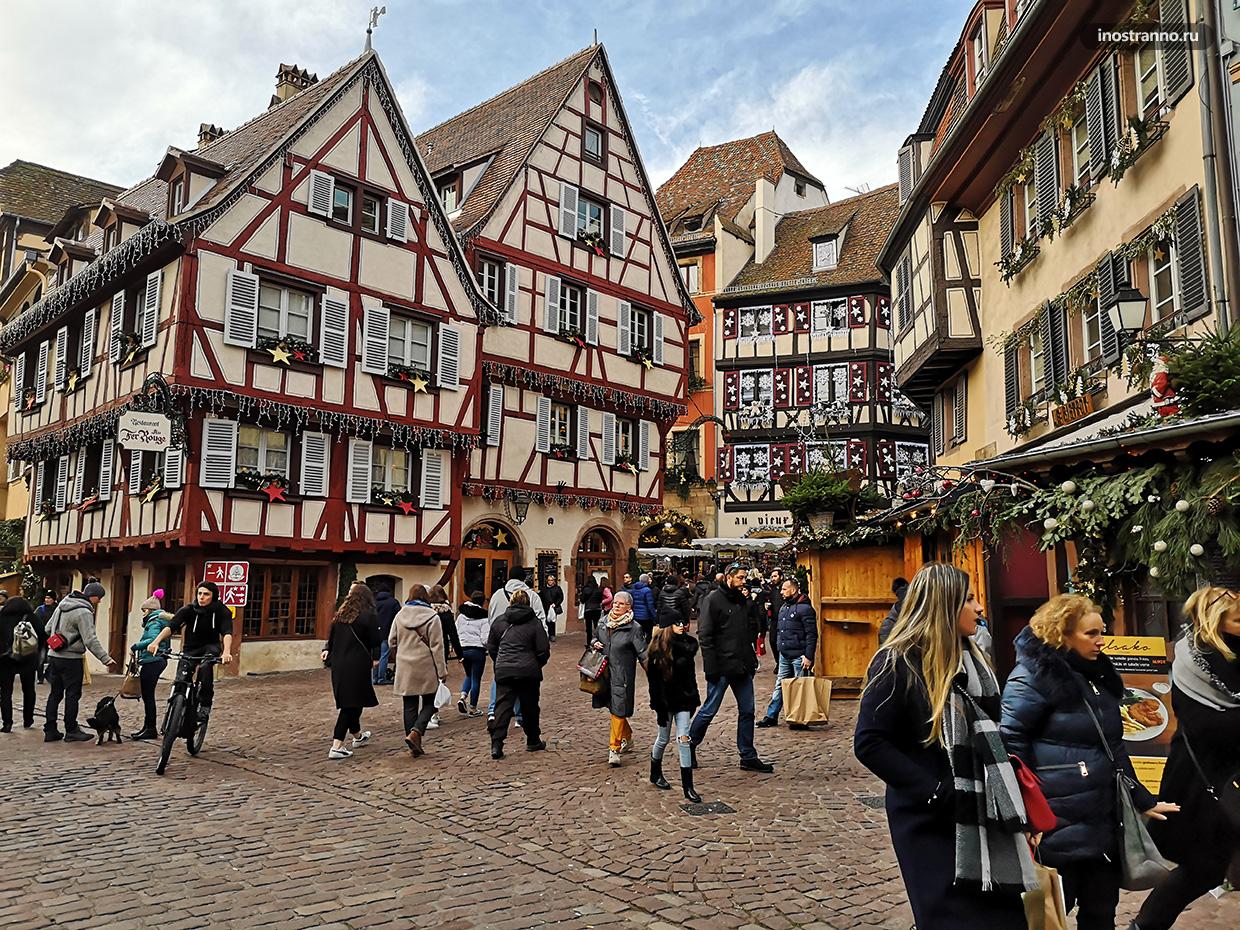 18. I know that some travel agencies still manage to sell trips to Europe for Christmas markets at the end of December and beginning of January. But in fact, most markets close as early as December 24, and the Christmas market in Colmar will be open in 2021 from November 26 to December 29.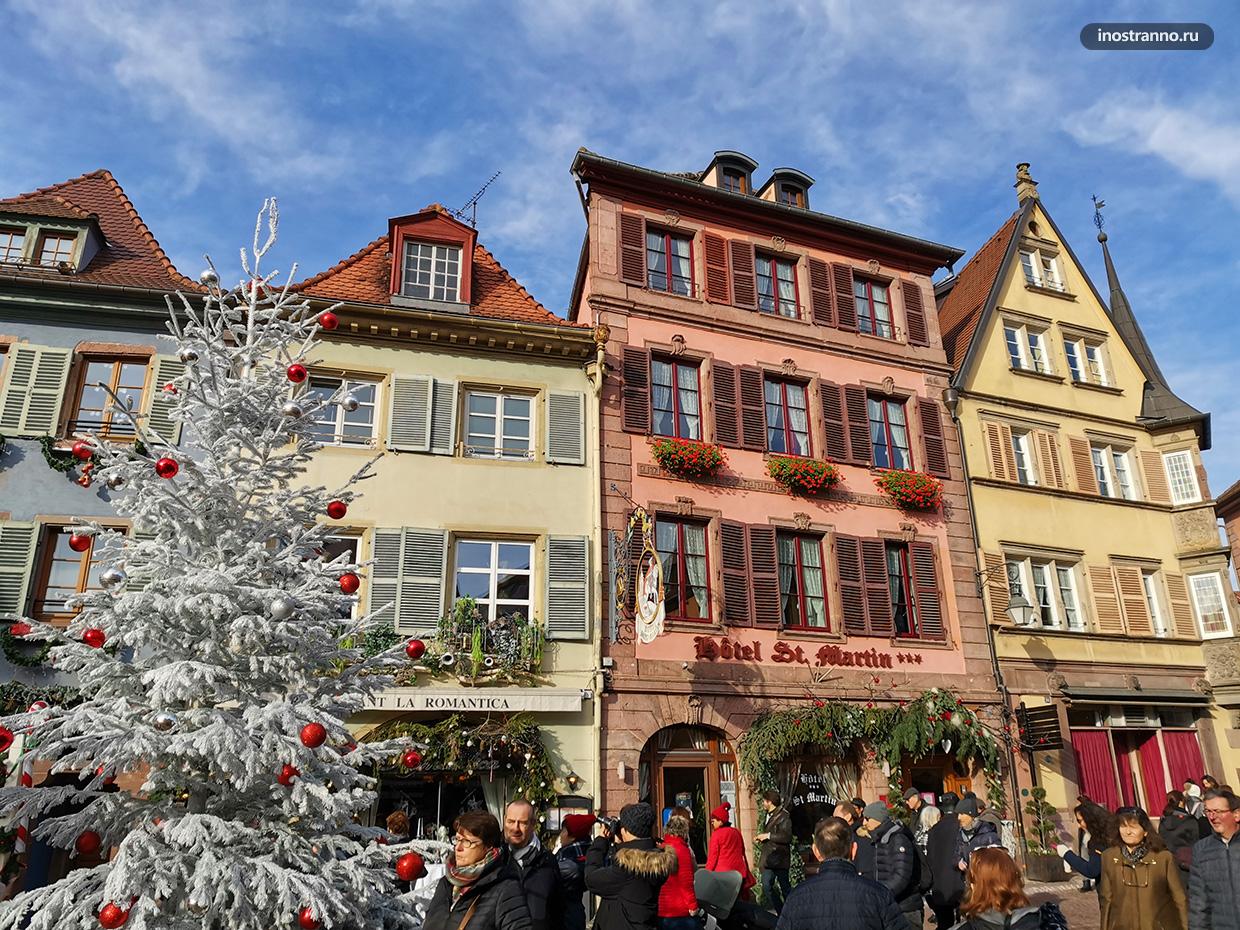 19. I can imagine how beautiful the city will look in the night illumination.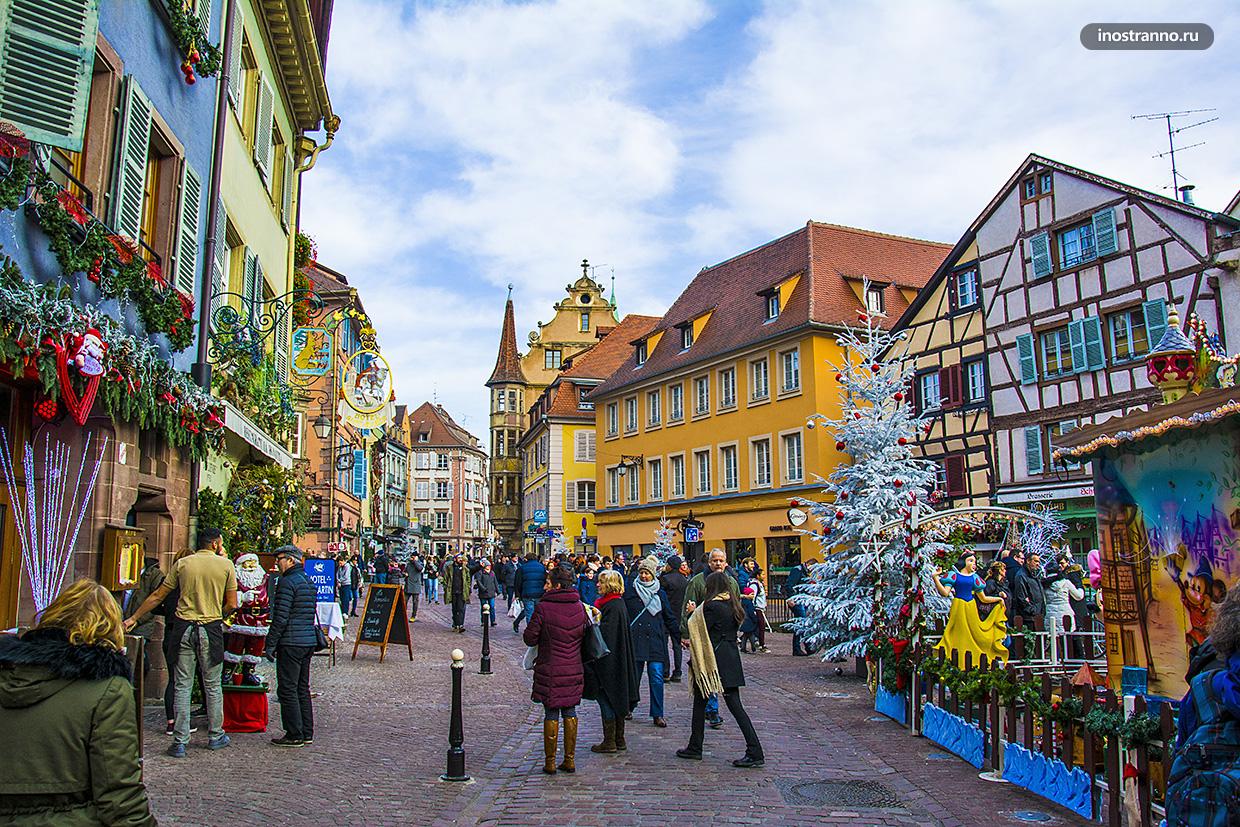 20. And the illumination in the city is not easy, because all 1150 light sources are controlled by computers, and a very unusual light show is created, which varies in intensity and color throughout the year. The light is chosen so that the natural colors of the facades are preserved. The light simply adds to their charm and romantic outlines.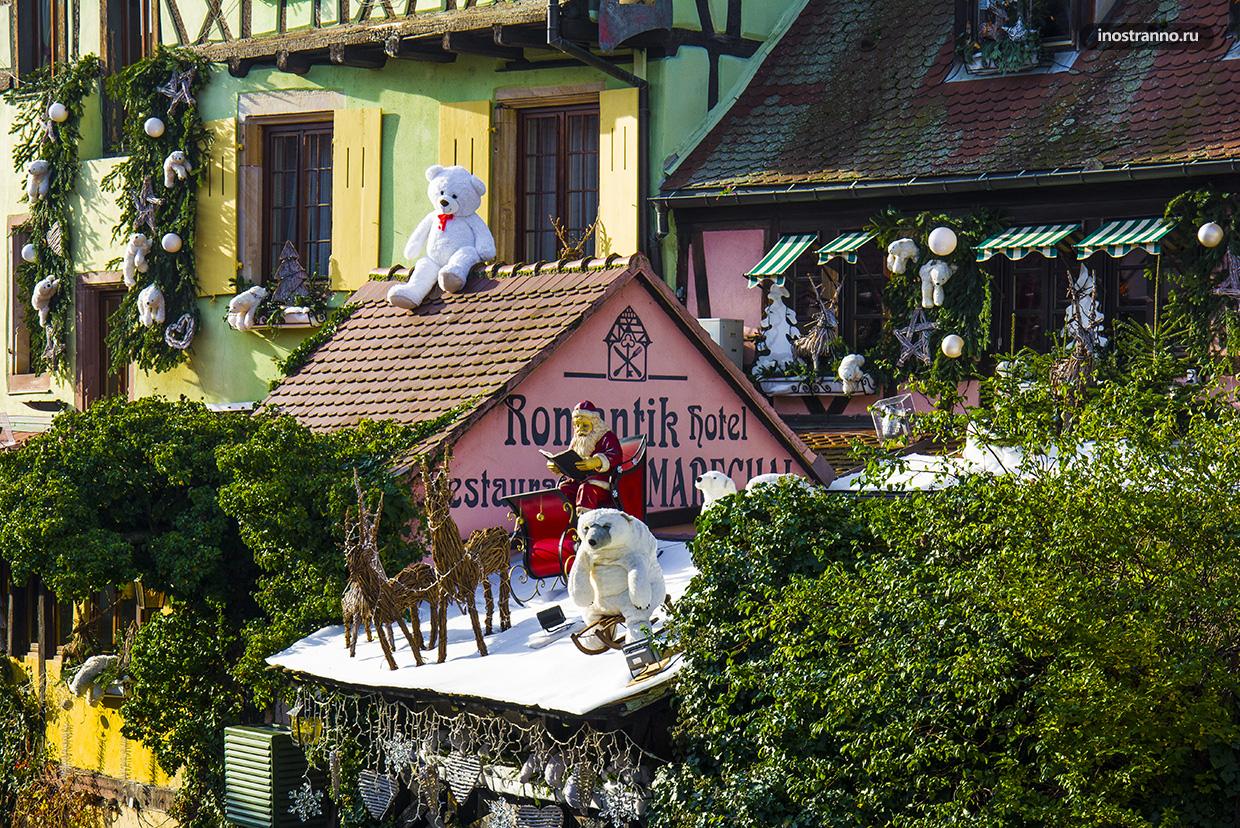 21. Our walk is coming to an end, we ran into one of the Christmas stores to buy small souvenirs with sweets, because today we have one more city waiting for us before we return to Strasbourg.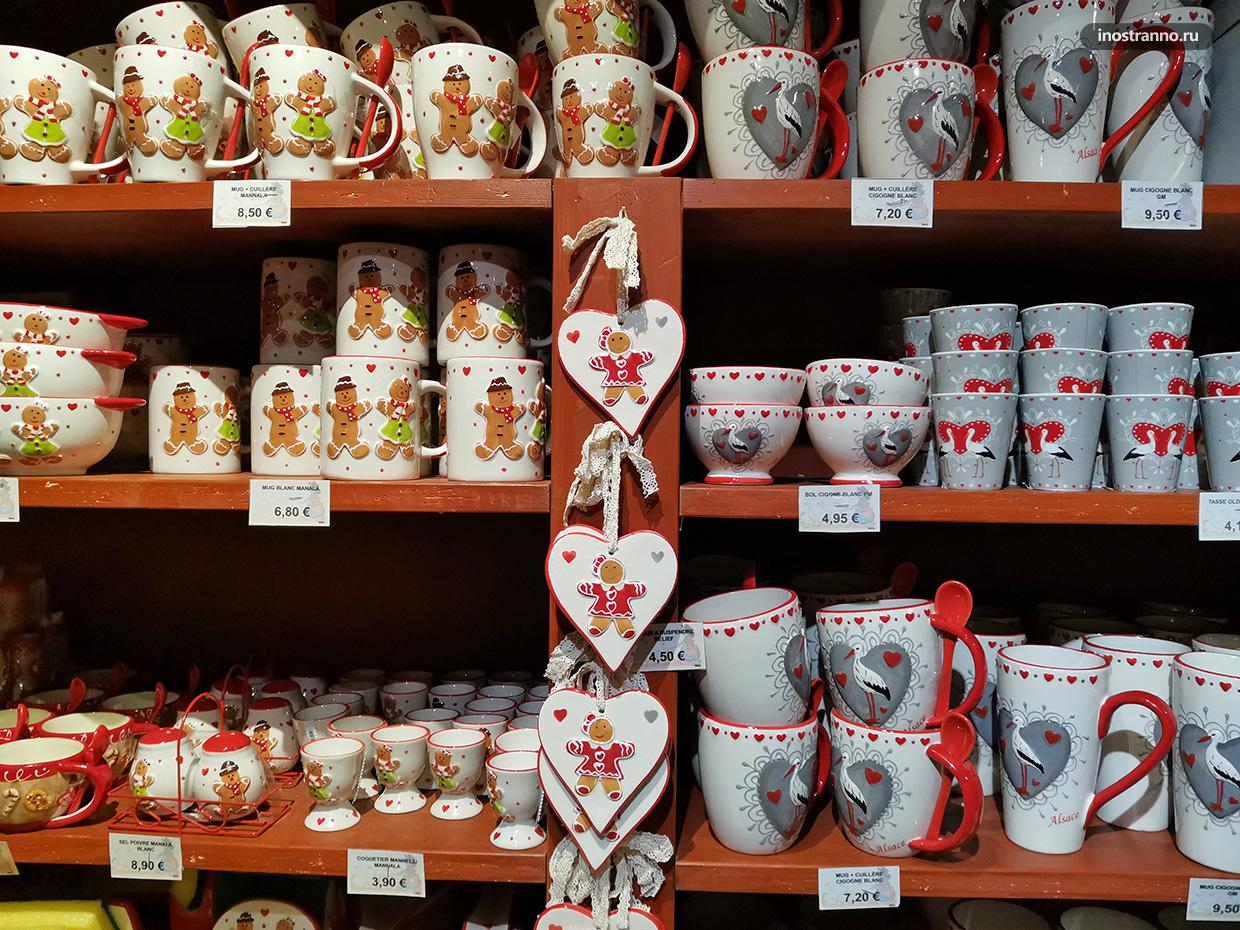 22. A bonus for those going to Colmar is a map of the city with sights and Christmas markets.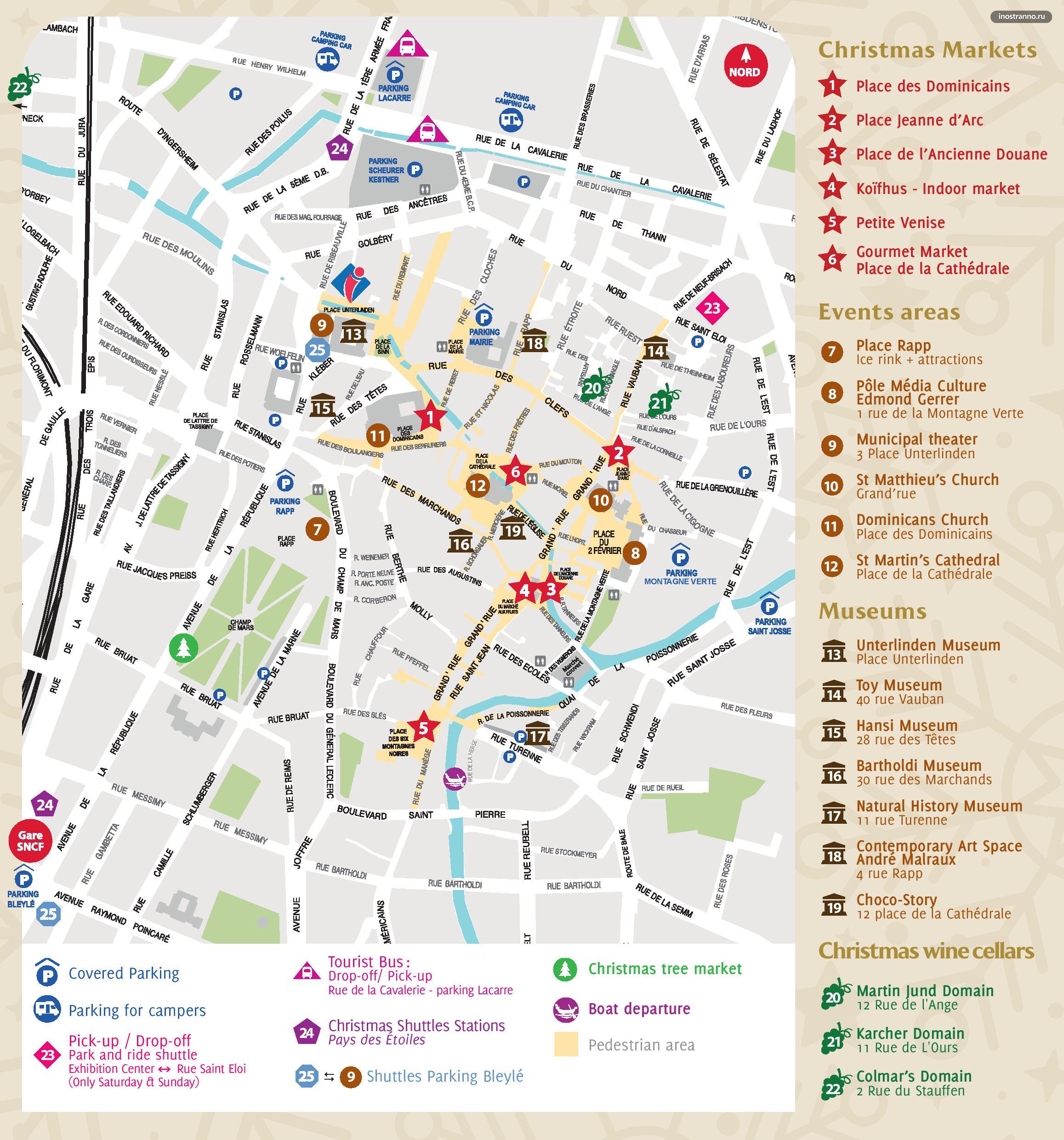 You may also be interested in
Sites for saving money when traveling!
Hotellook – Honestly compare prices and discounts on hotels and apartments in 50 booking systems (Booking, Agoda, Ostrovok.ru, etc.). Plan your trip in advance and save up to 40%!
Search the cheapest air tickets without extra charges from trustworthy agencies, official dealers of Aeroflot, S7, Ural Airlines, and all popular airlines worldwide.
Andrey Sekachev
I was born and grew up in Siberia and have been living in the Czech Republic in Prague since February 2012. In my free time I love visiting new cities and countries. To date, I have been to 36 countries and 400 cities. I love Italian cuisine, swimming in the sea and long walks. I am a bit afraid of planes, so I know how to use ground transportation.