Where to rest inexpensively over the New Year vacations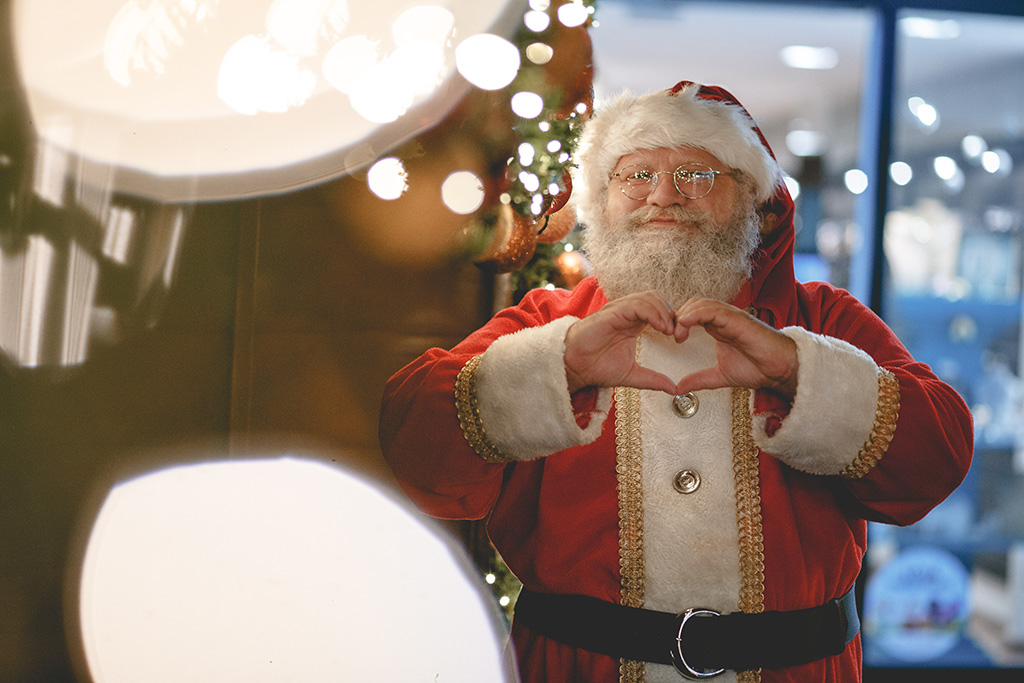 We advise you where to spend New Year vacations! Here's a list of places where you can go in 2022 to rest inexpensively during the holidays. We consider flights abroad (European cities and vacations by the sea) and domestic flights.
In 2022 the New Year vacations will last from January 1 to January 10, so you can make a full journey! In this selection we look at areas where you can have a relatively inexpensive holiday after New Year's Eve, from January 1.
Note: the tours are considered with a flight from Moscow for two people. The cost of holidays for closed countries in the review is given for last year. When the borders are open, we expect similar or even lower prices for tours. For Russia and open countries we have updated prices.
and Level.Travel – find the best tours on all tour operators – find cheap tickets
Content:
What countries are now open
This review is not about where you can fly to vacation abroad now, but just about the best inexpensive destinations. For a vacation so far are open only a little more than a dozen countries. The choice is not much, but at least something! We really hope that more destinations will open soon.
Here is where Russians can go on vacation now (read our guide, we have been to almost all of them):
New Year vacations in Russia.
Winter is not a reason to give up traveling in Russia. Check out the best cities to spend New Year vacations in 2022.
Veliky Ustyug
Spend a fabulous in the literal sense of the word New Year's vacations in 2022 can be in Veliky Ustyug, where the residence of Santa Claus is located. From such a trip will be delighted both young children and adults. But we recommend booking hotels a few months in advance, as Veliky Ustyug is a very popular destination for New Year holidays among Russians. Now the cheapest room costs 5000 ₽. Read more about the New Year in Veliky Ustyug.
Moscow region
On New Year's vacations in the suburbs prefer to come with children to relax with the family in a new environment. Also popular are meetings of a large and friendly company, as recreation centers offer many entertainments: sauna and bath, swimming pools, billiards, bowling, fishing, active sports. Prices for lodging are very different: there are modest hotels from 2000 ₽ per day, and a huge cottage for a large company for 10-50 thousand rubles.
Karelia
Want to have an adventure? Arrange active New Year vacations in Karelia! Snowmobiles, dog sledding, sleigh rides and other winter fun – a great start to the new year 2022. Find a hotel from ₽1500, but mostly prices are higher. Accommodation at holiday bases in Karelia costs from 3000 ₽, you can rent a whole house from 7000 ₽. See how to celebrate the New Year in Karelia. Look for good accommodation with discounts on Rumguru.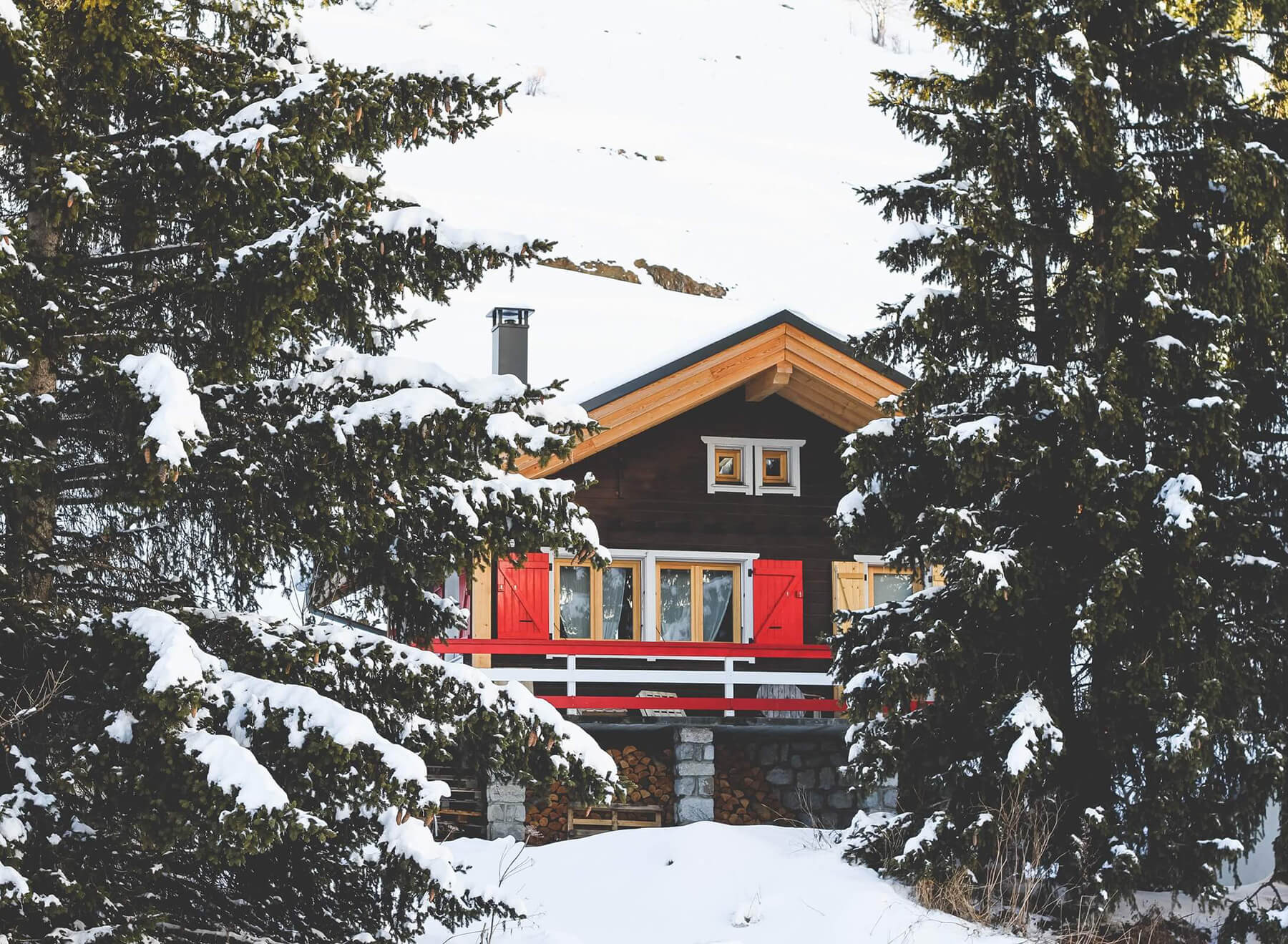 In winter in Karelia, tourists prefer to rent a cottage or house at the recreation center. Photo: heftiba / unsplash.com.
St. Petersburg
St. Petersburg on New Year's Eve is popular – people come to the city on their own and by tour. Guests are attracted by folk festivals, fairs, colorful shows and the opportunity to visit famous theaters and museums. The prices during New Year vacations 2022 do not bite: you can book a hotel in a good 4* hotel in the center of the city from ₽3500. Read more: where and how to celebrate New Year in St. Petersburg.
Kazan
Why not spend New Year's Eve 2022 in Kazan? The city will delight guests with comfortable weather, great food and interesting sights, as well as reasonable prices. You can stay in a 4* hotel in the city center from ₽5,500. You can also find accommodation in our selection of inexpensive hotels in Kazan. Read more: where and how to celebrate the New Year in Kazan.
Another way to celebrate New Year vacations inexpensively is to fly to Sochi or Adler. You can find tours for 7 nights with accommodation in the central Sochi in early January 2022 from 26000 ₽ for two people. A room in a good 3* hotel costs from 3000 ₽. Read more about spending New Year's Eve in Sochi.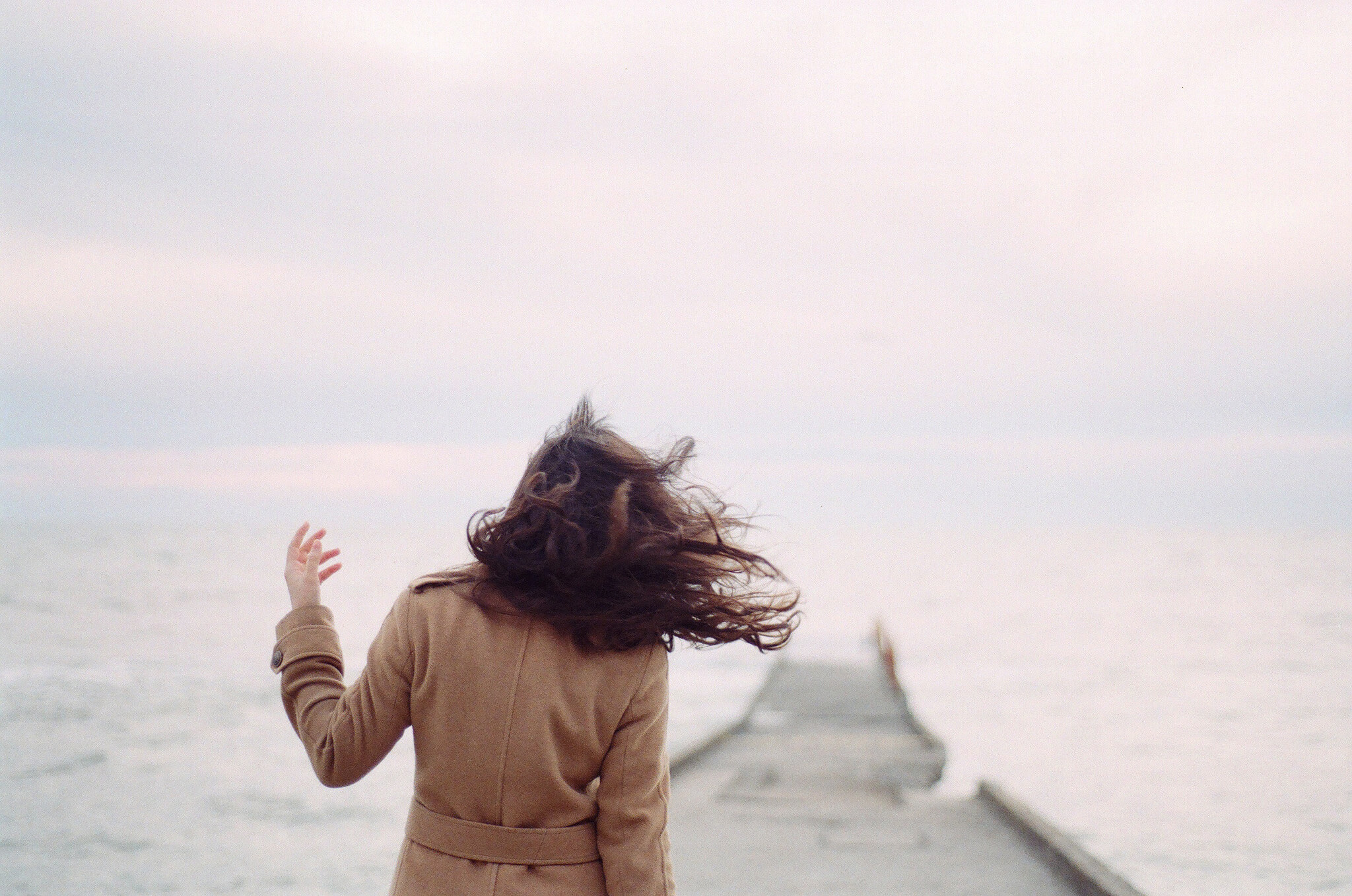 Sochi in winter. Photo: l_i_l_l_i_t / flickr.com.
It's only costly to fly to the Crimea for a vacation in the summer, but the rest of the year you can go for mere pennies. Tours in Yalta for 5 days for two cost from 23000 ₽. Rest in a good hotel 4 * – from 6000 ₽. In winter, it's nice to walk around in nice weather, leisurely sightseeing, and drinking wine. Read more about New Year's Eve in the Crimea.
Moscow
New Year's Eve tours to Moscow are no less popular, because that's where the biggest celebrations and the most interesting events take place. You can't be sure that all the hotels in Moscow are as pricey as you might think: you can stay in a nice 4-star hotel at New Year's Eve from 4,000 ₽. Read more: how to celebrate the New Year in Moscow.
St. Basil's Cathedral in Moscow. Photo: Paolo Crosetto / commons.wikimedia.org / CC BY-SA 2.0.
New Year Holidays in Europe
Istanbul, Turkey
A great place to go to celebrate New Year's 2022 is Istanbul, the city where Europe and Asia meet. Many Russians spend New Year's vacations there. Tours for 7 nights in early January 2022 cost from 44,000 ₽ for two people. Hotels here are relatively inexpensive – for 70 euros you can take a room in a great hotel 4 * in the center. However, you should book your accommodation well in advance because prices tend to increase a lot closer to the holidays. See how to celebrate the New Year in Istanbul.
Riga, Latvia
Compared to other European capitals the holidays in Riga can be pretty budget-friendly. The city during the Christmas and New Year has a pleasant festive atmosphere. Hotels in the center of Riga cost from 28 euros per night. Tours in Riga can be found from 65 thousand for two people. Learn more about the New Year in Riga.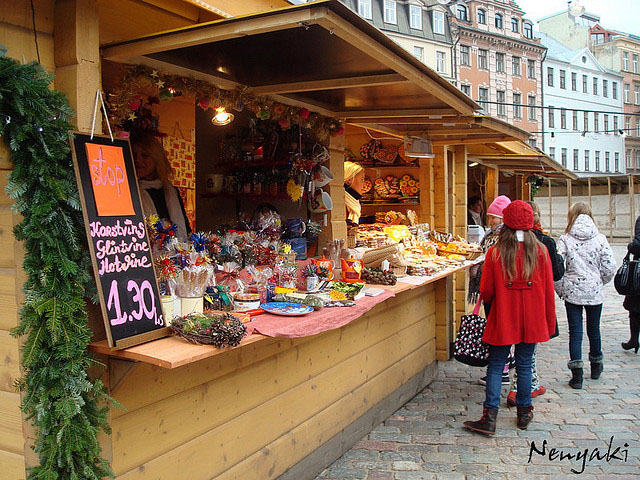 Christmas fair in Riga. Photo: Nenyaki / flickr.com / CC BY-ND 2.0 license.
Prague, Czech Republic
A great way to spend New Year's vacations in Europe is to go to Prague. The best time to go there is during Catholic Christmas, because the main events are held at this time, but also the Czechs celebrate the New Year with fun. Tours of Prague for New Year's holidays don't cost very much: from 65000 ₽ for two people. Hotels in Prague start at 25 euros per night. Read more about New Year's Eve in Prague.
Lapland, Finland
You will find a real winter fairy tale in Lapland: northern lights, Joelupukki, reindeer, snow-covered forest. For a complete immersion we recommend staying in an igloo hotel. Spend New Year vacations 2022 in Finland by European standards can be very inexpensive: tours to Lapland in early January cost from 100,000 ₽, and in Helsinki – one and a half times cheaper. Hotels in central Helsinki can be found from 50 euros. The cheapest way to celebrate the New Year and spend the vacations in Finland, residents of St. Petersburg, because you can get to the country by bus or by car. Learn more about the New Year in Finland.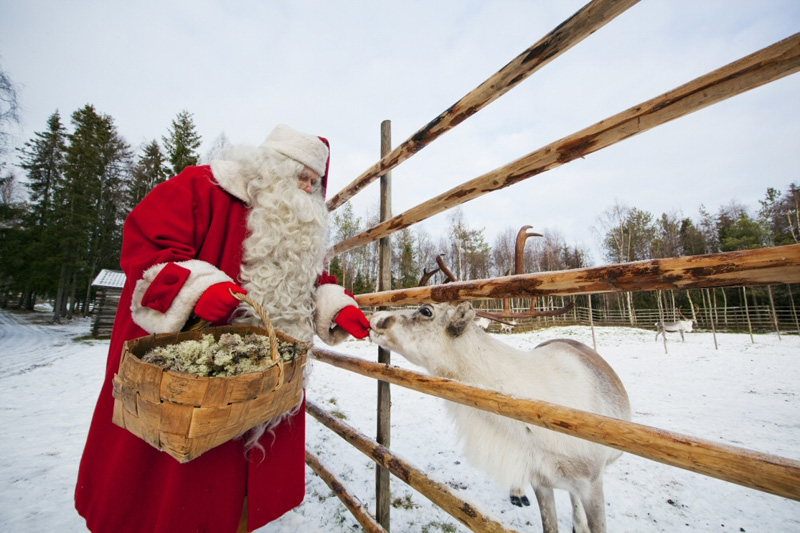 Santa Claus in Lapland. Photo: Visit Finland / flickr.com / CC BY-NC 2.0 license
New Year vacations at the sea
We should say right away that it is hardly possible to spend New Year vacations by the sea in warm tropical countries in 2022 cheaply. In Southeast Asia hotels, food and entertainment are cheap, but the flight will eat up the lion's share of your budget. Well, if you set your sights on the Caribbean, then you'll definitely have to shell out a pretty penny. Although we spent our last New Year in Cuba and didn't spend too much. And before that we celebrated New Year in Vietnam.
Thailand
It is traditional for Russians to spend New Year's Eve at the seaside in Thailand despite the high price of flights and cheap tours. In early January, tours to Phuket cost from 120,000 ₽ for two people, hotels near the beach can be found from $20 per day. Learn more about welcoming the New Year in Thailand.
Vietnam
The south of Vietnam in winter is perfect! The weather is good. Sandy beaches, a sea of fruit, delicious and cheap food. Besides you don't need a visa for a stay up to 15 days – beautiful! New Year's vacations here can be inexpensive: hotels by the sea are from $ 11 per day, delicious local food – from 1-2 dollars a dish. Tours cost from 100,000 ₽ for two people. We have already spent New Year's Eve there three times: in Da Nang, Nha Trang and Phu Quoc. Read more about New Year's Eve in Vietnam.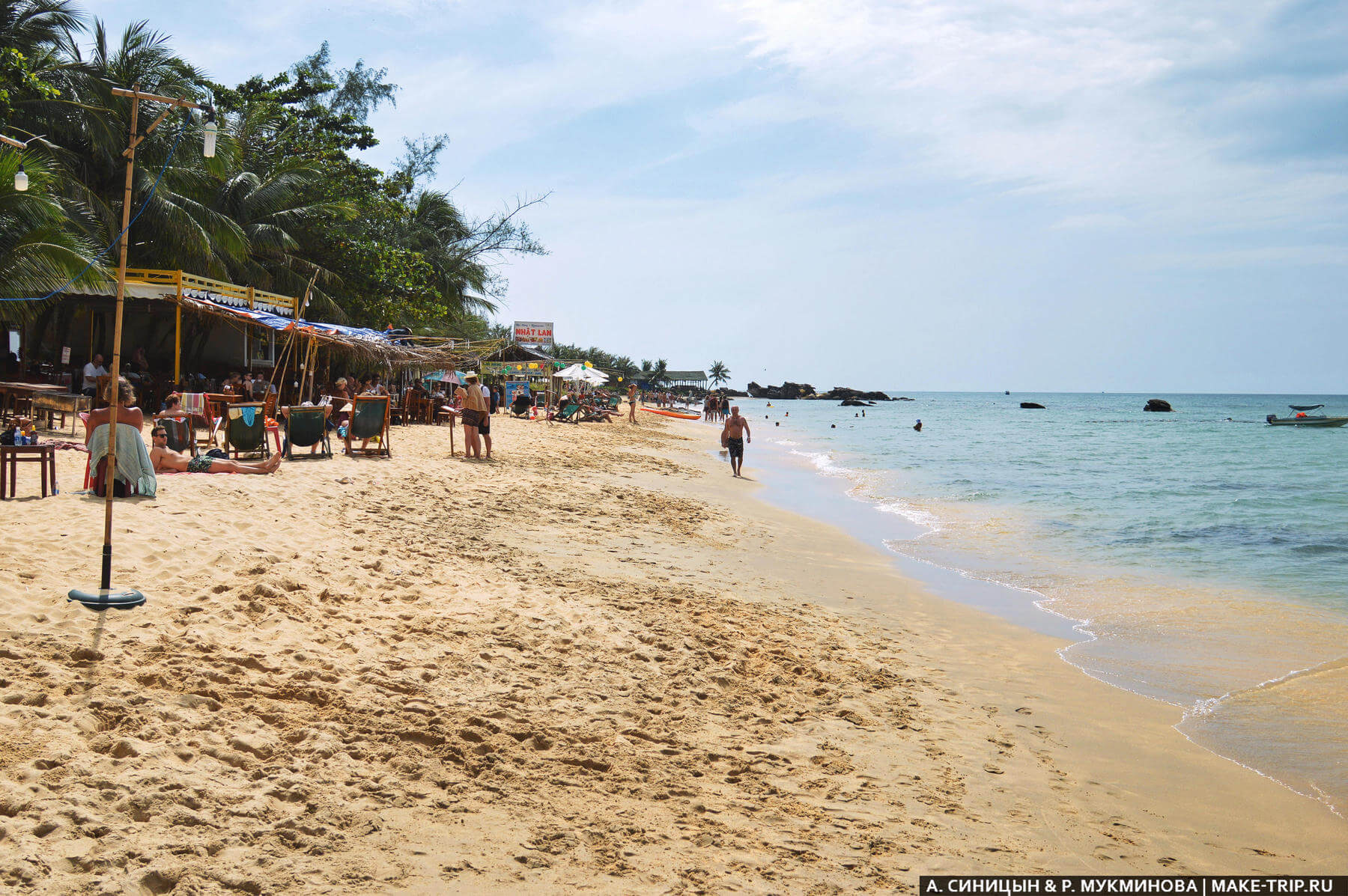 Long Beach on Phu Quoc.
Winter in Goa is high season. Prices spike, but it is still possible to inexpensively meet the new year 2022, especially if you go alone and after January 1. The weather in Goa in the winter is beautiful, entertainment is plentiful. The holiday is on a grand scale, a lot of tourists. Rent a room in a hostel can be from $ 13. The cost of tours – from 100 000 ₽ for two people. Learn more about New Year's Eve in Goa and see a review of the best resorts.
Sri Lanka
Have fun on New Year's Eve 2022 in Sri Lanka – the locals are happy to welcome the European New Year. It is better to go to the south and southwest of the island, because there is almost no rain in winter. Prices are as follows: a night in a hotel on the first line – from $ 30, dinner at a cafe – from $ 6, tours – from 110,000 ₽ for two people. Check out Sri Lanka's price survey and find out how they celebrate the New Year there.
Dominica
It's a good idea to go to the Dominican Republic for New Year's Eve. Although expensive, it is an extremely attractive destination – anyone will be seduced by their perfect Caribbean and equally beautiful Atlantic beaches. Weekly tours cost from 190,000 ₽ for two people flying from Moscow. Hotel rooms in 3-4* hotels cost $40-70 per night. Last December we had an all-inclusive vacation in the Dominican Republic at a great 4* hotel and paid only $90 per night for two. Read more about New Year's Eve in the Dominican Republic and see a review of the best resorts.
Our vacation in the Dominican Republic.