Nepal – review
?️Harmony, the beauty of nature and. not delicious food? And also snakes, spiders and other beauties?
I always say, if you're sick of everything, go to Nepal! ? Why go there? Well, it's easy, there is complete harmony, the mountain air intoxicates and relaxes, the smell of nailed-down dust after the downpour turns your head, sometimes the roar of thunder and lightning shake the sky, forcing you to observe with fascination the nature, and not a picture on TV. And the scorching sun makes you cram into a hotel room and wait for mercy so you don't get sunstroke like I did once?
So as not to waste your time, I decided to break down my impressions on a point-by-point basis:
??♂️??♀️ People: The people of Nepal at first glance give the impression of good-natured, peaceful villagers who have to live in field conditions all their lives – unsanitary, disease, hunger, grueling work to survive, these are the realities of most Nepalis, which the guides and tour guides will not tell you. However, do not be fooled, in absolutely all Asian countries where I was people are not rich, but very enterprising: sell you a product or service at three or ten times the price Nepalis are always happy. Do not forget about it. Bargain always and everywhere, if you do not want to go to Nepal for the price of a trip to London?
?️?Climate: It turned out to be quite pleasant for me and even liked it. I was there during the spring and summer period, and during the month the weather followed the same program: morning-day warm and even hot, the afternoon, evening and night showers and an invigorating chill.
Lodging: In terms of accommodation in Nepal, too, all decent, of course luxury apartments can not wait, but there are quite a few hotels and inns with a nice price, and it all looks very interesting, authentic and Asian. Not new, but good quality wooden furniture, simple repairs but with everything you need, the only obvious drawback I can highlight is the smell of dampness in absolutely all the rooms, which is certainly due to their climate and the abundant rain.
??Sightseeing: What can you see in Nepal, and what kind of experience can you get? It depends on how long you are going for. If you have a week to spare and a maximum program, you can limit yourself to the suggested excursions to temples and protected areas. Warning: keep in mind that bus trips through the mountains is not for the faint-hearted. The heights there are not weak, and vehicles roll over and fall almost every day. Yes, yes, don't be surprised. Nepalis just take it easy and don't make tragedies. In general, I noticed that in the third world countries are much easier to deal with deaths and dangers. It's not surprising, though. If you have at least a month to spare, and there is no need to rush, then I would recommend the following activities: Walks around the city, trips to local clothing and food markets, shopping (to buy cashmere for the rest of his life for you and your family – a sacred duty), independent hiking in the mountains and forests (but correlate the level of their training with the chosen route), also keep in mind that in the specialized centers selling organic cosmetics prices will be much higher, and worse quality, and better to contact a granny or mother of a local who makes the same masks / oils / lotions and buy everything you need from her.
??Cuisine: In Nepal it is quite unremarkable and sparse. It is definitely not worth going for culinary delights. But if you are a vegan or a rawhidee, then it will even seem familiar to you: the food of the Nepalese is either something that grows on trees without any processing at all, or it is rice, often even without seasoning and salt. There is meat of course, but very little of it in most dishes, it is boiled or just fried in oil, "without soul" so to speak. In a word such that the European don't even want to eat it.
And in conclusion, when you should not go to Nepal:
?Without knowledge of English or an interpreter
?With a child, or God forbid with more than one child
?With a boundless love for the comfort zone, and not ready to give it up even temporarily
?With a fear of insects and reptiles and arachnophobia?
That's all I wanted to share with you) If there are still questions – write them in the comments, I answer all. Have a nice trip ?
12 reasons to go to Nepal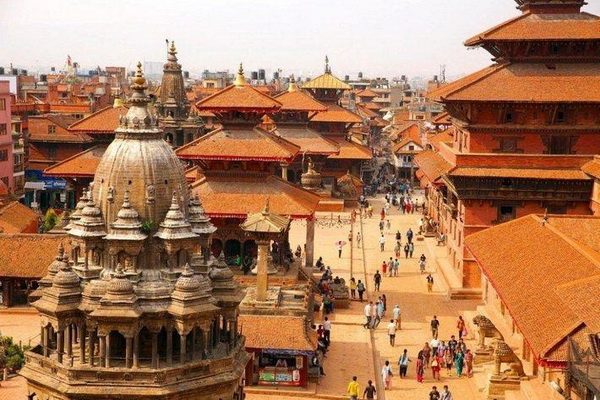 This country in Asia is becoming more and more popular among tourists, thanks to its amazing nature and a lot of attractions. It is visited by fans of eco-tourism who want to be in touch with nature, find peace and restore their mental strength. In this issue we will give you a dozen reasons to visit Nepal.
Annapurna
This mountain range in the Himalayas, whose highest peak is the eight-thousand-mountain mountain of the same name, is famous all over the world for its trekking routes. The lake town of Pokhara is a must see in Annapurna, a place of remarkable natural beauty, renowned as one of the best mountain resorts in the country. In addition, Annapurna is a national park, which is famous for its Tibetan temples, monasteries and hot mineral springs.
2. High Mountains
Nepal has the highest mountain system in the world: here are 8 of the 10 highest mountains in the world, and here is the highest point of the planet, Mount Everest. All this natural splendor attracts climbers, mountaineers and adventure seekers. Trekking in Nepal is the dream of every lover of mountain trekking.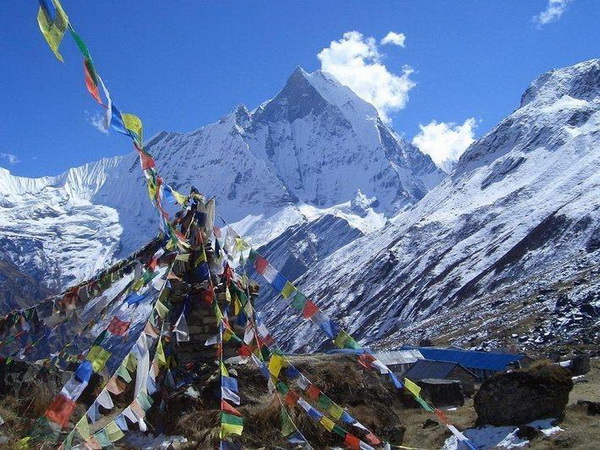 The best seasons for trekking in Nepal are from March to April, when the spring blooms are in full swing. In addition, the high season here starts in October, when you can admire the autumn forests and clear skies, and lasts until December. It's not worth trekking in summer, as it's monsoon season.
Birdwatching
The animal world of Nepal is considered one of the richest in Asia. It is a birdwatcher's paradise, with more than 856 different species of birds known to science. And that is almost 10% of the entire population of birds in the world. During your stay you will definitely come across the most beautiful birds of the world, including the blue turtle and dipper as well as the Danfe pheasant, which is considered the symbol of Nepal and is protected by law.
4. Adventures
Nepal is a great place for adventure seekers. Here you will be offered a choice of mountain climbing, hiking and trekking, rafting, wildlife safaris, hot air ballooning, paragliding, jumping on an elastic cable and many other types of outdoor activities.
5. UNESCO Heritage
There are four UNESCO World Heritage Sites in Nepal. These are amazing places with unique cultural and historical charm. Here you can visit ancient temples, monasteries and other sites to experience the culture of Asia and the Himalayas to its fullest.
6. Low Prices
Nepal is surprisingly affordable. This is evident when you compare the cost of trekking in Nepal to other famous mountain destinations like Kilimanjaro or the Inca Trail. On average, you can live here, spending about $10 a day on food. A fairly decent and clean hotel room can be found for about $18.
7. Lakes
There are more than two hundred lakes of glacial origin in the vast expanse of Nepal. And why do you need the sea when there are such natural oases with amazingly clear water?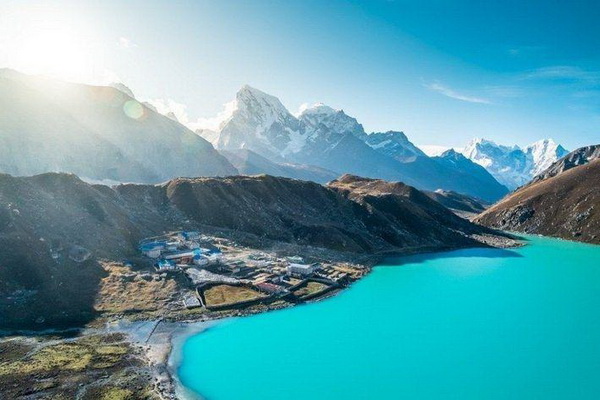 Nepal's numerous lakes are known not only for their outstanding beauty, but also for their spiritual value. Lost in the mountains, water bodies with amazingly clear water are considered places of power, on the shores of which gather Nepali shamans or people looking for sacred meaning.
8. Altitude Differences
Nepal is the only country in the world where the elevation changes range from 60 meters to more than 8,000 meters above sea level. Such a feature of the local terrain allows for a unique travel experience that leaves no one indifferent.
9. Diversity of Cultures
More than 35 different ethnic groups call Nepal their home. This means that many beliefs, languages, cultural and musical trends coexist in this amazing country. Nepal is a wonderful place where you can immerse yourself in different cultures and leave your usual comfort zone. Nepal is the only place in the world where people worship the living goddess, Kumari.
10. Nepal's cuisine
Although the cuisine of Nepal has absorbed the unique cooking traditions of the two neighboring regions of India and Tibet, Nepali dishes tend to be healthier, with many lean meats and dishes for vegetarians. Lentils, tomatoes, cumin, potatoes, yogurt, and garlic are also commonly used here. Best of all, it's possible to feast on a backdrop of amazing natural scenery.
11. Kathmandu Valley
The Kathmandu Valley is located in the foothills of the Himalayas and is made up of seven different "monument zones. These zones include urban centers with palaces, temples, and the oldest known Buddhist monument, which was built in the third century B.C.
12. Tranquility
Nepal has been regarded as a sacred place for hundreds of years. The tranquility of this country will have a positive effect on anyone who is able to experience it. The people, buildings, and land are all symbols of peace and tranquility here. In Nepal one can truly escape from the hustle and bustle of the world and make one with nature.