China's most populous cities
China is the most populous country in the world, it is a multinational state with 56 nationalities, the most numerous of which are the Chinese. The population is very unevenly distributed across the country, with the bulk of the population living in the following regions:
South of the Great Chinese Plain;
Yangtze and Zhujiang deltas;
Sichuan depression;
Virtually unpopulated highland, desert areas of the country. The state pursued a policy of birth control, forbidding having more than one child in a family. The birth of a second child was often not even registered. The birth rate was not restricted among the country's small ethnic groups. There are not enough jobs in rural areas, so the authorities already allow two children each. There are 1,386,000,000 people in the state.
The urban population is very growing, which is primarily due to administrative changes under which county centers, counties are given the status of cities. A peculiarity of Chinese cities is the high proportion of rural residents who permanently reside in cities. Local authorities are constantly implementing various plans to regulate the number of residents, settlement of people, but rural people steadily tend to live in megacities, where there are jobs and a much higher quality of life.
Top 10 most populous cities in China
Chongqing – 30,751,600
Shanghai – 24,152,700
Beijing – 21,705,000
Tianjin – 15,469,500
Guangzhou – 14,043,500
Shenzhen – 11,908,400
Wuhan – 10,607,700
Hangzhou – 9 018 000
Dongguan – 8,220,207
Shenyang – 7,935,000
Chongqing is the country's most populous metropolis
One of the state's four central cities, it is located in the southwest of the country. It is China's largest urban agglomeration in terms of population and area. Despite the high rate of urbanization and development, Chongqing has managed to preserve its original Chinese way of life and traditions. In the streets of the city, ancient Buddhist temples stand side by side with modern skyscrapers.
The population of the most populous city in the state is 30,751,600 people.
But people live here quite comfortably. The fact that the area is divided into 26 districts, 8 counties, 4 autonomous counties. Chongqing itself consists of 26 districts, of which 11 are considered urban, the rest are suburbs. It is in the city itself where 7 million people live, the rest of the population lives in a huge agglomeration whose name coincides with the name Chongqing.
Shanghai – the largest megalopolis
It is located in the Yangtze River delta in eastern China. It is an important cultural, financial center of the country; it has the largest sea port in the world. Shanghai is one of the biggest megacities of the planet. Over the last few decades it managed to multiply its population and become one of the ten most populous cities in the world. Today 24,152,700 people live here. Most of the inhabitants are Chinese, but in addition to them live here 118 small nationalities and foreigners. Despite the very high population density, Shanghai has a low crime rate and foreigners are always welcome here.
Beijing is a crowded capital
The capital of China is surrounded on three sides by Hebei Province, bordering Tianjin in the southeast. It is home to the country's largest road and rail hub. Beijing is very densely populated, with 21,705,000 people. There are a lot of migrant workers here, mostly from rural areas, they are called "minguns. They are all here illegally, often subject to discrimination, but they come to the metropolis as cheap labor. In Beijing, they are also a source of crime.
Of all the city's citizens, 95% are Chinese, and the main ethnic minorities are Mongols, Dungans, and Manchus.
There are many foreigners in Beijing, mainly businessmen, students, and representatives of foreign companies. In recent years, there is a large inflow of people from South Korea, which has formed the largest diaspora in China. Most of the Chinese live in the Wudaokou and Wang Jing districts.
Tianjin – a small world of great opportunities
The metropolis belongs to northern China, located along the Bohai Bay. It is bounded by the Bohai Gulf to the east. Its location has contributed to its rapid development. Gradually Tianjin has turned into an economic, financial, cultural, and scientific center.
The population of Tianjin is 15,469,500 people. The majority are Han Chinese, with 51 of the 55 small nations registered in China living in the city itself. Most of them are represented by Hui, Koreans, Manchus, and Mongols. People are constantly arriving here, causing the population to grow, and according to the Chinese government, in a few years the population of Tianjin will grow to 20 million people. Not only migrant workers come here, but also many students. After all, higher education institutions and a large number of jobs are concentrated here. The population density in Tianjin is 1,210 people per square kilometer.
Guangzhou is a large metropolis with high population density
Guangdong's provincial capital has a population of 14,043,500. It is one of the most populous metropolitan areas in the Republic of China. Several important centers of the country are concentrated here:
Guangzhou is the third largest among all cities in China. Most of the visitors come here to work and study, most of the residents are Chinese, who also come from neighboring provinces in search of work. The high number of citizens affects the constant traffic jams and crush in the subway, especially during rush hours. The large number of cars in the city significantly spoils the local ecology, which is also a significant disadvantage.
Shenzhen is a megalopolis of migrants
It is located in Guangdong Province, in the south of China, bordering with Hong Kong. The city managed to turn into a major financial, industrial, and transport center of the country in a fairly short time. It is constantly visited by foreigners, students and those who seek good jobs and build a career. The population here is 11,908,400 people. The main part is represented by a sub-ethnic group of Hakka Chinese, who gradually migrated here in large numbers. Shenzhen is also home to a large number of minority populations, with the largest groups including Zhuans, Miao, Tujia, Dong, and Yao, as well as Manchus, Koreans, and Mongols.
Top 10 Largest Cities in China
If you're attracted by the unique atmosphere of big cities, China is the right place for you to travel. Enjoy the incredible energy of the largest megacities in the fastest growing country in history!
You can visit the most densely populated cities in China and get an unforgettable experience at the sight of the most famous skyscrapers not only in China and Asia, but also in the world!
Below is a list of the top 10 largest cities in mainland China, according to the latest published data of the National Bureau of Statistics of China. These are not only the most populous cities, but also those that are important to the development of industry and economy of China (this list does not include special administrative regions of Taiwan and Hong Kong).
1. 1. Chongqing – 34 million people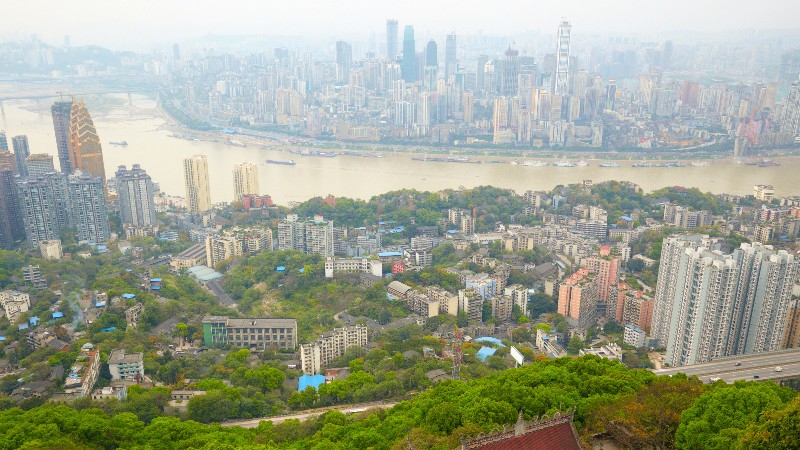 Population: 34 million people
Location: Yangtze River, Southwest China
Area: 82,300 km²
Chongqing – China's most populous city. It is known for its fog, mountains and cruise on the Yangtze River. Thanks to its well-developed infrastructure and serious investment in industry, Chongqing has been ranked among the ten largest cities in China for the past 5 years.
Although the entire city has a population of over 34 million, it is interesting to note that the vast majority of the population lives outside the urbanized area.
Recommended Tours in Chongqing:
2. Shanghai – 24.2 million inhabitants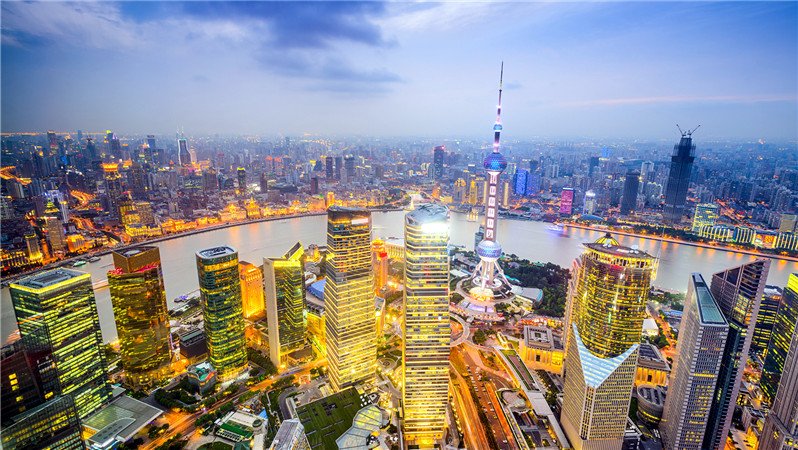 Weitang Waterfront, Shanghai
Population: 24.2 million
Location: Yangtze River Delta, Eastern China
Area: 6 341 km²
Shanghai – An international metropolis and the country's most prosperous city, radiating the energy of both traditional and modern China. It is China's largest city and its commercial and financial center, and is a picture of China's future.
Shanghai is home to the largest and busiest container port, two major airports (Pudong и Hongqiao), the world's fastest train (maglev) and a network of elevated highways.
Here you'll find an amazing mix of Eastern and Western culture, antiquity and modernity. The outskirts of Shanghai are rich with beautiful lakes, rivers and reservoirs.
Recommended tours to Shanghai:
3. Beijing – 21.7 million inhabitants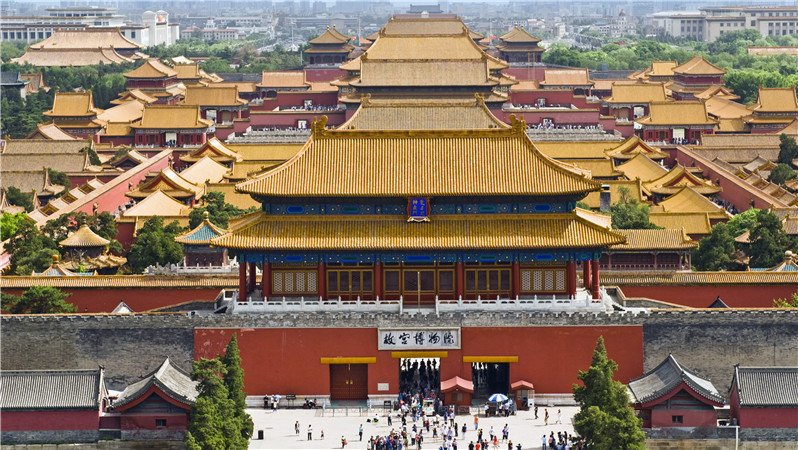 View of Forbidden City, Beijing
Population: 21.7 million
Location: near the Bohai Gulf in northeast China
Area: 16,800 km²
Beijing – Capital of China and the political, educational and cultural center of the country. Scientific research and technology dominate mass production here.
Beijing is also famous for China's largest airport (second largest in the world!) and an extensive modern subway network. But even that doesn't save the city from endless traffic jams. The Forbidden CityThe Forbidden City, for example, is surrounded by six ring roads.
Recommended tours in Beijing:
4. Tianjin – 15.7 million inhabitants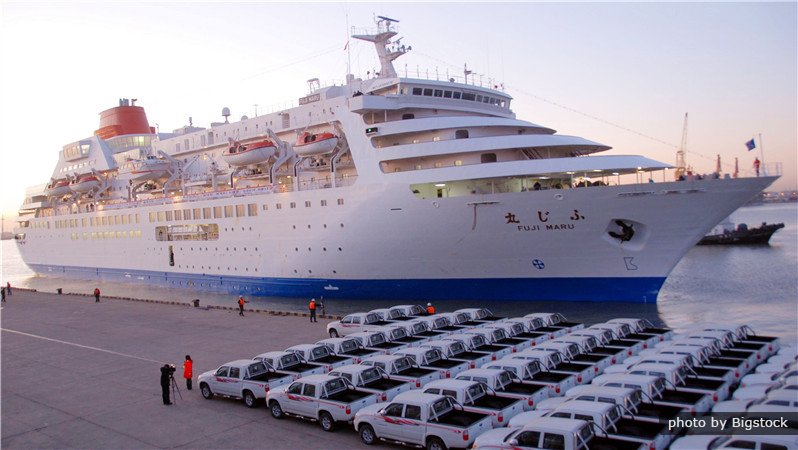 International Cruise Port, Tianjin
Population: 15.7 million
Location: Bohai Bay, northeast China
Area: 11,760 km²
Tianjin – is a huge manufacturing center and port in the Bohai Gulf. Because of its key location on the Great Canal connecting the Yangtze and Huang He rivers, the city of Tianjin has always been important in the history of the country.
Although it is only the fifth largest container port in China, more than 10 million containers pass through it each year. It also serves as a shipping gateway to Beijing, just 70 kilometers southeast of the Chinese capital. Many of the tourists arrive in Tianjin on cruise ships and then travel to Beijing.
5. Guangzhou – 14.4 million inhabitants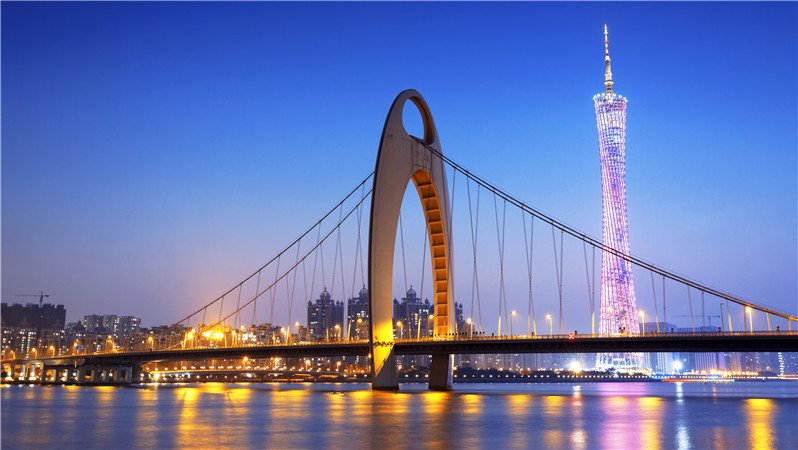 Liede Bridge, Guangzhou
Population: 14.4 million people
Location: Zhujiang River Delta, southeastern China
Area: 7,434 km²
Guangzhou (Canton)– it is a powerful industrial center. Millions of people from the countryside come here to work in factories to earn money and support their families.
Huge amounts of clothes, electronics, plastic products and toys are produced in Guangzhou and sent to different parts of the world. The city is also known as the site of China Import and Export Fair (Canton Fair).
Recommended Tours in Guangzhou:
6. Chengdu – 14 million inhabitants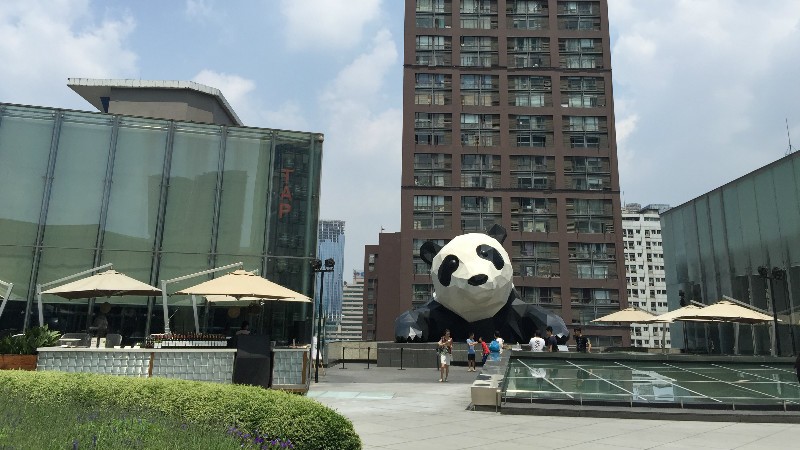 Population: 14 million
Location: Southwest China
Area: 14 312 km²
Chengdu CityThe capital of Sichuan Province and the largest city in the region, Chengdu is located in the mountainous, arid region of Western China. It is something of an exception among the major Chinese cities. Despite the fact that the entire fertile Sichuan Basin's population flocks here, Chengdu has been able to maintain a measured rhythm of life.
Although industrial development and significant inward investment play a role in Chengdu's economy, its growth is mainly the result of urbanization: the rural population moves to the cities in search of a better life. After all, Chengdu is the only large city in the vast Sichuan province of more than 80 million people.
Recommended Tours in Chengdu:
7. Shenzhen – 12 million inhabitants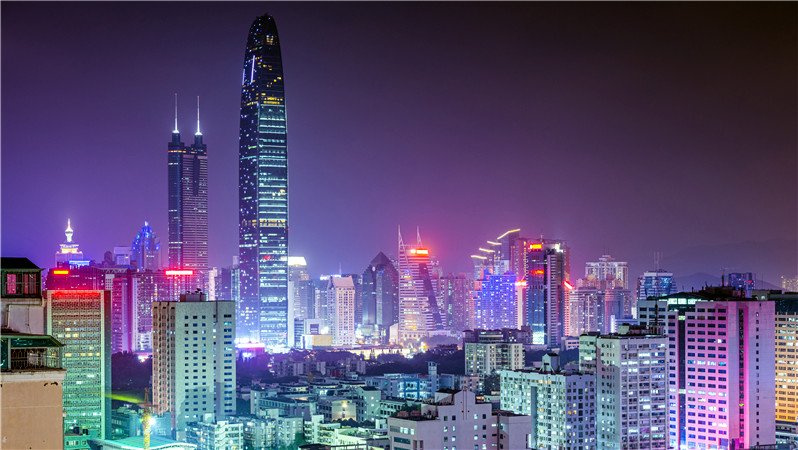 View of Shenzhen by Night
Population: 12 million
Location: Zhujiang River Delta, southeastern China
Area: 2,050 km²
Shenzhen Shenzhen is located between Guangzhou and Hong Kong. It's a major industrial center that sprang up almost overnight. The success of neighboring cities helped it quickly become the fourth largest industrial producer in China. It produces more high-tech products than, for example, in Guangzhou, and successfully developing local companies.
Recommended Tour in Shenzhen:
8. Dongguan – 11.5 million inhabitants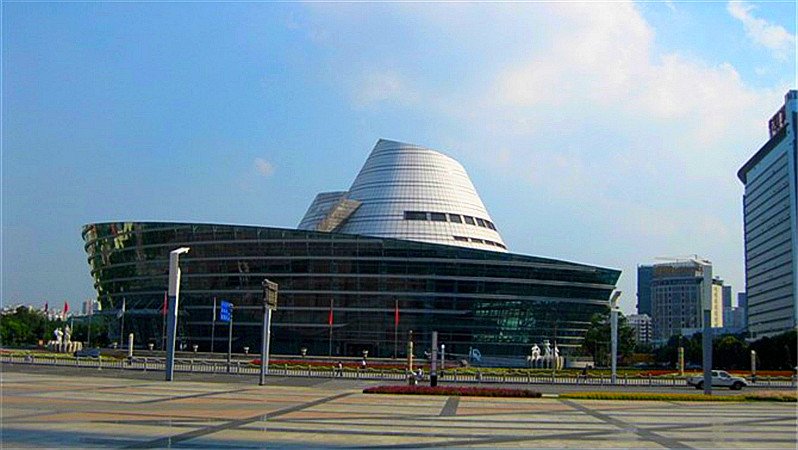 Population: 11.5 million
Location: Pearl River Delta, Southeast China
Area: 2,465 km²
Dongguan is a huge but little known industrial city. It is located between Guangzhou and Shenzhen and is the fourth largest export city in China. The city has grown incredibly in the last couple of decades. Many of the workers in the local factories have come to Dongguan from the countryside. Electronics, computer equipment, etc. are made here.
Dongguan is the poorest of China's big cities, with mostly low-wage migrant workers living here. More than a million of Chinese who live overseas as well as those in Hong Kong, Macau, and Taiwan come from Dongguan. There are hardly any tourists in this city, except for the locals who once left, who come to visit their hometowns.
9. Wuhan – 10.6 million inhabitants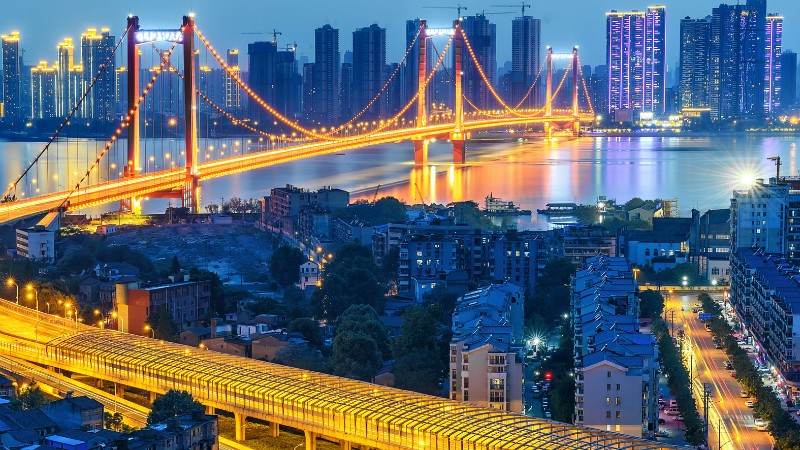 View of Wuhan at Night
Population: 10.6 million
Location: confluence of Yangji and Hanshui rivers, central China
Area: 8,569 km²
Wuhan is a large and interesting city in central China. It once seemed less modern than coastal cities, but now it's one of the country's main high-tech, educational and financial centers.
Wuhan has long served as an important transportation hub, as it is located in the middle of the long navigable part of the Yangtze River, between Shanghai and Chongqing.
Because of its location, Wuhan has played an important role in Chinese history since the Period of Battling Kingdoms (481-221 BC). And interestingly enough, compared to other cities, Wuhan's residents are unusually friendly.
10. Shenyang – 8.1 million inhabitants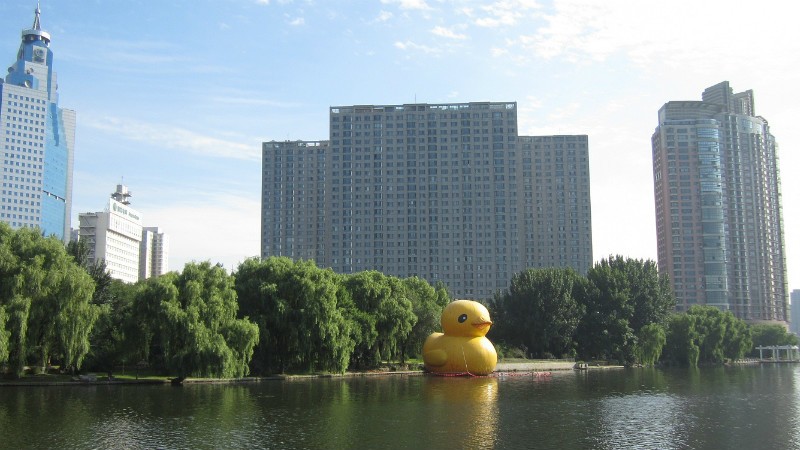 Population: 8.1 million
Location: Northeast China
Area: 12 942 sq. km
Shenyang is the capital of northeastern Liaoning Province. It is known for its status as a leading industrial and commercial center. It's another city that has grown incredibly fast in the last 5 years, ending up in the list of the 10 largest cities in China.
Shenyang is also interesting from a historical point of view: in the Manchurian period it briefly had the status of the capital, and then in the XX century it was part of the Chinese territories occupied by Japanese troops. Shenyang has its own imperial palace, which is open to the public.
Tours to major cities in China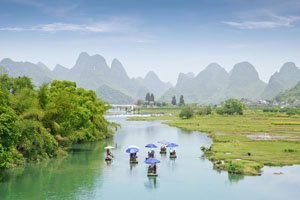 We provide a large variety of customized tours to major cities in China.
Among the favorite of our clients, for example, the following:
(Beijing – Xian – Sanya – Shanghai, 11 days) (Beijing – Xian – Zhangjiajie – Shanghai, 10 days)
Learn more about tailor-made tours to China for all tastes or write to our travel consultants and they will help you find an itinerary that suits your needs!