Monterosso al Mare re.
Monterosso al Mare is one of the five places that make up the famous Cinque Terre Nature Park. It is a bit of a stretch to call it a town, but Monterosso is incredibly popular with tourists. Why?
The main aspects of organizing independent trips to Monterosso al-Mare. The city description provided here contains not only general information about Monterosso-al-Mare, but also practical tips on how to prepare for your trip.
Monterosso al Mare is one of the five places (lands) that make up the famous Cinque Terre Nature Park. It's an uphill battle to call it a town, but the place is incredibly popular with tourists. What is so beautiful about this corner of Italy, and how to get here by yourself? Well, let's talk about it.
How to get to Monterosso al Mare
To get to Cinque Terre in general and to Monterosso al Mare in particular, there are different ways. The most obvious options are to go via Genoa or Pisa, where you can even fly directly from Russia if you want, because both cities have their own international airports (read more about air links with Italy here). However, it is reasonable to focus on rail transport (see www.trenitalia.com): the way from Genoa to Monterosso takes about an hour, from Pisa a little further – about an hour and a half. It is also not difficult to get to Monterosso al Mare from Milan: there are direct Intercity trains that stop directly at Monterosso station and take about three hours.
Where to stay in Monterosso al Mare
Read in detail about the modern arrangement of Monterosso-al-Mare and the best place to stay for a tourist in the corresponding article. Here we will limit ourselves to a few remarks.
First of all, it is worth noting that Monterosso may well be considered not only as a destination for a day trip, but also as a beach resort. From this point of view, the hotels located in the new part of Monterosso (called Fedgina) look preferable: for example, Hotel La Spiaggia (a few steps from both the railway station and the beach) or Hotel Villa Adriana (a little away from the noise and crowds, plus its own parking lot, which is very convenient for those traveling by car). At the same time, there are also beaches in the historic part of Monterosso. In addition, the old town looks much more colorful than Fregina and from here it is more convenient to go to conquer the Azure Trail. Hotels worth considering in this area are the Hotel Porto Roca (out of the noise, at the beginning of the Azure Route) or the Hotel Margherita (in the heart of Monterosso). If the beach component of rest in Monterosso you are not strongly interested, it is worth giving preference to the old town, especially since the railway station is not so far – about 15-20 minutes on foot. There is a paid parking nearby – here is a link on Google Maps.
How to get around Monterosso al Mar
It is possible and necessary to move around Monterosso on foot. First, there are no other ways to get around the Old Town (the terrain here is difficult, there are many stairs and it's not easy to climb them). And secondly, this is exactly why it's worth coming here. Cinque Terre is the place where you have to walk a lot, otherwise you will not see anything. There are many hiking trails around Monterosso. The most popular is the aforementioned Azure Trail (Sentiero Azzuro). But there are others, no less scenic.
What to see in Monterosso al Mare
It would seem that there is almost nothing to see in Monterosso. Apart from all the towns and villages in Liguria the architecture is rather indistinguishable and there are no museums with priceless works of art (apart from the Crucifixion, an unfinished painting attributed to Van Dijk, which can be seen in the Church of St. Francis in the Capuchin monastery). But this does not detract from the virtues of Monterosso, whose main attraction is itself. The town is small. To go around it up and down is quite realistic for half a day or two. And so one should take Monterosso as a whole – together with beaches, churches, Capuchin monastery, Van Dijk (authentic or not), olive groves, vineyards and everything else, including of course the sea, sun and breathtaking views of the surroundings.
Where to go from Monterosso al Mare
In the case of Monterosso, the question to start with is not "Where to go?" but "Where to go?" Cinque Terre is predisposed to long walks and Monterosso is no exception. For example, you can take the Azure Trail to the nearby Vernazza. It takes about two or three hours to get there one way (almost 4 km). The route is not difficult and does not require any special preparation. However, take into account that in some places you will have to overcome fairly steep climbs. In a word, you should not count on an easy walk. In addition, the entrance to the Azure trail is not free of charge. However, all the expenses (both physical and financial) are compensated by the incredible views that open up on the way. There are other trekking routes in the vicinity of Monterosso. You can find more information about them on the official website of Cinque Terre National Park (see here). After all, Monterosso itself also has plenty of places to walk. It is at least worth climbing the hill of St. Christopher, where there is the Capuchin monastery mentioned above.
Summary: Tour of Monterosso (Italy) – Monterosso al Mare: the most flat town of the Five Terrains
Hello, dear readers of my reviews! Good mood to all!
Today I will tell you about another town on the shore of the warm sea in Liguria – Monterosso-al-Mare. I know what to call it, but Italians know how to name it, it sounds so appealing to the ear, agree) Just a song, not the name of the city! And I responsibly declare that a village with such a name simply can not be unattractive! And so it is.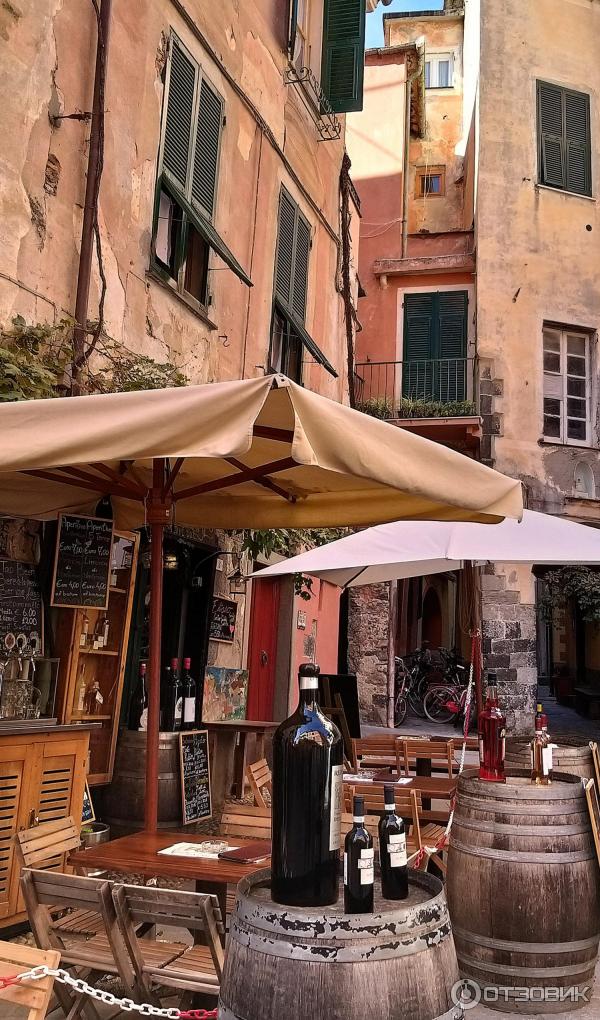 The farthest town from our accommodation in La Spezia, was waiting for us, drowning in the rays of the pre-dawn sun. The golden-yellow glare hid in every corner of Monterosso, creating the feeling of a magical veil that, if you touch it, sprinkles of brilliant golden sparks. As soon as we stepped out of the train, we were sprung straight into the vast blue, to the white sandy beach, to the light evening breeze, and to the bright umbrellas that dotted the coast with multicolored buttons.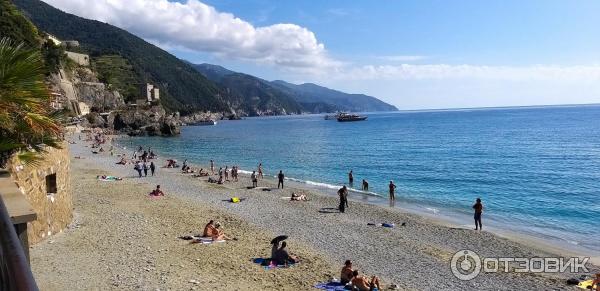 There was music coming from somewhere, and the smells of food urged me to sit down at another white table with a view of the sea and succumb to the cooing persuasion of the languid waiter. In general, it was just a problem with appetite here. For some reason I was constantly craving for something to eat. And it was not only the staggering mileage, steep staircases and climbs, but also in disposing to the tasty sittings, the atmosphere. I think the heightened appetite wasn't just for us at Cinque Terre. There were too many temptations all around!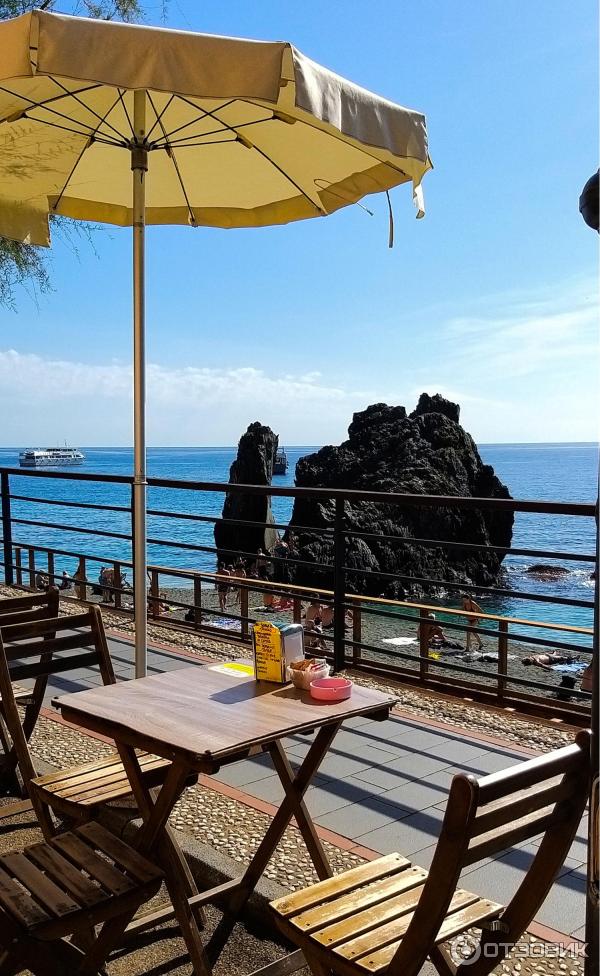 First, Monterosso has a wide and spacious beach, unlike all the other towns in the Five Lands. The town sprawls wide, long, and at ease. It is not blocked by cliffs and cliffs like its neighbors.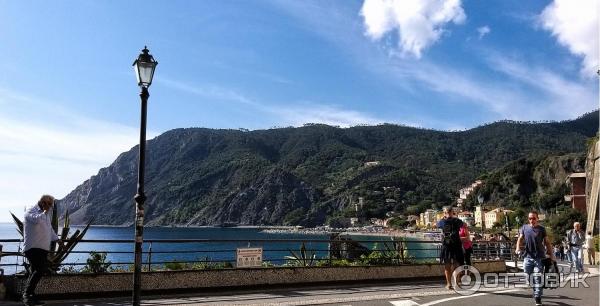 And secondly, the old part of town on the other side of the station – devoid of stairs! And that's a miracle! Finally, you don't have to jump like mountain goats climbing up to the overlooks and down to the beaches.
Beautiful, picturesque beach is divided into several zones. There is a paid piece here, but we didn't go there. And why should we? When the free one is not a bit worse. There are fountains for washing feet, and there are toilets. And we can change clothes anyway – we don't have to get used to it. The beach, where we came – was strewn with something between fine pebbles and sand.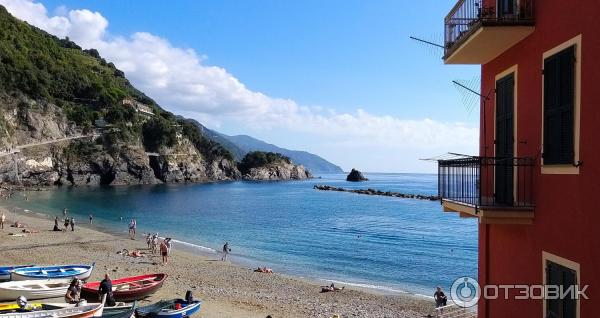 My girlfriend immediately rushed to swim, I just wandered along the edge of the land and sea. Water though it was cool, but some audacious jellyfish still managed to sting my brave swimmer. It stung, by the way, for three days. There was an oval-shaped red spot on my ankle. Such is the memory of a beach evening in Monterosso!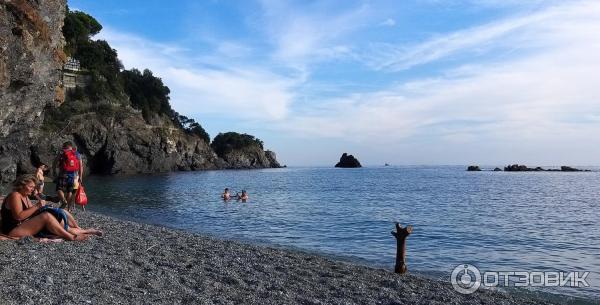 The beach itself is topped with rocks and cliffs only in some places. Not far from the shore there is a lonely and romantic rock. That's where the young people would swim in search of selfies. Though the waves were pretty rough, what one wouldn't do for a great shot! The rock really brings the landscape to life. Just admired the evening view. It was a sight to behold!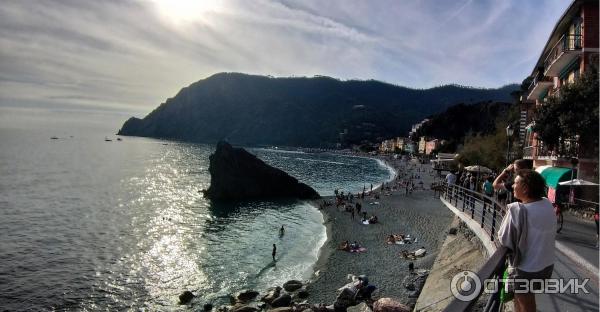 Just above the beach is the promenade, with cafes, restaurants and a rich hotel. From here also begins the way to Vernazza – another hiking trail, which we did not have time (and did not want to anymore) to master. There is a small crossing between the beaches, leading to the edge of the beaches. That's where we went.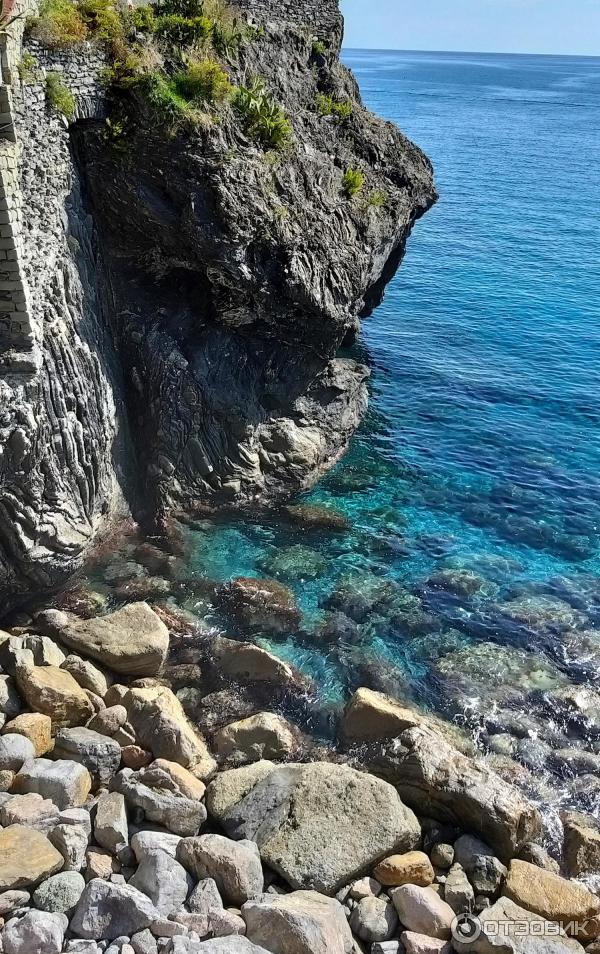 The presence of such a spacious beach certainly makes Moterosso attractive for a long vacation, but at the same time, the city partly looks more casual than its other sisters in the Cinque Terra Park. But then again, this is my personal opinion, and we live by the sea, so everyone can draw their own conclusions.
The narrow streets are crowded, guides lead groups, tables huddle on the sidewalk, stalls of wineries, stands with magnets and souvenirs gather crowds. Here is the perfect tourist process! Not one meter without a tourist! Not a centimeter without profit! Well done, Italians. And here in Sochi they are complaining about the number of tourists themselves. Have you seen, comrades, the height of October in Monterosso-al-Mare! It's hard to imagine what happens here in the middle of the summer season. I think there's really nowhere to fall, not just an apple, but a little cherry.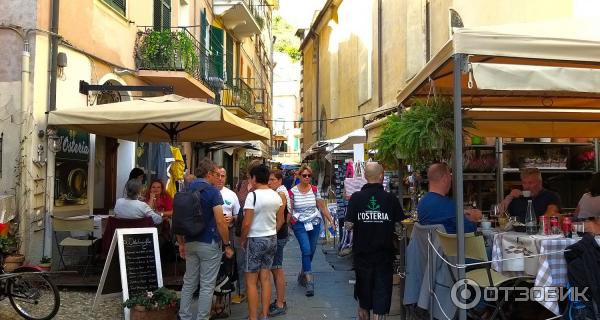 But the Old Town is still attractive. There are beautiful architectural corners, a couple of ancient churches, colorful arches and colorful houses. And the atmosphere in Monterosso is festive-excited. Such a number of restaurants, cafes and eateries I have not seen in any other city in Italy. Just really at every step. The menu is mostly Italian: pasta, pizza, seafood. Everything is prepared quickly, designed for a crazy flow.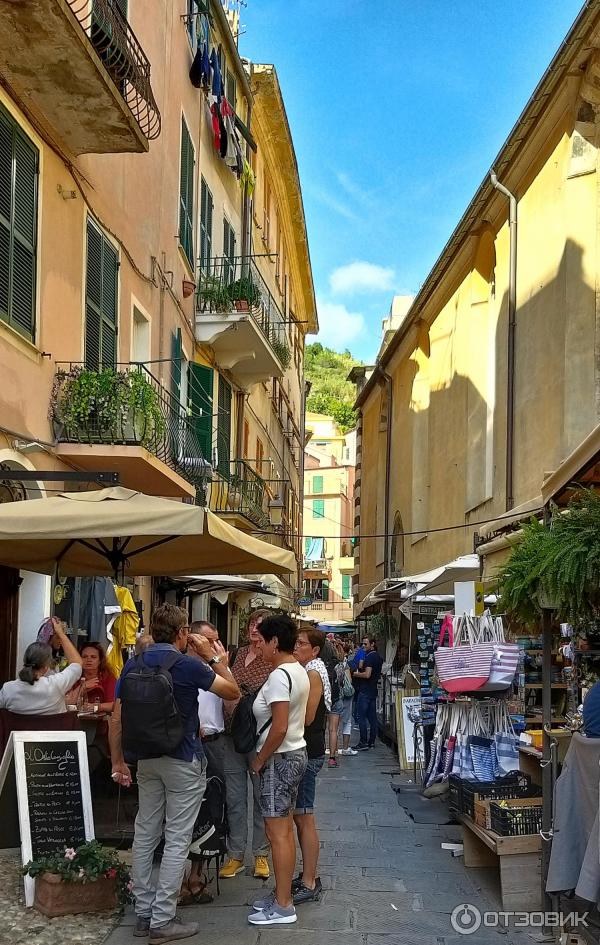 We did land in one cafe, though we had previously walked around five or six corners, and were somewhat dissatisfied with the quality of the food. It was average, about three. Probably we were just unlucky and maybe affected by the number of those who wanted to dine. We ordered pizza and deep fried calamari, octopus and fish. The taste of the oil overpowered the flavor of the food everywhere.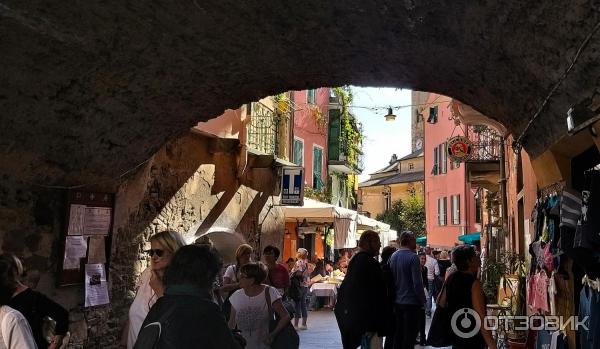 After dinner we went a little deeper into town, where we found almost deserted streets. Here we could already feel the antiquity of houses, the patina of time and local flavor. These were the alleyways we were able to find in the bustling and crowded Monterosso.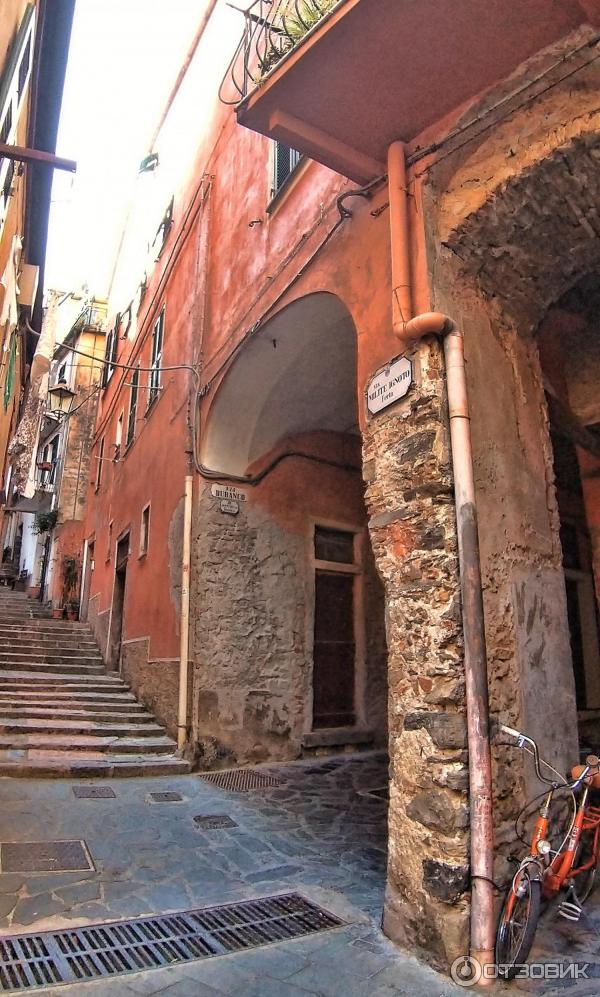 BLACK FRATERNITY CHURCH
Outwardly unattractive, austere and simple, the Church of the Black Brotherhood stands in the center of the city. It, too, is quite small inside, not strikingly expensive. But the function of this modest temple is quite remarkable – to bury the nameless victims of the sea, thrown on the shore.
The church was built in the 17th century as a tribute to those swallowed by the depths of the sea. In addition, the church raised funds for the widows and children of missing sailors. Poor orphans who had no money at all were also buried here and prepared for their last journey. At the entrance is a carved inscription "Mortis et Orationis" – "Death and Prayer". It's hard to get in, there's always a line. But for five minutes I managed to get in.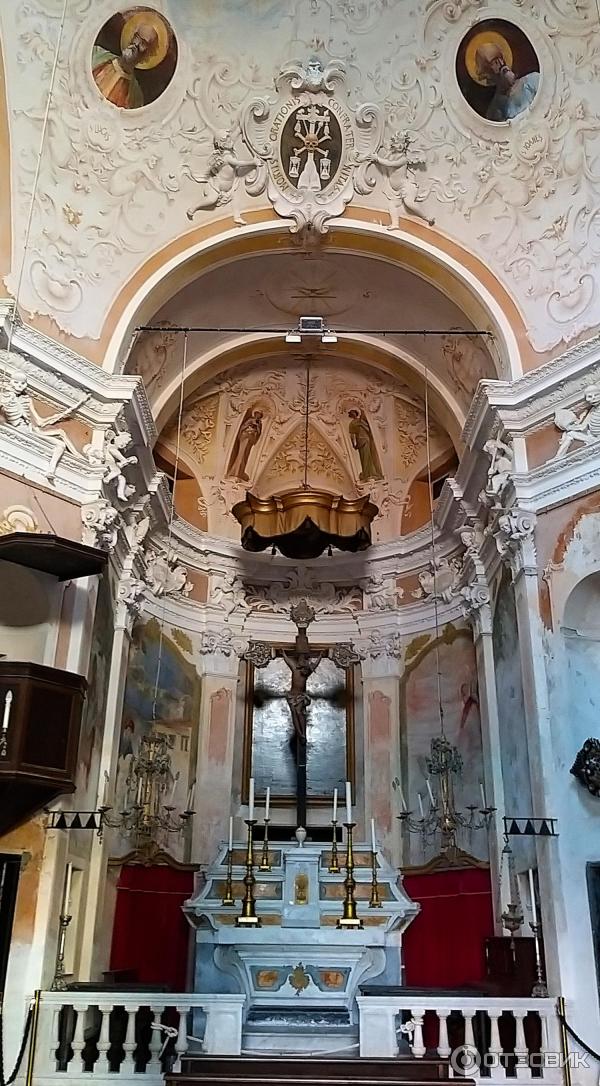 At Monterosso al Mare, our introduction to all five towns in Cinque Terre ended. But it wasn't the end of our journey at all. We still had time to go to Lucca, Rapallo, and Levanto. Surprisingly, the very moment the coastal tour was finished and the trail from Corniglia to Vernazza was passed, a one-day typhoon hit Liguria, literally flooding the coast. We only saw the aftermath in the form of puddles and broken branches and pictures on Instagram. This very day we went to Lucca, where it didn't rain even close!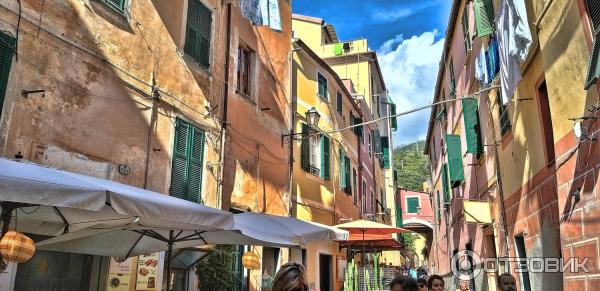 I hope that you will also read the review of the very first town in Cinque Terre: Riomaggiore: where do the houses run away? and leave your review))