Margarita Island Pearls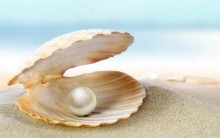 Pearls are a favorite stone and a symbol of the East. They are considered the embodiment of purity and innocence as well as a guarantee of marital fidelity and love. Indian herbalists say that pearls are made up of three main elements: Air, Earth, and Water. According to them, this explains its calming effect. In addition, it has the property of increasing vitality, health, and strength.
Pearls are found in the warm seas off the coast of Japan, Australia, Latin America and India.
The main characteristics of pearls
Pearls have many shades: white, yellow, blue, red, pink, black. There are pearls of river and sea origin, natural and artificial.
The largest island, where pearls have been mined since the dawn of time, is Margarita, in the Caribbean Sea. That is why it is often called the Pearl of the Caribbean. In addition, the island is famous for its picturesque landscape, mountains, beaches, mild dry climate.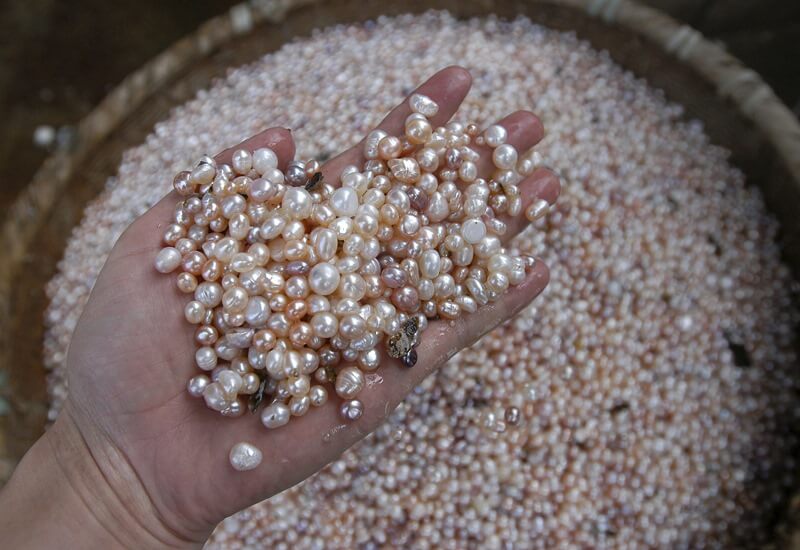 How to choose a pearl?
In order not to err in the choice of pearls and not to buy a fake, one should know how to distinguish between a natural and synthetic stone.
Before buying a product, you should compare the quality of the jewelry offered.
Choosing pearl jewelry, pay attention to the differences in shades of color, size, clarity, and roundness of stones. However, the most important thing to pay attention to is the color play of the stone. This is the key indicator. If it is a question of choosing colored jewelry, you should ask the seller if the stone is of natural color. As a rule, natural colored stones are more expensive than the regular white ones.
To check the genuineness of a pearl is quite simple: simply run the pearl over the tooth surface, as the real gem will squeak.
Fashion for pearls
The great Coco Chanel made pearls the most democratic piece of jewelry for any woman. She considered it the centerpiece of most of her collections and established the classic combination of a white string of pearls with a little black dress, an elegant dark jacket or sweater. Such a necklace will transform even the simplest outfit. It is appropriate to wear it in a set with an evening, cocktail or even a wedding dress. It's a classic that will never go out of fashion.
Long necklaces in the style of Chanel, as well as multicolored strands of pearls of non-standard shapes, are especially popular in recent times. They look much fresher and more advantageous than the usual white necklaces. This season, such jewelry has become the new wave of trends, and this is their main advantage. Modern designers are often inspired by the images of the 50s and 60s. Pearl jewelry in any design is a stylish trend that is easy to match with an individual look.
Features of pearl jewelry
Due to the fact that pearls can shine in a variety of shades, it looks incredibly spectacular and interesting. Shades of pale green, pink, gold, blue and even black colored stones act as a spectacular alternative to the classic white pearl necklace. Some colored pearls are very rare, and therefore worth many times more expensive. These rarities include golden, pink and black-green pearls from Margarita Island in Venezuela.
The main advantage over other jewelry is the restraint of pearls. Despite the fact that these stones lack the bright luster, such as diamonds, they still allow their owner to shine. In recent years, pearls have become popular and are used in various jewelry: earrings, rings, necklaces, bracelets and brooches.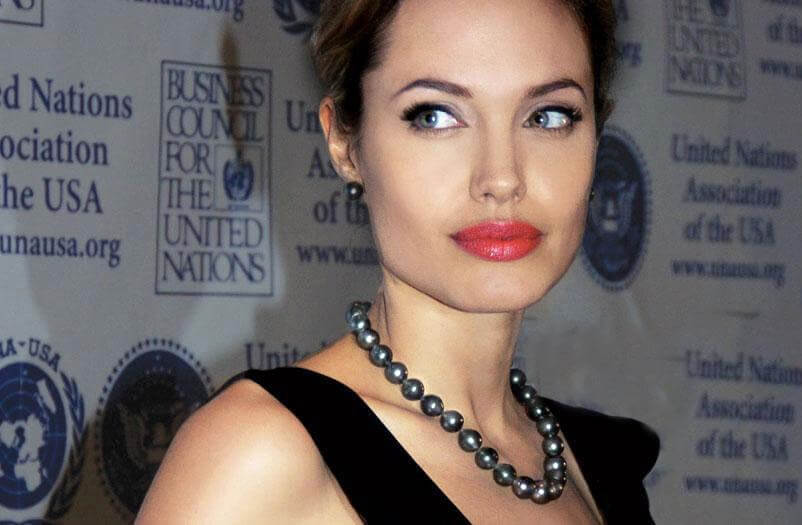 Pearls cost
Natural pearls are a good investment.
Compared with other gemstones, the undeniable advantage is that they can have an affordable price (which depends on their origin). So a natural river stone necklace can be purchased for about 5,000 rubles. A discreetly sparkling pearl necklace immediately makes its wearer stand out. An excellent piece will be perfectly round and quite expensive, because a perfectly round pearl is a huge rarity.
Natural natural pearls from Margarita Island can range from $1,000 to $10,000 a piece.
Natural human-grown sea pearls take about two years to mature inside a mollusk. This process is fully controlled by the human hand. The advantage of this method is that one can control the shape, size and color of the pearl. Though the process is not very labor-intensive, one piece of this stone may cost from $100 to $600. The most valuable are the black colored cultured pearls. Its price can reach $1,000 for a single stone.
Margarita Island – the Pearl of the Caribbean
Margarita Island is called the Pearl of the Caribbean. 350 days of sunshine a year, dozens of miles of beaches of fine white sand, the average annual temperature of +30 degrees, crystal clear water azure, palm trees, fruits and coconuts. In a word "Bounty Island". That is the way Margarita Island is presented in tourist brochures, and it is partly true. Because Margarita Island in Venezuela is so much more!
History of Margarita Island, Venezuela
Margarita Island was discovered by Christopher Columbus himself during his 3rd expedition to the New World. It happened on August 15, 1498, when Catholics celebrate the Feast of the Assumption of the Virgin Mary, and therefore the great navigator christened it "La Asunción Island", that is "Assumption Island" in Spanish.
In the following year, 1499, Pedro Alonso Niño and his companion Christopher Guerra renamed the island La Margarita. The fact is that "Margaritas" in Greek means pearls. And it was pearls that attracted conquistadors to this island for many years. This was the main booty at the beginning of the Conquista in what is now Venezuela.
There is another version of the history of the name of the island. It says that the island was named after Infanta Margarita of Austria. Which of these versions is correct – choose which one you like best.
From the day Christopher Columbus discovered Margarita Island, the island was annexed to the Spanish Crown. But in the early 19th century, Margarita was at the forefront of the War of Independence and was the first to declare itself free from Spain. Apparently this spirit of freedom still envelops the island to this day. Since tourism began to develop on the island in the 70-80s, it attracts here precisely because of its isolation and independence from the rest of Venezuela.
Read about the weather in Margarita Island here:
Weather in Isla Margarita, Venezuela
Tourism in Margarita Island, Venezuela
Even at a time when the country has experienced and is experiencing not the best periods in its history, the vibrant resort life of the island has not stopped for a minute.
The sun is still warm, the sand is still white, every day fishermen go into the night at sea for fresh catches, which in the morning can be bought in small markets, and bars and restaurants continue every day to delight their visitors with delicious dishes of fresh seafood, which is abundant here.
In 2021, when tourism around the world is experiencing an economic disaster, the Venezuelan government is building new hotels and casinos and investing in the infrastructure of Margarita Island at a breakneck pace.
Life on Margarita Island, Venezuela
Margarita Island is a paradise for lovers of tropical fruits and natural juices. The drinks here are prepared like smoothies – fruits are sliced, thrown into a blender and crushed ice, water and sugar are added to the mix. The result is very tasty and sweet. By the way, apples and pears, which we are accustomed to, are exotic and are brought from far away, and therefore they are very expensive compared to the same mango, papaya and passion fruit.
Locals grow mangoes, bananas, coconuts, and pomegranates in their gardens. Cacti are often used as hedges to protect homes from uninvited guests.
On some beaches of Margarita Island, there is a small wave and a side wind all year round. This fact attracts surfers from all over the world. Beginners are especially comfortable here. When I flew here for the first time in 2009 there were many Russian surfers on the plane with me. They flew with their boards, which valiant Airfrance lost on the flight from Paris. As well as my suitcase…
Margarita Island Attractions, Venezuela
In addition to beach tourism, you can visit 2 National Parks and 3 protected areas with many bird species, visit rainforests, take a boat ride through shady tunnels among the mangroves on Isla Margarita. In the coastal waters of Margarita Island, excellent fishing and diving are organized to explore the mysteries of the underwater world of the Caribbean Sea.
There are also traces of the former might of the Spanish Empire in the form of fortified bastions, colonial architecture and 17th and 18th century churches.
1. Cerro El Copey National Park, Margarita Island, Venezuela
Cerro El Copey Jovito Villalba National Park is located in the eastern part of the Caribbean island of Margarita, in the highest elevation region of the state of Nueva Esparta in Venezuela. The national park was created in 1974 to protect a unique ecosystem with a high level of endemism and the only permanent water sources on the island.
The peak of Cerro El Copey is 960 meters above sea level, covered with green forests and mountain meadows and surrounded by small villages and tropical fruit plantations.
Of animal life, endemic amphibians such as the Kopei frog and Drymarchon corais margaritae snake are found in the Park. Among mammals there are several species of endemics: monkey Cebus apella margaritae, wild rabbit Sylvilagus floridanus margaritae, squirrel (Sciurus granatensis nesaeus), deer (Odocoileus virginianus margaritae) and others.
The flora of the Park is rich in cacti, chaparids, composts, thyme, and legumes. Several endemic species: ferns (Thelipteris paucijuga and Trichipteris steyermarkü), Mapira palm (Coccothrinax barbadensis) and others.
2. Laguna de la Restinga National Park, Isla Margarita, Venezuela
The Laguna de la Restinga National Park is a union between the eastern and western part of Margarita Island, located in the municipality of Tubores. This lagoon consists mainly of mangroves such as red, black, white and button mangroves. Through these mangroves we do fascinating boat tours.
The coastal plains grow mostly drought-tolerant shrubs.
La Restinga Lagoon is home to a wide variety of fish such as sea bass, mero, kingfish, sardines, mullet and others. Of the birds, red ibis, flamingos, pelicans, sea gulls, king heron and many others can be seen here.
3. the Little Basilica of Nuestra Señora del Valle, Isla Margarita, Venezuela
A beautiful Neo-Gothic-style cathedral whose history goes back to the early 16th century. It was the first church built on Isla Margarita.
There is a legend associated with this basilica on the island that tells of a miracle of healing.
Once a local pearl fisherman was attacked by a stingray, causing him to develop severe gangrene and threaten to have his leg amputated at the very top of his thigh. He prayed to Our Lady of Nuestra Señora del Valle to help him regain his health so that he could return to the sea to support his family. And he vowed that the first pearl he would find would be brought as a gift to Our Lady.
The pearl fisherman was miraculously healed and on his first dive he discovered a beautiful leg-shaped pearl in an oyster shell. Many buyers offered him good money for the pearl. But following his promises, the man brought it as a gift to Our Lady of Nuestra Señora del Valle. The pearl can be seen today in the Diocesan Museum of La Virgen del Valle on Isla Margarita.
4. Fortress of San Carlos de Borromeo, Isla Margarita, Venezuela
The Fortress of San Carlos de Borromeo is a defensive structure from the Viceroyalty of Nueva Esparta, located in the Bay of Pampatar on Margarita Island. Construction of the fortress began in 1622 and lasted 20 years. After another 40 years the fortress was destroyed by pirates. The fortress was rebuilt and destroyed many times since then, witnessing some of the most violent events of Margarita Island in Venezuela.
5. Fort Santa Rosa, Margarita Island, Venezuela
Fort Santa Rosa is located in the city of La Asunción on Margarita Island and was built in the 17th century after 500 French pirates landed on the island and sacked the city in January 1677.
Fort Santa Rosa is known primarily because it served for 3 months as a prison and the place of imprisonment of the hero and patriot of Venezuela, Luisa Caceres Diaz de Arismendi.
6. Pampatar salt marsh, Margarita Island, Venezuela
The Pampatar Saltmarsh is a unique natural phenomenon on the island of Margarita in the Caribbean Sea.
Read more about Pampatar Saltmarsh here
Margarita Island and its Pampatar Saltmarsh. Venezuela
If we talk in general about Margarita Island, it's a visualist's dream! Postcard-perfect landscapes, vivid colors of everyday life, and bold combinations of colors and shades lift your spirits and linger in your memory at every turn.
When you arrive on Margarita Island, all your problems and worries evaporate instantly! The tropical sun fills your every cell with joy, the light ocean breeze intoxicates you and you realize that this is it – happiness!
So when planning your best tour to Venezuela, dedicate a few days to Margarita Island!