Mozabrick Designer Review. You take a picture of your loved one on your smartphone and assemble it from puzzles into a picture

Bookmarked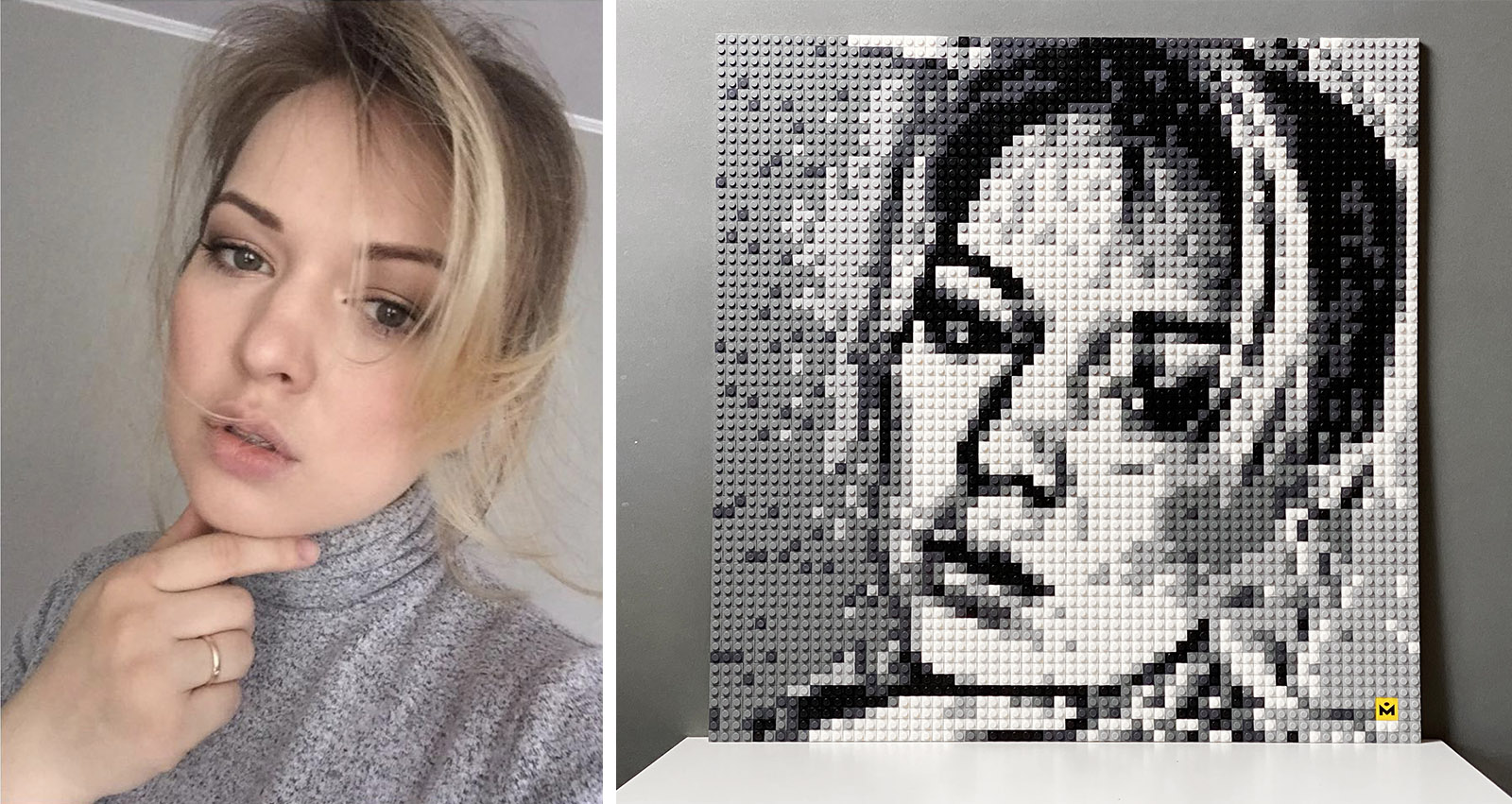 There's a kind of "I don't know what to give" type of gift.
Mozabrick fits into it perfectly, except for one "but". A huge, half a meter in all directions, "BUT".
It's useful, showy and literally begs to be placed on the wall, where you won't want to take it off. And it is reusable.
Mozabrick's versatile picture designer allows you to replicate any smartphone photo and make it part of the interior . It's a rare case when you give it to someone else and then think that you should have it for yourself too…
What's in the box with Mozabrick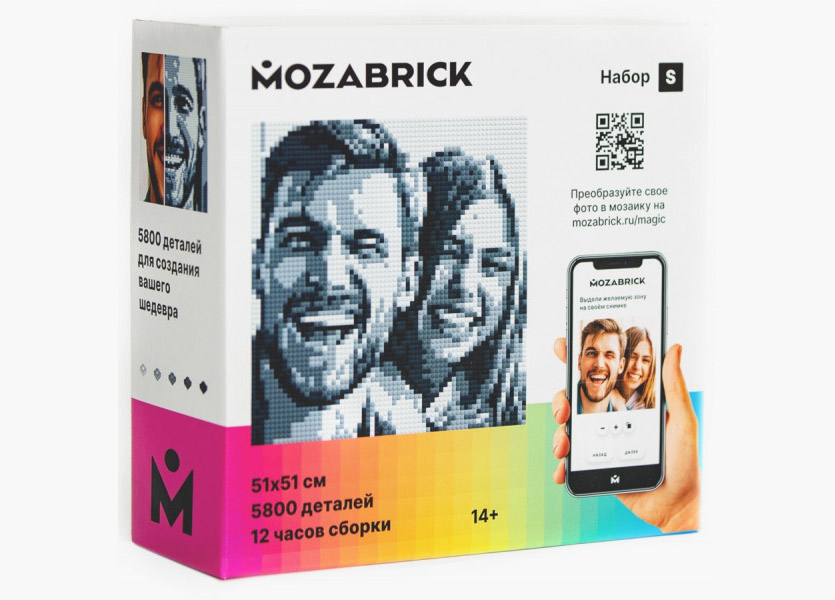 We took the "S set", the smaller version. There's also the "L set", it's 1.5 times bigger. The box is big and weighs 2 kilograms.
There are 5,800 parts, packed in different bags. Do not open them just like that! For now, just pay attention to the emblem stickers – this will be the key moment in the assembly process.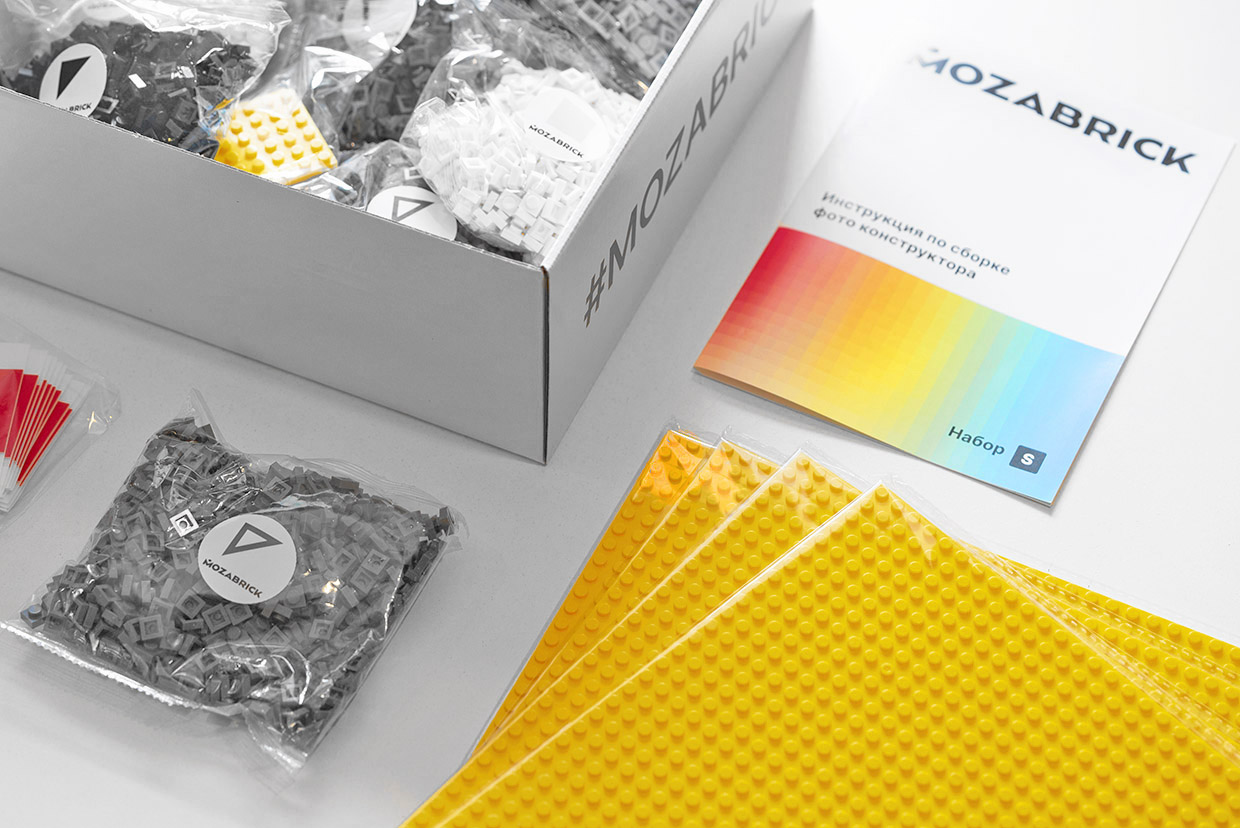 In addition to several thousand colorful "squares," inside are 4 large yellow platforms that will be the canvas. There's also a set of double sided adhesive tape for those who want to hang it on the wall and don't want to bother with nails or holders.
There is also a cardboard stand to place a la photo frame.
The final size of the Set S picture is 51 by 51 cm . The L version would have been 76 cm by 76 cm.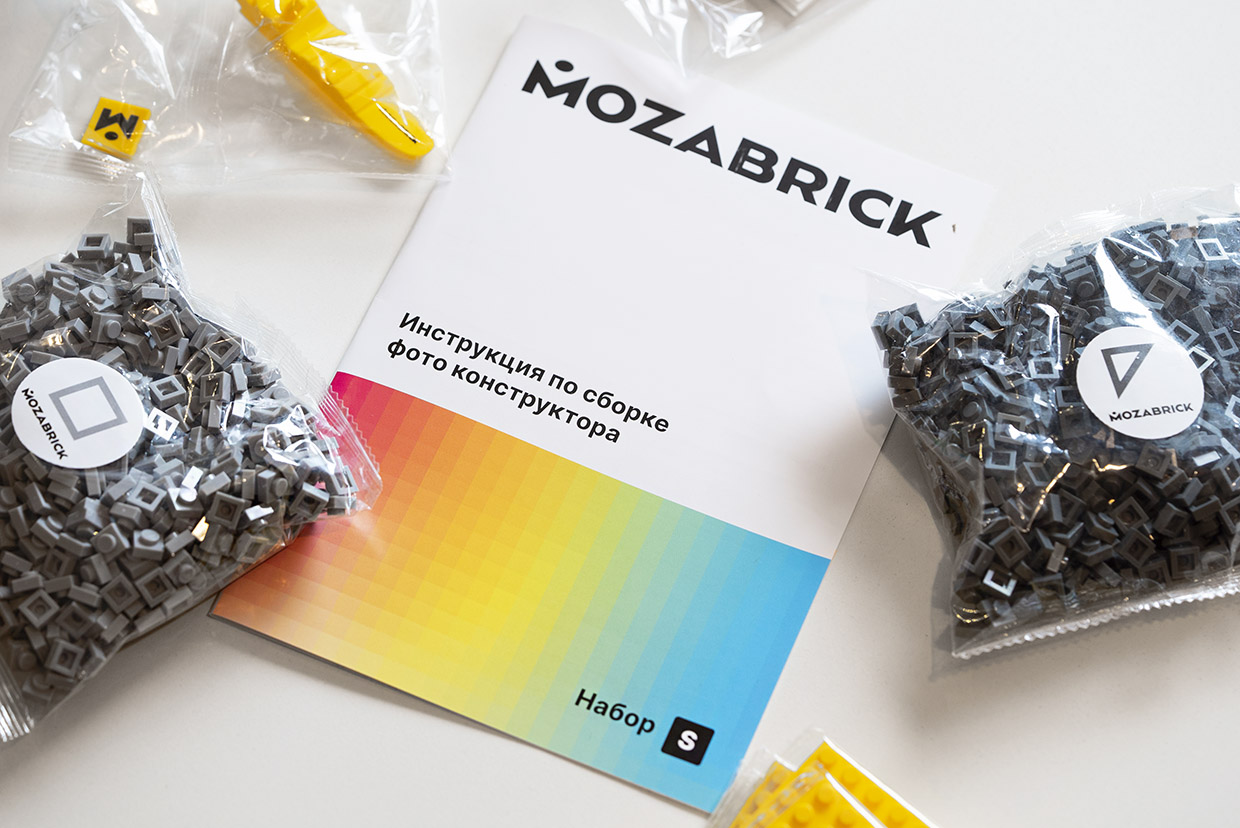 The parts themselves will be familiar to anyone who has ever seen a typical builder in the eye. They are all, in fact, the same: one-to-one squares without branding, differing only in color.
There's also a yellow plate with the Mozabrick logo that goes in the bottom right corner. And a tool to take out the wrong part.
How do you turn your photo into a constructor picture?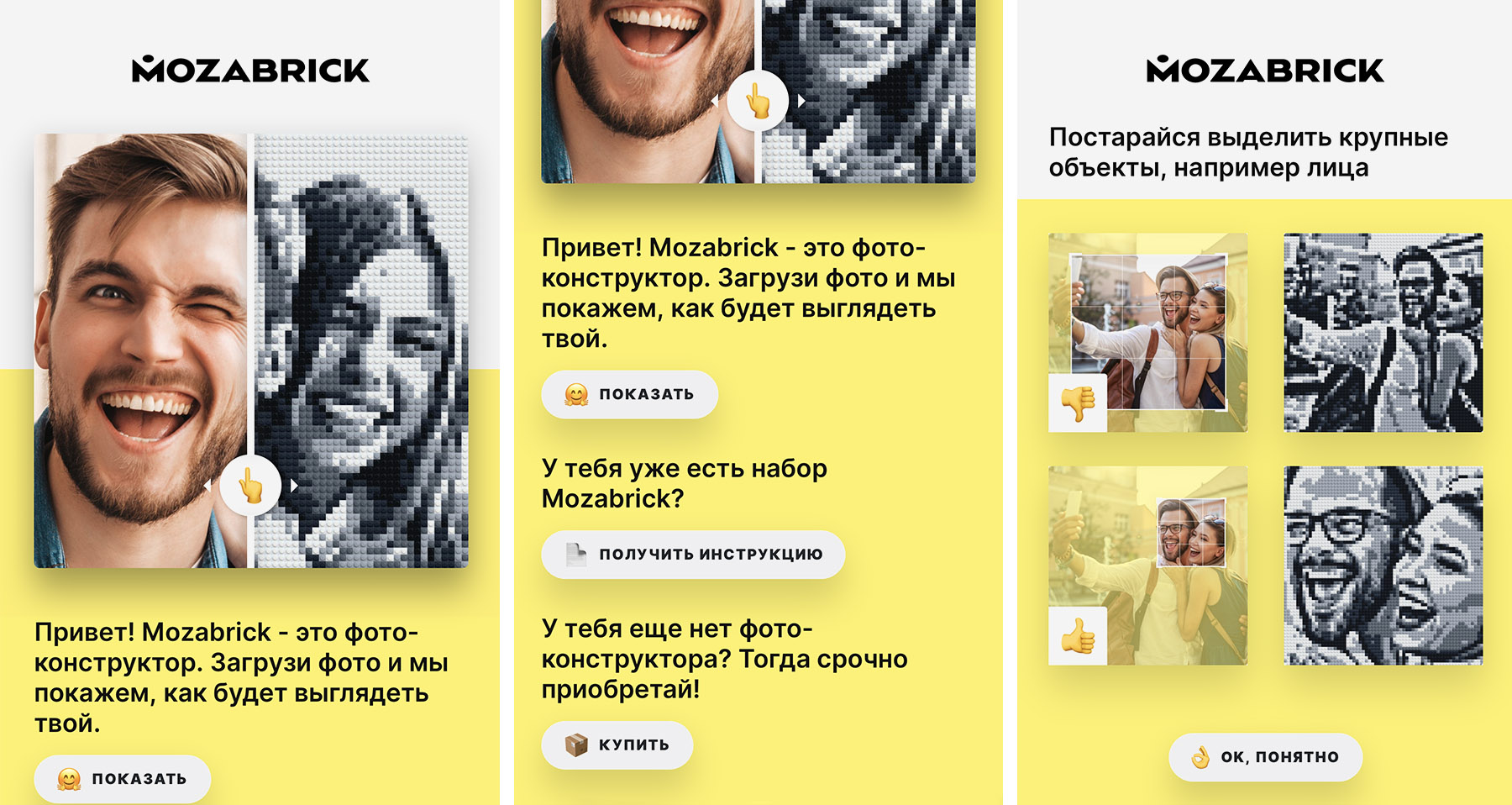 There's an instruction booklet in the kit, and there's a special QR code in it . Point your smartphone camera to it and follow the link to the official Mozabrick site.
Here it is necessary to upload a photo from the smartphone, which will be transformed into a picture. Any picture will do. You can try it yourself and see how it will look assembled.
The owners of the constructor have to enter its unique serial number, located next to the QR code, in order to get access to the creation of the full assembly instruction.
Then you crop the photo at a 1:1 ratio (square). Mozabrick recommends focusing on the faces in the frame to make the builder picture detailed.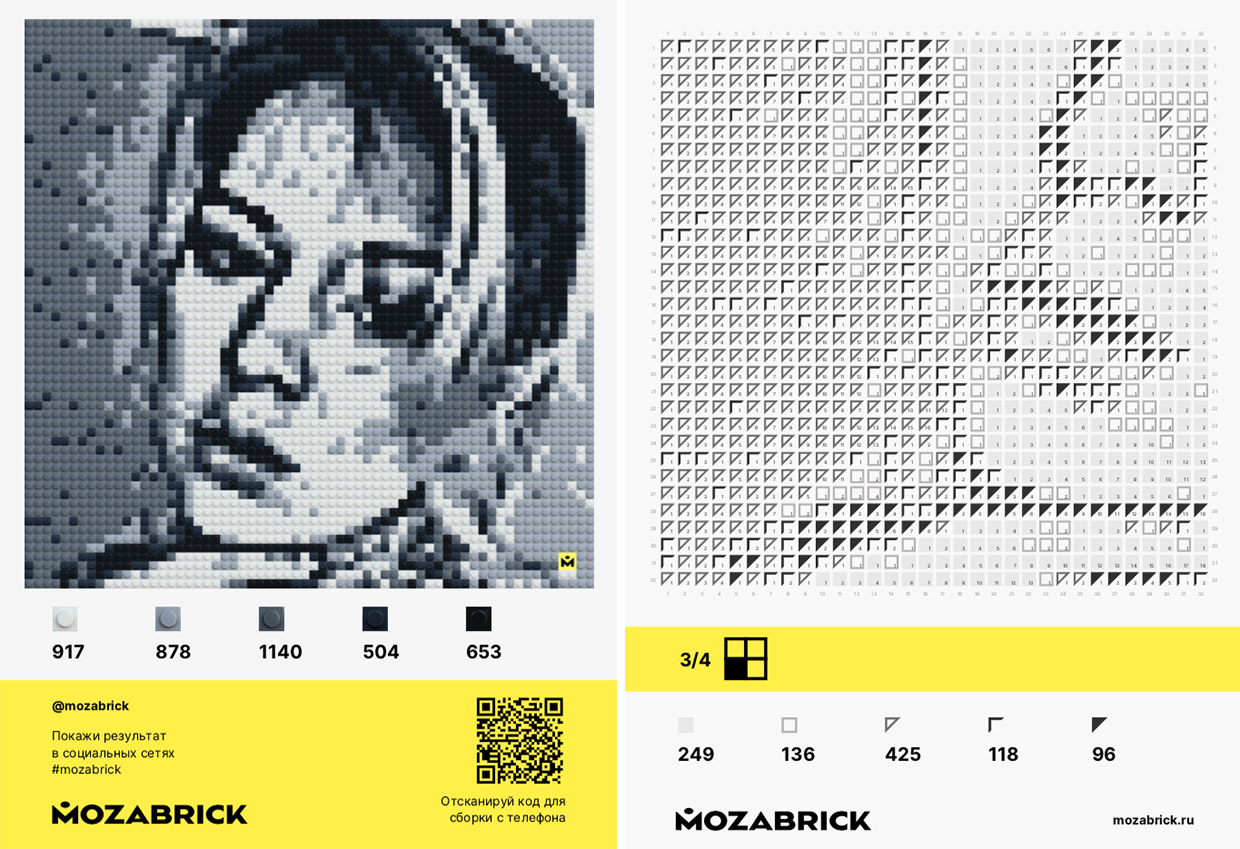 Did you choose? We did this for about 40 minutes, experimenting with frames and "zoom". As you decide, specify your e-mail. On it quickly come PDF-file with instructions for assembling, tailored to the parts and the size of your specific set.
The PDF-instruction is a preview of the whole picture and 4 pages with a detailed parts card. Look carefully – do you see that each square has a different symbol? It corresponds to a specific package of one-color parts.
Now all that's left to do is to put the details at each point on the yellow canvas.
IMHO, the preparation process is really very simple. And thanks for not having to download another app to do it all.
How long does it take to put together a photo builder?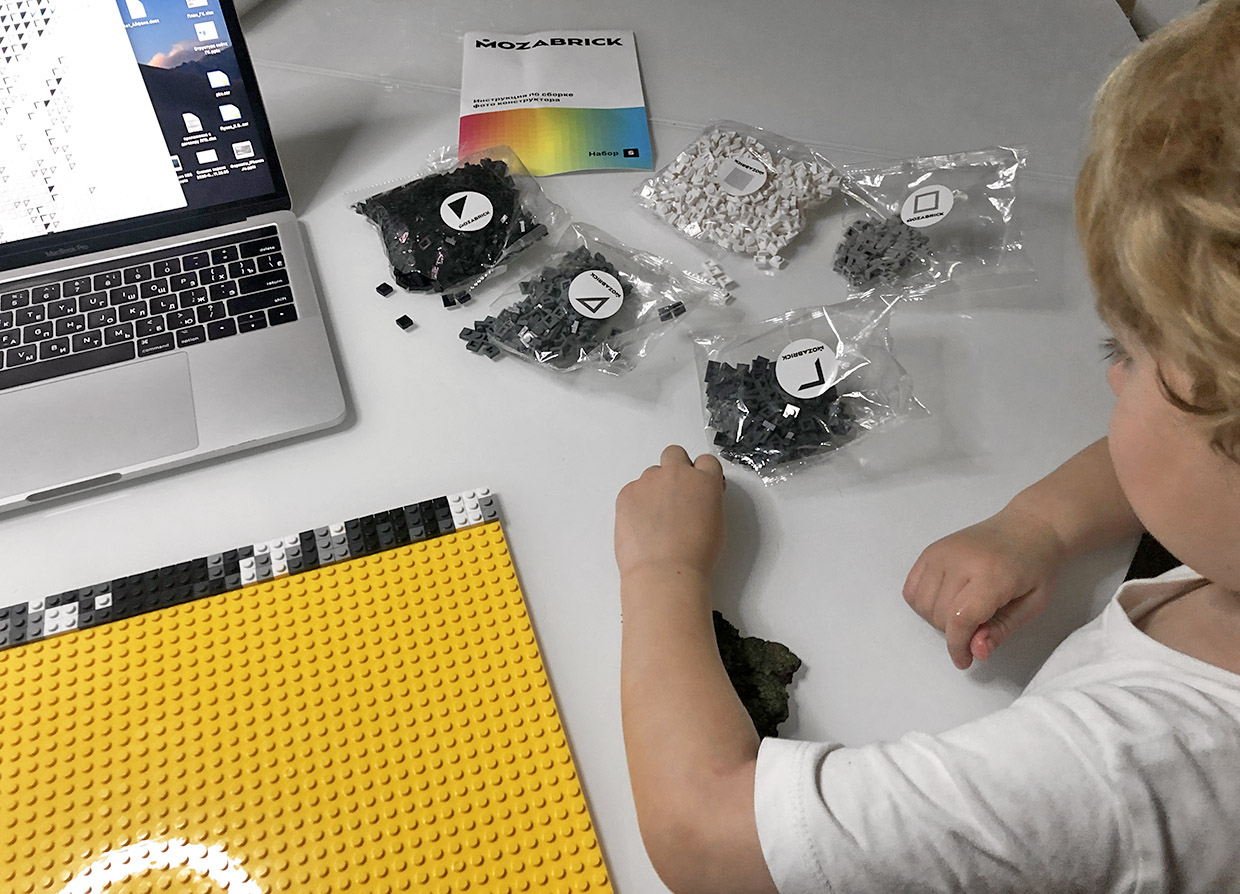 Mozabrick indicate that it takes an average of 12 hours to assemble "Set S" . I don't know where that figure comes from, but I can tell you that you are unlikely to spend that much time on it.
It took us about four evenings, one for each platform. The average was about a square-in-the-hour if you're not in a hurry. You turn on the show in the background and quietly poke, poke, poke with the parts in the grooves.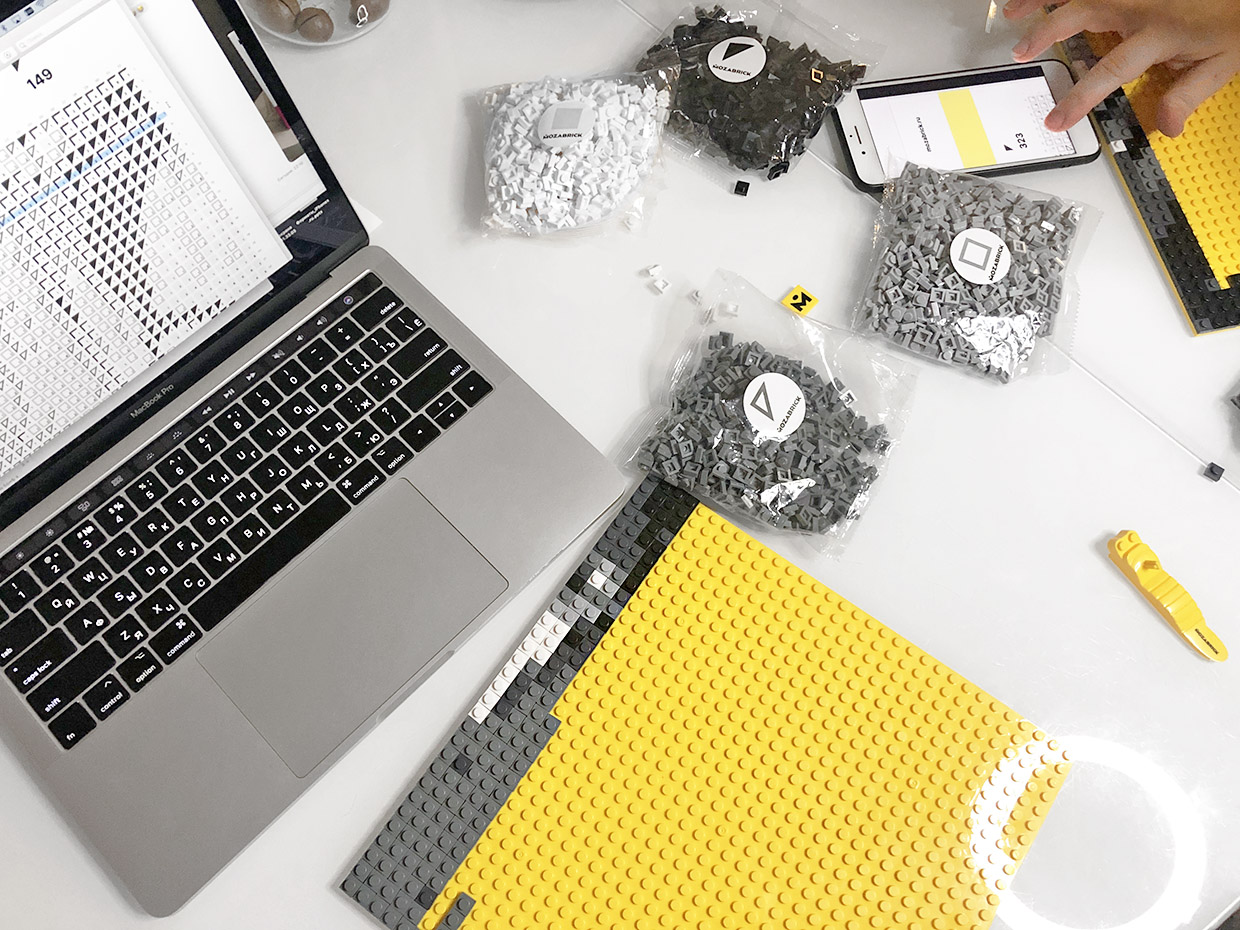 From time to time checked with the instruction, so then do not take anything out or redo a whole row. For convenience, we opened it on the MacBook screen. I can also open it on my iPhone, and on my iPad. After all, this is a regular PDF file, so you can zoom in and out of the detail map as you want.
I think it's a bad idea to do the whole picture in one sitting – you'll get tired or wipe your fingers. If you're on fire, you can divide up the work and give each person a piece of canvas.
The four finished pieces are then connected at the back with several platforms.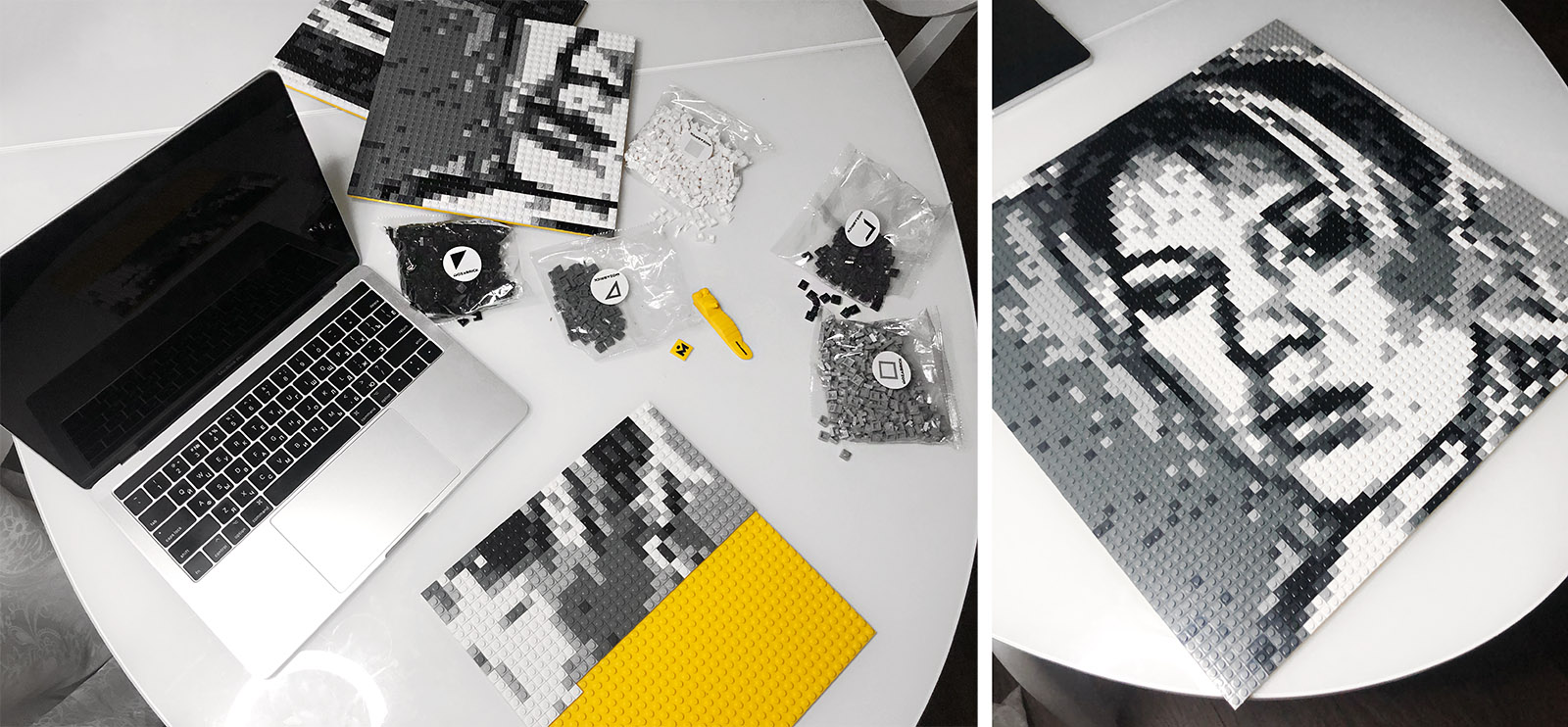 That's it, the painting is complete!
Let me remind you, we have "Set S", that is small. But the size of the photo-picture inspires respect , you can not pass by at all, but notice from afar.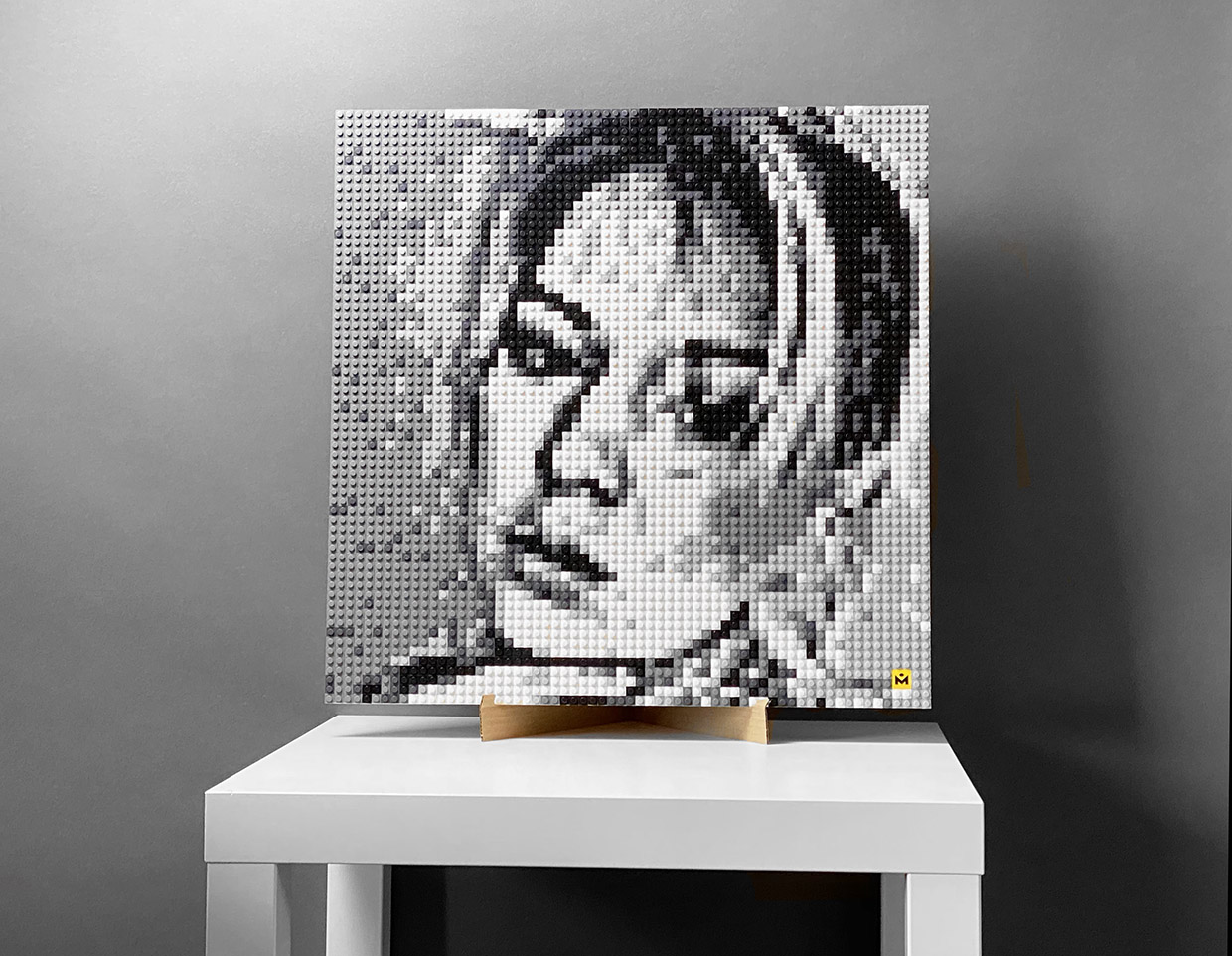 You can easily understand who and what is depicted, if you stand at least half a meter from the picture. And the farther away, the more solid it looks. From three meters away, you won't know that it's not "pixel art," but that it's a construction set.
In general, it looks really great, I then decided to take such a thing for myself and hang it in the bedroom.
It is also a reusable picture!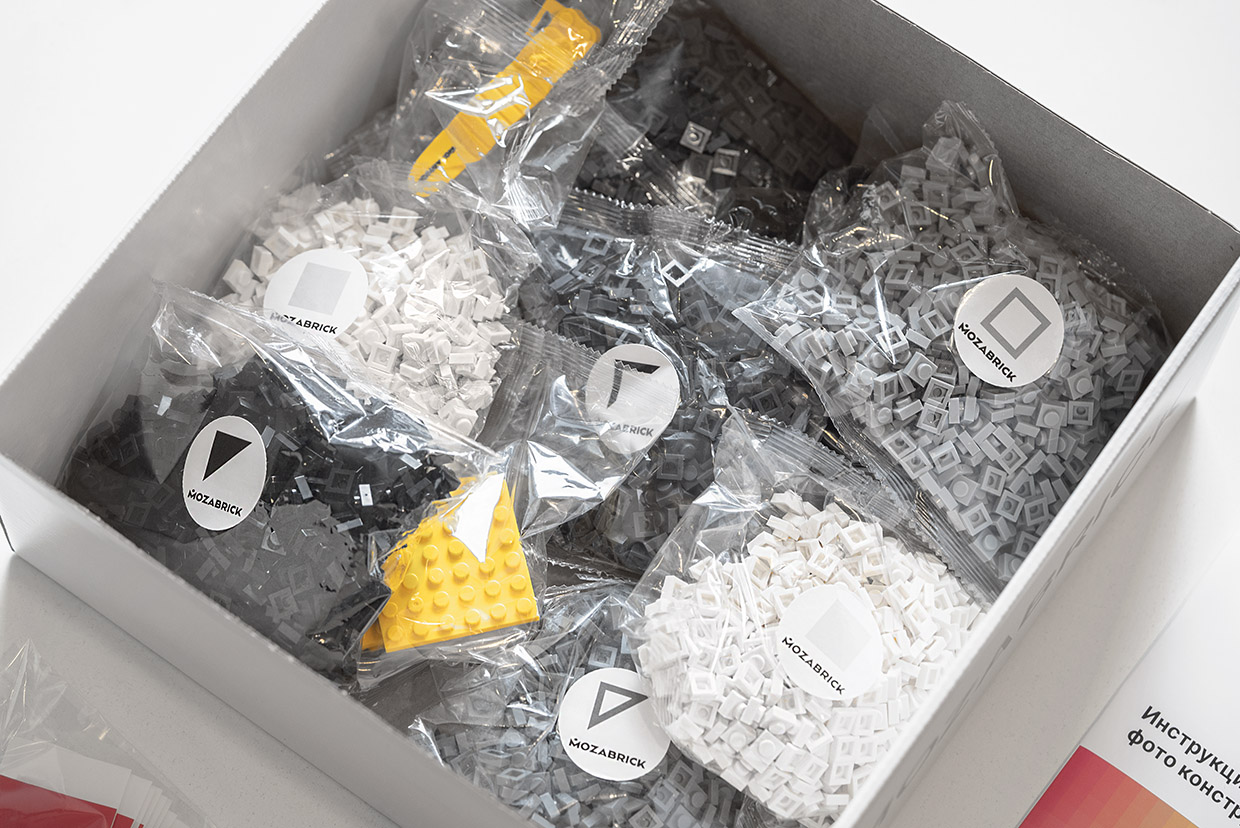 I can't get past this fact: you can take the picture apart at any time and recreate a completely different picture.
Mozabrick doesn't limit the number of "generations" of instructions on the site. You get a reusable interior element: you can collect other photos for the holidays, or just from time to time to update the interior with other faces on the wall or shelf.
In this sense, the set has a huge advantage over "ready-made" pictures from other companies, made for a particular photo. Whatever you want, you can hang.
Where and how much to buy the Mozabrick photo kit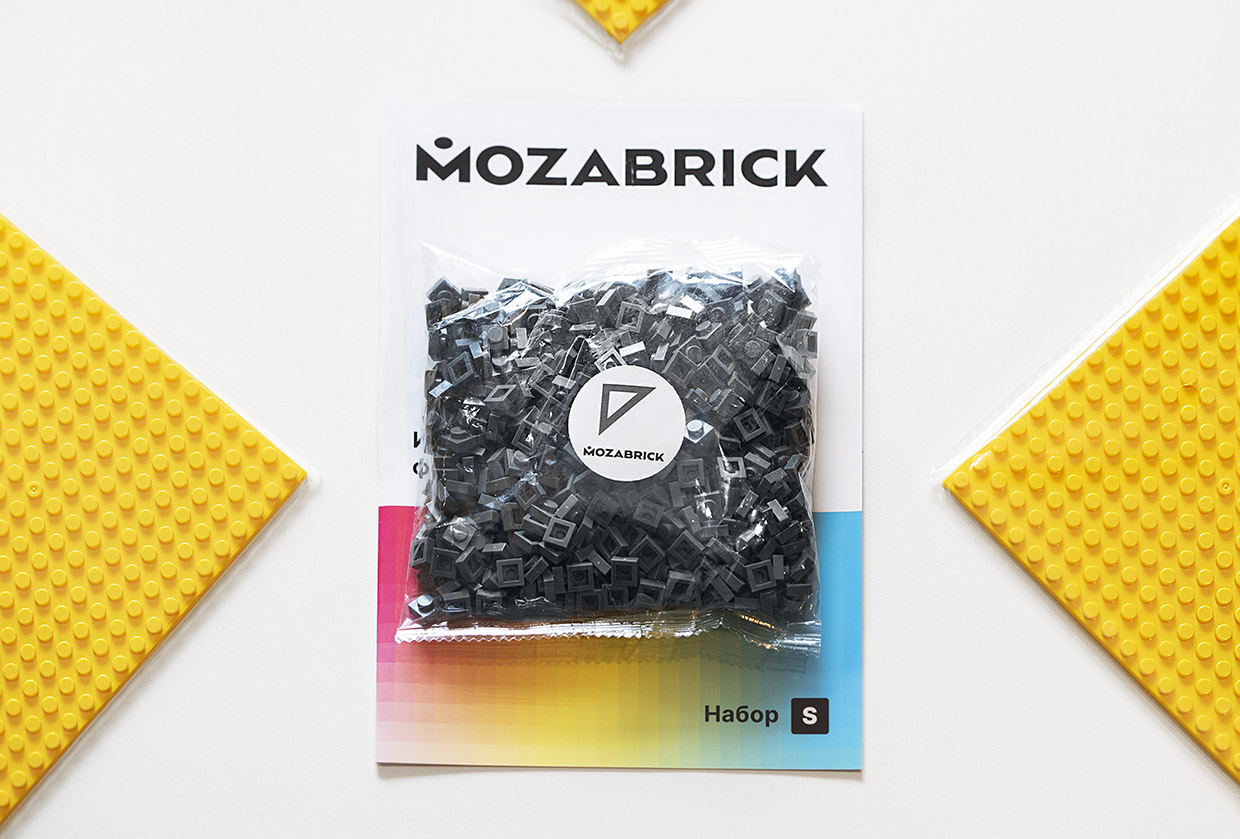 When the guys brought the set to the office, I honestly expected a price around 8-10 thousand rubles. The topic is gaining popularity in Russia, so the "high-priced" price seemed obvious.
But it was not. An average set of the same LEGO will cost the same money with fewer parts, and its usefulness in most interiors is much more debatable than a reusable photo-picture.
► Mozabrick, "Set S" at 5815 parts: 3,990 rubles
► Mozabrick, "Set L" at 14528 parts: 7990 rubles.
Promo code iphones20 gives 20% off any set from Mozabrick website. For example, "Set S" will cost 3192 rubles.
Delivery in Moscow costs 300 rubles. If you order from 5 thousand rubles – free, will bring a courier a day later. Details for other cities can be found on a separate page of the site.
I was most surprised not by the constructor itself, but by my own attitude to it. At first I thought it was just a nice gift for someone who has everything and does not know what to buy. So I gave the S Kit to the other guys in the team.
And then I saw the finished painting and now I think I'd better take it and hang it up at home, it looks great.
So Mozabrick have made a rare thing: interesting in itself, unusual and as a result really useful in the interior. Assembled, hung up, and the eye pleases. And if you get bored, you can take it apart and make another picture.

Bookmarked
Mozabrick Infinite Constructor – Reviews
I love unusual constructors, puzzles, so I just could not pass by this novelty. I have the usual, first do, then, if I'm lucky, then think. Here I was attracted by the idea of an infinite constructor. I assembled it, admired it, got bored, took it apart, made a new one.
Greetings! Mozabrick is a very unusual novelty of 2020. At least I have never seen such a "fun" before: from your own picture to collect a picture in the style of pixel-art or in simple mosaic format.
We received the set as a gift from my grandmother. When buying a set it is highly recommended to choose a photo and see how it will look in the "squares" of mosaic (it is free on the website), and then buy the set.
Hi! In today's world it has become very difficult to think of a gift or to please yourself, it seems that people already have everything. Therefore, very often I'm in search of something unusual, something that will not leave indifferent the giftee.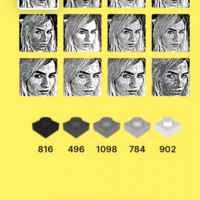 Hello all! I want to share with you my impression of the endless Mozabrick constructor. I ordered it in IM Wildberries, the price – 3710 rubles. I will leave a direct link to the product in the review of Wildberries. The set came in a large cardboard box, wrapped in foil.
Good afternoon to all. I am a creative person and always love to do unusual, creative and interesting things. I have seen on the Internet Infinite constructor Mozabrick, understood that it is urgently necessary to take)). General Information: Full Name: Infinite constructor Mozabrick Price: 3990 rubles Buy: Direct link …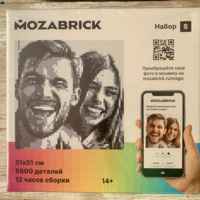 Good day to all who stopped by A couple of weeks ago I became acquainted with an incredibly interesting constructor, which gives the opportunity to assemble your own image. It's an incredibly indoor idea that made me want to purchase it. The infinite constructor from your Mozabrick photos.
Hello everyone! Today I want to dedicate my review to a chic constructor from the brand Mozabrick. This is an unusual constructor. it can be assembled and disassembled endlessly. With only 5 colors, you can assemble an entire painting-portrait.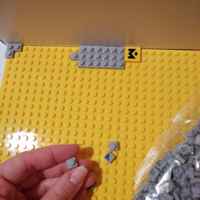 Hello everyone, readers! I really like to try new things. Constructors I loved since I was little. There were lego real, standard plastic, puzzles, cubes. This designer in general is durable, it can be used many times, or rather – an infinite number.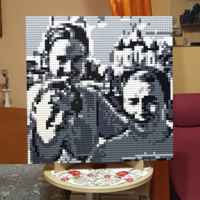 All goodness and health. Before the holidays every time there is the question: "What to present? We want the gift to be original and interesting. Wandering around the Internet wilderness found endless designer from your photos of the company Mozabrick, the idea seemed interesting, and I bought it)))) The price of …
I bought the Mozabrick set at wildberry's for 3500. Really liked the unusual idea and execution. The set includes a board, small parts in black and white, locks, disassembly wrench. You can assemble any photo.
I ordered at Willdberris infinite constructor Mozabrick, size S, for 3710 rubles. I have no regrets! It is just an amazing thing, and a great idea for a gift. What's the point?
Hi all, today I want to tell you about our family leisure time. We love to do needlework with kids and this time the material for the development of fine motor skills was provided to us by AlexTerra LLC: To be honest, when I came across their website with bricks, I thought that their product is similar to bricks…

An interesting and difficult to assemble constructor for big "kids". The result is a stylish retro car model. And it still drives!
Hello all! For a long time I was looking at mechanical models of the Ukrainian company Ugears. But somehow I did not have time to buy them. And here, I saw a discount on the site, the official representative of this company in Russia, and my hands pressed the "Order" button by myself.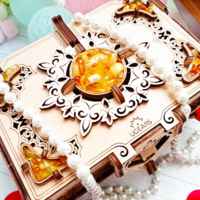 And even some difficulties during the assembling did not cast a shadow on the joy of owning such an elegant box with the real amber from Ugears brand
Hello! I really like to collect all sorts of puzzles and building sets and when I saw, wooden design brand Ugears I wanted to become the owner of one of these products. To begin with a few words about the brand. So, Ugears specializes in the production of wooden constructors.
Pain, glue and tears. The assembly of the rumbox is like an execution. The review is a warning! I will show you everything in detail and tell you why rumboxes are not for everyone.
Hello everybody! This is going to be a very controversial review that might provoke a wave of indignation in the comments, because I am going to criticize the now fashionable hobby: assembling roumboxes. What girl in her childhood has not dreamed of a doll house? I here very much dreamed.
My dream came true: I built myself a cottage. True, still in miniature. Architectural constructor Arckit from Ireland is inspiring!
Greetings to everyone reading me! As a child someone wants to become a firefighter, someone wants to be a ballerina, someone wants to be an astronaut. There are also those who want to be architects. If you feel like you are raising a future architect, or maybe your life is already somehow connected to this field, then you will love this review.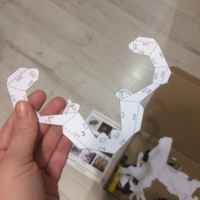 Hello! Today I want to share with you a review on the 3D builder "Sturmovik". This "designer" I bought for my kids on the eve of the holiday February 23. Why did I put in quotes the word designer? Let me explain: for me a construction set is something solid, from which you can build something.
Lately I needed something to occupy my free time, to distract from bad thoughts. My dad likes to collect models of different techniques, and here after seeing him, I decided to order a builder myself. My choice fell on the model of the tank T-34-85 Price: 1603 rubles. Buy it on Wildberries.
Today I had a lot of fun. I locked myself in my room and assembled the head to human form. Or rather, assembled a skull. Not my own, but a cardboard one. True, he has a hole in his head, just like me, but that's because he's an organizer. So his hole is also functional, unlike mine.
Hello to all of you reading me! All of us since childhood love to make things. Constructors from cubes, origami from paper – in children the creative process will always find an outlet in one form or another. Adults with this often difficult relationship. There is no time, or laziness. I am like that, yes.
Why did I delete all of Zemfira's songs and throw away the posters? From the girl with the Walkman to the big question.
Like every child of the early nineties, I adored three things: chips, colorful phenoms, and Zemfira. I don't remember when exactly in my life this bright image appeared to me (I think it was a rattling yellow bus, dusty July outside the windows, and "Arrivederci" was pouring out of the speakers at full blast), I really don't…
Can you become a bikini girl without a trainer? I'm showing you the hottest exercises for the big nut. My results in 4 months have surpassed 3 years of hard work!
Good day everyone Almost all of my conscious life I have been very positive about fitness, most of my life I have resorted to home workouts, but for the last four years I have been working out exclusively at the gym. I have never had to use the services of a trainer, it's a conscious choice.