Prague sights – into a fairy tale in winter
The majestic Czech capital, turning over the seasons, changes every time, filling you with new desires and falling in love in a whole new way.
Winter Prague, covered with mystical snowy haze and ringing with Christmas motifs, is even more appealing and mysterious. It is like the setting for a cherished Andersen fairy tale, it beckons to touch the miracle and become an accomplice in it.
The majestic outlines of the old Gothic buildings, Christmas tree lights, leaden waters of the Vltava River keep the mystery of this amazing city, harmoniously weaving together the Middle Ages and modernity.
Winter in Prague is much milder than in Russia. Snow and rain are rare, air temperature even in the coldest and windiest January-February does not usually fall below -5-7С, and the sun, a very welcome guest of this time of year, breaks through the clouds and gives the city a festive transformation and hospitable joy of light.
A winter visit to Prague will present you with a new sense of magic of Christmas and New Year holidays in January and December, will fill your senses with the fresh romance of Valentine's Day in February, will make avid shopaholics happy with fantastic prices of New Year sales and will make you see the charm of Prague castles, bridges, squares and paved streets beckoning to wander around them from morning till night, forgetting about exhaustion and not putting down your camera.
Where to go in winter in Prague, what to see and visit
A lot of fresh and vivid impressions will bring walking around the city. Especially if you are lucky and Prague is powdered with white snow, presenting a more solemn, austere and intriguing image. The standard "walking" tour usually lasts three hours, so it is important to dress warmly.
Charles Bridge, Old Town, Old Town Square with its beautiful old clock and unforgettable view from the Town Hall, New Place with Wenceslas Square, Prague Castle and St. Vitus Cathedral, National Museum, many characteristic streets and alleys with their half-mystical stories and legends – the favorite places of winter travelers are newly attracted.
If you are visiting Prague with children in winter, be sure to set aside a day to visit the magnificent Prague Zoo, which is open all year round.
Prague Zoo in winter
Huge (60 hectares), founded in the XXVII century and reborn in 1921, the Prague zoo is one of the ten best in the world.
It is a vast park with meandering paths and both open and closed enclosures and pavilions. The zoo is situated in the Troja district and is accessible by a free public bus marked ZOO and the 112th bus from the Nádraží Holešovice subway station.
In winter time in the zoo you can stay from 9 till 16 hours, however on December 24th and 31st it closes at 14.00 due to the public holidays.
Even all day walking in the park, sometimes it is impossible to see all the animals that are kept there, because it is located on two levels, connected by a cable car.
There is also a special "children's" section, where kids can stroke and feed some "non-dangerous" animals. Lions, tigers, leopards, elephants, giraffes, monkeys, polar and brown bears, insects, birds, sea creatures – the animal world is generously and diversely represented here.
Be sure to visit one of the largest pavilions in the zoo, the Indonesian Jungle. Even in the coldest season, it maintains tropical temperature and humidity, grows abundant and thick thermophilic greenery and allows you to watch the games of monkeys and the movements of reptiles, giant turtles and other animals of the tropics to your heart's content.
At the entrance you can buy a zoo map together with the ticket and it is advisable to get one in order to find your way around the huge area.
Charles Bridge in winter
The majestic 520 meter long Charles Bridge, connecting the banks of the Vltava River since the 14th century, is as usual crowded in the wintertime. But after 8 p.m. in the winter the locals go home and your chances of soaking up the history and enjoying the powerful energy of this architectural masterpiece without fuss and almost in solitude increase.
At dusk, the religious sculptures (there are 30), especially when covered with snow, look even more significant and give an unusual feeling of presence and complicity. Don't hesitate to make your best wishes, and don't doubt their miraculous fulfillment – it's part of Prague's winter magic, generously exuded by the city at this time.
Christmas Holidays and New Year's Eve
"Preparation" and anticipation for Christmas festivities in Prague begins as early as December. On December 1, the lights on the huge Christmas tree, which is installed on Old Town Square, are lit.
Here, too, every year, according to Catholic tradition, place compositions of figures symbolizing the birth of Christ (nativity scenes), which remind of the main winter holiday. On St. Miklusz (St. Nicholas) Day – December 5 to 6 – on this square you can meet Santa Claus with a staff and beard, accompanied by actors dressed as Devil and Angel.
On the way, he chats with people he meets and hands out gifts to children. In early December, Christmas markets and bazaars on Old Town Square, Wenceslas Square and other squares and streets of the city start working, generously offering fresh pastries, Christmas cookies, hot pancakes, various meat "goodies", warming drinks, numerous gifts and souvenirs.
Those who wish can ride horses – in carriages and on horseback, children are offered a "ride" on a pony. The fair on the Republic Square will also be remembered for its delicious refreshments (potato brambles, gingerbread, the famous "Veprevo Knee", fried carp, hot grog, mulled wine), handmade author toys and grand holiday concerts.
Visiting the Christmas fair in the Peace Square, you can observe with your own eyes the making of Christmas decorations, buy aromatic candles, haberdashery, dishes, china, jewelry, Christmas tinsel and make a lot of successful purchases to please yourself and your loved ones.
The Havel Market in the Old Town, one of the oldest in Prague, will also delight you with its vast selection, prices and special offers, so you won't be able to leave without good bargains.
On December 24th, Prague has a shortened working day and many markets and fairs close early. At night on the Old Town Square you can attend an open service in honor of Christmas. On December 25, the city is crowded, noisy and festive, there are concerts of music bands and theatrical performances.
Restaurants and eateries offer the traditional juicy and crispy Christmas goose. On December 31 and the first day of the new year, the streets and squares are crowded, with festive entertainment and fireworks everywhere. After January 1, the Christmas fairs usually end.
New Year's sales.
Discounts and sales on fall and winter collections are announced in Prague as early as in December, but real noticeable price decrease, which attracts locals and guests of the Czech capital, begins immediately after New Year holidays – from 5 or 6 – and till the end of February.
Discounts on clothing, shoes, accessories and toys during this period reaches 70%. Czech brands are known for their high quality, so even if you're not very fond of shopping, it is worth a look in the stores of Prague, and the quality practical things at very affordable prices "will" find you.
For shopping you can choose major shopping centers like Palladium, Letnany, Arena Outlet Center, Kotva, or you can walk through the numerous boutiques and markets, getting great discounts on clothing, famous Czech leather goods, crystal, porcelain, jewelry with garnets and souvenirs.
Prague Skating Rinks
Another charm of winter Prague is the abundance of skating rinks, outdoor and indoor, paid and free, invariably cheerful and well maintained. They bring joy and pleasure to people of all ages, immersing them in the childlike thrill of recklessly sliding on the icy smooth surface.
From December 6th there is a huge free skating rink in the Old Town, across from the Soslovy Theater, next to the Fruit Market (Stare mesto, Ovocny trh, 1).
The free skating rink is on the roof of the Arfa Gallery, and it allows you to combine your skating with enjoying the views of the winter city, which is very romantic.
The rink opens after 2 pm, renting skates costs 60 CZK, kids skates 30 CZK and every Saturday you can enjoy great entertainment.
Another payable skating rink is Na Františku, 40 m in the center of the town, where tickets cost 50 EEK for adults and 30 EEK for kids, and an ice skate rental costs 50 EEK.
It is interesting to skate and ice hockey club "Cobra". However, this pleasure is available only on Saturdays and Sundays. The entrance fee is 100 CZK.
In the Ice Arena Letňany there is not only an ice rink, but also halls for fitness, so everyone will find something to their liking. "The adult ticket costs 80 CZK, the children's ticket costs 40 CZK and you can buy a season ticket for 10 rides.
Over a mug of mulled wine
After a walk through the winter city and skating so nice to warm up in a cafe tea, grog or mulled wine and have a snack of delicious local food. Restaurants, cafes, snack bars, and bars are around the corner here.
Fragrant and delicious mulled wine (Czech svarak ) is sold almost everywhere, it quickly warms you up and is incredibly popular with tourists and locals. For those who want to grab a bite to eat, there are restaurants and cafes serving national and international cuisine (Italian, German, French, even Australian).
Dumplings, meat dishes, mushroom soup in bread, variations with sauerkraut and of course, many "specialty" beers – Prague has simple, delicious and nourishing food.
There are menus in Russian in almost all establishments, and the staff also understands Russian very well. Incredibly quickly recovered strength, you will be ready for new excursions and endless walks through the ancient streets.
A little snapshot of winter Prague:
When you visit winter Prague, you will be filled with its cheerful, festive and magical energy and take away with you an incredible experience, fabulous photos and a desire to return to this incredible modern and medieval city one day.
The Magic of Prague in Winter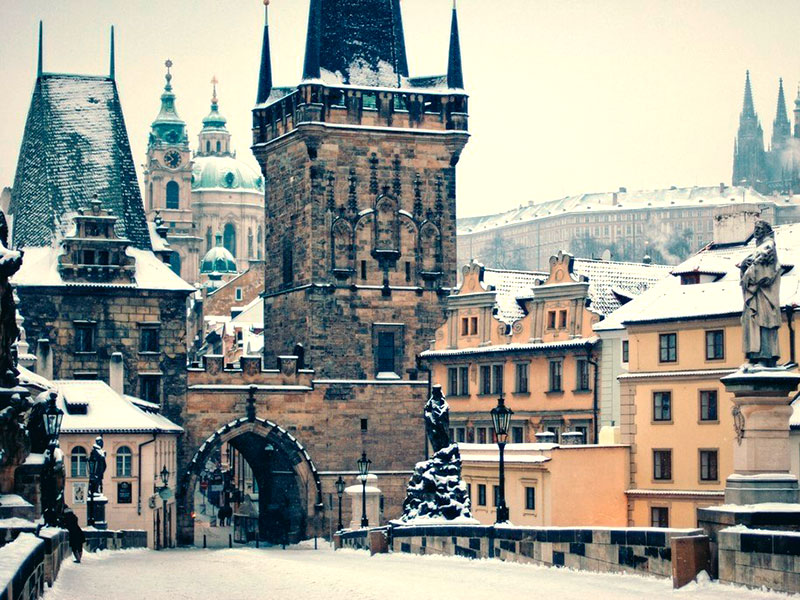 Compared to Russia in Czech Republic, winter comes slowly and smoothly. At the beginning of December – the month, starts to decorate the capital for the celebration of the New Year. Literally after a few days, the city is transformed beyond recognition. There arises the atmosphere of a good Christmas movie, surrounded by aromas of cinnamon and mulled wine.
About the weather.
Winter in the Czech Republic is much milder, if compared to Russia.
The lowest temperature at night is -8 ° C. During the day – up to + 5 ° C.
But it can be rainy and windy, so you should bring a warm jacket, water-repellent shoes and an umbrella. There are no blizzards or snowstorms in the Czech Republic and the snowfall is quite moderate.
Throughout the winter, it starts to get dark around five to six o'clock.
So even in winter you can enjoy the beauty of the capital and have time to look at the Charles Bridge and the Castle Stairs, and even the Museum of Historical Pots and Toilets.
How to get to Prague?
You can go to Prague on your own (if you have a visa) or with a guided tour.
You can choose a tour, order and even pay for it online. Thus it saves time. Websites offer a huge selection of the most diverse tours.
Demand for excursions depends on the goals that pursue tourists. Someone wants to see the cultural attractions and learn as much new information as possible.
Someone is much more interesting to taste Czech beer, get acquainted with the dishes of the traditional cuisine of the Czechs and visit the famous "beer baths". Someone wants to explore not only the capital of the Czech Republic, but in addition – its surroundings.
For history lovers, there is a unique opportunity to see medieval Prague, get into its spirit walking through old quarters of the city and ending – to visit the oldest tavern, preserved since the times of Charles IV.
Those who are looking for unforgettable experience will be well served by viewing the Czech capital from the airplane. You can even pilot the plane yourself (accompanied by a flight instructor, of course).
For couples and lovers you can arrange a romantic excursion with a meeting of dawn and a memorable photo shoot. In a word – everything for tourists and visitors.
Holidays and entertainment.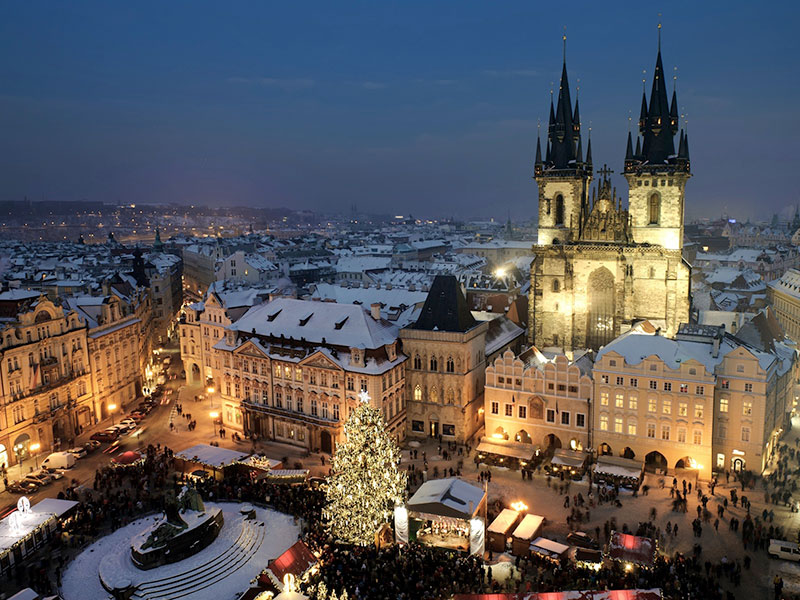 Prague is an ideal city for Christmas holidays. The entertainment program begins at the end of December. On the main square they set up a Christmas tree, where people gather on New Year's Eve. Cafes and restaurants also start a festive program.
Christmas in the Czech Republic is a true family holiday. Every Czech tries to spend it at home with family. Therefore, most stores, cafes and restaurants are closed on this day.
Before Christmas there are many fairs. There you can see the costume processions, buy souvenirs for friends and relatives, as well as taste the Christmas cookies, fried cheese and many other delicacies.
Lovers of adrenaline and outdoor activities are offered to visit the ski resorts in the Krkonoše, Šumava and Jezera Mountains. Couples in love choose carriage rides or retro cars, classical music festivals or European film festivals.
Connoisseurs of architecture and history should visit Stefanik Observatory, Charles University and Strakova Academy.
"Bohemian Carnival in Prague.
It is separately worth mentioning the Czech Bohemian Carneval. The festival aims to revive the spirit of the thirteenth century. At that time, residents staged parades in masquerade costume, singing and dancing.
Carnival in the Czech Republic is held in the period from late February – and almost until mid-March. All visitors expect a bright and colorful entertainment program. Celebrations are everywhere – in theaters, museums, palaces and restaurants. But the most important celebration takes place on the central Old Town Square. Suitable costume for the carnival celebration can be purchased in a special workshop.
A little bit about shopping "the Prague way".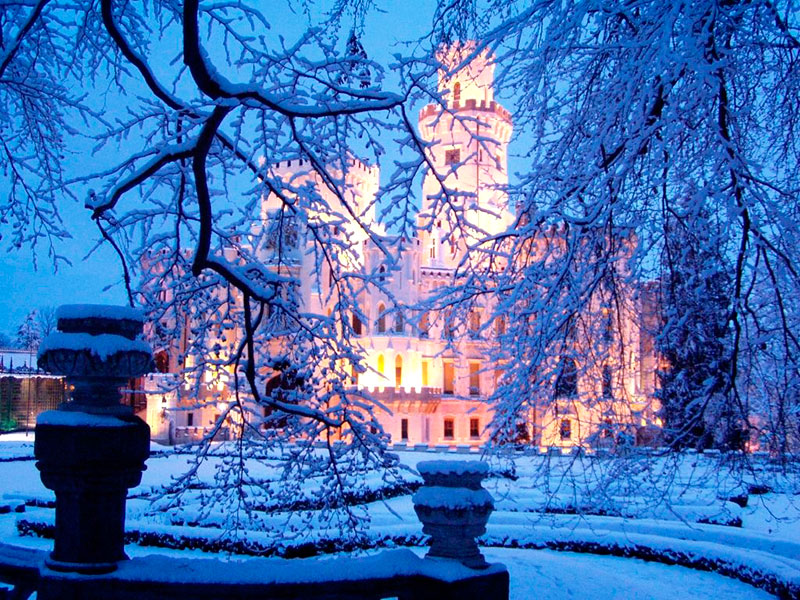 The most advantageous shopping in Prague is possible in the winter.
With the onset of winter in the stores are sales. Beginning in mid-December, they end only in mid-February.
Discounts on products such as electronics, shoes and clothing, reaching eighty percent.
However, it is very important to know the level of prices in stores before the sale, because some stores are taking advantage of ignorance and gullibility of tourists.
The capital of the Czech Republic, subsequently, leaves no one indifferent. And for life presents an unforgettable experience.
Winter Prague, has its own, incomparable, charm and unique flavor.