Mae Hong Son
Mae Hong Son (also known as Mae Hong Son and Mae Hong Son) – the capital of the province of the same name, located in northern Thailand and bordering Myanmar (Burma). It's located 920 km from Bangkok, 113 km from Pai, in a picturesque valley among the high hills covered with vegetation.
The city is small, it is feasible to walk around on foot in a few hours. Construction is mainly wooden, 2-3-story buildings. There are no high-rise buildings. Traffic is light. It does not look like a provincial capital, but more like a modest little town with not even a dozen streets.
Mahong Son on the map of Thailand
History
The history of Mae Hong Son is not one century old. It is not known for certain when the first people appeared in this area. Archaeological evidence shows that as early as a thousand years ago there were small settlements here. Several centuries ago, temples were built, next to which a village appeared. These places were quite famous – here was extracted valuable teak wood and organized hunting for elephants. The elephant hunters gave the area its name about 200 years ago. First it was Mae Sa Rong and after Mae Hong Son. In 1866, Chan Ka Lay, who was from the Shan people and was born in Myanmar territory, took over the village.
In 1874 the King of Chiang Mai Indawidjanon heard about a small village near the border with Myanmar. Since at that time Thailand often waged wars with that country, the king decided to make Mae Hong Son a strategic point to guard the border from uninvited guests. He built a large fortress around which the town later grew (the fortress no longer exists). The head was still Chan Ka Lay, whom the king officially appointed governor and gave him a new name, Paya Singhanath Racha.
In the 20th century, when the wars subsided, the city ceased to be an important strategic site. Since it was in the middle of nowhere, in the mountains, where there were no big cities for many hundreds of kilometers, people who did not like the authorities were exiled here (officials, not murderers and thieves).
For many years, Mae Hong Son was closed to tourists for a very simple reason – there was no normal road to get here, especially during the rainy season when everything was washed away. By the end of the 20th century, a good asphalt road was built to connect the city to Chiang Mai. An airport was also built. Since then, tourists began to come here, for which hotels have been built both in Mae Hong Son itself and in its picturesque surroundings. Usually they are 1-2 blocks of several floors. Sometimes – stand-alone houses-bungalows (outside the city). The price of accommodation varies – there are hostels for 200 baht a day, and there are more serious offers for 1000-2000 baht.
How to get to Mae Hong Son
The city has no airport, the nearest large one is in Chiang Mai City where many domestic flights are available.
Cheap Flights to Thailand
You can buy airline tickets to Thailand as cheaply as possible using special search engines that collect data from all airlines.
You can also get to Mae Hong Son by bus from Bangkok and Chiang Mai and by minivan from Pai. For more details, see the separate article "How to get to Mae Hong Son".
Who should go to Mahong Son
Mae Hong Son is great for a quiet and leisurely vacation. In addition, if you rent a motorcycle (200 baht), you can ride around the surrounding area and admire very beautiful views of the scenery. But in the city itself is also beautiful – there is a large lake and a river. From the observation deck in the temple there is a great panorama.
Mae Hong Son can offer inexpensive accommodation, a sufficient number of restaurants and bars (most of them are located on Khunlumprapas Rd in the city center), small stores, market, several rentals of motorcycles and bicycles, massage parlors. Some bars have live music in the evenings. Restaurants and cafes offer Thai, Chinese and international cuisine. There are banks (after all, this is the provincial capital). But there's no nightlife, discos, or Go Go bars.
Things to do and see
We recommend visiting Mae Hong Son for a few days to see the sights in the city and surrounding area. The town's attractions can be visited on foot in 1 day, while the rest are best visited by a local travel agent. The most popular are trips to villages of hill tribes and national parks. In the city itself, of undoubted interest is a temple on the mountain and the observation deck next to it, as well as two temples near the lake.
There are no big malls and hypermarkets like Big C and Tesco Lotus in the town, so shopping in Mae Hong Son is limited to the market and a few stores. The market is located on Phanitwattana Rd, next to the airport runway. It is open from dawn to dusk. You can buy any kind of food at ridiculous prices (eg, tomatoes for 25-30 baht per kg). There are also non-food items "all for the home. Also at the market you can inexpensively taste the local dishes.
For souvenirs etc. you can go to Khunloombraphat Rd, where on both sides of the street there are small stores "All for tourists". The handicrafts of the hill tribes are very popular.
Climate
The climate in Mae Hong Son is one of the best in all of Thailand. Humidity is low compared to the popular seaside resorts in the south. After sunset the air cools down pretty quickly and by midnight it is less than +20. Sometimes in the morning there are fogs.
There are three seasons. From November to mid-March is cool and dry. The daytime temperature is +28 … +30, in the morning it may be +10 … +12. There is practically no precipitation. From the end of March to June – dry and hot season, when the daytime temperatures rise to +34 … +36, and nighttime temperatures are +18 … +20. There is no rainfall as before. From June to October is the wet season. This is not the best time to visit, as it rains 4-5 times a week, and the rain can ruin the entire sightseeing program.
The best time to go to Mae Hong Son is from November to February, when it is cool and green (by March, due to lack of rain, the grass and leaves on the trees start to turn yellow, which creates a slightly dull picture).
| Month | Temperature during daytime (degrees) | Temperature at night (degrees) | Rainfall (mm) |
| --- | --- | --- | --- |
| January | 29 | 13 | 9 |
| February | 32 | 13 | 3 |
| March | 36 | 17 | 7 |
| April | 37 | 22 | 51 |
| May | 34 | 23 | 177 |
| June | 32 | 23 | 180 |
| July | 31 | 23 | 207 |
| August | 31 | 23 | 250 |
| September | 31 | 22 | 204 |
| October | 31 | 21 | 121 |
| November | 30 | 19 | 39 |
| December | 29 | 15 | 15 |
* Weather data was provided by the World Climate Guide.
Hotels in Mae Hong Son
The city of Mae Hong Son is not that big, so there are not many decent hotels – a suitable accommodation is better to book in advance. There are no high-rise buildings in the city, accommodation is usually a 2-3-storey building for a dozen rooms. Often there are 1-2-storey wooden houses with a few rooms.
The cheapest accommodation is in the city center and once you settle here you're close to attractions, stores and other infrastructure. You can also settle in the suburbs – it's very picturesque and a lot of greenery, it's a real life among the nature. But in this case you will be away from everything, however, such hotels always have a restaurant, bar, motorcycle rental and tour desk.
The best hotels in Mae Hong Son:
You can also look for decent hotels on Bookings, a huge selection is available on the popular Asian booking site, Agoda.
Mae Hong Son – the most beautiful province in northern Thailand
October 2018 (updated: 06.03.2019) 5
Who would have thought that the scenery we discovered in Mae Hong Son province would show us the north of Thailand that we all came all this way for. Mae Hong Son has always remained in the shadows of Thailand because most people focus on the more developed cities of Chiang Mai and Chiang Rai.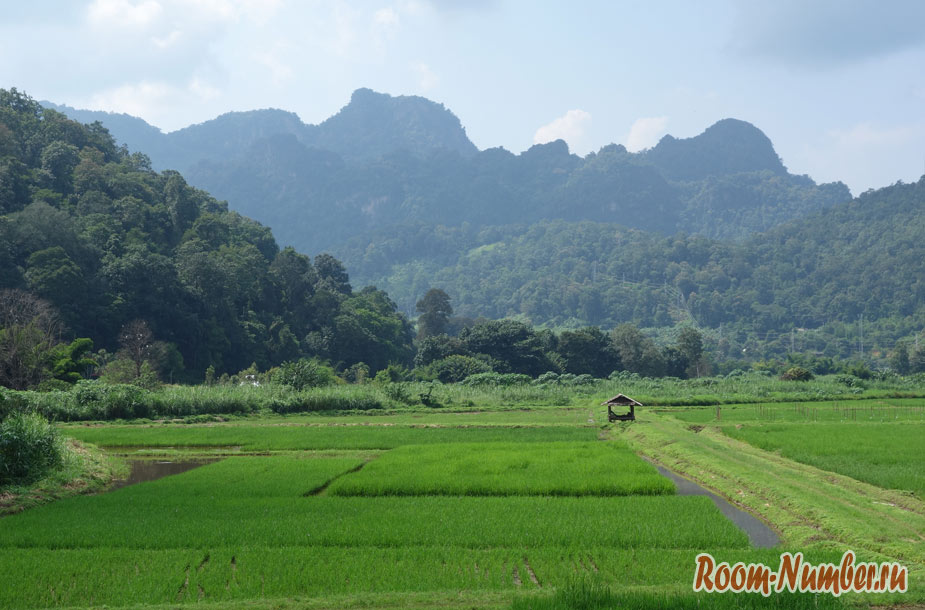 People go to the north of Thailand mostly for nature, not just temples. And the natural beauties are Mae Salong, Pai and Mae Hong Son.
What to see in Mae Hong Son
A lake in the center of the city overlooking the mountains. The town of Mae Hong Son is small and unremarkable. There is a picturesque lake in the center of town with a steep view of an unusual Burmese temple and towering mountain caps. On the lake in Mae Hong Songe come for an evening stroll Thais and even Europeans who live here.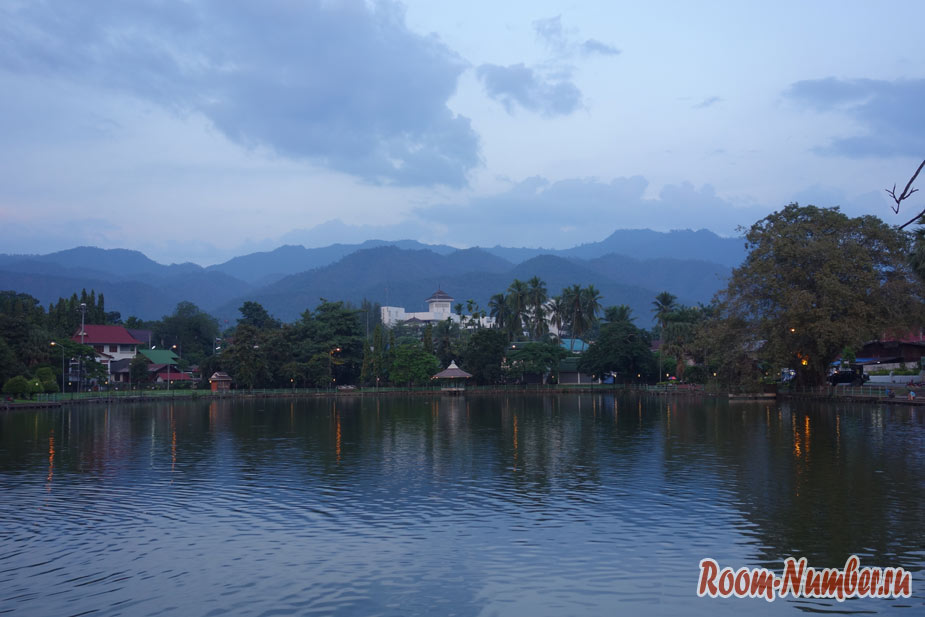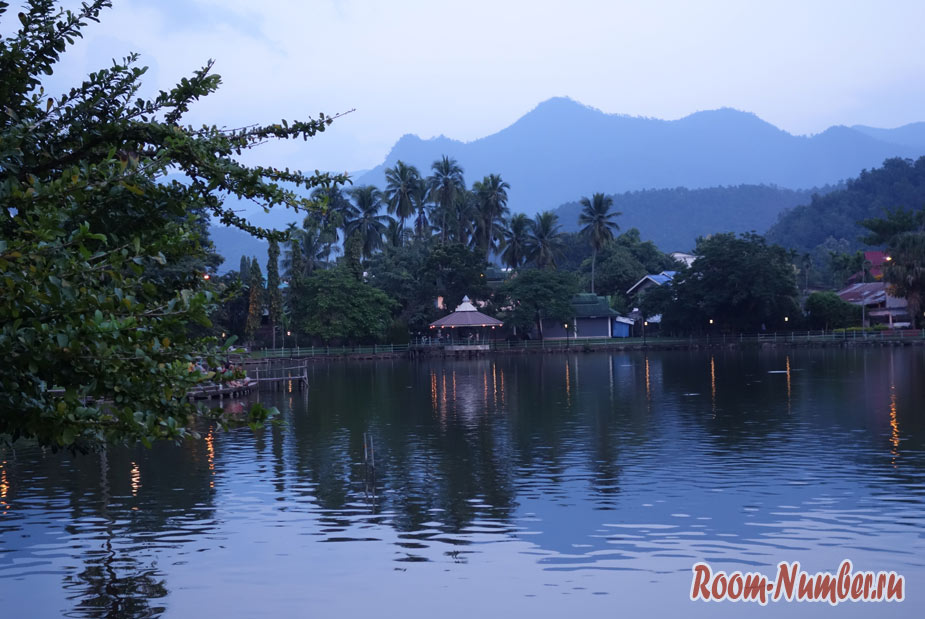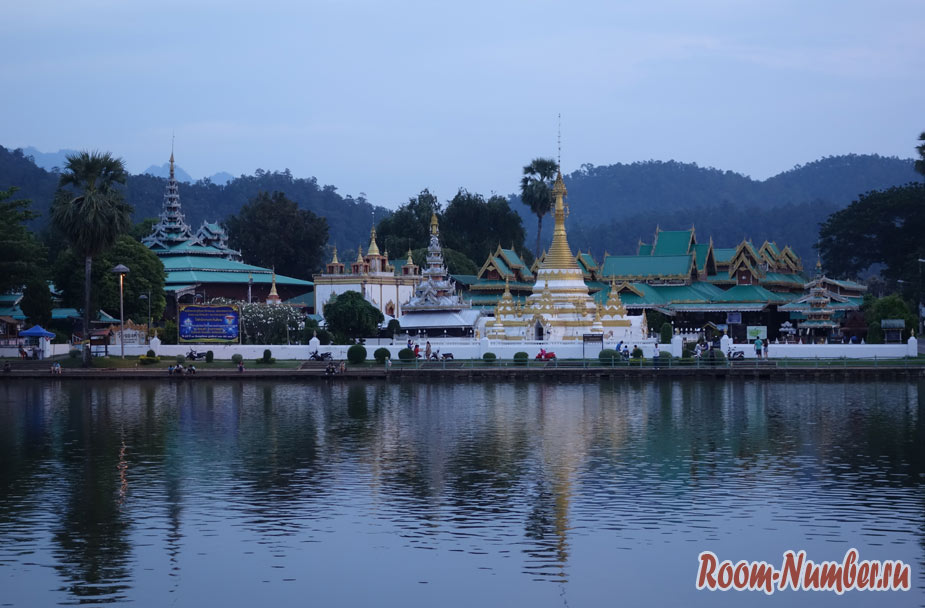 MaeHongSon Mountain Wat. Wat Phrathat Doi Kongmu temple is located on a mountain. Climbing on foot will not be easy. But you can go to the temple on a bike or by car. There were no people, we looked around without rushing. "Temple with lion asses" is printed on all magnets. It's worth coming mostly for the view, as the surroundings are a bit neglected. Admission is free. Point on the map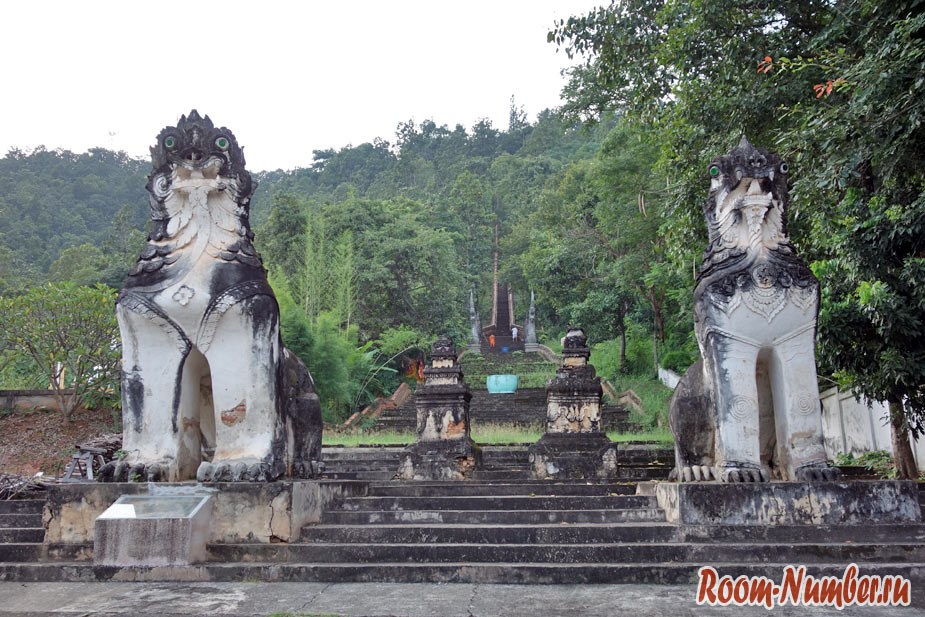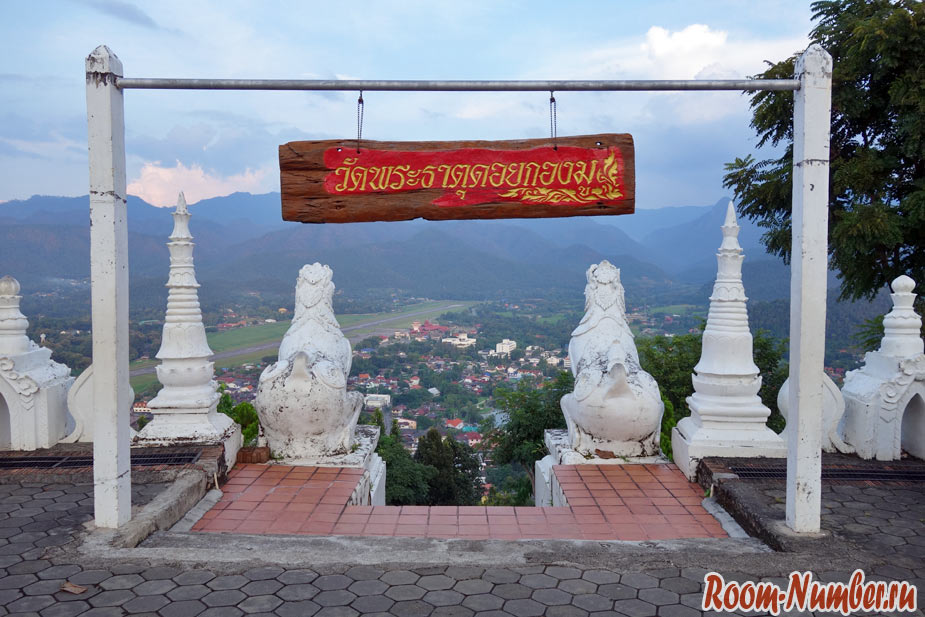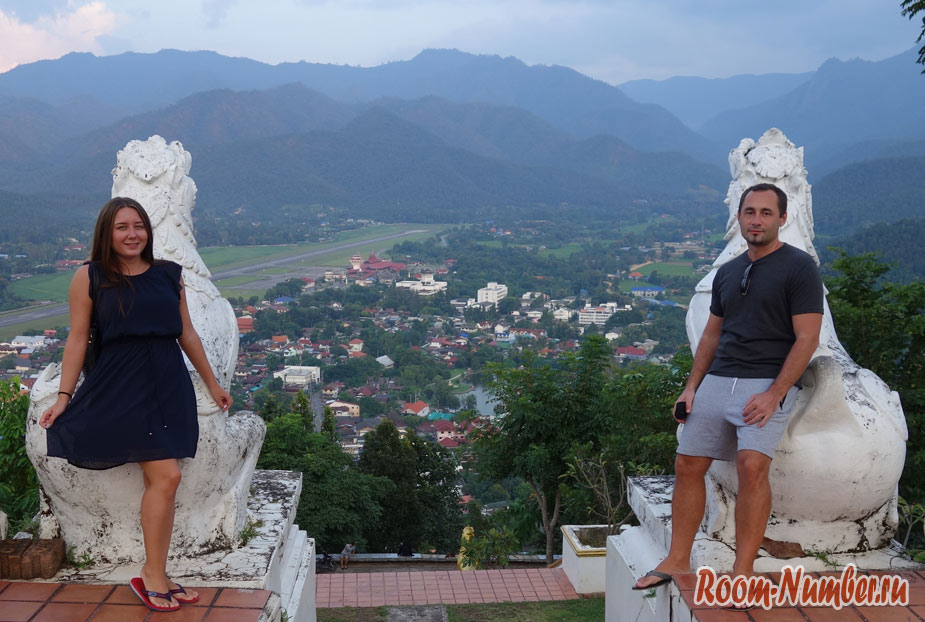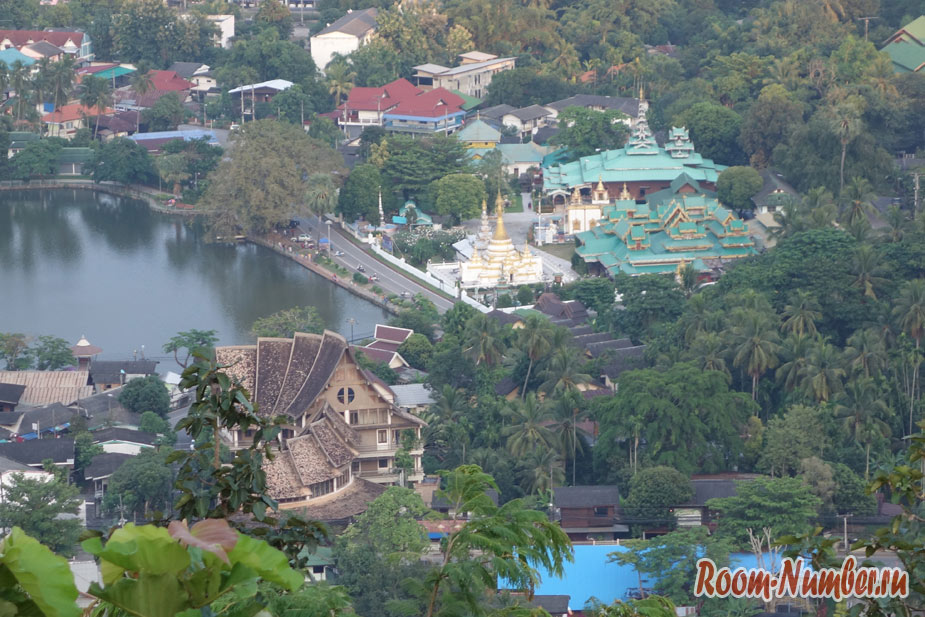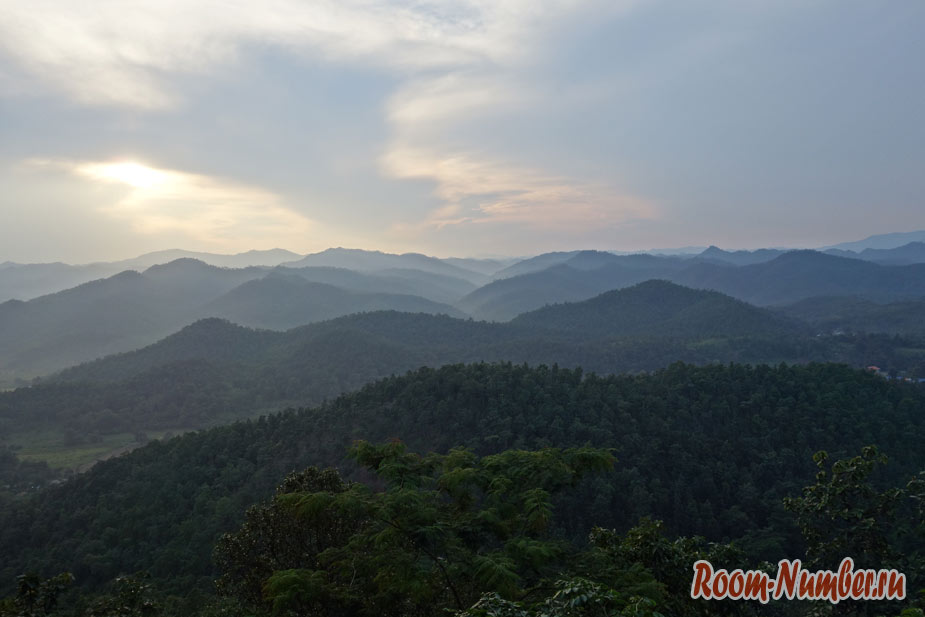 Sutongpe Bridge Bamboo Bridge. The bridge is the longest bamboo bridge. Either in Thailand or in the world. We didn't make it all the way to the end, it was very hot and construction work was going on. Admission was free. Marked on the map.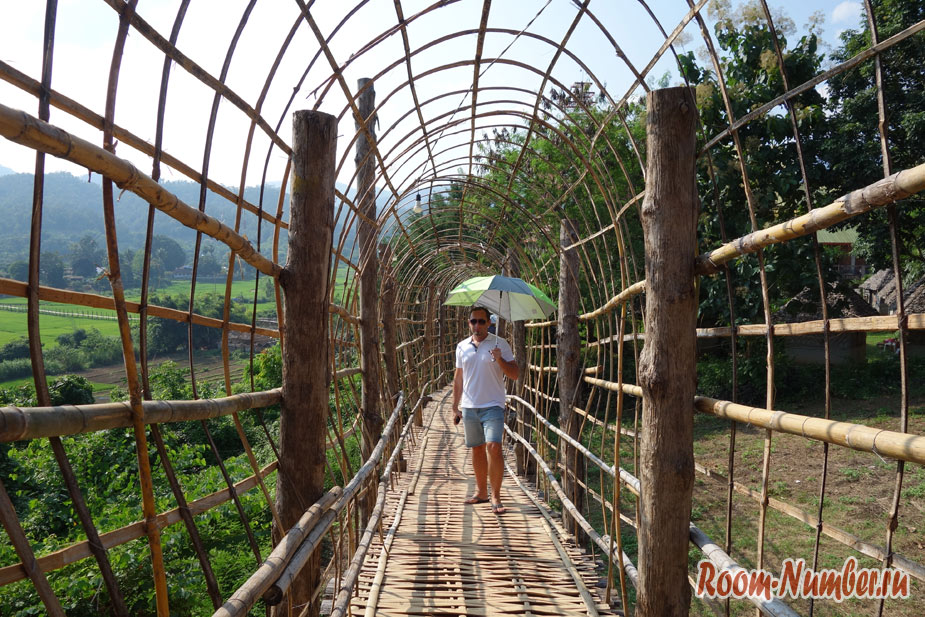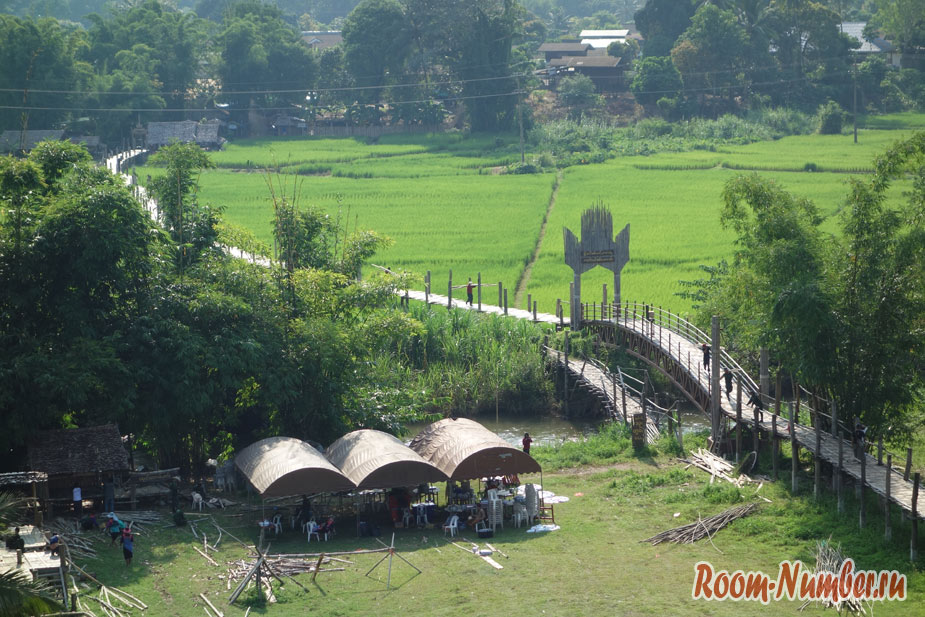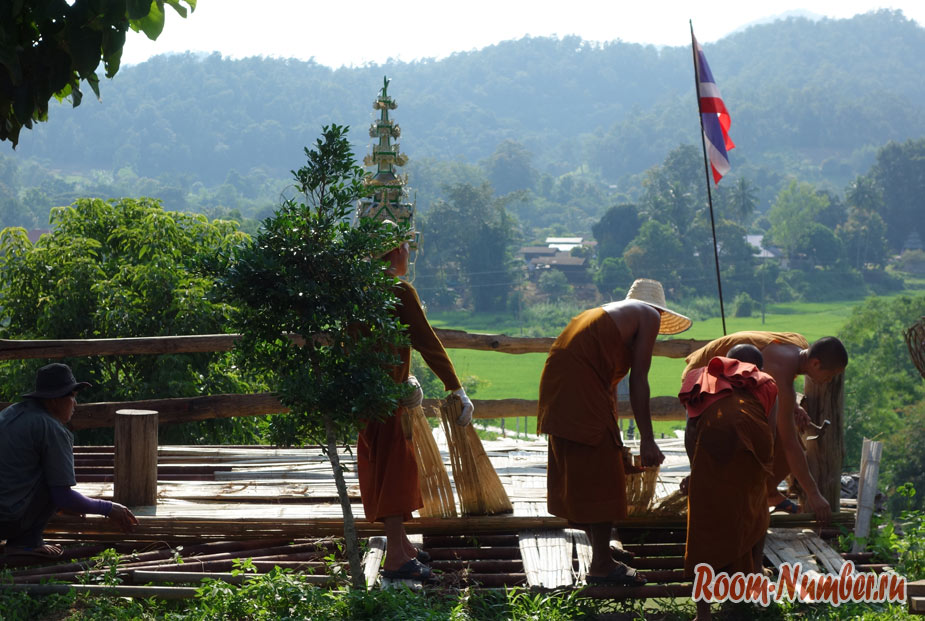 Mae Surin Waterfall. Mae Surin Waterfall is the highest single-cascade waterfall in Thailand. There are no people, silence is ensured, and this is now a great value on the attractions. Admission: 100 baht per person. Read more.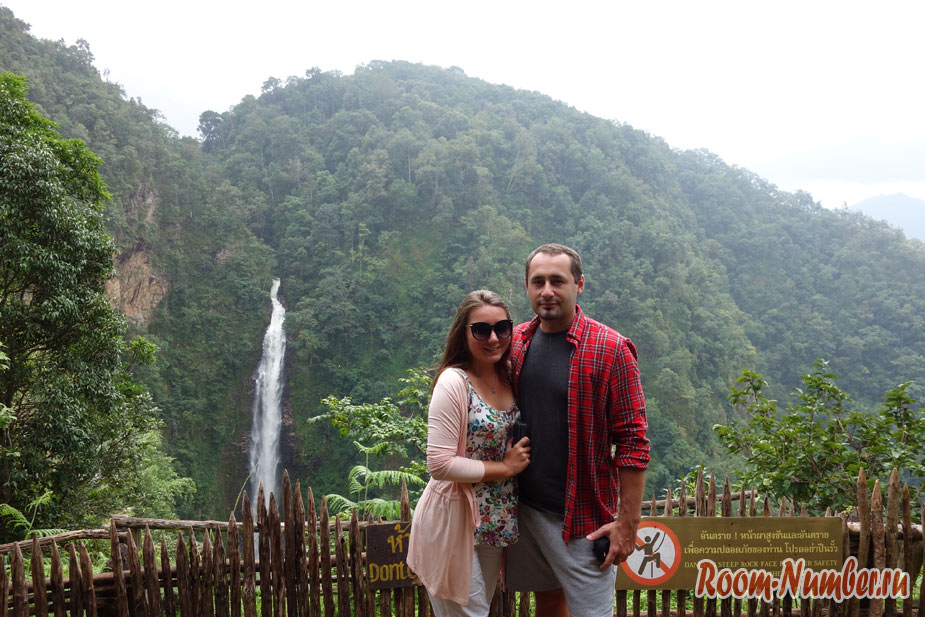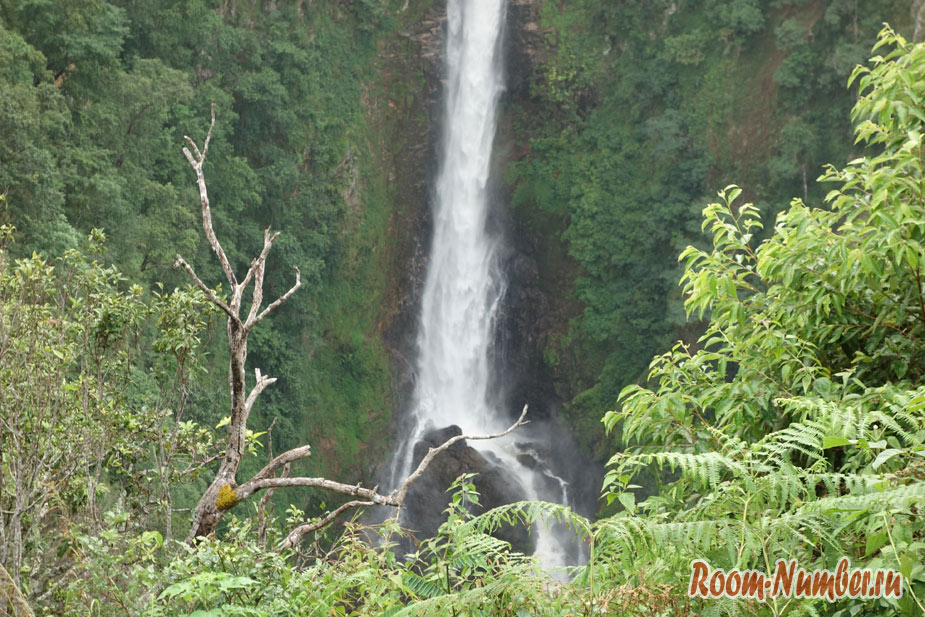 Pha Bong Viewpoint. At the exit of Mae Hong Son town, you can literally take a minute to see Pha Bong Viewpoint. Mountains and more mountains, with a mountain river running below. It's free. On the map.
Mountains like this in Thailand are only here
The cafe with a view like a postcard. Called simply Coffee Shop. Located halfway from Pai to Mehongson. We couldn't resist having a cup of coffee and pleasing our eyes. The nature is amazingly beautiful. On the map.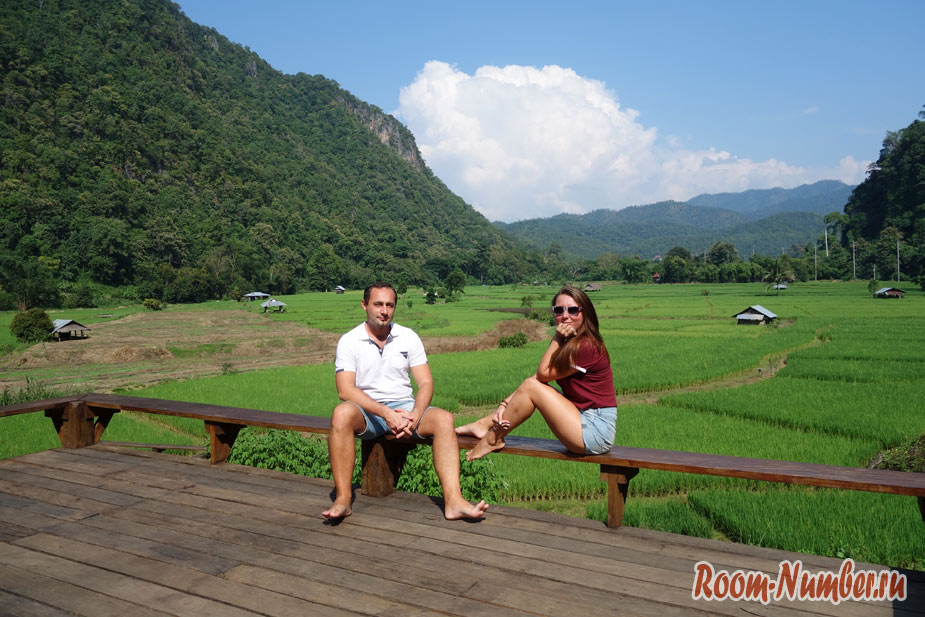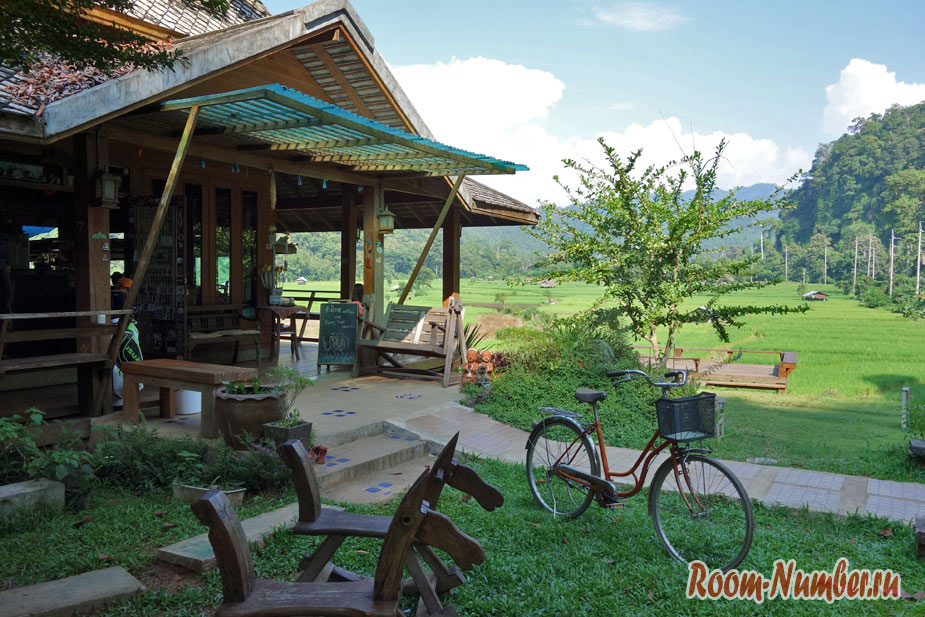 Where to eat in Mae Hong Son: Restaurant and Night Market
Mae Hong Son has no active life. The province is clearly visible here, so closer to evening most of the institutions, which are few, close. In the center of the city near the lake is an evening market. The choice is modest, there is almost nowhere to sit down to eat, except for a couple of tables.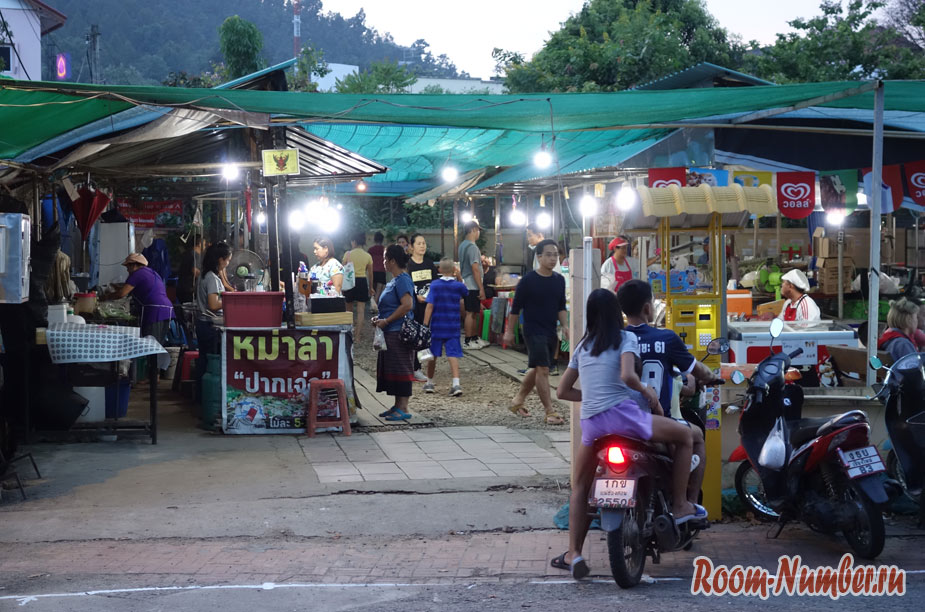 From the reviews on Tripadvisor, we found a good place in the center. Bai Fern Restaurant, where not only locals come, but tourists also show up. On stage, a musician sings Thai and English songs. The staff knows a minimum of words in English, so it would be nice to learn a couple of catch phrases in Thai. The wait for ordering was long, but the food was delicious. Prices are low, averaging from 100-150 baht per dish and more. Our bill was 450 baht for two. On the map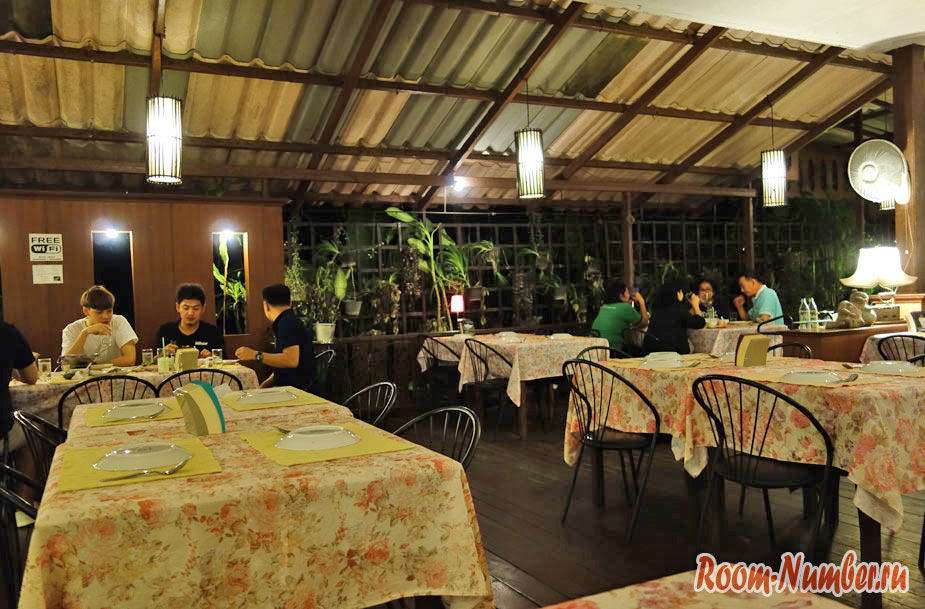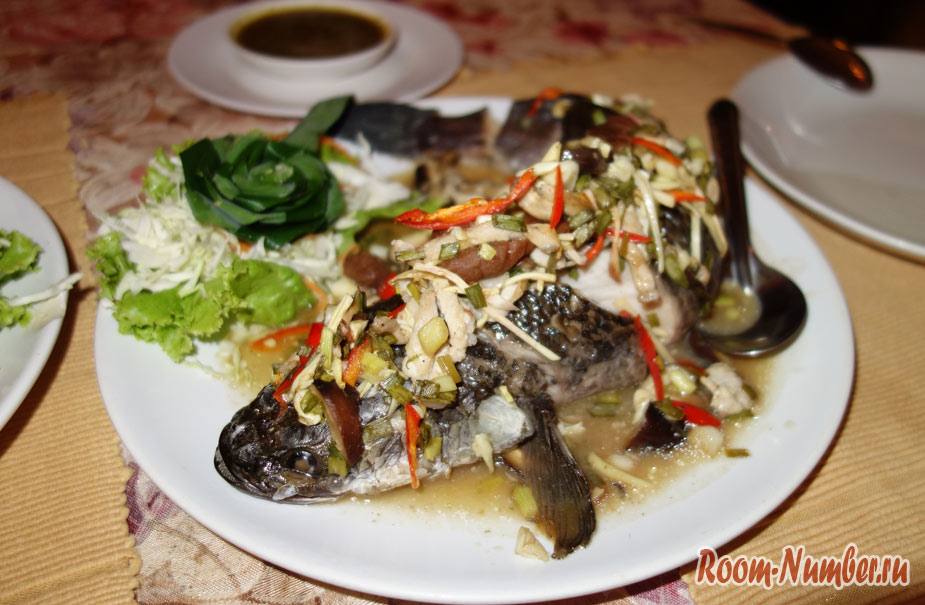 Nature around Mae Hong Son. Bali in Thailand!
All the juice of nature of the Thai north is collected in this province. If you go for the rice terraces, the mountains, the riot of greenery, then with limited time, go straight to Maehong Son, bypassing Chiang Mai and everything else. How many tempting photos we had time to take in Mae Hong Son.
All the beauty is centered around Route 108 from Mae Hong Son to the south. On the way there we suggest you turn off the highway at this point onto a narrow mountain road through the national park of Me Surin and take an unforgettable 3-hour detour to visit Surin Falls. The road through the national park goes along a mountain range.
In some places, the road is like a thriller from the movie "Silent Hill". All shrouded in fog, narrow, with twists and turns, you don't know if something will fall on you off a cliff. And then you end up like you're in Bali, the views are exactly the same.
Almost all of the roads in the mountainous north of Thailand consist of such steep curves. We spent a week in the dramas. The rockslides here can be serious. Thankfully, the rangers clear the roads. But in the rain, we strongly advise against driving through the national park. Especially when you have been driving for 40 minutes, and you never met a single car on the way Thai Silent Hill The first meeting was not with a man, but with a cute buffalo
Hotels in Mae Hong Son
Fern Resort Mae Hong Son
B2 Mae Hong Son Premier Hotel
Boondee House
Sang Tong Huts
Baan Mai Guesthouse
Mae Hong Son on a map and how to get there
You can fly to Chiang Mai first and then take a shuttle bus. Or take a direct bus from Bangkok. Buy your bus tickets online: