Loutraki travel guide


Maroona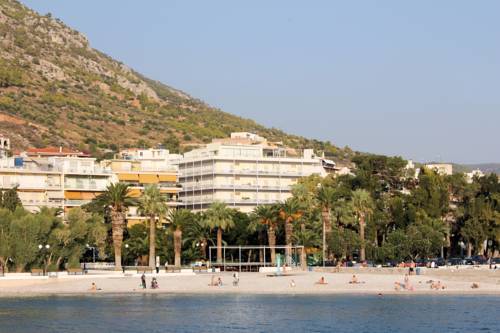 Mostly, people go to Loutraki for their health in the local therapeutic thermal springs, which are famous all over the world. There are no hotels at the spas, so it's better to book a hotel room or an apartment in advance. I will tell you where you can stay in the glorious resort town of Loutraki and for how much. For starters, let's take hotels. There are about 25 of them. The only four-star hotel – Park Hotel Loutraki (8, Georgiou Lekka str.). Not a very large hotel in the city center and next to the beach of Loutraki. Of the pluses of the hotel – free Wi-Fi, suites, balconies, mini fridge, hair dryer, sun terrace, free parking, breakfast in the room, laundry service, family rooms. Children under 6 years stay free of charge, there are free cribs. Thermal springs are 20 meters from the hotel. You can not say that the hotel and its rooms look luxurious-an ordinary hotel where a room for two can be rented for about € 90 with breakfast.
Of three-star hotels the cheapest are Aegli Hotel, Hotel Pefkaki Loutraki and Vassilikon Hotel (room for two people costs € 30-35 without breakfast).
Food and Drink

Maroona
So, you came to sunny Loutraki, you relaxed in the hot thermal springs and you got hungry. Where can you go for dinner and lunch?
Here are the restaurants are not the lowest, but also far from high, and where you should go: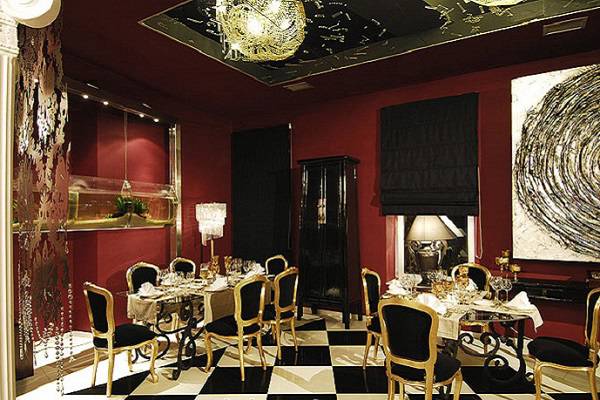 "Royal Restaurant" (G. Lekka 19). It is a restaurant of Greek and international cuisine. Expensive, but beautiful and very tasty.
"ThalasSea" (G. Lekka 5) is an eatery that serves Greek cuisine. The restaurant has wonderful views of the mountains and the sea! Here you must try the seafood and the local traditional drink ouzo. The average bill is 15-30 euros.
What to see in Loutraki?

Maroona
Loutraki is a city on the coast of the Corinthian Gulf, 4 km from Corinth. It is a famous resort town which is popular at home and abroad for its mineral springs. Even the very name of the city comes from the Greek Λουτρά – "healing baths". If you came to Corinth, don't be lazy to get to Loutraki, because the town is really beautiful! Here is what to see.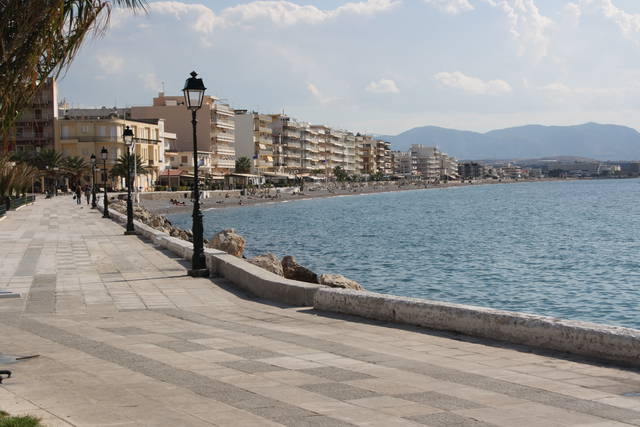 Embankment Loutraki
As you know, the city stretches for a few kilometers along the sea, so the main embankment Loutraki is quite long. It is one of the favorite places of tourists and local young people who come here on warm summer evenings "to see and be seen". On this promenade there is a number of hotels of different stars, as well as restaurants, coffee, discos, bars and taverns. And the most important place for entertainment – the casino, by the way, one of the largest in Europe. Also from the embankment you can go down to the beaches of the city.
A waterfall with thermal water read more…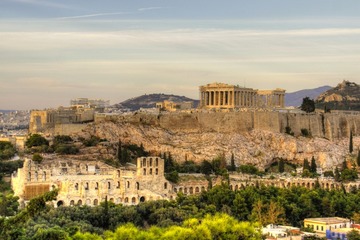 A sightseeing tour of Athens gives a great opportunity to see the main sights of the capital of Greece.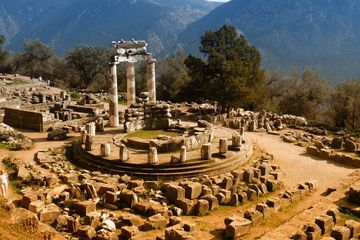 One of the most interesting excursions in Greece, gives the opportunity to visit the most beautiful archaeological complex of the country.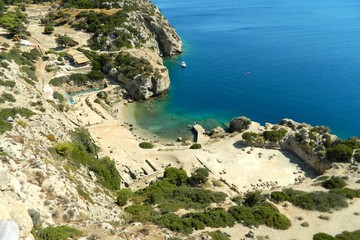 The monastery of St. Patapias is one of the most popular pilgrimage sites not only for Greeks but also for tourists from other countries.
How to have fun?

Morgana
The Greek city of Loutraki is one of the largest and most famous resorts of the country. So it's no wonder that you can find entertainment for all tastes.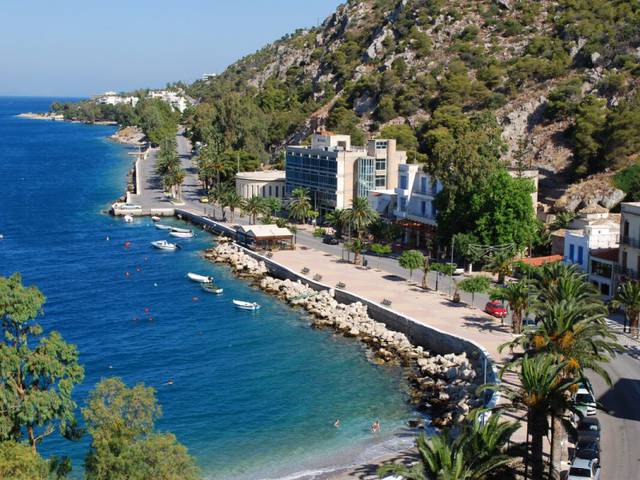 The resort, which stretches for three kilometers along the seashore, is full of inexpensive cafes and status restaurants, many clubs, bars and discos, where young and not so young holidaymakers often spend more than one night of vacation. Moreover, the most gambling ones may also visit one of the largest casinos in Europe. Although, in general, the resort itself may seem quite calm and measured.
But of course, this is not all what Lutraki has to offer tourists. Among the other attractions are the excellent treatments in one of the specialized centers (in the city and around its immediate surroundings is a large number of springs of curative mineral waters), walks in the picturesque countryside, sunbathing in the summer time and much more.
Loutraki is also quite close to other famous Greek sights. So, the ideal option for a couple of days stay at the resort may be a trip to the ancient and mysterious Corinth (about 20 km), the legendary Mycenae (50 km), the Acropolis (85 km) and so on.
If you come with children, and they will be something to do. If you come here for children, they will have plenty to do.
Weather in Loutraki by month:
Loutraki is a "therapeutic baths" of Greece.
In order to get to know Greece and its traditions better, we went to a small town 80 kilometers from Athens, which is very favorite and popular among tourists, namely Loutraki. The town is famous for its mineral springs, even the taps here flow mineral water. The resort is suitable for those who want to improve their health, there is a famous hydrotherapy center, which is known throughout the country. Water in the springs reaches 40 degrees of heat. Wonderful recreation contributes to the climate, there is no exhausting heat, which is typical for most southern countries. The temperature even in the evening does not drop below 25, but thanks to the sea breeze, which is a pleasant refreshment of the skin, the heat is not as strong. True, however, during the siesta (from 12 noon to 5 pm) is better to move into a hotel or shade and do not plan excursions or trips under the open sky. You can easily get sunstroke or burn. Loutraki beaches are very clean and landscaped, most of them are "Blue Flag", this indicates their ecological frequency. Around Loutraki are mountains, and against that backdrop, the azure sea looks great. You can take a lot of beautiful pictures. As everywhere else in Greece, cats are very popular here. Especially a lot of them in seaside cafes, they are very brazenly asking for food (one even scratched my leg when I forgot to give her a piece of fish). The owners of the cafe will never kick a cat out of their establishment. The cuisine in Lutraki is mostly European, but there are also local dishes. The most famous. read in full
A good resort for a relaxing vacation and spa
Loutraki is a suitable resort for those who want to improve their health or just pamper themselves with spa treatments. One of the distinctive features of Loutraki are the mineral springs in large quantities, including radon. Therefore, among the holidaymakers there are many elderly people.
Loutraki has an excellent wellness center – Loutraki Thermal SPA. In addition to the complex treatment of various diseases, spa services are provided here – massages, wraps, thalassotherapy, Jacuzzi, etc. During the beach season there are a lot of tourists, so you have to make an appointment one or two days in advance. The center is across the road from the square on the embankment. Here also radon springs beat into the sea, in this place grandparents like to bathe. By the way, even in the faucets flow mineral water from the springs and you can drink it. In the cafe usually bring a pitcher of water with ice (free).
Another famous place in Loutraki is the casino. It has a strict dress code, for example, in flip-flops and shorts we were not allowed.
Evening and night life is concentrated on the promenade.
The beach is pebbly. There is an opportunity to take a deck chair and an umbrella, they belong to the nearby cafe, so you will have to make at least a minimum order. Especially nowhere to go, the waiter himself will come up. Very beautiful sunsets. And the beach, and the city are clean, well-groomed. It's a shame that in the evening the beach, and sometimes in the water, is littered with people's trash.
The hotels are European style, mostly small, with little or no territory of their own, many… read in full
Loutraki Entertainment
In general all resort towns in Greece are similar to each other. Loutraki is not particularly different. There is a variety of hotels (with different prices and levels of services), many of them are located on the hills. In one of these hotels we stayed, so the beach was a long walk down. But such exercise is good for you.
I saw a lot of bored tourists who did not know what to do in the city. There really aren't many sights in Loutraki but from there you can easily take a bus or a cab to other famous places like the temple of goddess Hera, the Acropolis, Olympia, ruins of Mycenae and Corinth.
Loutraki is famous for its casino, which is located in the Club Hotel Casino Loutraki 5*, the largest not only in Greece, but also in Europe. It works 24 hours a day, seven days a week. But our company is not very fond of gambling, so we just came to have a look. Sitting in a cozy bar, even met our compatriots, heatedly discussing his winnings.
How much does a vacation in Loutraki cost? October 2014.
I was very lucky with the weather. On the calendar it was October 7, and on the thermometer it was +30, and these +30 felt like 26, so it was comfortably warm, but not hot. Water was as steaming milk with small waves. Loutraki, pebble beach, clean, well-groomed, not wide, even narrow in some places. All for a fee. We drove to Athens, transfer was at tour operator's expense. Our guide was bought from tour operator. Price for one week, breakfast + dinner for two – 50000 rubles.
We bought a tour to Athens, the ticket cost 17 euros round trip, an hour and a half bus ride. The metro was very minimalist, the price depending on the number of days and trips was from 1 euro to 20 euros. The price for the Acropolis is 10-15 euros, the queue is not big, but there are a lot of people in the ruins, although it was not even the season. The National Archaeological Museum – 7 euros. It is a lot of excursions from Lutrak, but all of them monotonous (forgive me) one ruins.
Meals at the hotel, but a couple of times we had to eat in cafes and restaurants, so we got expensive. Had to eat in fast food a couple of times.
A glass of wine 5-10 euros, fish Dorada with a side dish (three potatoes) – 20 euros. One skin yes, the bones, we were not full at all, and it did not come out cheap.
In the main streets of Athens you can find famous brands, collections are different from Russian, prices are lower than in Russia, especially for the brand Zara chic bazaar in the old city, you will find everything and figurines and embroidery, tablecloths. All very beautiful take more money). In the bazaar and in small stores do not hesitate to bargain. The prices reduce no worse than in the Egyptian bazaars. The plate 15 euros, average figurines 25 euros, expensive embroidery 40-50 euros. magnets from 1 euro to five.
This holiday is for families who have no children, because there is no entertainment for children. And here is a family that wants to relax quietly, watch the historical sites and bask in the sun, it is ideal.

EkVikEs
Vacationing by the sea is very good, but going on excursions is hot.
Our hotel was called Possidonion (cat. C, 2 stars). It was the cheapest of those offered by tour operator, but we did not regret that we took it. Located on the second line (on the main street), on the square with a fountain, the sea was very close. We got a room on the second floor with a corner balcony overlooking the fountain. The room had two beds, bedside tables, desk, mini fridge, air conditioning, TV (we didn't watch it much as the channels were all Greek). The furniture and bathroom fixtures were fine. The hotel is very well located, the linen was not changed, towels were changed once.
Breakfast was pretty good (I would have expected a lot worse from a 2 star hotel). Every day there was this set of products: sliced cheese and sausage, boiled eggs, fresh cucumbers, jam, butter, muffin with raisins, sesame buns, tea, coffee, milk, freshly squeezed orange juice.
The resort town of Loutraki itself is small, but cozy and quiet. Loutraki is located on the coast of the Gulf of Corinth Ionian Sea. The promenade is long, quite beautiful, with palm trees. It is slightly interrupted in one place, then continues again. As usual in the resorts, on the embankment comes an enumeration of cafes and restaurants. A distinctive feature of the resort is the mineral water. It comes directly from the tap, not bad in taste. We bravely drank it, boiled tea and typed it in a bottle on excursions. In the evening and in the morning there are quite strong winds. On our balcony, the plastic chairs rolled, driven by the wind, from end to end of the balcony.
We went with my girlfriend on an 8-day excursion tour "Treasures of the Peloponnese" with accommodation in the resort town of Loutraki (our tour cost 684 euros on breakfast). from St. Petersburg to Greece and back was via Araxos airport. It takes about two hours to get to the resort of Loutraki from the airport. The tour was organized so that in the morning we went on excursions of varying duration (Athens, Mistra, the monastery of St. Potapia, Patra, Olympia, Epidaurus, Nafplion, Mycenae, a cruise around the islands of Aegina, Angistri), and in the evening we could relax and swim at sea in Loutraki. The evening we could relax and swim in the sea at Loutraki. The tour was full and we liked it very much. We returned from the excursions usually at 5-6 pm.
In the evening after the excursions, every day we went for a swim. Water was warm, 22-23 degrees. The beach in Lutraki is pebble. Pebbles are different. From the edge, where we usually stopped, it is large, to the center of the beach – shallower. Just from 7 to 9 pm, the temperature on the beach was already more or less comfortable. Once came early, about 5 o'clock – it was very hot. At 9 pm, the sunset. In Loutraki it is very beautiful – the sun sets behind the mountains.
In general, as we were told, this resort is positioned as an inexpensive resort for Greek pensioners (to Athens is not very far, about 80 km) and thrifty foreigners. Russian tourists were not very much, mostly Greeks (the elderly and families with children), the last two days there was a large arrival of the Poles. There were a lot of them in our hotel, and on the beach.
In our part of the resort there was one big supermarket "SPAC", small grocery stores stalls, a few stores with clothes and shoes.
There were a few cheap outlets with sundresses for 5 euros (Vietnamese sellers) and handmade Greek leather sandals and flip-flops for 15-25 euros. The prices in the supermarket were "touristy", but practically the same as in Russia. Cherries (very large) were bought for about 4 euros per kg, apricots, peaches, nectarines – 3 euros per kg.
Cheap were only local oranges – 0,6 euro for kg (from the look they are not very beautiful, some scratched, but tasty, sweet). We also had watermelon (red, but not very sweet) and melon like our "kolkhoznitsa". Watermelons and melons are not very expensive. They sell inexpensive red salad onions (sweet!). These onions taste something like a good Crimean flat sweet onion.
We bought olive oil and Greek onions as Greek souvenirs. From the alcohol I took Metaxa and some dry wine (nothing special, but I took at random). Of the Greek wines described by the tourists we tried only sweet "Mavrodaphne of Patras" (not bad, but I would not say that it was super). We took the rest at random. We drank 1.5 liters of local pink wine in a plastic bag (not bad) and one white bottled wine. We usually had dinner with wine, snacks from the supermarket (mussels, crabs, dzadziki, sausage, cheese) and fruit on our wonderful balcony, watching the nightlife of the resort and enjoying the view of the fountain.
We didn't go to restaurants on our own, we didn't have much time or energy.
Various dishes of Greek cuisine we tried on excursions, when our group was brought to lunch. We did not like octopus (as rubber), the other dishes (fish, meat, etc. were not bad). The average cost of dinner for one – 13-15 euros.
In general, the resort is not bad for a quiet budget holiday, special minuses not noticed. Good location for trips to mainland Greece.