When it comes to the wonders of nature, streams hold a special place. These flowing bodies of water, formed by runoff from rain or melting snow, can be found in various landscapes around the world. Each stream has its own unique characteristics and contributes to the diverse beauty of nature.
1. Mountain Streams: Nestled in the heart of majestic mountains, mountain streams are known for their crystal-clear waters and rapid flow. These streams cascade down rocky slopes, creating breathtaking waterfalls and rapids along the way. They provide a sense of tranquility and serenity, as well as opportunities for outdoor activities like fishing and hiking.
2. Forest Streams: Meandering through dense forests, these streams are surrounded by lush greenery and thriving wildlife. The tranquil sound of running water combined with the rustling leaves and chirping birds creates a soothing atmosphere. Forest streams are often home to a variety of aquatic plants and animals, making them a fascinating ecosystem to explore.
"Streams are like veins, carrying life-giving water throughout the landscape."
3. Coastal Streams: As they flow towards the ocean, coastal streams weave through coastal landscapes, blending freshwater with saltwater. These streams provide a crucial habitat for various marine species and act as a link between terrestrial and marine ecosystems. Coastal streams are influenced by tides and are known for their changing dynamics and unique flora and fauna.
4. Desert Streams: In stark contrast to their arid surroundings, desert streams bring life to barren landscapes. These streams are characterized by their scarcity and intermittent flow. They are often formed by seasonal rainfall or underground springs, creating pockets of greenery in an otherwise harsh environment. Desert streams are a testament to nature's resilience and its ability to thrive in the most unlikely places.
5. Glacial Streams: Originating from melting glaciers, glacial streams are known for their mesmerizing blue hues and icy cold waters. These streams shape the landscape as they flow, carving deep valleys and creating dramatic scenery. Glacial streams are often found in remote and pristine areas, making them a sight to behold and a symbol of the fragile beauty of our planet.
Exploring the different types of streams allows us to appreciate the incredible diversity and adaptability of nature. Whether you find yourself by a mountain stream or a desert stream, take a moment to immerse yourself in the natural beauty that surrounds us.
List of Different Types of Streams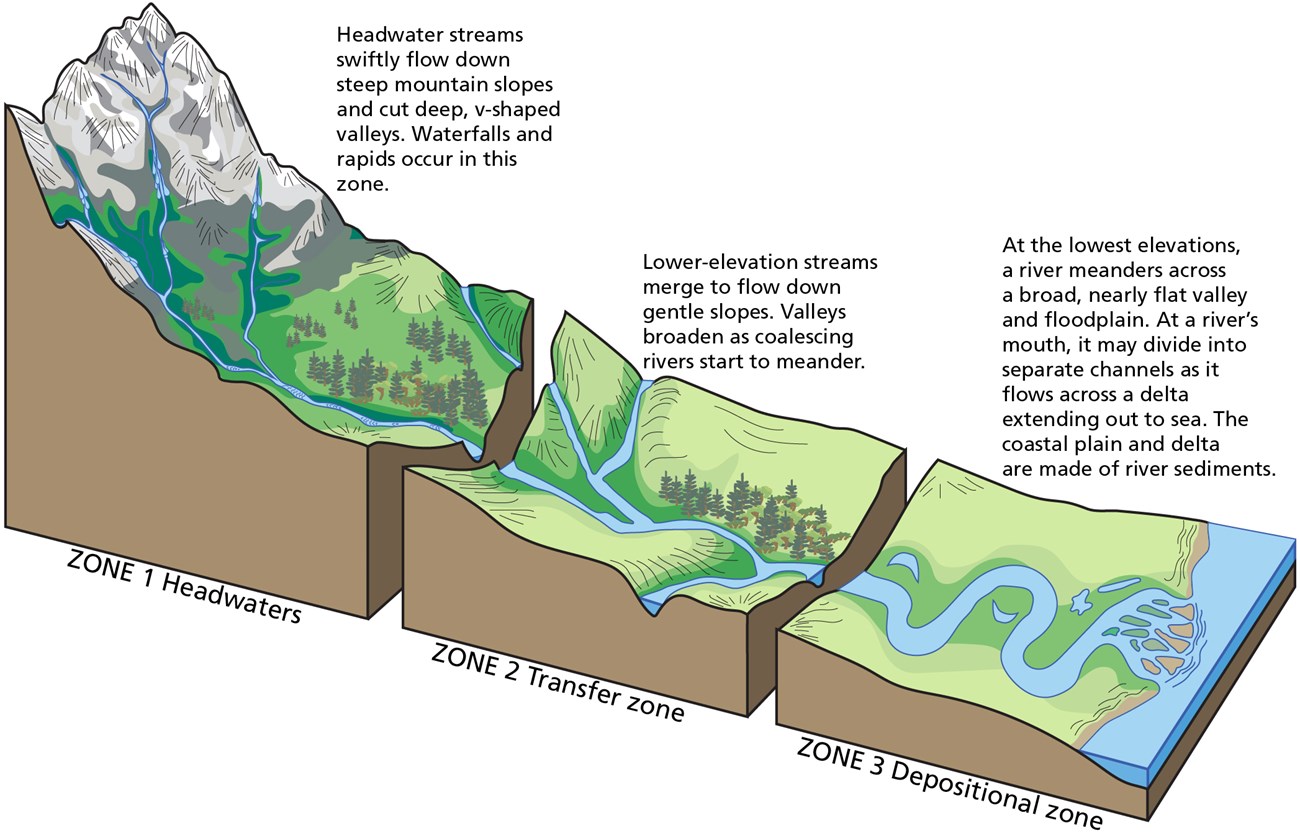 Streams are a fascinating part of nature, filled with beauty and serenity. Here is a list of different types of streams that can be found around the world:
1. Mountain Streams
Mountain streams are fast-flowing and often originate from glaciers or snowmelt in high altitudes. They meander through rugged terrain, creating breathtaking waterfalls and rapids along the way.
2. River Streams
River streams are larger and wider than mountain streams, as they accumulate water from various tributaries along their course. They can be found flowing through valleys, plains, and even cities, providing a vital source of water for communities and ecosystems.
3. Cascading Streams
Cascading streams are characterized by a series of small waterfalls or cascades, which create a mesmerizing visual spectacle. They often flow through rocky landscapes, adding to the charm and beauty of the surroundings.
4. Spring-fed Streams
Spring-fed streams are formed by underground sources of water that bubble up through the earth's surface. They are usually crystal clear and cool, providing a refreshing habitat for various plants and animals.
5. Coastal Streams
Coastal streams flow into the ocean or sea, creating a unique blend of freshwater and saltwater ecosystems. They are influenced by tides and can be found in coastal regions, supporting a diverse range of marine life.
6. Meandering Streams
Meandering streams follow a winding path, with gentle curves and bends. They are often found in flat or low-lying areas and create magnificent landscapes with their ever-changing course.
7. Ephemeral Streams
Ephemeral streams appear only after rainfall or during certain seasons. They may flow for a short time before drying up, but they play an important role in water distribution and the recharge of groundwater.
8. Underground Streams
Underground streams flow beneath the surface, through caves or porous rocks. They are hidden from view but can be detected by the presence of springs on the ground above them.
Each type of stream has its own unique characteristics and adds to the diverse beauty of the natural world. Exploring these streams can be an enchanting and immersive experience, connecting us with the wonders of nature.
Natural Waterways of the Earth
When it comes to natural waterways, the Earth is abundant with a variety of breathtaking features. From pristine rivers to majestic waterfalls, the beauty of these water bodies is a testament to the awe-inspiring power of nature. Let's explore some of the most remarkable natural waterways found on our planet:
The Amazon River: Known as the largest river in the world by volume, the Amazon River stretches across South America and is home to a vast array of plant and animal species.
The Nile River: Considered one of the longest rivers in the world, the Nile River is deeply intertwined with Egyptian history and culture. It serves as a lifeline for many countries along its banks.
The Victoria Falls: Located in southern Africa, the Victoria Falls is one of the most awe-inspiring waterfalls on Earth. With its immense size and powerful cascades, it is a sight to behold.
The Great Barrier Reef: While not technically a waterway, the Great Barrier Reef is a vast underwater ecosystem off the coast of Australia. It is home to an abundance of marine life and is a popular destination for divers.
The Grand Canyon: Carved by the Colorado River in the United States, the Grand Canyon is a testament to the erosive power of water over millions of years. Its sheer size and colorful rock walls make it a natural wonder.
These natural waterways are just a small glimpse of the incredible diversity of the Earth's water landscapes. Whether you're exploring the depths of an underwater reef or marveling at the power of a rushing river, there's no denying the beauty and importance of these natural wonders.
Exploring the Beauty of Nature
Nature is filled with stunning wonders that never fail to captivate us. From majestic mountains to serene forests, there is no shortage of breathtaking landscapes to discover. One of the most enchanting aspects of nature is its ability to create streams that flow through different terrains, creating both soothing sounds and mesmerizing sights.
Streams come in various types, each with its own unique characteristics. Whether it's a babbling brook, a rushing river, or a peaceful waterfall, these flowing bodies of water offer a sense of serenity and tranquility.
1. Babbling Brooks
Babbling brooks are small, shallow streams that gently flow over rocks and pebbles. They create a soothing sound as the water trickles downstream. These streams are often found in wooded areas and provide a tranquil ambiance, perfect for relaxation and contemplation.
2. Rushing Rivers
Rushing rivers are larger and more powerful streams that stem from various sources such as melted snow or rainwater runoff. They flow rapidly, carrying with them a significant amount of water and creating a majestic display of strength. These streams are popular for activities such as rafting, kayaking, and fishing.
Exploring streams allows us to immerse ourselves in nature's beauty and connect with its peaceful energy. Whether we hike alongside a babbling brook or witness the power of a rushing river, there is something truly magical about these natural wonders. So next time you find yourself surrounded by nature, take a moment to appreciate the beauty and serenity of the streams that flow through it.
Remember to always respect nature and leave no trace behind to ensure its beauty remains for others to enjoy.
Facts about Streams
A stream is a small, narrow river or flow of water that moves continuously in a particular direction. Here are some interesting facts about streams:
1. Formation: Streams are formed by the accumulation of water from various sources, such as melting snow, rainfall, and underground springs. The water then flows downhill, carving out a path and forming a stream.
2. Flow: Streams are characterized by their constant flow of water. They can range from a slow and gentle trickle to a fast and turbulent rush, depending on factors such as the steepness of the terrain and the amount of water present.
3. Erosion: Streams are powerful agents of erosion. Over time, they can carve deep channels in the earth's surface, shaping the landscape and creating canyons, gorges, and valleys.
4. Biodiversity: Streams are home to a wide variety of plants and animals. They provide habitats for fish, insects, amphibians, and birds, among other species. The rushing water and diverse vegetation create a unique ecosystem that supports a rich biodiversity.
5. Importance: Streams play a crucial role in the water cycle and the overall health of the environment. They help to transport nutrients, sediment, and pollutants, while also providing a source of drinking water, irrigation, and hydropower.
6. Recreational Activities: Streams are popular destinations for outdoor activities such as fishing, kayaking, and swimming. Many people enjoy the tranquility and beauty of streams and take part in recreational activities that connect them with nature.
7. Natural Beauty: Streams are often admired for their natural beauty. Their clear waters, lush vegetation, and soothing sound create a tranquil and picturesque scenery, attracting photographers, artists, and nature enthusiasts.
Streams are a fascinating part of nature, offering both practical benefits and aesthetic appeal. Whether you're exploring their ecological significance or simply enjoying their beauty, streams have something to offer for everyone.
Question-answer:
What are some types of streams that are found in nature?
There are several types of streams found in nature, including mountain streams, meandering streams, braided streams, and ephemeral streams.
What is a mountain stream?
A mountain stream is a type of stream that originates in the mountains and is characterized by fast-flowing water, steep gradients, and rocky bottoms.
What is a meandering stream?
A meandering stream is a type of stream that has a sinuous, winding path. These streams often have gentle gradients and are surrounded by vegetation.
Video:
What Are Rocks and How Do They Form? Crash Course Geography #18
Water Bodies for Kids | What are the different bodies of water?
79 Facts About 79 Mobs in Minecraft
Reviews
FoxyLady
Wow, this article about different types of streams is mesmerizing! As a nature lover, I am constantly amazed by the beauty that surrounds us. The pictures accompanying each description truly bring these streams to life. The variety of streams mentioned, from mountain streams to waterfall streams, is fascinating. It's incredible to see how streams can take on different characteristics depending on their surroundings. The facts provided are also enlightening. I had no idea that meandering streams can create beautiful curves or how braided streams form. Learning about these natural phenomena makes me appreciate the intricate workings of our planet even more. The article does a fantastic job of capturing the essence and beauty of these streams, making me crave for an adventure to see them in person. Thank you for sharing this incredible journey through the various types of streams!
LunaMoon
Wow, this article about different types of streams is simply breathtaking. As a nature lover, I am constantly amazed by the beauty and diversity of our natural world. The pictures accompanying the article truly capture the essence of each stream. From babbling brooks to powerful cascades, it's incredible to see the many forms that water can take. It's also fascinating to learn about the different factors that contribute to the formation of these unique streams, such as their source, the surrounding landscape, and even the weather conditions. I find it so calming to imagine myself sitting by one of these streams, listening to the soothing sound of flowing water and feeling the cool mist on my face. It's a reminder of the tranquility and serenity that nature provides us. This article not only showcases the beauty of streams, but also highlights the importance of preserving and protecting these delicate ecosystems. It's a reminder to all of us to treasure and respect the wonders of nature. Thank you for sharing such a wonderful piece that allows us to appreciate the beauty of streams in all their forms!
Петр Петров
I really enjoyed reading this article about different types of streams. As a nature lover, I am always fascinated by the beauty and serenity of streams. The pictures in the article were absolutely stunning, showcasing the diversity and charm of these natural wonders. It was interesting to learn about the various types of streams, such as mountain streams, spring-fed streams, and meandering streams. The facts provided were quite insightful, especially about the role of streams in the ecosystem and their significance for both plants and animals. The article truly captured the essence of the beauty of nature and left me inspired to explore and appreciate streams even more. Overall, a great read for anyone who appreciates the wonders of nature.
nick1
This article provides a fascinating insight into the diverse and enchanting world of streams. As a nature lover and avid hiker, I am always captivated by the beauty of natural landscapes, and streams are no exception. The assortment of different types of streams highlighted in this article is truly mesmerizing. The accompanying pictures perfectly capture the serenity and tranquility that streams offer. It's incredible to see how each stream has its own unique characteristics and charm, from vibrant and cascading waterfalls to gentle and meandering currents. These streams not only provide breathtaking views but also serve crucial ecological functions, such as supporting diverse wildlife and maintaining a healthy ecosystem. This article serves as a reminder of the remarkable beauty that nature has to offer and motivates me to explore these streams firsthand. It's truly magical to witness these natural wonders in person, and I am grateful for articles like this that inspire and educate readers about the wonders of the natural world.