Lido di Jesolo – resort of the Venetian Riviera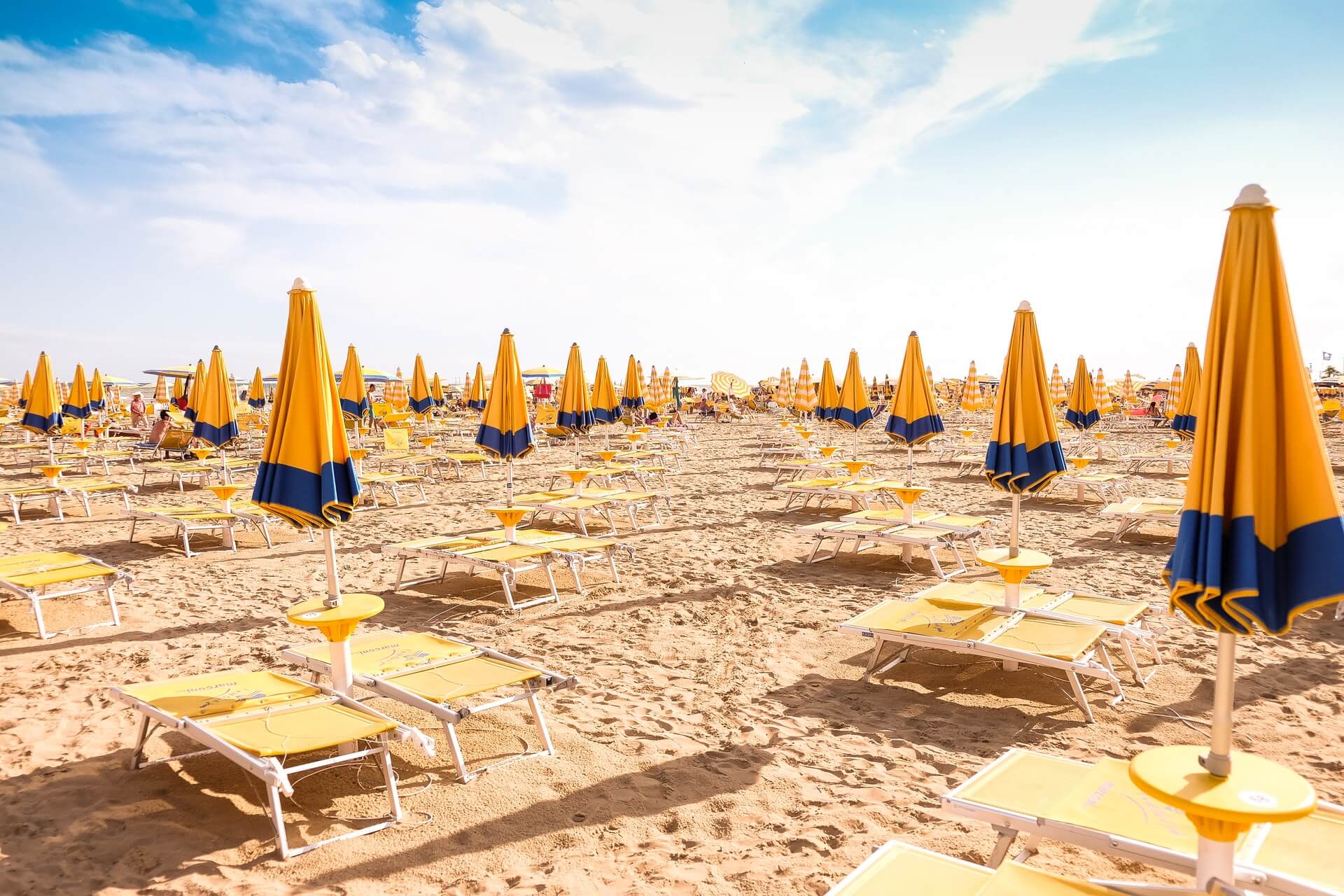 See traveler reviews of Lido di Jesolo. Pros and cons of vacationing in 2022. What do they write about the weather, hotels, beaches and attractions? Tourist tips.
Content:
Reviews about the weather in Lido di Jesolo
The Italian resort is located in the north of the Apennine peninsula, on the shore of the warm Adriatic Sea. The Venetian Riviera has a subtropical climate and the Alps protect Lido di Jesolo from the winds.
The beach season begins in late May and ends in early October. At the height of summer, the sea water heats up to +25. +26°С. The air temperature ranges from +26 ° C to +31 ° C.
The velvet season lasts until October. By mid-autumn, the temperature drops to +15. +19°С. The Lido di Jesolo is a favorite time for nature lovers, lovers of long romantic walks and excursions. Learn more about the Italian holiday season.
Anna Vronskaya: "In May here is the beginning of summer, warm but rainy. Despite the abundance of rain, there is also a lot of sunshine. I got a nice tan, breathed in the sea, but could not swim properly.
Hotel reviews for Lido di Jesolo
Look for discounted hotels in Rumguru. Here are the main rules for finding hotels.
The settlement has an ancient history – it existed as early as the first century BC. As a resort, Lido di Jesolo is young. The tourist infrastructure here began to develop in the 1960s. Hotel building is very compact and stretches along the coast. According to what tourists say, the sea from any hotel in Lido di Jesolo is no more than 300 meters away.
The seaside town has hotels of famous international brands and small family hotels. The main road passes behind residential areas. First and second line hotels are separated by a small street.
To make your vacation in Lido di Jesolo in 2022 a success, study tourist reviews of hotels. Get to know the experiences of the guests and make your choice! Here are a few hotels with good reviews:
Artem : "Hotel Orient & Pacific 4* has free parking, bike rental, delicious breakfasts, good rooms with sea views".
Salexard : "Hotel Aldebaran Jesolo 3* is great. 3 minutes to the sea. The reception speaks a little Russian. All attractions are close.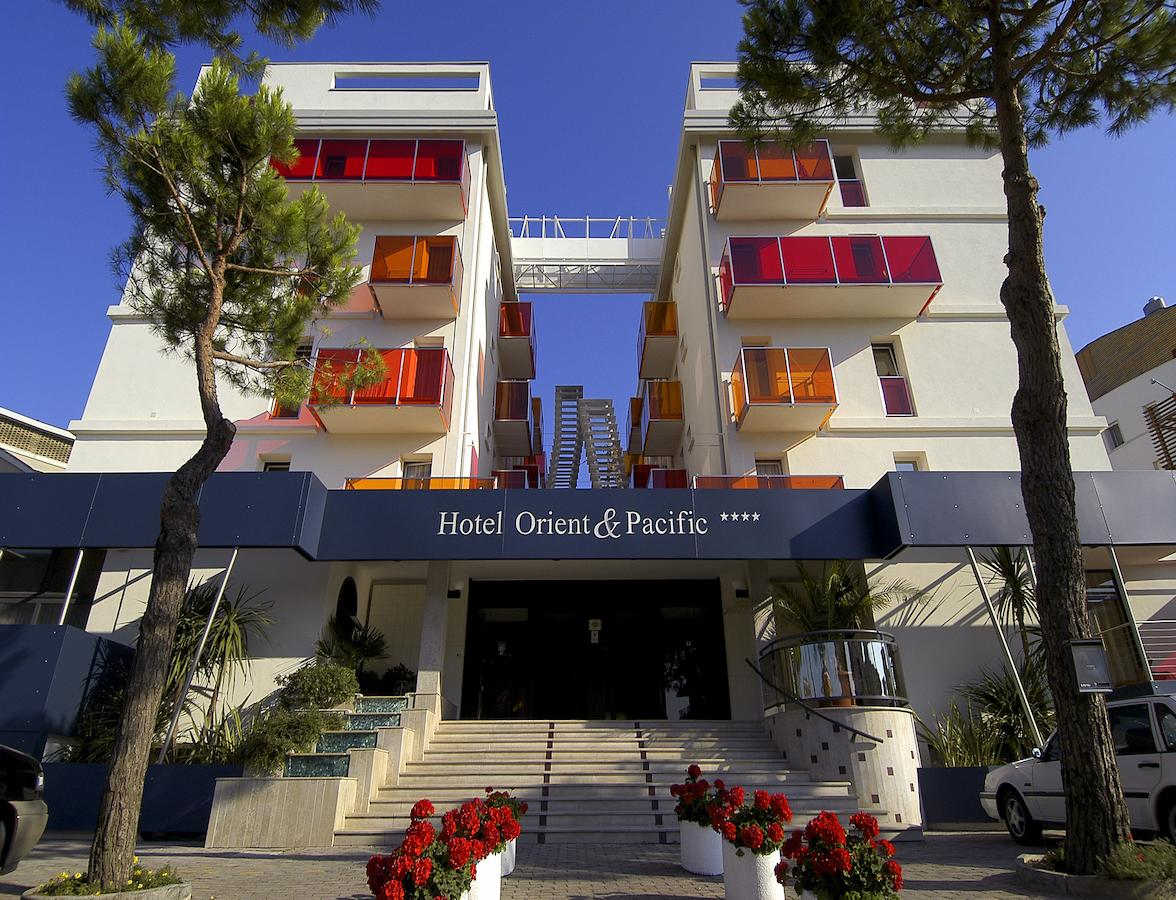 Hotel Orient & Pacific (Photo: booking.com / Hotel Orient & Pacific)
Reviews of the beaches and sea in Lido di Jesolo
Jesolo's beachfront is covered with fine golden sand and stretches for 15 km. Some beaches are municipal and are free to access. Others belong to hotels. On private beaches tourists use changing rooms, showers and toilets for a fee. From May to August on the coast there are spectacular sand sculpture contests.
The water in the Adriatic Sea is clean. There are many sections of shallow water. According to reviews of tourists, Lido di Jesolo is ideal for holidays with children. For active resorts are available yachting, diving centers, surfing schools, walks on motor boats and boats.
KSB2018: "For each hotel are assigned seats on the beach, a place in the sun is always. No need to run and take a place in advance.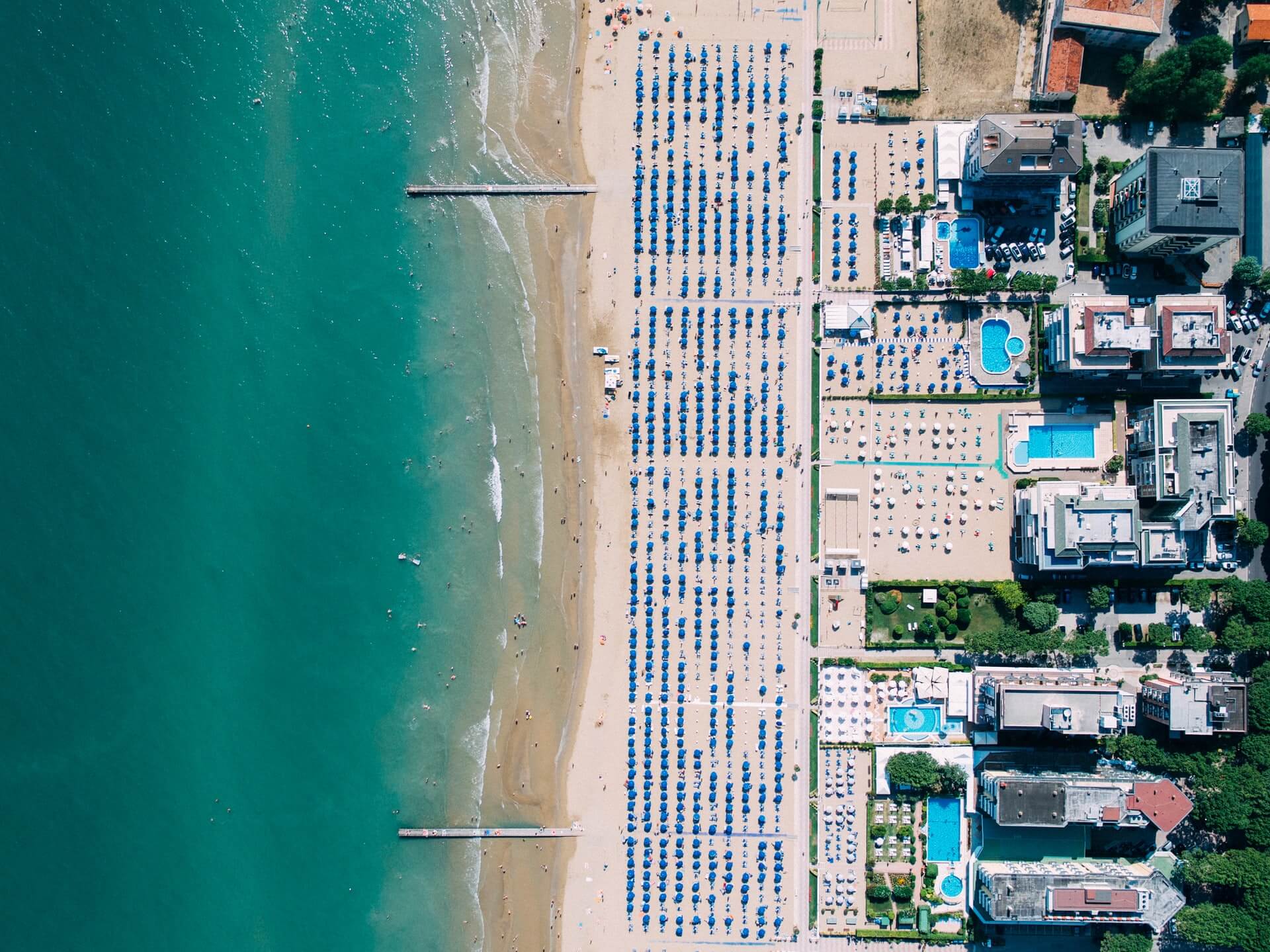 Lido di Jesolo. Photo: Max Böttinger / unsplash.com.
Tourist reviews of Lido di Jesolo sights
Search for interesting excursions on Sputnik and Tripster sites. Individual and group, without crowds of tourists and in Russian.
In the spa town there is an old town hall, the Tower of the Tumans and the ruins of the Basilica of St. Mary Assunta. According to the reviews of independent tourists, from Lido di Jesolo it is convenient to go to Venice, because the distance between the cities is only 30 km. Take a fascinating boat trip to one of the islands of the Venice lagoon.
Day trips to Verona, Milan, Florence, Padua, and visits to the mountain lakes of the Dolomites are popular with holidaymakers. With a child, visit one of the amusement parks, the Aqualandia water park and the Sea Life Aquarium. Children love the entertainment park Gardaland, which is located on the southern shore of Lake Garda.
Nicasvg : "The tour "All Venice in 2 hours" – useful, informative, not boring. Worth a visit.
Pros and cons of a holiday in Lido di Jesolo
A lot of tourists from all over Europe come to the beaches of the Italian resort in the summer. According to reviews, Lido di Jesolo attracts proximity to Venice, the absence of fuss, quiet home atmosphere, well-groomed streets and a special provincial spirit.
The pros of vacationing in Lido di Jesolo in 2022, according to tourist reviews:
Quick flight. There are direct flights from Moscow to Marco Polo Airport.
Warm sea.
Comfortable hotels.
Medical and health centers with healing mud, hydromassage and biotherapeutic procedures.
Interesting excursions.
Delicious cuisine.
A long holiday season.
Excellent beaches.
NOE66: "The most important reason to visit the resort town is the sandy beaches. They are very clean, with well-developed infrastructure."
Minuses :
You have to apply for a visa.
Few activities for young people.
Large areas of shallow water.
In the peak season, the sea is not clean.
Olga2182: "The sea in Jesolo is of medium salinity due to the large number of rivers flowing into it in the province of Veneto, it is a bit muddy.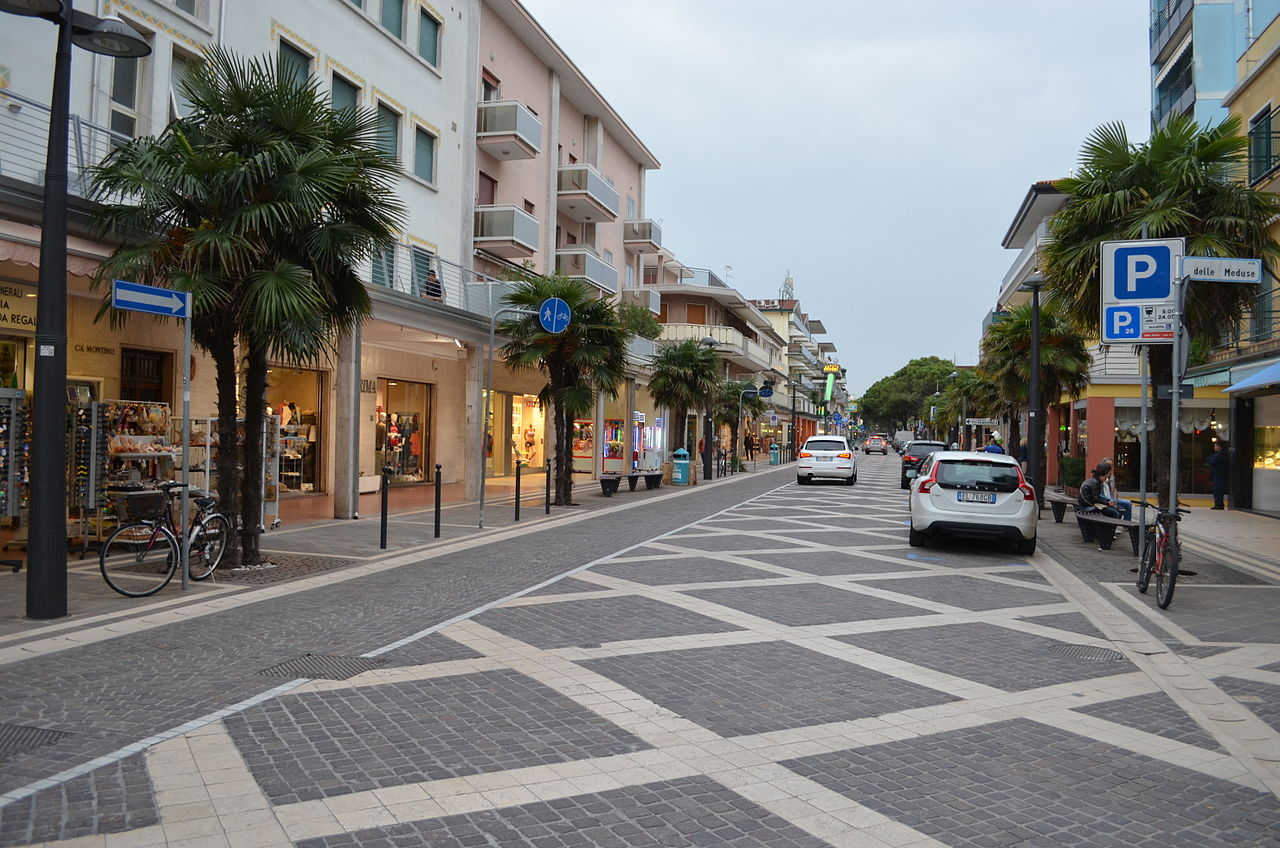 Main street of the resort (Photo: wikimedia.ru / Bmaric)
Holiday nuances in Lido di Jesolo and travel tips
August in Italy is vacation time, so a lot of Italians rush to the seaside resorts. At the end of summer hotels in Lido di Jesolo are full. Book accommodation in advance.
Lido di Jesolo is good for shopping. There is a long street with shopping centers and boutiques. Prices for quality clothing and shoes are quite democratic.
Evening life of the resort is concentrated on the main street – Via Levantina, where many restaurants, bars and confectioneries are open. After 20:00 it becomes pedestrian. During your holiday in Lido di Jesolo, try the delicious dishes of Venetian cuisine – beans and pasta, sardines with onions and raisins, spaghetti with sardine sauce, veal liver with onions fegato alla veneziana , pasta with cuttlefish ink, fish soup zuppa di pesce and crema fitta cakes .
The popular resort is divided into four areas. If you're interested in water sports and modern yachts, stay in Faro. Pineta is famous for its shady groves, blooming meadows and is loved by nature lovers. Cortelazzo is beloved by gourmets for its seafood specialties and tavernas. For those who enjoy lively beaches and shopping, the neighbourhood of Centro is a wonderful place to live.
Kristin K: "The streets are lined with pine trees, blooming oleanders, palm trees and other plants that make the city look like a huge botanical garden.
An overview of the resort of Lido di Jesolo in Italy
This article will talk about the small but cozy town of Lido di Jesolo Italy. I will talk about where it is and what you can do here, the beaches and infrastructure, I will write about interesting places, sights and time to visit them.
Italy is a great country for a beach holiday in summer. Lido di Jesolo is a young European resort that has a huge coastline. During the season it is noisy and crowded. A large selection of housing for people of all incomes, convenient transport links. In the city everything is done for the comfort of tourists. Sandy beaches and shallow sea attract families with children. Nightclubs and discos attract young people.
Neighborhoods of the city
Lido di Jesolo is located at the base of the sand spit that separates the Venice Lagoon from the Adriatic Sea. As in any resort, the main streets stretch along the coast. The central street is considered the longest not only in Italy but also in Europe, its length is approximately 15km.
The city is divided into several districts.
The western area, Lido West-Faro, is an aquapark and tourist port. A lot of nightclubs and discos. Very dense construction. It's a neighborhood better suited for people who love outdoor activities.
The eastern neighborhood, Pineta, is less noisy. It is immersed in greenery. However, there are almost no entertainment, few stores and cafes. Ideal for tourists seeking peace and quiet.
Central district, Centre, is the golden mean. There are hotels of various levels, lots of stores and cafes. Entertainment is close by.
Language and currency
Locals speak Italian. However, many workers in the tourist sector know English and French. In some cafes staff is tolerably conversational in Russian.
As in all of Italy, the euro is in circulation. There are many ATMs, but it is unprofitable to change rubles.
Beach Recreation
Along the entire city stretches magnificent beaches with golden sand. Almost every hotel is assigned its own section of the beach, where there are sun beds and umbrellas. Closer to the water, you can sit on the towels. The entrance to the sea is smooth, very comfortable for children.
During the season, you can rent sports equipment, water entertainment, there are towers with lifeguards.
Climate and season
The resort of Lido di Jesolo has a subtropical Mediterranean climate. The Alps protect the city from northern and western winds. There are almost no storms on the sea. The air temperature in winter rarely falls below +6 degrees. In summer it is +25 – +28 degrees, a lot of sunny days. The water temperature during the season is +24 – +27 degrees.
The most favorable time to visit the resort is from May to September. However, you should keep in mind that the water in May will still be cool, and in September it might rain.
Read more about Italy in my article "The tourist's encyclopedia. Italy".
Transportation
The nearest international airports are:
Venice Marco Polo – 36 km. (www.veniceairport.it).
Verona Valerio Catullo – 157 km. (http://www.aeroportoverona.it).
Treviso Antonio Canova – 45 km. (www.trevisoairport.it).
Rimini Federico Fellini – 304 km. (http://riminiairport.com).
The most popular means of transport in the city is buses. The bus station is located in the center, next to Piazza Drago (Piazza Drago).
Bus number 2 "Bus Station – Cortelazzo
Bus number 3 "Bus Station – Piazza Faro
Bus #5 "Bus Station – Punta Sabioni" suburban route.
Bus #10a "Bus Station – Venice Bus Station" is an out-of-town bus line. On the way stops at Venice Marco Polo Airport.
The schedule hangs at each stop. Tickets can be purchased at the bus station and in tobacco shops. The cost is 1.5 euros one way around the city.
In Venice are sold complex tickets bus + boat. Two-way ticket costs 19.50 euros. Valid for a day.
As in any other city in Italy, you can rent a car.
Entertainment
Interesting places for tourists are marked on the city map, which you can get for free in the hotel or store.
Aqualandia Water Park
The largest on the entire Adriatic coast. If you meet their colorful van in the street, get a discount for a visit.
It is open from 10.00 to 18.00 daily.
Persons over 65 years old – 27 euros
Children 1m – 1.40m – 27 euros
Pass for 3 entrances:
Valid for the whole season, is personal. It is possible to visit the water park on 3 different days.
Adults – 56,00 euros
Children 1m – 1.40m – 46 euros
Umbrella + 2 chairs + BOX – 8,00 euros
Parking lot – 4,00 euros
Tropicarium Park
Prices for 2016.
TROPICARIUM PARK: ADULT € 20,00 CHILDREN (4 to 12 years) € 15,00 CHILDREN under 3 years free
TROPICARIUM PARK + SERIAL KILLER: ADULT € 30,00 CHILDREN (4 to 9 years) € 16,00 CHILDREN (10 to 12 years) € 20,00 CHILDREN under 3 years old FREE of charge
Lunapark New Jesolandia
Occupies 20,000 square meters, with over 50 attractions. A free shuttle bus runs from the city center every half hour. There is a large parking lot.
Mon – Thu 08.00 – 00.00
Fri – Sat 08.00 – 02.00
During the season, after 8 pm, the traffic on the main street of Lido di Jesolo is closed and turns into a large pedestrian area. There are many stores and restaurants. Concerts are often held in the squares. In the evening it is crowded, entertainment for all tastes and wallets.
Attractions
Archaeological area "Antique Moore" There are ruins of the cathedral and churches of the 4th-7th century.
Torre Coligo Tower of Fogs Erected in the middle of the 11th century to protect trade routes.
The oldest church in Jesolo is St. Mary of Assunta.
Church of "El Cristo" from the 16th century. It keeps an altar cross found in the ground.
Dolomite Bellunese National Park
Flea market "Casa Bianca"
The resort of Lido di Jesolo is well located, convenient to visit attractions not only local, but also neighboring Italian cities.
Tips
In August, the holiday must be booked in advance. This is a favorite month for Italian tourists. Hotels are usually a hundred percent busy.
Do not forget about the famous siesta in Italy. From 12.30 to 16.00 many stores and cafes are closed.
For a trip to Venice is more profitable to buy a single ticket for the bus and boat, valid for one day.
In the cafe is customary to leave a tip of 10 percent.
When buying, if you have formalized tax-free, return the goods is not possible.
Do not buy things on the beach with the hands of traders, the penalty is very large.
I visited the resort of Lido di Jesolo in early September 2016. I went on a package tour, stayed at the Excelsior Hotel 4*. My review of the hotel, read here.
You can go to the resort with a package tour, or you can arrange an independent trip. If you do not know which way to choose, look here.
How to plan a trip, you can learn in the article "How to organize a trip on your own?".
If you're interested in learning about my adventures, read here. If you have your own stories about the resort, send them to e-mail, be sure to publish them in the section "Travel readers," for details, see here. Leave comments, I am interested to know your opinion on the article. If you liked the article, share it on social networks, I will be very grateful.