Lavender paradise for romantics – French Provence
The lavender fields of Provence are one of the main attractions of the region, which has literally become its calling card. Unfortunately, you can almost only see the fragrant purple fields in July (a little +/-, depending on the altitude of the fields). You can see the fields on foot, by bike, or by car along one of the many routes (see below for maps). There are many fields, they are quite different, the most beautiful ones can be occupied by crowds of Chinese tourists. But you can step aside a little and you will be alone in the fields.
Lavender in bloom
About mid-June to mid-August, depending on the area and the weather. The best time to go is the last week of June and July. The lavender harvest is usually from July through September. In the Luberon region and the Rhone Valley, the lavender blooms in mid-June. In the Plateau of Valensol and Drome Provence, in early July. The Sault area blooms in mid-July.
Typically, fields of wheat and lavender sit side by side, surrounding the lilac fields with a sea of gold shimmering in the sun. Sometimes there are fields of sunflowers nearby (they bloom in July and August).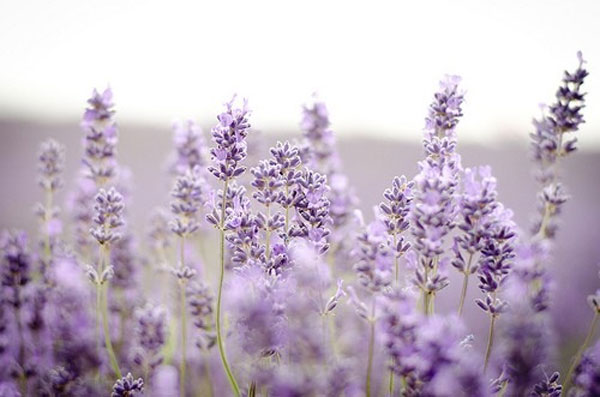 Blossom periods of lavender in Provence: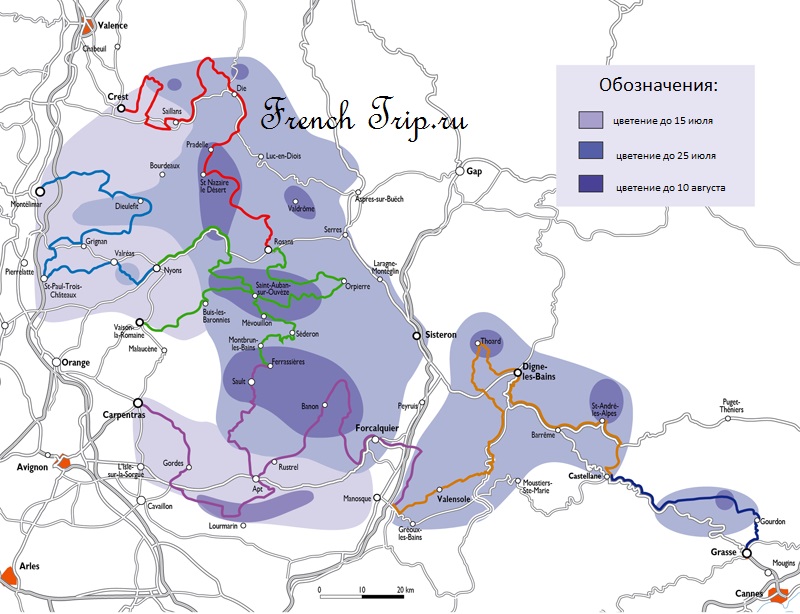 Lavender Festivals.
A trip to the lavender fields of Provence can be combined with a visit to one of the lavender festivals, which are held at different times in several of the main "lavender" towns. Typically, the festival is timed to coincide with the harvest of aromatic flowers, so after such festivals, it is too late to see the lavender fields.
There is a timetable for the lavender festivals in Provence:
Riez : last days of July – Lavender fête : Lavender fête. Annual lavender festival in the second half of July (usually the third Sunday in July).
Digne : Lavender parade, annually at the beginning of August. At the end of August, lavender day.
Thorame-Haute : Lavender fête : 2nd weekend in August.
Esparron sur Verdon : mid-August lavender festival : mid-August (14 to 15 August) – lavender festival, lavender picking competitions, flower crews
Valréas : lavender parade, flower carriages, popular shows. Every year on the first weekend in August.
July 19 – Valensol.
July 31 – August 4 – Digne les Bains
August 1st to 3rd – Valréas
August 15 – Sault
Driving to the lavender fields
The best way to see the lavender fields in Provence is by car. It is more difficult to do it by public transport. For example, in Avignon you can take a 1-day tour by bus. You can also see the lavender fields from the buses on the routes:
Carpentras – Sault bus – Route: Carpentras, Mazan, Mormoiron, Villes-sur-Auzon, Monieux, Sault.
Bus Apt – Sault – Route: Apt, Villars, Saint Saturnin-lès-Apt, Petits-Cléments, Grand-Cléments, Rustrel, Saint Christol, Sault.
Lavender Fields
The lavender fields of Provence occupy several districts (pays):
Pays d'Apt – Luberon
Pays de Buech – Baronnies
Pays de Digne
Pays de Forcalquier et Montagne de Lure et du Verdon
Drôme Provençale
Vallée de la Drôme – Diois
Plateau de Valensole
Here, in a relatively small area, there are many lavender fields. To see them, you can take a circular route by car (33 kilometers): Valensole D56 – east to Puimoisson – D953 north to the "Poteau de Telle" interchange – D8 back west to Valensole.
Along the D8 between Valensole and the D953 (4 km north of Puimoisson) are lavender fields. GPS: 43.896292 N, 6.128771 E
Along the D6 between Valensole and Riez, about 5 southeast of Valensole are beautiful lavender fields at the entrance to Petit Arlane (Centre Naturiste).
Sault and Mont Ventoux
The Mont Ventoux region, which includes the town of Sault , northeast of Avignon and Carpentras, includes a number of beautiful lavender fields. East of Avignon, around the towns of Gordes, Apt and Saignon, lavender fields can also be found. Some of them have picturesque stone buildings – Borie (a large village of Bories is next to the village of Gordes).
The lavender fields of the Sault plateau, Chemin des Lavandes (Lavender Route)
Senanque Abbey.
Near Senanque Abbey there is one but very famous lavender field. It is located north of Gordes, at the walls of the 12th century abbey.
Lavender fields on the Côte d'Azur
The closest lavender fields to the Cote d'Azur (Nice-Canet territory) are in the Pays de Valensole.
It takes about an hour and a half by car to Castellane. Then 45km west through the picturesque Verdon Gorge (Gorges de Verdon) to Moustiers-Sainte-Marie (among the most beautiful villages in France), at the northern end of the Lac de Sainte Croix. The trip takes about an hour, but you should add some time for stops to admire the fields of lavender. From Moustiers-Sainte-Marie the road climbs west on the Valencole plateau, right up to the lavender fields. The whole trip takes about 2.5 hours one way, not counting the stops.
Go west on the highway to Brignoles (exit 35, approx. 1 hour), then north through Barjols, Tavernes, Montmayan, Quinson and Riez (65 km, approx. 1 more hour).
To see the wild lavender fields, head in the direction of Plateau de Calern north of Grasse (from Nice it's about 1 to 1.5 hours away). In the midst of a rocky landscape and fields of wild flowers, the eastern hillside is densely covered with flowers and lavender.
Be careful, there may be snakes hiding in the shade of the lavender bushes!
Routes through lavender fields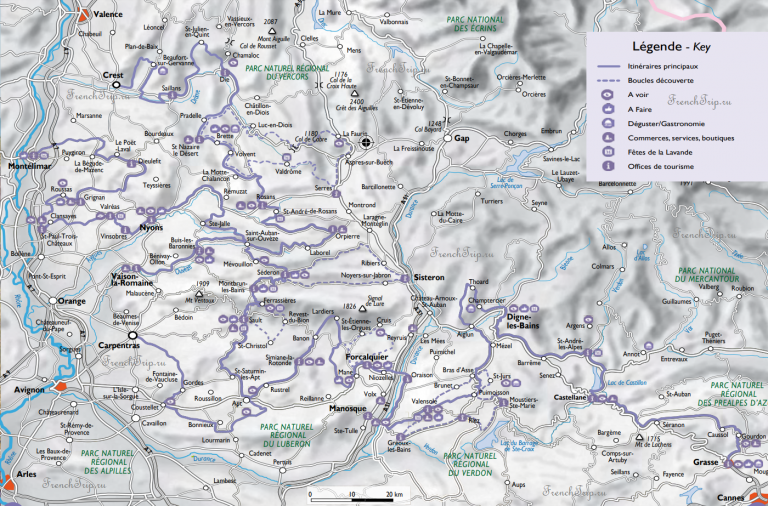 Routes through lavender fields for road trips:
Route 1. Montelimar to Nyon:
Drome Provence and Pays de Dieulefit
Route 2. Nyon – Vaison-la-Romaine:
101 km, 2 hours and a ponytail – drive.
Route 3. Drome Valley, Diois and Haut-Buech:
169 km, just over 4 hours – drive.
Route 4. Rosans – Sault.
The Drome region and the Upper Alps.
126 km, just over 3 hours of driving alone, not counting stops.
The lavender fields of the Sault plateau, Chemin des Lavandes (Lavender Route)
Route 5. Carpentras – Apt.
76 km, almost 2 hours only without counting the stops.
Route 6. Sault – Forcalquier
114 km, about 2.5 hours just driving, not counting stops.
Route 7. Forcalquler – Castellane
190 km, almost 4 hours only, not counting stops.
Route 8. Castellane – Grasse
71 km, 1.5 hours only, not counting stops.
Festivals and Corsos de Lavande
July 14 Apt – Fête de la lavande
July – 2nd half of Riez – Fête de la lavande
July 2nd half of Valensole – Fête de la lavande
August, 1st weekend Valrés – Corso de la lavande.
August, beginning of Digne-les-Bains – Corso de la lavande
August, middle Esparron-sur-Verdon – Fête de la lavande
August, middle Riez – Journée du miel et de la lavande (honey and lavender)
August, mid-Sault – Fête de la lavande.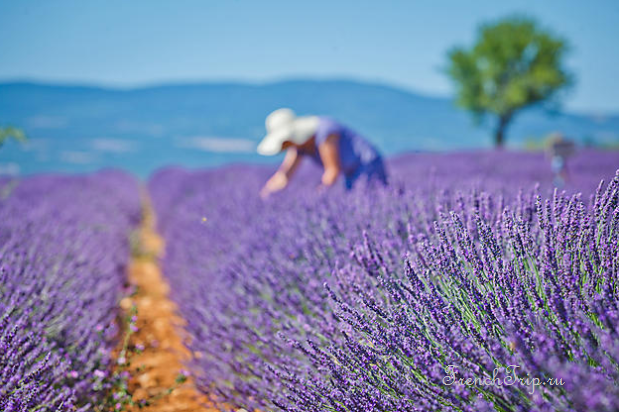 Lavender fields of Provence on the map
Purple indicates areas where lavender is grown in the fields.
In yellow are the distillers where lavender oil is made. They can be visited during the summer, from July to August.
Detailed maps: Department of Drom:
Sault-Apt:
Valensol Plateau Region:
Lavender soap is a great souvenir after visiting the lavender fields of Provence. You can buy this soap in any souvenir shop in each town in the region. It's inexpensive: 1 to 3 euros apiece. Better than a magnet .