Langkawi Island, Malaysia: information for tourists
There is in Malaysia sparsely populated by tourists from Russia and an amazing vacation spot – Langkawi Island. This piece of land is washed by the warm Andaman Sea of the Indian Ocean. The beauty of the sea and snow-white beaches of the island is compared to the Maldives, but the rest here is much cheaper. The climate of the island is tropical, the rainy season lasts from March to November, the resort season is all year round.
You can get to the island from the capital of Malaysia, Kuala Lumpur, in two ways: by bus or train and then by ferry, the second way – by plane. The first way you'll get more than 12 hours, with virtually no cost savings. By plane you can reach the island in an hour. Buy plane tickets and book hotels well in advance, especially if you plan a trip for the Christmas vacations or in summer in the high season.
Important . When buying a plane ticket, pay attention to the airport to which you will be taken on your way back. Departure and arrival airports may be different.
Langkawi Island, Malaysia: information for tourists
Once you arrive on the island take care of your travel plans. The cheapest will be to rent a car or motorcycle. If you do not risk moving around on your own, the only transport is a cab with a fixed low fee.
What are the charms of vacation waiting for us on the remote island of Langkawi?
The islands are numerous beaches.
Oceanarium.
Cable car.
Mangrove tour.
Pulau Payar Marine Park is the best place for snorkeling and diving.
Eagle Square in Quaha.
Waterfalls.
Pregnant Maiden Lake.
Wildlife park.
Duty free stores.
On some sights and interesting places let's stop in detail .
What are the charms of vacation waiting for us on the remote island of Langkawi?
Central Beach
Chenang Beach (Pantai Cenang) is located in the southwest of the island and is the most popular. This is where most of the island's hotels, bars, and entertainment venues are concentrated. Despite this, the beach is not crowded and feels endless expanse and infinity of sea. Very fine and really white sand, always clean beach, which is cleaned daily. On the territory of a huge beach there are many cafes and restaurants with prices designed for different consumers.
Near the entrance to Chenang is the oceanarium, it is recommended to go if you have never been to the aquarium, or love penguins. The oceanarium has a variety of penguin species, and the conditions are ideal for the many members of the penguin kingdom.
Chenang Beach moves smoothly into the shorter and more sparsely populated beach Tengah (Pantai Tengah), convenient for lovers of a quiet family vacation. The sand is coarser and yellowish, the waves are higher and the sea is not as calm as on Chenang. From this beach you can go to a deserted island where you will be completely alone in the snorkeling – watching the fish through a mask.
Central Beach
This activity is organized by an outdoor travel agency, located right here on the beach.
Near the beach Tengah, in the hotel Aseania Langkawi, there is a good fish restaurant, the same hotel hosts barbecue parties and colorful show with live music.
If you have time, be sure to visit the beach of Black Sand – Pasir Hitam, the color of which is a consequence of a spring that washes away the rocks.
Langkawi Cable Car
The famous cable car starts from a tourist-oriented village in Malaysia and is worth a quick look on the way back. There can be a long line for the cable car, and in case of bad weather, the cable car is often closed. It is better to plan this activity in the morning or evening, so you don't have to wait in line and really enjoy the breathtaking views of Langkawi and neighboring islands.
Langkawi Cable Car
Climbing to the top of Mount Mat Chinchan you'll find two viewing platforms and… the transparent Sky Bridge – not for the faint-hearted. But the island jungle that spreads out beneath your feet, will create a real and unforgettable illusion that you float above them.
Mangroves
Hotel and outdoor agencies offer many tours, among which there are some must-see and the first is a trip to the mangroves. The cost of the tour will depend on the means of transportation (from a motorboat to a private yacht), lunch, and where you buy the tour. From the hotel you will be taken to the pier, where the tour itself starts on the river among the fantastic trees – the roots of the mangroves grow above the ground.
Regardless of the cost of the tour itinerary is about the same :
With the bats;
fish farm;
lunch;
wild monkeys;
eagles;
an island in the open sea.
Mangroves
After the unpleasant spectacle of bats, there is a fish farm, where you can see the most exotic fish and hold a demonstration fish-feeding, and allowed to stroke a huge stingray.
Separately worth telling about the wild primates, which are in the bushes waiting for a boat, to beg for food. They easily come in and even swim in the water, and the most insolent jump into the boat and grab not only the food, it so happened that in the paws of monkeys and ended up with expensive gadgets.
Then there is the majestic spectacle of brown soaring eagles, after which Langkawi Island is named. Afterwards swim at extreme speed into the open sea and then disembark on the fabulously beautiful island.
Best duty-free
Since 1987, in order to develop Langkawi, it has been recognized as a duty-free destination. If you stay more than 72 hours, duty-free, which are located literally at every turn, you can buy literally anything at a much lower price than in airports.
Best duty-free
Holidays in Langkawi can't be compared to other tropical destinations. The island captivates with pristine jungle, stunning sunsets and blooms, quiet and unhurried, the unusual sea, white sand and amazing natural wonders. We must have time to enjoy this beauty and silence before this destination is not popular enough with fellow tourists.
Langkawi. Secrets of a successful vacation on an island in Malaysia
April 2019 (updated: 19.04.2019) 10
Langkawi is a major resort island in northern Malaysia. We've put together a guide to Langkawi for the independent traveler. We've been here 4 times, toured the whole island, visited all the beaches.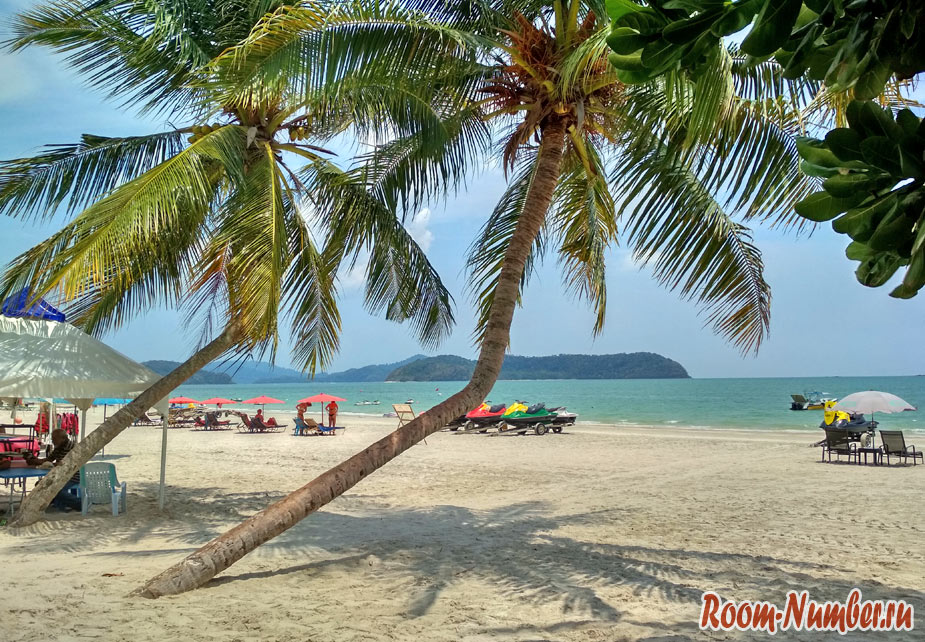 The island of Langkawi in Malaysia fell in love at first sight and from the first beach, if I may say so. We do not even have a question whether to return here again, the answer is obvious. Moreover, the island is developing and changing, new hotels are being built. But we were never against the development of worthwhile places, and this is just one of them.
How to get to Langkawi
Looking for tickets on the Aviasales site.
You'll have to fly with a connection in Kuala Lumpur.
From Russia to Malaysia, there are convenient flights by Qatar, Etihad and Thai Airways.
The flight to Dubai or somewhere else takes an average of 10-15 hours.
Air Astana flies direct from Kazakhstan.
You should reserve at least 2.5-3 hours for a connection in Kuala-Lumpur. In case you have a single ticket like "Moscow – Langkawi", you may save less time for your connection.
The flight from Kuala Lumpur to the island takes about 50 minutes on local airlines AirAsia, Malaysia, and Malindo.
The only way to get from the airport to your hotel is by cab. But it's inexpensive. We told you more here.
The season on Langkawi. When's the best time to go
November through April.
The best time to go is in December, January and February. You will enjoy sunny weather, calm seas and the most comfortable temperature during these months: +28+30C
The water in the sea is always warm. During the winter months is a bit cooler, feels like 26-27 degrees. And in the spring it gets up to 30 degrees.
The hottest months are March, April.
The rainy season: summer and early fall (May, June, July, August, September, October). There are a lot of sunny days, but more often it is cloudy, sometimes rain, the sea has waves, the water is muddy.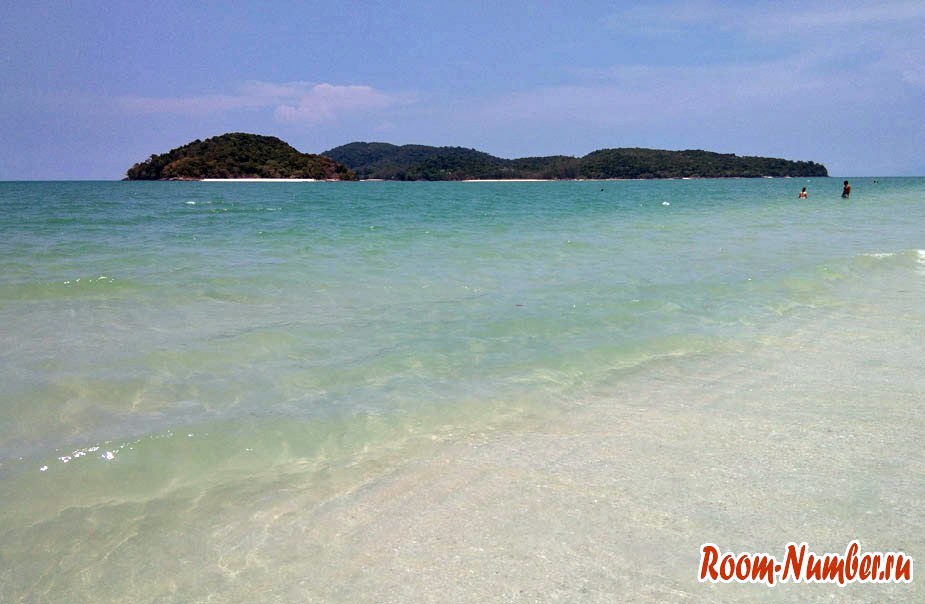 Which hotel to choose and which beach to stay at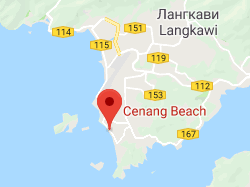 We recommend above all the beach Pantay Chenang. This is the most developed and convenient area to stop on the island. It has everything and is close. Duty free stores, cafes and the best restaurants are on Chenang. The beach is also very beautiful. The Chenang beach area is a direct association with Langkawi island.
You can consider Pantai Tengah beach, which is a 40-minute walk or 10 ringgit ($2.50) cab ride from Chenang. Quieter place, less people, no duty-free, small selection of cafes. The beach is good for swimming.
Good hotels in Chenang and Tengah
Meritus Pelangi Beach Resort
Aloft Langkawi Pantai Tengah
Dash Resort Langkawi
Adya Hotel Langkawi
Casa Idaman Motel
The rest of the beaches and areas of the island are underdeveloped. There can be a good 5-star hotel, but behind the territory is a village with a couple of cafes for locals and some dusty store.
The more remote areas are worth choosing for those who will rent a car or a bike. Or plan to spend the whole vacation sitting in a hotel, going out on excursions. Otherwise, you won't get anywhere on foot. And taking a cab every day is also not a good idea.
Читайте: Лучшие отели на Лангкави и недорогое жильё >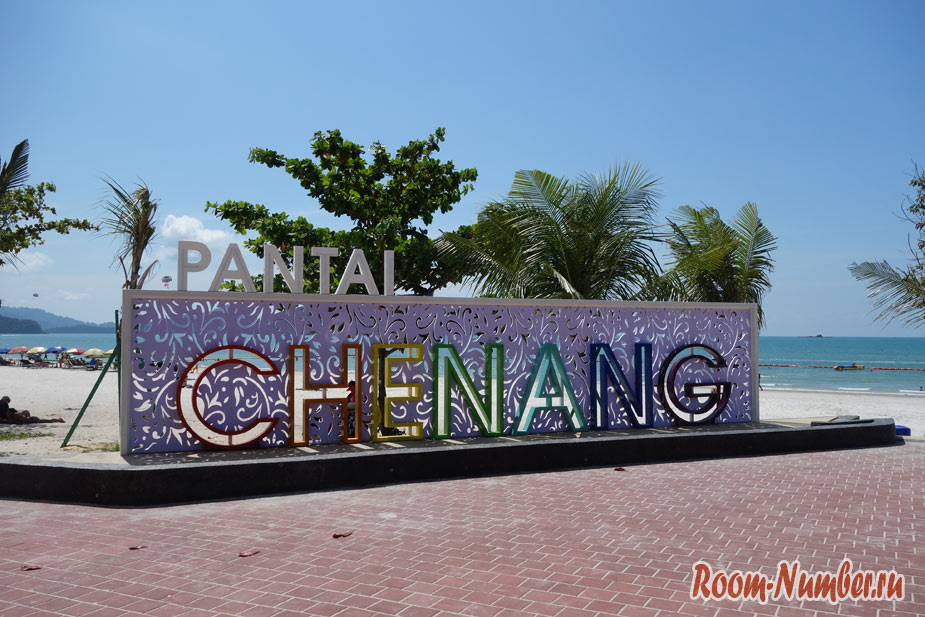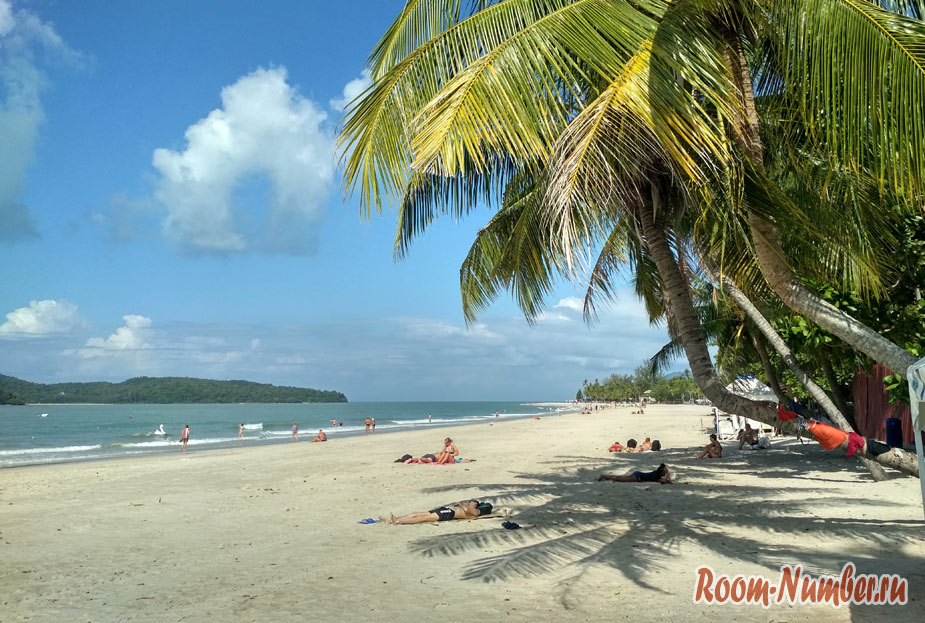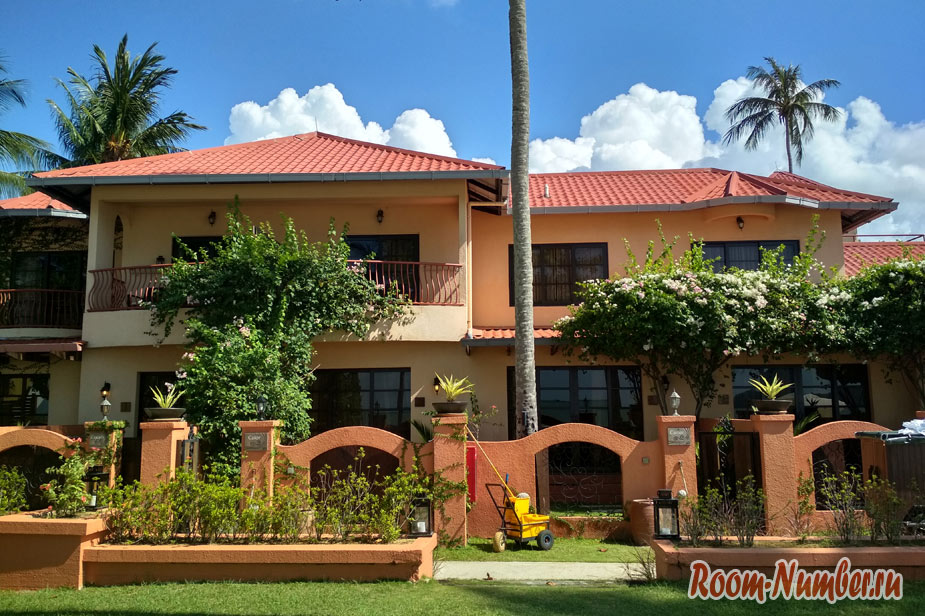 All beaches in Langkawi
Pantai Chenang is the most developed area and one of the best beaches. It is possible to swim. The water in the sea is mostly murky. There is no trash, but there can be jellyfish. Read more at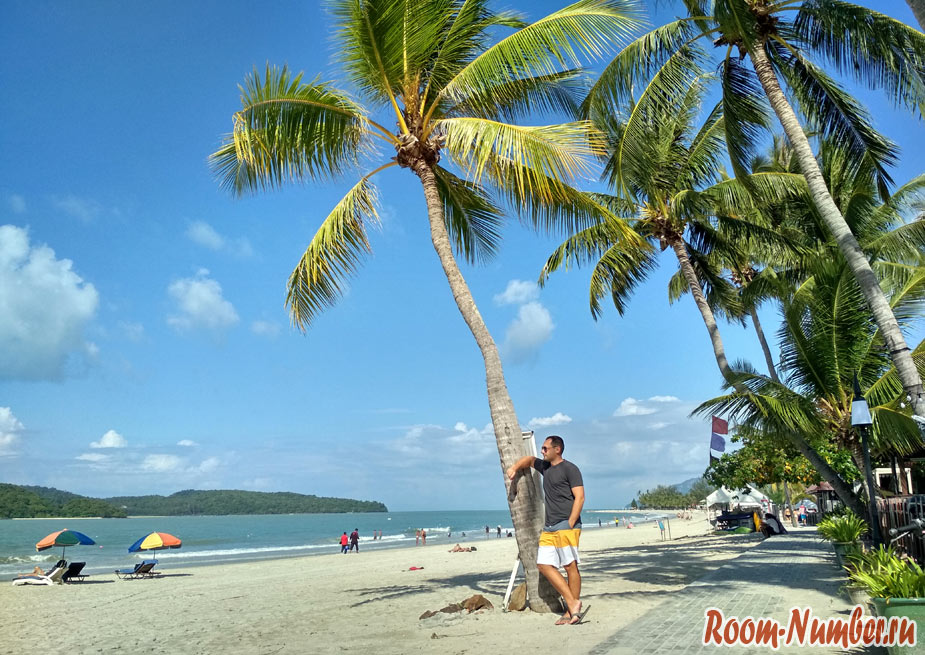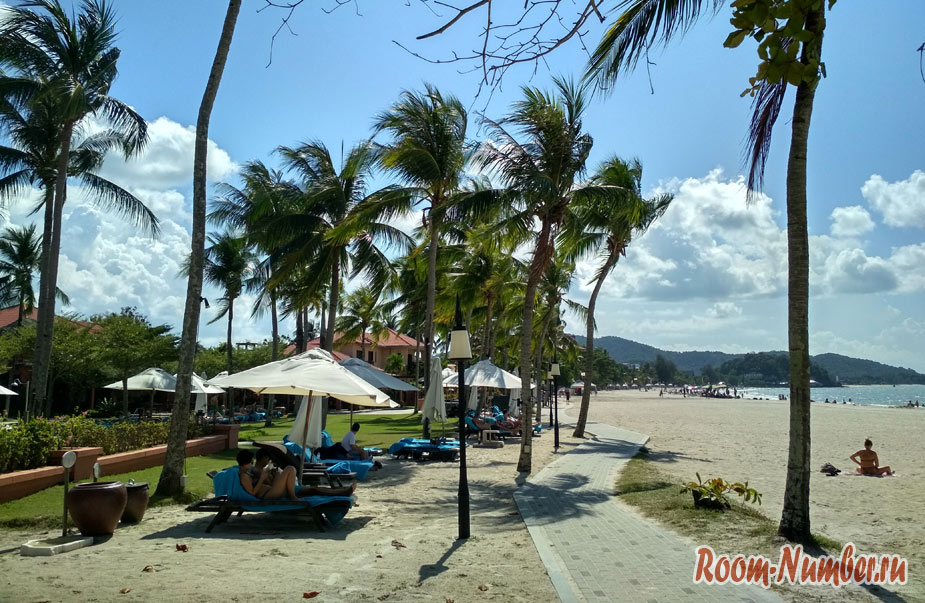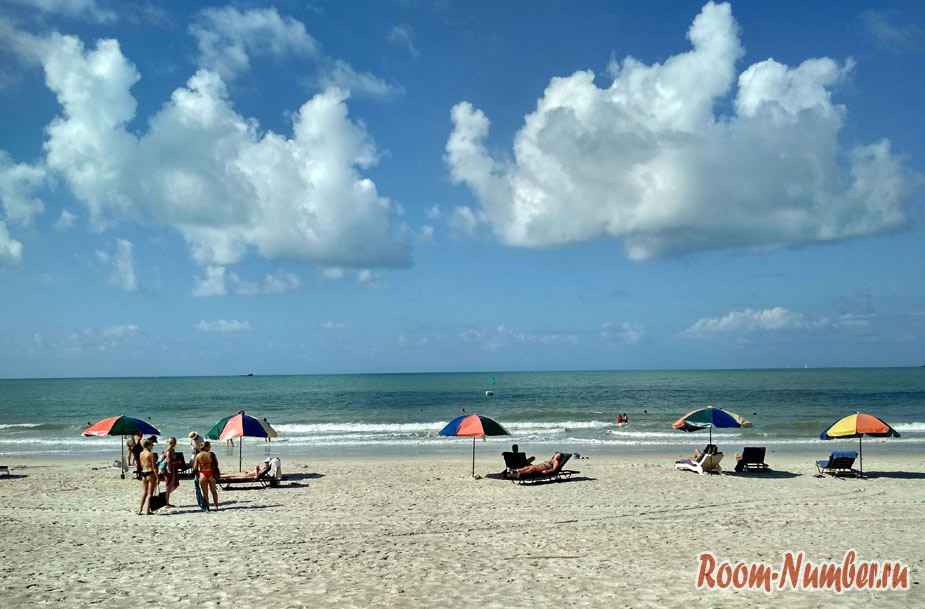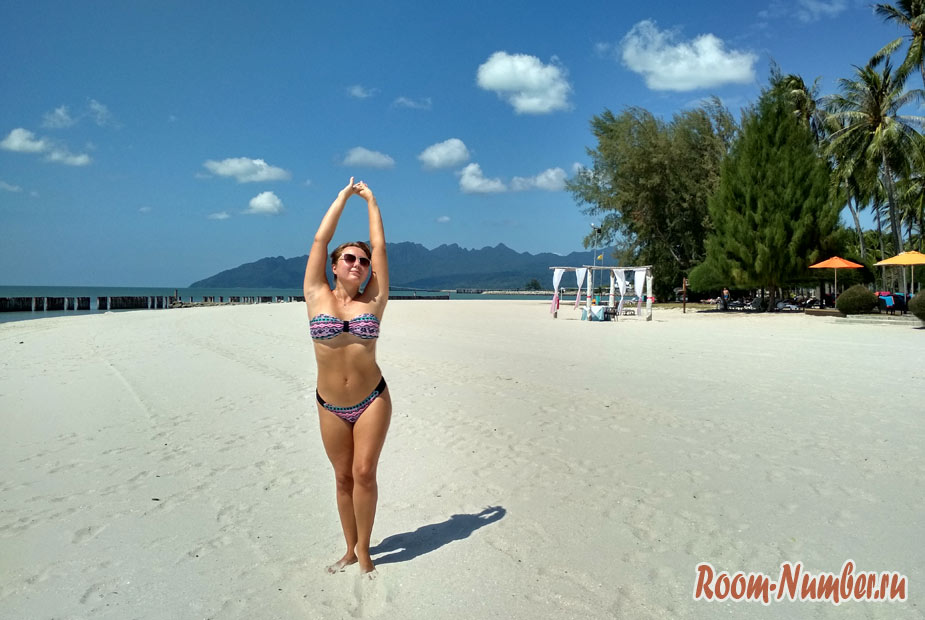 Pantai Tengah is the neighboring beach to Chenang. A short walk from Chenang. Quieter, quieter area, deserted beach. Jellyfish are sometimes in the sea, too. Read more at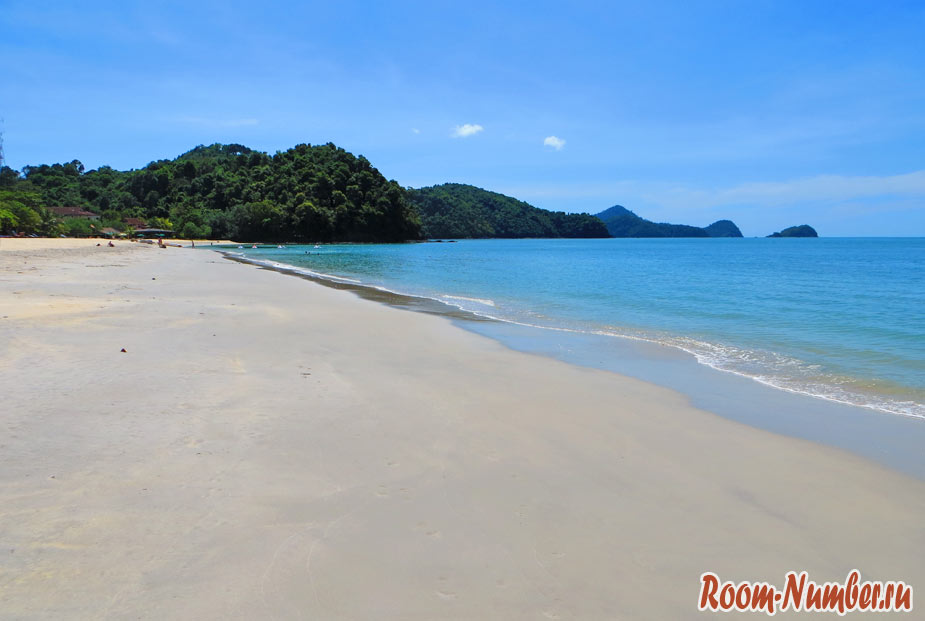 Tanjung Rhu is one of the most beautiful beaches. On the beach is the luxurious Tanjung Rhu Resort 5 star hotel. Located on the north side of the island. Read more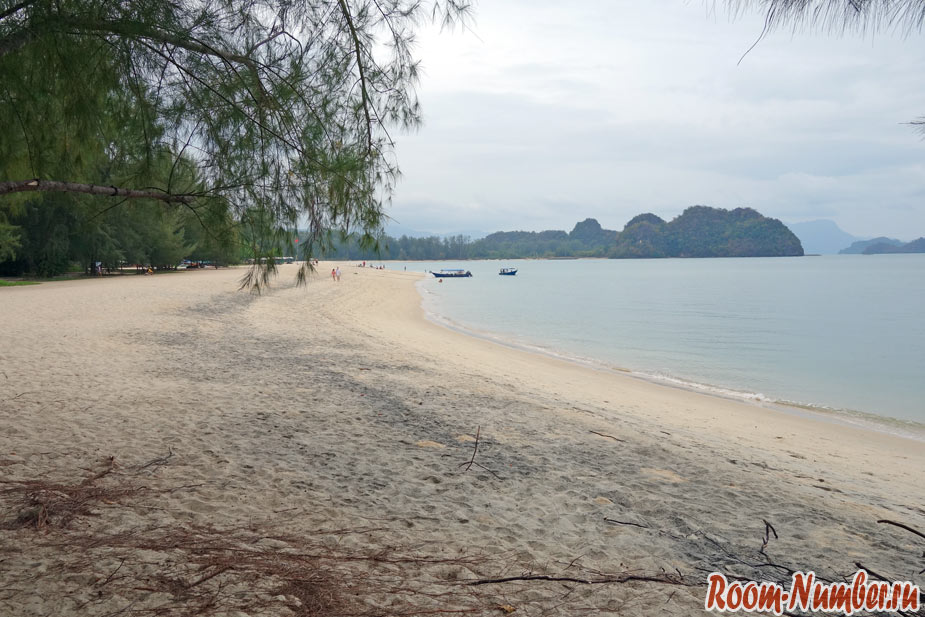 The beach with black sand. You can not swim. Black sand is not very much. It is not worth going especially for this beach, it is better to have a look on the way. Read more
Pantai Kok is a few small beaches on the southwest side of the island. The area is undeveloped for tourists. But there are quality expensive hotels with large areas and view pools – The Danna Langkawi 5*.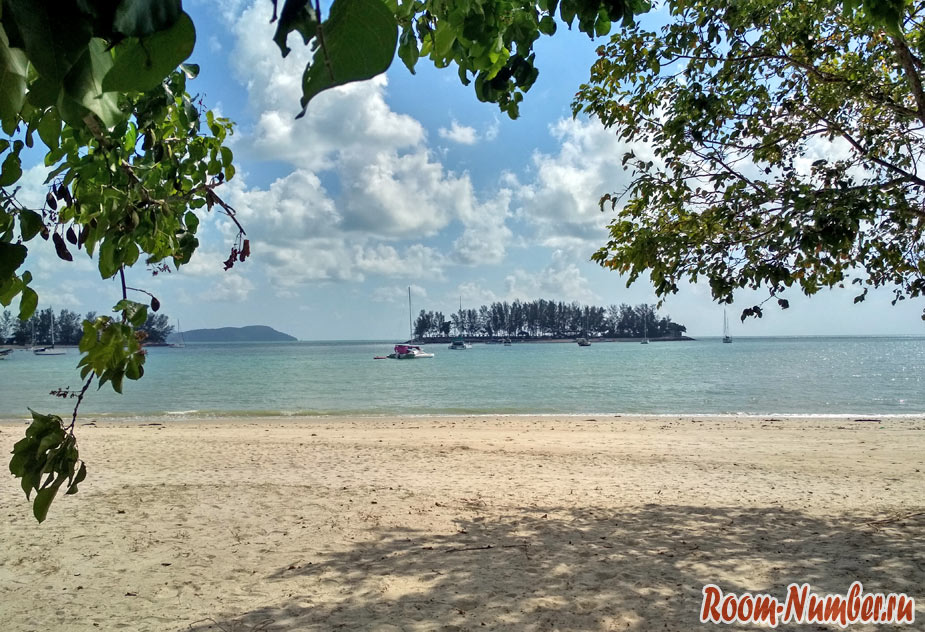 Pasir Tengkorak – a beach with clear clear water, from which you can see Thailand. On the horizon, the Thai island of Tarutao. The place is remote from everything, but tourists are always there, many for the solitude and go here. Swimming is great! No hotels. Read more at
Datai Bay is a secluded beach at the farthest end of the island, owned by the 5-star hotels The Andaman Luxury Resort and The Datai Langkawi. It's gorgeous nature, breathtaking views, mountains, jungle and wild rhinoceros birds.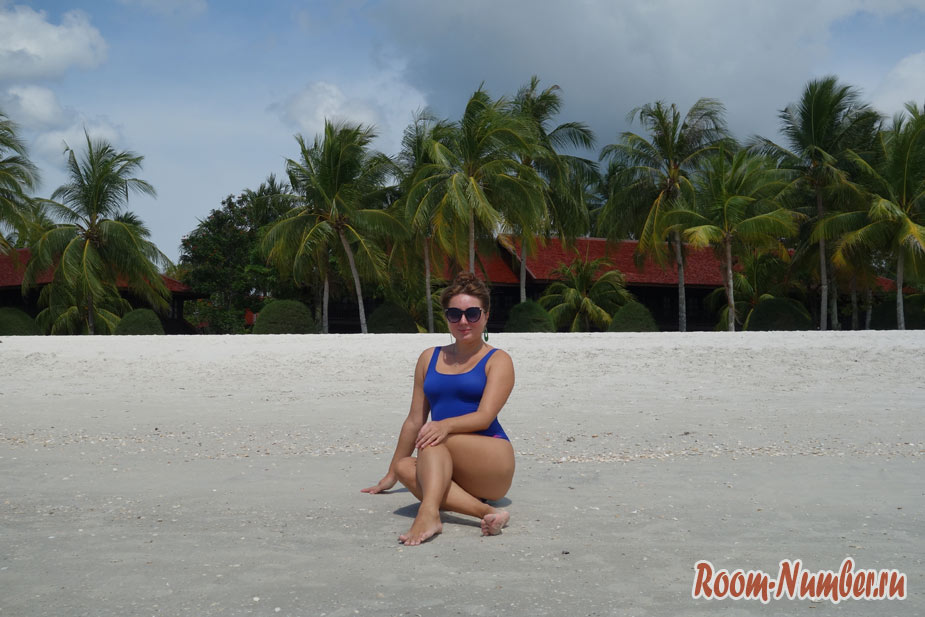 What to see in Langkawi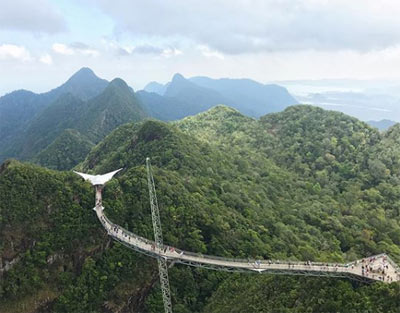 The Sky Bridge and cable car is the Island's calling card.
Kilim Geoforest Park – National Park, mangrove boat rides, eagle feeding, caves.
Lookout point on the highest point of the island.
Crocodile Farm
Hot Springs
Seven Wells Falls (during rainy season)
Excursion on water motorcycles on nearby islands
Extreme entertainment – parachute, helicopter flight, bungee jumping and ziplines.
Unbelievable sunsets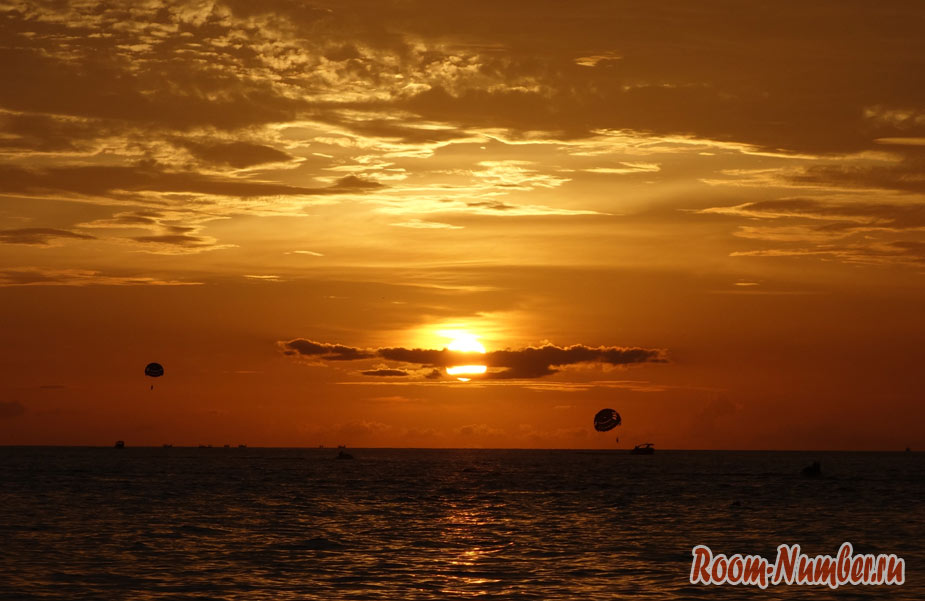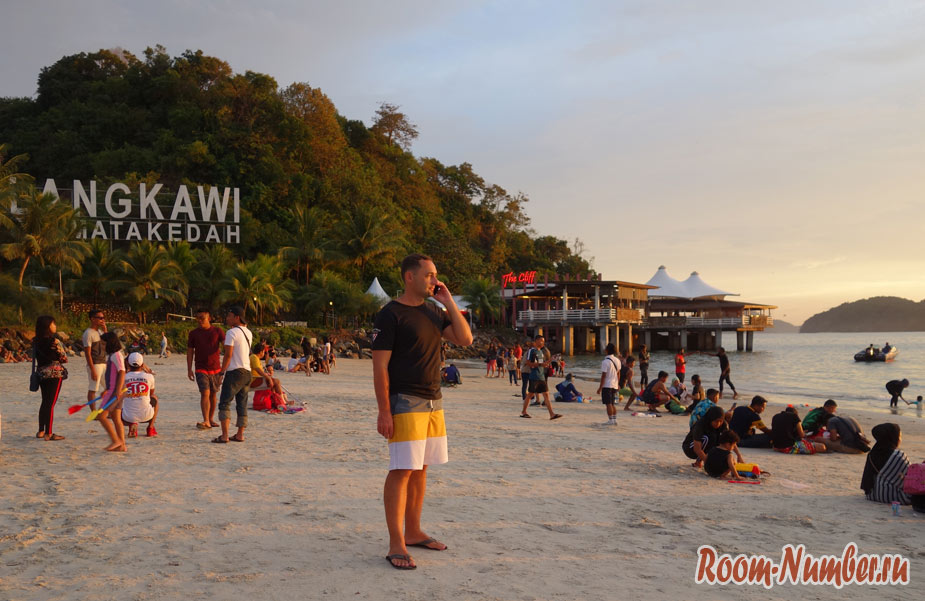 Where to eat
Chenang Beach has the largest concentration of cafes and restaurants of all kinds and for all tastes and budgets. The beach street is lined with hotels, cafes, and stores. You can safely walk into any restaurant you like. We have a big article about food.
Prices at a standard street or beach cafe start at 20-25 ringgit for a dish (4-6$). Our bill for two people is usually 50-60 ringgit ($12-15) for a hearty meal with drinks.
Pizza Hut, McDonalds, KFC, Subway are on Chenang
Night Market with ready-to-eat meals.
The budget tourist can eat very cheaply at the night markets. They open closer to evening around 6pm and are open until around 11am. Here for 10 ringgit per person you can have a very hearty dinner. There are at least 2 such markets in Chenang: Point 1 and Point 2.
Only open on Thursdays, but probably every day, we didn't check.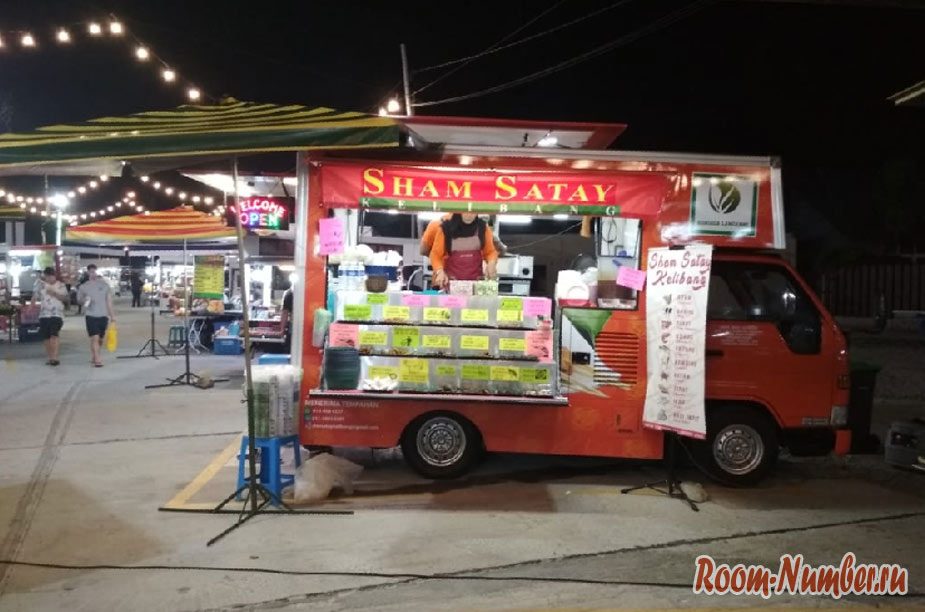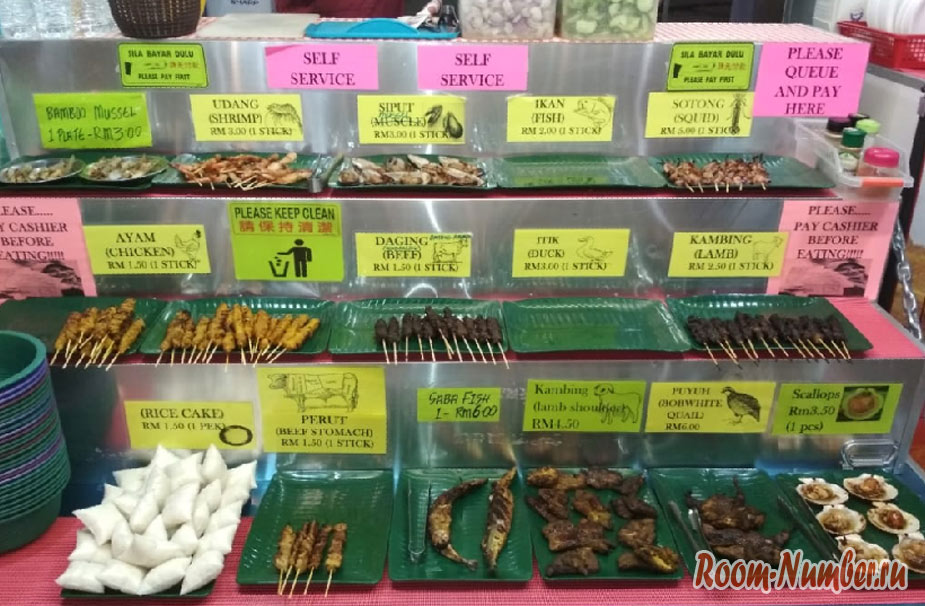 Currency in Malaysia. Where to change money and withdraw from the card without a fee
What money to take with you in Malaysia? The easiest way to take your bank card and withdraw without commission at an ATM (Maybank, UOB). Cash is usually in dollars or euros. You can change Asian currencies (Thai baht, yuan, Dong, Hong Kong dollars). But do not take our rubles / hryvnia / tenge in Malaysia.
You can pay with a card in many restaurants, duty free shops and hotels. Hotel deposits are usually better left in cash.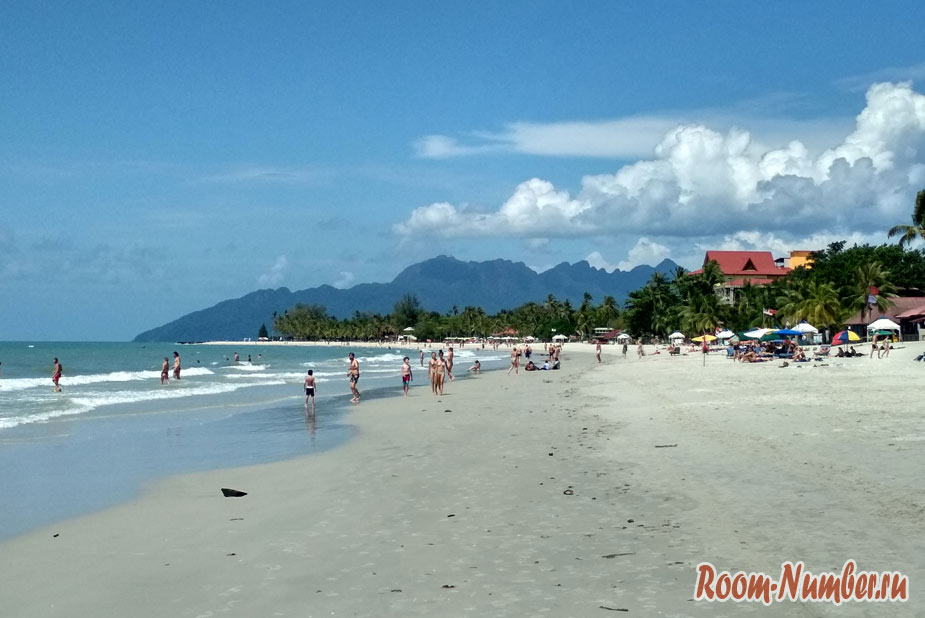 Pulau Langkawi. Photo of the beach Pantai Chenang
Where to Buy a SIM Card with Internet
You can buy a sim card at the airport in Kuala Lumpur if you have enough time. There are sim cards at Langkawi Airport at the exit. And also on the main street of Chenang there are many stores where they sell sim cards.
Which operator do you want? There's not much difference. We usually get Digi in Malaysia. For 38 ringgit ($9) you get 5 GB of internet (+1GB daily from 13 to 19) for 30 days and some bundles of calls and SMS. That's enough traffic for social media, cabs, and giving internet to your laptop for work.
What clothes to take to Malaysia? How to dress in the city and on the beach, what to wear for sunbathing
Malaysia is a Muslim country. How to dress a girl? Can I wear a swimsuit on the beach? Is it okay to show up on the street bare-shouldered? How long should the skirt be?
Relax, guys! Malaysia is not Saudi Arabia. In Langkawi, you can wear almost any clothes you want. Shorts and skirts of any length, shirts with open shoulders.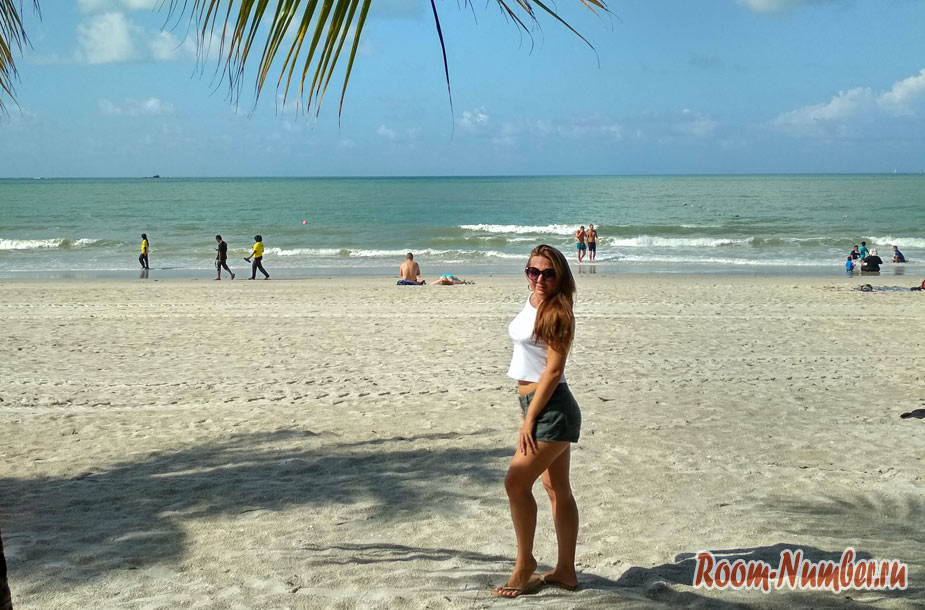 Just don't go overboard. Do not wear a blouse to dinner with a cut down to the navel or walk in a swimsuit in the mall, buying souvenirs. Avoid overly revealing outfits and respect other people's religions. Remember! You should dress more modestly in Kuala Lumpur than on the islands. This is not a beach resort, and the capital of the country.
Important: in Malaysia, it is forbidden to sunbathe without a swimsuit. As elsewhere in Asia, a girl topless can be fined by the police.
How to get around
There is no public transport. Tourists travel by cab, their own transport, or on foot. Please use Grab app to call a cab, all cabs are half cheaper (the driver will be happy to buy a couple ringgit for a tip).
Car and Bike Rental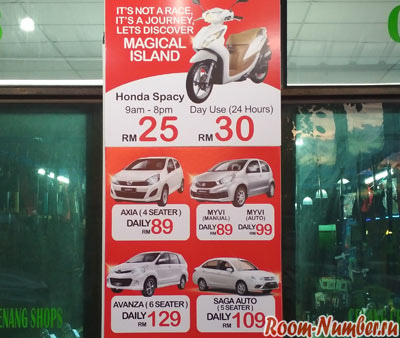 You can rent a car in Langkawi. Prices start at 80 ringgit per day ($20). Additionally block a deposit on the card, $200, which will be unfrozen in 30 days. Need an international license.
The roads are good, traffic is quiet, there is little traffic, steep climbs and dangerous serpentine.
Rent a bike costs an average of 25-30 ringgit per day ($ 6-8). You need a license, category A. Tourists are stopped by the police. For driving without a license moped confiscated and forced to pay a heavy fine.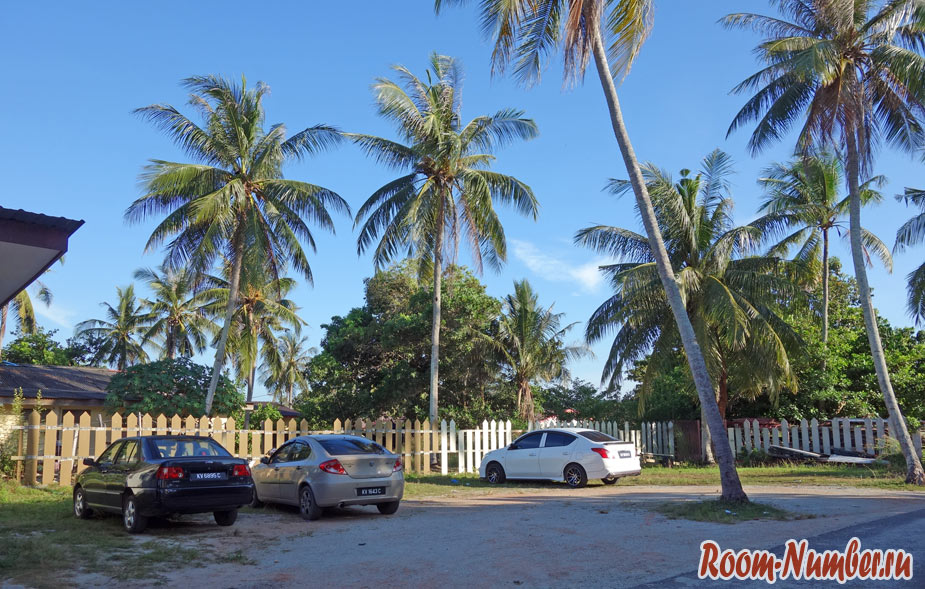 Duty Free stores and prices for alcohol
There are dozens of Duty Free shops in Chenang. The prices are very low indeed, unlike in the airport duty-free shops. For example, a bottle of imported Hugarden beer costs 4 ringgit ($1).
The choice of cosmetics and perfumes is not so wide. Modern collections can be found. Also the duty free has great chocolates.
We have already told you about duty free.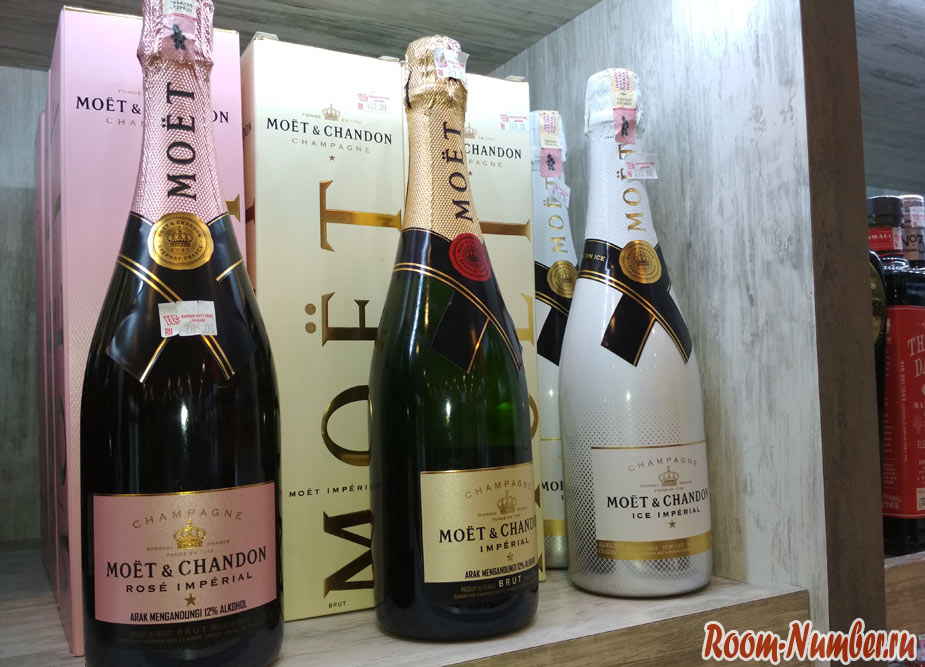 Safety
The tourist is safe on the island. Observe the standard precautions, do not walk through dark alleys at night, do not "shine" a bundle of money, do not engage in arguments and conflicts and nothing will happen to you. By the way, the locals don't drink alcohol because they are Muslim.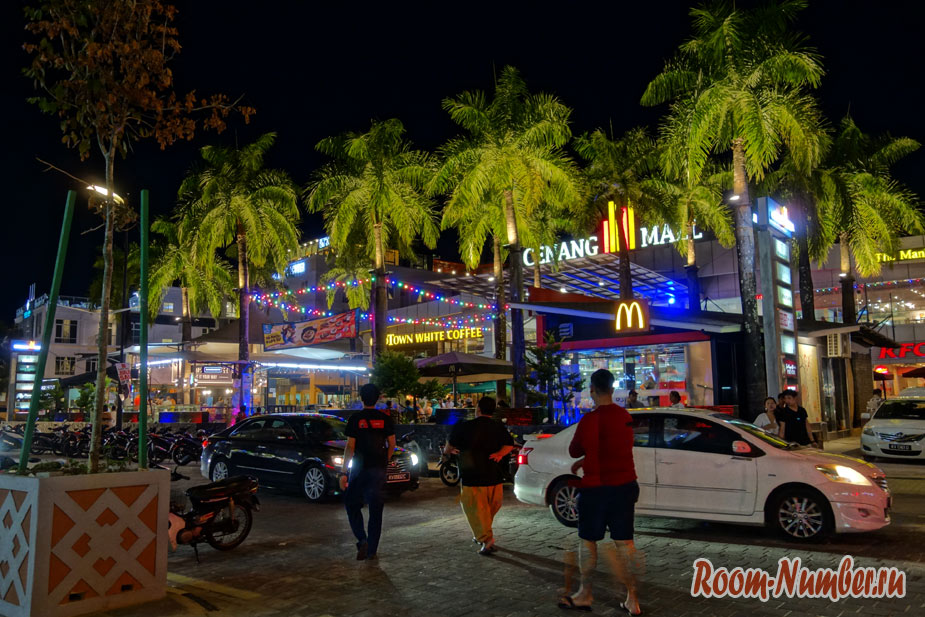 Medicine and insurance
Купите страховку в Малайзию на сайте Cherehapa >
The island has a hospital and several small clinics that work with international insurance. So, you won't be left without medical care for sure. And given the jellyfish in the sea, insurance is a must.
When insurance is not valid: – if drunk – if driving without a license – many insurance companies don't pay for sunburns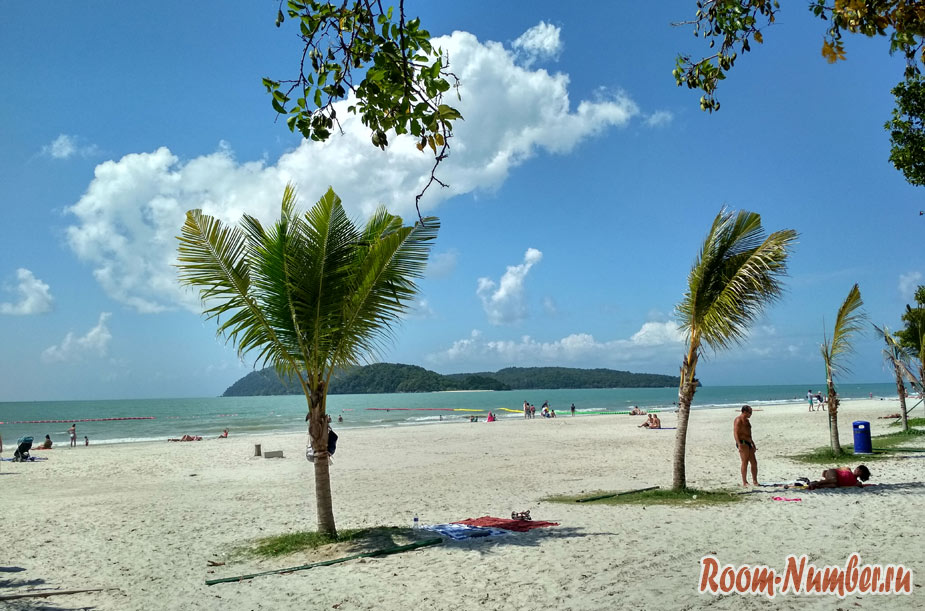 What about wildlife on Pulau Langkawi? Are there dangerous animals, snakes, insects?
There are no predatory animals or poisonous spiders in the tourist area. There are snakes somewhere in the fields. If you do not rent a cabin in the woods, you will not encounter a snake. There are mosquitoes, close the windows after 6 pm. There are no sharks. But there can be jellyfish, so you have to be very careful swimming (I got stung once).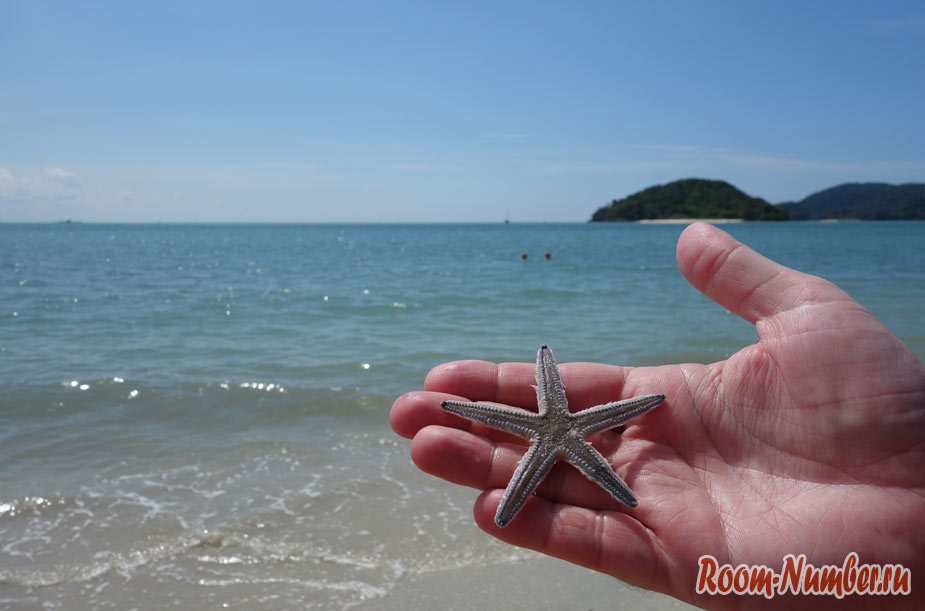 Shopping. Where to buy things and souvenirs.
The whole beach street in Chenang is one big market. Clothes are pretty cheap, you don't even have to haggle. But if you're a fan of knocking out a discount, everything will work out, the sellers are accommodating, especially if you buy a few things. The main thing is to smile and be friendly.
The prices of clothes are nice. There are tents with very simple and cheap clothes for 10-15 ringgit. And for 35-45 ringgit you can buy a nice light blouse or a good quality dress. The clothes are mainly of European type, you can find something to remember your vacation.
Interesting fact: in Malaysia, the sellers will not grab your hand, pulling you into stores and shouting Russian words after you. The merchants behave in a very dignified manner. Only Indians can do this, but it is very rare.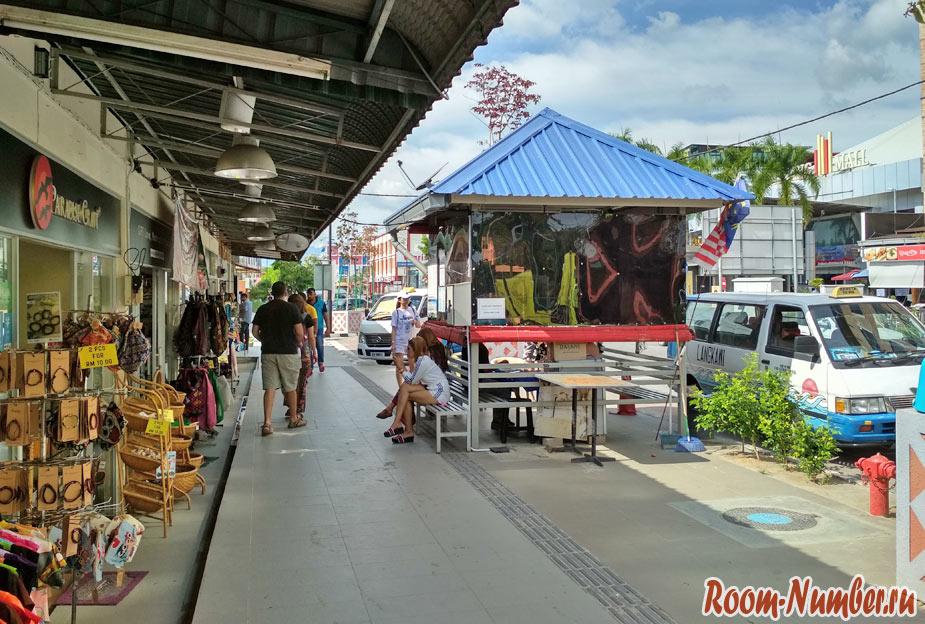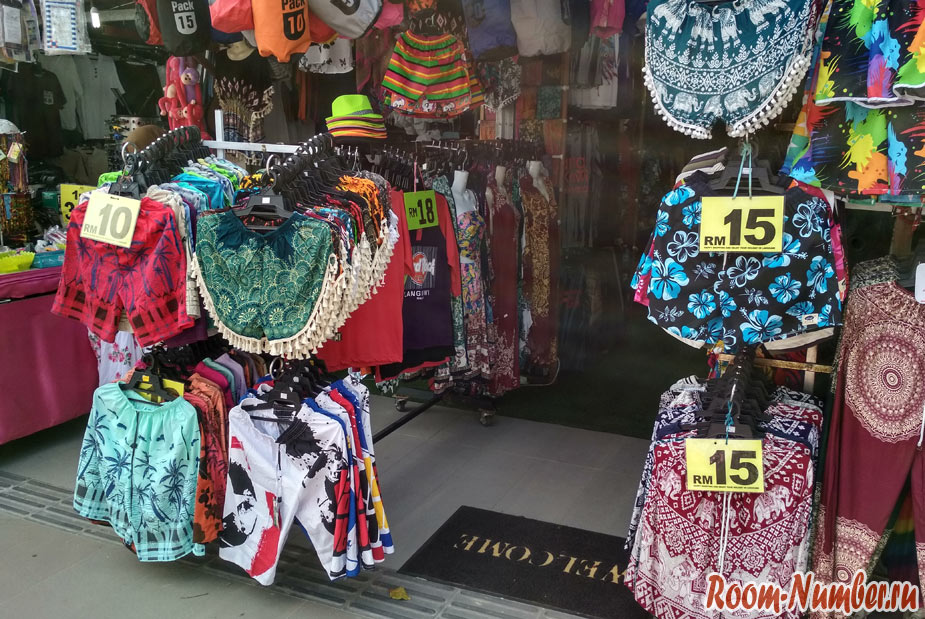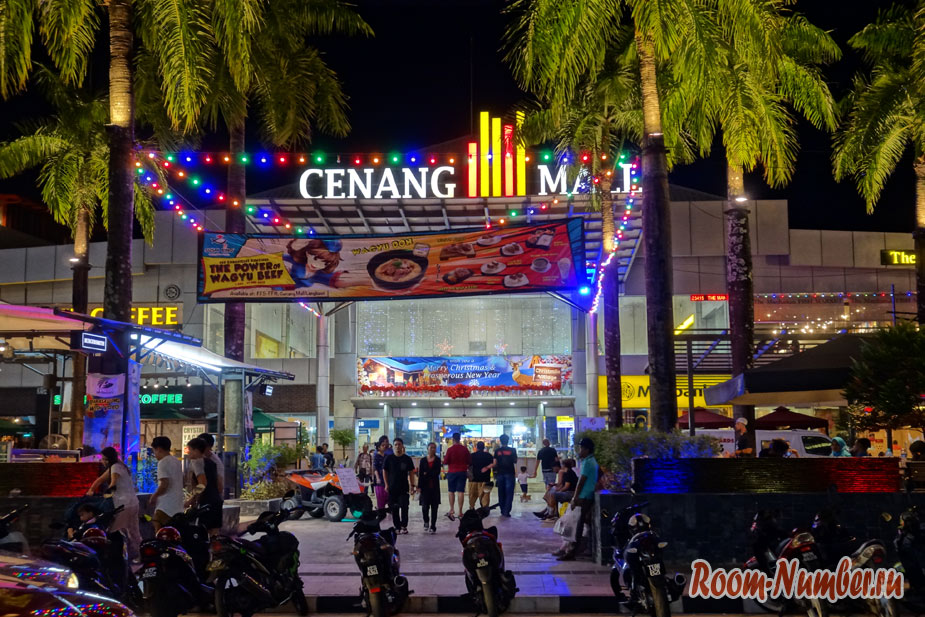 How to go from Langkawi to Ko Lipa
From Langkawi you can take an hour and a half by sea to the Thai island of Ko Lipe. It's one of the best islands in Thailand, the Thai Maldives. You won't find such bright blue water anywhere else.
There is a ferry to Ko Lipe. Buy a transfer at any travel agency. The price 100-120 ringgit (25-30 $) per person one way. You will be picked up in the morning from the hotel and taken to the ship. You can buy your own ticket here.
Ko Lipe is a different country. Your passport will be stamped to leave Malaysia, and then stamped to enter Thailand. Russian citizens can enter Thailand without a visa. But Ukrainians and Belarusians need a visa, please check online. You can return back to Malaysia in 3 days.

Langkawi is not the most popular tourism destination in our country. Package tours are not in short supply here. But if you want something new to see besides Thailand, Vietnam, Sri Lanka, India and other Asian countries, then look to Malaysia.
Especially successful vacation will be if you combine Langkawi and the Thai island of Ko Lipe. And be sure to pay attention to the capital of Malaysia, Kuala Lumpur. Then the experience will be guaranteed for another year.