La Digue Island
La Digue is a small and perhaps the most beautiful island of Seychelles. The 10 km² area concentrates luxurious beaches and landscapes that are hard to find elsewhere. Filmmakers and photographers from fashion magazines constantly come to La Digue. On this perfect tropical island, time seems to stand still. The locals move around on bicycles and oxen sleds and amaze tourists with their friendliness.
Save money on your trip!
Video: La Digue Island
General Information
La Digue is close to the larger Seychelles islands – 6 km from Praslin and 43 km from Mahe, with which it is connected by ferry service. The size of the island is 3 by 4 km, with the main territory occupied by impenetrable jungle and cinnamon and coconut plantations.
On La Digue there are only a few small pickup trucks, half a dozen carts, dozens of scooters and hundreds of bicycles – these are the only available modes of transport, which is enough for the 2.5 thousand local residents. The island's inhabitants are engaged in fishing, farming or catering to tourists. La Digue has an atmosphere of remarkable friendliness and tranquility.
Most residents are concentrated in La Paz, on the west coast of the island. There are daily ferries from Praslin. There's also a tourist bureau and dozens of hotels – any from the pier can be reached on foot. Small hotels can also be found in other parts of La Digue.
There is a good road fringed with tropical vegetation along the coast. Heading north, you come to Anse Sever beach. Beyond that the road turns south and passes rocky coves. From May to September the south-east monsoon blows here and the sea becomes very rough. From Anse Banana Bay, hiking trails lead to more secluded coves.
Grand Anse is La Digue's largest beach, but the place is wild, rocky, and dangerous. There are warning signs on the beach in several languages. Powerful currents pose a serious danger to bathers and divers. But Anse Sours d'Argent, which is very close to La Pass, is the true jewel of La Digue.
Anse Sours d'Argent
Climate and weather
La Digue falls under the influence of a maritime subequatorial climate. Due to the Seychelles' proximity to the equator, temperatures vary little throughout the year, and vacationing on the island is comfortable enough at any time. However, the high tourist season on La Digue is from April to October, when rainfall is less likely than in winter. During these months the thermometer reaches +25. +29 ° C, there is a refreshing breeze, and the waves are small. Ocean water is warm, +24. +26 °С. The nights on the island are warm. Even during the wet season, it rains no longer than an hour.
History of La Digue
According to contemporary data, the island was first sighted by the French navigator Lazare Picão in 1742. La Digue did not have a name until 1768, when it was visited by navigator Marc Joseph Marion-Dufresne. The first people settled on the island in 1789, when French colonists arrived here with their African slaves. Most of them returned to France, but some people remained, and some of today's residents bear the same names. More Frenchmen were later deported here, followed by freed slaves and Asian immigrants.
Among the first inhabitants of La Digue were exiles from Bourbon (the French island of Réunion in the Indian Ocean) who objected to the tax increases and the transfer of the island to the British. They settled here in 1798.
In 1854 Father Theophilus built the first Catholic chapel on La Digue. Most of the islanders are of the Catholic faith. French colonists produced coral lime on La Digue, which led to the reduction of the island's coral reefs. They also made copra from coconuts and planted vanilla in their plantations. This tradition was continued.
Walking around the island.
The main hiking route on La Digue is 3 km long. You will see the main sights of the island. Departure is from La Paz.
The walk will take about an hour if you walk, and less if you ride a bike. We recommend leaving enough time for spectacular photos and a swim on the beach at the end of the trip.
1. la Passe
La Passe is now a lively town with several restaurants and bars, a hospital, bike rentals, and brightly painted carts driven by cheerful young people. Continue south. After passing the hospital (on the right), turn left at the first corner. After 200 meters you will see the Chateau Saint Claude.
Chateau St Cloud
This majestic colonial chateau was built in the early 19th century on the top of a hill. Chateau St Claude is surrounded by a garden of breadfruit, mango and papaya trees. The chateau was named after a town not far from Paris. The house belonged to the owners of a large vanilla plantation, one of the oldest families on the island. It is now a stylish hotel with interiors reminiscent of its former grandeur. Turn left beyond the chateau and turn right at the next crossroads to La Veuve Nature Reserve.
The La Veuve Nature Reserve
You will walk through this reserve in less than 10 minutes. There are large takamaka and Indian almond trees where paradise or long-tailed flycatchers like to nest. The locals call them "widowbirds" (la veuve) because their long black tail feathers resemble a widow's veil. You can see freshwater terrapins, Seychelles water turtles and cave salanganes, which live in La Soupap marshland.
Information Center: tel: 234-353. Open: 8 a.m.-4 p.m. Admission is free.
When you leave the reserve, turn left and then left again. After walking 200 meters, you will find yourself at the entrance to Union Manor. You can walk out onto the beach, which runs parallel to the manor.
La Veuve Special Reserve
4. L'Union Estate
This plantation grows vanilla and produces copra and coconut oil. Coconut oil is used in perfumery and cooking. Giant turtles roam the entire plantation. The huge granite rock of La Digue is considered a national monument. Like other granite rocks, it was formed by the gradual cooling of volcanic magma. It is part of the mountains that formed 750 million years ago. The attraction of the estate is the planter's house, the oldest in the Seychelles. The house is surrounded by lawns that overlook the beach.
L'Union Estate. Tel: 234-240. Open: 7.00-17.00. Entrance fee of 7,5 € per person. Turn left into Anse Sours d'Argent beach.
5. Anse Source d'Argent
When you see dozens of bizarre rocks on the path leading to La Digue Island's most famous beach, you probably can't help but be enthralled. Scattered with giant granite boulders, this beach is the perfect place to relax. Even on the cloudiest day, the beach is so romantic that many couples choose this spot for sunset weddings.
Anse Sours d'Argent has repeatedly been recognized as one of the best beaches on the planet. In addition, it is the most photographed beach in the world according to National Geographic. You can see it on most Seychelles postcards. Green palm trees combine with snow-white sand and azure waters of the ocean, and granite rocks complement the landscape. You should enter the water with caution, as sea urchins live here.
Entrance to the beach is paid and is included in the price of the ticket to L'Union Estate. On the beach there is a restaurant, cafes, grocery stores and souvenir stores. On the beach there are always a lot of vacationers.
After swimming and photo shoots at Anse Sours d'Argent, tourists return to La Passe.
Anse Sours d'Argent beach from above
10 things to do on La Digue
Feed giant turtles at L'Union Estate Park.
See the bungalow where scenes from "Goodbye, Emmanuelle!" were filmed, which was the conclusion of the erotic trilogy.
Rent a bike and ride through sprawling palm trees, local vegetable gardens and plantations.
Climb Nid d'Egle mountain and see the whole island in the palm of your hand.
Reach Cap Barbie, to the north, surrounded by two bays and a favorite of artists. This is also where the graves of the first colonists from Réunion Island stand.
Taste Creole cuisine in one of the local restaurants. You can decide if you want coconut curry or bat meat.
Wait for the low tide to go far into the ocean. Wear coral walking shoes.
Dive or snorkel – there are more than 30 dive sites around La Digue.
Take an unusual excursion around the island – by cart or even by helicopter.
Take a break from the crowds of tourists at Anse Coco beach, the road to which runs through the jungle. Grand Anse is also suitable for the same purpose.
La Digue and neighboring islands
From the pier in La Paz, yachts sail daily to the neighboring islands northeast of La Digue. These small islets resemble the mountain peaks of a lost continent that perished in the Great Flood. Large valleys and caves lurk beneath the water. The coastal waters are home to a wide variety of marine life. Here you can see whole flocks of parrotfish, sweet-clawed and grouper. In November, even whale sharks appear here. All islands except Felicite can be visited from Praslin.
Felicite
Felicite Island is located 3 km northeast of La Digue. This private island is covered with dense forest and has magnificent beaches. Tourism is booming on it; 66 magnificent residences await foreign buyers and investors.
Guests at the Zil Pasyon (Creole word for "passions") can enjoy water sports, tennis, great food, relaxing in the beautiful pools, and visiting the world's first wine cellar carved right into the rock. The hotel has a spa complex "Per Aquum" and has its own helipad. The hotel opened in July 2011.
Felicite Island Hotel Zil Pasyon
Grande Soeur and Petite Soeur
These two islands belong to the Morel family of Praslin. They are located 2 km south of the island of Felicite. Grande Soeur has two beaches fringed by coral reefs. Here is the home of the Morel family. Petit Ser, which is three times smaller than Gran Ser, is uninhabited. It is difficult to land on it, as there is no beach. From La Digue, you can get here with an organized excursion that includes swimming and a barbecue. It is possible to spend up to a week on Gran Ser. The Morel family also owns the Chateau de Feuilles on Praslin. On weekends, the island is reserved exclusively for its guests. The hotel also offers a free excursion to the island with a barbecue. Grand Ser can also be visited on weekdays – the ship departs from the hotels in Bai St. Anne.
Gran Ser Island Petit Ser Island
The islands of Cocos, Fouche, Plate and Zave (Ile Cocos, Ile la Fouche, Ile Plate, Ile Zave)
The tiny Cocos Island, surrounded by a coral reef, is just 500m from the north shore of Felicite. From the sea you see green palm trees leaning over the turquoise waters. The shore is studded with smooth boulders. It is an ideal place for snorkeling. In the 1980s, local corals were nearly destroyed by tourists and it was forbidden to visit the island. Thanks to nature's efforts, the coral reefs are gradually being restored. The islands of Fouquet, Zaw and Plat are just granite rocks where seabirds, including petrels and a variety of terns, nest.
Marianne.
Like Petit Sear, this island is uninhabited. It is located 5 km east of the south coast of Felicite. Most of the granite island is covered with coconut palms. Unfortunately, much of the forest, along with the endemic birds that inhabit it, has disappeared, but the northern part of the island of Marianna is showing favorable changes. There are only two beaches on the island. Small boats can only disembark at the western end, which is protected by a coral reef. Masons Travel and hotels and hotels on La Digue organize walks to this island.
Cuisine
On La Digue you can find cafes and restaurants with Creole, Cajun, European, Asian cuisine. It is worth bearing in mind that all establishments take orders before 22:00, later you can only count on a drink. The menu is dominated by dishes from fish, seafood, chicken, rice, vegetables and fruits.
For haute cuisine on the island is responsible restaurant Combava. The place is worthy of celebrating a wedding, anniversary or other significant event here. The restaurant specializes on seafood. Guests are surprised with a duo of hot and cold shrimp, crab risotto, tuna pate and other delicacies. For dessert, chocolate fondant with ice cream is served. The meal is accompanied by Prosecco. Dinner for two will cost at least 150 €.
Combava Lamb rack and ratatouille at Combava The signature octopus salad at Rey & Josh Cafe Takeaway
The leader according to travelers was the inexpensive Rey & Josh Cafe Takeaway, which offers both African and international snack options. Food can be taken to go. Specialties include octopus salad, vegetarian curry, and grilled fish. The prices are pleasantly surprising, especially by Seychelles standards – you can have a lunch for only 4-5 €.
Enjoy the ocean and a hearty dinner at Le Nautique Waterfront Restaurant, located in La Passe. Try the king prawns in garlic sauce, ribs in Takamaka rum or the king burger.
For fresh juices and tasty cocktails, head to Café Chez Jules on the east side of La Digue. Tourists often praise the mango fraiche. You can also enjoy Creole cuisine here. If you don't want to travel far, La Paz has a bar called Fruita Cabana.
Among other places on the island, Mimi's Cafe, Mi Mum's Takeaway, Le repaire, Lanbousier have a positive reputation.
Le Nautique Waterfront Restaurant bar Grilled fish at Lanbousier
Where to Stay
La Digue, despite its tiny size, has about 90 hotels, villas and hostels. Fans of the tropics and secluded holidays book accommodation in the center of the island, and water lovers prefer to stay as close to the beaches as possible.
One of the best is considered a four-star hotel Le Domaine de L'Orangeraie Resort & Spa, located in the north of La Digue. Guests are accommodated in luxurious villas standing on stilts. You can also experience the romance of the island at Chateau St Cloud, which has the same star rating but costs times less. Nearby is the Cocotier du Rocher 3.5*, a mini-hotel surrounded by a garden. Patatran Hotel 3* has rooms with mesmerizing ocean views and a good cafe.
Le Domaine de L'Orangeraie Resort and Spa Chateau St Cloud Cocotier du Rocher 3,5* Patatran Hotel 3*
Budget accommodation is offered by the charming Hotel L'Ocean 2,5*. A small and cozy hotel is perfect for family vacations. You can also stay at the Oceane Self Catering for a low price. The hotel is run by cheerful and energetic hostess Marie. Remarkably, some guests return every year.
Hotel L'Ocean Oceane Self Catering
How to get there
You can get to La Digue by boat or helicopter. Tourists usually arrive on the island from Praslin or Mahe. The Cat Rose with 150 seats and the Curieuse and Silhouette schooners sail between La Digue and Praslin several times a day. Travel time is from 15 to 30 minutes. Also, 1-2 times a day between the islands of Mahe and La Digue, with a stop in Praslin, goes catamaran Cat Cocos. Often travelers take a complex ticket for the ferry Mahe – Praslin – La Digue. An adult ticket to La Digue and back costs approximately 22 € from Praslin, 112 € from Mahe.
Private flights are operated by the local airline Zil-Air. The cost of the ticket depends on the number of passengers, helicopter model, weight of luggage. The price varies from 345 to 2500 € for the flight, the exact information the company provides only on request. The trip may include a small sightseeing tour. The flight from Mahe to La Digue lasts 17 minutes, from Praslin no more than 7 minutes.
La Digue Island in the Seychelles – what you need to know
La Digue Island is the fourth largest island in the Seychelles archipelago chain, but that doesn't make it so important. Picturesque panoramic landscapes, turquoise ocean waters, beaches with soft sand and huge granite boulders, lush greenery of exotic vegetation, unusual entertainment – all this, like a magnet, attracts filmmakers, photographers and ordinary travelers to this corner of Seychelles.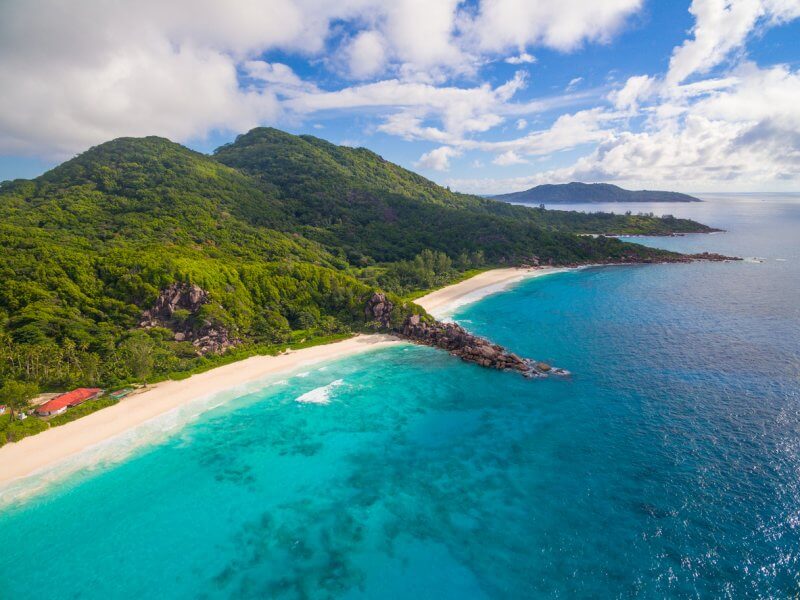 General Information
La Digue is located in the Indian Ocean and is part of the Seychelles archipelago. It is separated from the largest island of the Seychelles, Mahe, by 43 kilometers, from Praslin – another major island – only 6 kilometers. The area of La Digue is very small, a little over 10 km², with a maximum width of 3.3 km.
La Digue was discovered in 1744, but was not named until 1768, when the navigator Marc-Joseph Marion-Dufresne visited there.
La Digue belongs to the state of Seychelles. The island's capital is a small village of La Passée.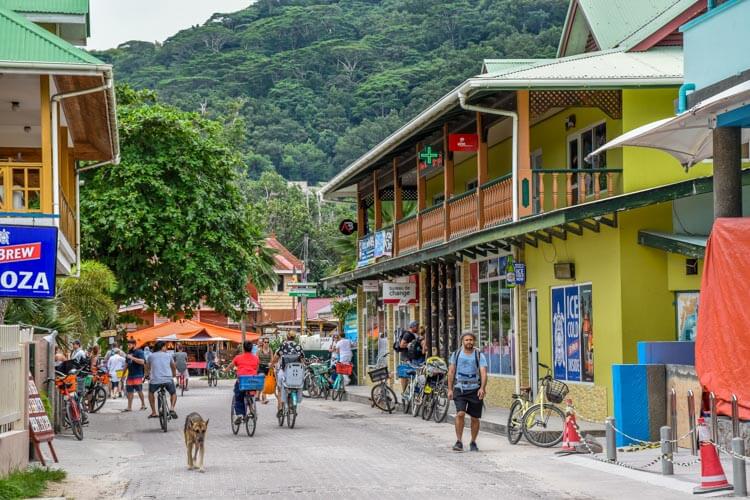 Because of the small area of the island and the large-scale jungle that covers most of the land, the main transport are ox-drawn carts, bicycles and scooters. Previously, there was a ban on the use of motor vehicles on this island of Seychelles, but now there are already cabs and even an auto repair shop.
Good to know! You can rent a bicycle on La Digue as soon as you arrive – there are rental shops on the pier.
The island's small population – about 2,500 people – lives in La Passe. The main source of income of local residents is tourism.
The main reason why tourists go to vacation on this island of Seychelles – the magnificent sandy beaches. On this site, you can see an up-to-date map of La Digue Island with beaches and the most important information about them.
Beaches are the main attraction of La Digue Island
Among the attractions of La Digue in the Seychelles are the old Creole wooden houses in La Passe and the graves of the first colonizers from Bourbon Island (Reunion), located in the northern part of La Digue, at Cape Barbie.
Interesting fact! La Digue's main man-made attraction is a Creole-style bungalow built in the 18th century. In 1977, some scenes of the French movie "Goodbye, Emmanuelle!" were filmed there. Now the president of Seychelles lives in this bungalow.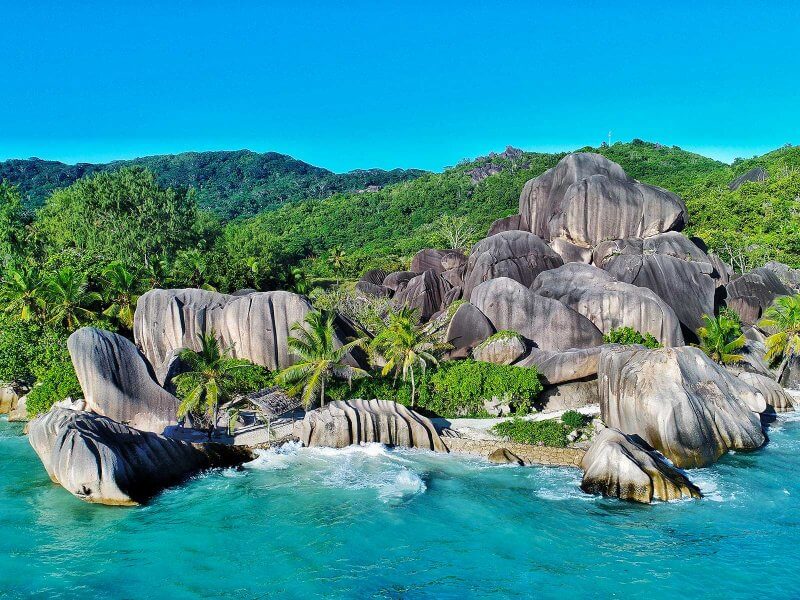 And yet La Dig is interesting mainly for its natural attractions. In general, the entire coastline of the island – a series of picturesque bays with beaches. Covered with snow-white sand and decorated with sculptural boulders, they are surrounded by granite hills and dense jungle. Because of the large waves, swimming off the coast of La Digue Island is very difficult and in some places even dangerous.
The beach "Silver Spring" – this is how Anse Source D'Argent is translated – is not only the most popular on the island, but one of the best in the world. It's its spectacular scenery is captured on most postcards and photos promoting La Digue and the Seychelles.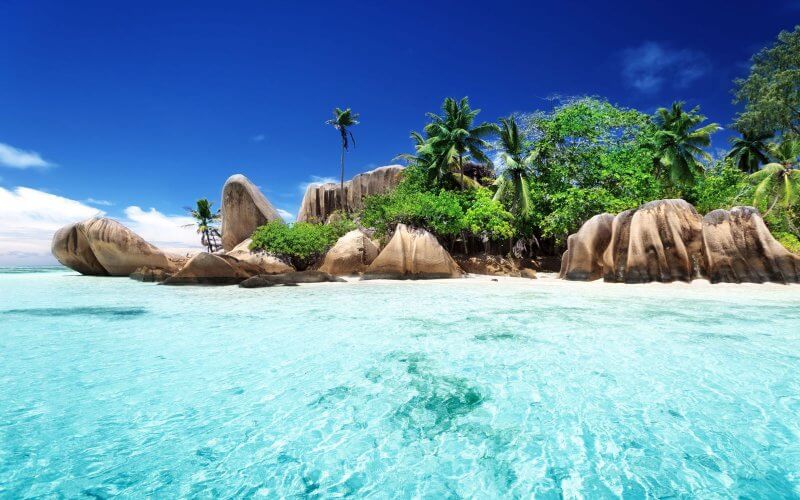 The shoreline consists of several small plazas separated by huge granite massifs painted pink in the morning and red at sunset.
Anse Sours d'Argent is securely protected by a reef, so the ocean here is very calm. The water is clear, but its appearance is sometimes spoiled by algae. It is very shallow, with soft sand underfoot. All this makes this part of the Seychelles coast ideal and safe for holidays with children. Anse Sours d'Argent is also considered a relatively good place for snorkeling: the shallow water makes swimming a little pointless, but you can always swim away.
The beach is popular and therefore always crowded.
There is a restaurant and cafe on site, and there are grocery and souvenir stores.
Tip! Visiting Anse Source D'Argent is best in the early morning, before the arrival of the day tours from Mahe and Praslin.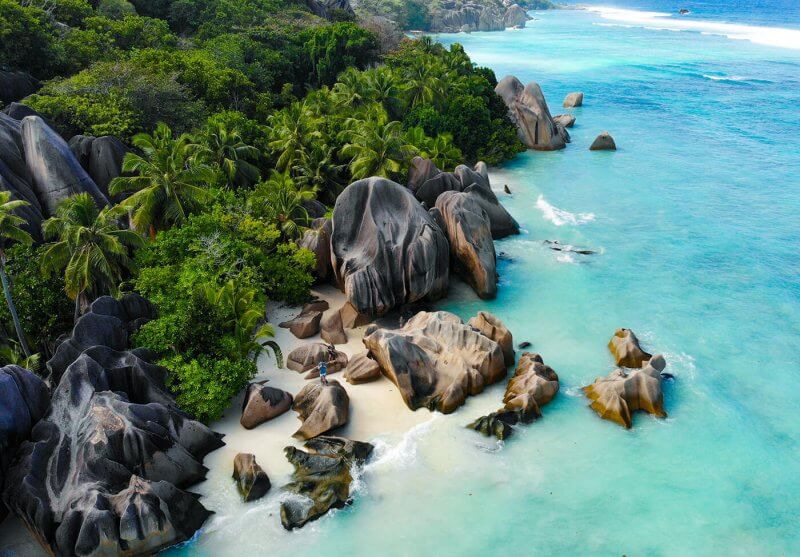 Anse Source D'Argent is located at the far end of the L'Union Estate National Park, which dictates certain restrictions:
The Union Estate Park closes its gates at 17:00. Accordingly, you can stay on the beach until 17:00.
To get to the beach, you must pay a fee of 115 rupees (approximately $8) to enter L'Union Estate. This fee also allows you to explore the entire park and visit the museum.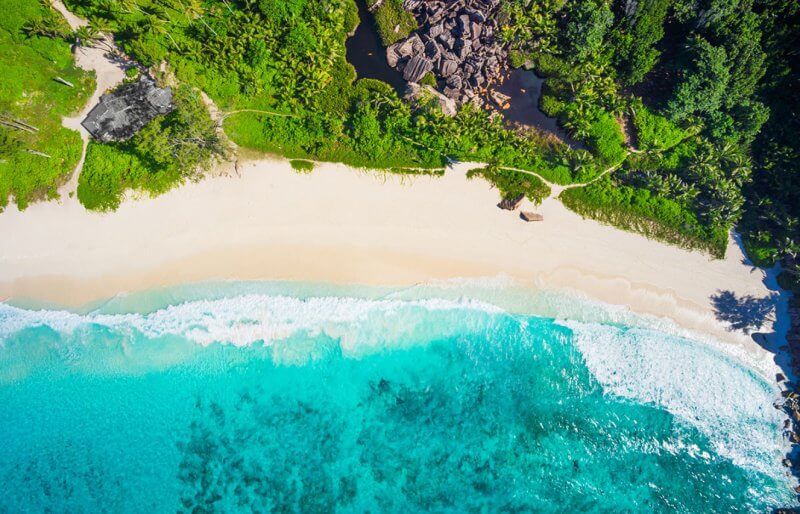 Anse Cocos is located in the southeast of the island. This picturesque area of La Digue Island in the Seychelles is perfect for photo and video shoots and, of course, sunbathing. Swimming in the open ocean in Anse Cocos is quite dangerous because of strong undercurrents and large waves. For this, it is better to go to the natural pools, which are at the end of the beach – there are huge boulders reliably protect against waves.
Anse Cocos is crescent shaped, with cliffs on either side of the beach and bright green jungle growing behind the shoreline. The coast is covered with white fine sand and black boulders, the descent into the water is steep and rocky, there are shoals. There are a lot of rocks at the bottom.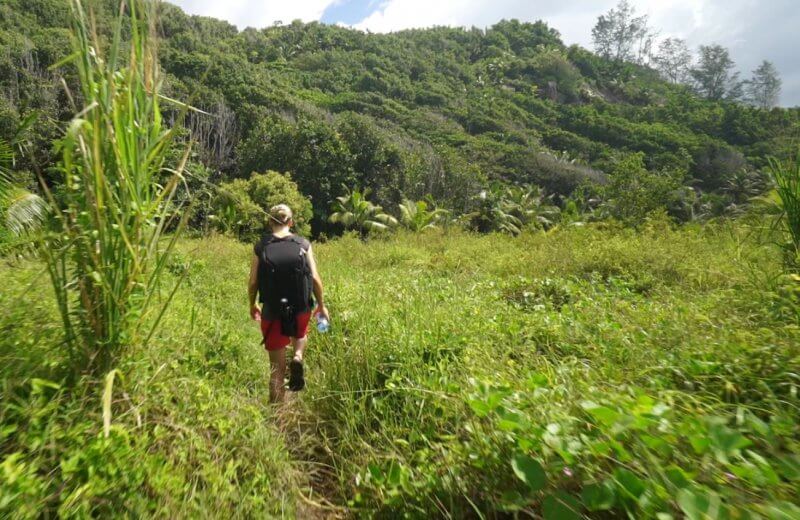 The trail to Anse Kokos is not marked and it is difficult to find it without a guide. There are organized walks from Grand Anse Resort, it takes about 30 minutes to get there. Because Anse Cocos is more isolated than other beaches on the island of La Digue in Seychelles, it is not very crowded.
The infrastructure there is not developed. Everything you might need for recreation, including food, is worth taking with you.
In the southeastern part of La Digue is Grand Anse, the best beach not only in Seychelles, but also on the planet, according to CNN 2013.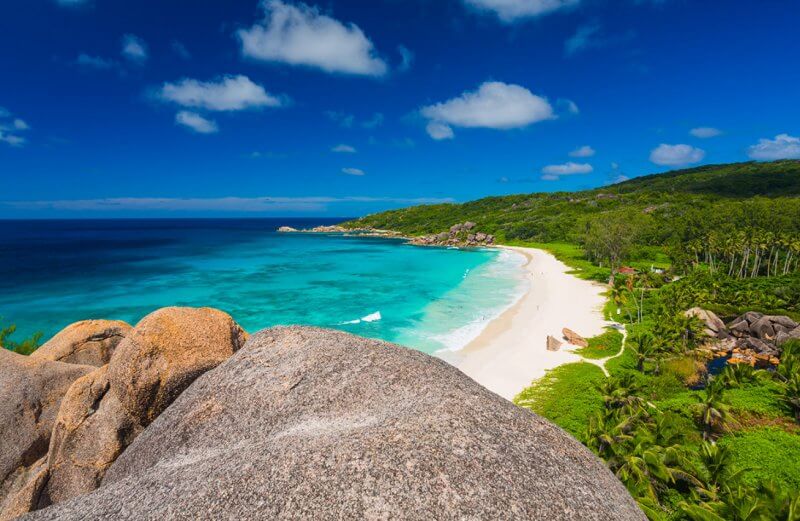 The coast there is wide and long (up to 3 km) – it is the most spacious sandy beach on the island, and it is surrounded by tall granite cliffs.
Although the waters at Grand Anse look calm and tranquil, it is dangerous to swim there because of strong undercurrents. People come there mainly to admire the spectacular views.
Infrastructure in Grand Anse is poorly developed, on the west side there is a kiosk with drinks.
Tip: You should come to Grand Anse as early as possible to get a spot with guaranteed shade. Before noon you can still hide under the palm trees or protruding rocks, and then only in the "dens" between the large boulders.
La Digue Island in Seychelles boasts another beautiful beach area on the east coast.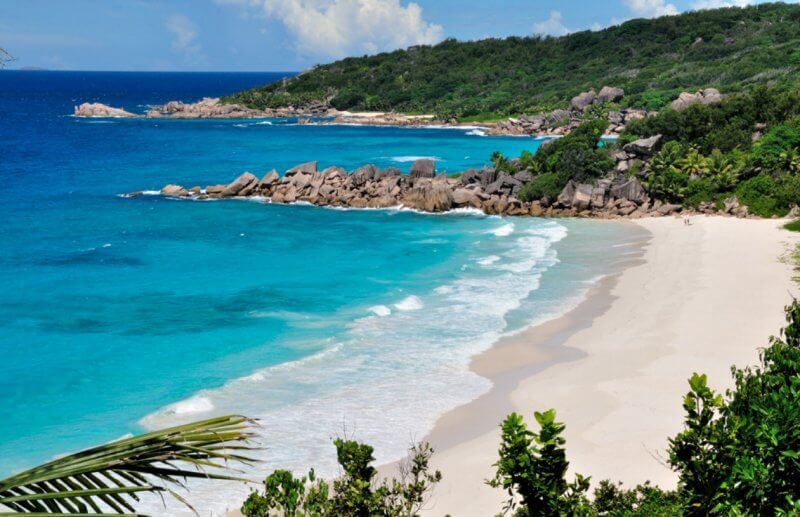 Petite Beach is a secluded wilderness with no infrastructure. Water, food, towel, panama and sunscreen all have to be brought with you. There's a tiny café, and if you buy refreshments there, you can take shelter in the perimeter huts. Natural shade can be found among the large rocks.
Because of the strong undercurrents, Petite Anse is not at all suitable for swimming, but it's an ideal spot for picnics and sunbathing.
The coast here is covered with fine white sand, but there are stones.
You reach Petit Anse by walking up the hill from Grand Anse beach.
Anse Marron is a beautiful small beach in the bay of the same name on the southwest coast of La Digue, which can be classified as the island's landmark. You have to get there through the forest, climb granite boulders and squeeze through the narrow passages between the rocks. It is not easy to get to the beach, but it is definitely worth the effort.
It is best to go to Anse Marron with a guide and to take coral slippers and sneakers with "vibram" sole.
There are no hotels or cafes on Anse Marron. Shadow gives only huge boulders – under them you can take cover, sitting directly in the water. The water temperature is very pleasant and comfortable. Although, because of the raging waves, to swim and especially to go far away is not recommended!
Anse Severe is located in the north of the island, near the pier in the town limits.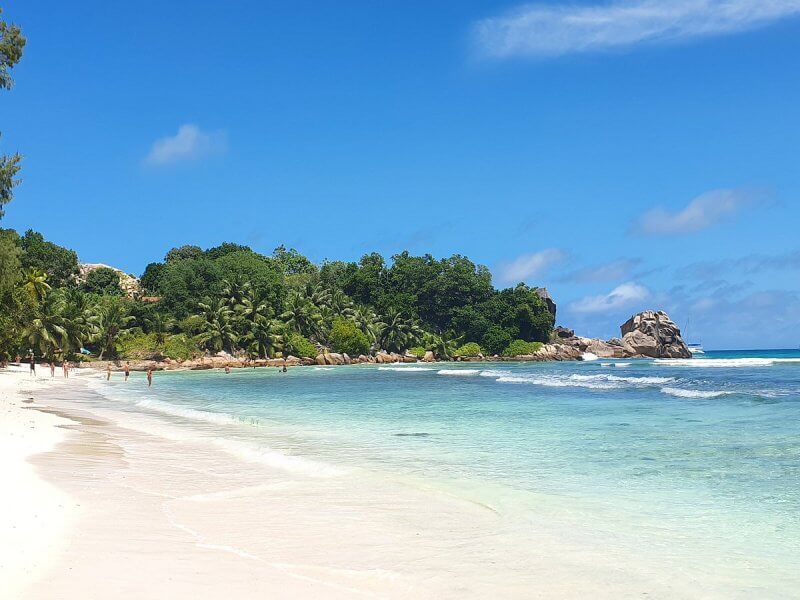 The beach strip is very long and wide (about 70 meters) at low tide, while at high tide it becomes narrow. In the morning, at low tide, it is incredibly shallow, but after 12 it is quite possible to swim. And in the evening, as everywhere else in spring in the Seychelles, the waves intensify and become quite large.
There are almost always a lot of people on Anse Severe – it usually attracts guests from nearby gesthouses and small hotels – but there is enough space for everyone and no one disturbs each other. The shade provided by the trees there is enough for everyone.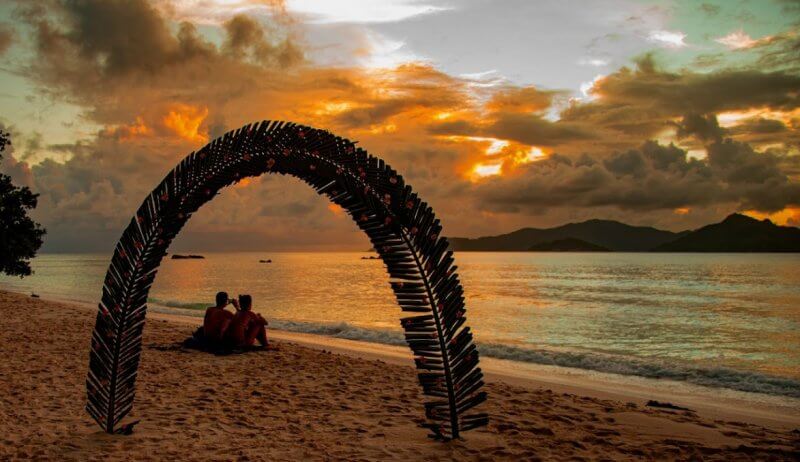 Anse Severe is one of the best places for snorkeling, not only in La Digue, but also in the Seychelles archipelago.
At the far, northern end of Anse Severe, there's a small bar, two pretty good gestation houses, a simple souvenir store. Next to them walks a large turtle, with which you can take pictures for free.
The beach area of Anse Patat in the north-east of the island belongs to the Patatran Village Hotel, but like all the beaches of La Digue and the Seychelles, entry is free.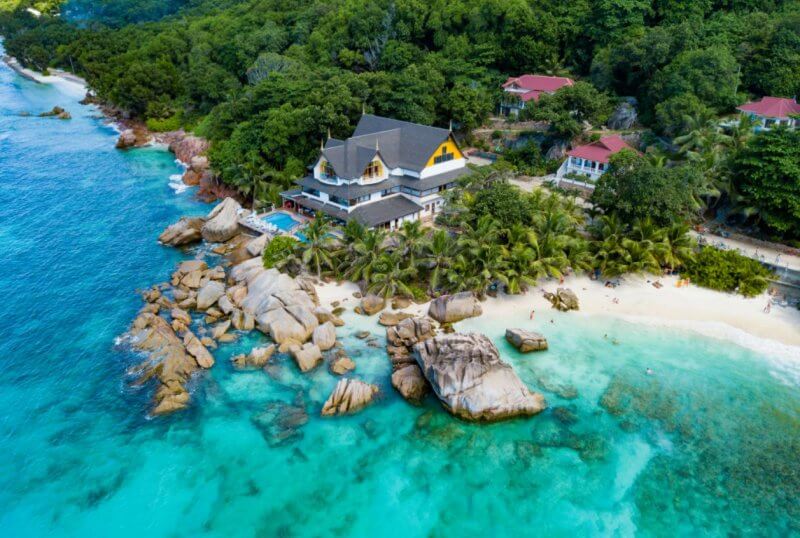 Anse Patat is very small, surrounded by rocks and palm trees. You have to go down to the water by steps, and the descent is quite difficult – sharp, steep, with sharp corals. The depth at once quite decent, especially at high tide. By evening, the waves are stronger, making it even harder to swim.
Nevertheless, at Anse Patat, many venture into the water for snorkeling, as this is one of the best snorkeling sites in Seychelles. At low tide, the beach is shallow, but not far from the shore, the depth is still deep enough for safe swimming.
Diving and snorkeling at La Digue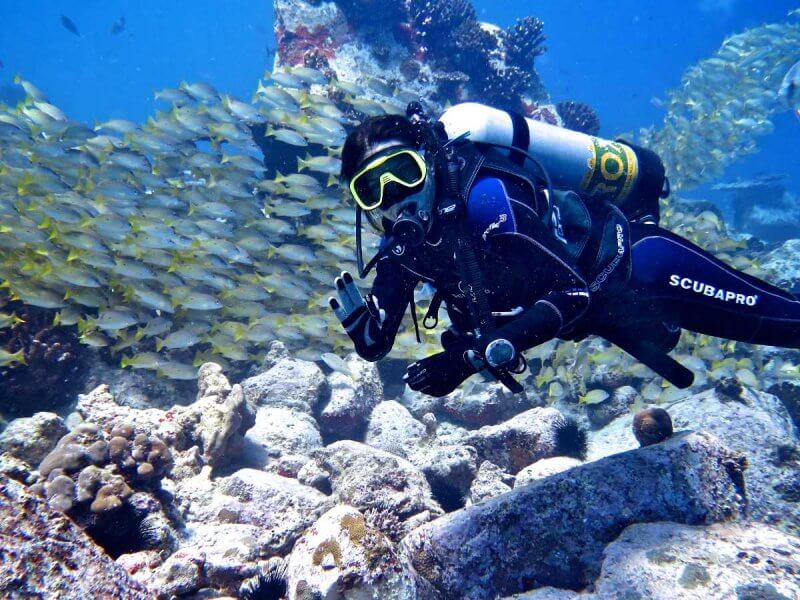 La Digue is considered one of the most popular diving and snorkeling spots in Seychelles. Near the island, there are about 30 sites that introduce the underwater world of the Indian Ocean. Diving sites are within 15 to 40 minutes boat ride from the coast of La Digue. Diving depths are within 10-30 meters, the topography is represented by granite formations and coral reefs with a variety of underwater inhabitants.
Some of the most famous dive sites in Seychelles include: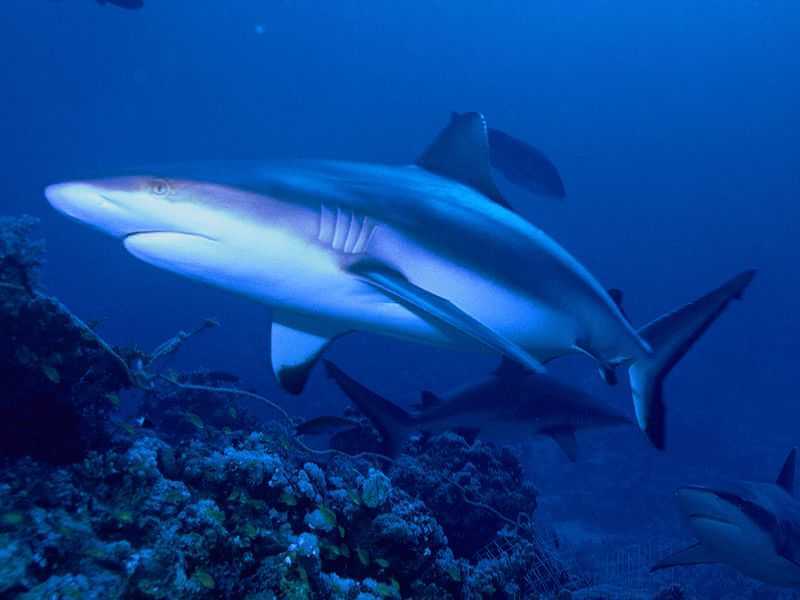 North Island and Housereef are the most interesting coral reefs in the area, which are suitable for everyone. The main condition is to have good buoyancy skills. Local residents: reef fish, moray eels, eels, sharks of different species.
"Ave Maria" are granite rocks with numerous underwater passages, standing around a coral atoll. Stingrays and reef sharks are among the main local inhabitants.
"Coral Garden" is a place where you can admire a variety of corals.
Anse Mondon is great for learning to dive and snorkel. Stingrays and sea turtles are found here.
"White Bank and Channel Rocks are home to lobsters, octopus, and unicorn fish.
Black Rock and Flat Rock – there are small caves where you can meet stingrays, puffer fish, puffer fish, and angelfish.
"West Sister Rock and Grand Seur are capable of pleasing encounters with gray sharks and large barracudas.
Richards Reef and Morane Bank – these sites in the Seychelles with a depth of 25 meters and a variety of underwater inhabitants are popular among fans of night diving. Keep in mind that there are strong undercurrents.
The bay of Anse la Mouche has stunning coral reefs: Oscar's Reef and Alice in Wonderland. Do night diving and watch the huge clams Spanish Dancers.
You can go snorkeling on many beaches in La Digue, such as Anse Source D'Argent, Anse Severe, Patatran Village Hotel. But for such activities is more suitable the neighboring island Ile de Cocos.
Where to stay on La Digue
La Digue Island in Seychelles has an excellent hotel infrastructure: there are 7 modern hotels, as well as a couple dozen mini-hotels, villas and gesthouses with comfortable rooms.
Almost all hotels have internet access, operate restaurants and spas, arrange excursions, and offer bicycle rentals and diving equipment.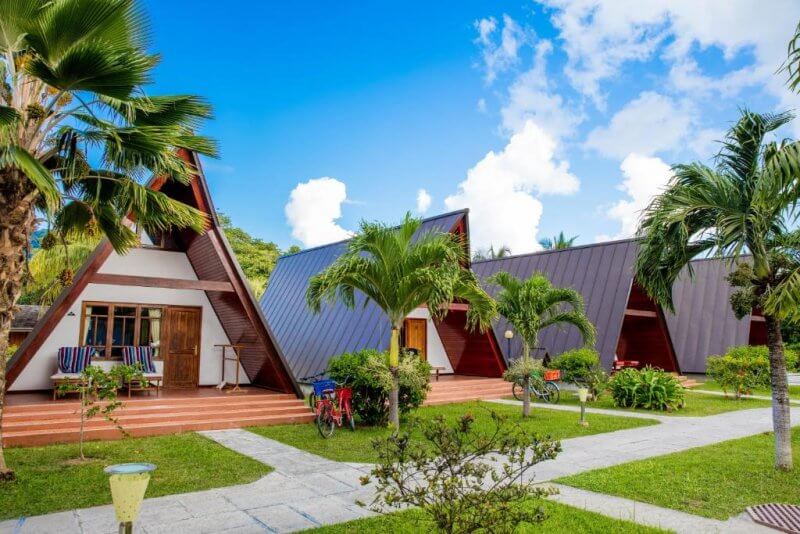 La Digue Island Lodge.
The most popular and comfortable hotels on La Digue are La Digue Island Lodge, Le Domaine de L'Orangeraie, Le Repaire Boutique and Casa De Leela. Rooms in these hotels cost from $ 300 per day, and it is desirable to book them several months before the trip.
There are hotels where you can rent rooms at more democratic prices – from $100 per day. These are: Kot Babi, Villa Creole, L'Union Estate Beach Chalets, Kot Babi.
Locals rent their cottages to tourists even cheaper – from $50 per day.
How to get to La Digue
There are two ways to get to La Digue when you arrive to Seychelles. You can get directly from Mahé, where Seychelles International Airport is located. Or you can take a domestic plane from Mahé to Praslin and from there follow to La Digue.
Generally, there are daily ferries between Mahe and Praslin and Mahe and La Digue. The Cat Cocos ferries between Mahe and La Digue almost always stop at Praslin. In addition, 1-2 times a day you can get from Mahe to La Digue on a high-speed catamaran with a direct flight.
The journey by water from Mahe takes 1 hour 45 minutes, the ferry from Praslin to La Digue takes 30 minutes.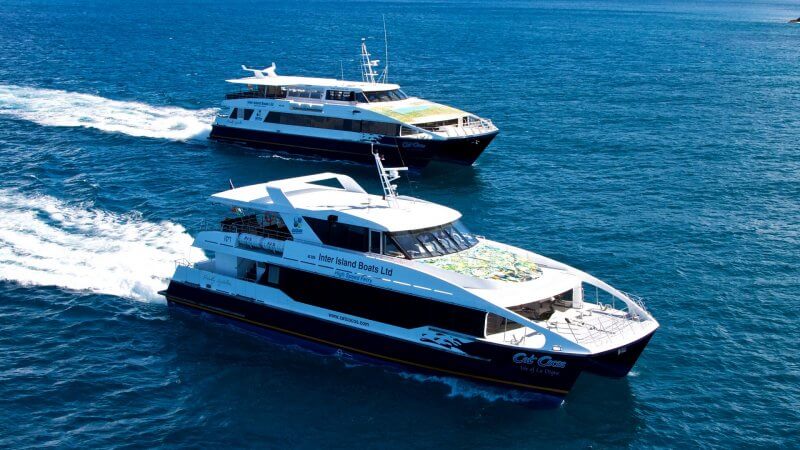 Booking a ferry ticket is advantageous on the website www.seyferry.com. In this case the prices are about $13 less than if you buy the tickets at the port office.
There are 3 classes:
Economy Class on the Main deck (Main cabin, Coco De Mer). Full ticket for the Mahe – La Digue flight is $70, ticket for children 2-12 years old is $35.
Upper deck economy class (Upper deck, Island Hopper). Adult and child tickets are $75 and $40.50 respectively.
Business Class (Lazio Lounge) offers tickets at these prices: adults $93, children $52.
Important: Depending on how the situation with pandemic Covid-19 develops, ferries can run on a reduced schedule. Each month they publish a schedule for the following month, and the online reservation site always shows the available flights.
In Mahe, the airport and the ferry pier are connected by a special bus. The trip lasts 15-25 minutes. The fare for an adult is $11.5, for a child $6. You can also take a cab, which costs $35-40.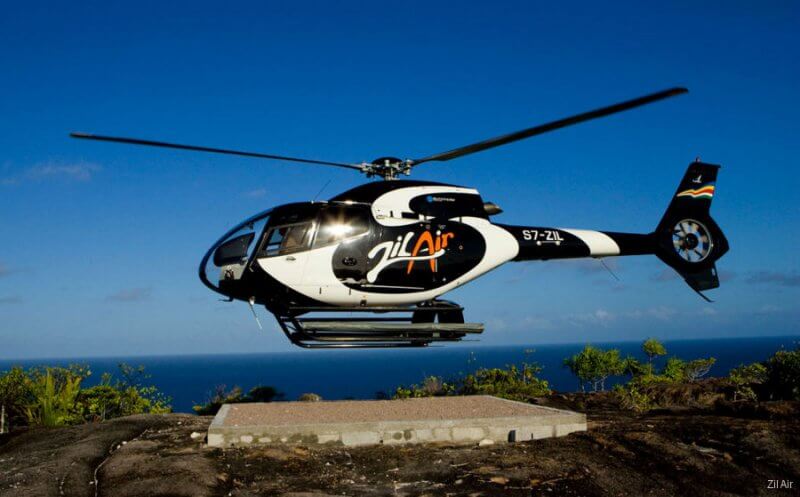 There is another way to get from Mahe and Praslin to La Digue: use Helicopter Seychelles or Zil Air helicopter transfers between Seychelles islands.
Of course, the flight will cost several times more than the ferry trip, but the travel time is much less: from Mahe to La Digue island you can fly in 10 minutes.
Video: overview of La Digue Island, its beaches and prices and other useful information for travelers. Take a look for sure!
Author: Irina Kovaleva
The island of Curacao – the pearl of the Caribbean. Its area reaches 444 sq. km.
Updated: June 23, 2021 The island of Penang (Malaysia) is located near the coast of Malacca Peninsula, which,…
Updated: 1 May, 2019 Zoklet Beach, or Doklet, is one of the most…
Updated: 4 Mar, 2020 The island of Kefalonia (Greece) is a beautiful vacation spot that will please…