Korean cuisine
Popular easy salad Korean-style Carrots. Homemade recipe for making spicy Korean carrots. Added by:
Korean Kimchi 3.9 20
I recently learned a very remarkable recipe. Told it to me by a friend who was in Korea the other day for work. Now I know how to make Korean-style kimchi, a savory snack. Added:
Hee Fish 4.2 13
This classic Korean recipe is enjoyed by anyone who has ever tried a quality cooked "Hye." Any non-skinned fish will do. I make it with trout. Added by: Dashunia on 03/09/2017
Pyang se 4.8 9.
Piang se are Korean yeast patties with a cabbage-meat filling. They are steamed and are part of fast food. Watch how to make pyeong se and try these delicious patties. . more
Kamdi Cha 4.6 8
Here is a sample of how to make Kamdi Cha, a potato salad popular in Korea. You can serve this tasty and healthy salad alone or as a side dish. Cooking? Added by: Daria Vakulova on February 19, 2017
Kimbap 4.3 8.
Kimbap is a Korean dish, the idea of which is borrowed from the Japanese. Basically, the same rolls, but with a filling of smoked fish, roasted meat, sauerkraut, omelet. Delicious, hearty and spicy! Added:
Hee fish with carrots 4.4 7
This modification of a traditional Korean recipe may seem sacrilegious to connoisseurs. However, practice shows that a tasty dish deserves attention, even if it has room for experimentation. Added by: Dashunia 22.02.2012
Carrotroot 4.2 6
Carrotroot is a Korean-style carrot. The recipe I will tell you about, I learned from friends who were visiting in Korea. After all, every Korean there has his or her own special recipe. Be sure to make this savory appetizer. Added by: Sigma002 on 08/10/2009
Korean Eggplant Salad 4.5 6
Korean Eggplant Salad is a vegetarian oriental dish that looks very beautiful and appetizing. The salad is made with vegetables, sesame seeds, and soy sauce with a little vinegar. Very tasty!
Smoked chicken and carrot salad 4.5 6
A simple yet festive salad with smoked chicken. I added fresh cucumber and hard-boiled eggs for a fresh and hearty salad. Dressed with homemade mayonnaise. See recipe!
Kadi-cha 4.6 6
Kadi-cha (kadicha) is a flavorful hot eggplant salad with spices. Coriander, cilantro, and hot peppers are commonly used in Korean cuisine, and they are what give the vegetables a delightful flavor and spice! Added:
Korean Style Pork Ear Heats 3.8 5
Pork ears are cooked in many different ways. They are fried, boiled, and pickled. Today I want to share with you an original recipe for making Korean-style pork ear chews. It is delicious and unusual. Added by:
Ve-cha 4.7 5
I want to introduce you to the Korean dish "Ve-cha". The appetizer is served both warm and cold. The taste is amazing, fresh, spicy, interesting, definitely worth a try! Added:
Korean-style beets for winter 4.3 5
Do you like spicy salads? Then you'll love this recipe, it's moderately spicy, flavorful and keeps well in a cool place all winter! So, let's see how to make Korean style beets! Added:
Cho-kogi pogym 5.0 5
Cho-kogi pogeum is the national Korean dish. You have to admit that we don't eat Korean food that often! But in spite of its complicated name, it's a very simple dish! Come on in and I'll show you how to make it! Added:
Korean style zucchini 4.1 4
Breaking the stereotype that Korean cuisine uses ingredients we don't know about. Korean style zucchini is a very simple and delicious dish that we can borrow from the Koreans. … more
Korean style herring 4.6 4
Korean-style herring is a wonderful appetizer of herring in the Asian style for both everyday and festive table. It takes time to prepare, but believe me, it's worth it. Added:
Korean Chicken 4.4 4
This is a very interesting recipe of traditional Korean cuisine is easy to prepare and with a minimum of ingredients. The chicken turns out very tender, juicy, incredibly tasty and beautiful. Added by:
Rawhide Korean-style carrots 3.9 4
Let's cook some carrots. I usually make it with boiling oil, but this recipe is easier, but the carrots turn out just as tasty. Added:
Pickled Korean-style cabbage 4.2 3
Dishes with the prefix " Korean " many Slavs take with great delight. Most often, the prefix " by – Korean" means something pickled, spicy. This recipe is no exception. Added:
Korean-style mackerel 4.2 3
Delicious spicy raw fish snack is one of the variants of the famous dish based on Korean cuisine. Tasty, inexpensive, very easy to prepare and quick to eat. Appreciated by men! Added:
Korean Eggplant for Winter 4.1 2
For eggplant lovers, I want to share a recipe for a very tasty starter for the winter. It turns out spicy, tangy and very tasty! Added by: Julechka on 08/11/2021
Salad with smoked chicken and Korean carrots 3.6 2
Light salads are the most successful. They can even be without dressing. The abundance of vegetables, well chosen products make them very successful dishes when chosen by hostesses. Added:
Korean spicy carrots 4.6 2
A quick and easy way to make a tasty carrot salad appetizer. Affordable products and spices, great results. … more
Tomatoes and carrots 4.7 2
I offer a bright and juicy tomato appetizer for your table. It's very spicy, spicy and of course delicious! Write down the recipe on how to cook tomatoes with carrots in Korean. Added by: Daria Vakulova on 08/11/2016
Korean-style kuksi 3.5 2
Something I've been turning to Korean cuisine more and more lately. And it's probably because I like something spicy and fresh. I'm also fascinated by combinations of different flavors. Added:
Korean Cucumbers with Meat 4.1 2
If you are a fan of Korean inspired dishes, you will love this salad or appetizer. It's unusual, tasty and can be prepared in advance, making the dish even tastier. Guests will love it! Added by:
Soy Sprouts 4.7 2
Elastic and crispy, greenish-yellow soy sprouts are considered very healthy. If you eat them regularly, you can replenish your body with missing vitamins. Soybean sprouts are used in salads, vegetable and meat dishes cooked in a quick fry method. I will tell you how to cook soy sprouts … more
Korean style zucchini salad 4.4 2
Do you like Korean style salads? You'll love this recipe because it's the perfect way to make Korean style zucchini salad as a party snack. It's ready in a snap! Added:
Korean Salad with Green Beans 5.0 1
Everyone is familiar with the Korean-style carrot salad, but few have tried adding green beans to it. It turns out an interesting, colorful salad that will decorate the holiday table and diversify the everyday. Added by: Sigma002 on May 24, 2019
Korean-style cucumbers for winter without sterilization 4.3 1
Korean-style cucumbers for the winter – a great kind of preparation. Fragrant and crunchy salad, will be a great appetizer, as well as a good side dish to meat, poultry, hot potatoes … more
Korean-style cauliflower 3.9 1
We got used to Korean-style carrots a long time ago, but you can make a similar snack with cauliflower as well. Personally, I like this version even better. It turns out spicy, crispy and very tasty.
Korean style kebab 4.9 1
It is not at all difficult to cook Korean-style kebab. It's all about the soy marinade. Marinate kebab and it's done! I first tried Korean style shish kebab in a cafe, and I copied the recipe from the menu! Added:
Korean Seaweed Soup 4.6 1
Fans of Asian dishes should like this soup. The cooking process is not complicated at all, so no need to run to a Japanese or Chinese restaurant, we cook ourselves. Added:
Korean chicken salad 3.7 1
Delicious and quick salad. The chicken must be boiled, the rest of the ingredients chopped … more
Korean Fried Courgettes 3.4 1
Korean fried zucchini is a very tasty and rich dish suitable for lunch or dinner. A special feature of the dish is the sauce, moderately spicy and tangy, which goes perfectly with the zucchini … more
Salad with Korean carrots and chicken 3.9 1
This is one of my favorite salads. It's often served at the holiday table. It's quick enough to make if you have pre-boiled beans. Added:
Layered salad with Korean carrots and chicken 3.7 1
You will need any meat part of the chicken for this salad. I chose the ham: it's not as dry as the filet, and it has enough meat for two servings of salad. Check out the recipe! Added:
Chicken and Korean Carrot Salad 4.0 1
With ready-made chicken, the salad is ready in minutes. The meat can be taken boiled, grilled or smoked … more
Pickling Korean-style Chinese cabbage 4.0 1
This cabbage is said to be an excellent remedy for the prevention of viral diseases. Koreans use it regularly. Let's try cooking it together!
Confirm deletion of recipe
You cannot cancel this action.
You may vote for only 1 recipe. Are you sure you want to vote for this recipe?
Korean cuisine
Korean cuisine is one of the Far Eastern culinary cuisines whose traditions are spread throughout the Korean Peninsula.
Perhaps the main features of Korean cuisine are the very active use of red pepper and garlic, as a result of which the dishes of Korean national cuisine differ primarily in their spiciness. Koreans are even called Asian Mexicans. Interestingly, it was Europeans who brought the red hot pepper to Korea relatively recently. Prior to that, Korean traditional cuisine was not distinguished by its hotness, but hot peppers became phenomenally popular in a very short period of time, and today it is simply impossible to cook most local dishes without hot peppers.
Also, the culinary use of wild, medicinal plants is very popular in Korea. Korean traditional cooking is very closely related to traditional medicine. In particular, Koreans use the medicinal plant ginseng not only as a medicine but also as a condiment.
Just like the Japanese, Koreans eat a lot of seafood, fish, and seaweed. Moreover, fish, just as in Japan, is often served completely raw.
Pasta and rice are the basic elements of the Korean diet. Rice is sometimes served separately as a side dish, but much more often Koreans prepare bibimbap, served boiled rice with a variety of ingredients that each individual eater mixes on his or her own plate. Korean pasta dishes are not much different from Chinese pasta dishes, except that they are much spicier.
A very important part of the Korean table is panchang, spicy cold snacks that are usually served in small dishes. The number of varieties of cold snacks determines the richness of the Korean table. The most popular variety is kimchi (Beijing cabbage with red peppers, salted fish innards, and other ingredients), but there are hundreds of other variations of banchan.
Fried meat is another important part of the Korean diet. Raw meat in Korea is usually cut into thin slices, marinated in soy sauce and spices, and then quickly roasted over an open fire. Fried meat is usually served with boiled rice and some kind of spicy sauce. The most popular type of meat is pork.
During the cold season, Koreans warm themselves with spicy hot soups, variations of which abound. Korean soups do not have the same composition of ingredients as European ones: seaweed, soybean paste and kimchi are added to them. And, of course, hot peppers. There is also a variety of thick soups that resemble stew – such soups are usually prepared from meat or fish with the addition of vegetables and spices.
As in other Asian countries, the number one drink in Korea is tea. Korea is famous for its use of a great variety of medicinal herbs, hence the number of varieties of tea in this country is enormous. Korean alcoholic drinks are unoriginal and do not differ from those of other Far Eastern countries. It is customary here to divide alcoholic beverages into two categories: fermented (yellow drinks) and distilled (white drinks). Korean alcoholic beverages also include a large number of medicinal herbs and plants of all kinds.
Recipes for Korean dishes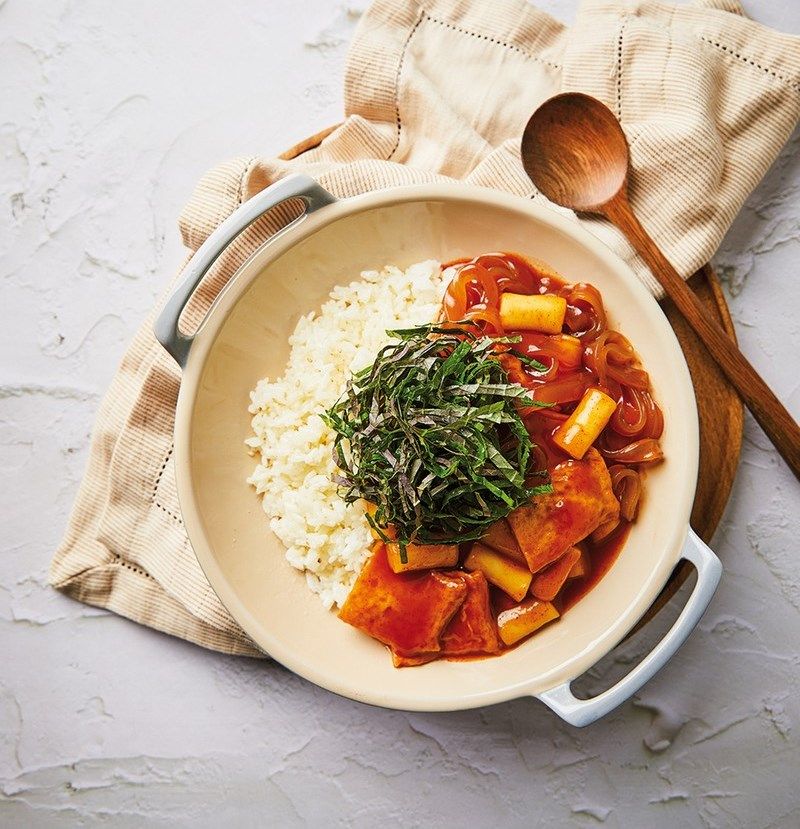 Tokpokki with rice and hot sauce (Tokpokki donbap) is a dish with one of the most popular combinations of ingredients in Korean cuisine. Seasoned cooked white rice, Tokpokki rice flour dumplings in bar form, rice noodles, and a spicy sauce based on Kochudyang paste, the No. 1 seasoning in Korean cuisine. This dish is budget-friendly, hearty, and very easy to make. The sauce in which the ingredients are stewed gives the treat a spicy-sweet taste.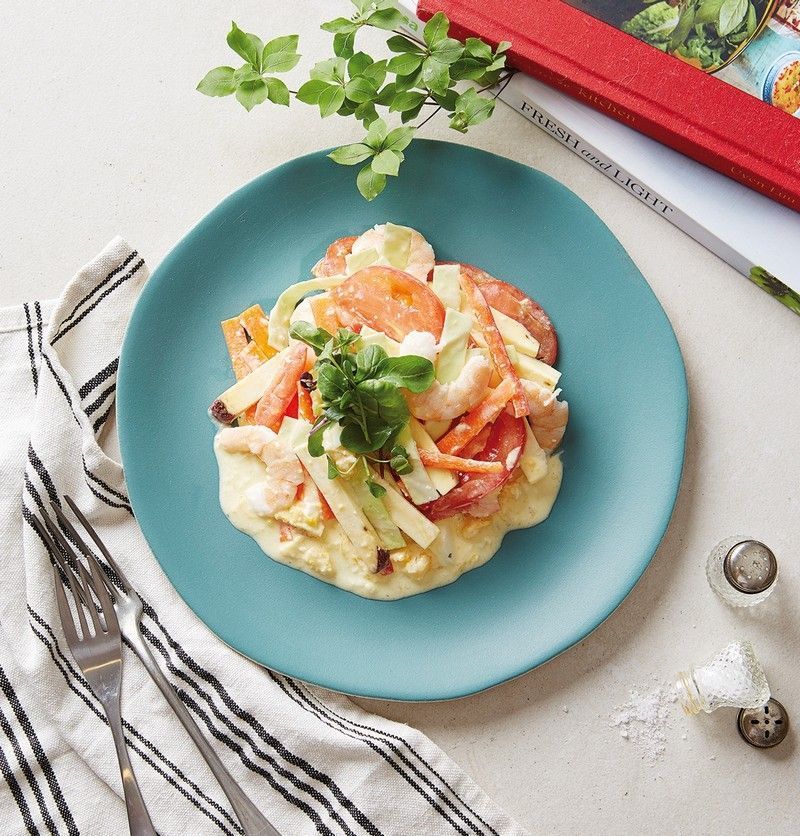 Vegetable salad with orange and egg sauce (Orenji dalgyal sosi cheso nenchhae) is a Korean cold snack that is topical during the summer season. This hearty and refreshing treat is an excellent substitute for a light lunch. Crunchy vegetables, herbs, and boiled shrimp are topped with a sauce based on beaten boiled eggs with mayonnaise, mustard, rice vinegar, and chopped fresh orange slices almost to a pulp.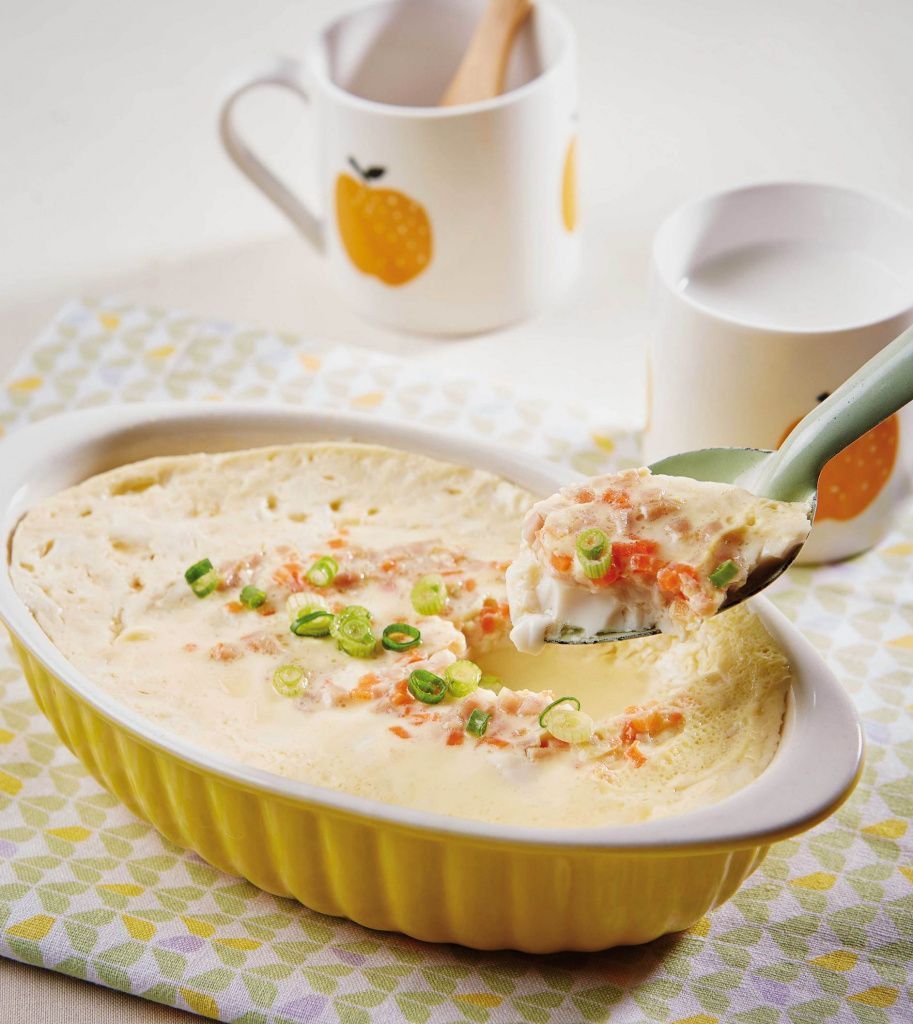 Steamed egg tofu (Sundubudal kelchim) is a delicate Korean dish, a great option for a light and nutritious breakfast. In this recipe, we will tell you how to make a delicious breakfast based on egg tofu, a couple of eggs, a piece of ham and carrots that will be healthy for children and adults alike. The only seasonings used are salt and flavorful sesame oil.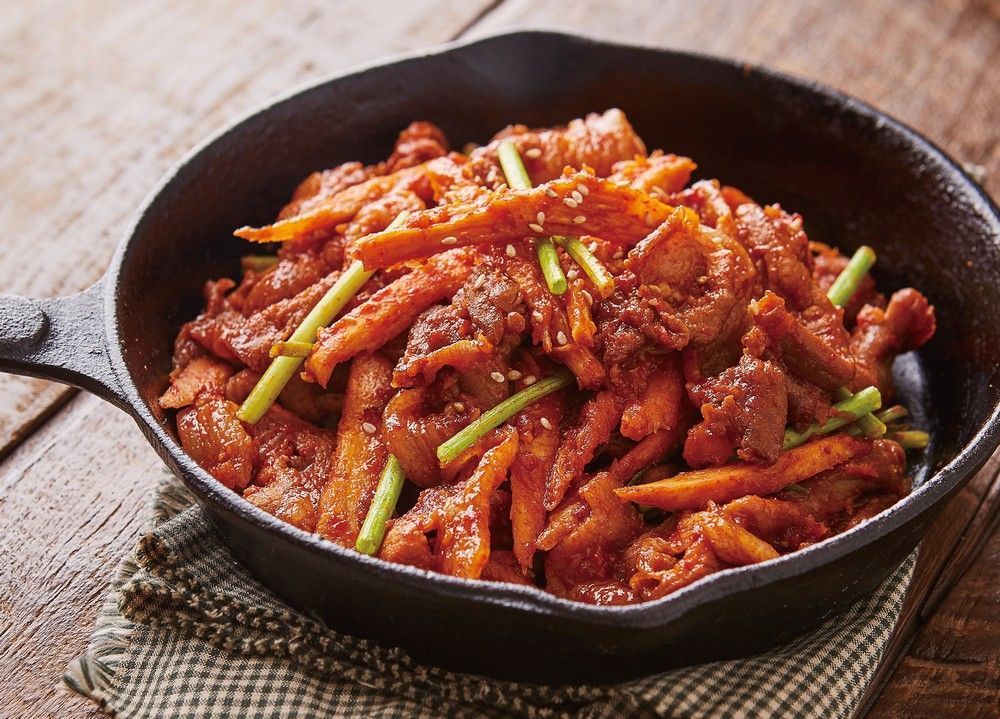 Roast meat with bell root in a spicy sauce (Todok kochudyang pulgogi) is one of the traditional Korean dishes that is sure to please fans of spicy Korean food. The bell root is often used in Korean cuisine as it is quite juicy and mild with a neutral flavor, reminiscent of the tender flesh of a cucumber. It goes well with stir-fried meats and all kinds of sauces.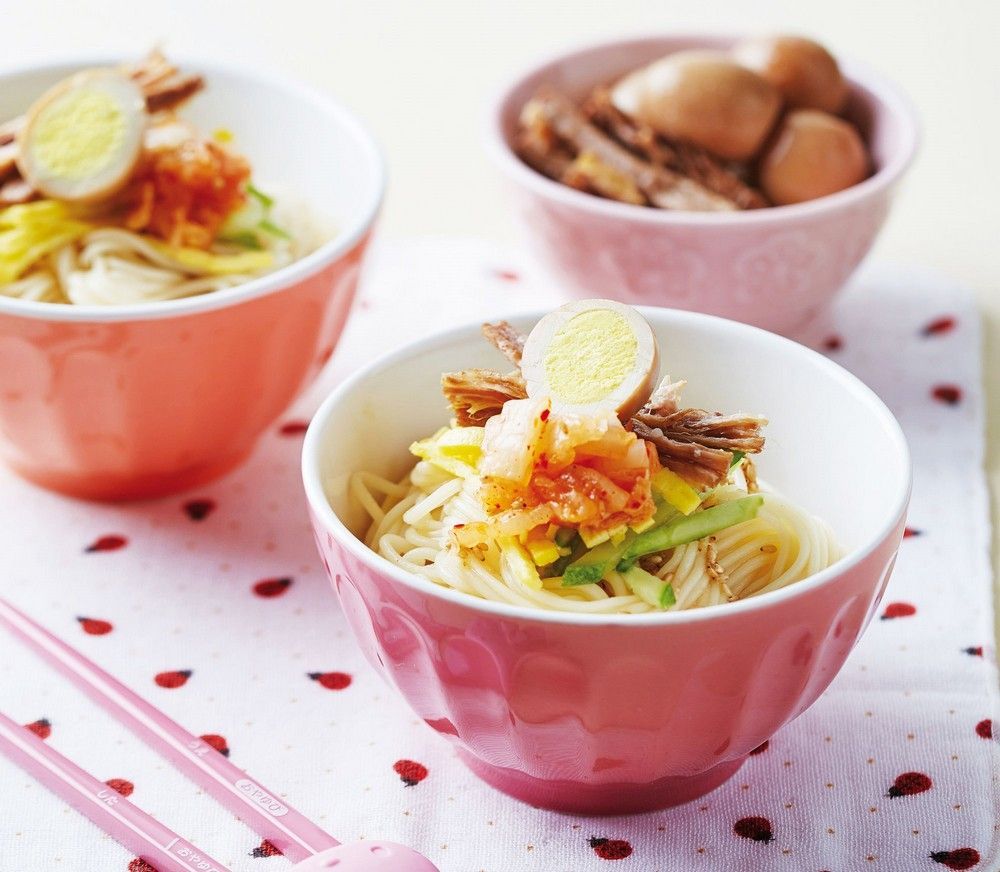 Spicy cold noodles with meat (Chanjorim pibim kuksoo) is a delicious Korean dish, one of the culinary calling cards of Korean cuisine. It is very easy and quick to prepare. Cold somen noodles are complemented with toppings – spicy kimchi cabbage, sliced egg pancakes, cucumber sticks, boiled eggs, and stewed meat.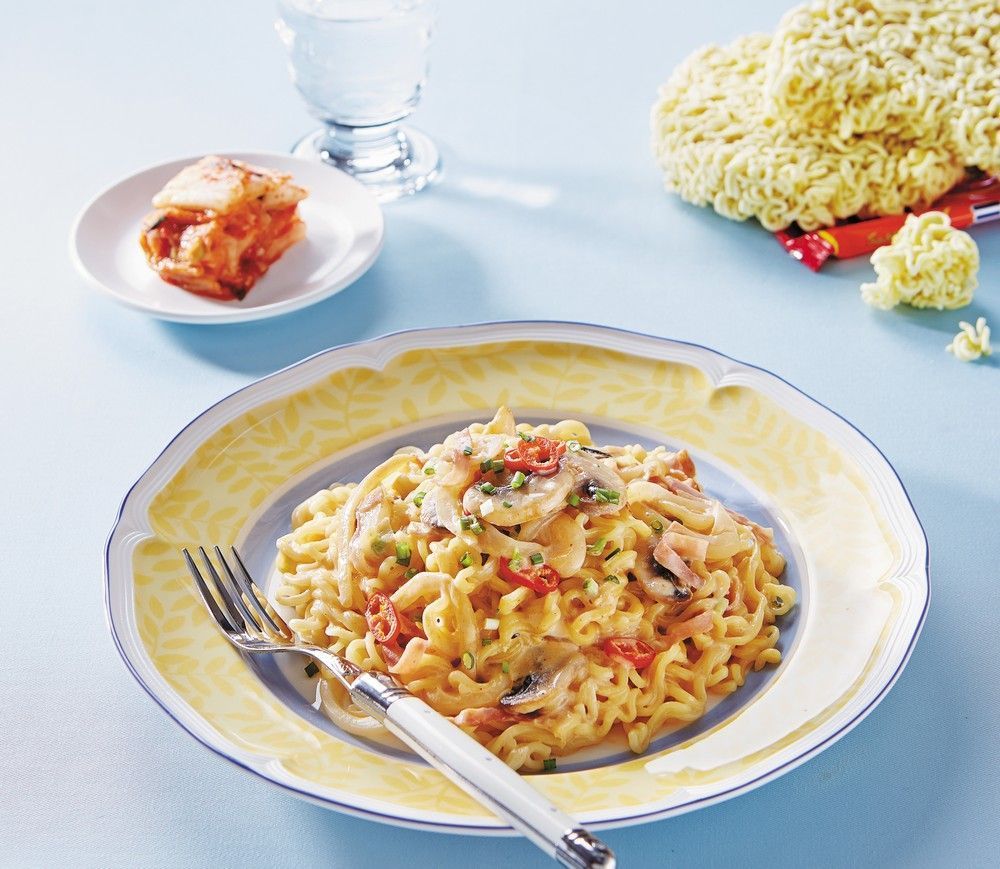 Tuwumba ramen (Tuumba ramyong) is an interesting dish from modern Korean cuisine. Originally invented in the United States, it appeared on the menu of steak houses. The distinctive feature of this treat is very curious: the noodles for it are cooked in a creamy sauce, in which chili peppers are added. It is probably this savory twist that has caught the fancy of Koreans who love ramen in all sorts of sauces.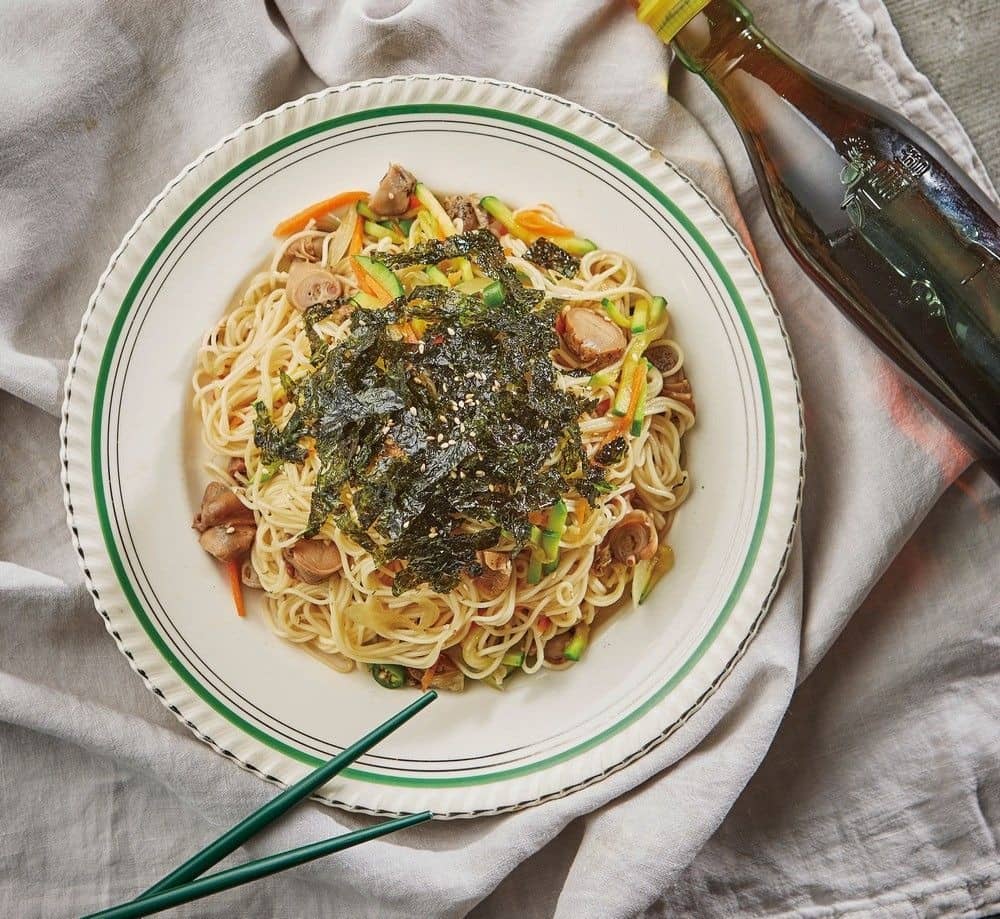 Noodles with soy sauce (Kanjan pibim guksu) is a tasty Korean treat that is very easy to make. It is a variation of the popular and beloved Korean dish pibimbab, which is made with rice, only this variation – with boiled noodles, faster and easier. By the way, this dish is often made for children. It's tasty, fast, and inexpensive.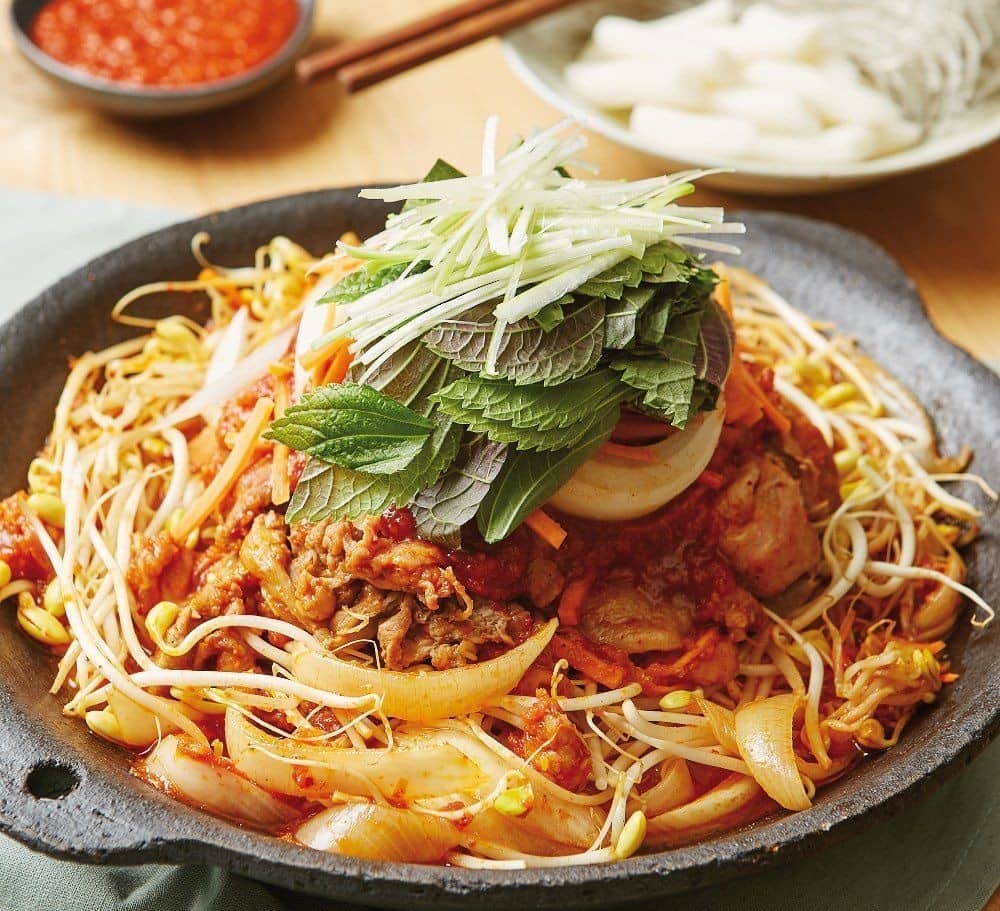 Soya sprouts pulgogi (Konnamul pulgogi) is a modern Korean dish that is a combination of the traditional Korean dish pulgogi (fire-roasted slices of meat) and fresh, juicy, crunchy soy sprouts. The ingredients are fried in a spicy fruit and vegetable sauce.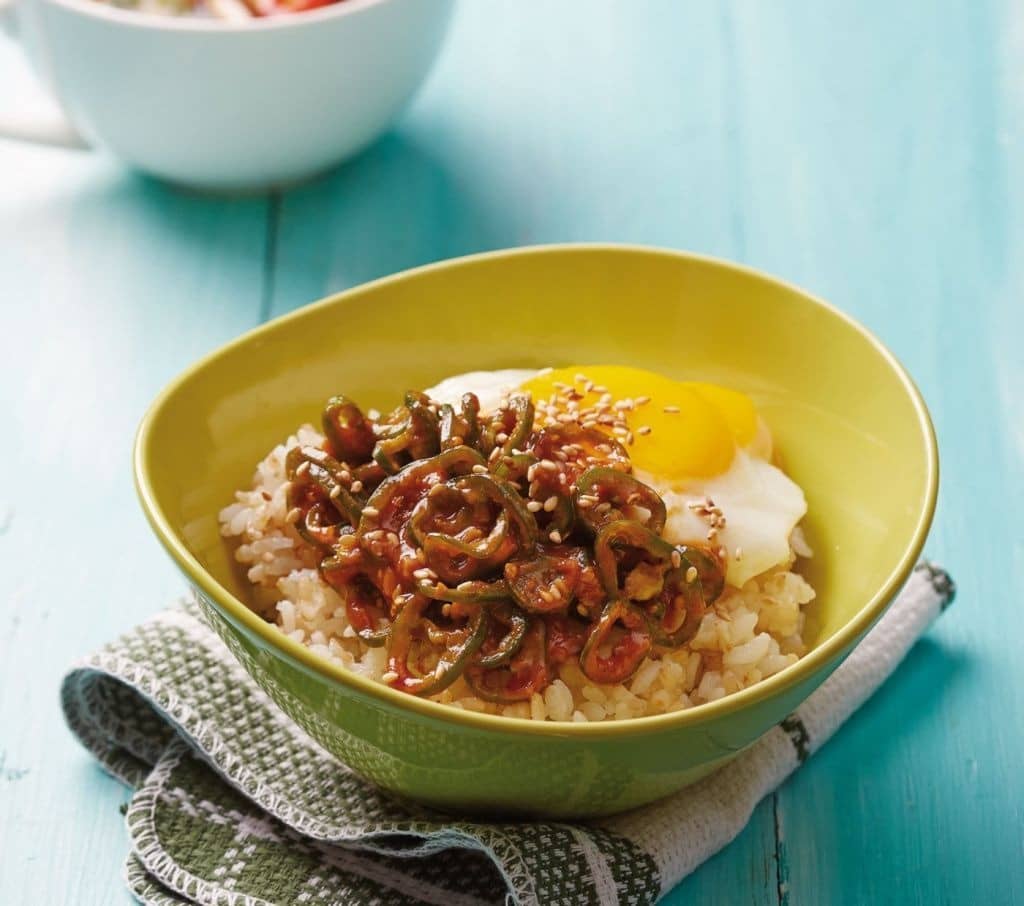 Rice with fried egg and spicy sauce (Kochutwenjan talgyalbi pimbap) is a very simple yet tasty treat of homemade Korean cuisine. Based on chili peppers and traditional Korean soybean paste, it makes a searing dressing for boiled rice. The dish is supplemented for satiety with a fried egg, which is better cooked so that the yolk remains liquid.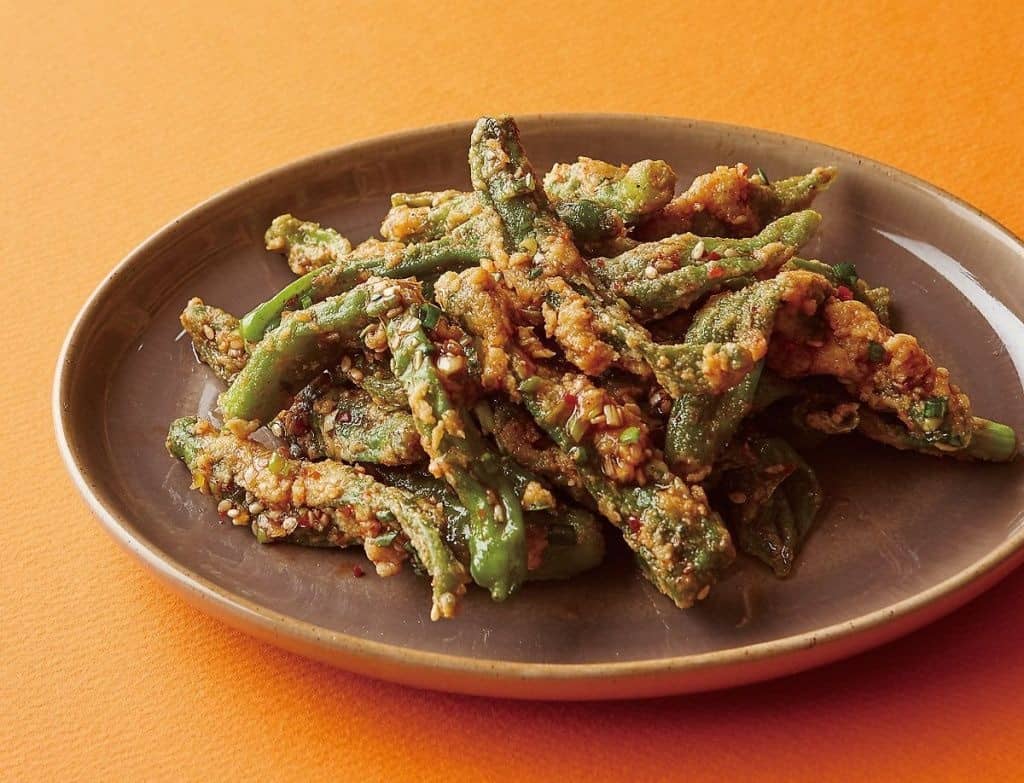 Steamed chili with soy flour (kwarigochu kong-aruchchim) is a fiery Korean appetizer that will appeal to fans of "fiery" dishes. This unusual dish belongs to temple cuisine, the food served in Korean Buddhist temples. Temple food is prepared from simple natural products, without meat or artificial seasonings.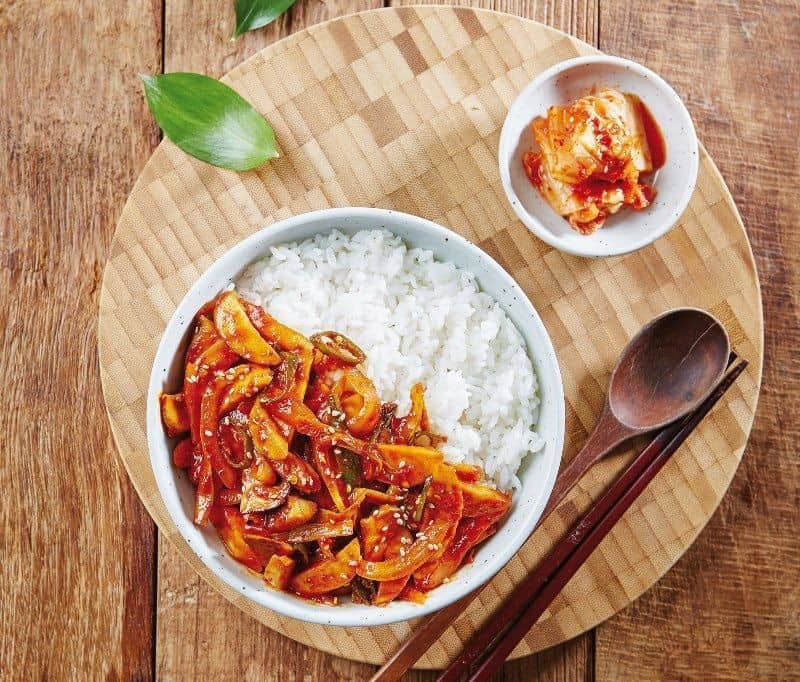 Mushroom stew in spicy sauce (maekom posotto bap) is one of the very tasty Korean dishes with a high degree of spice. Connoisseurs of spicy treats and mushroom stew will love this dish. It turns out very fragrant and appetizing, and cooks very quickly – literally in 10 minutes. For this dish you can use absolutely any mushrooms.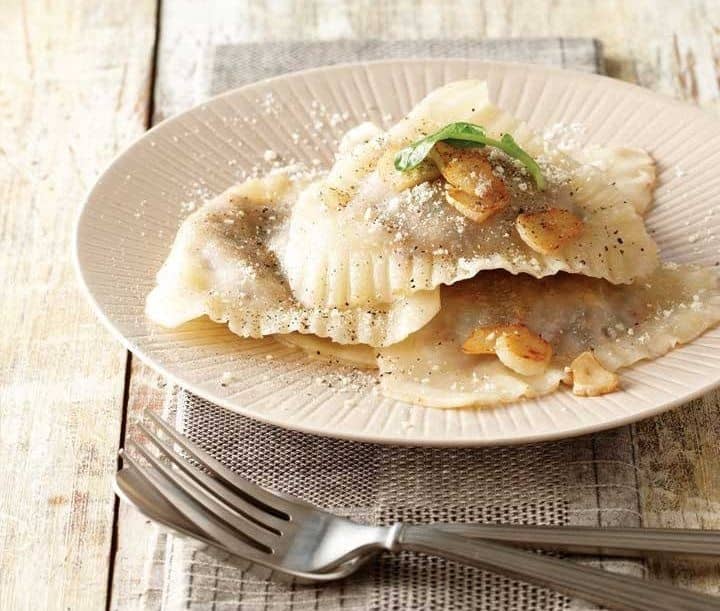 Korean-style mushroom ravioli (posot rabioli) is a very interesting dish of modern Korean cuisine. Recently, European cuisine has become popular in Southeast Asia, and especially pizza and dumplings. After all, dumplings have been known and loved in Asia for hundreds of years. Only Asians and Europeans cook dumplings slightly differently.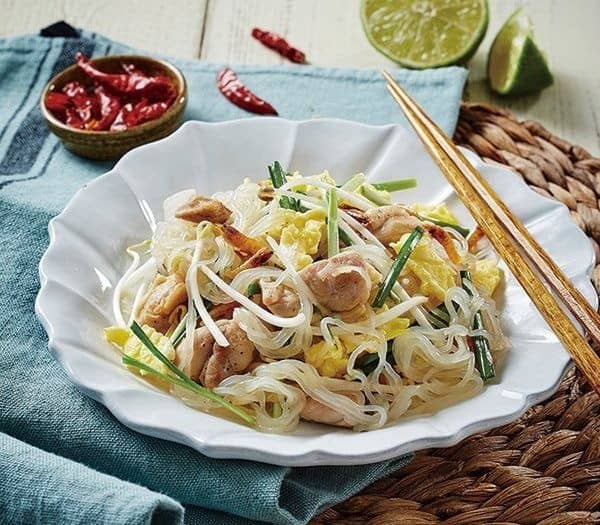 Konjac noodles with chicken (Tak kasimsal konyak chapchee) is a modern Korean fusion based on konjac noodles (Japanese call them shirataki). These low-calorie noodles are a godsend for people who keep a diet and save their figure. They can be used for making light versions of Asian favorite noodle dishes without worrying about high-calorie content or high-carbohydrate content in the dinner.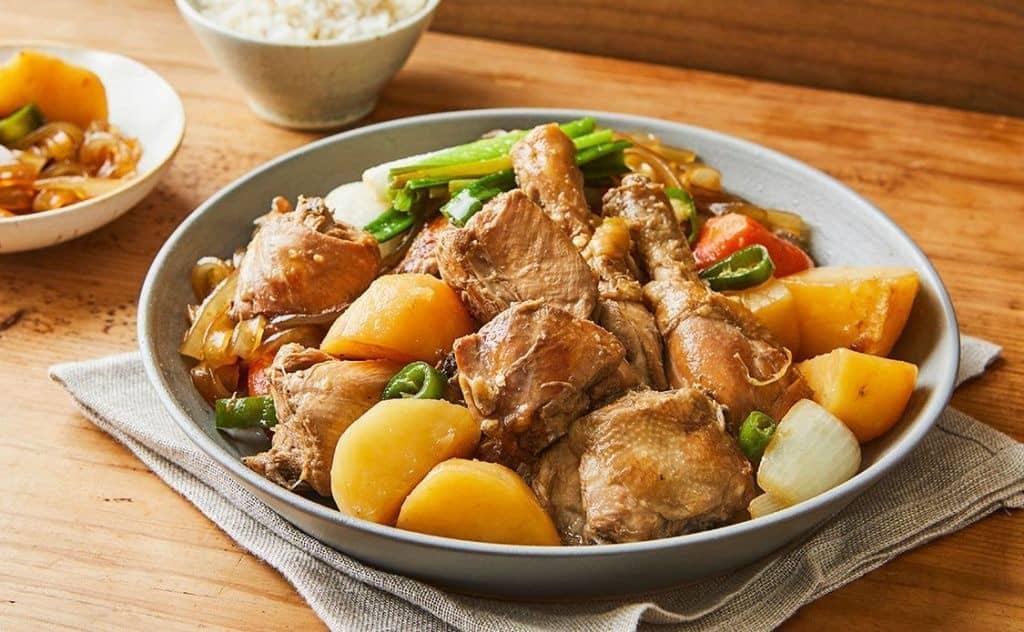 Chicken stewed in soy sauce (Kanjan chimdak) is a mouthwatering Korean home-cooked dish. It belongs to the series of chim chim dishes, originally called steamed dishes, but nowadays the term refers to dishes that look steamed, but can actually be prepared by stewing in liquid sauce or broth, or boiled in a small amount of liquid.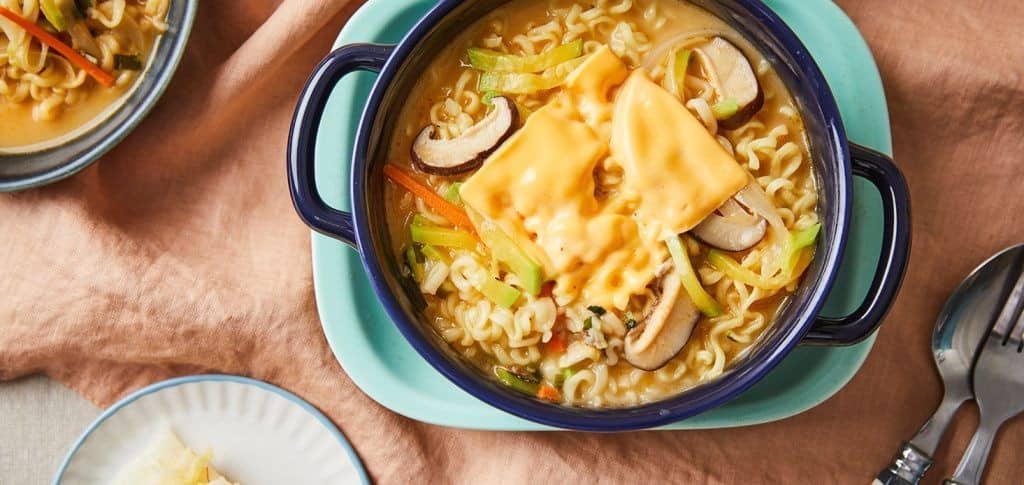 Jin ramen with melted cheese (Uyuchiji Jin Ramyeon) is a mouthwatering Korean homemade dish based on the most popular instant noodles, Jin Ramyeon. If you want to make this favorite of many Korean food fans even tastier, you should take note of this recipe. The soft, creamy flavor of the noodle broth is perfectly complemented by a slice of melted cheese, and the dry seasonings for Jin Ramyeong will make this noodle soup inexpressibly appetizing.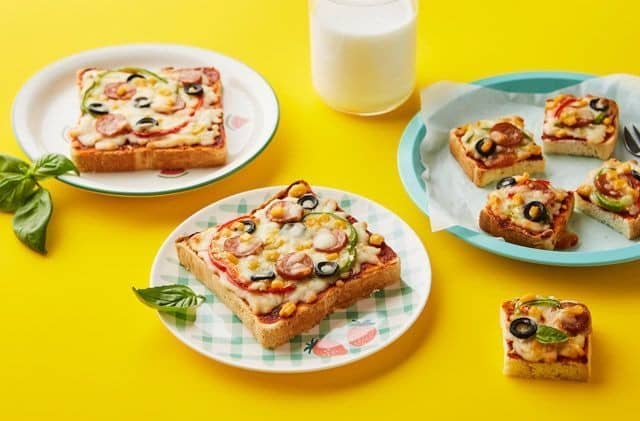 Pizza Toast (Pija tosyta) is a savory snack that is very popular with Korean kids. This easy-to-make, hot toast is a big hit with the kids. The original flavor of these pizza toasts gives the ketchup with fruit and vegetables from the Korean company Ottogi. Great for a kid's party, Sunday brunch, or snack for the whole family.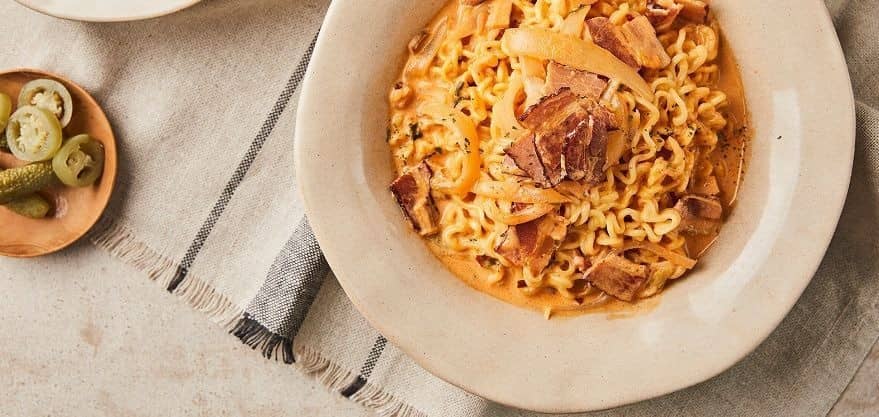 Pink spicy ramen (Roje yol ramen) is a very original dish, the basis of which is fast-cooking yol ramen noodles, these noodles are famous for their extremely high level of spiciness. In this recipe we will tell you how to make an interesting dish based on these noodles, enriching it with additional products – cheese, onions, bacon and milk.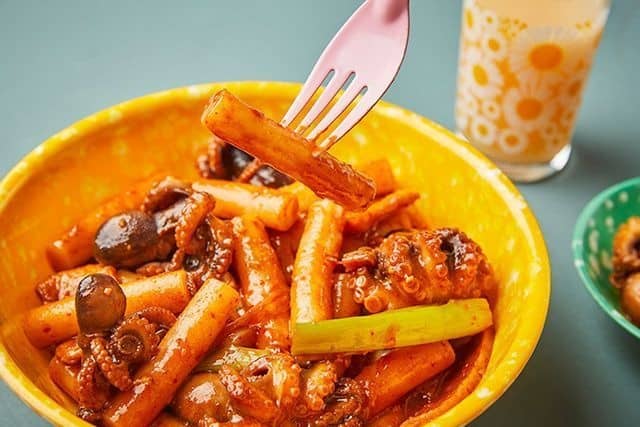 Mini octopus noodles with tokpokki in a spicy sauce (Chukkumi tokpokki) is a delicious Korean dish, one of the ways to make the rice flour tokpokki so beloved in Korea. The nice chewy texture of the mini octopus will complement the firm tokpokki sticks nicely, while the minced fish omuk enriches the dish with protein. The ingredients are fried in a special sauce for tokpokki, traditionally spicy.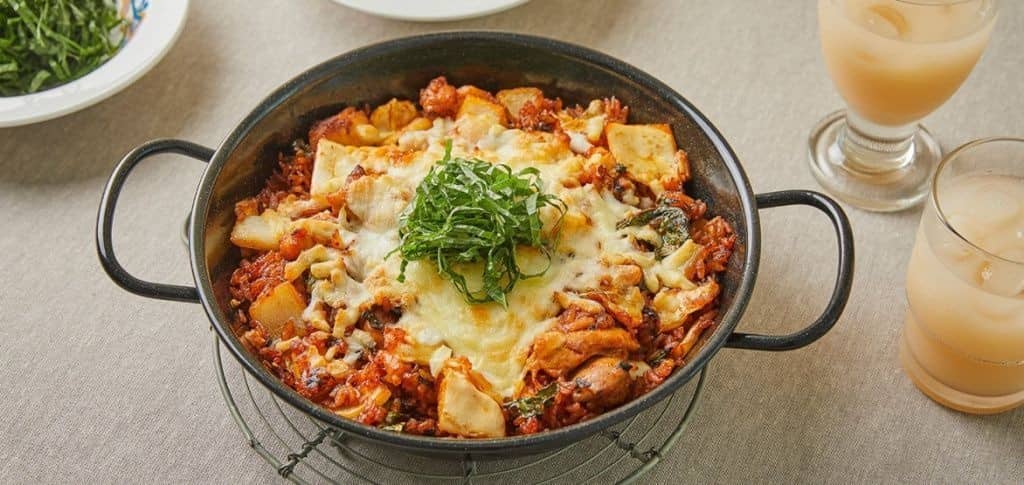 Spicy fried chicken with rice and cheese (Chiji takkalbi pokimbap) is a spicy and very tasty Korean dish. It's easy to make and the whole family will love it. The combination of different textures is quite appetizing – soft rice, tender firm chicken meat, juicy onions, crispy cabbage, and lingering cheese. Chicken marinade sauce is used as a stir-fry sauce.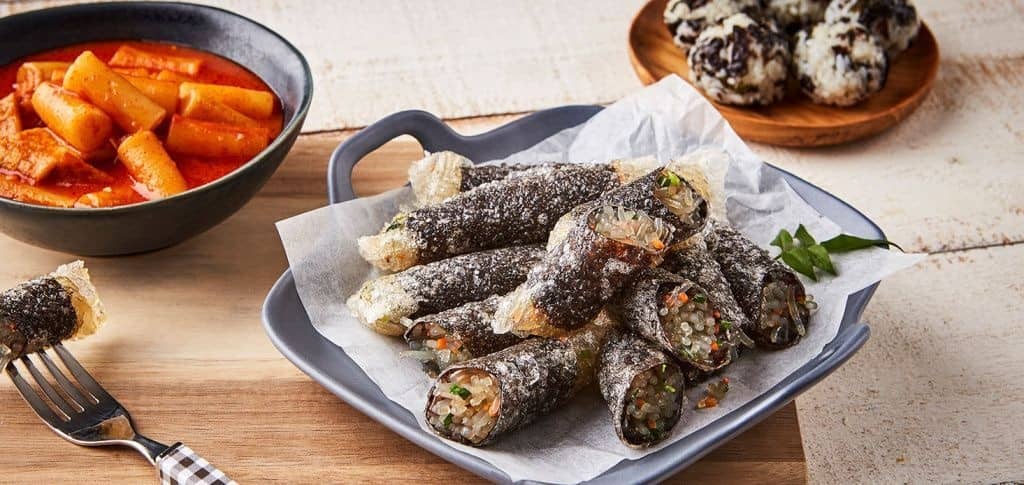 Rice paper spring rolls with vegetarian filling are an interesting Korean version of the spring rolls so beloved by fans of Asian cuisine. The main ingredient of this unusual snack is yam noodles seasoned with soy sauce, fragrant sesame oil, green onions and ground black pepper and wrapped in sheets of nori. The resulting roll is then wrapped in a sheet of rice paper and fried in oil until cooked.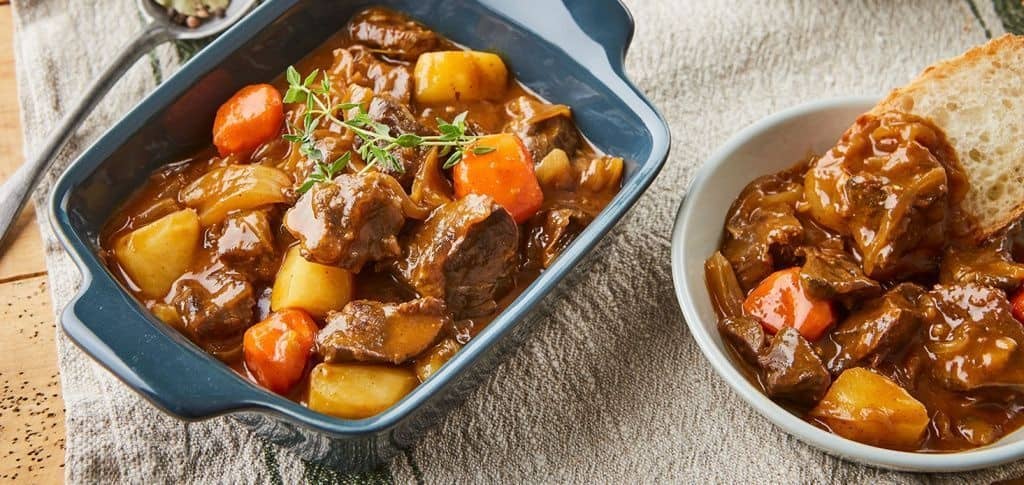 Beef curry stew (Kare pipi sythyu) is a very tasty dish that Korean chefs borrowed from Japanese cuisine. Japanese curry sauces differ from Indian and Thai sauces in taste and spiciness: they are more delicate, sweet and salty, with fruity notes and moderate spiciness. During Lent you can use tofu or soy meat instead of beef. Boiled rice would be best used as a side dish for this treat.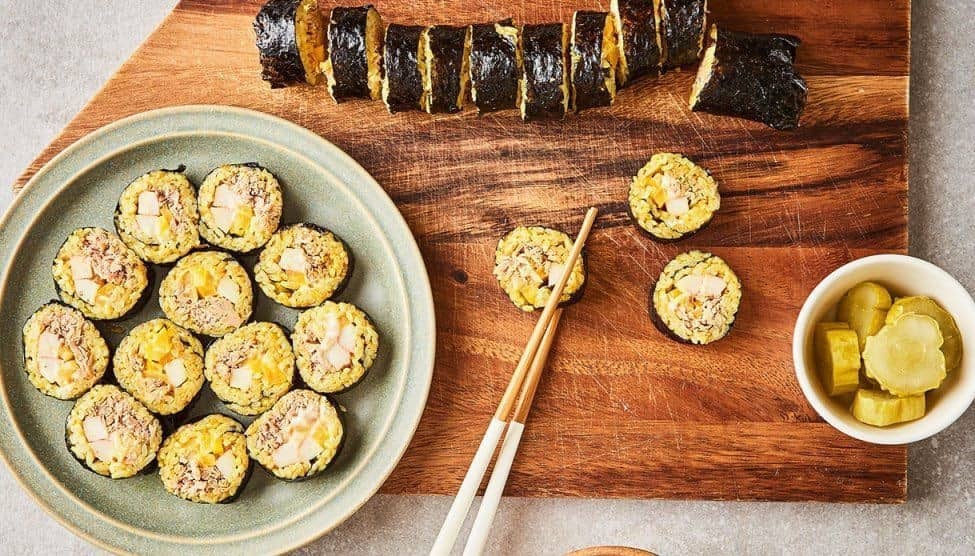 Kimbap curry is a variation of the traditional Korean dish, rolls of boiled rice with fillings inside, wrapped in a sheet of gim (nori) seaweed. The interesting thing about this recipe is the addition of medium spicy curry sauce to the kimbap rice. It gives the rice a delicious golden color and a tangy, spicy flavor.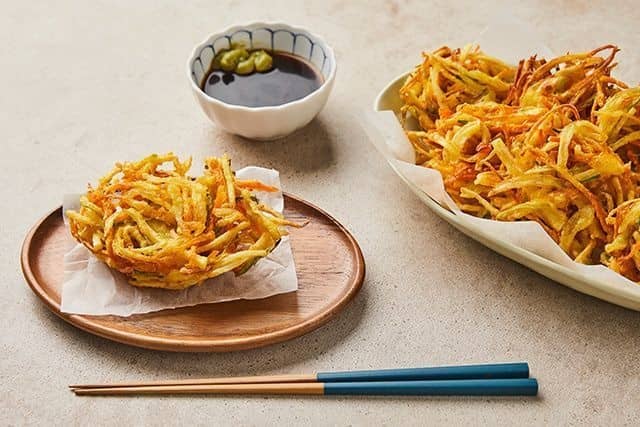 Crispy fried vegetables curry (Kare chaeso twigim) is a very appetizing Korean hot dish, similar to Japanese kakiage. The recipe is very simple: the vegetables are chopped into julienne or small slices and mixed with a tempura-based dough mixed with dried curry seasoning. The liquid batter mass with the vegetables is then scooped up with a spoon and fried in oil until the batter is ready.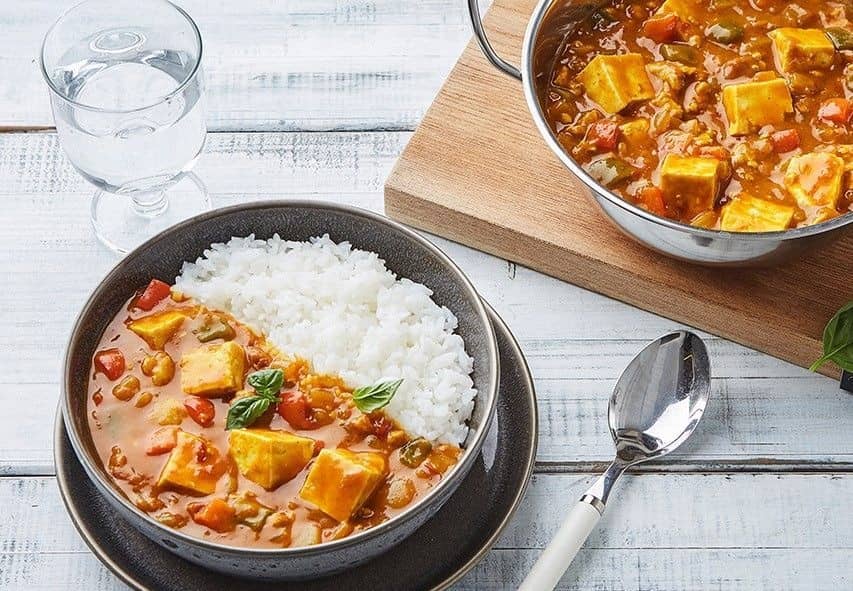 Tofu Curry (Tubu kare) is a dish of modern Korean home cooking. Curry sauce came to Korean cuisine from Japan and has undergone almost no changes in Korea. Japanese curry sauce is characterized by its mild flavor, light sweetness with hints of vegetables and fruits. The spiciness is quite moderate as compared to Indian curry. The spiciness is at the discretion of the eater. Korean curry sauce maker Ottogi offers both non-spicy curry sauces and various degrees of spiciness.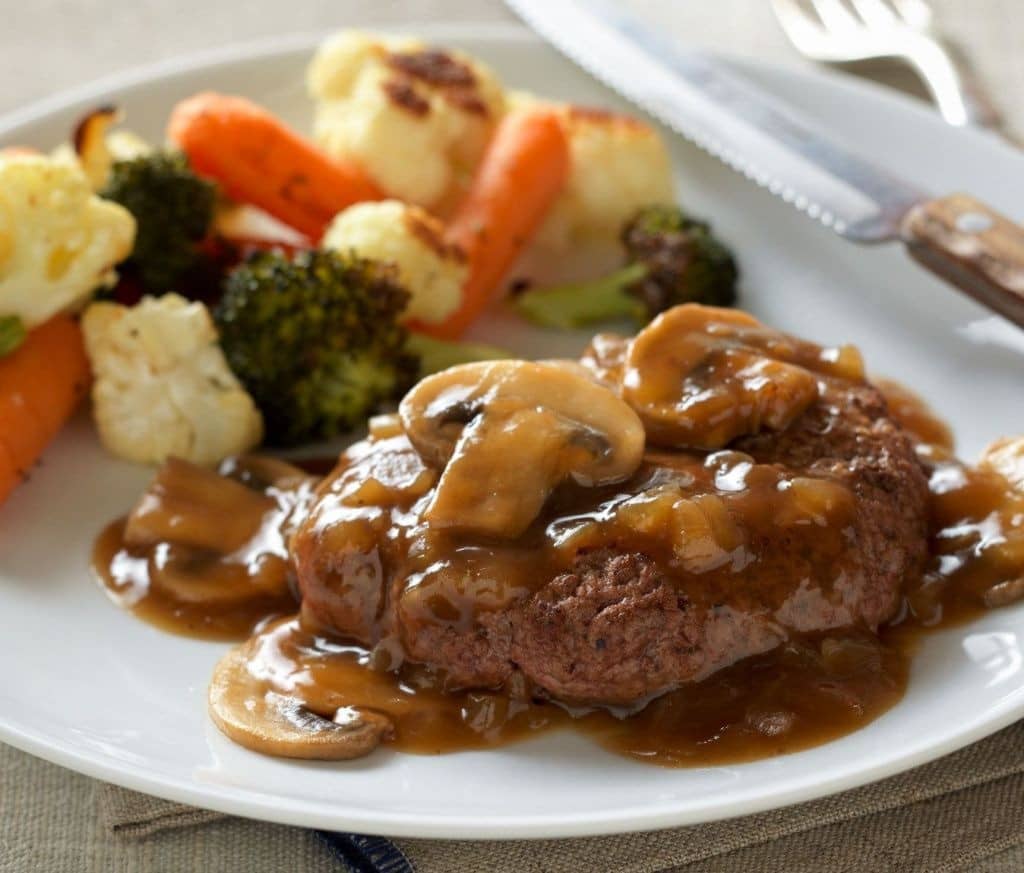 Steak curry (Syteiky kare) is a very tasty dish of modern Korean cuisine, which is a curry-based gravy that includes mushrooms, garlic, onions, and vegetables. The gravy is topped with a juicy beef steak. As a side dish they usually serve grilled vegetables like bell peppers, cauliflower, broccoli, asparagus, tomatoes, eggplant, zucchini, etc. and boiled rice.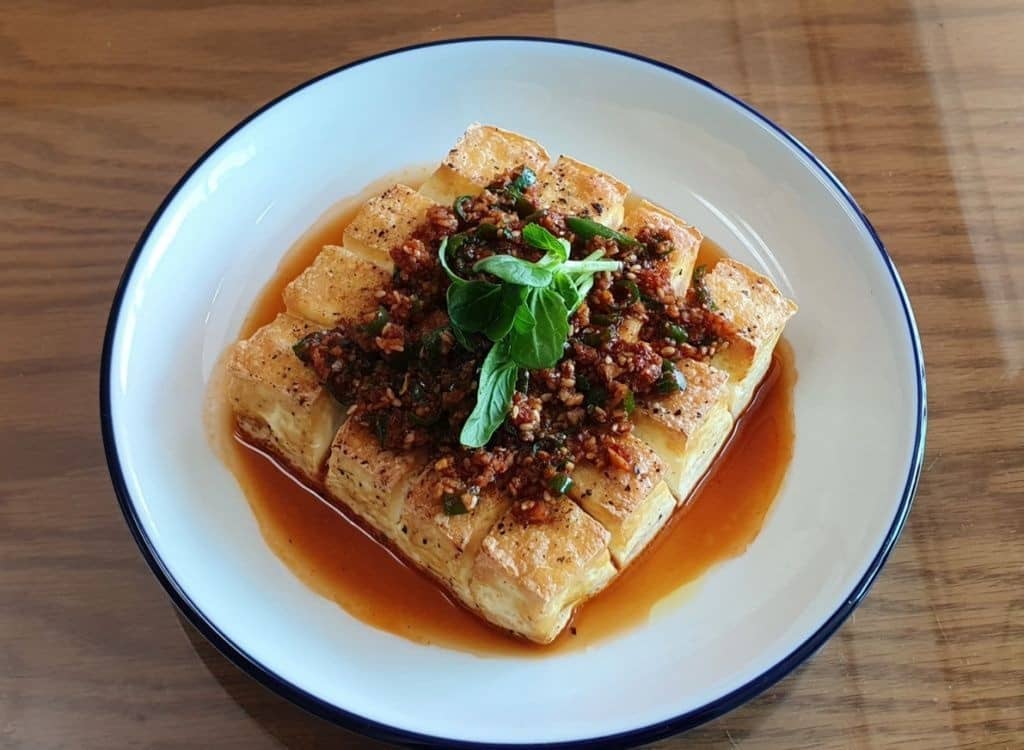 Fried tofu with spicy seasoning (Tubu yori) is a home-style Korean dish. Tofu crisped to a crispy crust is topped with a sumptuous dressing with a rich flavor combination of traditional Korean seasonings-sesame oil and soy sauce, topped with chili flakes, brown sugar, ground black pepper, ground sesame seeds, and garlic. This treat can make a great appetizer for beer or soju, or decorate a holiday table.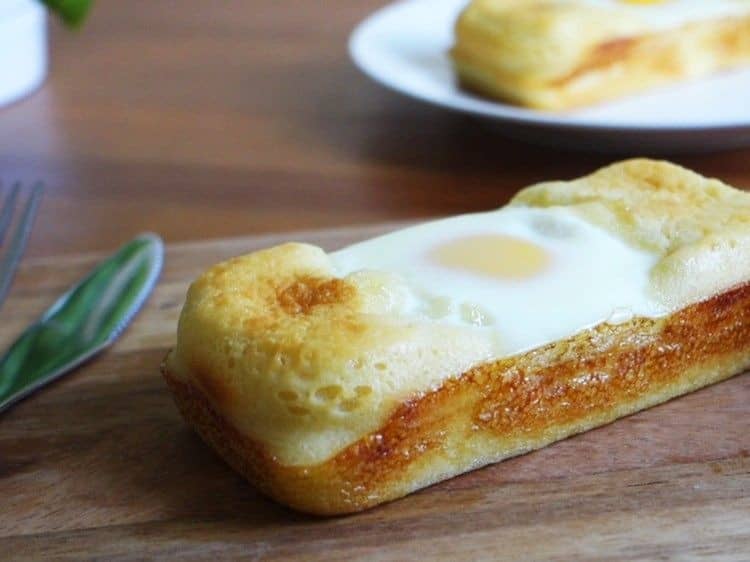 The egg bun (keran ppan) is a young but extremely popular Korean dish, a fast food street food. In 1984, in front of Inha University in the South Korean city of Incheon, there was a stall selling curious patties – buns made of sweet dough and crowned with an egg yolk. The combination of sweet and salty appealed to customers so much that the keran ppan bun instantly became popular not only in Incheon, but throughout the country and then beyond.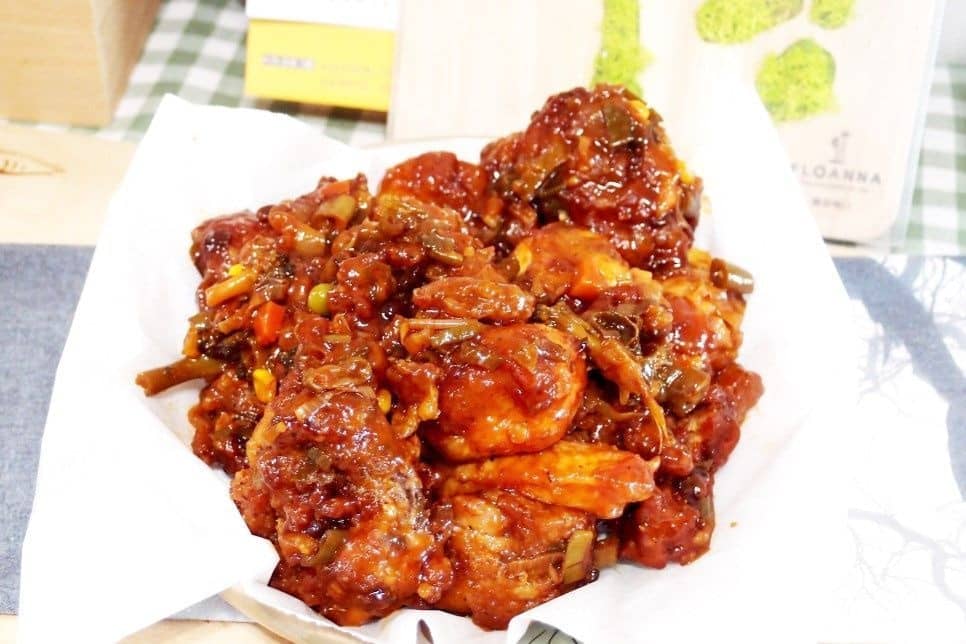 Yangnyom chicken (yangnyom chikin) is a very tasty Korean dish of batter-fried chicken pieces in a sticky red hot-sweet sauce. This treat is beloved by Korean food lovers far beyond its homeland. In Korea, chicken yangnyom is often ordered by diners as an anju, an appetizer with alcohol. Crispy pickled vegetables such as daikon, cabbage, cucumbers, etc. are very good with such chicken.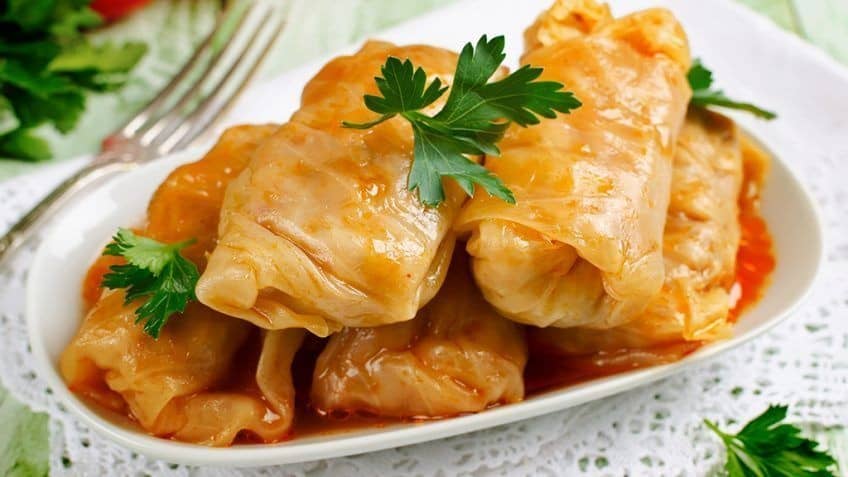 Korean-style stuffed cabbage rolls (Yanbe churool) are a hearty home-cooked Korean dish. The filling in these stuffed cabbage rolls is ground pork mixed with shredded firm tofu, mushrooms, and vegetables. The stuffed cabbage rolls are rolled in our usual way and stewed in a tomato sauce with the addition of rice wine. If you prefer, you can add Kochudyan hot paste or Kimchi Base to the tomato sauce. The dish is very filling and delicious.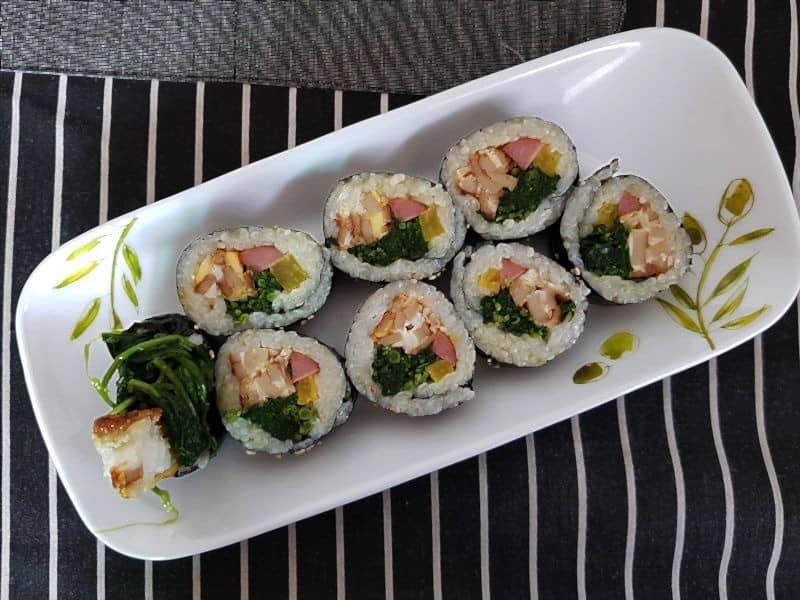 Korean rolls (Namul Gimbap) or simply Gimbap is a famous Korean snack, which externally resembles very much loved in our country sushi rolls. In Korea, this dish was adopted from Japanese cuisine during the Japanese occupation of Korea. In Japan, such sushi is called futomaki, i.e. sushi rolls that have nori on the outside. Korean rolls are slightly different from Japanese rolls–the Koreans do not use vinegar to dress the rice and do not use raw fish.