Kirillovka → Recreation Bases on the Azov Sea 2022
We have launched a resource service "Kirillovka24" in Kirillovka! This service provides free accommodation and room reservations at reliable resorts.
Already familiar? Then you can go straight to the selection of holiday resorts or price review in 2022.
No? Then we'll help you choose a resort and recreation base on the Azov Sea to have a great vacation in 2022! First, read the review of holiday options on the sea in Ukraine , see Kirillovka with more than 35 webcams and study the instruction on the choice of rest . Now get to the point!
Searching for vacancies by dates
So where can I rest?
Bases and Private Sector in Kirillovka in 2022
To make a long story short, there are over 400 resorts, recreation complexes, hotels, pensions, and private guest houses in Kirillovka in 2022. They are located:
In the center of Kirillovka, including neighborhoods Sanatorium and Tsarskoe Selo. It is mainly the private sector;
On the sandy spits – Fedotova Spit and Spit Peresyp;
In the village Stepok and the island Biryuchiy, which are part of the spit Fedotova.
Already confused? Now do you understand why we need a manual with so many letters?
Well, we have to start somewhere – let's recommend which accommodation options you should look at first.
With what bases of rest and hotels to start acquaintance with Kirillovka?
"Vodny Mir" is the flagship of Fedotova Spit with a swimming pool.
"Azov le Chalet" French-style chalet with a pool.
"Promenade" Modern apartments.
"Admiral" Swimming pool, children's complex and home environment.
The complex "Peresyp" Swimming pool, animation, food. Almost Turkey.
Hotel Respect First line. Decorated embankment.
Cottages "Line" Only 4 rooms with their own pools and near the sea.
Hotel "Panorama" Closed Area, swimming pool, animation, food.
VIP rest
Let's take a look at the premium recreation options in Kirillovka?
"New Vasiki" VIP-cottages on the Fedotovo spit. The first line.
"Beluga" Hotel of European level on the first line of the Spit Peresyp.
"Grace family house" Spit Peresyp. Small room stock. Cafe.
"Bliznets" Three-storey detached cottages on the Spit Fedotova.
"Sun De Mar" Spit Peresyp. View of the sea. Recommendation Kirillovka.
"Grace family house 2. Recommendation Kirillovka.
After viewing the representative accommodations, you may get the impression that the vacation in Kirillovka is very expensive by Ukrainian standards. But then you should definitely read the instruction, which will help you find housing at a price of 50-60 hryvnia per person.
How about having fun?
Have you checked out the place? Now you can go on to the selection of attractions. The main entertainment besides beach attractions are water park, dolphinarium, amusement parks, equestrian theater and nightclubs.
Lovers of active recreation and thrills can learn kiting and windsurfing. Also at some bases you can rent quad bikes. If you wish you can always go fishing or do some traditional excursions in Zaporozhye region.
Not enough? We warned you from the start: Kirillovka is a beach resort! Do not expect the Crimean mountains, the shining embankment of Benidorm or the second cape Kazantip.
Why should you choose Kirillovka?
Ecological oasis and clear sea
Well, yes, that's Kirillovka too. Peresyp Spit, the recreation area "Romashka". ©Kirillovka.uk.
Kirilllovka is remote from industrial zones and surrounded by estuaries, the salt evaporation of which acts as a natural atmospheric barrier, forming an ecological oasis.
Near the resort was not and does not have sea ports, which is known Berdyansk and other port cities on the Black Sea and Azov coast.
Because of this sea water in the region is much cleaner!
Therapeutic climate
For most of our compatriots therapeutic climate plays a major role .
Due to the isolation on all sides of the Azov Sea and salt estuaries at the resort there is its own unique iodine-salt atmosphere.
And it forms familiar from childhood Azov breeze, which is not on the Black Sea and other seas.
One of the best places for recreation with children
"Seaside Galatea".
In Kirillovka very warm, but deep enough sea with a gentle sandy entrance – you can swim for hours without the risk of hypothermia.
There are huge sandy beaches, on which there is a lot of room even in the peak season!
Here most holiday bases are within walking distance of the sea!
Here practically all the season is not brought to the inconvenience of mosquitoes and other insects!
So if you have a question where to relax so that it was interesting and comfortable for both adults and children, the answer is obvious!
Want to get acquainted live?
Look our webcams, having plunged into the atmosphere of beach rest directly online. And we're sure you'll want to come and visit us on vacation! Most webcams broadcast sound.
All webcams work in real time! Moreover, the editorial office of "Kirillovka.Ukr" installed and supported by more than 30 web cameras at other resorts in Ukraine.
Had a rest – share your feedback about the lodging!
We are an independent resource about the resort and try to be objective in the presentation of information. In contrast to the advertising sites, we do not censor reviews, despite the strict moderation.
Our goal is to help you choose exactly the right holiday accommodation which suits your needs.
Tired of writing? Let's get specific!
Bases of rest with excellent value for money
Below we have collected a few bases with one of the best quality to price ratio, while focusing on family vacations.
"Palmira" Fedotova spit. The first line. Few people on the beach. Quiet. Good rooms.
"Aquatoria" Fedotova spit. 100 meters to a large beach. Quiet. Good room.
"Admiral" Fedotova spit. The first line. Quiet. Children's animation. Webcam.
"Golden Fleece" Kosa Peresyp. 5 minutes to the beach. Quiet. Capital pool. For the price – good.
"Smalta" The beginning of the spit Fedotova. 7 minutes to the sea. The pool. Good rooms and prices.
"Bathsheba" Center. Capital pool. Good rooms.
"Aurora" Fedotova spit. 5 minutes to the sea. Capital pool. Rooms "Suite".
"Five" Fedotova spit. 100 meters from the sea. Two-story cottages "Luxe".
It is worth noting that conscientious owners of recreation centers in Kirillovka, published on our project, not only read the reviews of their institutions, but also promptly take steps to eliminate difficulties or incorrect work of staff.
So you have a unique opportunity to make the quality of tourist services in the Ukrainian Azov region in 2022 really better .
Kirillovka travel guide

Kirillovka village is located on the coast of the Azov Sea and is known primarily as a wonderful place for a quiet and relaxing family vacation. Thanks to its unique location between the Azov Sea and two estuaries, Kirillovka is also known as a health resort.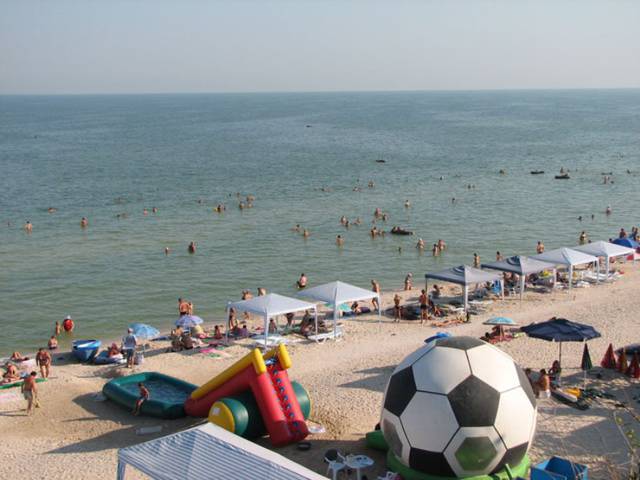 The resort is known for the fact that here are able to quality rest for people with very different levels of income. Village Kirillovka more like a large hotel, where each vacationer will find a room on their own budget.
The resort can be divided into three parts. The central part, where the private sector and two sand spits – Fedotova Spit and Spit Peresyp dominate.
The central part is completely dominated by family recreation. Local residents have equipped their sites for camping, renting rooms or even entire houses. There are a lot of proposals in the private sector with not expensive, but serious enough comfort. The prices range from 30 UAH ($7.5) to 50 UAH ($25) per person. At camping sites and small guesthouses the price for a room can reach up to 80 UAH ($6).
When is the best time to relax in Kirillovka?

Tanysha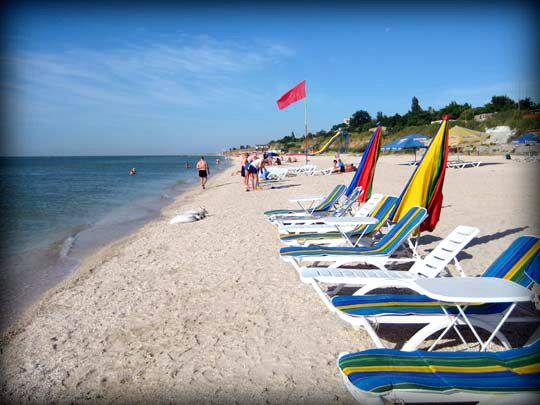 The vacation season in Kirilllovka starts early – in the middle of May and lasts till the end of September. The sea is shallow enough and gets warm very fast. Already in May the average water temperature reaches 18 degrees, which allows you to swim in the sea.
In May, especially on holidays, the village is quite a lot of holidaymakers. Even if the water is not warm enough, you can sunbathe perfectly without worrying about getting burnt, because the sun is not as aggressive as in July. In some private boarding houses for the convenience of tourists equipped with a pool, because you can freshen up without going out of private property.
To my surprise, in the very beginning of May, beaches were simply in an ideal condition – sand pure, all awnings and locker rooms are painted, trash bins are equipped. In general, everything was ready for the holiday season. In May, the nights are still quite cool, so it's better to take care of warm clothes.
Beginning in June, the hot season begins, when the water in the sea is already heated to 24 degrees. Agree, this is quite enough to go on vacation with a small child and let him take water procedures. In addition, during this period in the market you can buy all sorts of fruits and vegetables brought from the villages and towns located nearby. The price for fruit is usually an order of magnitude lower than in the nearby towns – Melitopol and Zaporozhye. The beaches are equipped with various attractions, slides, tents with souvenirs and products for swimming. There are also… read completely.
What money to bring?

Tanysha
When visiting Kirillovka, you should bring the local currency – hryvnia. It is better to take care of enough money in advance, because in a small village is very difficult to find a currency exchange or bank branches.
If you have currency you'd like to exchange, it's better to do it in banks. Very often tourists are offered to exchange currency at the station or the market, but you have to do it carefully, so as not to get caught by crooks and not to lose money.
In our first visit, we were looking for a bank where we could get a money transfer for a long time. As it turned out, there are branches of the National Bank of Ukraine, which have a peculiar working schedule:
Branch on Kalinina St., 258 works on all days except Tuesday from 8.45 to 16.15
Branch on 128, Kalinina St. – a works on all days except Wednesday from 8.15 to 16.30
The department on Lenin str., 11 works from Monday to Friday from 8.00 to 16.30
Branch on 11 Petrovskogo St. – a works from Monday to Friday from 8.00 to 16.30
Branch on Fedotova Spit, works on all days except Tuesday from 8.30 to 16.45.
This information will be useful for those tourists who are going to visit Kirillovka. You can exchange currency or receive or send money transfers at these branches. If you want to exchange currency you must have your passport.
If you have a bank card (MasterCard or Visa), you can withdraw money from ATMs, one of them is located in the Petrovskogo street branch.
Where can I stay in Kirillovka?

Tanysha
Kirillovka is a great place to stay regardless of your financial situation. If you want to stay in a certain guesthouse or hotel, it's better to find a hotel room in advance.
While visiting Kirillovka you don't have to worry about your accommodation since there are quite a few private pensions and mini-hotels that rent rooms. If you want you can rent a room or house in the private sector, which will cost a little cheaper. You can find lodging in any area, both in the village and on the spit.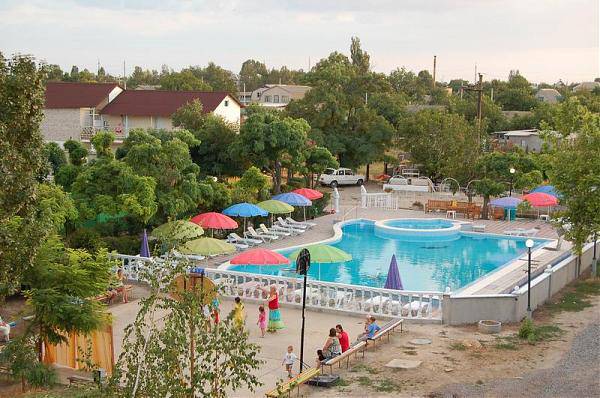 For those who like quiet family vacations we can offer a wonderful family-type guesthouse "Three Tolstyaka". You can choose a very comfortable room from the economy – the variant, to suites. On the territory of a huge swimming pool, in which children and adults can bathe. A huge advantage of staying in this complex are not only comfortable rooms with comfortable accommodation, but also very good food, which is included in the cost of living. So, adults can have three meals a day, and kids have five meals a day. There is a special healthy menu with high quality products for kids. "Three Tolstyaka" even a unique place and the fact that there is the only one in Kirillovka salt room, where everyone can improve their health. Clean beach with a good shore is just a five minute walk away. The boarding house is located near the market, where for a modest fee you can… read more
Going on vacation with children

Tanysha
Kirillovka is the perfect place for a vacation with kids of any age. In the village there are not only good beaches, but also a lot of interesting activities, and therefore you do not have to get bored here.
On vacation with a child is better to go at the height of the beach season, from late June to August. High enough temperature of the air and sea water allows to get maximum pleasure from water procedures without fear to catch a cold or get sick. Another advantage of vacationing in Kirillovka with a child will be good beaches, which are shallow enough at the shore, so go into the water will be able to even the smallest children. Unlike other resort towns and villages, the beaches along the spit are sandy, and the bottom is flat, without sharp differences in depth.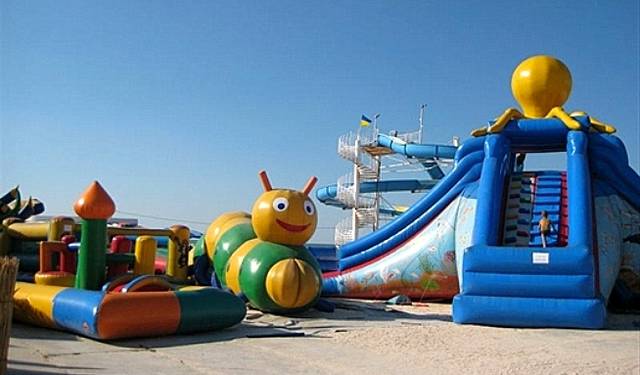 On the beaches you can find a variety of slides, water rides and slot machines. Particularly active vacationers can ride water skis or parachute. You can take a boat trip for a child, which will cost about 50 UAH ($7.5). One of the most popular attractions for children and their parents is riding a banana or a water cushion.
In private boarding houses and hotels babysitting services are not provided and there are no children's animators. As entertainment on the territory can be installed playgrounds, equipped with swings, slides and sandboxes. If you decide to stay in the private sector, you should take care of your child's leisure time beforehand so that he won't get bored.
In the center of Kirillovka, near … read in full.
Food and Drink

Tanysha
Regardless of where you stay in Kirillovka you can not worry about food, because in the village there are many cafes and snack bars, where you can eat regardless of financial capabilities.
The easiest thing for those tourists who stay in private guesthouses and guest houses – very often caring hosts prepare the most diverse meal for those tourists who have paid for a board with meals. If you want you can order breakfast or just dinner.
Large hotels necessarily have dining rooms or restaurants, where as you can eat. A complex breakfast costs from 60 UAH ($7.5), lunch costs 50 UAH ($2.5), and dinner costs 60 UAH ($2.5). Prices depend, of course, on the hotel and the type of institution, in the dining room, for example, catering will be cheaper than in the restaurant.
For those who like fast food, you can buy a quick meal on the beach, which are sold in many stalls. Very often these stalls are quite popular, especially among children, who just want to try delicious cakes, buns, pastries. But do not abuse these products, better nourishing meal in a cafe or cook your own food – it will be healthier and much cheaper, because for the usual cake on the beach asking about 10 USD, the same for the sweet rolls and various buns with stuffing. From the huge range you can buy baked pirozhki, because fried most often cooked in oil rather poor quality. It is not worth risking your health.
What tours are worth visiting in Kirillovka?

Tanysha
Kirillovka is a small resort village, which is designed for comfortable recreation with the whole family, because there are no special historical values and attractions.
From the excursions you can choose a trip to the nature reserve "Biryuchy Island" or the nature reserve "Fedotova Spit.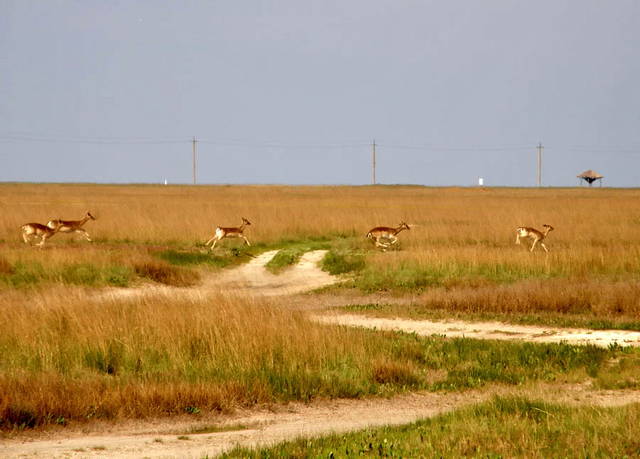 "Biryuchiy Island" is a hunting reserve. It is located in the western part of the Azov Sea and is a continuation of Fedotova Spit. From the northern part of the spit are many small bays and salt estuaries, in larger bays periodically visited by ships. The island is a protected area. This unique corner of nature allows you to see different plants and animals in their natural habitat. A vast area of the reserve, more than 8 thousand square meters and a length of more than 20 km, allows many animals to live on the territory, including wild geese, pheasants, partridges, white herons, deer and fallow deer. It is very beautiful here in May, when the wild flax begins to bloom. Also in this period you can find very rare flowers – tulip – srenka. If you come in the fall, as a souvenir you can collect a wonderful bouquet of wildflowers. In October, on the island begin to bloom salt-water asters.
Tourists should know that you can not get into this protected area on your own, because you must have a special permit. The reserve, as a rule, works from the middle of June, when all the migratory birds return. The average cost of the tour ranges from 80 to 100 UAH ($6 to $12).
What can I buy?

Tanysha
Kirillovka is a rather small village, and therefore there are no huge shopping centers for shopping. All necessary food can be purchased at the market or in numerous grocery stores, there are, incidentally, quite a lot of them. Vegetables, fruits and seafood are much cheaper at the market. There is a much greater choice and an opportunity to buy everything fresh, and the price is cheaper.
In small stores, stalls and tents on the beach you can see a huge number of souvenirs, which are inscribed with the name of the village. In the market you can find towels, bags and caps, but they are too expensive. For a cap – 70 UAH and a bag – 130 USD, but looking at their quality, I would not pay even half of that value.
As a souvenirs you can bring your loved ones products made of seashells, you can find a huge number of them here. I bought a beautiful jewelry box, decorated with large shells, for only 50 USD. In the city where I live, I definitely have not seen such products. I was worried how it will get there, but when I arrived found – nothing fell off and did not break off, it seems, made on the conscience. Trinkets with seashells you can buy for 10 – 15 USD, magnets – from 5 UAH. What you can't find at the local market! Very often I saw that the visitors buy beer mugs with inscriptions "Kirillovka", there are also shot glasses, and even badges.
Except for souvenirs, such as beach wear, it is better not to buy. The price for such things is often unjustifiably overpriced, and the quality leaves much to be desired.