An "early development program" in British kindergartens
Early years education in Britain is very serious, and its main difference from the modern Russian system is the presence of a single state-controlled program for early development, the Early Years Foundation Stage (EYFS), which is based on many years of educational research and is constantly being improved to keep up with current circumstances (the current version was adopted in 2008).
The uniqueness of the British approach to education lies in the combination of tradition and innovation, where methods are improved and principles are preserved. For example, the three basic and unchanging principles of EYFS state that every child:
Is unique in all its manifestations;
Is in a state of constant exploration of the world around him;
becomes strong and confident only with positive relationships.
Children are able to learn and develop in different ways and at different rates, determined by the needs of the individual, but the main condition for success is an unbreakable positive partnership between children, their parents, caregivers, and teachers.
How British kindergartens work
From birth, British children can follow the Birth to Three Matters program, which is offered in pre-schools that take in children from as young as 3 months (note that even the British Crown Prince can attend them). Right from kindergarten when a child reaches the age of 5 (at the beginning of the new school year) he or she goes on to elementary school.
There is a special rating from the state regulator (OFSTED) to assess pre-schools in Great Britain. It is easy enough for parents to use when deciding which kindergarten to choose:
Outstanding (outstanding kindergarten);
Good;
Requires Improvement;
Inadequate.
Structure of preschool educational institutions:
Municipal (there are few).
Private
Office hours
08:00-09:00 – 15:00
7:30 – 18:30
Features
closed during school vacations
Citizens and residents of the united kingdom are entitled to 3 hours of free admission per day
The number of caregivers in the groups is strictly regulated, depending on the age of the kids. Thus, there are:
3 children under the age of one year;
4 children aged 1-3 years;
13 children 3-5 years old.
Every institution in the United Kingdom initially has an Early Development Program, which includes teaching, developing and supporting all children from birth to age 5.
What the Kindergarten Early Development Program includes
The EYFS aims to develop, educate and provide a state of well-being for young residents of Foggy Albion. This goal is met by the core areas developed by the preschools, namely:
Language and Communication: Children learn to listen and speak, immerse themselves in the language environment, develop self-expression skills, gain self-confidence by learning to communicate in a variety of situations.
Physical development: mobility and coordination of movements, different opportunities for activity, understanding the importance of regular exercise, learning about the concept of healthy food.
Personal, emotional and social development: basics of appropriate behavior and emotion management, a positive perception of self and others, learning how to form respectful relationships, and the emergence of social skills.
Introduction to mathematics: understanding the number series and the use of numbers, developing skills in counting (addition/subtraction) and solving simple problems, mastering units of measurement, experience recognizing geometric shapes.
Literacy: in kindergarten, British children master the art of reading, begin to write, and learn to use access to reading resources, forming the basis for a passion for reading in the future.
Design and Art: Toddlers get to express their thoughts and feelings in music, dance, drawing, design, role-playing, etc.
World Understanding: Awareness of the physical world and one's surroundings in it through a variety of opportunities to observe, explore, and learn about other people, the environment, and technology.
When the child reaches the age of four, the level of knowledge and skills is checked, giving a clear understanding of which of the seven basic areas the pupil needs help or, on the contrary, an increased load that would not let him/her get bored.
Specificity and methods of EYFS
As we can see, the set of tasks is impressive. But teachers approach the educational process with a deep understanding of children's nature: the most effective way to deliver knowledge and skills to a child is through play, so there are no lessons in British preschools, and learning and development happen exclusively in the form of play.
Another feature is the thematic presentation of the educational program and the weekly change of subjects. In this way the maximum involvement is achieved and the danger of the young audience losing interest in the information they receive is excluded. Learning is going on invisibly, in the atmosphere of fun and joy. The creative approach allows us to combine learning with the development of various skills (for example, we study the animals of Africa and at the same time count the giraffes on the picture).
One of the features of British pre-school education that is very surprising to Russian parents is the menu in kindergartens: during the week, children are offered to sample dishes from different cuisines – from classic Italian pizza to exotic sauces. And that, too, is learning about the world! Fruits and vegetables are standard on the menu, and parents can stipulate if a vegetarian or meat-based diet is needed.
EYFS is a holistic, well-tested system that allows the preschooler to find his or her identity, feel his or her own worth, and learn basic human values.
"The early development program" is the basis for the work of the British school CIS International School operating in Russia: if you are interested in the described system of preschool education, call – and you will find out how to get all the benefits of EYFS without leaving your country.
In fact, there are some commonalities as well as quite important and interesting differences. To understand the differences between college and university, let's look at the opportunities their students have during and after graduation.
To understand how to improve the pronunciation of English, let's talk about the specific phonetics of this language and the nuances of reproducing its sounds with the voice.
The most common mistakes and misconceptions associated with the process of learning English. How to choose the right method of teaching?
This article tells about new words that have appeared in the XXI century. How is the renewal of vocabulary reflected in the learning of English?
The complexity of learning English is connected with many nuances. One of the serious stumbling blocks for beginners is some confusion around the number of temporal categories. In fact, it's much easier than it seems at first glance. Enough to understand the difference in approaches to the construction of linguistic structures in Russian and English, and these illusory difficulties recede by themselves.
If you are an avid sportsman, amateur or active fan, you probably know sports terminology. And if you combine your hobbies with the study of English, it's interesting and useful to know sports terms in English.
Learn how to memorize many English words, expand your vocabulary, and apply them quickly and easily.
You are likely to have encountered English level symbols, such as A1, Intermediate, pre-intermediate, and others; the British School CIS International School will tell you what they mean, what you need to know to reach this or that level, and how to determine your level of proficiency.
Parents at Work. How are British kindergartens structured and how are they different from what we are used to?
stock.adobe.com
Those who were born and raised in Russia or other former Soviet republics associate kindergartens with large groups of children, teachers in two shifts, a compulsory quiet hour, and beautiful musical matinees. And all this for up to seven years of age and for a fairly modest fee. That is why British kindergartens are perplexing and even slightly shocking to many expats at first. What kindergartens in Britain are like, tells Kommersant UK.
Not all couples who are expecting a child or move with an infant to the UK, know that paying for kindergarten for a baby under two years of age is sometimes comparable to the annual cost of university tuition and may even exceed it! According to the Coram Family and Childcare Trust, the national average parent pays almost 28 pounds per day for a five-hour day care for a child under two, which is 138 pounds per week and more than 7,000 pounds per year. In London the fee is even higher: the cost of a five-hour stay can exceed 175 pounds a week, which means that the garden costs 9100 pounds a year (by comparison, the fee for a year at university on average is 9250 pounds). If a child spends a full day in kindergarten (10-12 hours), the figures are twice as impressive. And according to other studies, mothers who go to work must give at least four months' salary to cover the cost of kindergarten.
So what do such expensive British kindergartens offer parents?
Private kindergartens.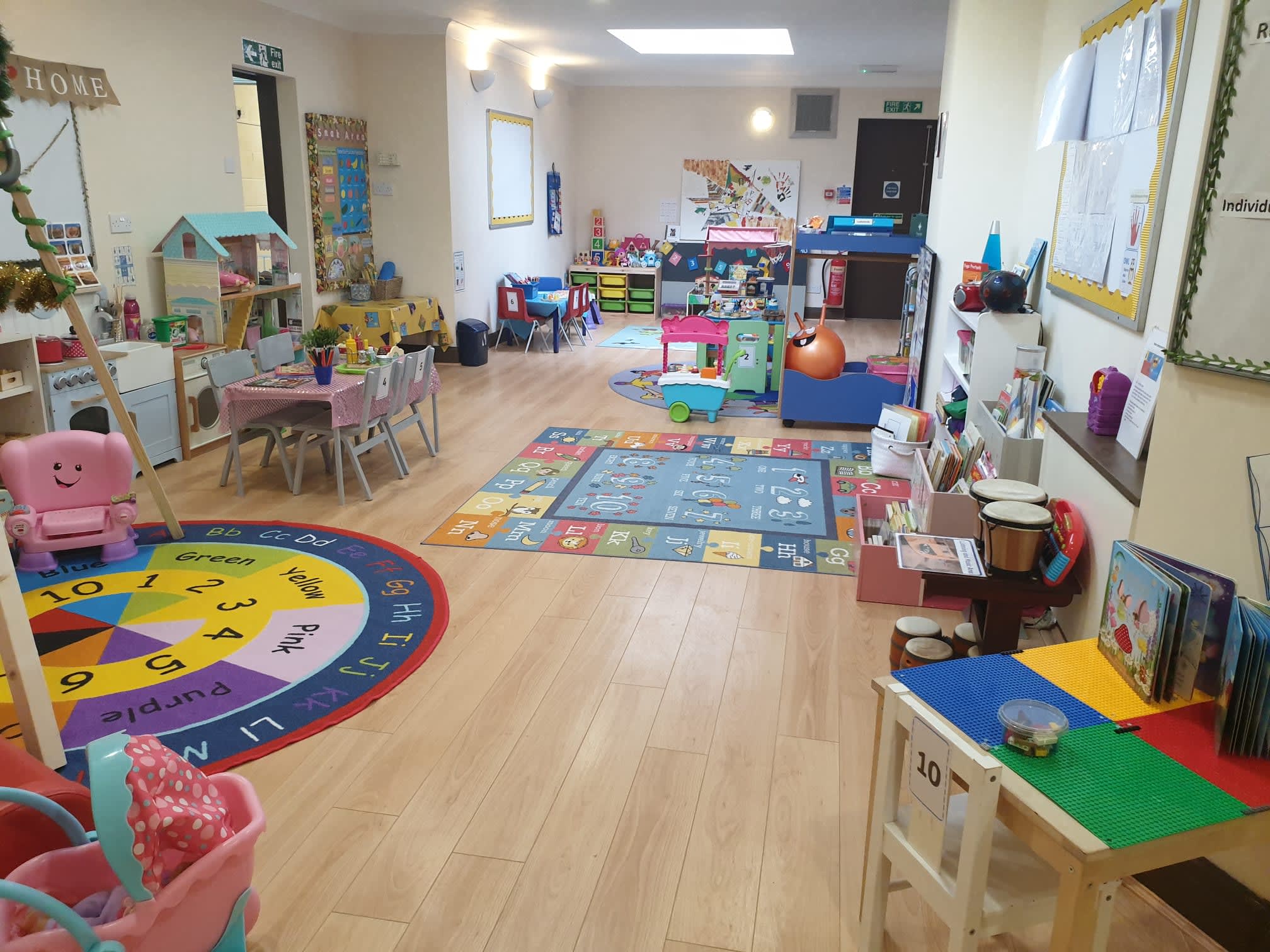 It is the private kindergartens that allow mothers to get out of maternity leave as early as possible. They are open all year round, with the exception of public holidays.
Most private day care centers provide care for infants from three or six months of age, but there are also some that are willing to accept babies from birth. You can find day care centers open from 7 a.m. to 7 p.m., but they are mostly open from 8 a.m. to 6 to 6:30 p.m.
Babies who can't yet stand firmly on their feet are in a separate room, the so-called baby room, which has cribs with borders, lounge chairs, educational mats and toys for their age. Depending on the parents' wishes, the baby will be fed either expressed breast milk or formula. Feeding, also at the request of parents, may be from a spoon or allow the child to explore the food on their own (the method of baby-led weaning).
According to safety rules, one caregiver can take care of no more than three children under the age of two.
As parents tell us, caregivers are very gentle with babies, often take them in their arms, play, can cradle them in a rocking chair, take them for a walk in the park. There is always a quiet hour. Infants usually quickly get used to such a "nursery" group.
Older children may be divided into groups of two to three years and three to four or five years. From the age of two children are encouraged to play role-play and be creative, the caregivers dance and sing nursery rhymes, explore different textures, and spend a lot of time walking and playing outdoors.
There are no more than four children between the ages of two and three for each caregiver.
Three-year-olds already begin to be prepared for school, where they move after they turn four (parents sometimes prefer to leave their "summer" children in kindergarten for another year). With older children they learn the alphabet, simple counting, but mostly children are also given the freedom to play what they like and go for walks in the fresh air. Daytime naps for children two and a half years old are no longer given much importance. As a rule, the older groups have quiet corners with soft mats, mats and blankets where a tired child can lie down and rest, but no one will force him.
Nutrition In private kindergartens, the cost of food, as in Russia, is usually included in the monthly fee. However, the menu is quite different from what is offered in Russian kindergartens: no soup or compote, they give vegetables and fruit for a snack, and the hot meal parents can choose for the child is meat or vegetarian. During the week, children try a variety of dishes – from lamb with Moroccan couscous and chicken in tikka masala sauce to tofu casserole and margarita pizza.
Forest schools, kindergartens according to Montessori system and other directions Besides traditional kindergartens, kindergartens according to the system of Maria Montessori, an Italian teacher of the early XX century, who developed her own system of teaching children with special developmental needs, which is successfully used now for ordinary kids, are very popular in Britain. Such kindergartens employ teachers, who received a diploma of education at the International Montessori Center.
The Montessori principle is based on the fact that the child has to explore the world around him/herself, and adults only guide him/her by creating favorable conditions for natural activity. Thanks to a special teaching technique, children who go to kindergartens under the Montessori system usually start dressing and buttoning their own clothes earlier than others.
Montessori kindergartens have a lot of special materials that develop the child's senses, as well as great importance is given to teaching counting and writing skills.
Montessori kindergartens are not only prestigious – they are also much more expensive than the usual private kindergartens. For example, five full days (8 a.m. to 6 p.m.) in a Montessori preschool in London's Fifth Ward will cost £416 for a child under two years old and £372 for an older child.
Another private preschool format that is now becoming more common is Forest School Nursery (Forest School Nursery, Outdoor Nursery). The idea of forest nurseries came to Britain from the Scandinavian countries, where preschoolers spend a lot of time in nature. Like the Montessori system, forest gardens have their own philosophy and teaching principles.
In British kindergartens, children actually spend most of their time, if not all day, in the woods, and in all kinds of weather. They play with improvised natural materials, climb trees, build huts, and study the forest animals. They learn the basics of counting with the help of pebbles, twigs, and cones, and draw letters on sand or sawdust. Pupils of forest nurseries learn to saw branches, make fires and cook on an open fire (under the supervision of teachers, of course). In good weather, children can rest in hammocks tied to tree trunks; in bad weather, they can hide in a tent in warm sleeping bags. A bio-toilet is set up in a separate tent, and children who don't know how to use it yet, are changed diapered on a camping mat by the caretakers.
Due to the spartan conditions, forest day care usually accepts children not earlier than two years of age (if except for tents and shelters the day care center does not have a stationary room).
The cost of a forest day care depends on the conditions, location, and hours of operation. For example, five days a week from 9 a.m. to 3:30 p.m. in a woodland nursery in Highgate, London, would cost £340 from April to October and £355 from November to March, when the children are fed hot lunches at a nearby cafe.
If you want your child from an early age to learn not only the basics of writing and arithmetic, but also learn foreign languages, the bilingual or even multilingual kindergartens also in Britain.
It is worth noting that, no matter what direction the private kindergarten chose in England, it must follow the state program for all registered preschools (Early Years Foundation Stage), and in Scotland and Wales, there are their own standards for early education. According to the scheme, children must be taught through playful activities in the following areas: language and communication, physical development, personal, social and emotional development, reading, mathematics, understanding the world around them and the visual arts.
Public kindergartens
In addition to the expensive private kindergartens, there are many state kindergartens in Britain, which are usually cheaper for parents and often, thanks to state funding, even free. But public schools have two big disadvantages for busy parents: they are usually open for no more than three to five hours a day and they are closed for school vacations, which is a total of 13 weeks a year.
Public kindergartens are not usually called "nursery" but "pre-school" or "playgroup. They may be located on elementary school grounds and often rent space in church halls for children ages two to four or five.
Public kindergartens do not have as diverse resources as private kindergartens and form charities to raise money for new toys and equipment.
If children spend only three hours in kindergarten, they are offered fruit or toast with butter. And if lunch is provided, children in most cases come with their own lunchboxes of sandwiches or thermoses of pasta.
Good public day care centers create and maintain a family atmosphere. Teachers follow the state's Early Years Foundation Stage, rotate books and toys each week, and offer children a choice of arts and crafts. As in private kindergartens, children also get a lot of exercise and sometimes go to parks and on excursions.
The main purpose of public kindergartens is to prepare children for the start of school.
Home Kindergartens
As well as traditional nursery schools, Britain has mini-kindergartens at home. They are run by childminders.
A childminder is someone who works with children at home for at least two hours a day. They must have appropriate training, including emergency medical training, and be officially registered with OFSTED (the state inspectorate for training standards). Like kindergarten teachers, Childminders follow the state's early learning program. If the size of the home allows, a Childminder can take in several children of different ages, including infants, and hire helpers. In the home, children are fed and put to bed at the parents' request.
Childminders cost at least 118 pounds for 25 hours a week, according to Daynurseries.co.uk.
Inclusion for a child with developmental disabilities
Children with developmental disabilities have the right to attend kindergartens on an equal basis with everyone else. Every day care centre, public or private, has a Special Educational Needs Coordinator (SEN) who deals with children with physical or mental disabilities. A child may have a separate assistant, a special demonstration schedule, and extra classes with specialists. There are also speech therapy kindergartens in Britain which cater for children with speech impairments. In such kindergartens you can get only by referral from a speech therapist. Childminders can refuse "problem" children.
A different approach
At first, much in British kindergartens (even the most expensive) will cause surprise. Let's try to compare the two systems.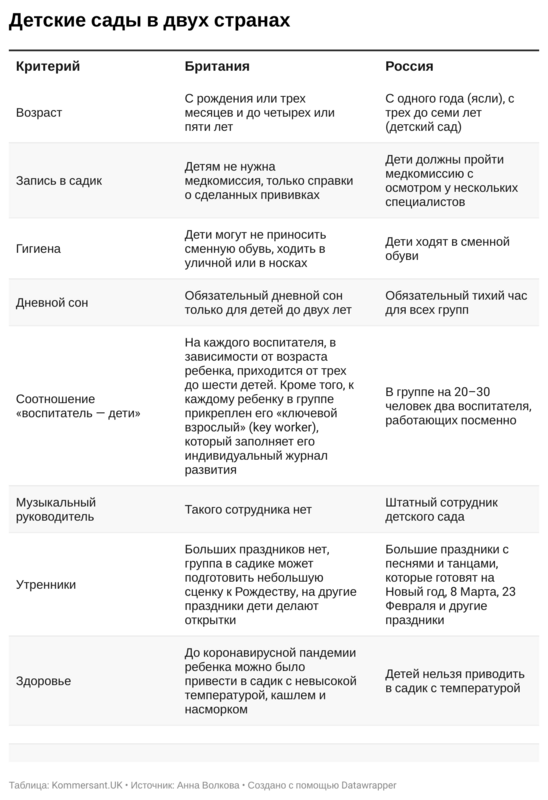 Again the financial side
As we have seen, kindergartens (especially private) – an expensive pleasure. If parents rely only on their own resources, the monthly fee for a full-day child will average from 1350 to 1700 pounds, depending on the type and location of the kindergarten.
Tax-free childcare and free hours for children from the age of three (or two if they're from a low-income family) are only available to British residents without a visa.
Read more about childcare benefits at www.gov.uk (Check what help you could get with childcare costs).
The most popular resources for finding officially registered nurseries are: – Gov.uk – gov.uk/find-nursery-school-place; – Childcare.co.uk; – Nurseries UK.
Be sure to check the rating of the nursery on the website of the state inspection of learning standards OFSTED (Find an Ofsted inspection report). And most importantly, visit the day care center, talk to the teachers and trust your intuition.