Top 10 resorts in Cuba.
Resorts in Cuba are increasingly popular with Russians each year. You can come here at any time of the year. When in Russia there is rainy fall or freezing winter the friendly "island of Liberty" will welcome its guests with a hot sun, clean beaches and warm sea.
In this tour will be affordable, which can not be said about rest in luxury exotic resorts. The island has a lot of natural and architectural attractions, the local climate is well tolerated even by children, so that the trip will benefit the whole family. Which resort is best to stay at?
Varadero
It is here that the majority of Russians rest. It is very convenient. After a long tedious flight and arrival in Havana, it is not difficult to take a cab and an hour and a half to get to Varadero. Tourists are welcomed here by endless beaches (total length of about 25 km), as well as first-class hotels and infrastructure.
Everything here is focused on bringing guests as much pleasure as possible. You can take a ride in a vintage car or horseback riding, sail on a yacht or catamaran, visit the nearby islands, learn how to dance Cuban dances and demonstrate your skills at the disco. Diving, surfing and beach sports are also on offer.
No doubt adults and children will love the clearest sea water with a rich turquoise hue. The hot climate is softened by the constant blowing winds. You will be able to appreciate in all variety of excellent Cuban cuisine.
Do not miss the Al Kapone restaurant (the former mafia estate) and try the lobster and shrimp. There is a full program of excursions. On your own you can visit the Museum of rum, stroll through the stores, buy souvenirs.
– The Rum Collection offers many interesting entertainment programs, Children`s Club and Kids` Club, a restaurant serving various delicacies and international cuisine, thematic bars and cafeterias – located on the beachfront, SPA-Center Sensations, diving center, dance lessons, professional shows, children`s pool for adults only (18+), evening entertainment, night club, 5 la carte restaurants, 3 outdoor freshwater pools, 3 tennis courts
Cayo Coco
The island gets its name from the bird that lives there. The easiest way to Cayo Coco is from Varadero. Rest at the resort is truly luxurious. There are a lot of first-class hotels, the widespread option "all inclusive". So guests do not have to worry about anything. If you want to save money, you can stay in the interior of the island in the village of Moron, hotels there are budget – and go to the sea every day.
Cayo Coco attracts tourists a combination of first-class service and nature, which seems to not yet touched by civilization. It is home to many birds and mammals, a national park, you can do rock climbing and mountain climbing.
Children and adults will love the flamingos, there are so many that they walk on the lawns as pets, and when they rise into the sky, it all seems pink. Not far from the island is a coral reef, which resembles a huge aquarium, so diving will be really fun.
The beaches here are among the best in Cuba and impress with their cleanliness. The local spas and fitness centers are also famous. Cayo Coco recently had an airport that meets modern requirements. So you can fly here directly from Havana.
– Some bungalows are on platforms in the lagoon, a shady area with lounge chairs, complimentary honeymooners, entertainment and themed shows, 8 bars, special dinners on the beach are organized – a total area of 120,000 sq. m, direct access to the beach, 7 bars, mini zoo, game room for children 4 to 12 years old, separate area for adults only (18+) – located in the resort area of Hardines del Rey, romantic dinners on the beach, entertainment programs for adults and children, 24-hour snack bar and beverage service
Cayo Largo
Located about 80 km south of the Big Island. The best way to get here is from Varadero or Havana. There is no local population as such, Cubans come here to work in the hotels. Hotels here are mostly 4-star.
As for tourists, Cayo Largo is chosen mainly by "gourmets vacation. There are wonderful beaches with white sand, beautiful nature, and during scuba diving you can see the magnificent underwater world. Keep in mind that the water here is so transparent, that you can get a tan, even swimming in the sea.
Parents with young children, couples in love and middle-aged people will like it here. Each hotel is a mini-town, provided entertainment for children, adults will enjoy excellent Cuban cuisine.
It is especially pleasant to come here during those months when it is winter in Russia, and here the summer reigns serene, it will seem like you were transported to another planet.
Cayo Guillermo
This is a true paradise where you can have a great vacation. It is connected to Cayo Coco by a highway. The hotels here are first class and offer an all-inclusive option. From morning to evening animators work, various parties are held, live music is played.
The glory of the island brought its beaches with snow-white sand. You get the impression that here had not set a foot man, so good nature.
The sea is warm and has an unusual color. It seems that there are all shades of blue and green. Here is a very good rest with children, as strong waves in these places does not happen, and the sand will not burn your feet, even in the hottest time of day. On the island there is an atmosphere of peace and tranquility.
It was quite appreciated by the great Hemingway, who came here to work on the novel "Islands in the Ocean. You can go scuba diving, and those who love dolphins can visit the local dolphinarium and swim with these amazing animals.
– The activities offered are "All Inclusive", a team of animators, children's camp, a pool with rides, 4 themed restaurants, dance lessons – 2 a la carte restaurants, 6 bars, a mini club for children from 2-12 years, 3 outdoor pools, gym, bowling, day and evening animation – 4 a la carte restaurants, 8 bars, snack bar open 24 hours, premium drinks, animation, disco, dance lessons and Spanish, aquafitness
Cayo Santa Maria
A small island that is fast becoming a fashionable resort. You can get here by plane from Havana – it takes less than an hour, or come by car – in this case you'll spend about 5 hours on the road.
All hotels here are of 4* or 5* category and work on an all-inclusive program. You will find an extensive entertainment program, open spas, children's clubs, animation. Local restaurants and cafes are also above all praise.
You can rent a scooter, bike or car and travel around the island on their own. See enormous turtles, exotic crabs, birds, and iguanas. There are luxurious beaches, where you can relax with children – the sea is shallow, the sand is clean, almost no waves.
Prices are a little higher than in Cayo Coco, because all the goods are imported. Nevertheless, you can eat a lot of fruit, taste the real Cuban rum, buy souvenirs. Also be sure to visit the Museum of Che Guevara, there are very interesting exhibits.
Holguin
One of the most popular Cuban vacation areas, which is located in the north-east. You can fly to Havana and then take a plane or bus to Holguin Province. Hotels here – for all tastes and wallets. You can choose a 5* hotel, or stay at a hostel. Everywhere the staff will make sure that your vacation will not be spoiled.
The province has excellent beaches, especially the famous Emerald, which got its name because of the color of the water. Here are the best hotels. The water temperature even in the winter months reaches +27C, so that even small children can swim.
You can ride a yacht, rent a catamaran, scuba dive. There is almost no nightlife in Olguin, but families with children will feel great here. Attractions are few, but they are there.
You can climb the hill of Christ – there are 458 steps, but from a height of an amazing view. Tourists will also be offered to visit the burial of the Aborigines, go to the ancient Cathedral of San Isidoro, visit waterfalls and the reserve, famous for its dolphinarium.
Santa Lucia
Located in the northeast of the country and is considered one of the best resorts. These places are also favored by pink flamingos, so you will no doubt see them regularly. The gorgeous clean beach will appeal to tourists of all ages. But scuba diving, or at least snorkeling, is a real treat. You can see the many underwater inhabitants of coral reefs.
You will feel like you are swimming in a huge aquarium. Also in this area there are a lot of shipwrecks, many of which are perfectly preserved. You can dive into the sea and look at them closely. You can also go shark diving. You will be close to the predatory fish and watch as the instructor feeds them.
Guests are offered accommodation in first-class hotels. But do not spend all the time even in the best hotels. Nearby is the interesting old town of Camagüey. In the 17th century pirate Henry Morgan started a fire here, and since then the town is a veritable maze – with narrow streets and picturesque houses. In short, you'll find both beach vacations and fascinating excursions here.
Havana
When heading to the capital of Cuba, tune in to be immersed in an amazing world. After all, Havana – a real museum under the open sky. To be able to see its main attractions – the trip should last at least a week. Old houses and modern streets with their stores, homely cozy little cafes and fashionable restaurants, hotels for every taste and purse – all this is Havana.
You will see how the locals communicate with each other through the windows (glass is rare here), admire the incendiary street performances, taste the unique Cuban cuisine, go shopping and visit the major shopping malls. It is in Havana, you will be offered the largest selection of excursions, here you can buy any souvenirs – from cigarettes and rum in unusual bottles to the creations of the local craftsmen.
You can take a train ride on the old railroad, go to explore the nature reserves. As for the beach holiday – it all depends on you. If you like clean and secluded beaches – you can always take a cab and go to the nearest resorts, as the beaches of Havana are usually crowded.
– Located in the Miramar area, bus to the beach 3 times a day, live music in the lobby bar, freshwater pool, wedding ceremonies – main building and bungalow complex, evening entertainment, disco, 2 outdoor pools
Baracoa
A very interesting city in the east of the country. And not all tourists know about it – for a long time this place was isolated from the rest of Cuba, to get here could only be by sea. Later, a highway was laid. The city was founded in the early 16th century.
Nearby is the site where Columbus landed in the late 15th century. The local cathedral keeps the cross that, according to legend, he put on the shore. It's a picturesque place, with a mountain with a flat top that translates as "anvil".
There are rivers, waterfalls and a beach with black sand. This area is home to the world's smallest frogs. Historical attractions also suffice – there are many monuments of the colonial era. Baracoa also specializes in the production of chocolate. You can also enjoy delicious fish dishes served with coconut milk.
Cienfuegos
Cienfuegos is quite a modern city. That means comfortable hotels and well-developed infrastructure are waiting for you. But there are historical neighborhoods here as well. You can also get acquainted with the life of the locals, visit, for example, an Indian village standing on the water. Beach vacation also does not disappoint. The sea is warm and shallow, the sand is clean.
Those who like to do scuba diving, will delight the prices for diving, they are much lower than, for example, in Varadero. Children will like a trip to the crocodile farm. Here you can not only see the reptiles of all ages, but also to buy very interesting souvenirs. There is a reserve of birds in the neighborhood. You are also sure to see huge starfish. Cuba is hospitable at any time of year and always welcomes tourists.
How much does a vacation in Cuba cost?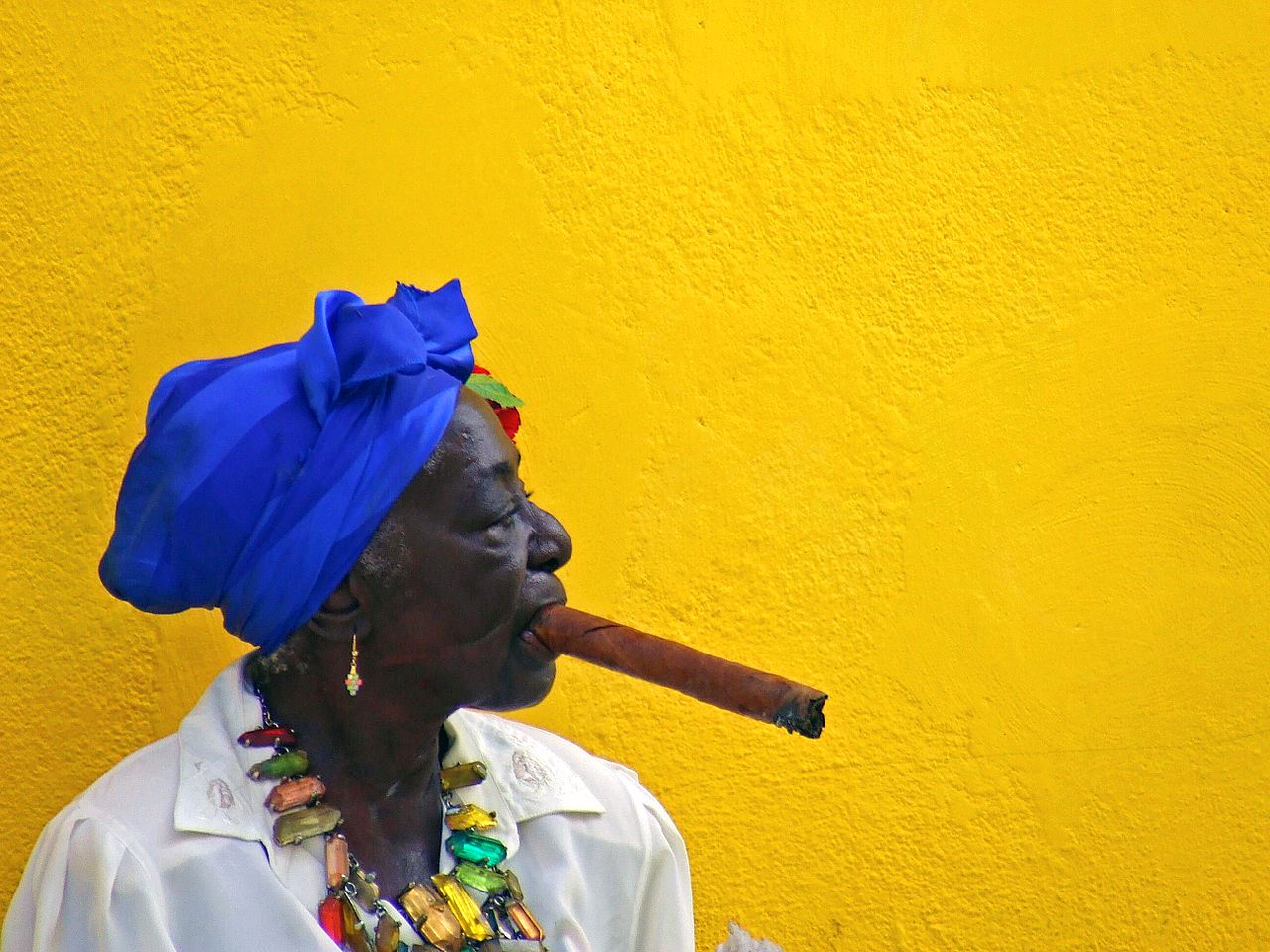 I'm sharing my personal vacation experience! Find out how much a trip to Cuba will cost in 2022. Prices for hotels, flights, tours, food and entertainment. Tips for smart savings. I'm telling you how much money we spent.
Check out: How to Go to Cuba Now – there you'll find up-to-date travel reviews, pandemic entry conditions, a list of available resorts and tour prices. See also the list of open countries. Below we talk about vacationing in Cuba before the pandemic.
Last year we flew to Cuba. The country is bright and colorful – we loved it! We spent 12 interesting days on the Island of Liberty: we visited Havana, Trinidad and Varadero, swam in the Caribbean Sea and the Atlantic, and spent only ₽27,500 per person. This review will help you understand prices in Cuba and plan a great vacation. Let's go!
Exchange rate: 1 CUC = 1 USD = 25 CUP.
Contents:
Cuban currency
Cuba is an unusual country! It has two currencies at once.
CUC – kuk, or as Cubans themselves say, siu-ci. These are convertible pesos used to pay for lodging, tours, restaurants, transportation and souvenirs. The bills have pictures of the country's landmarks on them. The exchange rate of the pesos is tied to the U.S. dollar: 1 CUC = $1.
CUP is the peso nationale. The money features portraits of the country's leaders. CUPs pay Cubans their salary and can be used to pay for goods in stores, food at cafes for locals, or fares on the city bus. 1 CUC = 25 CUP, but the exchangers give 24 pesos nationale for a kuk.
I exchanged some of the CUCs for pesos and sometimes paid with them. I also advise you to buy some pesos, but not many, because they are rarely useful.
Warning. All exchangers charge 10% commission on transactions with the dollar. So come on vacation only with Euro, otherwise you will lose a lot. The rate in all exchangers is the same, even at the airport in Havana.
It is very easy to distinguish the bills: the national pesos (CUP) have portraits of Cuban leaders (the bill on the bottom) and the convertible ones (CUC) have pictures of Cuban tourist attractions (on the top). The latter also have "convertibles" written on them (Photo: SheepRUs / flickr.com) The main face-brand in Cuba (not the author, of course, but Che Guevara).
Tour prices in 2022.
How much is a vacation on a tour to Cuba in 2022? Expensive!!! Caribbean exotica costs a tidy sum. Prices are high because of the long flight, expensive hotels and food on the island. But the good news is that Russians do not need a visa.
Высокий сезон длится с ноября по апрель. Подробнее о сезонах отдыха на Кубе >>
My observations on the cost of travel:
Last minute tours are rare. It is better to buy a trip a month or two before departure – it's cheaper.
The cheapest tours are in Varadero.
Minimum prices are in April, at the end of high season.
Almost all tourists think that a holiday in Cuba should only be in "five" and "all inclusive", otherwise you will be disappointed. Otherwise you will be very disappointed. Service in many hotels is not very high, so accommodation should be carefully chosen based on reviews. Learn: where to go on vacation in Cuba.
I recommend buying tours at Level.Travel and Travellata – they look for tours at the best price in 120 tour operators, and they have a convenient system for evaluating hotels. I buy my trips there myself and in no case in the offices of travel agents in the city. See also my tips: 7 ways to buy a tour cheaper.
How much do tours to Cuba for two for 11 nights from Moscow:
| | |
| --- | --- |
| 2-3* with breakfasts | From 90 000 ₽ |
| 4* all inclusive | from ₽ 135,000 |
| 5* all inclusive | From 165,000 ₽ |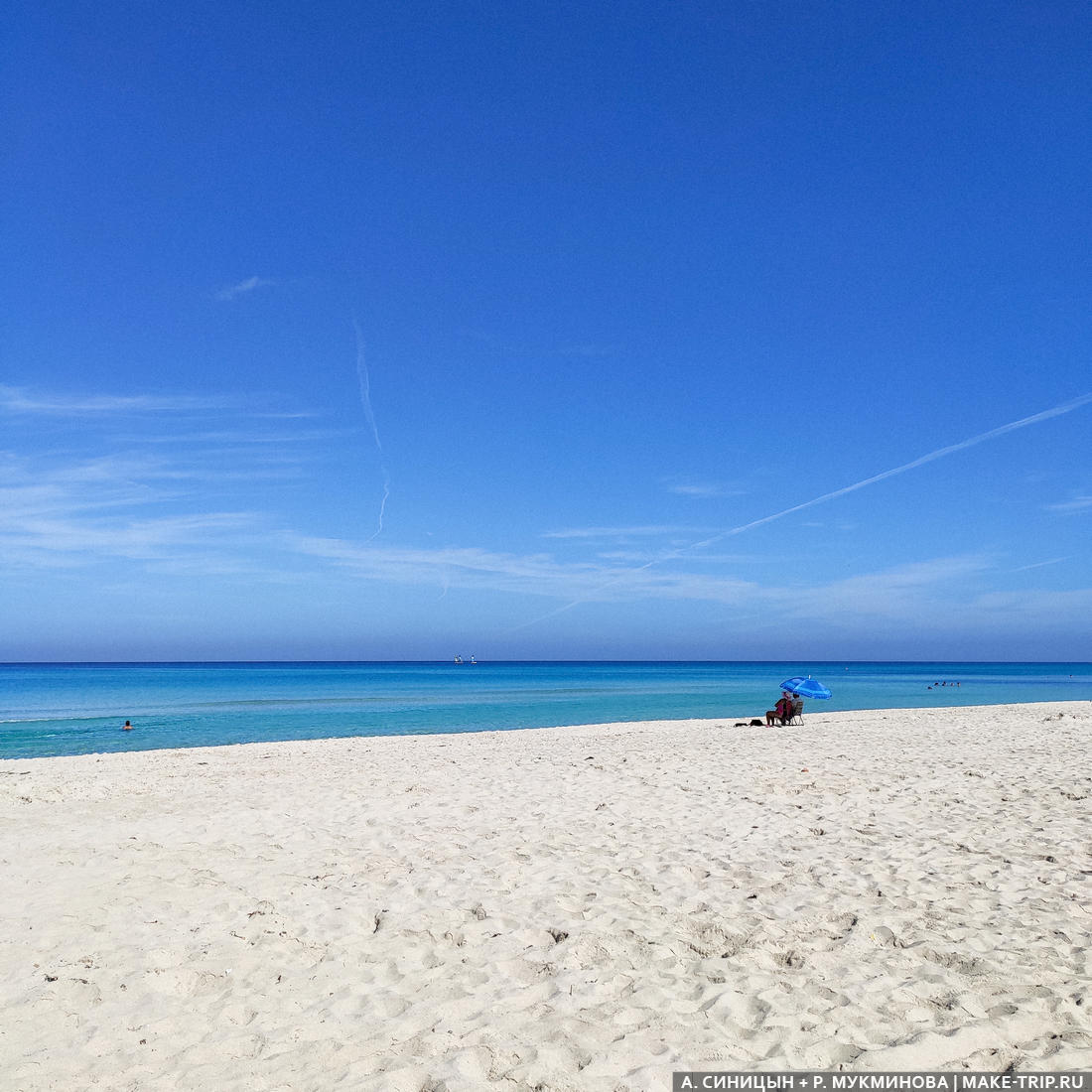 The beach in Varadero is white sand and the clearest water.
Hotel prices
Things are complicated with hotels in Cuba. The problem is that because of U.S. sanctions international services like Bookings and Rumguru cannot work properly there. The choice of accommodation on Bookings is very poor (10-15 hotels in Varadero and Havana) and there are no reviews, which complicates the choice of a good hotel.
Fortunately, there is an alternative! By some miracle, in spite of the state blockade Airbnb works in Cuba, and there you can rent casa particular – accommodation from locals. All my accommodations in Cuba, I booked there, the choice is huge and there are a lot of reviews. In Varadero we rented a room in a guest house for $47 a night (yes, it's expensive there), in Havana – an apartment for $19, in Trinidad – a house for $23. I always choose "whole house" in my search settings because I like privacy. But if you want to save money, you can live in a private room in an apartment where the owners themselves live.
The conclusions are simple . If you want to go to Cuba by yourself, then book rooms, apartments or houses from the locals. If you want to rest in the "five", it is better to buy a tour.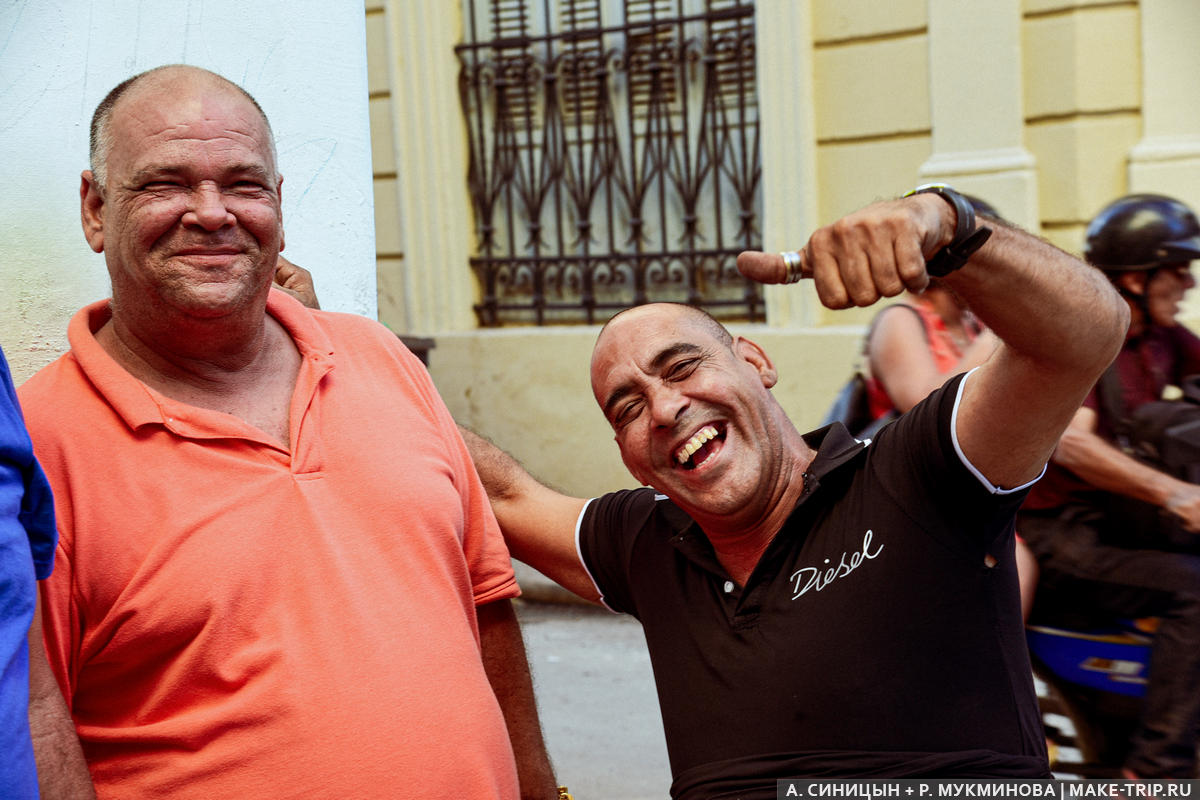 Cubans are open, sociable and cheerful people. Some tourists complain that the tourism industry workers are deceiving and cheating, but the ordinary people are not mercenary.
Ticket prices
How much does it cost to fly to Cuba in 2022 (round trip):
Aeroflot direct flights from Moscow to Havana start at ₽46,000.
Flights from Moscow to Havana with a connection in Istanbul – from ₽31,000.
Flights from St. Petersburg to Havana with connection in Paris – from ₽32,000.
Hot charters from Moscow to Santa Clara – from 31,000 ₽.
Hot charters from Moscow to Varadero – from 42,000 ₽.
Find tickets to Cuba at the best price with Aviasales – it compares prices of all airlines. See also: how to buy cheaper airline tickets.
We flew to Cuba from the Dominican Republic and then flew to Mexico. If I had flown from Russia, I would have chosen flights with a connection in Istanbul or Paris, because it's hard to catch a cheap charter for the right dates.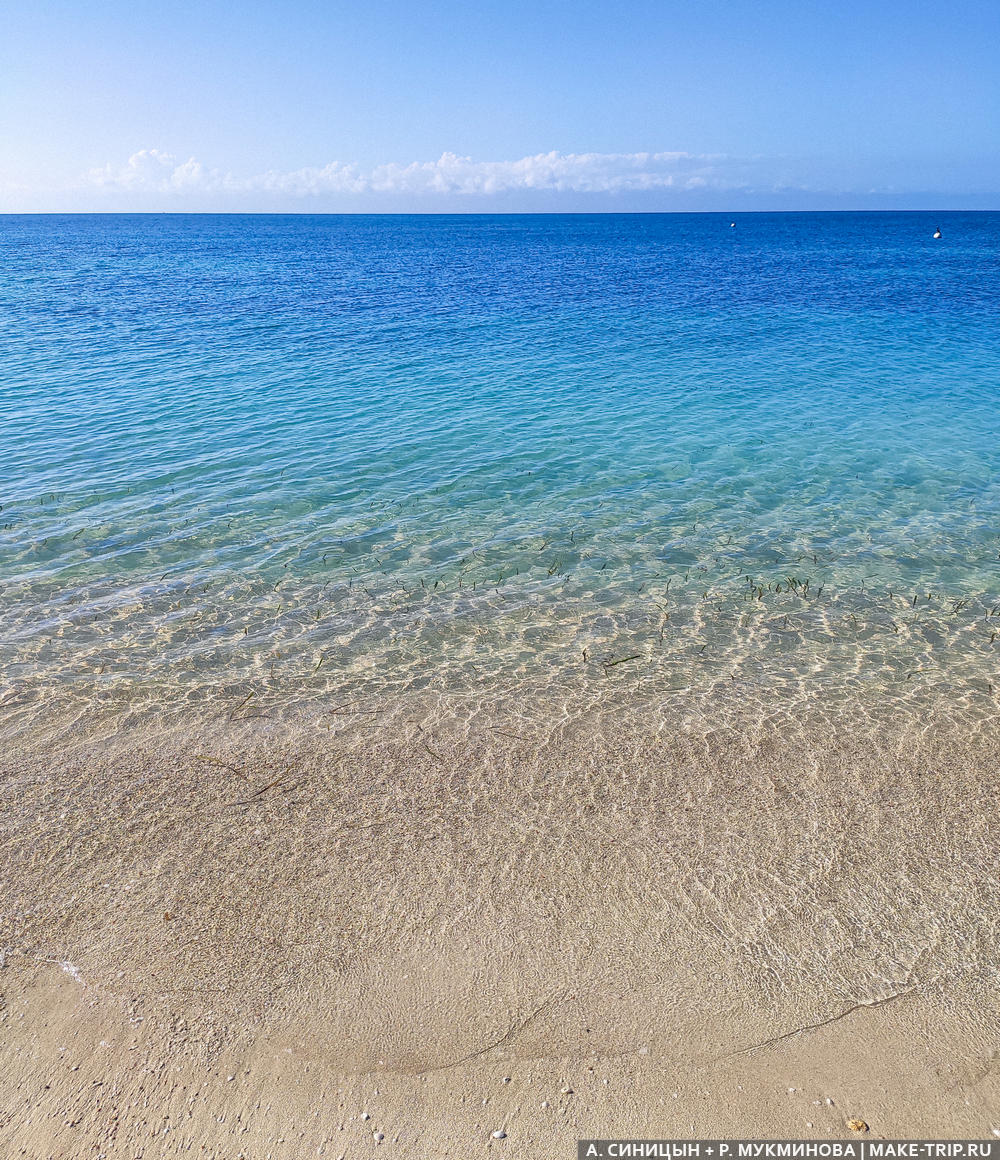 The beach on the Caribbean Sea near Trinidad.
Food prices in Cuba in 2022
Many tourists have scare in their reviews that food in Cuba is very expensive. It isn't. Yes, it is more expensive than in Asia, but the prices are pretty adequate. Our average bill for two at a budget restaurant or cafe is 15-20 CUC. We managed to get a meal for 10-12 CUC somewhere. Alcoholic cocktails cost 1.5-3 CUC, a dish in a restaurant from 5 CUC. And you can buy delicious lobster for only 8 CUC!
There's no selection in the stores, so don't count on being able to cook yourself. There's very little fruit either.
Read my complete guide to food prices in Cuba. There I told you about the prices in the cafes and stores, the alcohol, ways to save money and listed the best restaurants where we ate ourselves.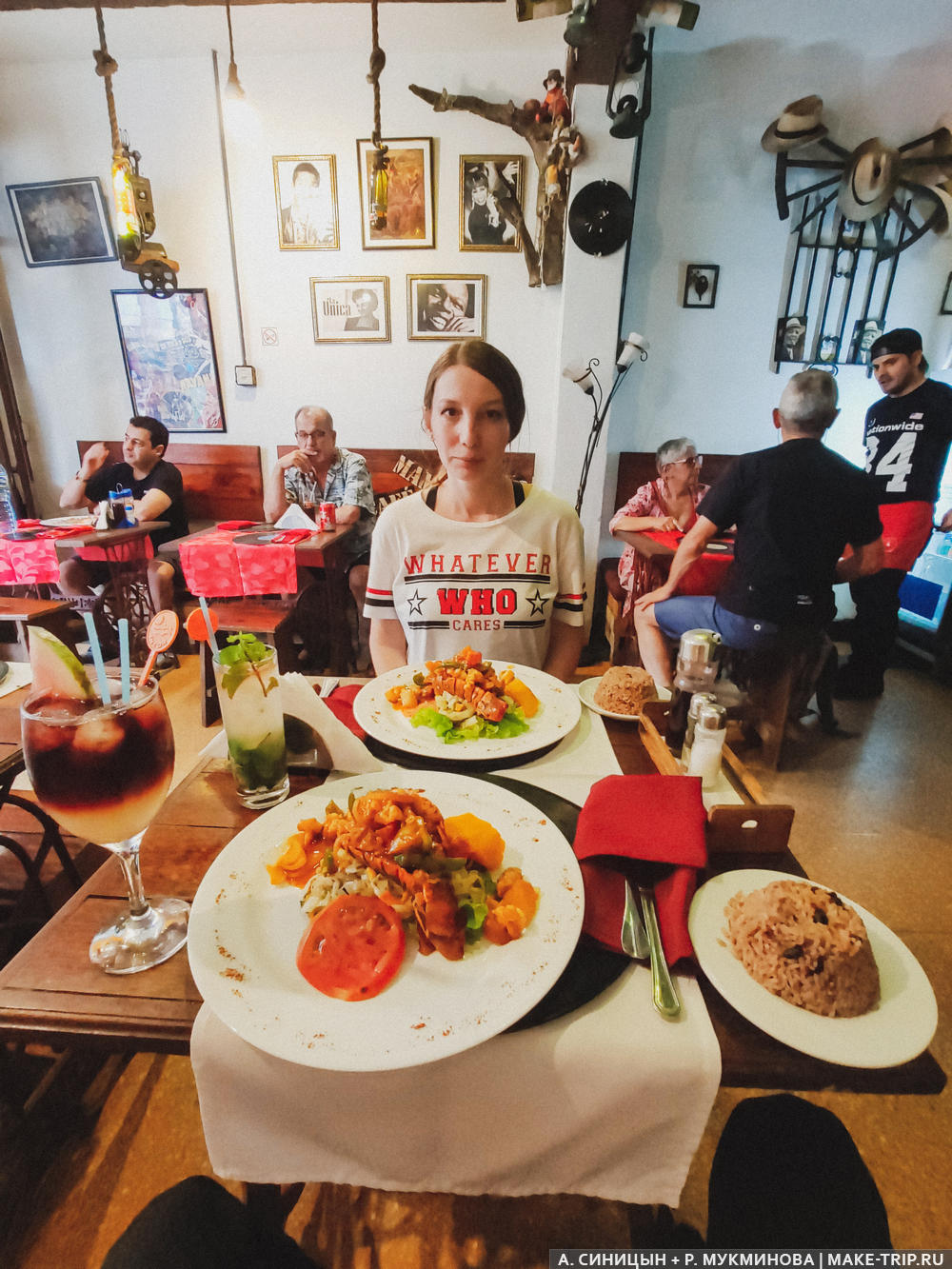 We ordered lobster for 8 cukes at Café Mambo Habana.
Transportation Prices.
We traveled to different cities and used different transportation. Let's see how much it costs in Cuba.
The city bus . Now you are in for a shock! A ride on any city bus on Liberty Island costs only 1.25 ₽, or half a peso! Can you imagine? There are such buses in Havana, Varadero and other major cities. Even from the capital's airport you can get away for that money, bypassing the dodgy cab drivers.
Intercity buses . Here you'll have to spend some money. Cuba's only bus company is Viazul, and local buses don't sell tickets to tourists (they're much cheaper). If you speak Spanish, you can negotiate, if not, only Viazul. The bus from Havana to Varadero costs 10 CUC, to Trinidad 25 CUC. Expensive!
Cabs . There are two types of cabs in Cuba – for residents and tourists. Cubans ride in old broken-down vehicles, and tourists ride in retro cabs and are grossly overpriced. A trip from Havana airport to the center is 20 CUC, from Varadero to Havana – 80-100 CUC. An average cab ride around the city costs 5-7 CUC. Try to haggle so that it is not more expensive than 0.5 CUC per kilometer.
Rent a car . This is very, very bad in Cuba! You can rent a car only locally, cars are almost never available and cost 80-120 CUC per day. Mopeds from 30-40 CUC.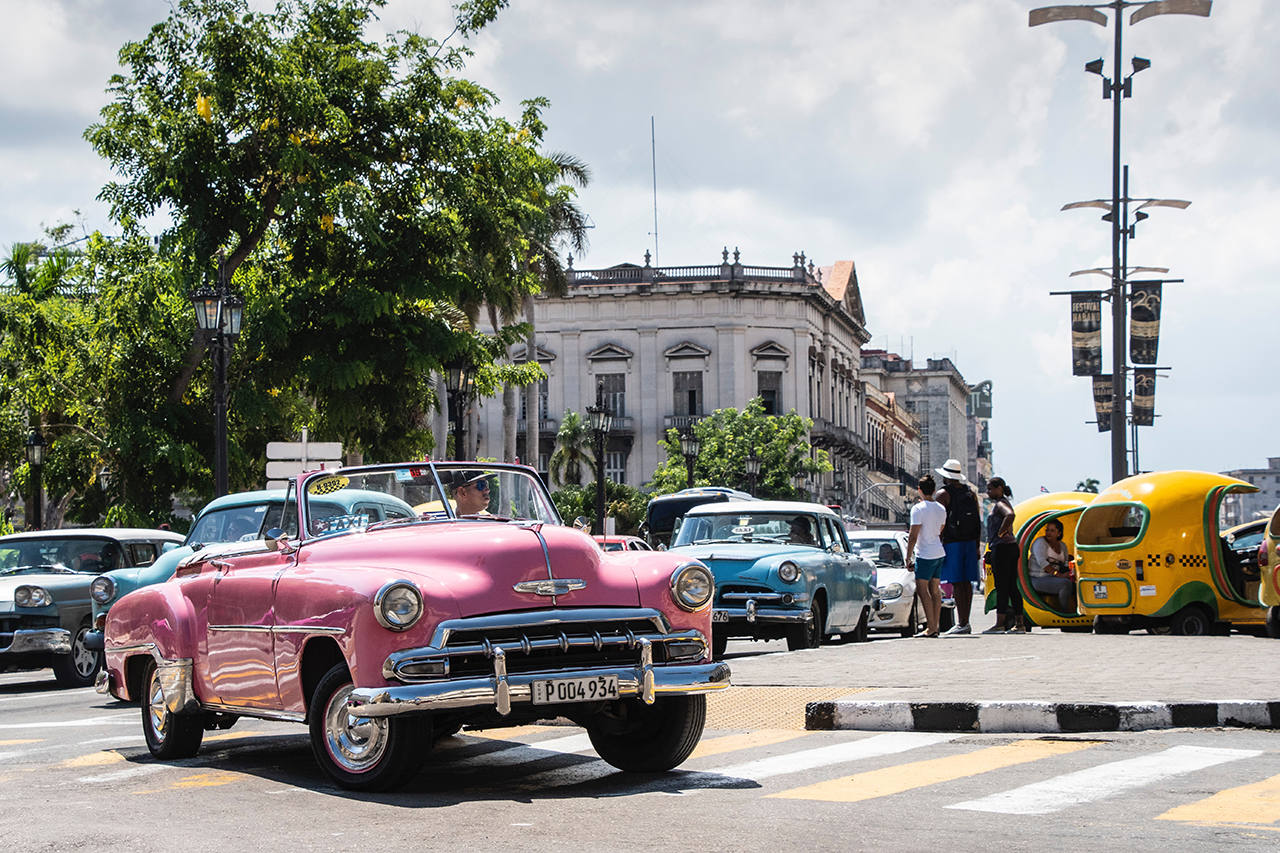 In the foreground is a pure touristy pink cab convertible. In the background, a Cuban version of the Asian tuk-tuk, the yellow coco-taxi (Photo: unsplash.com / @mattis_se)
Tour prices
It's a tin can, comrades! The prices of tours in Cuba would make your head spin. Let's see how much they cost:
– 240 €. – 280 €. – 150 €. – 120 €. – 62 €.
Diving course with 3 dives – 200 CUC.
Sea fishing – 80 CUC.
Catamaran trip – 70 CUC.
Boat trip – 50 CUC.
Horseback riding – 20-60 CUC.
Snorkeling on a coral reef – 40 CUC.
Jeep safari to Yumuri Valley 80 CUC.
As you can see, the prices are high. Travelling around the country on your own will be much cheaper. But if you can not, I advise you to take tours from trusted Russian-speaking guides on Tripster, not in the offices on the spot. At least that way you won't buy a pig in a poke.
Admission to museums in Havana costs 3-10 CUC for tourists and 25 times less for locals. Tough discrimination.
For an hour tour in a retro convertible around Havana with a mini-lecture in English the guys at the Capitol are asking 40 CUC. When you ask why it is so expensive, they start their song: they say gas is expensive, the engine burns a lot, and in general they are all poor here. They don't want to give up the price because there are just too many people interested in riding.
Old Havana, Capitol view. We walked around the capital on our own, we were very interesting even without the excursions. In a place like Havana, it is impossible to get bored. Trinidad is a city in central Cuba. It is a UNESCO World Heritage Site. Known for its brightly colored houses.
How much does rum and cigars cost in Cuba
I'm not interested in rum or cigars. But most tourists think that to visit Cuba and not bring these two things is akin to a crime.
Cuban rum in the store costs 4-25 CUC per 1 liter. The cost depends on the brand and ageing. Keep in mind that you are allowed to take out of the country up to 2 liters of spirits per person.
The cost of cigars in Cuba depends on the manufacturer. Romeo & Julieta cigars will cost 4-7 CUC each, Montecristo Petit Tubos – 5-7 CUC. A box of 25 cigars costs 30-50 CUC.
Cigars at street vendors are cheaper. But experienced tourists take Cuban cigars only from official manufacturers. The fact is that the vendors on the streets roll cigars sloppily and use low-grade raw materials. Immediately after purchase open the box. This way you can make sure that the stated amount of cigars is inside and that they are of the right quality.
Unlike rum, there are no restrictions on the export of cigars from Cuba. The main thing is that the batch of more than 23 pieces was provided with special packaging and a hologram.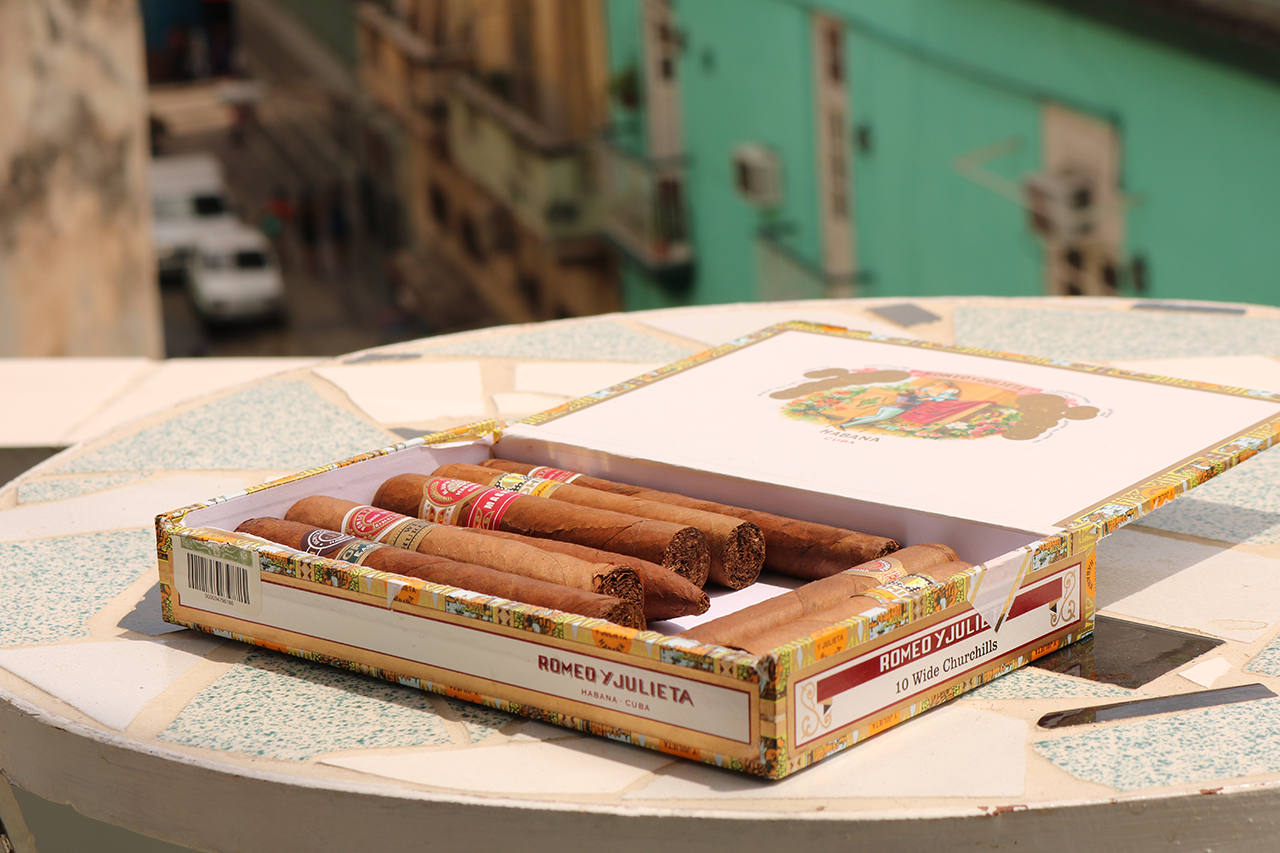 Packaging of "Romeo and Juliet" cigars. In Russia, the price for one piece starts at one thousand rubles, in Cuba – much cheaper. (Photo: unsplash.com / @jorisv)
How to save money while vacationing in Cuba
Take only euros to Cuba, because the exchange of dollars is charged a commission of 10% of the amount.
Don't look for where you can get a bargain on currency exchange. All exchangers in the country are state-owned, so the rate is the same everywhere.
Vacation in Varadero – it's the cheapest resort in Cuba.
You can rent accommodation from Cubans on Airbnb. Choose accommodations with good reviews.
Check the price when ordering food at restaurants, sometimes they don't give you a menu, but tell you the price verbally.
Explore Havana, Trinidad and other cities on your own, not with a tour.
Take cheap public transportation.
Negotiate the price with the cab driver before you get in the car.
How much will a vacation to Cuba cost in 2022?
Let's calculate how much an independent vacation to Cuba in 2022 costs for two people for 10 days:
Airfare Moscow-Havana and back – 62,000 rubles.
A room in a guesthouse in Varadero – 30,000 rubles.
Meals in cafes and restaurants – 25 000 rubles.
Bus from Havana to Varadero and back – 2 500 rubles.
The total cost of a trip to Cuba for two people for 10 days – 120 thousand rubles. In this case, the cheapest tour in Varadero, you can buy from 90 thousand rubles, but in addition need to spend money on food. Conclusion: the cost of recreation in Cuba on tour and on their own is about the same. Plus lay out the cost of excursions.
The beach in Varadero.
How much did our trip cost
We spent 12 days in Cuba: 4 days in Havana, 5 days in Trinidad and 3 days in Varadero. We saw the country from different angles, relaxed on two coasts, and had a great time walking around colorful Havana (we walked 50 km). It was interesting! Here are our expenses for two:
$369 – food.
$100 – cocktails, wine and beer.
$72 – transportation.
$4 – museum in Trinidad.
$4 – tips to the musician and security guard at the lookout.
$77 – apartment in Havana for 4 nights.
$114 – cabin in Trinidad for 5 nights.
$140 – guest house in Varadero for 3 nights.
Total: $880, or 55,000 rubles for two people. The budget has everything except for airfare. You can repeat our route and your trip to Cuba will be very inexpensive and very interesting.
: where better to rest : description, photos and prices : resorts, prices, holidays with children : prices, reviews, seasons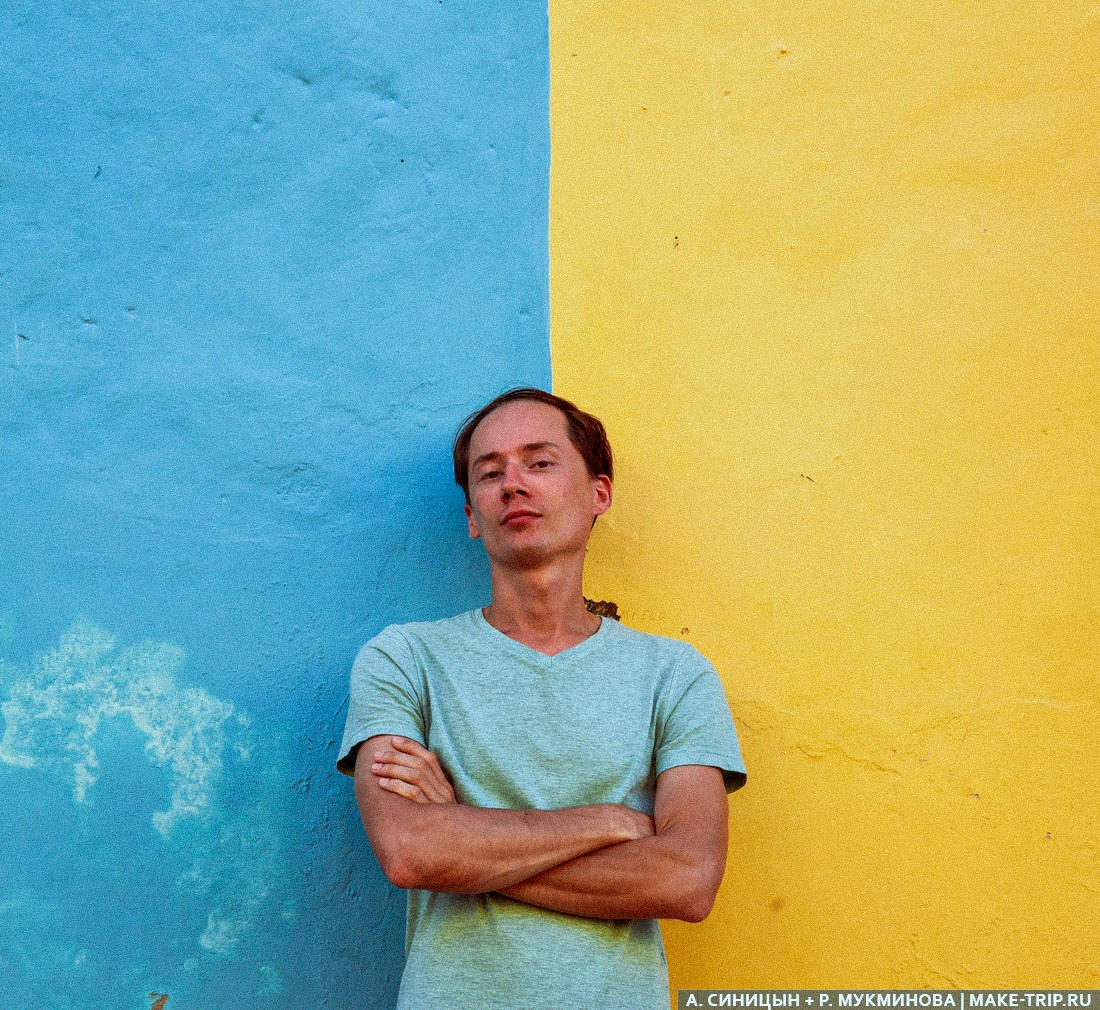 In bright and colorful Trinidad.