Java Island, Indonesia: where is it, when to go and what to see
Java is the most populous island in the world. Its area is comparable to 1/3 of Norway, one Greece or two Latvia. And the population of the island is about 140 million – as much as in the whole of Russia. And there are 120 volcanoes on Java, of which 30 are active. Imagine 120 volcanoes in an area slightly smaller than the Omsk region.
For Javanese, the expression "living on a powder keg" has a direct meaning. Mostly Muslims live here, but there are also Buddhists, Christians and Protestants. Regardless of denomination, all Javanese treat volcanoes in a special way. They regularly perform rituals and offer offerings, throwing flowers, food, and money into the mouths of volcanoes. If you do not please the volcano in time, you must be prepared for it to take offense and explode, turning everything around into a mountain of ash. Volcanoes are the air gateway of Indonesians. Planes fly here depending on the mood of the volcanoes. The wind blows the wrong way and air traffic is stopped until the volcano calms down.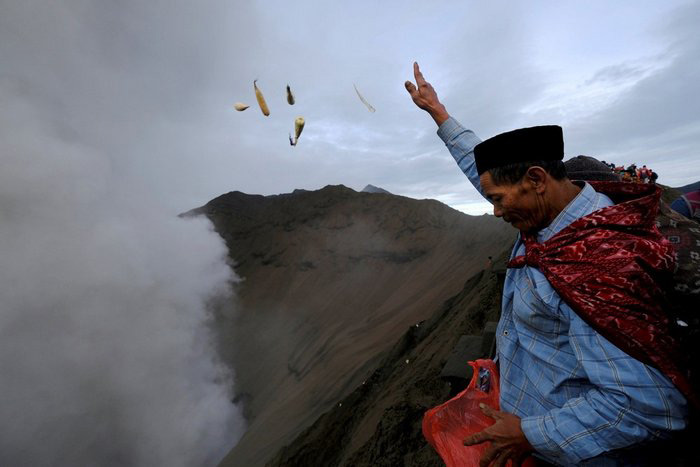 If you want to explore the coolest volcanoes in Java, we suggest you consider the following itinerary, which includes the "pearl" of the island, Bromo Volcano, the blue acid lake in the crater of Ijen Volcano, and one of the most dangerous volcanoes in the world, Merapi, as well as several attractions along the way.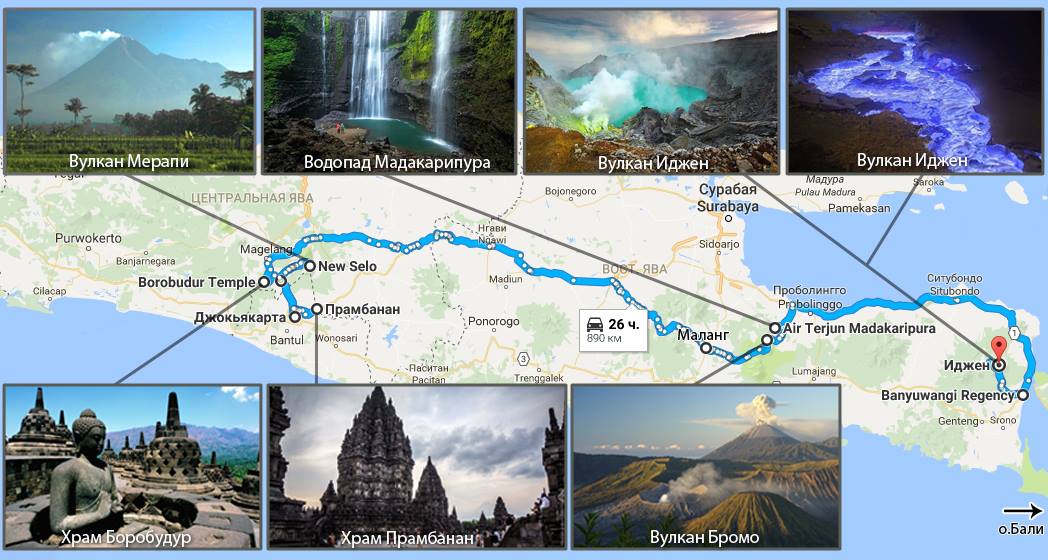 What and how much to drive?
If you're in a hurry, you can drive this route in a week. If you allow time for a good night's sleep and stops along the way, it would take two weeks. If you ride a bike, not hurrying anywhere, then up to a month. Plus, there's bound to be a lot to see along the way. Java is very colorful and the locals are smiling, friendly and very interested in tourists passing through their village.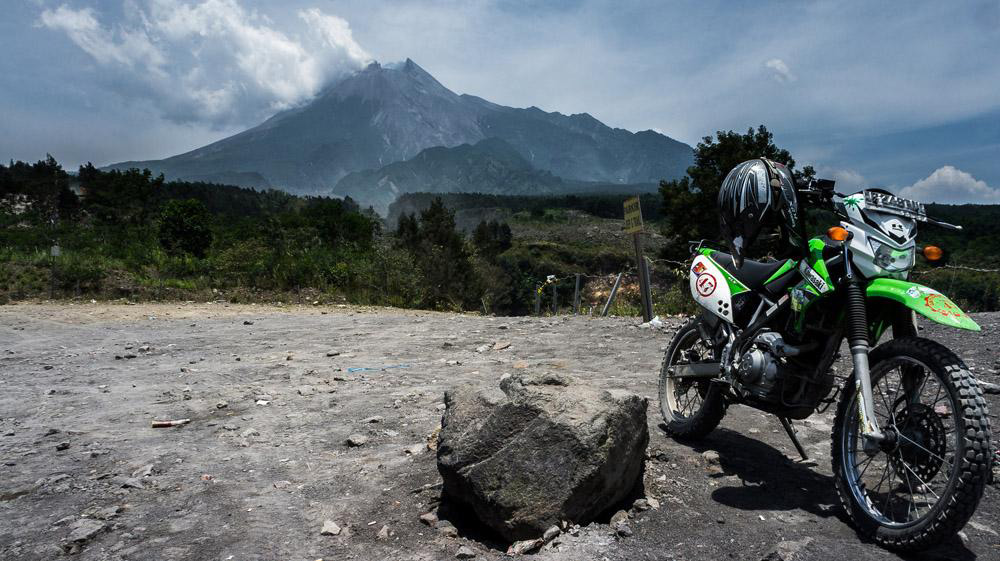 Photo: Cahyo Afianto
It is good to travel in Indonesia by motorcycle or scooter. You can be independent, you can see everything on the road, you can get to know the local life, and you don't have to be stuck in traffic. The only problem is the long distances. It takes 2-3 days to get from Yogyakarta to Malang or Surabaya, and a train or bus will get you there many times faster. Also, if you rent a bike, you need to return it to the same place where you rented it. And if you go from Jogja to Idjen (about 1,000 kilometers),
you have to drive the same distance back.
Options for this route are:
1) Fly to Yogyakarta, visit Merapi and temples (by rented bike or with the help of agencies),
From there you can take a tour to Bromo and Ijen, then you can be taken to Bali or back to Yogyakarta.
2) Fly to Yogyakarta, visit Merapi and temples, from there take public transportation or fly to Malang/Surabaya, from there take a tour or bike rental. Do a lap around Bromo and Ijen and return to the rental point.
3) Fly to Yogyakarta, buy a bike, and ride it through Bromo and Idjen to Bali or even to Papua. You don't need to return it anywhere, you're free to do so. At the end of the trip, you can sell your bike.
– Renting a simple bike will cost you an average of $5 per day, and a sport bike from $15. – Buying a bike costs from $200 for a simple (semi-)automatic, from $700 for a sports bike. – Public transportation in Java is pretty miserable, but cheap. On average $1.5 per 100 kilometers.
Yogyakarta
The starting point of the trip is the cultural capital of Indonesia. City students, street musicians, batik masters, jewelers, dancers and poets. But the main attractions of Yogyakarta are outside of it. The ancient Buddhist temples of Prambanan and Borobudur are the calling card of these places.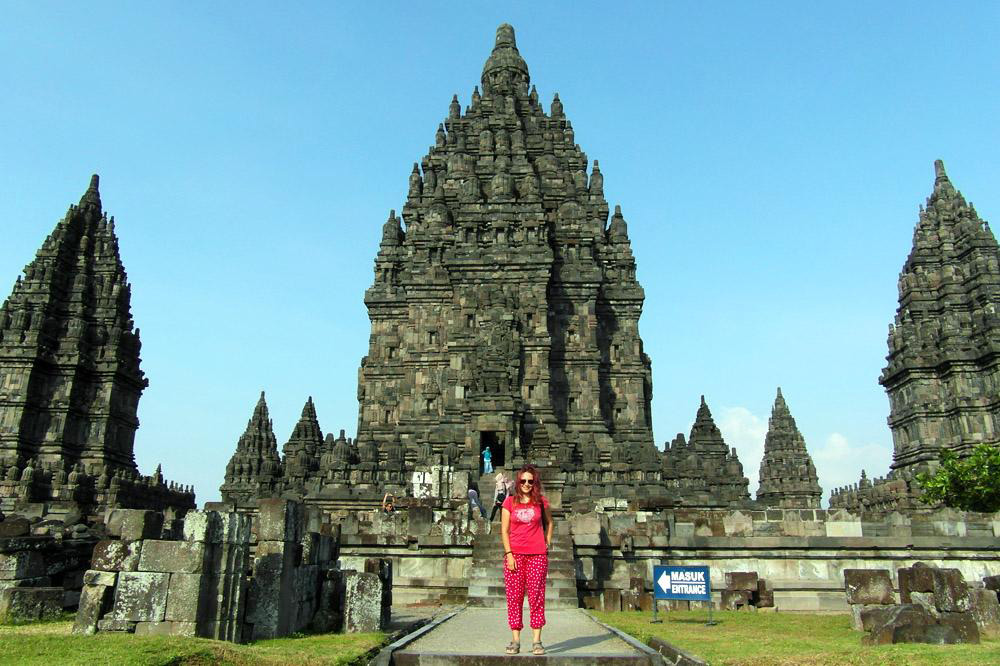 The nearby volcanoes Merapi and Merbabu is a kind of gateway to the city. Merabu is asleep for 300 years, but Merapi is a very dangerous fiery mountain.
Volcano Merapi, a height of 2914 meters, is one of the ten most active volcanoes in the world. It erupts on average once every 7 years, every six months there are small eruptions, it smokes almost every day. During its life it has killed thousands of people and caused 9 rivers to change directions. In 1006 the revival of the volcano was completely destroyed the Javanese-Indian kingdom of Mataram.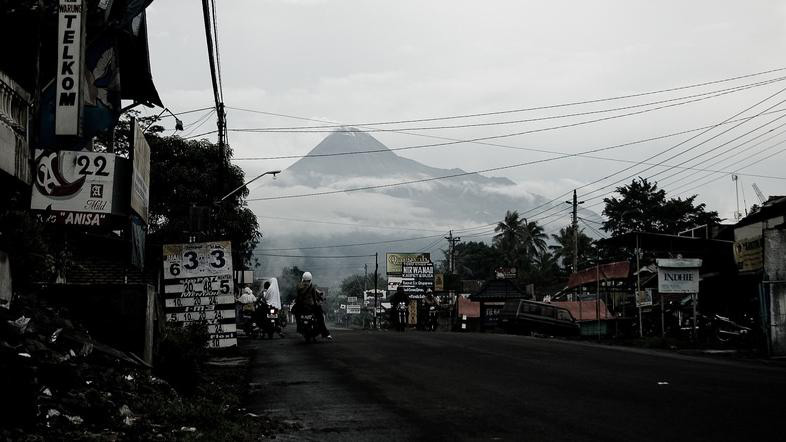 Photo: Jonathan Lin
Trekking to Merapi Crater takes about 5 hours in good conditions. You need to leave at 1 or 2 in the morning to be in time for sunrise. The nearest settlement to the volcano is the village of New Selo. Agencies also offer shuttle service from Yogyakarta and back.
Bromo Volcano
The most cosmic view of volcanoes that can be seen on our planet is here.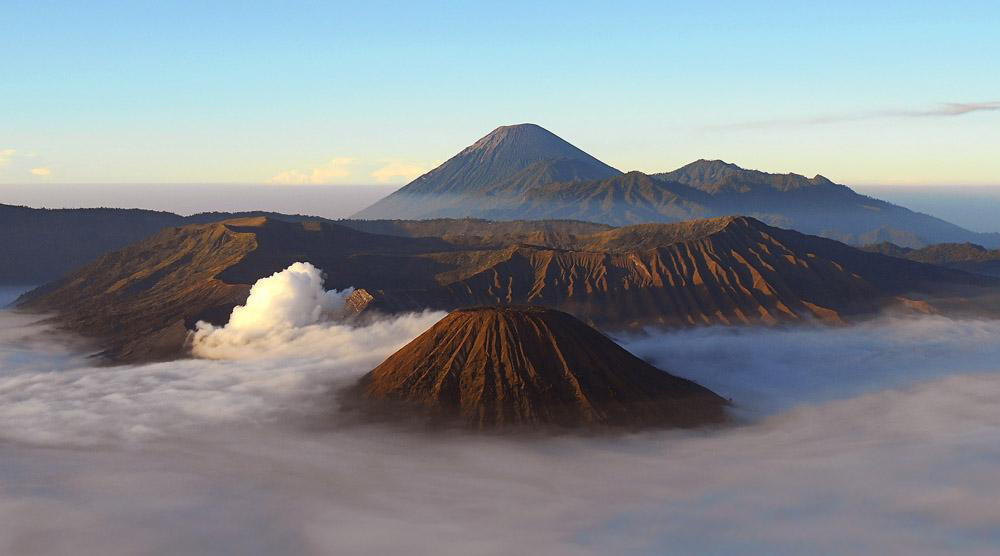 Photo: Frank Douwes. Bromo National Park – Tengger – Semeru
This famous photo actually shows three volcanoes. Bromo is the one on the left, the smoky one with the top blown off. In the middle, the small, embossed, green-covered one is Batok, the extinct volcano. Behind them is Semeru, a beautiful cone of regular shape with a permanent haze on top. By the way, it is the highest volcano in Java.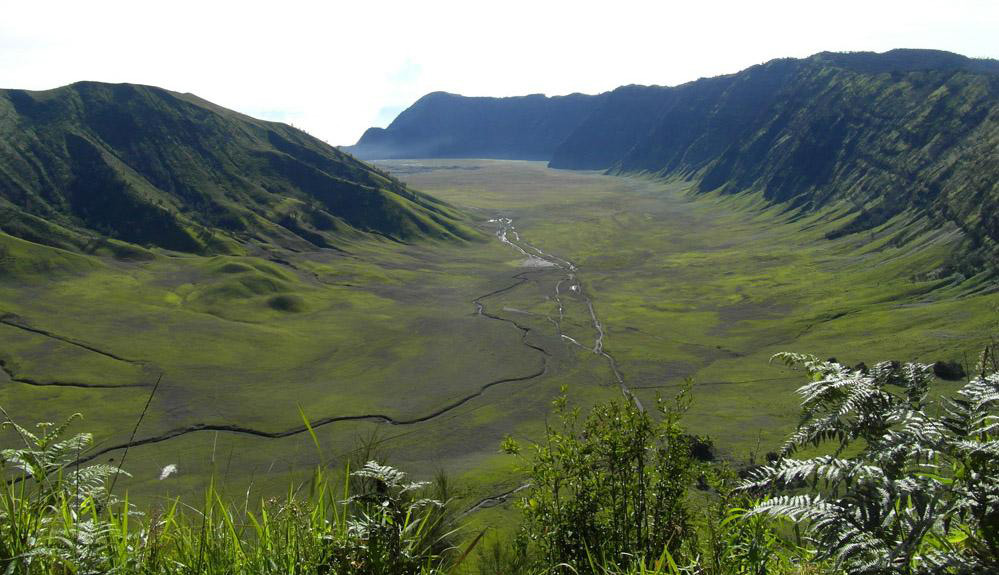 The view of these volcanoes opens from the observation decks, the road to which begins in the village Chemoro Lavang. This is where it is customary to greet the sunrise. After that you can go down to the caldera and ride a motorcycle or run on the volcanic black sand.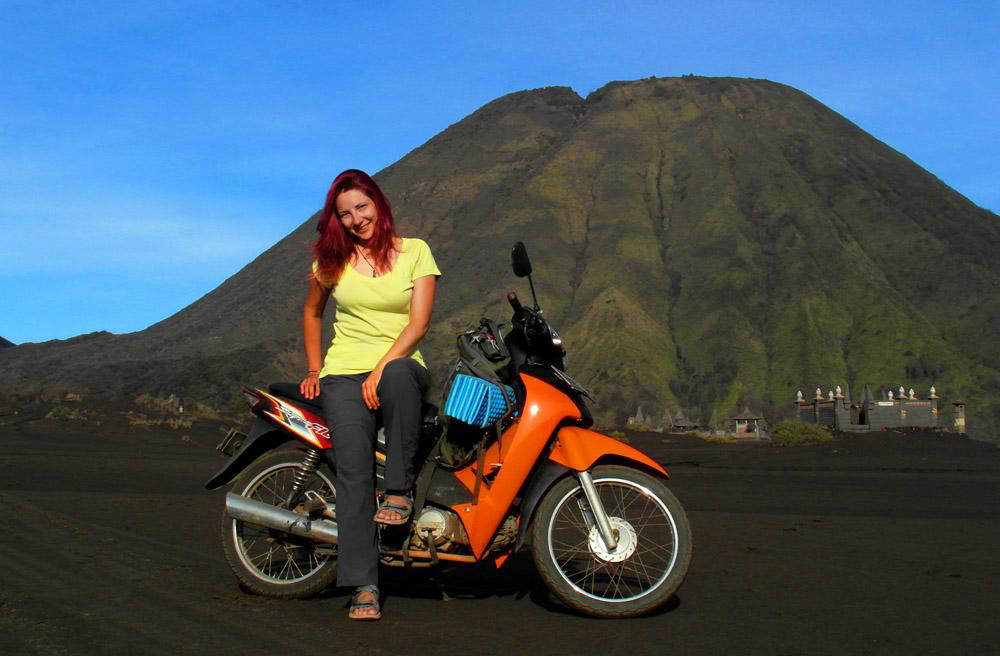 You can go up to the crater of the volcano Bromo 600 meters in diameter and look inside.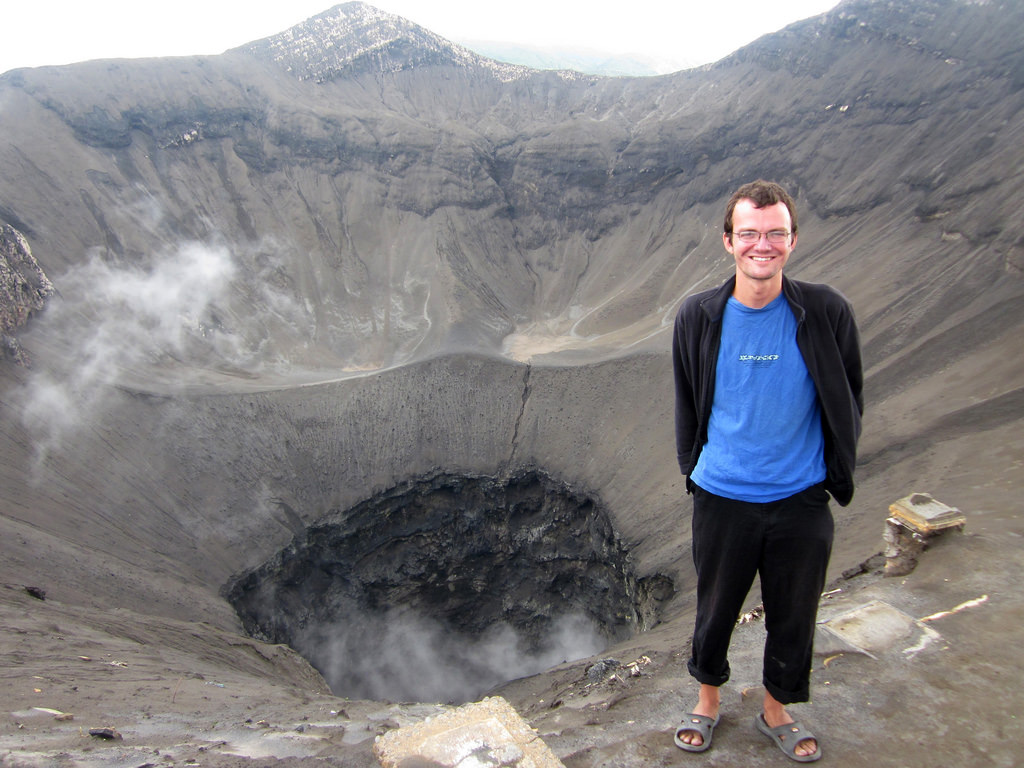 Photo: Ken Marshall
Volcano provides locals a great opportunity to earn money. Some take tourists on jeeps or horses, while others sell water and offerings at the crater itself.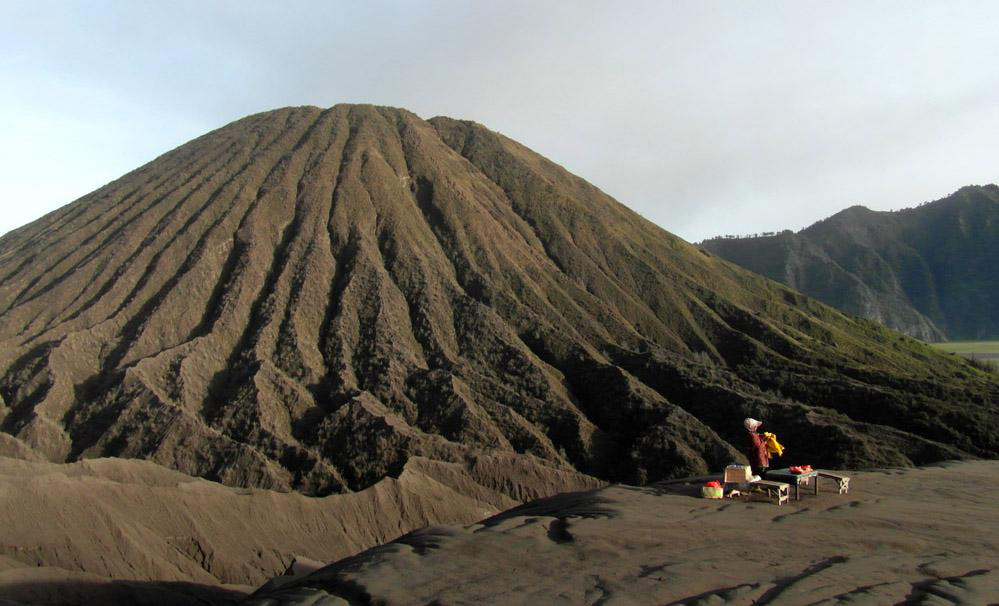 A woman sells water 100 meters from the boiling crater of the volcano.
Those locals who are too lazy to walk to and from the volcano every day work in the gardens. Right on the mountain slopes, at a 60˚ angle, are beautiful mosaics of beds of cabbage, potatoes, and onions. Volcanic ash enriches the soil perfectly, vegetables grow here like mushrooms after the rain.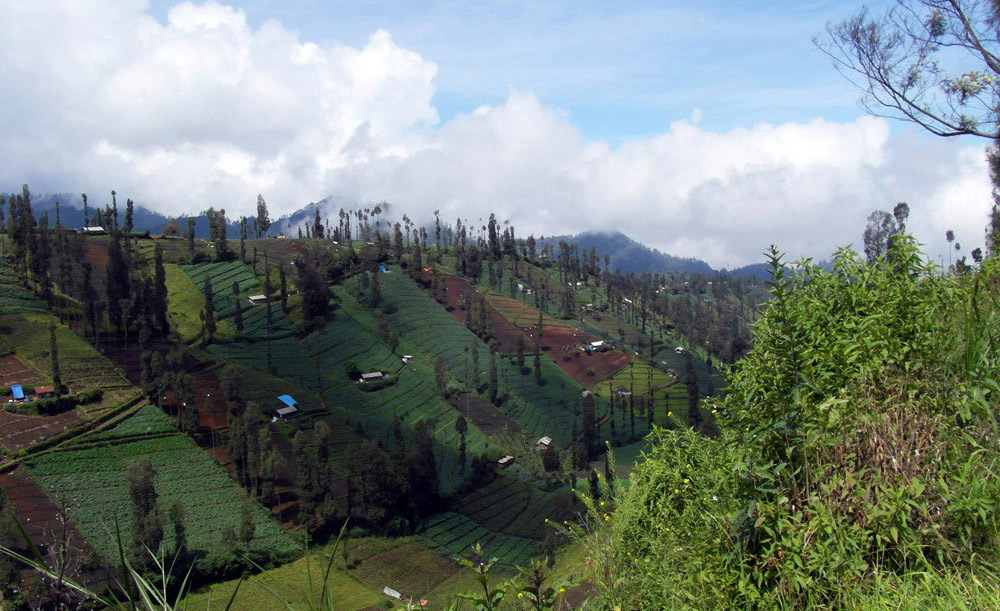 If desired, after Bromo you can visit the Madakaripura waterfall, which reaches a height of 200 meters.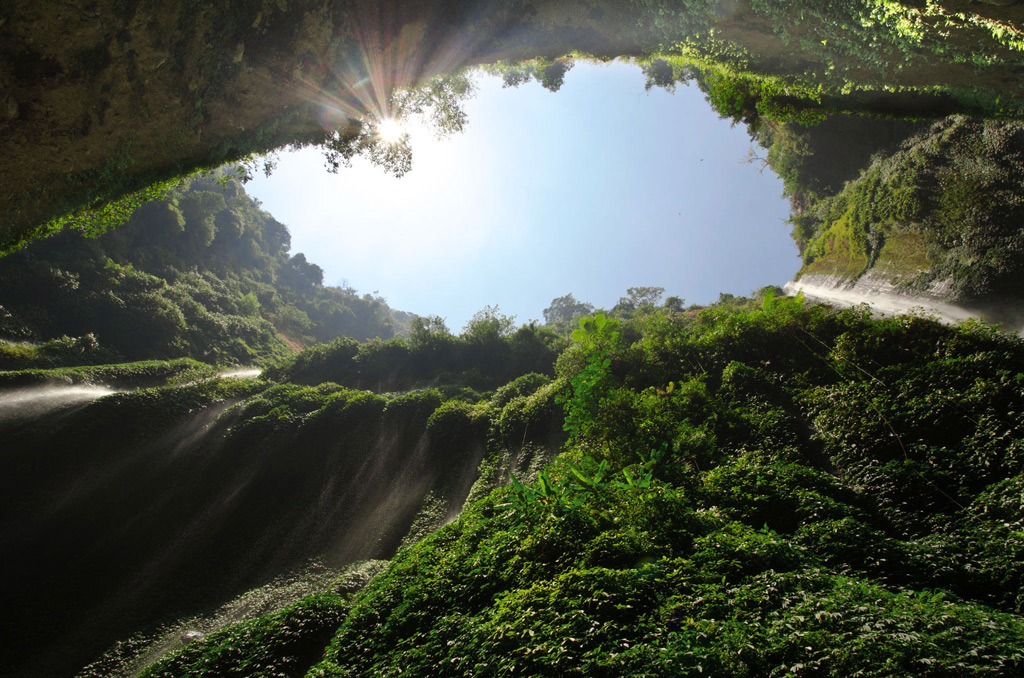 Photo: Isen Majennt
Volcano Isen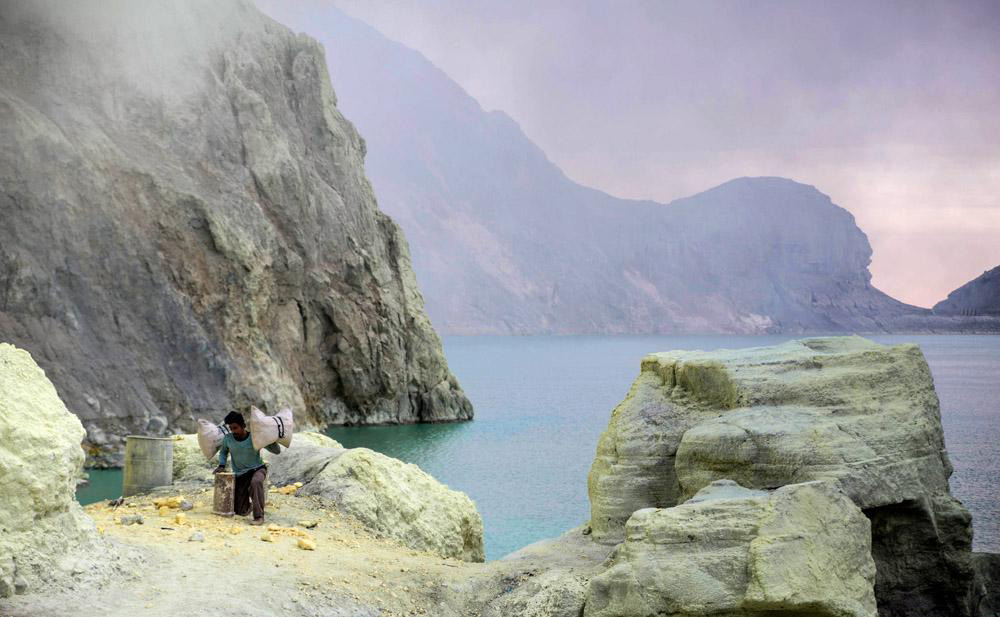 The crater of this volcano has an acid lake of beautiful turquoise color. It is also famous for sulfur extraction. Dozens of Indonesians descend into the smoking crater without respirators, break off pieces of the mineral and carry them up to 80 kilograms at a time, earning about $6 for the day's work.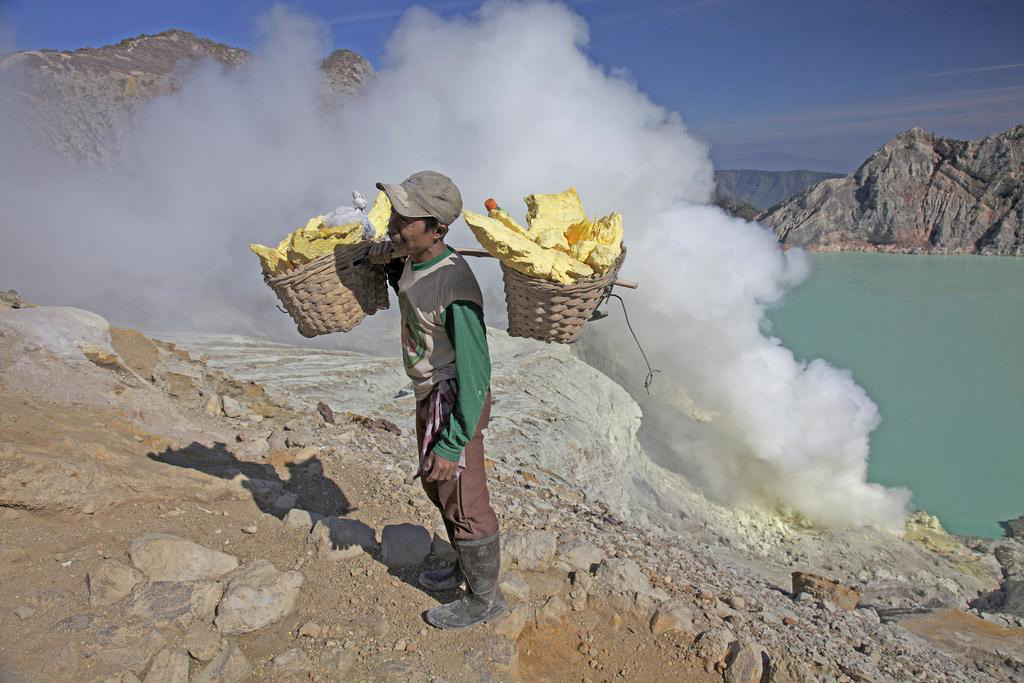 Photo: Jean-Marie Hullot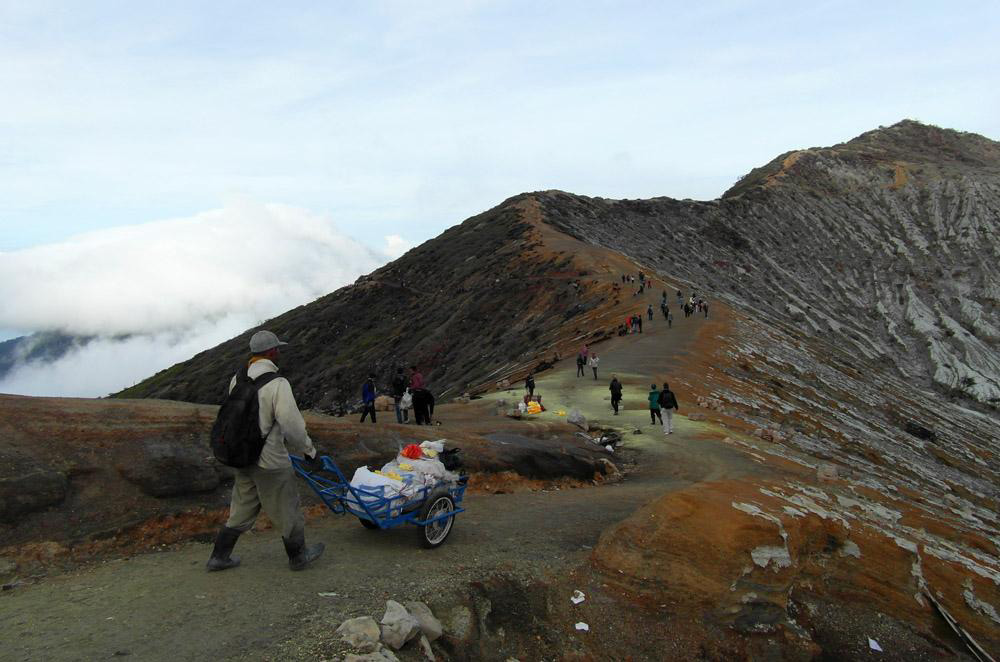 For trekking on Ijen you will need a respirator, which you can take with you or rent on the spot. As a last resort, you can use a gauze bandage, which needs to be constantly moistened with water, as the sulfur vapor is poisonous. The road from the parking lot to the crater takes about two hours. It is important to get there before sunrise to see the blue lights – that's how sulfur burns.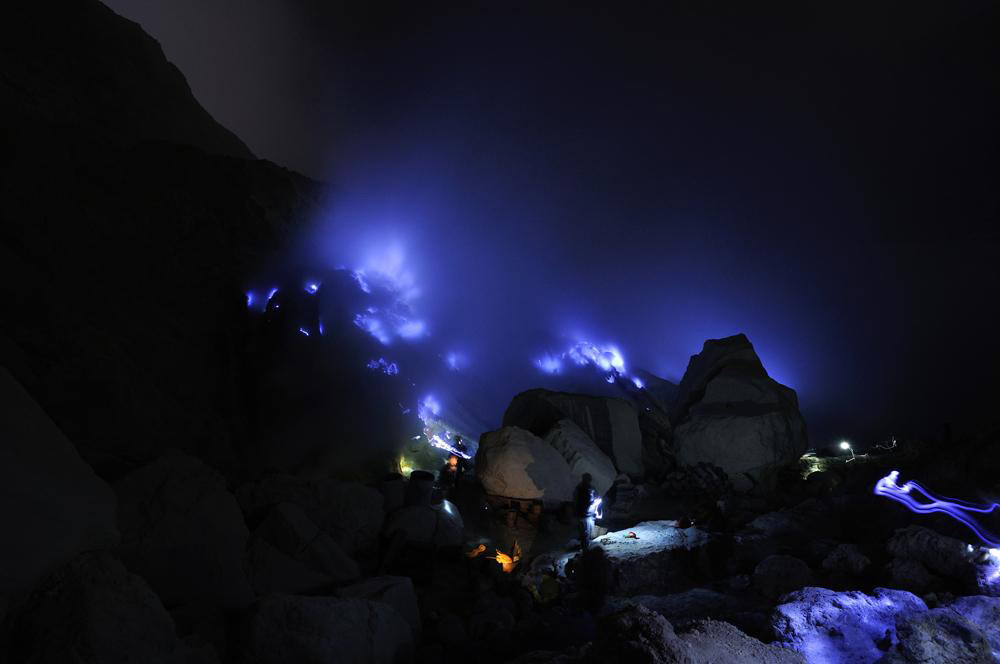 Photo: Michael Heiniger
After the blue lights, you can safely go up to the observation deck. The view at sunrise is wonderful.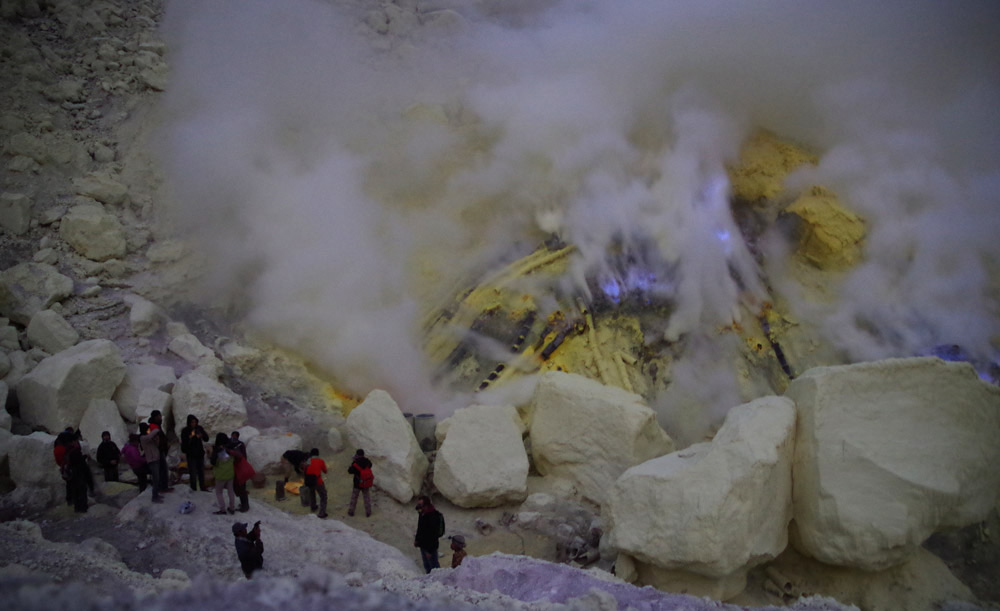 Photo: Pieter Edelman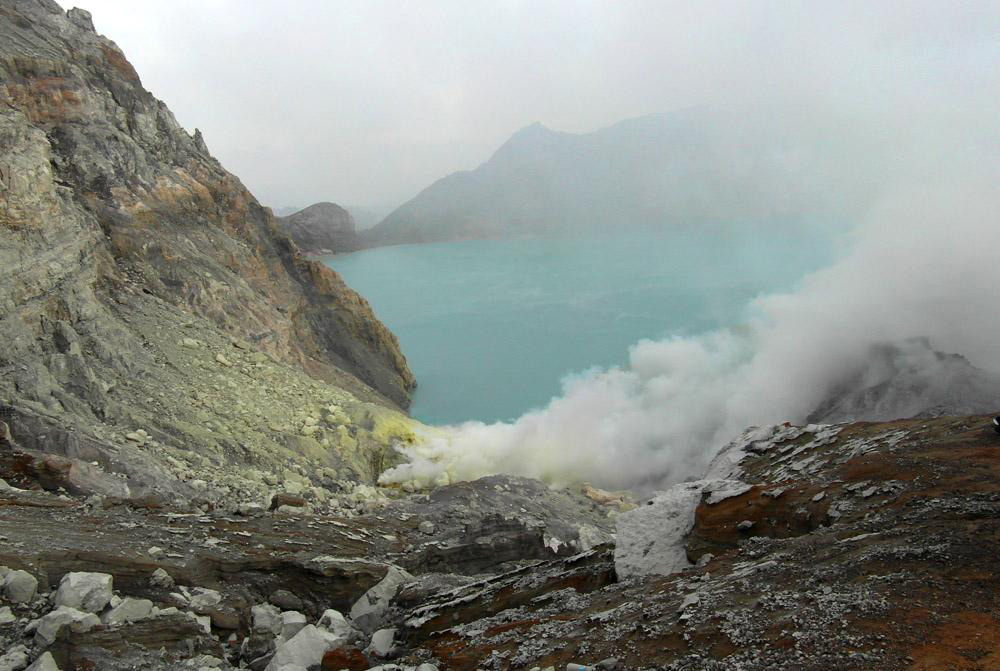 Photo: Pieter Edelman
General recommendations for trekking on volcanoes:
1) Safety is most important. Volcanoes are constantly monitored. In case of impending volcano activity, warnings are usually published in the media, roads are closed and tourists are forbidden to approach. Up-to-date information about volcano activity is available on the website or from local travel agents.
2) In Indonesia it is customary to climb the volcano at night. Firstly, to meet the sunrise at the top and see the fantastic views. Second, because it's not as hot at night and not as difficult to walk up the mountain.
3) Choose comfortable trekking shoes. Firstly, they are more comfortable and safer than flip-flops, and secondly, it can be very cold at the summit by morning. Take a jacket, and preferably a sweatshirt and pants, too.
4) If you go to the volcano not with the tour, take food and water with you. For cameras it is desirable to have a protective case – sometimes volcanic ash gets into the gears of the lens, which is fraught with breakage.
If Indonesia is the land of volcanoes, Java is the heart of it. A trip to the "hot spots" will be remembered for a lifetime. If you like to see the unearthly beauty of creation and destruction, to tickle the nerves, but are not ready for heavy physical exertion and exhausting hiking, this route is just for you. Explosive emotions in a short amount of time are guaranteed.