Bordeaux in 1 Day – My itinerary and tips
Visiting Bordeaux in 1 day ? I loved and loved it! By walking the itinerary, I was able to see historic Bordeaux and its major monuments.
In this article, I will share with you not only my detailed step-by-step tour, but also my good foodie addresses that make Bordeaux my favorite city in France !
How to visit Bordeaux in 1 day?
Living 2:30 from Bordeaux, I've had the opportunity to visit this city ten times. And with each new visit I discover a new good restaurant, a small market in a corner of the neighborhood or an unusual exhibition . Bordeaux is a small city, but it is full of curiosities and places where we love to walk and inevitably return . .
To discover the city of Bordeaux, you have several possibilities, it all depends on your desire:
This is my classic walking tour, which takes a full day and allows you to see the essentials of Bordeaux's historic center . See itinerary details below:
Visit Bordeaux in 1 Day – My Detailed Itinerary
Voici Mon route from the historic center of Bordeaux to do in one day for a visit to Bordeaux on foot , This circuit makes a loop that starts at Place de la Bourse and returns to Place de la Bourse (obviously, since it's a loop!).
Click "More Options" on the map to keep track of the GPS.
Visiting Bordeaux in 1 Day – Stages of the Circuit
Start at the Place de la Bourse.
With its mirror of water , this magnificent square is the crest of Bordeaux!
It dates back to the XNUMX century, the time when Bordeaux opened to the world, leaving its medieval walls and building a royal square.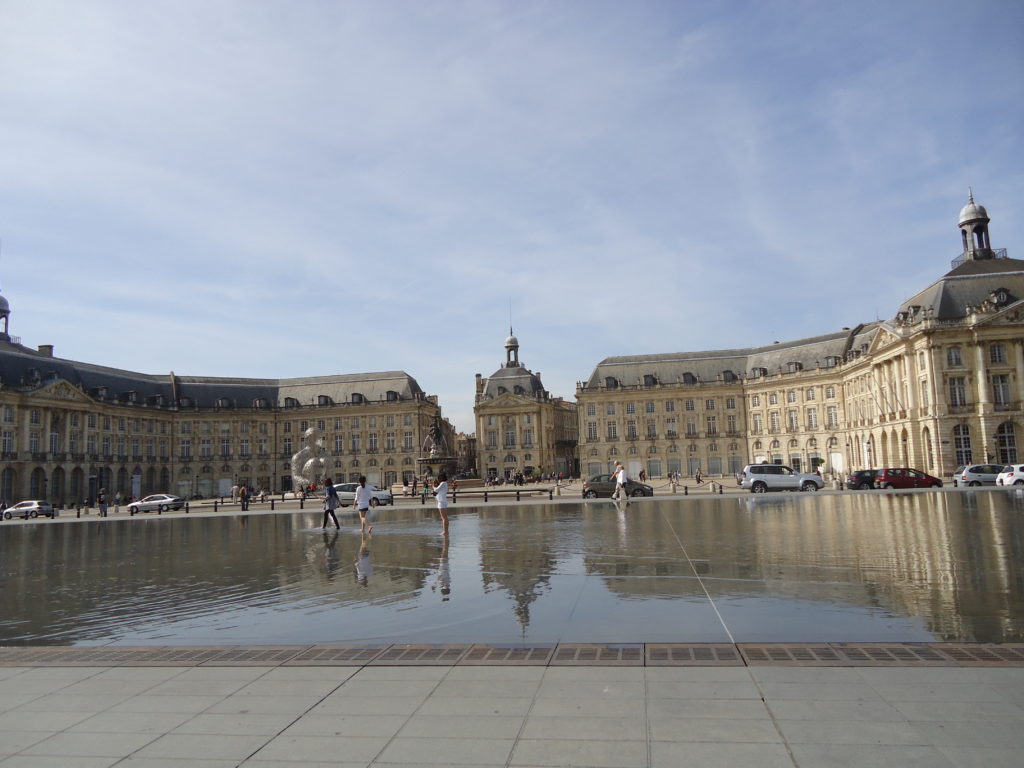 Discover the Grand Théâtre de Bordeaux
Start your tour from Rue Saint-Rémy, then turn right onto Rue Saint-Catherine.
Continue straight ahead and left on Cours de l'Intendance to reach the Grand Théâtre de Bordeaux .
Its construction was heavily influenced by the Freemasons. Its facade features 12 Corinthian columns, which correspond to the sum of the ribs of the Holy Triangle of the Freemasons.
Built in the late 18th ème century by the architect Victor Louis, the Grand Théâtre, a listed historic monument, inspired the founders of the Opéra Garnier in Paris.
Today, it is the seat of the Opéra National de Bordeaux, which programs its opera season and opera ballet productions.
See the Place de Quincons and the Girondin Monument
At the Place de la Comédie, turn onto the Avenue de la Tourny and turn left onto the Cours du 30 Juillet.
Then turn left onto Rue München, which leads to Place Quincons (the largest square in Europe).
From there you just need to continue to Monument AUX the Girondists .
It's a set consisting of bronze fountains and a statue of freedom breaking chains. It is a posthumous tribute to the Girondists of the revolution. As an anecdote: During World War II, the Girondists, in order to protect it, had the idea to hide it by burying it.
Great Men's Square.
To get there, you will need to turn right on Cours de Tournon, then left on Allées de Tourny, right on Rue Condillac, left on Rue Jean Jacques Rousseau, and you will arrive. Great Men Square.
The Great Men area Witness the new era of urban planning with its magnificent glass roof where the mall is located. For shopaholics, you will find beautiful and very chic boutiques and big brands in this area.
This is not where I dress because I can't afford it . but this is where I buy the famous Bordeaux cannelles .
This little biscuit with caramelized color and a soft heart belongs to Bordeaux's culinary heritage. It's flavored with vanilla and rum. It gets its name from the fluted copper mold in which it is baked in the oven. The house of Baillardran makes them respecting artisanal know-how and has become the benchmark for Canelés.
So I usually go to Baillardran at 12 Place des Grands Hommes, but there are Baillardran boutiques all over Bordeaux .
Porte de Dijeau.
To continue my tour, you will need to go right on Rue Voltaire, then on Rue de Grassi, which leads to the Door of Dijeau .
This door is a beautiful, typically Bordeaux building that deserves a small photo!
Finally, St. Andrew's Cathedral!
Then head towards Rue du Temple, turn left on Rue Vital Carles and continue on Place Jean Moulin.
You get to the Cathedral of Saint Andrew . It dates back to the XNUMX century, but has since been renovated. This cathedral, a UNESCO World Heritage Site, has been linked to the trails of Saint-Jacques de Compostel.
Now it's time for a well-deserved lunch break!
My good plan for a restaurant in Bordeaux
Opposite the cathedral, at 37 Place Pey Berland is the Museum Bistro restaurant .
Its ambiance is pleasant (interior with exposed stones and a beautiful terrace in summer). You can enjoy good traditional and generous food. As for the prices, they are quite correct, considering the quality of the products.
A little more of my favorite restaurant is the wine list (over 50 Bordeaux) with the option to order by the glass!
Take a stroll through the streets of Bordeaux
On your way out for a little digestive stroll .
To continue my tour, you need to go left on Place Jean Moulin, then right on Rue Trois-Conille.
Continue on Place Saint-Projet and turn right onto Rue Sainte-Catherine.
Then turn left onto Rue des Ayres.
Stop for a good coffee.
There, if you like coffee, I suggest you take a short break at Verde Nero . In a cozy and authentic atmosphere, you can taste exceptional coffee made on site. For gourmets, their homemade pastries will make more than one crack.
Discover the typical doors of Bordeaux.
After a good little coffee, you will have to continue straight ahead to arrive at the Place Fernand Lafargue .
This small square is very pleasant because it is surrounded by small cafes and restaurants that liven it up all day.
My route continues to the right along Rue Saint James toward Rue Saint Héloi.
Here is the Grosse Cloche . This is the symbol of Bordeaux, which still appears on the coat of arms of the city. This monument was mainly used as a prison. Later, the magistrates of Bordeaux rang this bell to signal the harvest, to announce major events or to warn the population in case of fires.
Turn left onto the Cours Victor Hugo, which leads to the Porte de Bourgogne . They are not as popular as other Bordeaux gates, but they are still listed as historical monuments and are worth a visit.
Continue in the direction of Rue des Pontet, then turn left onto Pl. De Bir Hakeim and join the Richelieu promenade.
You will go along the promenade to the rue de Porte Cailhau on the left, where you have to turn to get to the famous Porte Cailhau . I suggest going back there in the evening because it is beautiful with night lighting .
This 35-meter monument was erected at the end of the XNUMXth century and was part of the city walls.
And finish the circuit at the Water Mirror
From Porte Cailhau, turn left onto Richelieu Promenade to get to the Water Mirror Place de la Bourse.
There it is, the circle is complete!
Visit Bordeaux – which hotel?
And if you haven't already booked a hotel for your stay, here's a good option for downtown accommodations in the best neighborhoods in Bordeaux :
And for those on a tight budget, discover the following
The layout I just presented to you is perfect for discovering most of Bordeaux on foot but it is far from complete. One day is not enough to discover all the riches, museums, parks… of this city. That's why I suggest you to read my scheme: Visit Bordeaux in 2 days.