5 Indian recipes worth tasting
If you really wanted to go to India, but have no money or time, here are some recipes that will probably give you the right atmosphere. And even if they don't, you're sure to have a delicious meal.
1. Churasco Potato Salad.
An interesting salad, because it is simultaneously hearty, fresh and non-trivial. The fact that it's delicious doesn't make much sense to write – there's usually always good food in this column.
Ingredients:
– 300 grams of churrasco meat; – 2 tbsp. olive oil; – 1 potato; – 1 tsp. fine sea salt; – 1/2 tsp. freshly ground black pepper; – 1/2 tsp. paprika; – coconut vinegar (to taste); – 2 tbsp. tbsp. raw pumpkin seeds; – 1 tbsp. thinly sliced green onions; – 1-4 cups crumbled paneer cheese; – 2 tbsp. fresh coriander leaves and peas; – 1⁄4 cup fresh lime juice.
Preparation:
1. Cut meat into small pieces and set aside for a while. 2. Heat olive oil in a large skillet over medium heat. 3. Add potatoes and sprinkle with salt and black pepper. 4. Cook, stirring occasionally, until potatoes are soft (5 to 6 minutes). 5. Sprinkle with paprika. 6. Add that meat you set aside, a little coconut vinegar, and roast for 4-5 minutes, until the meat is browned and cooked through. Stir, of course. 7. Add the pumpkin seeds and cook for another minute. 8. Remove from heat and let cool for 5 minutes. 9. Gently add onions, paneer, cilantro and lime juice to taste. 10. Place on a plate. You can garnish with lime slices and cilantro leaves if there are any left over.
2. Caprese salad with sweet tamarind dressing
"Caprese" is a very tasty salad, but you're probably already sick of it (not just you). So here you go: an old salad with Indian charm.
Ingredients:
Tamarind dressing:
– 1⁄4 cup sour tamarind pulp or paste; – 1-2 cups boiling water; – 1⁄4 cup olive oil; – 1 teaspoon fresh lime juice; – 1 tsp. ground coriander; – 1-2 teaspoons fine sea salt; – 1-2 teaspoons dried unsweetened flakes; – 1-4 tsp. fresh ground black pepper.
– 2 cups cherry tomatoes, cut in half; – 2 cups grape tomatoes, cut in half; – 4-6 cream tomatoes, cut in half; – 250-300 grams fresh mozzarella, cut across into four pieces; – 3 tbsp fresh coriander leaves; – 1 tbsp olive oil; – 1-2 tsp fine sea salt.
Preparation:
Start with the dressing: 1. Put tamarind pulp in a heatproof dish and pour boiling water over it (this is what you needed a heatproof dish for, glass gnawing is not good). Cover it with a lid and let it stand for at least an hour. 2. Remember and squeeze the pulp to soften. Pass it through a strainer (fine). 3. Put what comes out in a blender and add olive oil, lime juice, spices, coriander, salt, flakes and black pepper. Turn the power up and wait until it's all smooth.
Now salad: 1. Put the tomatoes in a large bowl, add the mozzarella, cilantro, olive oil and salt. 2. Add half of the dressing and mix gently so everything is even. 3. Place on a plate and put the remaining half of the dressing on the side. That's it.
3. Spicy meatloaf
You can't have meat without it. Especially a meatloaf. Everything you love in one dish. Plus very soft!
Ingredients:
– 2 tbsp. unsalted butter; – 2 cups onions, chopped into small cubes; – 4 garlic cloves, peeled and grated; – A small piece of fresh ginger, peeled and grated; – 1.5 tsp. garam masala (this spice mixture); – 1 tsp. ground coriander; – 1 tsp. pepper; – 2 peeled apples; – 1 cup chopped fresh mint; – 1 cup chopped fresh flat parsley; – 2 cups dried breadcrumbs; – 1 tsp. fine sea salt; – 1 tsp. freshly ground black pepper; – 800 grams ground beef (not too fatty); – 2 large eggs, lightly beaten.
– 1⁄4 cup ketchup; – 1 tbsp. pomegranate molasses; – 1 tsp. amhor (also a spice); – 1 tsp. cayenne pepper; – 1-2 tsp. fine sea salt.
Preparation:
1. In a large skillet, melt butter over medium heat, add onion and fry for 4 to 5 minutes. 2. Add garlic, ginger, garam masala (that's a spice, remember?), coriander and pepper, stir it all until fragrant. 3. Take it off the heat, move it to a large container and let it cool for 10 minutes. 4. Grate the apples, wrap them in a paper towel and squeeze out the juice. Remove the juice, but add the apples, mint, parsley, breadcrumbs, salt and black pepper to the onions you fried; stir gently with a wooden spoon. Add the ground beef, eggs, and stir. 5. Form a roll by hand and place on a baking tray with aluminum foil, cover and place in the refrigerator for half an hour.
6. Now the sauce, which you will pour on top:
Take all its ingredients and mix in a small saucepan. Bring to a boil over high heat, stirring constantly, and take it off the heat.
7. Preheat the oven to 200 degrees. Bake your roll for one hour. 8. Then pour the sauce on top (spread it normally there so it's all over, otherwise the roll will be dry) and stick it in for another half hour. 9. Take it out, wait 10 minutes and it's done.
4. Chicken soup with garam masala and fried naan
If you read the article carefully, the name shouldn't scare you, because you already know that garam masala is a spice. Don't be intimidated, it's nothing complicated: fried naan is a fried flatbread from Indian cuisine (we're talking about India today).
Ingredients:
– Seeds of 2 green cardamom pods; – 4 tbsp. olive oil; – 1 cup finely diced red onion; – 2 garlic cloves, peeled and chopped; – 1 tsp. ground Kashmir chilies; – 1-2 tsp. ground turmeric; – 1 tsp. 1 tsp. garam masala; – 100 grams of sliced tomatoes (even with juice); – 2 cups chopped cooked chicken; – 4 cups lean chicken broth; – 1 cup raw sweet corn kernels (fresh or frozen); – 3 Tbsp. tbsp. fresh squeezed lime juice; – 1-2 teaspoons fine sea salt; – 4 hard-boiled eggs, peeled and cut in half (optional); – 3 tbsp. fresh coriander leaves; – 2 tbsp. thinly sliced green onions (white and green parts); – 1 serrano chili pepper (thinly sliced).
– 300 g flour; – 1/2 bag of beer yeast (dry yeast); – 3 tbsp olive oil; – 1 can of natural (unsweetened) yogurt (125 g).
Preparation:
1. Preheat the oven to 150 degrees. Grind the cardamom seeds with a mortar. 2. Heat 2 tablespoons oil in a saucepan or griddle over medium heat, add onion and stir-fry for 4-5 minutes. 3. Turn on medium heat and add garlic, cardamom, chili, turmeric and garam masala and cook for about half a minute (give or take 10 seconds). 4. Add the tomatoes and juice and cook, stirring, for 3-4 minutes. Add chicken and cook another 2 minutes; pour in chicken broth and add corn and lime juice. 5. Increase heat and bring to a boil, then reduce heat, cover and leave over low heat until corn is soft (10 to 12 minutes). 6. While the soup is cooking, you need to make naan. They are made like regular tortillas: flour, yeast, 3 tablespoons of olive oil and yogurt are all stirred, divided into tortillas with a rolling pin and fried in a pan until cooked. 7. By this time, the soup is also ready (if you've been frying tortillas for a long time, you can reheat it). Garnish it with the tortillas cut into strips, cilantro and green onions.
5. Bombay-style potatoes.
The last and easiest and most affordable of all the recipes today, but just as awesome.
Ingredients:
– 1 kg of potatoes; – 2 tomatoes; – 2 tbsp vegetable oil; – 100 g butter; – 1 tsp cumin; – 0.5 tsp ground black pepper; – chili pepper (to taste); – parsley (to taste); – turmeric (to taste); – fresh ginger (to taste); – 1 tsp coriander.
Preparation:
1. Chop the potatoes coarsely and boil them. 2. Tomatoes also chop coarsely. Grate the ginger and finely chop the parsley. 3. Heat a frying pan, pour vegetable oil, add cumin, chili pepper, turmeric and coriander. Lightly heat the spices over low heat. 4. Now add the butter little and ginger, fry a little, add the tomatoes and wait a few minutes. 5. Put the potatoes, parsley, salt to taste (if they are there) and fry for at least 5 minutes, stirring at the same time, until golden crust. 6. Turn off, transfer to a plate, eat.
Indian cuisine: Top 10 national dishes worth tasting
Indian cuisine is a whole bouquet of incredible spices, beautiful combinations of various vegetables with tender meat or cheese, a fantastic riot of flavors. People in this country know how to make a culinary masterpiece out of the simplest products. It is not for nothing that Indian cuisine has so many fans the world over. I will tell you what to try in India, every tourist: I made a list of 10 most popular dishes with descriptions and photos. Curries, soups, unusual vegetables, paneer, pastries – the selection is diverse. All this food you can easily find in Indian restaurants in your city.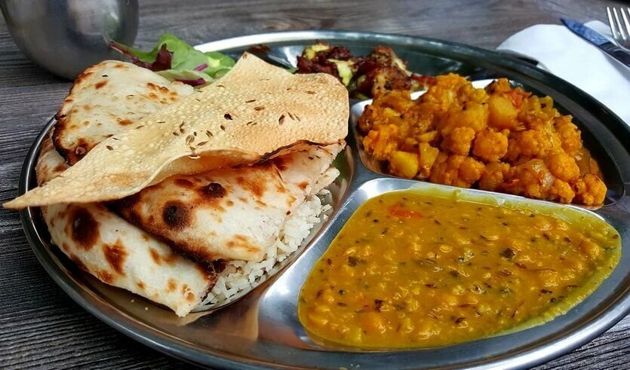 A little bit about curry
Curry is both a food and a mixture of spices to make it. It is not a specific dish, but a whole group of different dishes. Try all the Indian curries: meat, chicken, fish, vegetable, vegetarian with tofu or beans. A food with the name carry can include most of the dishes that are cooked in India. It is always something flavorful-spicy, moderately thick, sometimes spicy, usually yellowish-orange in color (but it doesn't have to be). It is always a stewed dish, so it has a creamy, often creamy, consistency. We've included several popular varieties of curry in our list of the most popular Indian dishes. Contrary to misconceptions, this is not necessarily something spicy. Curry dishes are usually served with rice or tortillas.
Dhal | Dal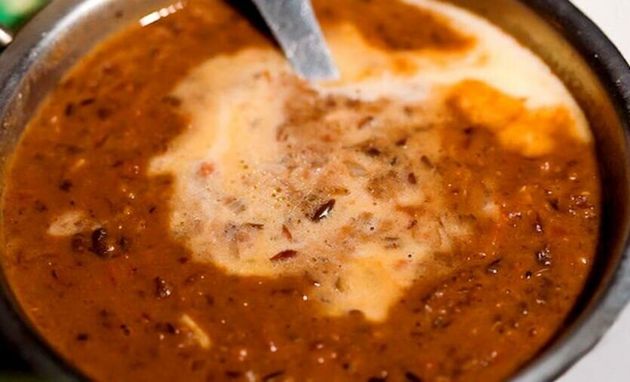 The most popular dish of Indian cuisine, which is definitely worth a try for every tourist. A thick soup puree with a unique spicy flavor will appeal to vegetarians and connoisseurs of aromatic spices. In India, you can eat at least a couple of dozen variations of this soup. The dal is made from lentils, mung bean, mung bean, peas or other beans (sometimes all at once). Some onions, tomatoes, garlic, turmeric and spices are added. Sometimes dal is cooked in coconut milk with lemon juice – this gives it a special creamy texture. There are so many variations of this dish in India that it can be an appetizer for breakfast, a soup for lunch or a side dish for dinner.
Tandoori Chicken | Tandoori Chicken
One of the most recognizable dishes of Indian cuisine that many tourists love. The pleasant spiciness, the delicate flavor of the meat, the appetizing crust of the recognizable red color – the chicken is really good. "Tandoori chiken is made with chicken or chicken thighs marinated in yogurt with gram masala, chili and cayenne pepper spices. Traditionally, the meat is baked in a special tandoori oven. Today, however, even in India, the dish is usually cooked on a charcoal grill or in an oven. Tandoori Chicken is usually served with onions, herbs and lemon – be sure to try it.
Palak Panir | Palak Panir
This rich green soup is a must try for every vegetarian in India. It will also please connoisseurs of light dishes. The soup is not overloaded with spices, so it can be advised to beginners who are just getting familiar with Indian cuisine. If you like Adygean cheese, then you must appreciate paneer – it is a very similar product in taste. It is the basis of this Indian soup, and "palak" is spinach. An incredibly delicate creamy sauce, a little mixture of gram masala, turmeric and ginger, and ghee oil – the dish turns out fantastically delicious, slightly spicy, with an interesting silky texture.
Biryani | Biryani
In simple terms, biryani is an Indian pilaf with lots of spices. It is considered a traditional dish of national cuisine in India, but there are many recipes for its preparation. Biryani is cooked with lamb, chicken, fish, eggs or vegetables, so every tourist can find a variant to his liking. Aromatic clarified butter, spices and dried herbs give a special taste to Indian pilaf. The classic dish is not spicy at all, but sometimes it contains cayenne pepper.
To make biryani at home, you can buy basmati rice (basmati biryani) and a spice mix of biryani masala powder.
Korma | Korma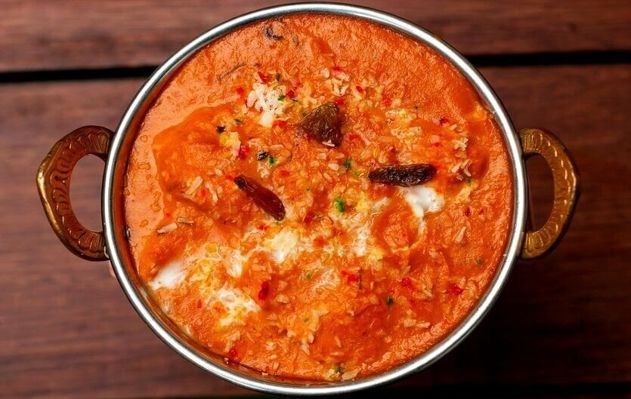 Very popular in Europe, a dish of Indian cuisine is definitely worth a try in its homeland. Korma is a delicate cream based on yogurt, coconut milk, crushed nuts and aromatic spices. The main ingredient can be lamb or chicken, and vegetarians should try navratan korma (navratan korma) made from 9 vegetables on holiday in India. If you like your food "fiery," order the spicy option. Just in case, let's warn you that no spicy korma is also a spicy (but not overly spicy) dish that contains hot peppers.
Makhan Murg | Murg makhani
In Europe, the dish is often called indian butter chicken, meaning indian butter chicken. Despite the name, this meal is also made in India for vegetarians, replacing meat with tofu. Whatever the main character of murgh makhani, the pieces turn out amazingly tender, melting in the mouth. It's all thanks to the flavorful creamy tomato curry sauce. And also the special cooking method. The chicken is marinated in yogurt and spices for several hours and then baked in tandoor. Only after that they stew it in a thick sauce with a whole bunch of spices. Cashew sauce and fresh herbs harmoniously complement this incredibly tasty dish.
Aloo Gobi | Aloo Gobi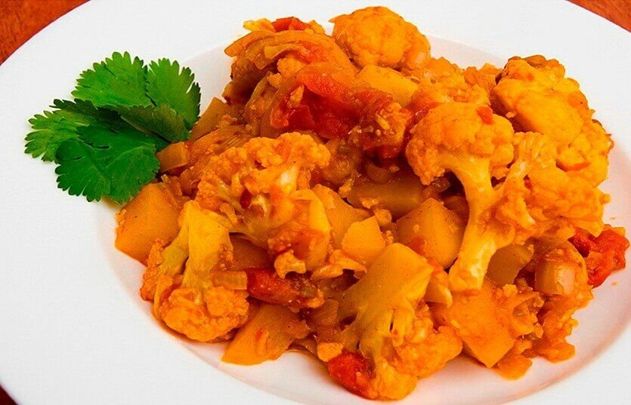 One of the best vegetarian vegetable curries in India. The artful combination of the simplest of foods impresses many tourists. Even if you're sure you don't like cauliflower (which is the main character of this Indian dish), it's still worth the risk and try this dish. The second main ingredient of alu gobi is potatoes. Thanks to turmeric, the dish has a bright orange color. Garlic, ginger, onion, coriander, cumin and many other spices give it a fantastic flavor. This is one of the few Indian dishes that are usually cooked not spicy.
Chicken Tikka Masala | Chicken Tikka Masala
If the name of a dish has the word "tikka" in it, it means the main ingredient is chopped into pieces. Chicken Tikka Masala is one of the most popular dishes of Indian cuisine. Appetizing pieces of chicken fried in oil and then stewed in a thick, flavorful orange or red sauce. The gravy is made from delicate cream, tomatoes, and onions, sometimes with the addition of yogurt. More often than not, cream in India is replaced by coconut milk. Coconut milk helps to reduce the spiciness of the main ingredient, red pepper. The dish itself is very filling, but you should try it with rice and tortillas (it tastes better that way). For vegetarians, I suggest trying tikka masala with paneer instead of chicken.
Sambar | Sambar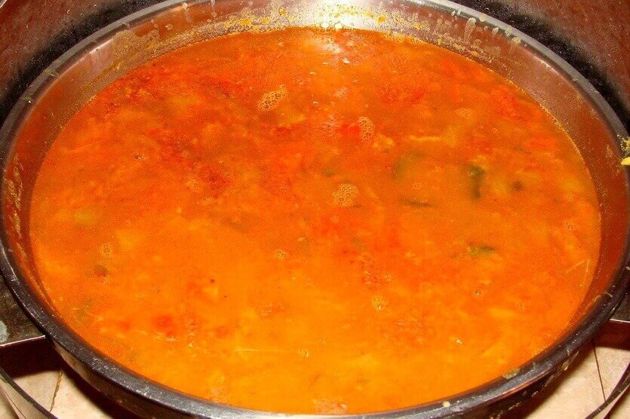 Sambar is a traditional Indian dish that is usually used as a side dish to rice or other dishes. It is prepared with lentils and tomatoes, sometimes with the addition of other vegetables. Aromatic spices, coconut milk, and a touch of hot pepper are mandatory. Usually this sauce in India is made vegetarian, but in some regions it is customary to add fish to it. There is no sense in ordering sambar separately, but you should definitely try this dish with a bowl of rice.
Indian flatbread
Many Indian national dishes are usually served with rice and flatbread. They not only help to satiate, but also reduce the spiciness of "fiery" dishes. Let's name the most popular flatbreads and buns, which are worth trying in India even just for nothing: