Hurghada – Egypt's resort with golden sands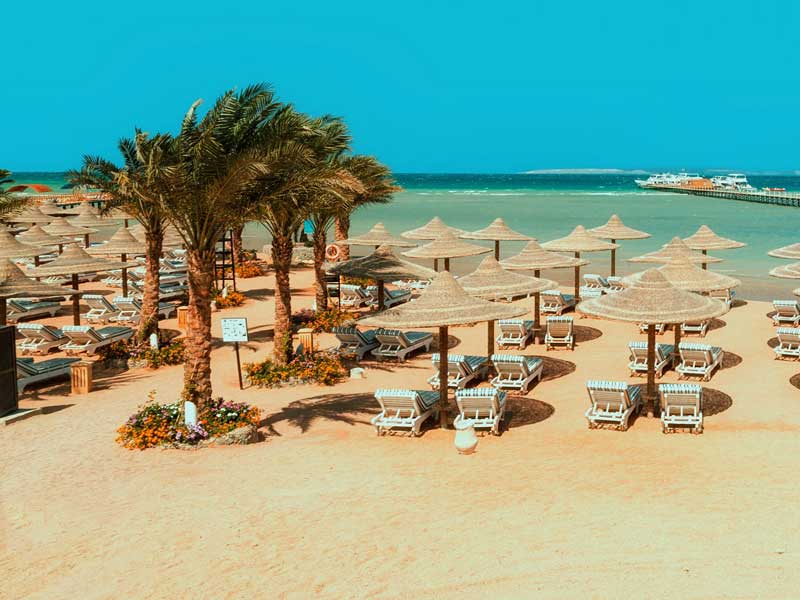 Past the tedious journey via Cairo, the sunny, hospitable Hurghada is finally within direct flight distance. Why is this Egyptian resort so popular? We found an explanation!
Viassan Editor
Content
Features of Hurghada
Hurghada is located in eastern Egypt on the west coast of the Red Sea. Today it is, without a doubt, one of the favorite resorts of Russian tourists. You can go here for excellent diving, beach relaxation, interesting excursions and nightlife (or all at once!) And most importantly – Hurghada can now be reached by direct flights from Russia. Just 4.5 hours – and you are already stepping on Egyptian soil, and immersed in an atmosphere of Arabian color!
| | |
| --- | --- |
| | We can help you choose a tour in Hurghada. Fast, free, with attention to detail. Just tell us how you want to rest. |
Pros and cons of the resort.
Like any resort, Hurghada has its strengths and weaknesses. The strengths, of course, more, otherwise so many tourists would not seek here.
Pluses and minuses of Hurghada

The presence of an international airport at the resort – thanks to this you can get to any hotel in half an hour maximum.

The area can be chosen depending on what kind of vacation you are planning – the northern areas are suitable for a beach holiday, the south – for sightseeing, and the area Sakkala is ideal for lovers of a vibrant nightlife.

The list of attractions is long enough to keep you entertained even if you don't leave the resort.


A visa is required for visiting Sharm El Sheikh – if you can get a "Sinai stamp" to visit it, it won't work with Hurghada: you'll have to pay 25 dollars for a visa (3 months valid).

It is necessary to be very thoughtful in choosing a hotel – it is recommended to clarify in advance if the beach is a sandy bottom without stones.

The need to swim in special shoes – corals in the sand are very common, so without shoes is better not to go into the water.
When it's better to go
The "high" season in Hurghada lasts from May to November – during this time at the resort the air temperature is +26 … +33 °C, water – +24 … +28 °C. I must say that in summer at the resort stay the most resilient tourists – during this time there is a strong heat up to +40 ° C. Many come to Hurghada to celebrate the New Year – the water and air temperature remains at +22 ° C, you can sunbathe and see the sights.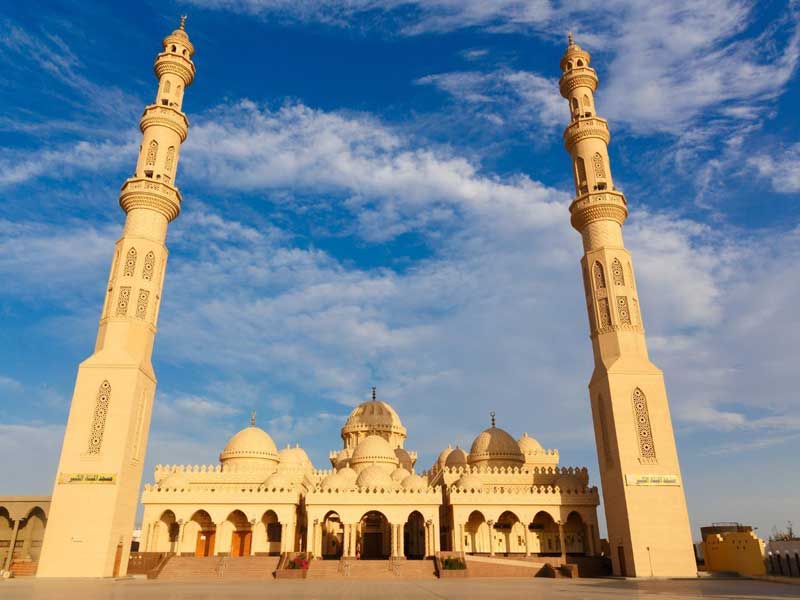 Al Dahar, Hurghada's old town
Hurghada neighborhoods
Hurghada is divided into three regions – El Dahar, Sakkala and New Hurghada. Each of them has access to the Red Sea, and where best to stay, tourists choose depending on what holiday they like.
The most comfortable place to stay in New Hurghada is in this part of town, which has a lot of hotels, beaches, supermarkets and stores. Moreover, here you can safely wear open summer clothes without fear of offending the feelings of the local population. New Hurghada is chosen by those who count on a quiet holiday, increased comfort and familiar to Europeans atmosphere.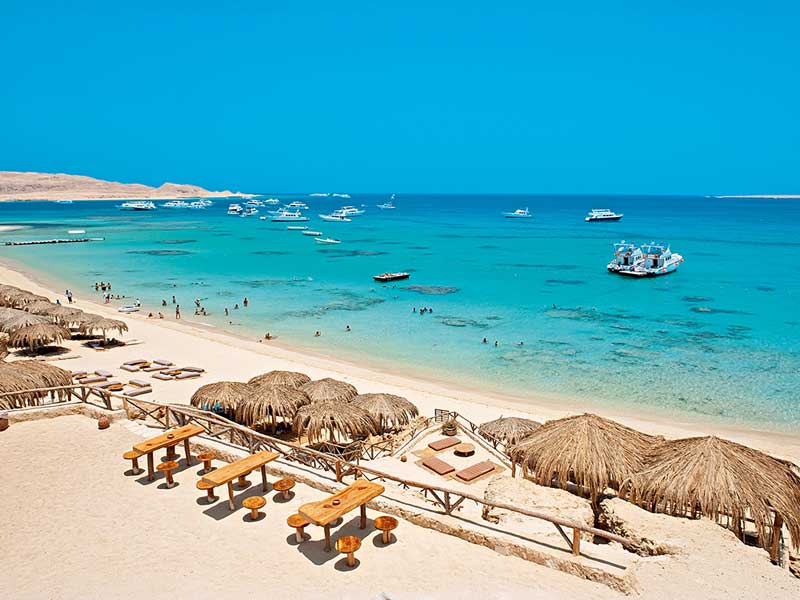 The best beaches are Dream Beach and Old Vic, which is reflected in the cost of admission – you have to pay about 500 rubles for the entrance. The number of visitors to the beach suggests that they find the fee justified – guests receive towels and can use umbrellas, sun loungers, toilets and playgrounds. Going into the sea here is wonderful – the beach staff is working hard to ensure that the bottom was not a stone and coral.
Dream Beach is suitable for those who like to dive (there is a pontoon), as well as for divers (there are coral reefs). Old Vic is a great place to stay with the kids. The sea here is calm, shallow, and the entrance to the water is gentle.
Lovers of partying can usually go to Mojito Beach, which is open 24 hours a day. During the day you can swim, sunbathe, do sports, and go boating, and at night the beach hosts a lot of foam parties and famous DJs.
What to see
Hurghada is not just beaches and diving. There's plenty to see, from historical monuments to water parks and amusement parks.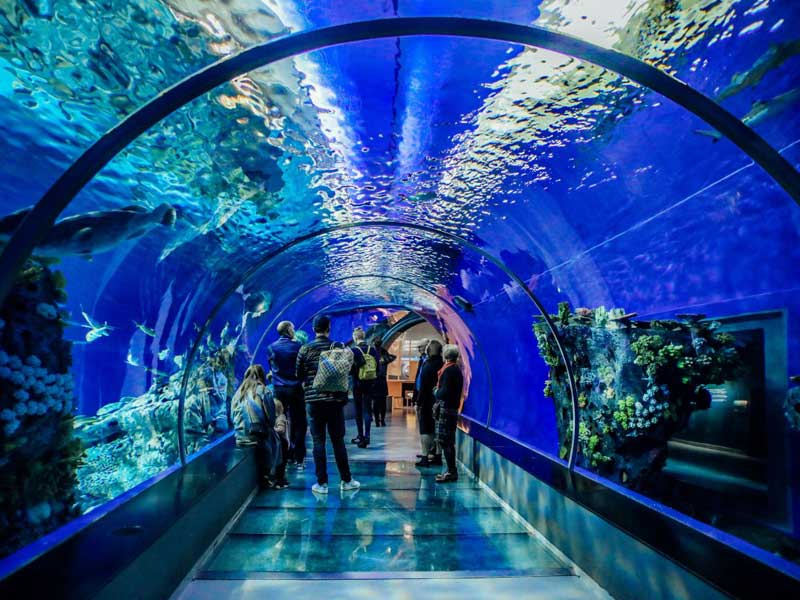 Aquarium
The Grand Aquarium is a huge 22,000 square meter room, where you can spend a whole day watching the underwater life of the Red Sea and African rivers. It is the only such aquarium in the Middle East and North Africa and the third largest in the world.
The glass underwater tunnel with a length of 24 meters, around which stingrays, sharks and other predators of the sea swim freely, is a special delight for the visitors of the complex. Guests of the Grand Aquarium are also invited to take a walk through the tropical "rain" forest and visit the exhibition "Whale Valley".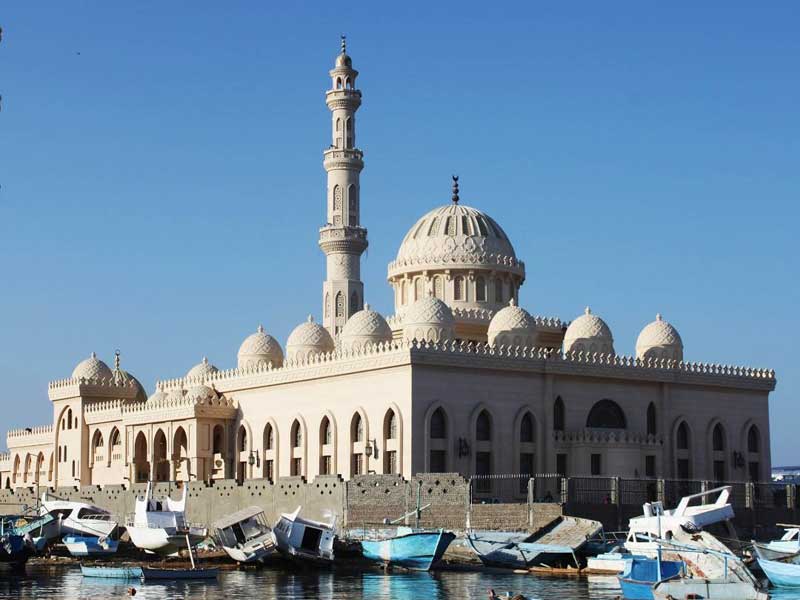 El Mina Mosque
El Mina Mosque (also known as Abdulhasan Elshazi Mosque) is one of the most beautiful buildings in Hurghada. It is visible from afar, with 25 domes and two minarets crowning the elegant white stone structure. The facades of the mosque are decorated with traditional oriental ornaments and exuberant carvings. Most visitors to Hurghada tour El Mina Temple only from the outside, as only those who practice Islam and follow a strict dress code are allowed inside.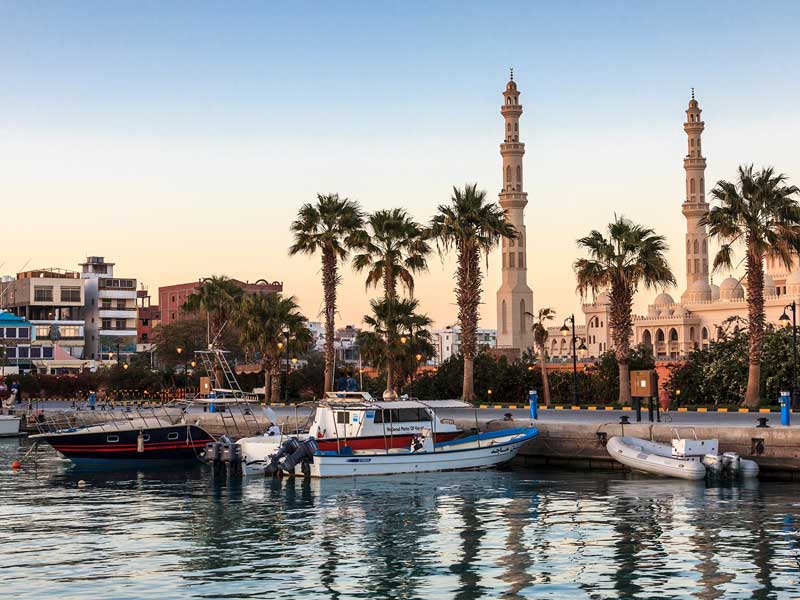 Promenade of Hurghada
Hurghada's waterfront (marina) is a pleasant place for strolling and relaxing. It stretches along the coast for about a kilometer and offers great views of the sea and boats – both modern and historical (or stylized). Restaurants, bars, nightclubs, live music – entertainment in the marina never stops. Here you can enjoy delicious food, watch the sunset, dance or just stroll around, recharging with resort energy and positivity.
Giftun Islands
These islands are called the Paradise Islands for a reason – it is a must-see during your visit to Hurghada. Usually the tour to Giftun lasts about 7 hours and the day offers a lot of unforgettable impressions. Take a breeze ride on the sea in a boat or a boat, relax on the beautiful sandy beaches, snorkeling or scuba diving – for all that tourists come to the Big and Small Giftun.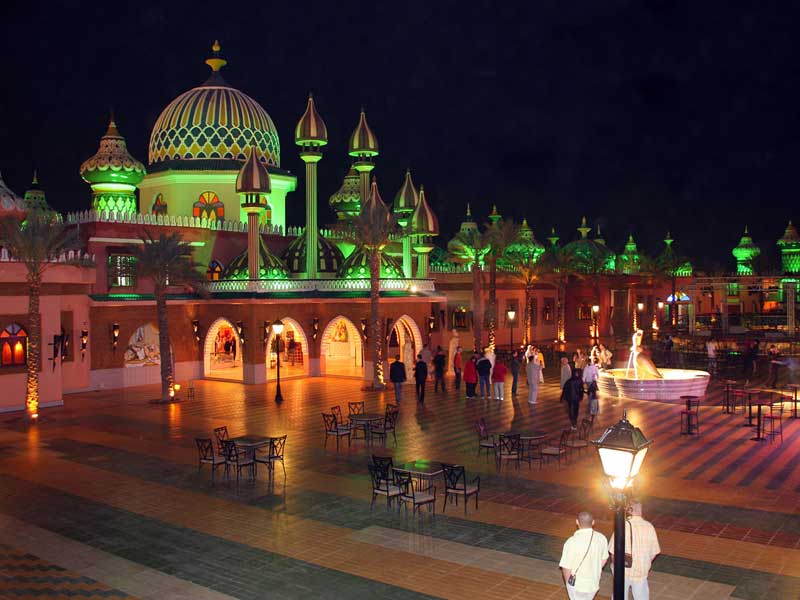 The Palace of a Thousand and One Nights
The Palace of a Thousand and One Nights
This landmark of Hurghada, also known as "Egyptian Disneyland" is located 17 km from the city center. The atmosphere of an oriental fairy tale prevails here – the palace strikes the imagination of children and adults with its oriental flavor and offers an interesting entertainment program, including a theatrical show that tells the history of Egypt, a circus performance with camels and Arabian horses, as well as an unforgettable show of singing fountains.
Coptic Church
The Coptic Orthodox Church is located in the old city of El Dahar. Its main feature is the unusual combination of Christian and Islamic architecture. The outside of the church is decorated with frescoes and openwork carvings on the windows, while inside there is a three-tier iconostasis with images of biblical scenes and images of saints. Tourists are free to visit the church; a strict dress code is not necessary.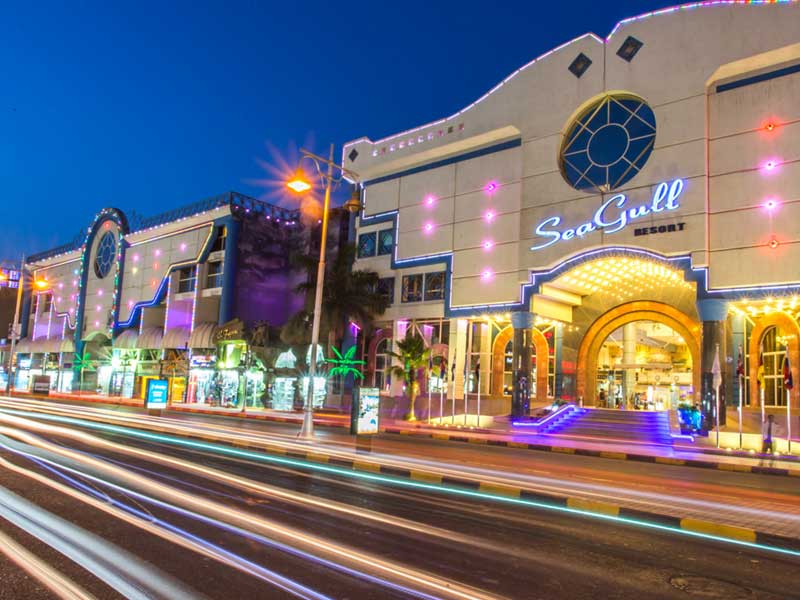 Sheraton Street
The lively Sheraton Street never sleeps during the day or night and connects the old town of El Dahar to the waterfront. Party goers, entertainment and shopping lovers will love it here – restaurants, bars, clubs, stores and hookah houses abound on the Sheraton.
Titanic Waterpark
Titanic Waterpark, one of the largest in Egypt, is located 17 km from the center of Hurghada, in the hotel Titanic Resort & Aquapark 4 *. Entry for hotel guests and children under 6 years old is free. The water park operates year round – during the winter months the water in the pools is heated. There are both small children's pools and play areas, as well as pools with artificial waves and a river for rafting – all this pleasure is placed on 6000 square meters. The bars and restaurants are a great place to eat, and the sauna, steam room and massage parlor are a great place to relax.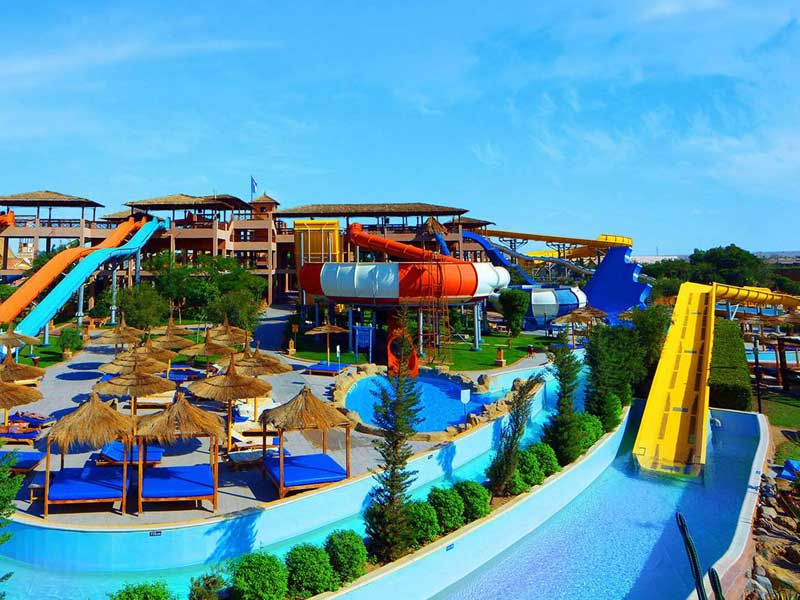 Jungle Waterpark
The water park Jungle is located in the hotel Jungle Aqua Park 4 * and is considered one of the most popular water parks in Egypt. Here you can relax on islands with palm trees near large swimming pools connected to each other by bridges, take an extreme speed descent into the pool "Freefall" and swim in the reservoir with artificial waves. Kids will love the fun snake and octopus chutes and the shallow "paddling pools" with mushrooms and fountains.
Umm Huwaitat
Umm Huwaitat or Ghost Town is an abandoned desert town on the outskirts of Hurghada that tourists usually explore during a jeep or ATV ride. The main attraction of the town is the snow-white mosque, from whose minaret you can see an impressive panorama of Ghost Town and the desert.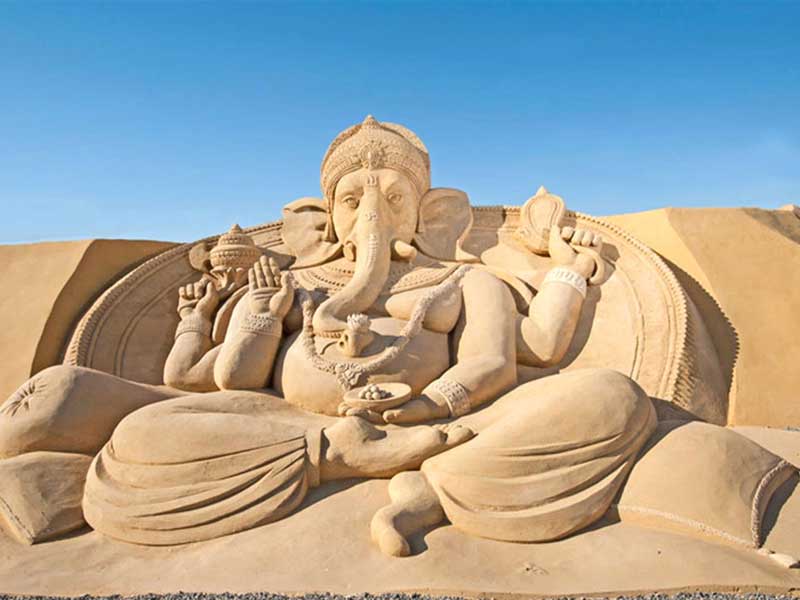 Sand Sculpture Museum
Sand Sculpture Museum
A very unusual museum where you can see huge sand sculptures up to 10m high. The sculptors from 17 countries worked for half a year to create them – here are the historical figures, heroes of legends, movie characters and even characters from popular cartoons.
Egypt in Miniature
Egypt in Miniature is a great destination for families, located at the resort of Makadi Bay, 25 km from Hurghada. Here you can see a miniature (1:25) copy of Egypt's most famous landmarks and take memorable photos against the backdrop of the mini Sphinx or the pyramid of Cheops. Many tourists after visiting the park go to see the sights that impressed them – the real ones!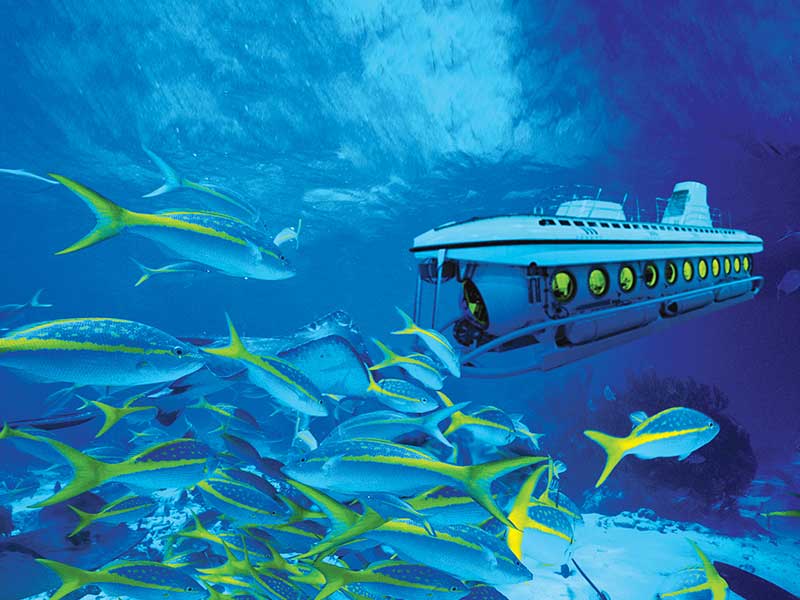 The Sindbad Submarine
The Sindbad Submarine
Many bright emotions give guests of Hurghada diving into the depths of the sea on a submarine "Sinbad". The tour usually lasts about 2 hours: 30 minutes for diving to a depth of 22 m, an hour – to see the underwater beauties (colorful fish, corals, algae) and another 30 minutes – to climb up. Children under 5 years travel free of charge.
Things to do in Hurghada
Bars and Restaurants
Many tourists are delighted by the gastronomic diversity of restaurants in Hurghada – here you can find restaurants of Egyptian, Japanese, Mediterranean and even Russian cuisine. The resort is open cozy bars, cafes and pizzerias overlooking the sea or a busy Oriental street.
We recommend the following bars and restaurants:
Sofra – a restaurant with Middle Eastern and Egyptian cuisine.
Makai Tukai – A place with an impressive Asian menu.
Nino's Restaurant is a cozy place serving delicious Italian and Mediterranean cuisine.
Waves Restaurant & Lounge Bar – hearty bar/restaurant with a view of yachts and Russian-speaking staff
Che Guevara – camel steak served here!
Hangover Bar & Grill – great place with good hookah.
Papas Bar – often hosts rousing Latin parties.
Clubs and Nightlife
Hurghada is a party resort that never stops for a moment. Here you can see the mesmerizing performances of Nubians, enjoy singing fountains and colorful laser show programs, and visit nightclubs with world-class DJs. You will not be bored!
You should definitely visit one of the nightclubs mentioned below:
Elements Club & Lounge – there are often Ladies' nights with free admission and drinks for girls.
Papas Club – themed parties and rocking music.
Dome Club: A spacious club with great DJ's.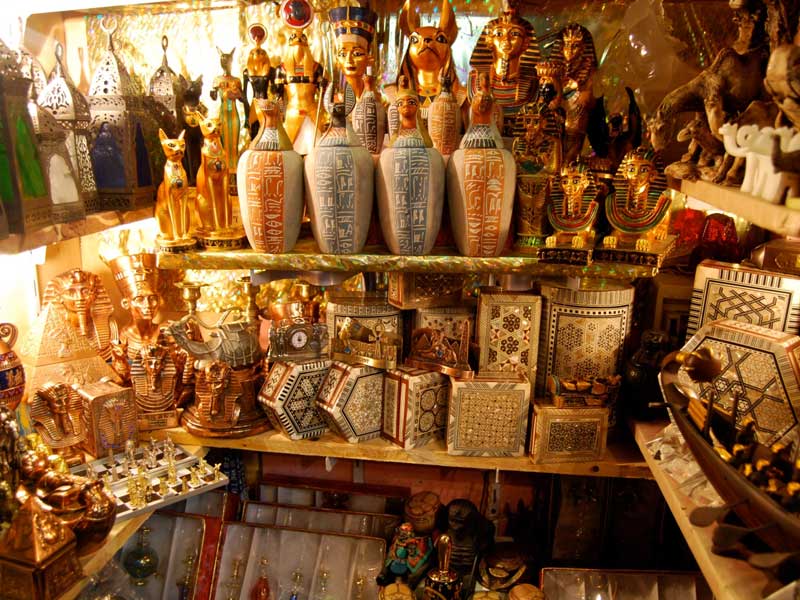 Shopping in Hurghada
Shopping
The most common tourist products in Hurghada are national and commonplace clothing, spices, oriental sweets, oils, papyrus, hookahs and jewelry. Very often from the resort are brought to remember the statues of cats and pharaohs, figurines of scarab beetles and small pyramids.
Shopping in Hurghada is very diverse – you can visit the major shopping centers of the resort or look in the small stores and stalls.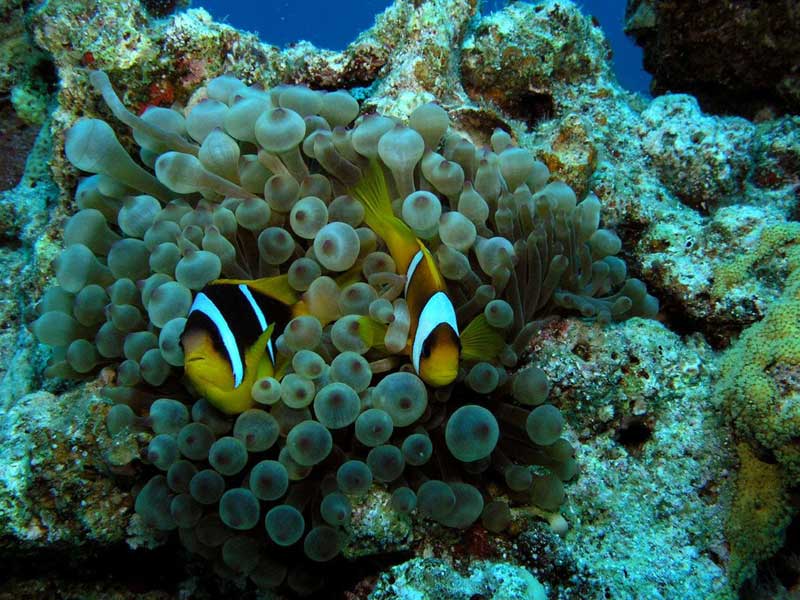 How to Get There
Hurghada International Airport is conveniently located just 5 miles from the center of Hurghada. Hurghada is easily accessible by direct flight from Moscow – flights have been flying in since August 2021. Then you can get to the hotel by shuttle bus, cab or pre-book a transfer.
| | |
| --- | --- |
| | Our specialists are always ready to pick up a suitable tour to Hurghada, just leave your request! |
Before you travel don't forget.
Buy Tours Online
✈️ Buy Flights
Book a hotel room
Book a transfer
☂ Book insurance
Sign up for a tour
Subscribe to our Instagram and VKontakte communities so you won't miss anything! And in our Telegram-channel we publish the current hot tours!
When is the best time to go on vacation to Hurghada?
One of the main Egyptian resorts and the first tourist center of the country, Hurghada stretches 40 km chain of hotels along the west coast of the Red Sea. Read our article on Tour Calendar to find out why the best time to visit it is autumn and spring.
Hurghada is the coryphaeus of vacation travel in Egypt, receiving tourists in droves throughout the year
Tourist season in Hurghada
Hurghada is Egypt's oldest resort, where everything has long been put on stream. About 20 years ago, it grew out of a simple fishing village, and today it is a mass and open destination for beach holidays. And let it, unlike Sharm el-Sheikh, is not built with luxury five-star hotels, the reasons for active inbound tourism it still has a lot: a more moderate than in other resorts, the climate, the cleanest beaches with a gentle approach to the water, excellent diving, entertainment of all stripes and stripes, as well as democratic prices. Tourist season here is open all year round. In 12 months, the city is visited by more than 3 million tourists.
High season
The biggest influx of tourists to Hurghada is registered in autumn months, during the New Year and Christmas holidays, as well as from April to the end of June (especially in May, since the Russians and Arabs almost coincide on vacation). During this time the most comfortable weather prevails in the city. The main "backbone" of the resort public in the high season is represented by couples with children and older people. Young people also rest at the resort, but in much smaller numbers. Prices at this time are at a maximum, and to catch a bargain is difficult enough.
Low season
The low season in Hurghada, which falls in summer and the second half of winter (a favorite time for surfers), is notable for the same low prices. Last minute tours are widely offered by tour operators in many countries, and sometimes tours are offered at dumping prices. During high season it is also possible to "snatch a bite". At this time the demand for Egyptian destinations sometimes fails. Usually it is caused by political unrest in the country. Then the sales are lower than the production cost, and, as a rule, the tour packages are quickly sold out. The main supplier of tourists in Hurghada is of course Russia. During the year there comes here about 2.5 million of our compatriots. Slightly less than Ukrainians, Germans and Italians.
Beach season in Hurghada.
The most comfortable beach holiday in Hurghada is in autumn (a little bit hotter) and spring (a little cooler).
The hot climate of Hurghada allows you to swim here all year round. The maximum temperature of the Red Sea is recorded in summer and reaches +28 ° C. The sun is very aggressive. You can get burnt in some half an hour, and driving under the open sky is possible only with short jogs. On the beaches is not very comfortable to relax. In addition, swimming can be difficult because of the high waves and strong winds. In winter the water is quite refreshing – in the range of +20 … 21 ° C, the weather is cool, so the vast majority of tourists are limited to sunbathing. The most enjoyable beach holiday is in the autumn, when the ratio of water temperature to air temperature is at its best (+26 ° C to +24 ° C respectively). Spring, with the exception of March, also promises unforgettable days at the seaside.
Diving season
Hurghada is perfect for learning to scuba dive – professional dive centers can give you a quick scuba diving course
Hurghada is an attractive destination for thousands of proud owners of flippers and cylinders, for along its coastline stretches a barrier reef, near which concentrated the brightest and most colorful underwater entourage with a rich marine life and a variety of cold-blooded species. The resort has dozens of dive centers. The best "site" is considered to be Giftune Island, and the most suitable weather conditions for diving are observed from April to September.
The best time for excursions
Late spring, winter and early fall are considered the most favorable periods of the year for trips to cultural sites
Hurghada can not boast an abundance of attractions, but the resort offers a huge number of interesting excursions. It is noteworthy that for some tourists a decisive factor in favor of Hurghada is the fact that the resort is close to the capital of ancient Egypt, Luxor and the pyramids of Giza. As you know, the sun in the country can be dangerous, and given the fact that it shines at least 9 hours a day regardless of the season, choosing the right time of the trip is a very responsible task, especially if the trip takes children. The most favorable conditions for participation in excursions are observed in the winter months, despite the possible winds and evening chills. Also for such active and cognitive rest well suit the early spring and late fall.
The time of holidays and festivals
Hurghada can be called a true resort for Russian tourists, because the bulk of the festivals that are held here, focused on the Russian audience
In November, a relatively new International Festival of Russian Art "Green Oasis" is held in Hurghada. In late February, the resort is traditionally arranged music and sports festival "Russian Wave". In May you can witness a piquant Belly Dance Festival. In addition, at various times of the year here are organized by professional surfing competitions.
Climate in Hurghada
The weather in Hurghada is dictated by its location in a tropical desert climate with high temperatures and little rainfall throughout the year. Summers are very hot and dry, while winters are moderately warm and mostly clear. Having said all this, Hurghada's weather is less grueling than that of Sharm El Sheikh, as there are no mountains to protect the city from the cooling winds.
Hurghada in spring
During the first month of spring in Hurghada it gets a little warmer than in winter but the nights are still cold. The sea is not yet ready for long swims. April is probably the most suitable month in which the weather is conducive to a beach holiday and intensive sightseeing. But when indulging in languid lounging or gazing at the pyramids, don't forget that the evenings are still fresh. May can be recommended to those who like to "fry" in the sun, but prefer not to undergo severe stress: during the day to +32 ° C, at night at least +21 ° C (*warm clothes will be redundant, but if you're traveling with children, bring them clothes with long sleeves, because in the evenings there may be warm, but gusty winds). There is a risk of sandstorms in this month but they occur very rarely, at most once a year.
Weather in March
April weather
Weather in May
Average temperature
+19
+23
+27
Daytime temperature
+24
+27
+32
Nighttime temperature
+14
+18
+22
Water temperature
+21
+22
+24
Rain
1 day
1 day
1 day
Hurghada in summer
In summer, the city is very hot. Solar activity is 12-13 hours a day. The maximum temperature extremes are observed in July and August: during the day the air heats up to +32 … +35 °C. Daylight hours are very long. In the evening the ambient temperature drops only to +25 … +27 ° C, resulting in a good sleep is very rare. There is practically no precipitation, so you should not count on them, as well as swimming in the sea. The water at this time is warm as fresh milk. Periodically the winds blow up, which makes fans of surfing very happy.
Weather in June
Weather in July
Weather in August
Average temperature
+30
+32
+31
Daytime temperature
+34
+36
+35
Nighttime temperature
+25
+27
+27
Water temperature
+26
+27
+28
Hurghada in autumn
One can say that autumn in Hurghada is velvet summer. The heat is not as brutal, although in the first weeks of September the thermometer column can still go off the scale. But gradually the daytime temperatures start to fall and so does the sea, making it a much nicer place to be. In October there are more and more windless days, so swimming is a real pleasure. November is the last month of the high tourist season, as winter is coming and the evenings are getting chilly.
Weather in September
Weather in October
Weather in November
Average temperature
+29
+26
+21
Daytime temperature
+33
+29
+25
Nighttime temperature
+25
+22
+17
Water temperature
+27
+26
+25
Hurghada in winter
Winter in Hurghada is the coldest time of year but even during this period the water temperature of the Red Sea is still around +20 … +21°C. For long 9 months it has accumulated a lot of heat, which can not be fully expended. However, swimming at this time of year is not very pleasant, because the daytime air temperature is identical to the sea water temperature. In addition, in winter in Hurghada there are strong winds, so you can feel the chill even at noon in the sun. It gets dark quite early (about 16.00-17.00), after which the air cools quickly. So the evening outfit definitely requires warmer clothes.
Weather in December
January Weather
Weather in February
Average temperature
+17
+16
+17
Daytime temperature
+22
+20
+21
Nighttime temperature
+12
+11
+12
Water temperature
+23
+22
+21
What are the prices for holidays in Hurghada?
To find out the current prices for holidays in Hurghada you can on the leading sites for the selection of bargain tours, excursions and airline tickets.
Remember that you can buy tours to Hurghada cheaper on Travelata.ru – search tours in hundreds of tour operators! Use our promotional codes AF2000turcalendar for additional discount of 2000 rubles (tours of 100 rub), AF1500turcalendar 1500 rubles (from 80 rub), and AF1000turcalendar 1000 rubles (from 60 rub)!
Holidays in Hurghada have long been loved by our tourists as a seasonal resort. However, if you are a selective traveler who prefers comfortable weather conditions to cheap vacations, Tour Calendar advises to plan your trip for the period from September to November and from the second half of March to May.