Hua Hin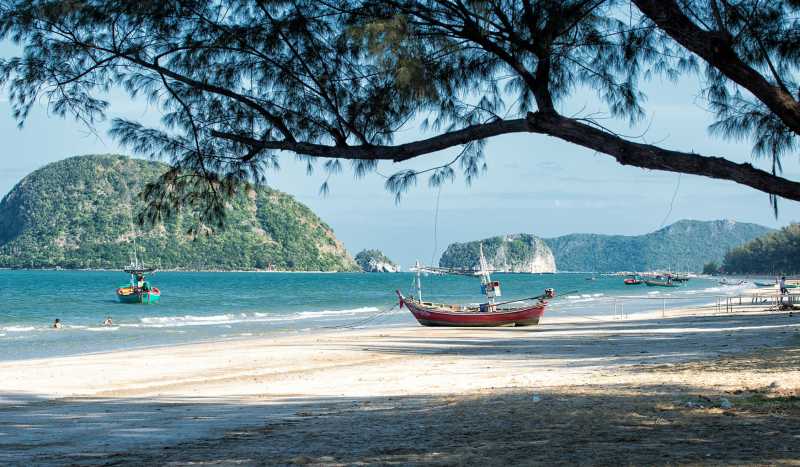 Malacca Peninsula, located in the south of Thailand, at the beginning of the twentieth century was loved by the King. In the former fishing village grew Clai Kangwon Palace, which means "secluded, away from the hustle and bustle", and then the village itself has grown to the size of the town, now known as the resort of Hua Hin.
And although the area of the town and its population has increased, its seclusion Hua-Hin has not lost, becoming a cozy place for family holidays. It's known for its beauty, sandy beaches, and safety – since the royal couple are still on vacation here, the local police takes enhanced measures to maintain law and order.
If you choose to vacation with children in Hua Hin, you'll find freedom from worries, tranquility, and some pleasant discoveries. Read our review to see why that's the case.
Hua Hin on the map of Thailand
Hua-Hin is one of the oldest resorts in Thailand. It's located in the north of the Malacca Peninsula on the Gulf of Thailand, 220 kilometers from Bangkok. Hua Hin is the administrative center of Prachuapkhirikhan municipality.
The place where Hua Hin is located is very convenient for tourists. If you want to get away from the daily grind, you can sunbathe on the quiet beaches and swim in the sea. But as soon as you begin to creep boredom, it is worth taking the bus and a couple of hours to Bangkok, where there are amusement parks, play centers and children's museums.
Holidays with children
Holidays in Hua Hin appreciate and the Thais themselves, and tourists. And no wonder: a quiet, safe resort near the capital of good on many fronts. First, it is easy to get to Hua Hin by plane, train or bus from Bangkok. Journey to the place of rest will not tire a child, which means that immediately after arrival, you can leave your things in the room and go to the sea.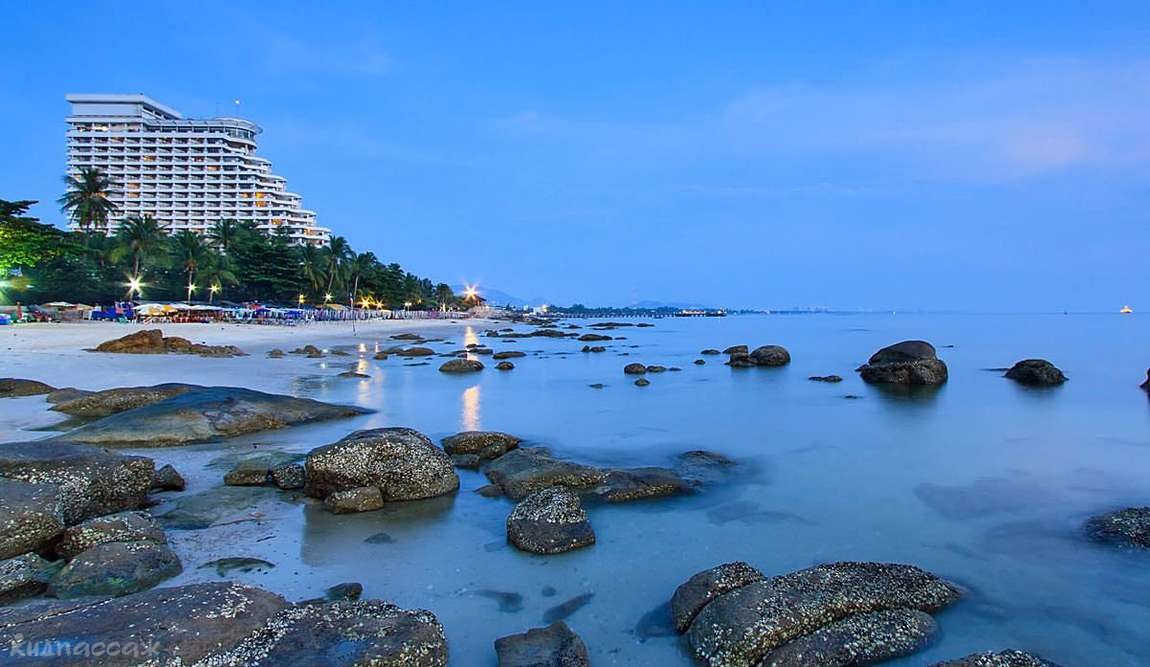 Secondly, Hua Hin – a solid resort. It is often compared to Pattaya in respectability, but Hua Hin is more suitable for families with children because of the silence and lack of noisy nightlife. Life here is measured and quiet, so you can truly relax with a child.
Thirdly, the town has an excellent tourist infrastructure. There are many luxury hotels, although you can find an apartment or guesthouse for relatively small money.
One of the advantages of traveling to Hua Hin with children – family hotels. They take care of the matter, what to feed the children, how to organize their leisure time and how to provide an opportunity for parents to relax. In such hotels you can rest even with an infant child.
In terms of entertainment can be recommended Hua Hin for preschool and primary school children. They will enjoy riding elephants, visiting game centers and water parks. If you're going on vacation with teenagers, we advise to visit Bangkok, where there are much more interesting places.
When to go
The weather forecast seems to show unambiguously when it is best to go to Hua Hin. The best time to relax on the beach is from December to March, when there is no rain, stifling heat and high humidity.
In winter and early spring, children find it easier to adapt to the new climate, which means that most of the vacation can be devoted to beaches, walks and excursions.
High season in Hua Hin starts in November, and most tourists arrive at the resort in the winter months. Book a place at this time it is desirable in the summer, as the best options are sold out long before the season starts.
It should be noted that there are several reasons to visit the resort before the season in Hua Hin or after its closure. For example, in November, the Thais celebrate Loi Kratong.
The main act of the holiday is the launching of flower boats with candles. But besides that, in the cities are organized solemn processions and theatrical performances.
In April, Thailand welcomes the New Year. In the streets are fun festivities and be prepared that you will be poured over the water – for good luck.
Weather and Climate
Winter in Hua Hin is summer. And summer is summer too. And the hottest summer is spring. Jokes are jokes, but Hua Hin's tropical climate means constant heat and high humidity.
In December and January the temperature is +30 º C, but in February begins to grow and by March it reaches +33 º C. Nights are relatively cool, about +24-25º C. The best holiday in Hua Hin with children than the rest in winter and early spring, and can not think of.
It starts to rain in May. At first – at night, not leaving a single puddle in the morning. But the closer you get to fall, the longer the downpours last. In September and October, the rains don't stop for days at a time.
And since the temperature is kept at between +32-33º C, the heat because of high humidity seems unbearable. And if summer is still possible to choose for a vacation with a child, the fall is absolutely not suitable for the trip.
Vacations in Hua Hin must be planned no earlier than November. It rains much less, clear days prevail, and the air temperature is +30-32º C. For a trip with an infant to Hua Hin, we recommend choosing the winter months with stable dry weather.
Sea Temperature
The sea temperature in Hua Hin does not differ much from the air temperature. If the heat in the resort is +33ºC, the water gets as warm as +30ºC. If the air cools to +30º C, as it does in winter, the water temperature in Hua Hin drops to +27º C. Anyway, the water is never colder than +25º C.
Detailed information is superfluous – but how it pleases the heart:
December – +27.8ºC.
January – +27 ºC.
February – +27.6 °C
March – +28.9 °C
April – +30 ºC
Nutrition
Most hotels in Hua Hin offer a buffet breakfast in their area. You can also have lunch and dinner at hotel restaurants that cater to the needs of tourists. The menu includes European and Thai cuisine, so a child who eats from the adult table will not go hungry.
Choosing where best with children, some tourists prefer to rent a room with a kitchen or an apartment to cook on their own. In Hua Hin, there are no problems with the purchase of products: everything you need is sold in supermarkets, small stores and markets.
If you decide to dedicate an independent holiday in Hua Hin with children to fully acquainted with Thailand, you will certainly be interested in Thai cuisine. Local dishes are mostly spicy, so young children should order the food without spices.
Transportation
Public transport in Hua Hin is a popular all over Thailand sungteo, that is, pickup trucks, converted to carry passengers. There are no soft seats, no air conditioning, not even windows in the Songteo, but the fare is only 10-40 THB (tickets for children cost the same).
The songteos do not have numbers, but you can tell the route by the color. The green sungteos go through the center, along the coast, to the bus station and the airport. White ones are convenient to the train station, supermarkets, and markets. The orange ones go through the secondary streets.
Intercity transport in Hua Hin is somewhat more comfortable. To Cha-Am go old, but quite serviceable buses, the fare which costs about 60 THB. You can get to Phuket and Krabi by air-conditioned buses, but the fare is 450 THB.
The most expensive way to get around Hua Hin is by cab. A short ride will cost at least 200 THB, and you have to bargain for that price. If you prefer to travel rather than walk, you can rent a car. Car rental companies operate in both Hua Hin and Bangkok.
We have a Facebook group Join us and stay up to date!
We're also on:
We have a group on Vkontakte Join us and stay up to date on everything!
We're also on:
What to do.
Focused specifically on beach vacations, Hua Hin doesn't have much in the way of entertainment in the city itself. But there are still a few ideas to spend time with the kids.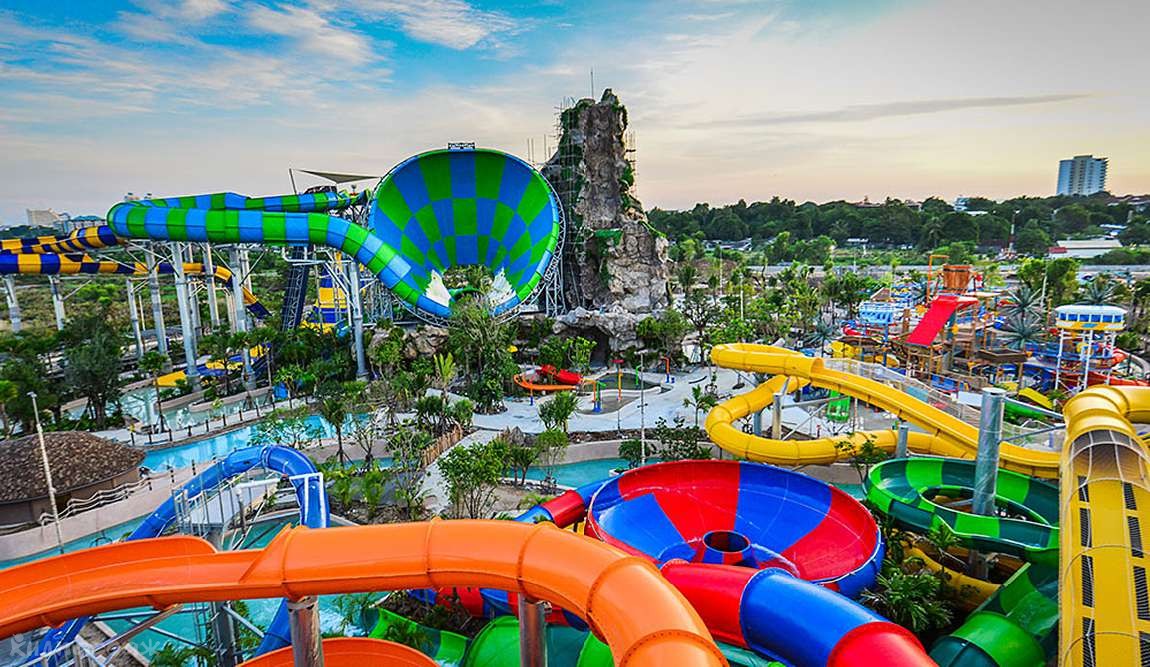 Water parks . Near Hua Hin, there are two fairly large water parks. The makeshift jungle Vana Nava pours tropical rain (some call it splashing and fountains) and is home to giant snakes (they pretend to be slides). The water park features a windsurfing pool, an adventure pool, and a ropes park on land. Black Mountain Waterpark is smaller in size, but there's enough fun for everyone. Its highlight is the wakeboarding rig.
Fun Center . A white and blue Greek town in Thailand is Santorini Park amusement park near Cha Am resort. It has all the favorite swings and carousels, its own water park, a pavilion for interactive play, cafes, stores and just a green area where you can walk with your child.
Meet the animals . The most revered animal in Thailand is the elephant. Usually tourists are offered elephant rides, but in the center Hutsadin Elephant live retired animals, and no longer they provide services to people, but people to them. Elephants can be walked, fed, washed, and in return for such care giants allow to ride on his back. Holidays with a child in Hua Hin, you can get acquainted with the elephants at Hua Hin Safari & Adventure Park. Here they perform in the show, demonstrating the ability to draw, dance, play soccer – all elephant talent and can not list all the elephant talent. There is also a crocodile and snake show in the park. There are no elephants in the Hua Hin Zoo, but there are other animals, and many of them freely roam the area. Peacocks, rabbits, turtles and ubiquitous monkeys can be found there. The animals are always happy to have treats, so try to bring some fruit and vegetables on your walk.
Playrooms and Playgrounds . On the third floor of the Market Village mall there is a large children's playroom, in addition to the slides and trampolines, there are various attractions and children's bowling. There is also another playground for older children, with slot machines, a 4D movie theater and karaoke. A lot of activities for children can be found in the mega-mall The Venezia, 20 km from Hua Hin. There are rides, outdoor playground, indoor play area, a mini zoo. In addition, you can swim in the canal in a real gondola.
Places to walk . What a family vacation in Hua Hin lacks is the opportunity to spend a lot of time outdoors. If lying on the beach gets boring, visit one of the sheep farms around the resort. Country farms have taken care of creating a place for active games, although perhaps the child will be interesting not to play on the playground, and feed the sheep and rabbits.
In some cases, hotels relieve parents of the concern of what to do in Hua Hin with a child. Play area, activities in the mini-club, attractions – and now the child is busy and happy, and you have free time to relax.
A trip for fun
220 km from Hua Hin is Bangkok with all its temptations. The main temptation for children is the entertainment centers, and there are plenty to choose from:
The big amusement parks Dream World and Siam Park City;
three water parks, including one just for kids;
many play centers, including the city of professions Kidzania;
Two zoos;
Siam Ocean World;
Planet of the Dinosaurs interactive entertainment and educational center.
Sea and Beach
Hua Hin City sandy beach stretches for 6 kilometers to Monkey Mountain. This is the most crowded beach with well-developed infrastructure.
Here you can always get a bite to eat or drink in any of the many cafes, as well as indulge in water activities, scooter or banana boat ride. Beyond Monkey Mountain is Kao Takiab beach, which is just as comfortable and laid back but cheaper.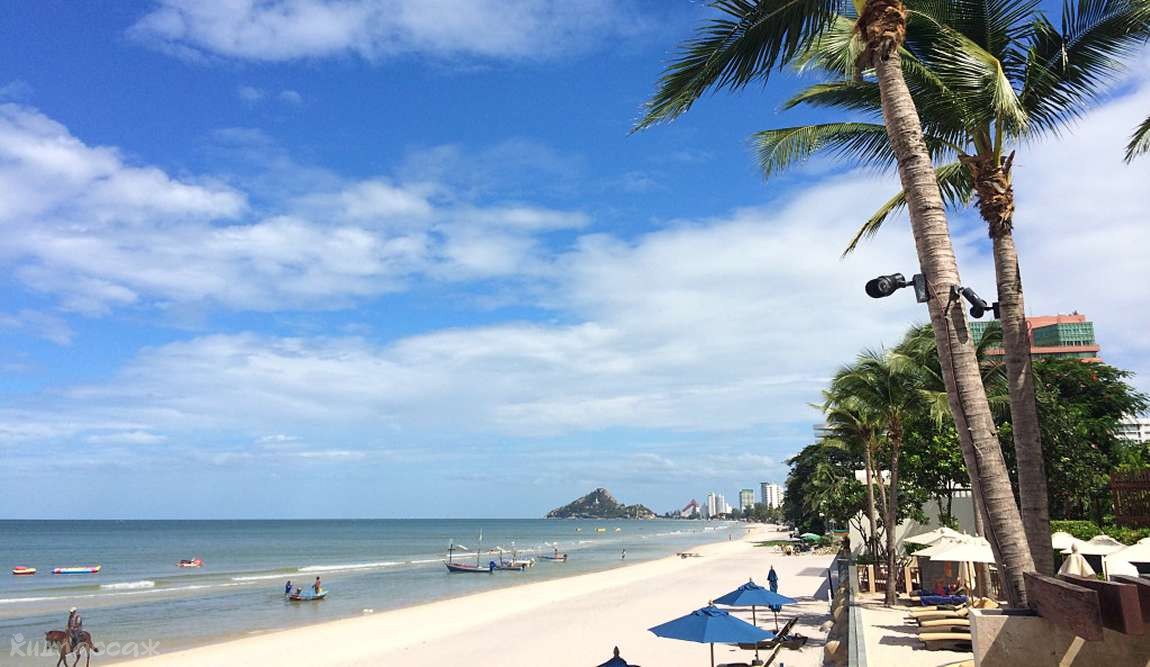 On the territory of the military base is Suan son Beach, where it is especially good to relax on weekdays – then there are very few people on the coast.
Along the coast in this place grow pine trees, and there you can spend the whole day, hiding in the shade from the heat of the sun. But you'll need to bring your own beach towel and food – there's nowhere to rent a sun lounger or buy food.
Sai Noi Beach is a cosy, private beach just outside the town in a small lagoon between two mountains, one with an ancient temple and a golden Buddha statue beside it. The temple can be accessed by stairs directly from the beach.
Beach recreation in Hua Hin is quite able to please, but for the sake of seeing something new, you can go to the neighboring resort of Cha-Am. One of its beaches are not just a place to rest on the sea: it is decorated with sculptures, which stand even on small islands near the shore.
Cha-Am's central beach is filled with water fun and activities for kids, and the beaches in the countryside are clean and calm despite their lack of infrastructure.
What to see
Holidays in Hua Hin with children are usually filled with complacent laziness. The beach, the warm sea, fresh fruit and lack of worries – what could be better? For those who are not used to sit still even during the vacations, the best option would be excursions.
And although Hua Hin is not replete with interesting places for children, it still can surprise – and not only kids.
The first thing you can show a child – the national park Khao Sam Roi Yot. This is a kind of museum, where instead of the rooms – the mangrove forest with monkeys and rams, cave Sai Cave with colorful stalactites, swamp, where waterfowl live, and the view of the jungle from the observation deck.
Walking through Sam Roi Yot Park, especially up to the observation deck, is something only adults and teenagers can do. The forest is very humid and there is a steep rocky path up the hill.
Also worth visiting in Hua Hin with a child are other natural attractions: the national park Keng Krajang, waterfalls Pala-U and Huay Yang.
But the cave Khao Luang can not be called just a natural attraction. Yes, there are hanging from the ceiling stalactites, but not the main thing, and the statues of Buddha arranged in the underground.
The large statue of the reclining Buddha nestled in a natural niche, smaller statues occupy a spacious hall. This is one of the Thai temples, and, as is often the case in such places, there are monkeys living next to it.
Other temples can also be added to the list of things to see in Hua Hin. The Wat Neerancharama temple, where the figure of the six-armed Buddha stands, deserves special attention.
Nearby attractions
The way to Hua-Hin lies through Bangkok, and already at the stage of booking tickets and hotels you can think about an excursion program. Then the poor selection of options, what to see with children in Hua-Hin, will be complemented by the vibrant museums, which is rich in Bangkok.
On a visit to the capital of Thailand desirable to allocate at least two or three days to see all the most interesting. Curious children will find a science museum, fans of comics – Museum of toys Batcat, the future of celebrities – wax museum Madame Tussauds, and those who like to take unusual selfies – gallery of 3D pictures Art in Paradise Bangkok.