Tips for traveling to Prague on your own
It is believed that traveling independently helps to save a tidy sum of money compared to traveling through a travel agency. There is a lot of truth in this opinion, but to organize such a trip will require a lot of effort, from buying tickets to studying the sights. But if you are willing to sacrifice their time to save money and do everything correctly, following the advice of experienced travelers, the result will be visible.
To Prague – on your own
The capital of the Czech Republic is very popular not only because of the magnificence of medieval buildings, interesting monuments, luxurious gardens and delicious beer. A trip to Prague in comparison with other European cities will be one of the most budget-friendly. This is why it attracts an endless stream of tourists, many of whom have long been accustomed to travel independently and are happy to share their wealth of experience.
What time is the best time to visit Prague?
Prague is always wonderful. The mild summer and not too cold winter contribute to the all year round tourist season. If your trip is not tied with a working vacation or other events, you can choose the season at your discretion. However, keep in mind that for travel with children is still preferable to go on a trip in the warmer months.
The main tourist season in the Czech capital lasts from late spring to early autumn. Especially from May to September there is the biggest influx of tourists.
For those who like quiet, secluded travel and a minimum of commuters on the streets, it is best to go to Prague before the season or after it. In April, Prague's gardens begin to turn green, and in October, golden autumn arrives in the shady parks. Plus, you will surely enjoy low prices on airfare and hotels. And most of the attractions that close for the winter season are still open during this period.
Winter also has its own wave of tourist influx, which lasts about a month, from mid-December to early January. In December, travelers come to see how beautiful Prague is in the light of Christmas lights, as well as to meet New Year's Eve in cozy Czech beer gardens and restaurants. In the wintertime Prague is especially interesting and fascinating, so you should definitely come here during this season.
Buying tickets
With what to start preparing for the trip? It is no secret that the earlier you book transport tickets, the cheaper they are. But sometimes you can get "last minute" tickets – literally on the eve of your planned vacation. In order to get to Prague by plane at a budget price, you need to regularly monitor discount airline ticket sites. The easiest way to find low-cost tickets without overpaying is on marketplaces like:
Aviasales;
Skyscanner;
Momondo;
Ozon;
Anywayday, as well as directly on the websites of the carriers.
Prague is beautiful at any time of year, but the cheapest tickets are traditionally during the off-season: the last month of autumn and the last month of winter. But the last month of summer, on the contrary, the prices "bite". Here you have to choose what is more important to you – the season or the cost. If everything goes well, you can fly round trip from Prague to Moscow for 8,000-9,000 rubles.
From Moscow to Prague you can also go by train, but the journey will last more than a day, and the price of the train may come out even more expensive than the cost of airfare. If there is no need to save time, you do not get tired of being on the road for 24 hours and you prefer a measured sound of the wheels of the clouds under the wings of an airplane – this is your option. Vltava firm train departs from Moscow to the Czech capital at 19:12 and arrives at the Prague Main Railway Station in 28 hours.
Visa and insurance
Prague is a Schengen country, so without a visa to travel to this country is not possible. You can open a Schengen visa in any accredited visa center or directly at the consulate of the Czech Republic.
You must apply for a visa at least one month before the planned date of travel. What is included in the complete set of documents can be found on the website of the visa centers. Visas are usually applied for single or multiple entry. If you first open a Schengen visa, you will probably be given a single entry visa, the duration of which will be approximately equal to the duration of the trip.
Without registration of medical insurance your visa will be denied. You can insure your life and health in any of the well-known insurance companies that provide such packages. In order to minimize the cost of insurance with a full package of services, it is recommended to study the conditions and prices at the insurers' websites beforehand.
Hotel Reservation
You don't want to waste time on moving around the city and spend extra money on public transportation? Then it is better to book a hotel in the city center, in Prague 1. The closer a hotel is to the city center, the more expensive accommodation is. Hotels in Prague are very much, for all tastes and wallets: from cheap hostels to luxury 5-star hotels. Hostels are preferred by young travelers, for which the degree of comfort is not as important as a friendly company and a busy program. As with the purchase of tickets for transportation, here plays a big role booking period. The earlier – the better the choice of hotels and cheaper they are.
Most tourists purchase hotel rooms on the most famous website Booking.com, believing that here they will find comfortable hotels at affordable prices. Also, Booking is notable for high security of transactions, which is an important fact when booking. Those who travel all the time find that it is possible to buy successful rooms on other sites as well:
Agoda;
Amoma;
Hotels.com;
RoomGuru,
with the latter you will find a good hotel at a low cost, as well as be able to compare hotel prices on different sites.
If you have time and free days, it is advantageous to book hotels for a long period. The price changes little, and the total cost of the trip per day of stay is significantly reduced.
If you are satisfied with your accommodation close to the hustle and bustle of the center of Prague, you can choose the hotels in the Old Town area, located in the very heart of the city. Quieter and cozier hotels are on the left bank of the Vltava River in the Lesser Town. Prague is famous for a large number of parks and public gardens. This is important if you are traveling with children. If you stay in Žižkov (Prague 3) or Smíchov (Prague 5), you can quickly get to the city center by public transport, and the cost of housing will be much cheaper.
Hotels in Prague 7, which are located in a beautiful landscape area of the Vltava Bend, near Stromovka Forest Park, Letenské Gardens, Prague Zoo and Botanical Gardens, are also suitable for holidays with children.
Finance
In Prague, as in the whole of the European Union, residents and visitors pay in Euro currency. But unlike most other European countries, the Czech Republic own currency unit after joining the EU did not lose its position. Czech crown is preferable to pay in small souvenir stores and stores. Most sightseeing tours and entrance tickets can be paid in euros. In large stores and malls accept payment by bank cards Visa, MasterCard and others, designed for making purchases in foreign countries. Experienced tourists believe that in the European area it is more advantageous to pay by MasterCard.
Plan your daily expenses in Prague in advance. Then you will know exactly how much cash to take with you on the trip. If you are going to buy organized tours around the city and beyond, you can pay for them in advance on the website. You can exchange rubles for crowns, both at home and at arrival. The exchange rate is about the same, and many banks sell Czech crowns in Russia. In Czech Republic you can exchange rubles for kroons at a good exchange rate in Arab exchange offices, which in the city center there are several: on Panská Street 4 and 6, in the shopping center Palladium, on Kaprova Street 15, near Malostranská metro station.
Attractions
The beauty of local architecture is the main reason why tourists come to Prague. Depending on the length of your stay in the Czech capital, it is better to prepare in advance a list of sights to see. We recommend starting with the most famous places:
Charles Bridge;
Old Town Square with the Town Hall;
Týn Church;
Prague Castle;
Dancing House;
Wenceslas Square;
Kampa Island,
Powder Tower and other most famous landmarks of the city located in Prague 1 and 2.
If you have time left, you can drive to the nearby areas of the city, which are just as interesting and beautiful.
We hope that tips from seasoned travelers will prove useful and help you organize your trip to Prague with benefit, maximum comfort and least expense.
Cheap to Prague – 10 tips for traveling alone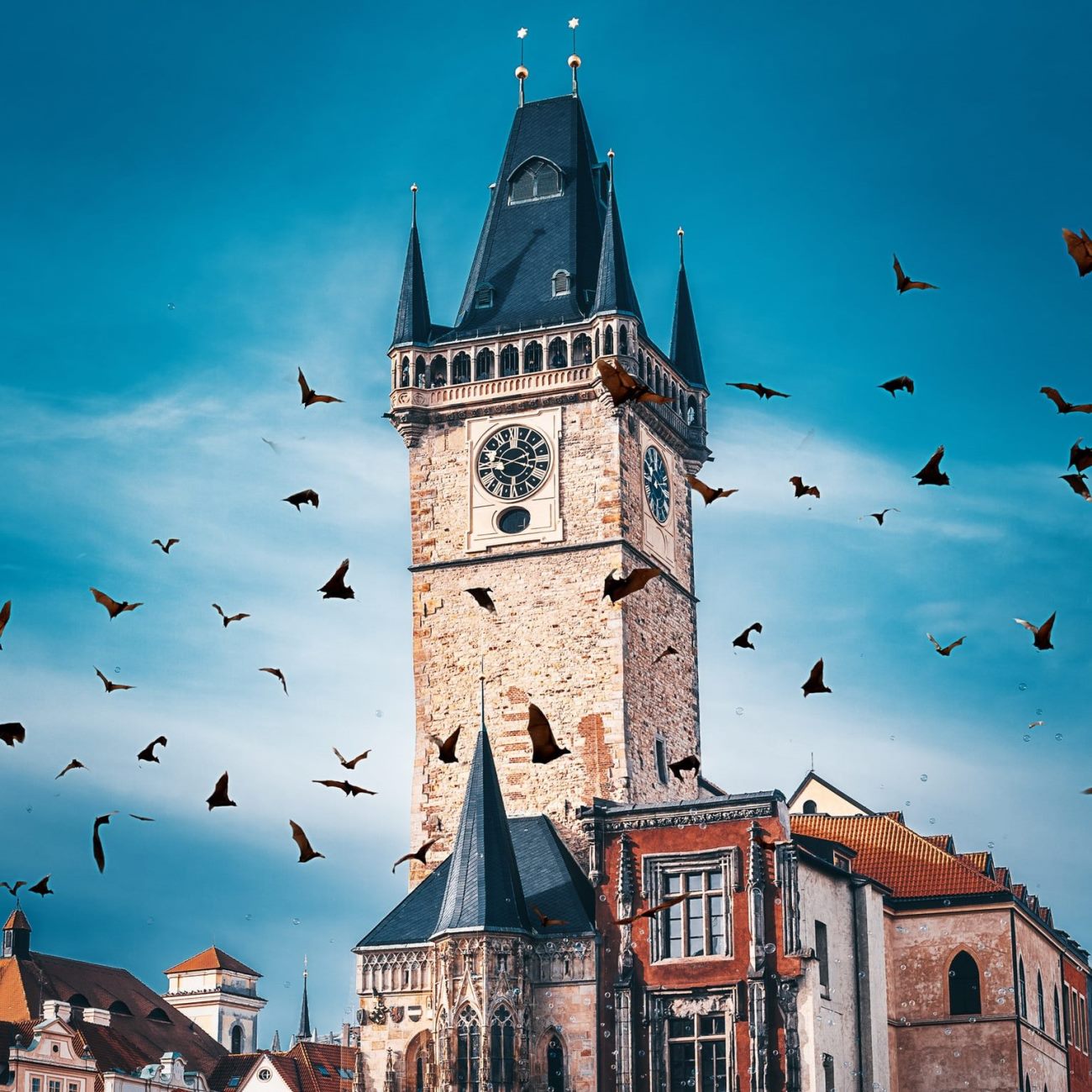 10 tips from the old-timers, how to go to Prague cheaply on your own. What are the nuances to be aware of? We tell you about our trip – how to save on everything and how much money to take.
The Czech Republic takes tourists from Russia. For convenience, we give pre-departure prices for travel and flights. Information about visas and flights may not be up to date, please check official resources. Take a look at the list of open countries.
Content:
Our review of an independent trip to Prague
The city is popular with both independent and packaged tourists – in both cases, you can go to Prague for cheap. We went on our own as part of an Eurotour and stayed there for a week. Our review of Prague is contradictory. Did you like it? 50 to 50. Our hearts and stomachs were captured by the national cuisine, beer and some of the sights. However the city was disappointing because of overestimated expectations: there isn't that notorious atmosphere, a lot of tourists and beggars, some sights are frankly boring and overblown. Will we come back? More likely to the Czech Republic, but not to Prague – we think the provinces are much more interesting!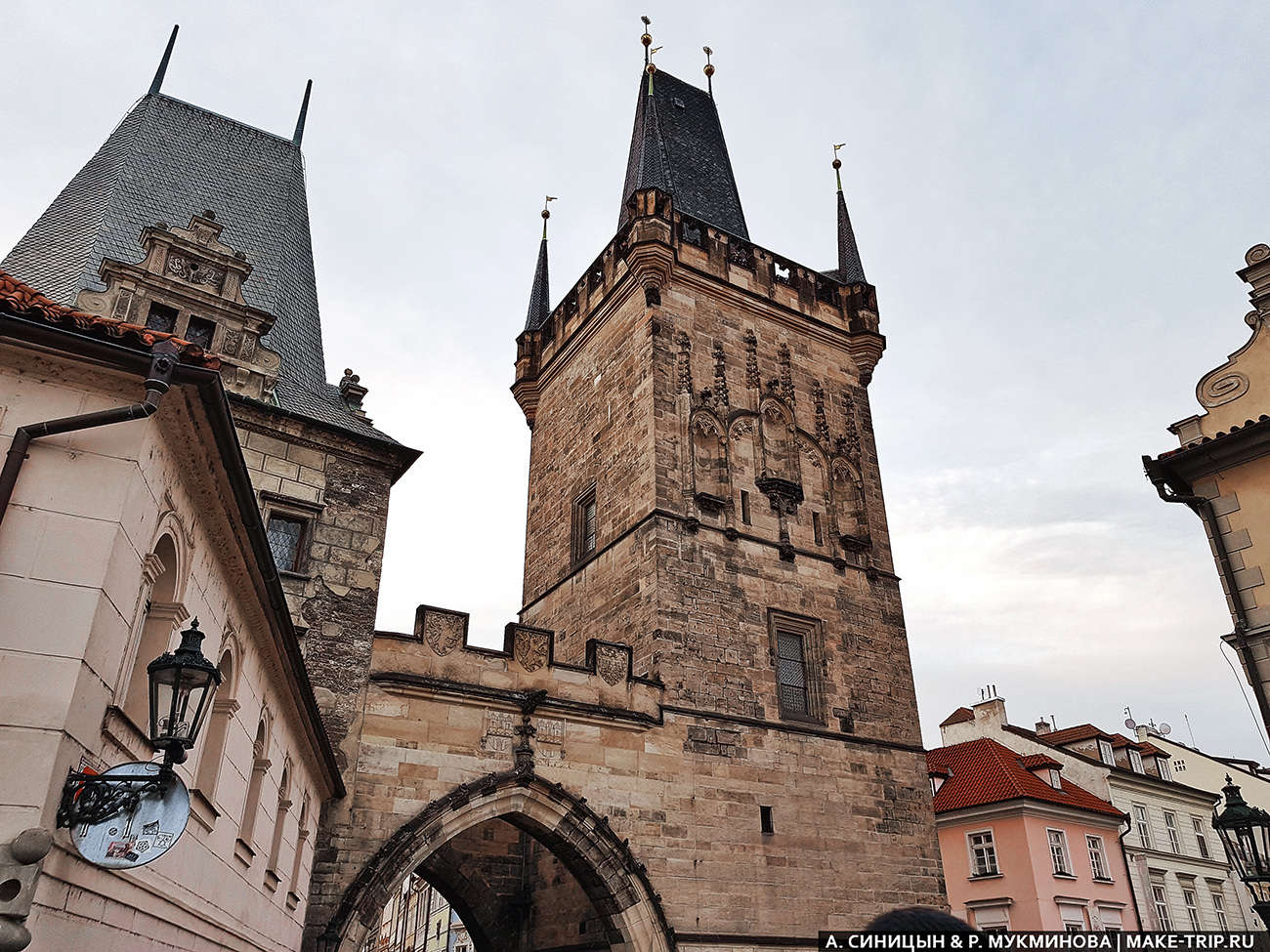 Watchtower on the Charles Bridge.
1. vacation in the low season
Prague is an all-season city, but it peaks in the spring-summer and winter holidays. Spring, summer and the first half of fall are good for walks in the capital and trips to neighboring cities. All gardens, parks and museums are open, beer gardens and terraces are open and festivals take place. Minuses – a lot of holidaymakers and high prices.
In the fall is very beautiful when the trees turn yellow. The selling season begins, but the weather turns bad. Winter is mild but windy. It's great to see Golden Prague in the snow and visit the Christmas fairs. The disadvantages – it is cold and rainy, some attractions are closed, such as the gardens. But the prices of accommodation and tours are low, except for Christmas and New Year holidays.
So, if you want to save money on your trip and are willing to put up with the changeable weather, plan a trip to Prague in the low season. We went in late November and got a great three-star hotel for the low price (only 32 euros). However, do not expect Prague to be deserted. November would seem to be a dead season, but the tourists were full of everything. It's scary to imagine what happens in the summer.
During the low season, think carefully about your closet. Dress warmly, because at the top of the hills the wind blows out all the curiosity. For example, in Vysehrad in November we only dreamed of a glass of scalding mulled wine. Do not forget an umbrella and waterproof shoes.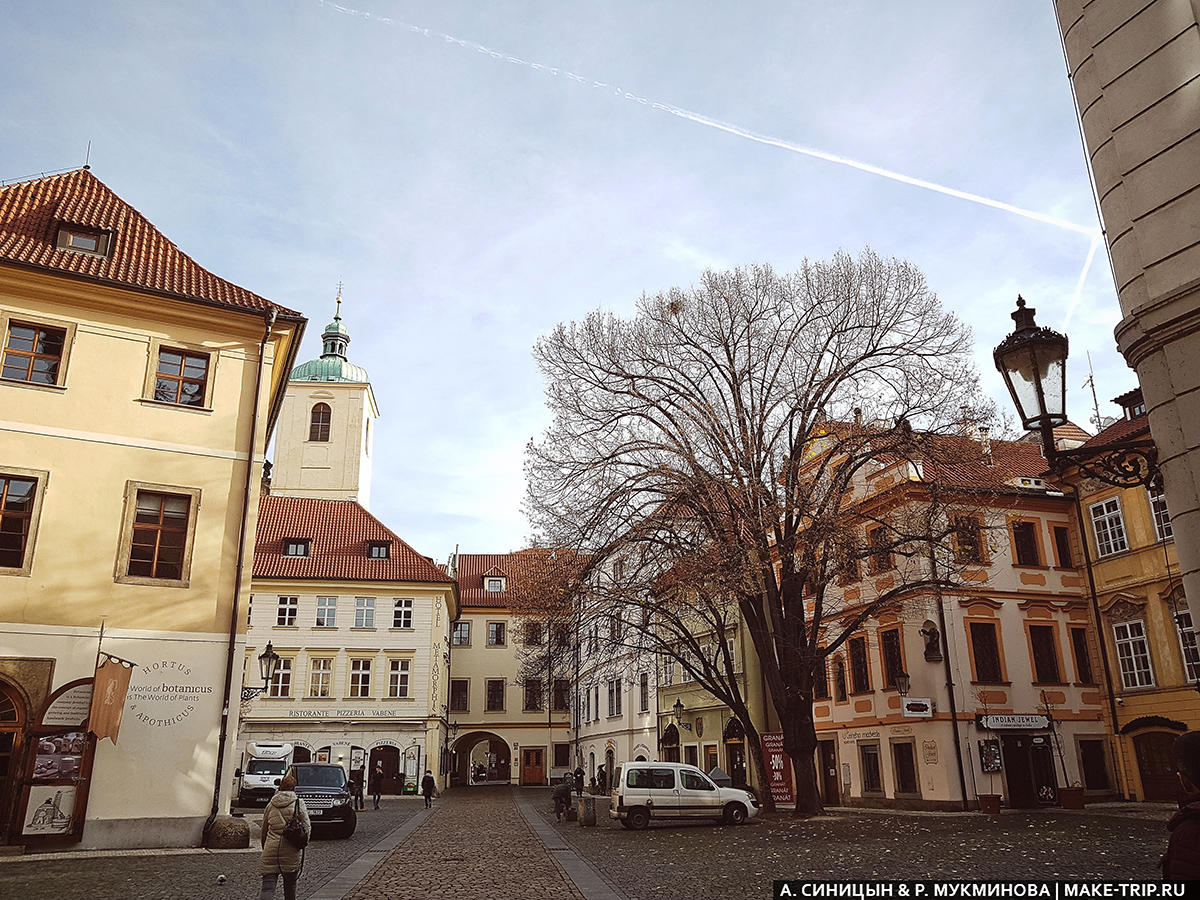 The square behind Týn Church.
2. Do it yourself
To travel to Prague, you need to get a Schengen visa. To do this it is important to submit the documents correctly. We advise you to do everything yourself, because there is nothing extraordinary about getting a visa to the Czech Republic. The visa fee is 35 euros. Plus the visa centers charge an additional service fee of 25 euros. Time of execution is from 5 days, but the application can take up to 30 days.
Do not forget about the insurance! It will protect you from costs in case of emergency. Apply for it at Compare.ru or Cherehapa. The price starts from 300 rubles per week.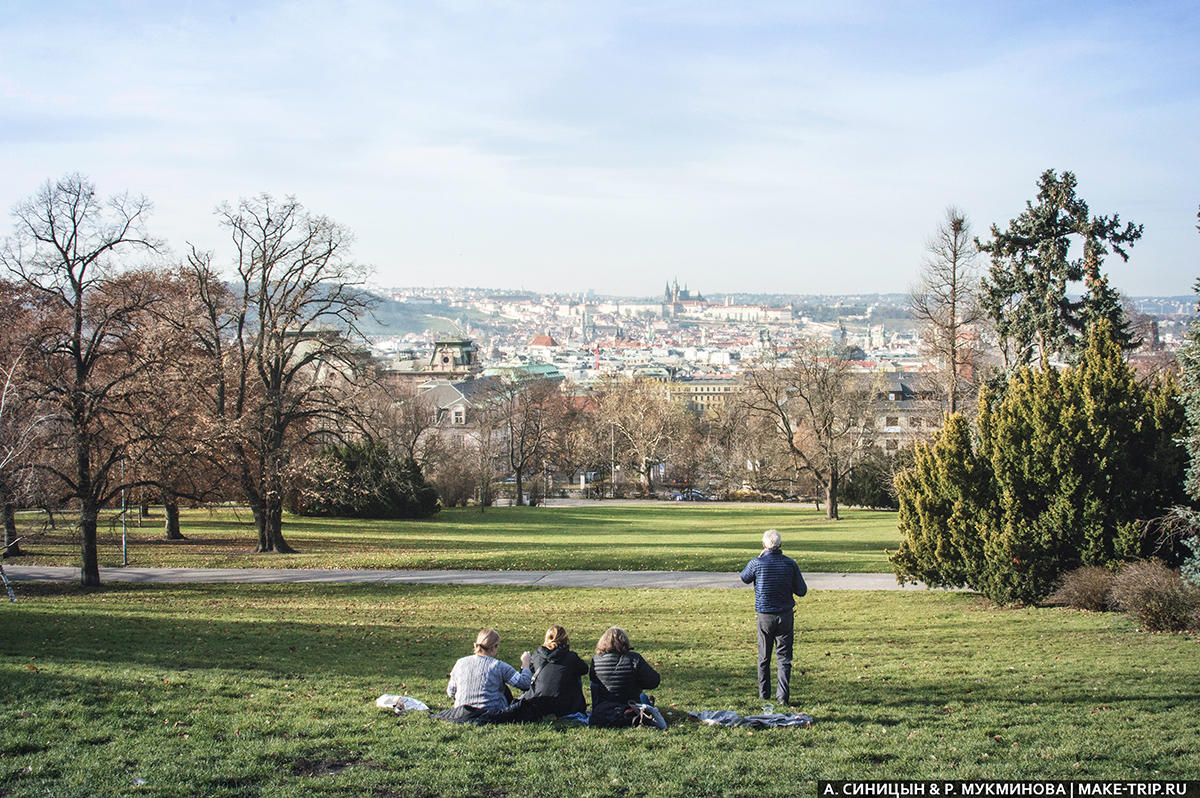 Riegrovy Gardens. There is a view of Prague Castle.
3. How to buy cheap tickets to Prague
Prague is a popular destination, so you can get on your own quite inexpensive. We advise to look for tickets on Aviasails. Learn the secrets of cheap flight tickets search.
There are direct flights from many cities in Russia – from 14 thousand rubles in high season, and from 9500 rubles in low season. The cheapest flights are from Moscow and St. Petersburg.
Do you want to travel cheaply to Prague from Russia on your own? There are 3 ways to save money:
Lowcosters or combinations of "plane + bus". It's cheap, but there are inconveniences. But you can see another city on the way. These options will suit those who travel light. Pobeda flies from Moscow to Karlovy Vary – you can buy a cheap ticket and take a bus to the capital.
Use a cheap last minute tour for the sake of the flight. Sometimes there are trips to Prague cheaper than airfare – with hotel, meals and transfers included in the price. If you don't like the hotel on the cheap tour, you can book another one on your own.
Buy an inexpensive ticket for a direct scheduled flight on a special offer or in low season.
Look for the last minute tours on Level.Travel and Travelate – they will find the best deals among different tour operators. Want to save your money? Check out our 7 rules for buying tours online.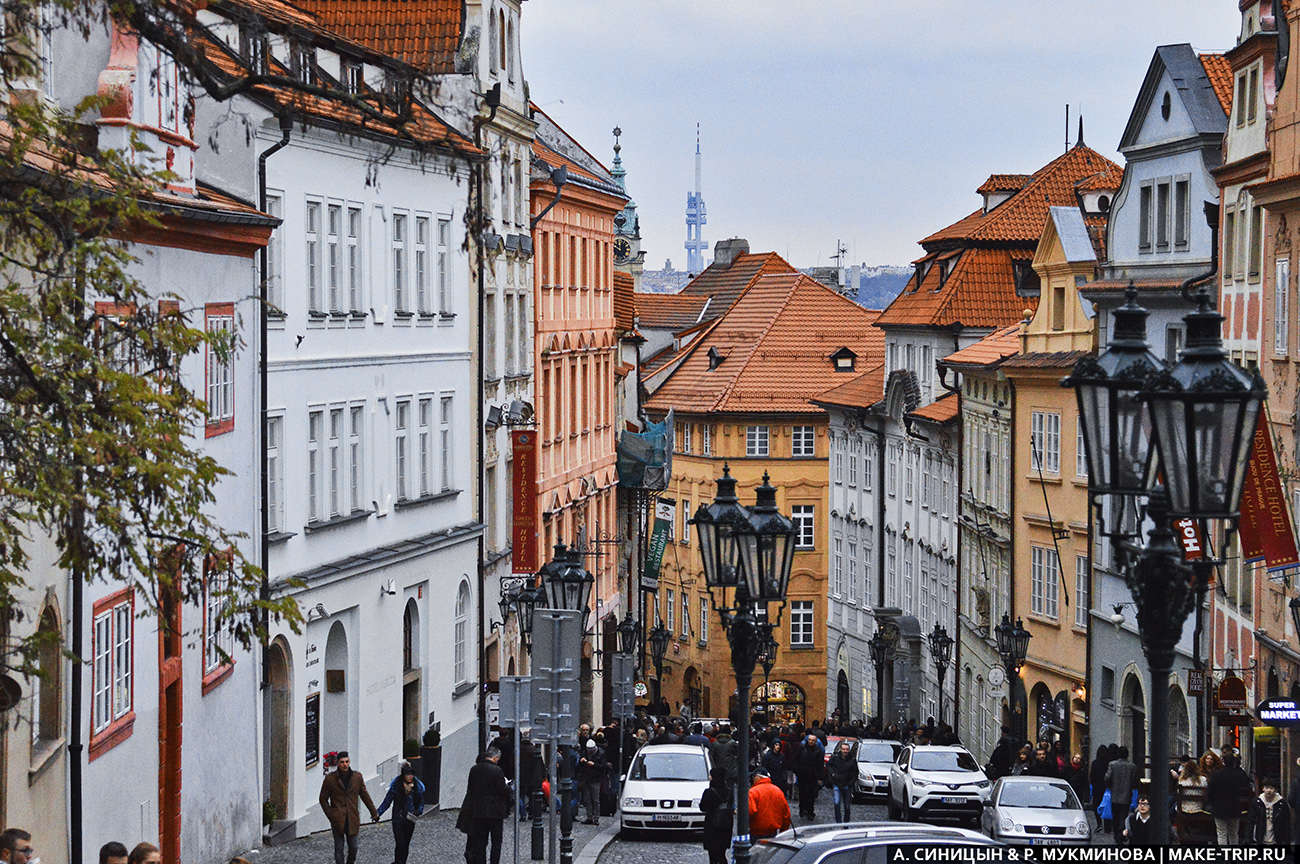 Nerudova Street in Mala Strana.
4. How to book a cheap hotel in Prague on your own
In low season hotels are a little cheaper. If you are planning a trip to Prague in the high season, think ahead about where you will stay. There are a lot of tourists even in the off season, so look for accommodation several months in advance! That way you will have a wide range of inexpensive options. Book a hotel on Rumguru on your own and an apartment or condo on Booking.com.
How much does lodging cost? A bed in a hostel from 7€, hotels in the center from 25€. We stayed in a near-perfect 3* hotel in Nove Mesto for €32 – Royal Court Hotel. We also rented a cozy apartment in Žižkov for 27 € per night.
Advice from experienced travelers: find out about the heating, because out of season it can be very cold.
How to save money and find a cheap, but good hotel in Prague
Choose a hotel with a rating of at least 7 out of 10.
Read the reviews carefully – even expensive hotels have flaws.
Housing is not necessary to rent in the center: transport is convenient and inexpensive, and the distances are short. Stay in the neighboring areas – it's cheaper and more interesting. For example, we walked from Nové Město and Žižkov to the center.
If a hotel is far from the center, check whether the metro or bus stop is close.
A hotel with breakfast saves a lot of time and money.
It is convenient if there are supermarkets and inexpensive cafes nearby – check on Google Maps or Maps.Me.
Read the main rules of the hotel search.
The best accommodation in Prague: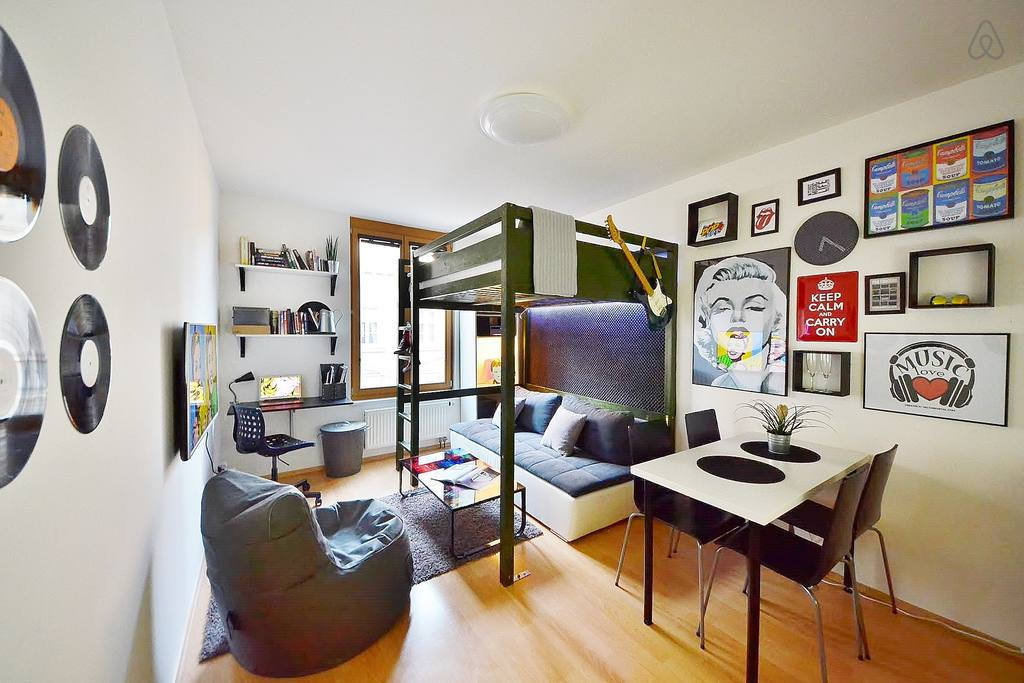 The apartment in Prague we stayed in. (Photo: airbnb.ru / Central Modern Pop Art Music Studio)
5. How to eat cheap in Prague
At lunchtime you can eat inexpensive almost everywhere, because a business lunch costs about 70-200 CZK, depending on the type of establishment. It is called Denní nabídka and is served from 11 to 16 or 12 to 15 hours, except on weekends. And in general, the cheapest place to eat in Asian cafes, pubs and canteens.
How to save money on food in Prague? We had breakfast at the hotel (when we moved into an apartment we cooked ourselves), had business lunch at a beer house or a cafe, and dinner at a Chinese restaurant or a beer house. Sometimes we bought groceries for dinner in the supermarket. It was very economical.
We advised to try roulka, dumplings, trdlo, fried cheese and different kinds of beer, of course! We especially liked the dense Pardubice porter at pivnice U Járy.
Related articles:
Trdelník – very tasty stuff! Try it with chocolate. (Photo: unsplash.com / @romankraft)
6. Take cheap public transportation
Transport to/from the airport. You can save money in Prague on the trip from the airport to the center and back – use the bus and subway. That's how we got there. This option is not suitable if you have a lot of luggage. Conveniently, the buses run even at night. Tickets cost from 24 CZK. Read more about how to get from the airport to Prague.
For the historic center transport is not necessary – the distances are minuscule and it is more pleasant to pass them on foot. And to get to sights further away from the center, such as Vysehrad, use the metro.
The subway is simple and straightforward. There are also buses, streetcars, and funiculars in the city. There is a nostalgic streetcar – it takes tourists to historical sites.
In Prague there is a unified ticket system – the purchased fare is valid for all modes of transport. Ticket costs 24 CZK for 30 minutes, 32 CZK for 90 minutes, 110 CZK for 24 hours, 310 CZK for 3 days. There are passes for longer periods. We used the passes for 30 and 90 minutes. The latter is convenient when traveling to the airport. Transfers are unlimited for a specified time. The ticket must be stamped at the entrance or it will not be valid. Keep it until the end of the trip.
Tickets can be purchased from vending machines at the metro entrance, tobacconist's shops, kiosks and minimarkets. It is advised to buy tickets in advance – sometimes the metro is closed, the machine is out of order, etc. The vending machines accept only change – once we had to look for the store to change money.
Cab thanks to the convenient system is not really needed, because the transport runs even at night. It costs 40 kroner to board and 20-28 kroner for 1 km.
For trips out of town, use trains or buses – they are inexpensive. For example, we went to Kutna Hora by train. It is advantageous to take round-trip tickets for two people at once – they cost 356 CZK. Itinerary planner →
Useful selection: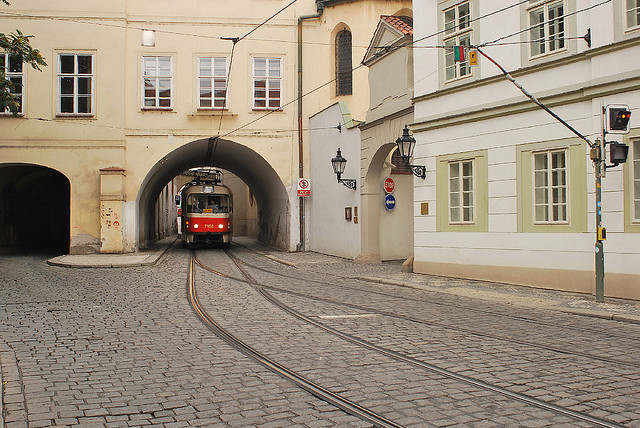 A cute retro streetcar in Prague. (Photo: Adam Gut / flickr.com)
7. See the sights of Prague for free
To travel cheaply to Prague, you need to think about the cultural program – the total amount of money spent on sightseeing and excursions. For example, we almost did not spend money on them, and saw a lot of things. Here are our tips on how to save money on excursions on your own trip to Prague.
Architecture. You can see almost everything in Prague for free and on your own, without guided tours! Old Town Square, Charles Bridge, Jewish Quarter Josefov, Prague Castle and Hradcany, Mala Strana and Petrin Hill, Vysehrad – all this is available to everyone. You can walk and see for free, except the Golden Lane at Prague Castle – but even there at 16:00 or 17:00 are allowed free of charge. Well, for the entrance to many buildings you have to pay.
Museums, palaces, galleries. They are, of course, almost all paid. But you can save money here, too: find out in advance when they have an open house (usually the first Monday of the month), or plan a trip to the Night of Museums. Some are free all year round, such as the Lapidarium and the Museum of the Infant Jesus. See what free museums there are in Prague.
Temples and cathedrals. Paid churches are realistic to see for free – usually in the front without problems. But from there you can not see the details. For example, you can go to the Cathedral of St. Vitus and the Tyn Church.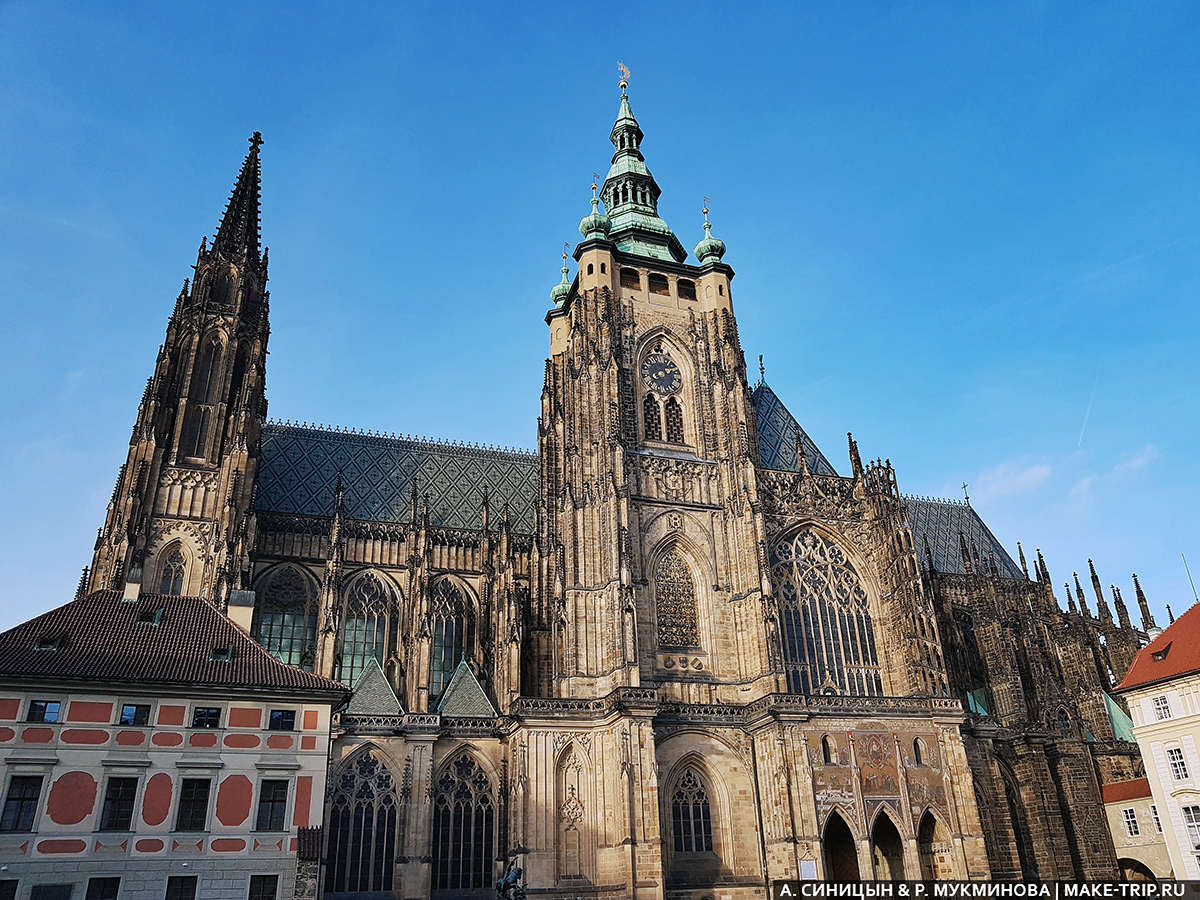 The view from the square to the majestic St. Vitus Cathedral.
Tours. There are free sightseeing tours, but they are in English – from Prague Extravaganza and Royal Walk free tour.
Before you travel to Prague on your own, plan your itinerary carefully. There are many sights in the city, and even more information about them on the internet – and it all comes in an avalanche for the tourist. When we realized that we were drowning in this flood of information, and time was short, we just bought a pocket guidebook Lonely Planet. We dislike them for their pathos, but in some cases it is a real salvation!
If you want to see as much as you can in a short time, and save money at the same time, buy a Prague Card – it gives you free admission to 60 sights, discounts and all sorts of bells and whistles. It is designed for 2, 3 or 4 days and costs 62, 72 and 83 euros respectively.
Map of Prague with sights
After a trip to Prague we decided to briefly describe our own itinerary – we hope it will help you. In addition to the list of places to see in Prague on your own, it provides useful information: addresses, prices, opening hours, our review, etc.
Related articles: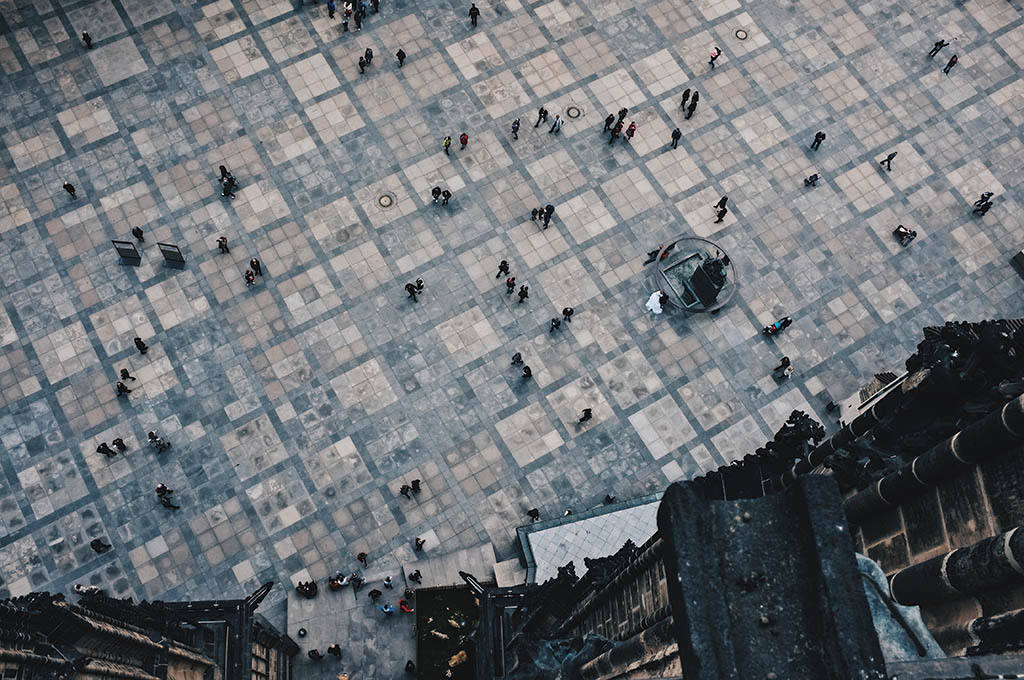 View from St. Vitus Cathedral to the square. (Photo: unsplash.com / @stijntestrake)
8. Free entertainment in Prague
You can save money when you travel to Prague not only on sightseeing, but also on entertainment:
Visit gardens and parks – such as Obora Hvezda, Kampa Island, Letenské Gardens, Wallenstein Palace Park.
Changing of the guard at 12:00 at Prague Castle near the Presidential Palace. Very crowded, come early if you don't want to look at the back of your head.
There are free open-air film screenings in the summer – check the link for what, where and when.
See swans and nutria on the Vltava River near the Kafka Museum – they are not afraid of people and eat from their hands. There's a magical view of the Charles Bridge!
Free or inexpensive concerts are held in some non-tourist cathedrals.
See a free performance at the astronomical clock on Old Town Square.
Look for installations and sculptures that are scattered around the city. Most of them are works by David Cerny.
Go to Nový Svět Street in Hradčany – there are picturesque houses and few tourists.
If you come at Christmas time, don't miss the Christmas markets – they open in the evening.
Inexpensive entertainment in Prague:
Rent a boat and see the city from the water. An hour costs 350 kronor, the boat seats 4 people – you can find companions and split the cost.
Take streetcar number 22 – the route goes through the historic sites.
9. How to save on tours in Prague
Look for the author's interesting excursions in Russian on the Tripster website.
We prefer to see the sights and walk around Prague on our own. However, we understand that in some cases excursions are better.
When it is worthwhile to take tours:
The first acquaintance with the city, if there is no time to prepare for the trip;
Interested in the history of the city, its legends and myths – in this case take the author's;
it is impossible or difficult to visit the place by yourself (for example, closed dungeons, bunkers, tunnels, castles and fortresses that are hard to reach).
If you want to get acquainted with the city through the guides, then choose the tours with a lot of positive reviews – so you won't get a pig in a poke.
To save money in Prague, take a group tour – they are much cheaper than the individual.
New tours cost cheap: the guides set a low price to earn reviews and gain customers. But then you can not be sure of the quality of the tour.
10. Money, ATMs, currency exchange in Prague
You can buy currency in Czech Republic in Czech crowns. If you go with cash, it is better to have dollars or euros, and in the city to exchange. And even better – keep it all in an account or on a card.
Where to withdraw money without fees? We used ATMs of the ČSOB (Československá Obchodní Banka). Many ATMs don't charge a fee, but your bank might, so check the conditions. We went with the card Tinkoff All Airlines – no withdrawal fees at any ATMs for amounts over 3,000 rubles. We also used it to pay in stores, cafes, pubs and the hotel.
Do not change money at the airport – the exchange rate is atrocious, plus they take 5%. The bus and metro ticket can be bought on an automatic machine at a bus stop – it accepts cards.
Look out for the exchangers when you walk around the city. In the center the exchange rate is more or less the same and adequate. Make sure there are no commissions.
How much are the products in the Czech Republic
How much does it cost to go to Prague
We spent 8 nights and 6 full days in Prague. Here are our expenses for those days (calculation for two people). You can use them to calculate the cost of your trip to Prague. Airfare is not budgeted because we flew to Prague from Brussels and then left for Vienna.
| | |
| --- | --- |
| Hotel and apartment | 20 000 rubles |
| Food (cafes and supermarkets) | 10 400 rubles |
| Attractions | 3 200 rubles |
| Transportation (subway + train) | 1 400 rubles |
| Total | 35 000 rubles |
The cost of our trip to Prague was 35 000 rubles (with the euro exchange rate of 70 rubles). If we add airfare from Moscow it would amount to about 65 thousand rubles for two people – about how much a trip to Prague for a week would cost. As you can see, the main expenses are tickets and lodging, and food, transportation and sightseeing are inexpensive.