Bologna
Since Bologna has a developed industry around it, I visited this city as an Italian interpreter. And because the city stands at a crossroads, I also visited it as a Russian tourist.
The word Bologna comes from the Roman name Bonnonia, a word of Celtic origin (translated as city). And even earlier (1000 years BC) the Etruscans lived there and called the city Felsina.
Take a look at the Italian translator's commentary.
Public transportation in Bologna
Bologna is a big city with a population of 1 million people and it makes sense to use public transportation (buses, trolleybuses and trains). Public transport: TPER (Trasporto Passeggeri Emilia-Romagna). Tickets cost 1.50 euros if you buy them in a bar or at the Giornalaio (translator in Italian: Gazetta seller). The ticket costs 2.0 euros if bought on board the bus in a special machine. If the machine on board does not work, then look for Giornalaio or the bar, and if it's Sunday and neither of them work, then you can't go by bus in theory, or you have to look for a bus with a working ticket machine. The ticket must be valid for 75 minutes and must be validated at the ticket counter upon boarding. You have to validate your ticket every time you change.
Fares (fare interpreter):
Simple ticket for 1 trip "Biglietto ordinario" [bilietto ordinario]: 1,50 €. Valid for 75 minutes on any bus route.
10-trip CityPass ticket: 14,00 €. Valid for 75 minutes on any bus line (more than one person can ride, for each one it is necessary to validate the ticket within 3 minutes).
Ecoticket : 45€. It can be used for any 20 days within 6 months. Tickets are written on a card, which costs 5€.
1 day ticket : 6€. Valid for 24 hours from the date of the first validation.
Citypiù Ticket : 1,80 €. Valid for 75 minutes by bus and train within the city (translated in Italian Area Urbana – see below. Stops: Bologna Centrale, Bologna San Ruffillo, Bologna Borgo Panigale, Casteldebole, Bologna Corticella, Mazzini, San Vitale, Rastignano, Casalecchio di Reno, Casalecchio Garibaldi/Meridiana, Ceretolo, Casalecchio Palasport, San Lazzaro di Savena, Cà dell'Orbo, Villanova, Roveri, Rimesse, San Vitale, Via Larga, Santa Rita, Zanolini ).
These are fares within the city, outside the city are more expensive, from 1.50 to 8 euros, depending on the zone (1 to 10).
Do not forget to "condition" the ticket at the beginning of the trip. The ticket must also be stamped each time you transfer to a new vehicle.
From the airport to Bologna Central Station:
1) Marconi Express streetcar
Travel time : 8 minutes
Interval : 15 minutes
Running time : from 5:40 to 24:00.
Ticket there "Flex solo andata". [sòlo andata] : 8,70 €.
Round trip ticket "Flex andata e ritorno" [andata e ritorno]: 16 €
Family fare (2 adults and max. 3 children): 18 € and 34 € respectively.
On sale: in vending machines, at various outlets, in bars, etc. and at the marconiexpress it.
2) Taxi
The cost of a trip (1-4 people) will be about 16 €.
Date of update: September 21, 2021 Moscow
Map of paid parking spaces and free intercepting parking in Bologna (PDF)
Parking in Bologna (information from an interpreter)
When the Italian interpreter went to Bologna by car, he found that the situation there was slightly better than the Italian average.
Free parking
There is a network of free interceptive parking around the center of Bologna, translated into Italian as "Parcheggio pubblico". Usually these parking lots are located near hospitals, government buildings, etc. There you can park your car and get to the center by bus or walk to the center in about 30 minutes.
Paid parking
The center of Bologna and its surrounding streets are divided into paid zones with different rates. Parking fees: from 8 to 20 in the History Center and from 8 to 18 in the other areas, except Sundays and Italian Holidays. How to pay: using pay machines (available everywhere), tobacconists, bars, and Tper sales outlets .
Кроме того, в самом центре есть зона ограниченного въезда (ограничение действует все дни с 7 до 20), обозначена знаками ZTL; зона Т, переводится как туристическая. Кроме оплаты парковки необходимо также иметь разрешение на въезд туда. Интерактивная карта зоны ZTL приведена > TUT < .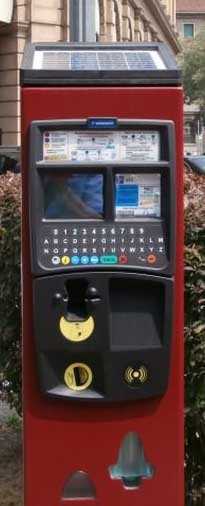 Parking meters in Bologna.
Bologna Parking Guide
Bologna sights
Bologna is a big old city. Despite the fact that American planes bombed 44% of the buildings during World War II, there are still many sights to see. It is worth a walk through the daytime Bologna, as well as evening. The city has a large university, the oldest in Europe, so there are a lot of young people.
Viewpoint.
But for the Italian translator everything was remembered of the observation deck on one of the hills, surrounding the city. It was quite close to the place he was navigating, so he thought he would be able to get there on foot, for cheap and easy. It was summer, the temperature was +38 (typically Italian), the interpreter walked a little, then a little more … and more, and the road looped and looped. In the end I made it of course, but I advise you to measure your strength. By the way, you could go there by car.
There is also a monastery of the XV century, bought by the Bolognese surgeon Francesco Rizzoli and transferred to the city. Now there is a hospital (in Italian )
Pictured is the son of the interpreter: Magin Joseph Romanovich .
Location of the Novotel Hotel
Where did the Italian translator stay?
The interpreter stayed at the Novotel Hotel in 2012. It is not in the city itself, but in the nearest suburb, 7 kilometers from the center. For some reason, this hotel can only be booked on the site Bucking.
Advantages:
Not far from the city if you get there by car;
Large free parking;
Parking is free and very convenient for hotel guests;
Tasty good breakfast;
Luxurious 50 meter Olympic swimming pool;
Price: we paid 78 euros for 4 people. Now it can be booked for 2 people for 60 euros.
Disadvantages:
A bit far from the city if you take public transportation;
The hotel is old, reminiscent of Motel Solnechny in Moscow, built in the 80s.
The pool is only open at certain hours.
Where to eat in Bologna
My Russian colleagues were very complimentary about the following inn. They were taken there by Italian interpreters from Italy. They gave me a business card for this restaurant, and it says "Historic Emilia-Romagna Tavern, Bertino's Tavern and the Children of Stefano and Claudia. Closed Sunday and Monday nights."
Where to eat around Bologna
We went for a meal in a typical Italian inn "", not touristy, it is located 20 minutes by car from Bologna in the direction of Rimini.
Trattoria, translated from Italian, is a tavern.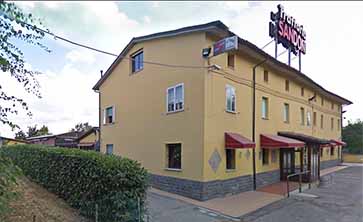 I discovered this restaurant on the outskirts of Bologna by chance, while snooping around the SP31.
Name : Trattoria Sandoni Address : Via Fonda – San Lazzaro di Savena (BO) Tel : +39 051 605 2038 Features : – Typical Emilia-Romagna cuisine – Large room, summer veranda – In summer evenings there are many mosquitoes outside, as it is a village. – Family run, a 90 year old Italian grandmother sits behind the cash register, sometimes she falls asleep right on the job.
Shopping in Bologna
The Italian interpreter did the shopping at the outlet . Located 30 minutes from Bologna towards Rimini on the free SS9 or the toll highway A14, the exit of the freeway is called . Quite a large outlet, although smaller than "Serravalle" near Milan.
Address : Castel Guelfo The Style Outlets Via del Commercio 4/2 – Castel Guelfo di Bologna (BO) Tel : 0542 670765 Opening hours : 10.00-20.00, on Saturday and Sunday 10.00-20.30. Closed on January 1, Easter, August 15 and December 26. Some brands: Adidas, Asics, Baldini, Calvin Klein Jeans, Crocs, Geox, Kiko, Levi's, Motivi, Nike, Pollini, Pompea, Roncato, Timberland, etc.
REVIEWS
12.09.19 , Marina Thanks for the interesting and useful information! Very interesting, can't wait to visit this wonderful city. With her husband here soon fly to Italy. Already bought tickets and ordered a guide. I hope to see all this beauty, and the weather will not let us down!
Bologna transport from A to Z
Bologna is a fabulous Italian city, located in the northern part of the country. Tourists from all over the world strive here for new experiences, as well as rich active and cultural recreation. Even while planning your trip, you may have been wondering, "What is the most convenient transportation in Bologna for visiting guests?" You will find the answer in today's article.
City Airport
Bologna's main air harbor is Guglielmo Marconi Airport, named after the Italian electrical engineer. It is located near the center of the metropolis – only 6 km. Guglielmo Marconi serves both local flights (domestic) and international flights. The airport consists of one terminal, which was reconstructed in 2011-2013. Here tourists can get numerous services: use the exchange service, banking services, visit the medical center, have a snack in a cafe, rent a car, do the shopping, get tax refunds on purchases, etc.
Note: since 2008 residents of the Russian Federation can use the Moscow-Bologna flight operated by Italian airline Eurofly.
Bologna airport located in the city center ensures a constant flow of passengers. Thanks to its location Guglielmo Marconi is quite easy to reach. Buses, trolleybuses, cabs, and a highway for cars run to the city's airport.
As a side note, bus services are available from 5:30 am to 11:30 pm. The named transport runs every 15-30 minutes. The departure point of the buses is the train station of Bologna. You will reach Guglielmo Marconi in 20-25 minutes.
City railway station
One of the largest railway junctions in Italy is recognized Bologna railway station. Convenient transportation network allows travelers to almost every major Italian city.
The city station includes more than three dozen tracks that a year manages to serve no less than 60 million passengers. The main railway artery of Bologna is located 1.5 km from the main city square.
The infrastructure of the dimensional station will pleasantly surprise visitors. In addition to the standard set of services – cashier's offices, waiting rooms, snack bars, police stations, lockers, you will find here a lost and found, a currency exchange, a bicycle rental station, parking, banking services, etc.
Development and modernity – this is how you can describe the basic concept of the city of Bologna. The metropolitan railway station is the clearest confirmation of this expression. Since 2015 its building is undergoing a global reconstruction. It was decided to design the new structure in a modern futuristic style designed by architects Andrea Maffit and Arat Isozaki. The design idea of the future station evokes only positive emotions in people who saw the layout of the structure. The building will be executed in light shades, and the architects paid special attention to the natural light of the premises. To implement this idea the station will have an impressive mirror ceiling. Also the project implies the expansion and addition of the infrastructure of the institution. So, the new Bologna station will hold a modern congress hall, gym and theater.
Note: you can get to the train station in the city by cab, trolleybus, car and bus.
Cabs in Bologna
Cab services are popular with visitors to the metropolis. Keep in mind, Italian cabs are recognized as one of the most expensive in all of Europe. In Bologna you will meet many cab drivers – both large services and small companies, as well as private taxi drivers. We want to warn you: it's safest to use the services of registered cars with characteristic for a cab checkers and color. Large companies and small cab firms have fixed timesheets with prices, and the cost of the trip is calculated by the meter. Of course, cunning cab drivers know how to make a profit on tourists who come to town for the first time. They can extend your trip by "looping" the route, cheat on the meter, talk about the need for tips, etc.
As a side note: If you get into a car with a private driver, make sure you know your destination and the cost of the trip at once. Otherwise you might wind up losing a large sum of money that the enterprising cab driver can ask for.
Pre-booking a cab is ideal for travelers. If you do not plan to travel around Bologna by cab and you only need to order a transfer to/from the airport, use online booking services or check with your hotel for information on such a service.
Bologna public transportation
The Italian city's public transportation system includes:
buses;
subways;
trolleybuses.
About each of them we will tell in more detail.
Buses in Bologna
At the top of the rating of the most popular transport in Bologna are buses. There are about 50 routes in the city, allowing you to visit almost any part of the city.
The cost of a bus ticket equals 1.3-1.5 euros. In order to save money, we recommend buying a travel card. For example, 10 trips on the pass will cost 8.5 euros and a daily ticket with an unlimited number of trips you can buy for only 3 euros.
Do not forget to put a ticket, otherwise you will be fined 80 euros for unpaid travel.
Please note! The most popular route is a trip from the railway station to the main square. On this route the buses number 30, 27, 25 and 11.
In addition to regular city buses, Bologna has a special 2-story transport designed for those who want to explore the city's sights. They are called City Red Buses – red buses with an open top floor, equipped with audio guides. Inside the cabin are installed headphones, through which passengers listen to information about Bologna in the language of their choice. The route of the City Red Bus is 10 km, and on its way the bus makes 14 stops at the most famous sites of Bologna.
The trip on the sightseeing buses costs 12 euros for adults and half price (6 euros) for children visiting the metropolis. You can buy tickets at the ticket offices of the railway station of the city.
Note: buying a ticket, you can use the services of the City Red Bus during the day. I.e. leaving at one of the stops and seeing the selected site, you return to the stop and get on the next sightseeing bus. You will not be charged extra.
Trolleybuses in the metropolis
Bologna has only three branches of trolleybuses, on which about five dozen "non-rail" streetcars run. These vehicles have served the city well for many years, so the authorities are committed to ensuring that they are in good working order and that the fleet is updated.
The fare on the Bologna trolleybus costs 1 euro (if you buy a ticket from a ticket machine at the bus stop) or 1.5 euro if you buy it from the driver.
Bologna Metro
The famous Italian city also has an underground transport. Bologna subway has only one branch, which is quite popular among both locals and visitors. Many tourists who have been in the metropolis advise to travel around the city by metro.
There is no difference in cost and appearance of tickets for the subway and buses. The same conditions apply to travel tickets. They can be purchased in special machines at stops, as well as newsstands and tobacconists on the streets.
Important! If you arrive in Bologna by your own/rented car, you must obtain a permit to enter the city from your hotel. According to the law, non-resident cars can not be in the main streets of the metropolis.
Bologna is an interesting city with a developed infrastructure, a lot of attractions and an established network of vehicles. Visitors to the metropolis can explore interesting city sites, as well as make convenient trips (without transfers) to such popular Italian cities as Milan, Rome, Venice, Pisa, Florence, etc.