Vinsky forum
My first, absentee, acquaintance with Madagascar, occurred in the distant, Soviet past. Then our little town came a party of bananas from a friendly Madagascar, in one of the boxes was a live chameleon! In the local history museum he lived in a large terrarium, and visitors were allowed to feed him with live grasshoppers. In general, the decision to visit the island has matured slowly but surely.Very helpful forum reports, with the information I needed. The main question was where and how? The island is very diverse, and it was necessary to set priorities. The plans and time varied, and finally settled into a specific form. Finally, tickets were bought for Antananarivo with two connections in Stockholm and Addis Ababa (Addis Ababa airport surprised me with a lot of colorful people from around the world, like a big bazaar). And here I am in Antananarivo, Tana, as the locals call it. A visa (25 euros) and money changed at the airport (it's easy to become a millionaire because of the low local currency!) After bargaining with the cab driver. sat in an old Peugeot and 15 minutes before we reached my hotel in Iwato district, a suburb of Tana, close to the airport. After checking into the hotel, the first thing I did was to go to the nearest supermarket and buy bottled water and other refreshments. In Madagascar I tasted the local wine, beer and rum. I liked the rum Jama (sold dark and light and smells like coconut). On the island grows and produces also cocoa and coffee. Coffee with a rich, dense taste, took with them a few packs. As for the weather – the heat was not. At this time of year-June (the dry season in Madagascar) in Tanja was +20 +25 during the day and +10 at night, a constant variable cloudiness. Justified or not, but for the entire stay in Madagascar, I drank and brushed my teeth only with bottled water, following advice from the Internet. Going to a local pharmacy I bought Coartem (just in case. It is effective against malaria). Strangely enough, given the local poverty, all pharmacies on the island were always a lot of anxious visitors, all were actively buying something, later I was told that most people do not go to the doctors and simply prescribe themselves medicine for the disease. Having wandered down the nearest street immediately appreciated the exoticism and smiling locals (although news of tourists being robbed periodically appear).Terrible poverty neighbors here with rich houses, surrounded by high fences, often with barbed wire.
I had lunch and breakfast at a hotel or a good Mo Cafe, which was nearby, where I first tasted zebu steak (a local cow, though sacred, is eaten with gusto!) Zebu meat is tougher than ordinary beef and not everywhere it was prepared juicy and soft. The next day my host organized a transfer to a crocodile farm not far from the airport. I drove the bus over the rutted roads and admired the local flavor.
In addition to crocodiles, the farm is home to turtles, birds and other wildlife. this day the crocodiles were fed and it was interesting to watch the movements of large reptiles.There were few tourists, except for me a couple of French.In the cafe, at the farm, the meat of the crocodile (on this day) was not available, but wanted to try!
The next day I had a flight to Murundava (west coast) with a local air madagascar. I arrived in advance at the airport and passed security clearance, sat in the waiting room on a wooden bench with a back, something that reminded me of wooden benches in Soviet trains and small suburban stations.Time passed, but the landing was delayed, finally announced the cancellation of the flight, the passengers were offered a free hotel with dinner and breakfast. Upon arrival the next day in the capital of Baobabs, Murundava (1 hour flying time), I was surprised that the plane was crowded with local kids. The airport was quite small, and all the airline flights were chalked up on the wooden board. The weather was hot, there was not a cloud in the sky and it was fine the whole time I was there. Murundava, a warm coastal town on the ocean, where many cafes and hotels are owned by the French and not all of the staff speak English, well, the locals and the townspeople do not know French, all speaking Malagasy. I thoughtfully wrote out common phrases and names of dishes in Malagasy, and in some places I had to explain on my fingers. Perhaps it was the best room where I stayed in Madagascar, although I had to sleep in different hotels and bungalows, and once had to sleep in a shed for 4 euros, with a toilet without flushing and cold water in a bucket (but more insight into Madagascar). The small rivers in Murundave often have interruptions with electricity and many hotels (but not all) have their own diesel generators. Taken with a flashlight-very helpful! In one hotel tap water flowed only periodically, so I had to open the tap and hearing the sound of water-rush under the shower! It was a pleasure to walk along the beach and admire the red stripe of sky from the setting sun. No one was swimming, specially equipped beaches are located at some distance from the city center, however, this did not stop me from swimming. Interestingly,as soon as I was on the shore, I ran into a local dude and told him that he had a fishing boat and he's, like, waiting for his return, but, for some reason, invited me to go to the local disco and have fun. In the evening I tried the local lobster, 10 euros per serving.
At the reception was quick-tempered guy, who immediately offered me an excursion to the Baobab Alley the next day at 5 am. On the avenue there were not many tourists, except for a group of ubiquitous Chinese. Driving through the dark streets early in the morning our car kept passing many passersby, cyclists, horse-drawn carts, merchants with luggage. In general, almost all the streets of local cities – it's a kind of market, where everything is sold and bought.
The next day I left for the next point of my trip, the fishing village of Belo-sur-Mer, located about 90 kilometers south of Murundava. We drove 3 hours there and more than 4 hours back in an older jeep (Nissan Patrol).Why so long? Narrow dirt track, on which barely two medium-sized cars can separate. The road is open only in the dry season, when the level falls several rivers, wadeable by car.Often on the road is immobilized transport (old, broken-down wreck). People are patiently waiting for a hitchhiker to bring them back the repaired part. There are also cordons where you have to take money. The first one was waiting for us 20 kilometers away from Murundava. The road was blocked by the barrier (it was a dried branch). We stopped and slowly a guy came up with a stick in his hand with a long machete-like blade attached to the end of it. After talking to the driver (this is a necessary condition for civility here) and receiving a bribe, he opened the way for us to follow. Even on the road were a few of these posts, one I even noticed a few men in camouflage and with AKs (I wanted to take their photos, but the driver did not allow. ). As I understand it, the village through which passes through the road, sort of watching it, put landmarks in deep places on the creeks and wants to have a fee. Hotel Entremer is a small village on the oceanfront, near the village of Belo-sur-Mer, consists of several bungalows and actually a cafe with a kitchen and a bar, which regularly served fresh sea products, which the hostess (frying Frenchwoman for 50) bought from locals. Here I spent a few days enjoying the sun and swimming in the ocean, sand and clear water! In the water you should wear special shoes for swimming with thick soles, the local sea urchins have long prickles! Malagasy children happy to take pictures, I handed them out (brought with them) ballpoint pens. The way of the local village: a simple subsistence economy (fishing), still a little complicity in the service of tourists. Happy smiling and spontaneity of local residents, with curiosity looking at the vase ( in the local language – white face).
Once, on a local motorboat with an outboard motor we went to a sandy island, 20 km. away from the coast. On the way I caught a couple of bonita (a fish close to mackerel) by spinning, tried snorkeling (mask, snorkel, flippers), but the water was a bit muddy. On this island I had a little adventure. Our boat was pulled on the shore, but not secured, and the rising tide began to carry her into the open ocean! My two companions watched carelessly as our boat was drifting away from the shore, and my nervous questions were answered confidently, that being within sight of a prehistoric boat without a motor, which was a whole company of fishermen, intercept the boat and towing to our shore! However, time was passing, and the fishermen slumbering in the boat did not show any interest to our boat. And then my traveling companions began to make a fuss! All efforts dragged the boat to the shore and lowered it onto the water, vigorously rowing in two rows, our lost boat was caught and returned to the island! In general, a holiday in Belo-Sur-Mer was a success! During those few days that I was there I had time to see the bay with mangroves and crystal clear water (5 km from the hotel) and just hiked further or closer to the shore.
Artuns Member Posts: 191 Photo: 2546 Registration: 29/03/2013 City: Iceland, Reykjavik Thanked (a): 26 times. Thanks: 88 times. Age: 59 Countries: 28 Reports: 31 Gender: Male
Visa for traveling to Madagascar
Do I need a visa to travel to Madagascar for Russians in 2022. Rules of entry to the island for Ukrainians and Belarusians. How you can get a residence permit, permanent residence permit and citizenship in this country and go to live. Not hard to find Madagascar on the world map for someone who is actively interested in travel and tourism. This republic, as one of the largest island nations in the world, is located in the eastern part of Africa. Nearby is another popular island among tourists – Mauritius.
Despite the fact that a large percentage of tourists are Russians, a visa to Madagascar for them need. However, the state authorities are undemanding, and the procedure of registration is democratic.
Madagascar on the map is located in Africa, the Indian Ocean near Mozambique
How to get a visa for Russians
Russians who have the opportunity to vacation in Madagascar in 2022, need a visa. This document can be issued through the embassy of Madagascar. Also, a visa is issued at the airport when the tourist arrives in Madagascar.
The procedure for obtaining a visa on arrival
Tourist visa can be issued for up to 30 or 90 days. Get a visa on arrival by showing your passport and return ticket. In addition, a certificate of vaccination against yellow fever may be required. Relevant if you have flown to Madagascar from countries where this disease is prevalent.
For visa on arrival for the term up to 30 days you should pay 80 000 Malagasy ariari (about 1500 rubles).
If a foreigner plans to stay in the territory of the state from 30 to 90 days, he will have to pay a consular fee of 140 000 Malagasy ariari (2600 rubles).
If the traveler is traveling in transit, he or she also needs a pass. A transit visa is issued at the airport upon arrival. The traveler must have a passport and a pass to the country of destination.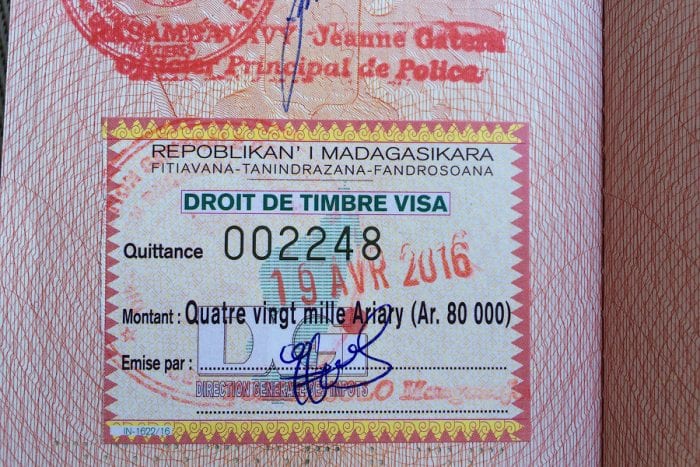 It can be obtained at the airport
Package of documents for embassy
You can apply for a visa permit in advance at the embassy. There you need to submit the following documents:
4 new photos (no later than six months), format 30/40 mm.
Return and return air tickets.
Questionnaire (to be filled in French, 4 copies).
Foreign passport with at least 1 blank page.
How to fill in the questionnaire
Each copy of the questionnaire includes a photo. The questionnaire has 2 sides. Print the questionnaire so that one side has page 1 and the other side has page 2. Download the front side of the questionnaire here, and the reverse side here.
The questionnaire includes the following questions: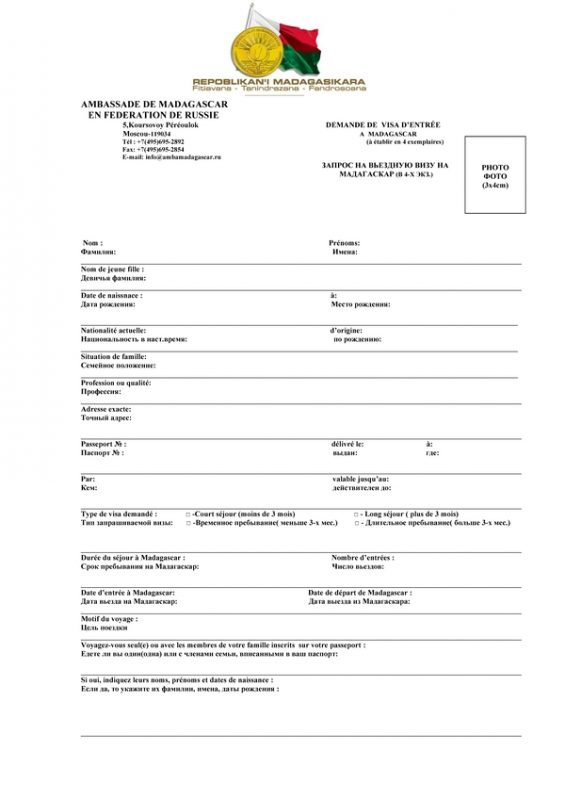 The front side of the questionnaire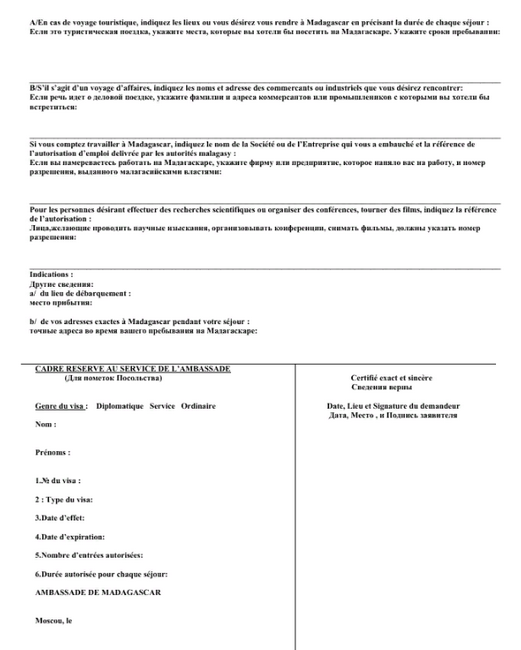 The reverse side of the questionnaire
How long the Madagascar pass is valid for
Persons arriving in Madagascar for the purpose of tourism apply for a 36-month permit. The number of entries is not limited.
The maximum period of stay in the country is 90 days.
What happens if I violate the visa regime?
In Madagascar, there are a number of strict sanctions. First of all, this applies to persons who violate the visa regime.
If a tourist continues to stay in the country after his pass expired, he faces imprisonment. The maximum term is 6 months. At the same time, he is obliged to pay a fine. The amount of the fine is determined individually.
A ban to enter the country is imposed for up to 24 months. After this time, it can be difficult to obtain a new visa.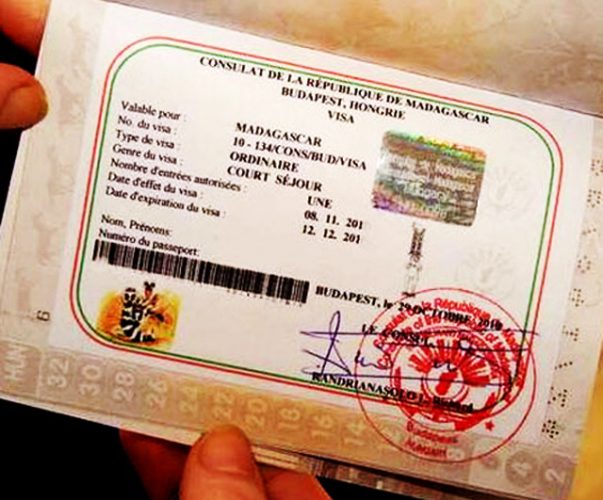 Visa issued at the consulate
Travelling together with minors
Persons under 18 years of age may enter the country accompanied by their father, mother or guardian. A notarized letter of authority is required in the latter case. It must be translated into French.
If a minor who has reached the age of sixteen goes on a trip, a complete package of documentation is collected for him. If he is not yet 16, his data must be entered in the passport of his father or mother. No consular fee is charged.
Consular fee
In 2019, the price is 1850.00 rubles for a visa for up to 30 days and 3180.00 rubles for a visa for up to 90 days. The fee must be paid at the consulate, when submitting a package of collected certificates.
If the Russian citizen is refused a visa, the consular fee is not refunded.
Order and terms of registration
The Embassy of Madagascar in Russia is located at: 5, Kursovoy pereulok, Moscow. Tel.: +7 (495) 95-2892.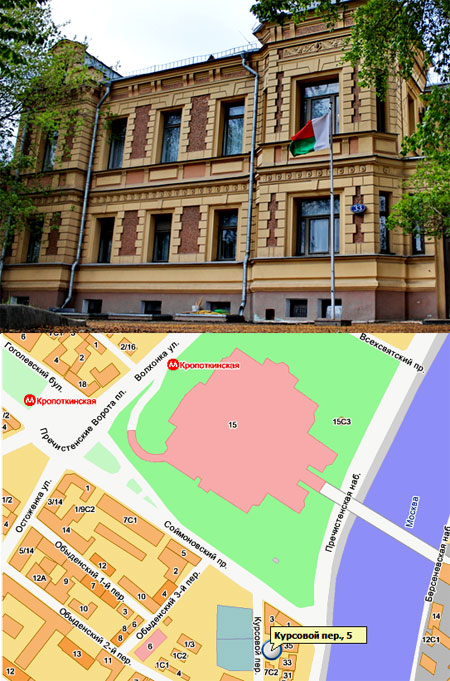 Appearance and location map of the Madagascar Embassy in Moscow
In 2019, you can apply for a visa from Monday to Friday. Reception of citizens begins at ten in the morning and lasts until 12:30.
Documents are issued in the afternoon, from two o'clock until 15-45.
Visa processing takes two to three working days. Despite the unique popularity of the resort, there is no pre-registration for tourist visas. During the visa processing period, the personal presence of a foreigner wishing to enter Madagascar is not required.
Health insurance policy
The island, celebrated in books, movies and cartoons, has a diverse world of flora and fauna. The climate here is very humid, there is always a risk of getting into the rainy season.
The high humidity contributes not only to the spikes in blood pressure. During the rainy season there is a dramatic increase in the risk of dangerous infectious diseases, many of which can be fatal.
Mosquitoes and other insects are carriers of dangerous diseases.
On an island paradise, the locals only dream of a carefree life. Filth, poverty, and unsanitary conditions are the things that catch the eye of travelers to Antananarivo. See for yourself.
The most dangerous pathologies – Dengue fever, malaria. Tourists are advised to take a course of antimalarial drugs before the trip. Prior consultation with your doctor is mandatory.
An additional danger is the risk of catching an intestinal infection – the sanitary standards on the island are poorly observed by locals.
Madagascar only at first glance seems sunny and hospitable. For several years, there has been a high crime situation. The reason is poverty. Some locals willingly trade in fraud. Cases of robbery are not uncommon. Almost always the victims are white travelers.
You can buy health insurance online. To calculate the cost you need to enter the following data:
sports activities (if planned);
the age of the tourist;
date of start and end of trip;
number of travelers.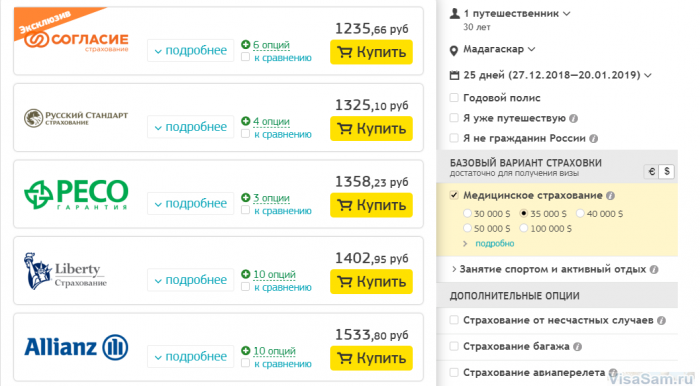 Approximate insurance policy cost for a trip to Madagascar
The program will then provide 4 to 6 price quotes.
What you can bring in
No need to declare:
jewelry (total weight must not reach 1000 g when importing, and 250 g when exporting);
Local currency (up to 400000 lari);
Tobacco products (up to 20 packs);
Foreign currency (up to 10 000 000 lari);
alcohol-containing products (up to 2000 ml).
Tourists are allowed to bring weapons and ammunition. A license must be obtained in advance. Its notarization is required.
It is also allowed to take out historical and artistic treasures. The consent of the Ministry of Culture of Madagascar must be obtained in advance.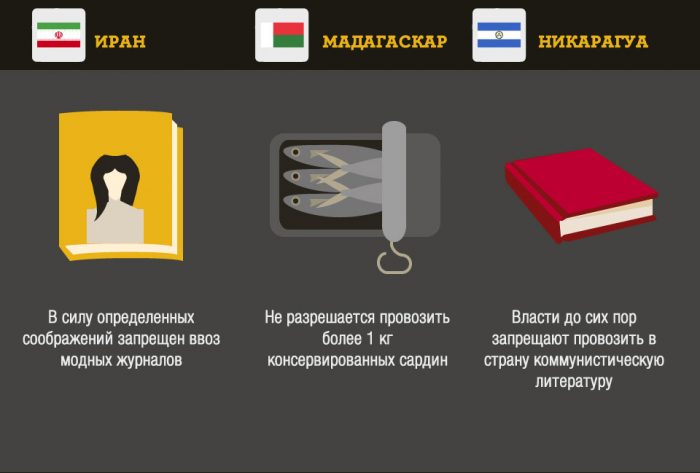 Curious customs regulations of different countries
It is strictly forbidden to export
industrial minerals;
rare plants;
precious stones (unprocessed);
Rare species of animals and birds;
gold nuggets.
Q&A
Question: I have heard that Russians are not required to obtain a pass. Is it true?
Answer: No, this is not true. Russians, as well as citizens of other CIS countries, are required to obtain a Madagascar pass. You can do this in two ways – by contacting the office at your place of residence, or on arrival. The first visa is issued for a period of 30 days.
Question: I would like to extend my stay in the country. Is it possible?
Answer: Yes, of course. To do this, the tourist will need to apply to the Madagascar Migration Service.
Interesting video. Self-trip to Madagascar.
Question: How long does it take to issue a tourist pass to Madagascar?
Answer: On average, within 2-3 days. Depending on the nuances, there may be a delay. The maximum time for a visa issue to be processed is 30 days.
Question: I was refused a visa. What should I do?
Answer: In 90% of cases the reason for refusal is inaccuracy of provided information, as well as incorrect or incomplete package of documents. No sanctions are expected. You need to re-collect the package of certificates and re-apply to the office.
Permanent residence permit in Madagascar for a long time
Getting a residence permit and citizenship in Madagascar is difficult. According to local law, citizenship can be obtained by birth or descent. After 2 years in the country, it is allowed to marry a local resident. It is also possible to go through the naturalization process.
Dual citizenship is not allowed in Madagascar.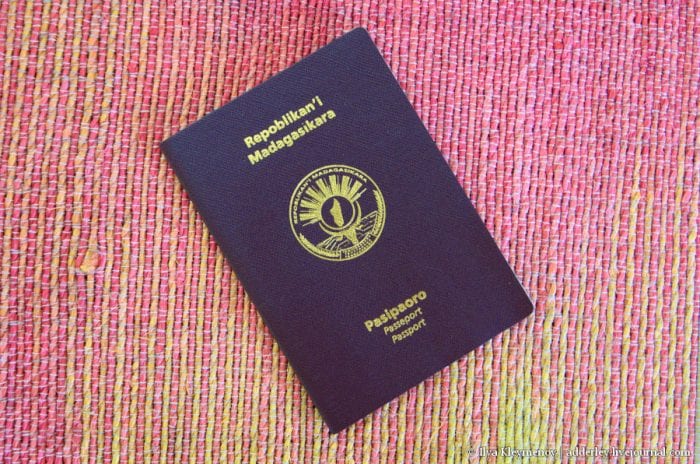 Only children from mixed marriages are allowed to have dual citizenship
The main resort in the world
The island of Madagascar became known to domestic fans of distant travels not because of the cartoon of the same name. This state, which is rightly considered one of the most unique corners of our globe, has long attracted the attention of Russians. Life on Madagascar, many residents of Russia and the former Soviet republics seems exotic.
The most popular among tourists resorts are:
Г. Mahajanga.
О. Nozi Bee.
О. St. Meri.
Tulear.
The highlight of this paradise is the world of flora and fauna. In all, there are about two hundred thousand plants and animals here. One hundred and fifty thousand are unique "exhibits", and you can meet them only here.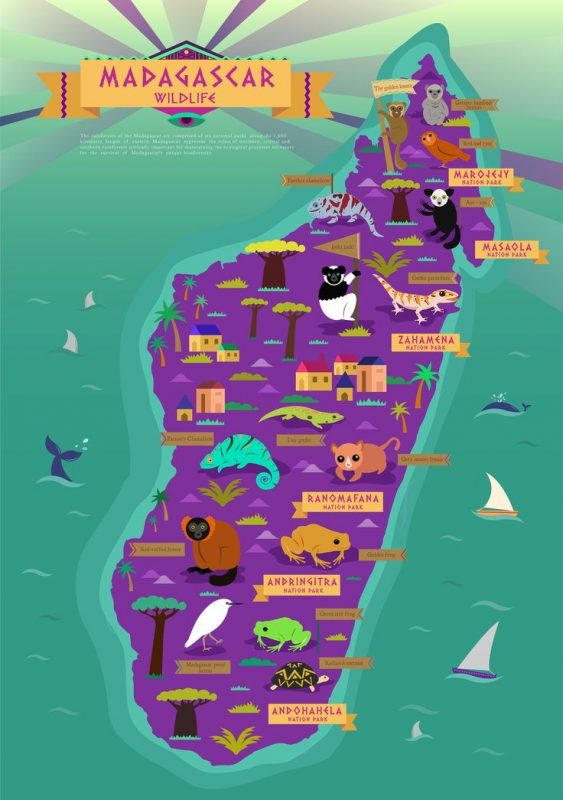 What animals can be found in Madagascar
Features of beach holidays
The beaches of Suanambo, Tuleara and St. Mary are particularly popular among tourists.
Black corals – a feature of beaches, scattered near the reef Suanabmo. Interest in corals is fueled by the fact that the highly altered ocean ecology has had no impact on them.
On the beaches of Tulear, the mighty baobabs are a joy to rest in their shade. Diving enthusiasts will also appreciate the resort, as it has a luxurious coral reef.
Investing and buying real estate in Dubai. Guaranteed income of 7-10% per annum in foreign currency. All the pitfalls and personal experience of how to earn and not lose 40% due to wrong investments. All the details – subscribe to the verified telegram channel https://t.me/homeindubai. How to move to live in Dubai with your family: residency visa, bank accounts, housing choices, child's school, all from personal experience – https://t.me/homeindubai
The beaches of St. Mary's stretch for several kilometers. Lovers of tropical nature can perfectly relax in the palm groves and even taste the delicious natural coconut juice.
Prices on the island
The island of Madagascar is not a very rich country, and prices are not afraid, even for those who are used to rest economically. The exception is popular among tourists, where prices are, of course, much higher.
Even with a small amount of money in your pocket in Madagascar can have a great time. We recommend to watch the following video.
Prices for food in non-resort areas in a good way stunned domestic tourists. Thus, the cost of lunch ranges from 3 to 10 U.S. dollars. In the capital of the state the cost of lunch is 10 to 20 U.S. dollars. In the resort area you can have a modest lunch for $25-30.
Groceries, souvenirs and other products are customary to purchase at local markets. There you can bargain and see a lot of interesting things. Particular attention should be paid to vanilla pods, which makes any sweet dish several times more delicate and tasty.
Tips for Tourists
Despite the fact that Madagascar is very friendly and hospitable place, during the holidays, you should still follow some safety rules. Thus, it is not recommended to take pictures with a camera and a camera police and military institutions.
You should drink water only after it is thoroughly boiled. If the rules of hygiene are not followed, the risk of contracting a dangerous infectious disease increases many times over.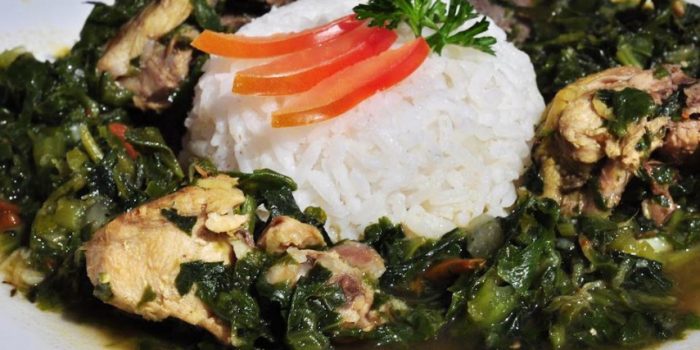 Rumazawa is a traditional dish of Madagascar. Stew of zebu or pork, cooked with tomatoes and other vegetables with the obligatory addition of local spices
The same care should be taken in the preparation of food. Meat and fish must be properly cooked.