What to see in Hong Kong in 3 days? Top 7 Sights

How to save money on Victoria Peak, why check out Hong Kong's perimeter, and why the famous laser show was a complete disappointment.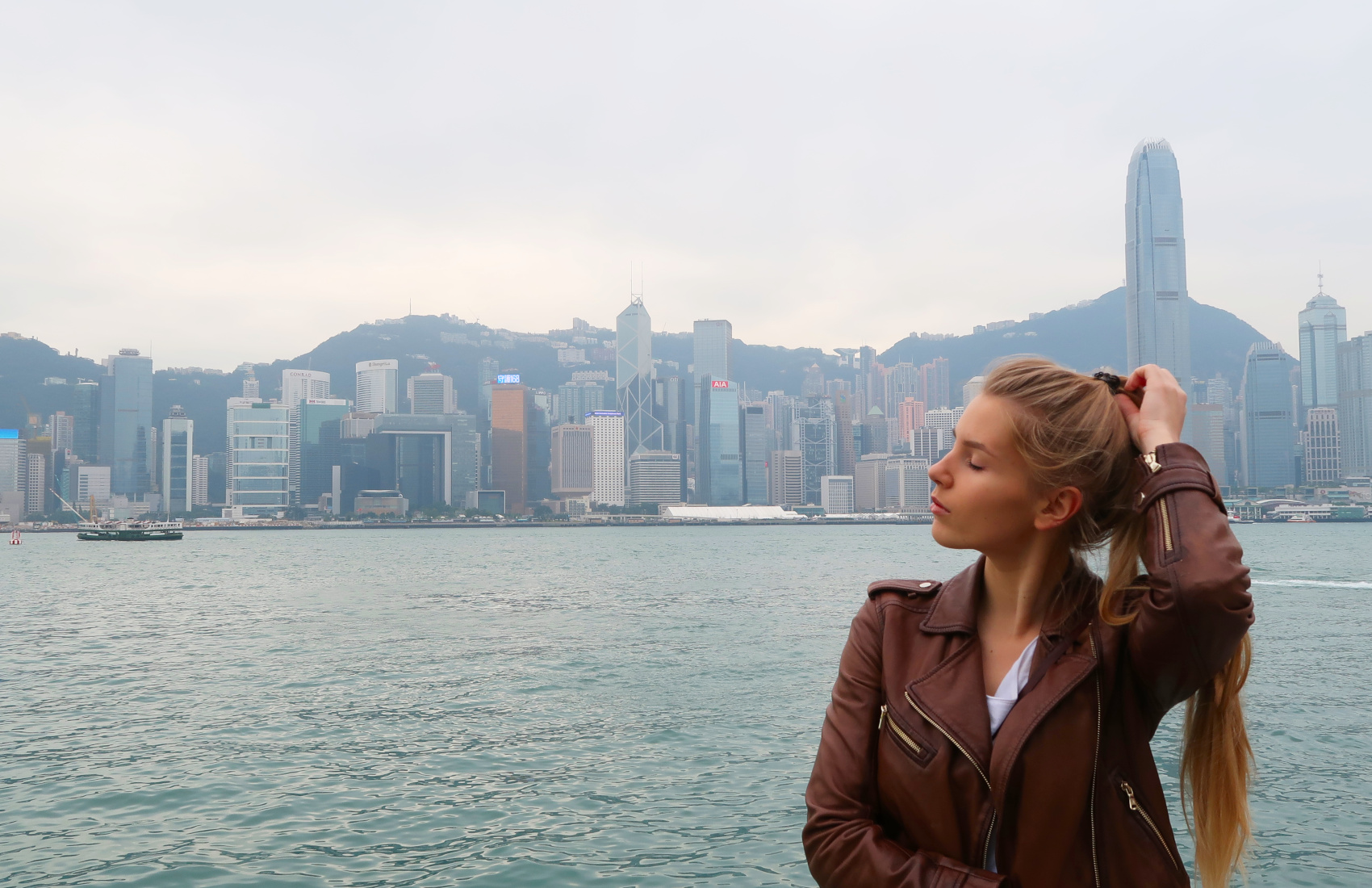 A couple of months ago, we were researching what to see in Hong Kong and diligently filtering information. Now, after visiting and really seeing the city, we're writing our review full of friendly tips and best practices
For 1 day from Hong Kong and its inhabitants (the number) can only marvel, for 2 days – more or less run through the popular locations. But in 3 days you manage to feel, see everything you need and do not need, and decide if you want to come back here. We, personally, do not
Content
Where to look for airline tickets to Hong Kong? We prefer the online searchers Aviasales. By crunching numbers and using cool service tricks like a low-price calendar or cost by month, you can find interesting dates. So, our flight from Samara cost 9,000 rubles per person. But it is a big sale, usually the tickets cost about 14-17 thousand rubles.
Do Russians need a visa to Hong Kong?
Казалось бы, логично: в какой стране находится Гонконг -> в Китае -> Китай — визовое государство -> So it is necessary to get a document.
However, the city that is so detached from China and emphasizes this in every possible way has its own policy: a visa to Hong Kong for Russians in 2021 will not be needed if the period of stay does not exceed 14 days.
Hotel reservations and return tickets are also not required. Upon arrival at Hong Kong airport the Arrival and Departure Card are filled in, the passport is presented to the officer who for some reason does not mark it with a cherished stamp, and then the gates to the crazy metropolis are opened.
How to get from the airport to the center of Hong Kong?
Tip #1: Before you start exploring Hong Kong on your own, download maps.me, a free offline map application, on your phone. It won't scare you to get lost among the skyscrapers
Hong Kong's airport is huge, as an international and hyper-crowded airport should be. In addition, it is located on an artificial island, so there are plenty of ways to get to the city center.
Expensive: Aeroexpress 115HKD (*1HKD ~ 8 rubles)
Very Expensive: cab – from 250 HKD
Acceptable: A21 (Kowloon) or A11 (Hong Kong) bus – 33-40 HKD
Cheaper but inconvenient: S1 bus + subway – 23-29 HKD
Book a transfer for $130
Top 7 Sightseeing in Hong Kong
As you may have heard, the city consists of 3 parts: the island of the same name, Lantau Island (airport) and the Kowloon Peninsula. The attractions are concentrated on Hong Kong Island. In Kowloon, there are also a couple of significant places, but there still go more for the contemplation of the real life of Hong Kong people, without neon tinsel, expensive boutiques and Teslas on the roads
What can I see in Hong Kong?
Hong Kong is usually photographed from one angle, the Victoria Peak, which offers the coolest panorama of the island and mainland and its stunning skyscrapers. That view doesn't come cheap – 52HKD. Plus, all cityguides strongly recommend taking the cable car to the top (and that's another 52HKD round trip, along with the hour-long queues). You can get a combo ticket (cable car + observation deck) for 99HKD, but:
Tip #2. Know that you can actually visit Victoria Peak for free when you come to Hong Kong. Watch our video and subscribe to the channel to see how we did it.
Actually, Victoria Peak is a hill, and the popular viewing platform is on the roof of a shopping mall, standing about 3/4 of the way up to that very top of the hill, the peak. The platform, so to speak, is for the lazy: take the transport up, pay and marvel, raking with the hands of similar tourists
How to get there: bus #15 (10.3HKD) from the stop near the pier to the terminus. Skip the entrance to the mall, go a little further and you'll see an upward turn to the left – for the free views there.
It won't be easy, the road goes uphill, but you're climbing the peak! In about 20 minutes, with your heart about to leap out of your chest and your feet aching with the strain, you'll see Hong Kong's skyscrapers in all their glory. But, most importantly, not many people know about this place and dare to make the ascent. The utter silence broken by the rustling of the grass, the space city in the palm of your hand, and endless space and time for photos are your reward for the effort.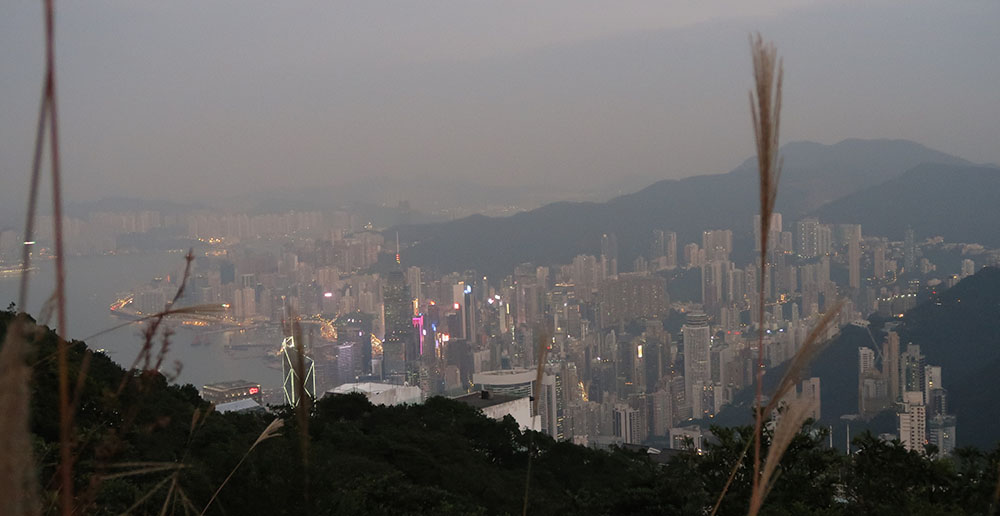 This is the view from the free observation deck
Lion Rock. There are 3 hiking trails in Lion Rock Park, choosing one of which you will enjoy the scenic beauty and maybe see a long-tailed macaw or a black-eared kite.Another hiking for scenic beauty: 45 minutes from the subway up to the beginning of the trail, 30 minutes up the steps to flat ground, and then a few hundred more steps to the top of the rock and instagram city scenery. How to get there : Wong Tai Sin subway station
When heading to Lion Rock, check out the Wong Tai Sin Temple near the subway station. The Wall of 9 Dragons, the Garden of Good Wishes, Kau Chim Fortune Tellers and Chiromancers – you won't see much of that for free yet. Getting there: Wong Tai Sin subway station
Big Buddha Statue. What could Hong Kong's sights do without its typical huge monument to a Buddhist patron? It's located on Lantau Island. If you're in Hong Kong in transit, this is exactly what's realistic to see in 1 day along with Victoria Peak and a walk around Kowloon. Getting there on your own: take bus #23 (16HKD, Sunday 25HKD) from the Tung Chung Town Center stop in 45-50 minutes or take the Ngong Ping cable car (ticket starts at 235HKD).
Диснейлэнд. Из названия ясно следует, что это опция для поездки с детьми. Да, взрослым тоже хочется почувствовать сказку, но, увы, отзывы туристов грустно отмечают, что ни аттракционов, ни интересностей для «больших» человеков здесь нет. А вот для маленьких — одни волшебные эмоции. Стоимость — 639HKD для взрослого, 475HKD для ребенка. Как добраться: от остановки Lantau Link Toll Plaza на автобусе R8. Маршруты, следующие до остановки, и цены смотрите на сайте Nwstbus. Есть опция комбо-билета — парк+трансфер+гид >>.
Hong Kong Park. In a glass and concrete metropolis with a minimum of free space and a maximum of high-rise buildings desperately lacking a breath of fresh air and a green oasis. That's why Hong Kong's parks are very popular places. Specifically this one – tropical gardens, birds, turtles, ponds and fountains, and a museum of tea ware – all offer a peaceful respite from the sounds and smells of the overcrowded city. How to get there: Admiralty Station
Star Alley. Stretching along the promenade, the most precious "exhibits" here are the palm prints of Bruce Lee and Jackie Chan. We suggest you combine it with a walk along the promenade, we would not go it alone. Getting there: Tsim Sha Tsui subway station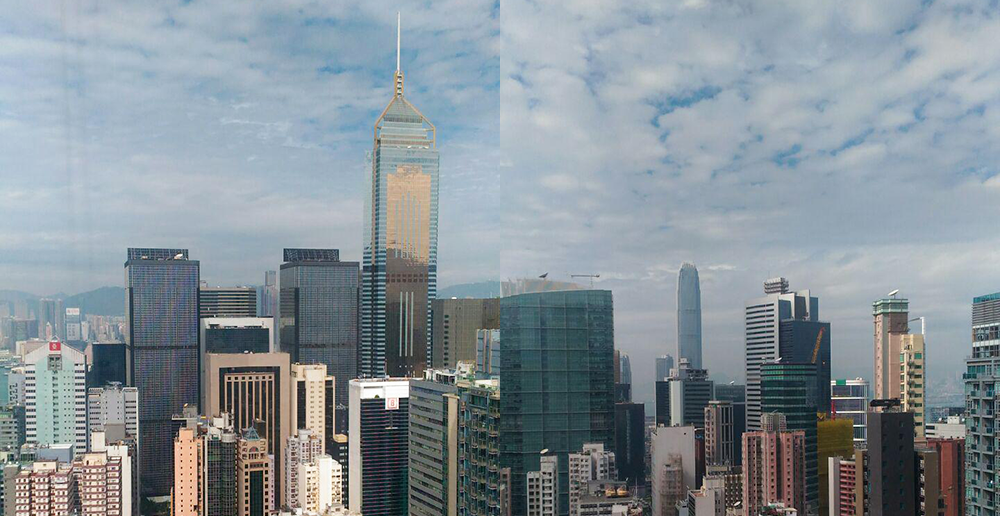 Photo courtesy of the transparent elevator in the city center.
What else can I see in Hong Kong? + cool places to take photos
Hong Kong is packed with sights. Officially, there are almost a thousand of them registered! All you need to do is take your time, and you'll always find something to see in Hong Kong.
Interesting places that have been marked on our map:
Hopewell Centre. Located near the Tesla store. A 64-story building with a glass elevator and a great spot for pictures of Hong Kong in the middle of skyscrapers! The glorious Australians told us about it. Come in, follow the elevators, go up to the 17th floor, then walk to the elevator to the Grand Buffet, and up to the top floor. It's free
Yick Cheong Building apartment building. Generally speaking, as the locals understand it, it's a perfectly ordinary courtyard among perfectly ordinary high-rises. For tourists, it's a living illustration of how Hong Kong people survive in an overcrowded and acutely land-starved environment. The anthill house, where people are literally placed "on top of each other's heads. Beware: often visited by Instagrammers because of the opportunity to take cool shots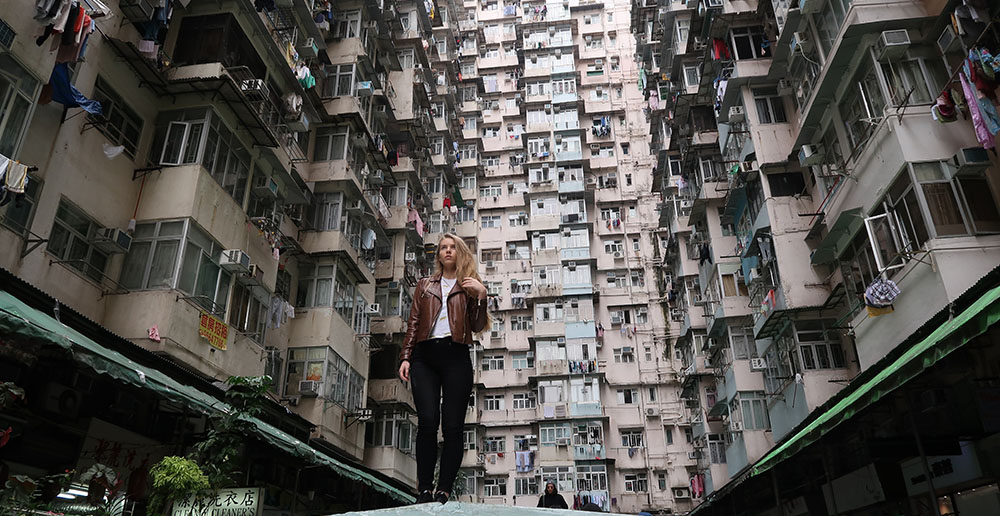 You've probably seen this photo on the Instagram accounts of various bloggers
Stanley Village. Getting to this location, you can capture two other peculiar attractions in Hong Kong: a double-decker bus (and they are exclusively like that here) and a drive along the west line of the island. In short, an atypical route for those who have had enough of high-rises.
From your stop on Peking Road (Kowloon Park Drive) to Stanley, bus #973 takes you to the verdant outskirts of Hong Kong, lined with the sea, white-sand beaches and cliffs. If you want to, you can return in the same direction or continue to the east end, so you can drive around the whole island. Well, Stanley Village is a tourist village where mostly Europeans spend their vacations. Nice place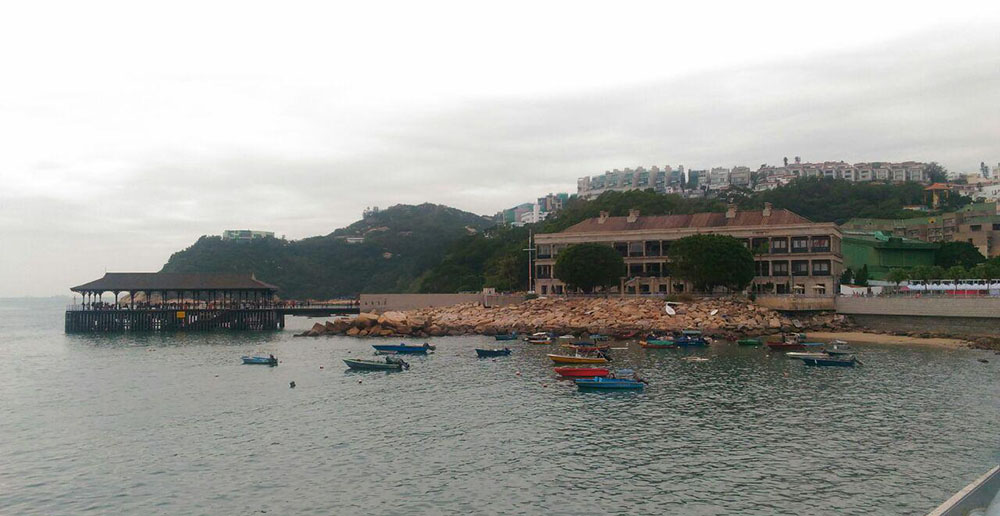 Central's longest ground escalator is the Mid-Levels Escalators. In fact, it doesn't smell remarkable – it's an ordinary escalator, except that it takes about 20-25 minutes to ride it. You can walk back up the stairs.
Temple Street Night Market. Countless shops with Chinese trinkets, clothes, and sometimes food. Worth a visit for the experience.
Light show on the waterfront at 20:00. We did not like it at all. A bunch of people gathered to marvel at the unremarkable green-blue-yellow laser beams randomly shooting into the sky. That was it. No music or anything "wow." And afterwards, you just can't get out of that crowd! Not recommended.
The following attractions we did not get to see in Hong Kong, but they are said to be good:
Ocean Park Water Park.
The Temple of the Ten Thousand Buddhas (Sha Tin District).
The Bank of China Tower.
Sky Viewpoint on the 100th Floor of the International Mall.
Exchange Square Office Center
Nan Lian Garden on Diamond Hill
Chi Ling Nunnery with its ponds and lotuses.
And in general, after a few sights around Hong Kong, you can just stroll through the streets and squares, both on the island and on the peninsula. Walk leisurely, staring up at the skyscrapers, pushing shoulders with the Chinese, soaking up the smells of the insanely expensive city, taking notes in moments and enjoying
When is the best time to go? Hong Kong's tourist season is year-round, but the weather is at its best in November and December.
Beaches in Hong Kong
Hong Kong, according to the common view, is not the resort, where they go to relax on the coast and swim in the sea (here it is, incidentally, the South China Sea). What can I say, wrongly formed this opinion The beaches of Hong Kong can compete with the resorts in Thailand, and in terms of service, even surpass them. They are open all year round, but the water temperature is suitable for comfortable swimming from May to October.
In total, about 40 equipped beaches. The most popular ones are:
On Lantau Island: Silvermine Bay
On Hong Kong Island: Repulse Bay, Stanley Beach, Golden Beach.
In Kowloon, the sea is dirty and the only place where you can sunbathe is Silver Strand Beach.
You can get to Kowloon by public transport without worrying about getting to any point of the metropolis.
Hong Kong hotels and apartments for rent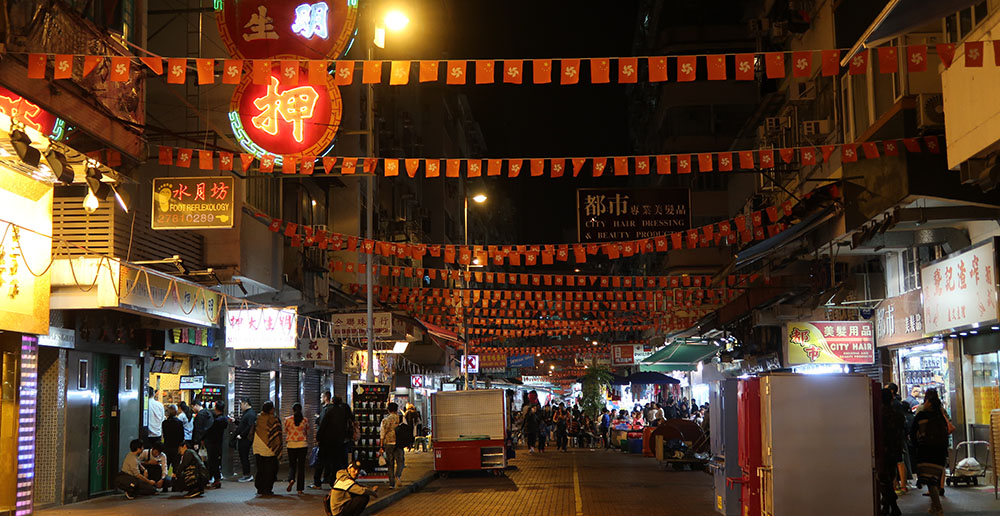 Hotels in Hong Kong are located literally at every corner, but it's ALWAYS better to book in advance. Firstly, you'll have plenty to choose from and secondly, the cost is reasonable. It so happened that our reservation was cancelled two hours before our arrival to Hong Kong, and we had to check-in at an unreasonably expensive but low-quality hotel.
Housing in the metropolis is very expensive, because there is not enough space, not enough space for development. Therefore rooms and rooms are not even small, but miniature – for two 4-5 square meters!
Here are approximate hotel prices in Hong Kong for two per night:
hostel from 1400 rubles
1-2* hotels from 1750 rubles
3* hotels from 2400 rubles
4* hotels from 3300 rubles
5* hotels with a swimming pool from 6200 rubles
It should be noted that this price tag is mainly on Kowloon. In the center of the island it is much higher.
The best options for accommodation, optimal in terms of price/quality ratio, you can find, but spending at least half an hour to search. Don't rush to rent an accommodation, being led by an attractive figure, otherwise you'll be chasing cockroaches along the walls (and it's a common problem in Hong Kong!). Read reviews in detail, look at photos, and estimate the size of the room so you won't be too surprised when you check in
Renting an apartment in Hong Kong has its place, and Airbnb is a helper in this case. Alas, there are literally a dozen apartments for rent inexpensively for the entire city. You can rent a nice studio apartment for a night from 1,556 rubles.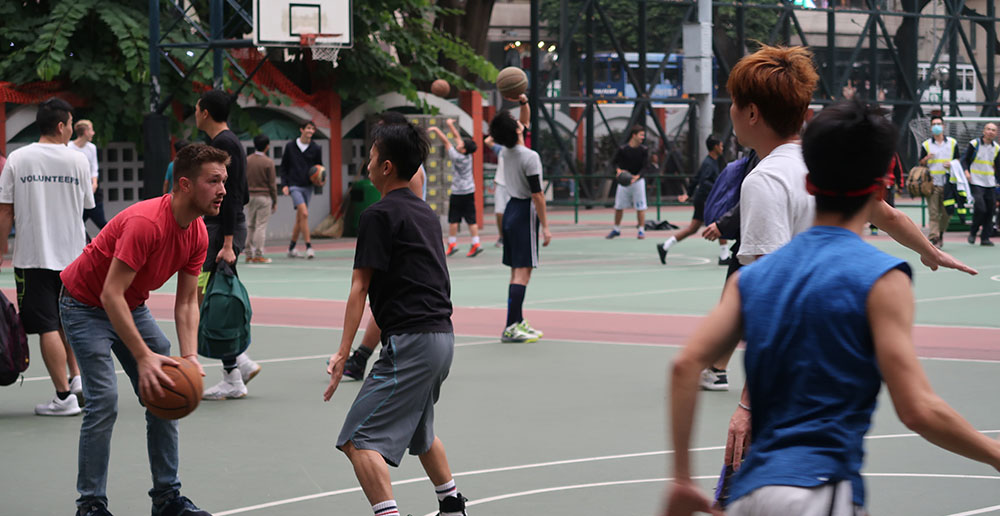 I decided to play basketball with the local kids (don't do it – it's too hot).
Transport in Hong Kong
Transport in Hong Kong is well organized and pleasantly efficient with almost no traffic jams.
Let's start with cabs. What distinguishes it specifically in Hong Kong is that all cars are of the same make – a terry year Toyota, and the drivers are important, in a suit and gloves. Cab fare is 24HKD for the first 2 km, then every 200 meters 1.7HKD.
Tip #3. To use the following modes of transport in Hong Kong, purchase an Octopus Card. It gives you a discount on fares and allows you to avoid jingling cash in your pockets or frantically looking for change in large denominations of money. You can buy one at the airport, one per person, at a special counter for 150 HKD (100 HKD for the balance, and 41 HKD + the rest of the money refunded when passing the card at any metro ticket office).
The Hong Kong subway has stations almost all over the city, and it is unrealistically huge, that's like a second Hong Kong only underground Once down in the transition, it takes 8-10 minutes to walk to the platform! Basically, the subway is clear, all stations are duplicated in English. Money from the card/single pass is deducted at the end of the trip. The cost varies by distance, the minimum is 5HKD. You can find out for sure from the booths at the stations.
One way to get from the mainland to Hong Kong Island is by Star Ferry. They, by the way, are also part of the attractions of Hong Kong, although they look well shabby and hum wearily (still working since 1888) The deck offers that skyscraper panorama of the city slowly growing before your eyes.
Cost 2.2HKD on weekdays and 3.1HKD on weekends.
From Hong Kong you can take a ferry to neighboring Macau, China's Las Vegas, dotted with hundreds of casinos. Prices for such a trip start at 171HKD, the trip takes no more than an hour and departs every 30-60 minutes.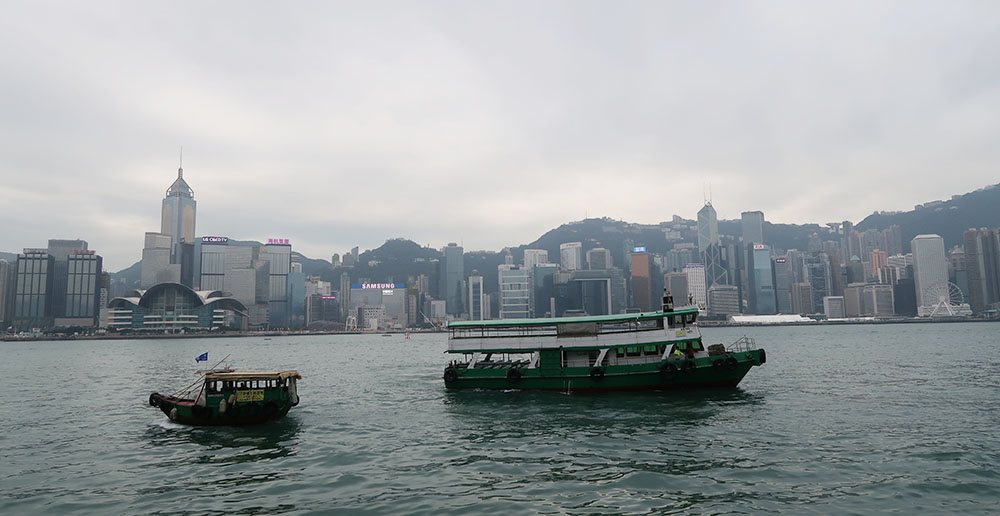 Photo from the ferry that takes you to central Hong Kong Island
The bus is a sought-after mode of transport in Hong Kong on a par with the subway. If only because most of them are double-decker buses and make for a fun ride. Fares also depend on distance and are usually found on rotating signs near the stops.
Streetcars can also be double-decker. In Hong Kong, they're a source of pride because they've been in operation since the early 20th century. They run only on the island of the same name and on six routes. The ticket costs 2.6 HKD.
Tours in China from Moscow 2021 (Hong Kong, Hainan)
Package tours from Russia to China have been suspended.
The price is per person when buying a tour for two
Did you know that Hong Kong was voted the most visited city by tourists in 2017? Not surprisingly, almost half choose to travel independently.
By the way, the usual tour to China, to Hainan Island, you can just diversify by adding a couple of days in Hong Kong! The flight will take only about an hour and a half.
Air tickets from Moscow to Hong Kong
The optimal way to get to Hong Kong, of course, is by plane. And ideally, by direct flight Aeroflot offers a direct flight from Moscow.
How often flights from Moscow depart? – Every day.
What months have the highest demand for tickets? – Last ten days of October – end of November, New Year and Christmas holidays, first half of April.
How long is the flight to Hong Kong? – Flight time from Moscow takes on average 9 hours and 20 minutes.
What are the prices for Moscow-Hong Kong air tickets? – A round trip ticket starts at 29 000 rubles.
This material may be copied only with a direct, active and open for indexing hyperlink to howtrip.ru.
What to see in Hong Kong
Hong Kong is not just a city; it's an entire region of China. Territorially, it encompasses the namesake island, the Juulong Peninsula, small nearby islands and the so-called New Territories. Three sides of Hong Kong are washed by the waters of the South China Sea and visitors can see interesting objects both in the city and the neighboring areas.
Hong Kong's total area is divided into four distinct parts, each offering a distinctive cultural, architectural or religious experience. It's the island itself, famous since colonial times, which in no way prevents Hong Kong from remaining a major financial and tourist metropolis. The Jiulong or Kowloon district (as the locals call it) is home to some of the most visited malls and markets. A separate area is the New Territories, where it is customary to visit nature parks, beaches, or other favorite vacation spots. There are about 265 sites adjacent to the Separate Islands belonging to Hong Kong, including Lantau Island with its famous Disneyland. Most of these islands are popular for their cuisine, beaches and water activities.
Fireworks in Hong Kong.
Travelling in Hong Kong, even for a couple of days, you should take into account the peculiarities of the country, its local laws, which, for example, include a ban on smoking. Therefore before visiting the exotic state, it is better to choose a few popular destinations in advance.
What to see in Hong Kong in 3 days
You can enjoy Hong Kong for many different reasons. Some visitors come here for tourism purposes, some visit China as part of congresses, and some simply make a stopover in this major metropolis and then fly on. One thing is certain, after several days of travel through Hong Kong, it can both fascinate you with its extraordinary culture and bore you with its constant noise, crowds and bright illumination. It only takes two or three days to visit a few of the best places and form your own opinion of Hong Kong.
Buddha Statue
It's convenient to start your city-break in Hong Kong on Lantau Island where most international flights land. In addition to the famous Disneyland, the island is also home to a magnificent statue of the Big Buddha. This is a huge sculpture (its height is 34 m), which rightfully rivals the highest images of Buddha in the world. Located near Hong Kong, in a village near the Po Lin Monastery, the site contains 268 steps up to the sitting Buddha statue.
After seeing the religious monument, you can enjoy the local beauty or take some beautiful pictures to remember. After all, the statue is in one of the most picturesque places in China, surrounded by a monastery and mountains.
Alley of Stars
Walking around Hong Kong, you should definitely check out the local Alley of Stars. It's similar to Hollywood's, but it has its own history, because not so long ago the film industry in the city was quite developed, it was in third place after Indian films and the United States. There are not only celebrity handprints, but also sculptures dedicated to the best actors, such as the one depicting the prominent Bruce Lee. His monument is one of the most visited places on the alley, it can only be compared with the name star of Jackie Chan.
In addition to the inscriptions of Chinese actors Alley is notable for its location. A stroll along the promenade offers stunning views of Victoria Harbour and majestic skyscrapers, which is why the Avenue of Stars is one of the must-see sights in Hong Kong.
Hong Kong Central Park
Hong Kong Central Park
Tired of the hustle and bustle of a major metropolis, you can head to the main city park which gives Hong Kong its charm. It's not as big as Central Park in New York, but it's beautiful and scenic in its own way. It features not only lush tropical vegetation, but also artificially created waterfalls, fountains, ponds with fish, turtles, and lilies. Comfortable benches and clean, well-groomed lawns successfully combine with aviaries (which are represented here at least 80 species) and a tea museum. Conveniently located near several Hong Kong subway stations, the park also features a restaurant serving delicious Asian fare.
Night Market
Spend three days in Hong Kong and don't shop for souvenirs, let alone go to a local market. Temple Street Night Market is the largest Hong Kong-owned market. Here you can buy not only souvenirs but also everything you want: clothes, dishes, accessories in the form of watches, food, antiques. All this variety is generously laid out in rows, which have a myriad of brightly colored stalls and tents. In addition to shopping, the night market provides guests with other leisure activities:
– street food establishments;
It's impossible to leave Night Market without shopping, as you can feel all of Hong Kong's flavor, spirit and disposition. A visit to the market also allows you to explore the Kowloon district, where there is a street bazaar not far from the subway.
Hong Kong's Best Places
Going through the list of things to see in Hong Kong, it's worth paying close attention to its best sites. After all, it is not only a modern and at the same time one of the densely populated areas of the Celestial Empire, but also a major tourist center with museums, temples and architectural structures. Visiting it, you can learn a lot of interesting things about the traditions, history or culture of the country.
Wong Tai Sin Temple
Wong Tai Sin Temple
The Wong Tai Sin Temple complex is open to visitors of all religions. It is said to be the place where most precious dreams and wishes come true. The temple is located in the Kowloon district, next to the no less beautiful place, the Lion Rock Mountain. The crowds that always walk to the foot of the temple won't let you get lost, because everyone who even stays briefly in Hong Kong should definitely visit this sacred place.
The religious trends here are Buddhism, Taoism, and Confucianism. Rather roomy area of the complex (18,000 square meters) contains altars, a picturesque garden where wishes come true, and 12 bronze sculptures that embody the 12 divine animals in the lunar calendar. There's also a Bronze Pavilion, an underground palace for priests and worshippers, and an unusual fountain. All together, these structures symbolize the three main elements of China – water, wood and metal. The remaining, but no less important elements: fire and earth, show other architectural objects that give the complex (and Hong Kong as a whole) a finished look and its amazing zest.
Victoria Peak.
This is a must-see spot for a cursory introduction to Hong Kong, as it offers the best panorama of the city with all the skyscrapers, parks, and famous landmarks. The city's landmark is the city's highest point, standing 552 metres above Hong Kong. It was named in honor of Queen Victoria of England back in the times of colonization of the city. The territory of the peak is included in almost all tourist routes in Hong Kong, you can get to it by any means of transport from morning till late evening, when here are seen inexpressibly beautiful sunsets.
Only two things overshadow the mini-trip: a paid entrance to the observation deck and countless crowds of people. But the mesmerizing panorama from Victoria Peak will appeal to everyone, so a visit to Victoria Peak really is worth any money.
Disneyland
To entertain children and adults alike, a local park was recently opened in Hong Kong, and with the national and Feng Shui rules in mind. On a large territory connected extreme rides, cozy restaurants, cafes, shops for buying souvenirs, the area for fireworks. Visitors to Disneyland will discover not only the world of their favorite cartoon characters, but also a land of scientific exploration, wildlife or aliens.
Tai O Village
In a small but authentic fishing village near Hong Kong, the city opens up from a completely different angle. This Hong Kong Venice on Lantau Island is mostly located on the water. Here locals deftly navigate between the pilings in boats, as there's no other way to get around. Colorful huts alternate beautifully with mangrove groves, which are formed by the confluence of sea and river waters. Visitors can see Hong Kong's first tanaka shelter, sample Asian seafood cuisine and experience the delights of fishing, the only source of local income. In the territory of the village are open museums, where tourists can get acquainted with the ancient Hong Kong and its traditions.
The gastronomy is especially popular with tourists, who can sample the incomparable fried rice flour doughnuts, soy kefir or salty fish and ginger snacks.
Places of Interest in Hong Kong
Historical and architectural monuments, religious shrines, and cultural sites are all very informative and extremely important to any country. But Hong Kong is so distinctive that it attracts visitors from many different angles. And there's plenty to see here – even the usual streetcars and subways have cultural significance.
Streetcars
Along the entire city, on a fairly long route from west to east ply unusual bright streetcars. They are narrow, double-decker and always different. Colorful advertising brochures have made them a kind of symbol of Hong Kong and one of the main attractions. These streetcars are of English origin, but unlike the country of their birth, they are quite popular in Hong Kong. The low fare makes streetcars different from other forms of public transport and, for tourists, it's also a great way to see the city.
Tsim Sha Tsui
Tsim Sha Tsui
When you can't get around Hong Kong in hours but still want to see the sights, take a trip down an avenue called Tsim Sha Tsui. The often-visited street traverses the city's most prominent sites, including:
– stores, shopping centers, restaurants;
– Museum of Art, which has more than 16 thousand different exhibits in the field of painting and art;
– a cultural center for exhibitions, festivals and other events;
This avenue is ideal for shopaholics and has a huge concentration of hotels.
Ocean Park
Ocean Park.
This is a park where you can enjoy thrilling rides, commune with animals, and swim underwater. The territory of the park is huge, and to view it use a cable car and cable car. You can also watch penguins, meet Australian animals or step into the tropics with their inhabitants. Exploring the world of underwater flora and fauna is exciting not only for children but also for adults. The latter can contribute to the protection of Asian animals, as thousands of tourists visit Ocean Park every year, and part of the money collected for admission tickets goes to support conservation and environmental protection activities.
Floating restaurant
Asian cuisine itself is a work of art, but in Hong Kong a simple restaurant has managed to turn into an architectural creation. Externally, it looks like two ships made in the framework of Chinese traditions. The floating restaurant was built in 1976 on the territory of Aberdeen District. Inside and out, the two rooms of the restaurant could rather be mistaken for a commemorative ship than a food industry structure.
This luxurious establishment is built in the style of Chinese palaces with chic decorations and décor. Inside, the halls are furnished with expensive furniture. The excellent upscale service and haute cuisine make the guest feel like an emperor. The menu also shines with an abundance of dishes. It is rather difficult to make a choice at such a restaurant, because it is difficult even to imagine that you can try turtle soup for lunch and order drunken shrimps as an appetizer. The taste of such dishes is very specific and obviously will not please everyone; in addition, the staff likes to make fun of the foreign guests and watch their reactions while tasting or watching the exotic menu. But everyone wants to visit the luxurious restaurant, which is reached by a special ferry (there is no other way to get here).