What a tourist should know before going to Zanzibar for the first time in 2022
Tanzania is an equatorial Africa. It is located on the east coast, and is washed by the Indian Ocean. The main tourist destination is the island of Zanzibar.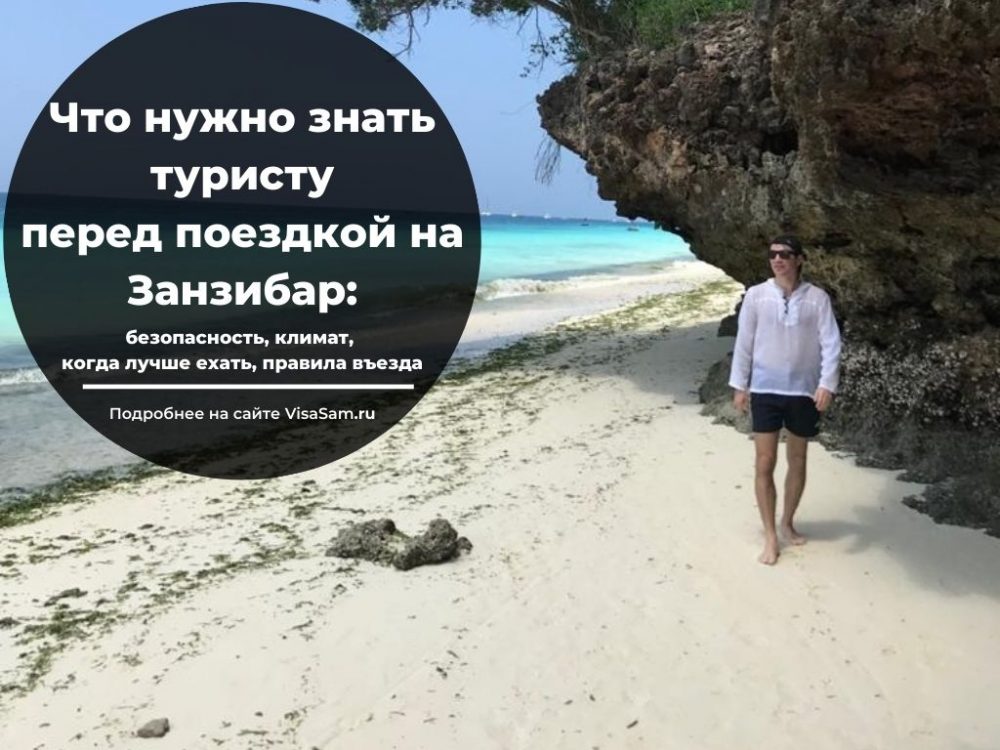 General Information
In fact, there is no seasonal change in Tanzania: summer is only a few degrees cooler than winter. But there are the rainy seasons (twice a year, in spring and autumn). It rains mostly in the morning and at night.
Detailed tips for tourists who go to Zanzibar for the first time are in this author's video.
Most tourists go to the island of Unguja. It is the largest island of the Zanzibar Archipelago.
Tanzania is a very poor country with low GDP per capita. It ranks 156th out of 187 countries. Therefore, to feel civilization is possible only on the territory of the hotel.
It is the beaches of Zanzibar that attract tourists. The sand here is bright white. At low tide, you can swim with a mask, looking at the tropical fish as in a large aquarium. At high tide, it's nice to just swim without the fear of stepping on a sea urchin or something worse.
The beaches in the southern half of the island are more suitable for lovers of solitude. For good kitesurfing it is advisable to go to the east coast, where there is wind, such as in Paget.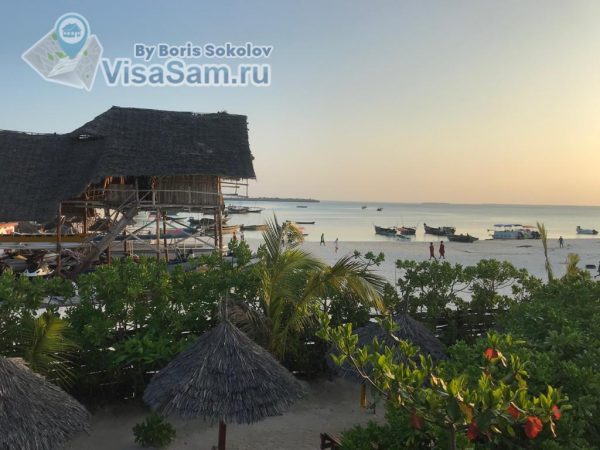 The best beaches for swimming are Nungwi and Kendwa
Is it safe in Zanzibar and Tanzania
There are few dangerous inhabitants on Zanzibar, despite its almost equatorial location.
Green or black mamba. The venom of these snakes is deadly, but an encounter with them is unlikely. To avoid this possibility altogether, it is advisable to avoid wild places, especially dense thickets.
Jellyfish. They are few and not deadly, but an encounter with them can be very unpleasant.
Sharks. You can meet them in deep water, away from the shore.
Poisonous fish (e.g., "zebra rat"). They can be found near the shore: they swim in the seaweed. These fish move very slowly, so you can not notice them and stepped on. The bite is not fatal, but extremely unpleasant. To avoid this, do not go far into the water at low tide.
Sea urchins. This is the most common dangerous sea creature. They can not be seen only at high tide. There are a lot of sea urchins, and at low tide you have to walk along the beach as on a minefield. Even using special shoes, to go pretty scary. You need to constantly look under your feet, and in places where the water to the waist – to go swimming. Sea urchin venom is tantamount to a bee. Stepping on it, you can lose a couple of days of vacation. If you do not dissolve the prickles in time, there can be a serious complication. If you come across a hedgehog, you should immediately get out of the water and contact reception: they will help.
The greatest danger is the sun (if you go on holiday in December-February). The sun shines at right angles, 12 hours a day, all year round on Zanzibar. It has a very high activity, and get sunburn, even in spite of special creams, can be very fast. The sun is also dangerous in the water.
In the evening to be on the beach is much safer, so after 17:00 there are quite a lot of people.
To avoid sunburn, it is recommended to swim in special swim shirts, or t-shirts for surfing.
When it is better to go
Useful information for those who want to find a new high-paying job abroad: Step-by-step instructions for finding a job abroad, more than 50 verified sites where you can find a job abroad for women and men without language skills. Thanks to these materials, 8 out of 10 people get job offers. See the link on this page for all the details.
The best time to vacation in Zanzibar is from May to October. In March and April it often rains, and in December and February it is too hot.
How much of a flight and how to get to Zanzibar
Recently opened direct charter flights from Moscow to Zanzibar. The flight time is about 9 hours. With connections, the travel time can take 16 hours.
The cost of tickets in 2022 is on average 50 thousand -56 thousand rubles/1 person.
It is possible to find tickets for 5,000-6,000 cheaper, but there may be at least 2 connections.
Before buying the tickets it is important to check the conditions in the countries you will be connecting to: the quarantine measures are not the same everywhere.
Rules of entry
Zanzibar is an autonomous region of Tanzania, so the rules of entry are exactly the same as for that state.
Do I need a visa
A visa is required for entry to the island of Zanzibar. It can be obtained either on arrival or at the consulate. The visa is valid for 90 days.
To obtain it, you will need a passport and two visa application forms.
To get a visa at the airport you need:
passport;
Return air tickets;
fill in migration card/declaration.
Visasam visa center provides assistance in obtaining electronic entry clearance.

Please contact and write: +7 985 123 55 59 Tamara Kuba (WhatsApp, Viber, Telegram).

The cost of registration: 1500 rubles for our services + $ 50 visa fee Tanzania.
Is it necessary to be vaccinated
Officially, vaccinations are not necessary to visit Zanzibar and Tanzania. Yellow fever vaccination is advisory, there is no vaccination against malaria. A PCR test to enter Zanzibar is also not necessary.
Health Insurance
There are 2 types of insurance:
Standard ("All world", costs $7);
Extended ("extended" is bought in the country you want to travel to; its cost is $15).
You can travel to Tanzania with any of these insurances. You can take out insurance online on the service Cherehapa, which compares the prices of all leading insurance companies.
Find out in the video: how to buy health insurance online for traveling abroad in 2022.
What to take with you
The list of must-haves includes:
Creams with an SPF50 protection factor. In this case (if you comply with other safety requirements) sunburns will not spoil the holiday.
Repellents and fumigator. With their help you can travel more safely in the tropics.
Supplies for snorkeling (coral slippers, mask and tube for diving).
Where better to go
In Zanzibar you can find a place both for kitesurfing (choose an area with strong winds), and for a family with children (pay attention to the places with sandy shore without stones and corals), is where to relax and couples in love.
Sea and beaches
Best beaches in Zanzibar:
Kendwa Beach is on the northwest coast. The sand is soft, fine and very warm. The entrance to the sea is very comfortable, more about this in the video.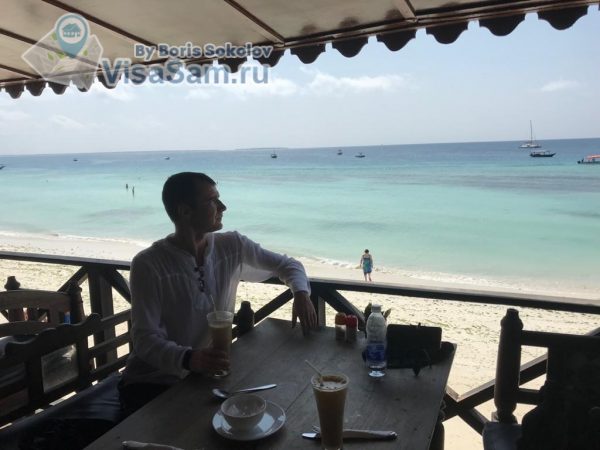 Prices in local cafes and restaurants are low
The entrance to the water is very comfortable. There are no hedgehogs, but there are often beautiful starfish.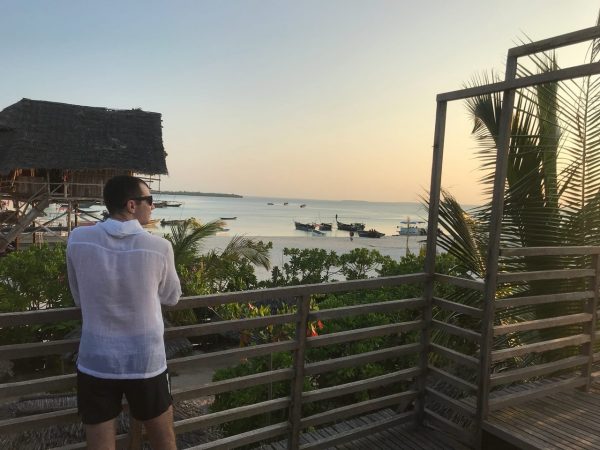 Kendwa is a small beach with a wide shoreline.
Nungwi beach is located at the northernmost point of the island. This is the most popular beach among tourists, where the tides are small. There is also an open aquarium with sea turtles, which you can swim with.
Read more about it in the author's video.
This is a true paradise for divers: there is a huge coral reef, beloved by fans of underwater hunting.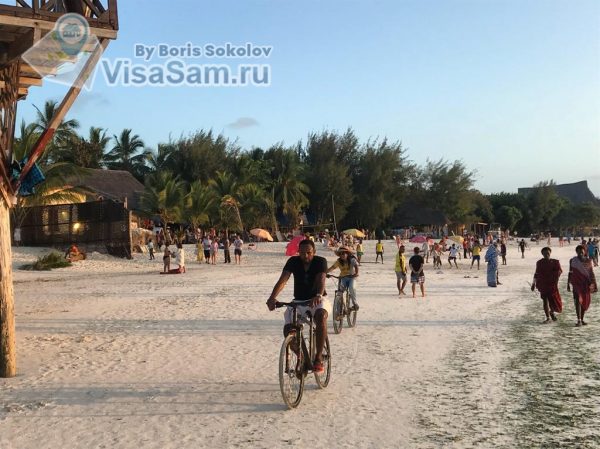 This beach is famous for coral sand, white and soft: it almost does not warm up in the sun
The tides are small and the waves are virtually absent. Hotels and restaurants are relatively inexpensive. In the evening you can watch the Masai dancing, admire the beautiful sunsets.
Padge beach is located in the north. It is a great place for kiting.
Kite schools;
dive center;
boat rentals.
The tides are almost non-existent: the water recedes not far, and remains knee-deep. But there are urchins: you should be more attentive when entering the water.
Where to go with children
Holidays in Zanzibar with children – not the best idea. But if you want to go all together, you should choose the beach of Pwani. The ocean is not very deep here. There are no sharp rocks at the bottom, and the entry into the water is very smooth.
Tides in Zanzibar
The tides vary. The water can come up to the edge of the shore and there will be very little room to sit and sunbathe. Sometimes you have to go to the neighboring beach because of this.
There is a serious danger in the tide: it can come suddenly, for example, when one is away from the shore, or at a cliff shore, where it is very difficult to go on land.
At the beginning of the tide, the water comes in fast. The tidal surge comes from the ocean, and gradually begins to fill the coastal shallow areas.
In some areas, the water recedes up to 2 km from the shore, and when the tide comes in, the water begins to arrive quite suddenly. There is very little time to reach the shore (also through urchins and seaweed).
To protect yourself, you should follow the tide tables, and not go far from the shore. Usually such tables are posted in hotels and on beaches.
The best beaches for tourists with low tides are Nungwi and Kendwa. This video compares these two beaches and tells you where the best beaches to stay in Zanzibar are that you can safely swim all day in the sea.
On them you can swim in the sea all day, you do not have to specially wait for a favorable time. Prices for holidays on them because of this are 10-20% more expensive than on other beaches.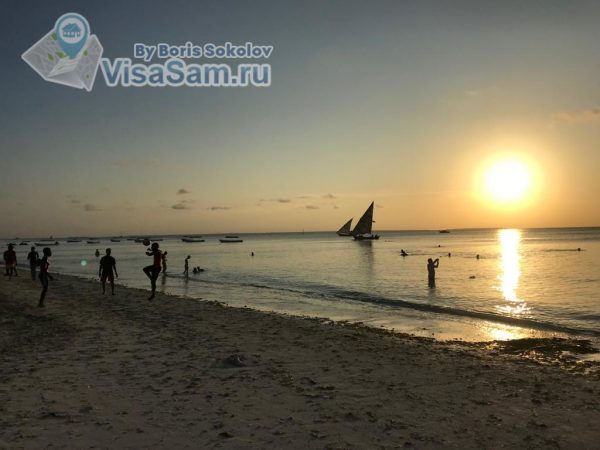 Not all beaches have such a long tide. In Kendwa and Nungwi the tide is small: about 50 m
More Tips for Tourists
When going to Zanzibar, keep the following in mind:
Don't try to take seashells out of Zanzibar: at customs you may be fined, or offered a bribe.
Don't fall for the tricks of the Beach Boys and Maasai. Beach-boys will try to sell you souvenirs, fruit or a tour. Ignore them and they will back off. A number of Maasai offer escort services for women. They should be especially wary of single girls and ladies of age. Do not photograph them, or there will be a conflict. Locals don't really like to be filmed or photographed, but in general they are friendly and approachable.
If you want to be alone with nature, move deep into the island: the forests are very beautiful. Minus: suitable beaches in such places may not be available.
Do not swim in the ocean at night.
Do not walk outside the hotel at night.
Do not touch suspicious creatures in the water.
Bring cash (new dollars), preferably large $100 bills. Bank cards are not accepted in many places, and may also add an additional fee to the purchase amount.
Most locals live very poor: their homes do not even have electricity. Therefore, moving away from the tourist spots, which are located mainly along the beach, you should be prepared for a meeting with beggars. It is always children: adults do not do it there.
If you want to please a child and give him a coin or a toy, you must see to it that he is alone: otherwise others will swoop down and start to take away and divide everything.
Most of the roads in Zanzibar are not paved. Other inconveniences: a lot of dust, bad smell. Be more careful when traveling around the island by car.
Nutrition
Domestic prices in Zanzibar (even in the coastal zone) are quite democratic: for 35 thousand shillings (1100 rubles) you can order a rather big lobster for lunch. It will also be served with a variety of side dishes.
The lobster is so big that it is enough for two people.
All establishments have a fish menu: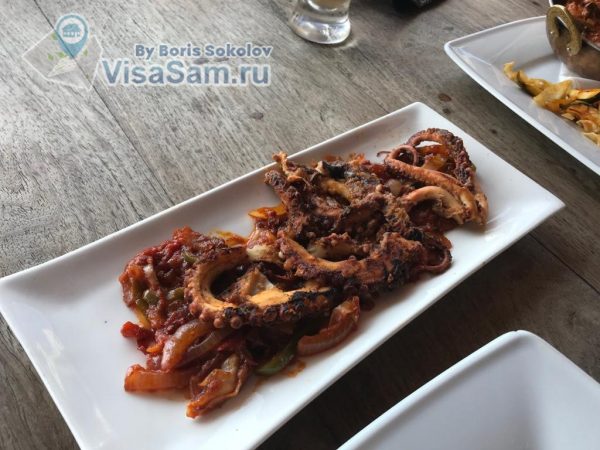 Cooked octopus on the menu at the Nungwi Beach Café
There is no national cuisine in Zanzibar. The only original dish is fried bananas. Their consistency resembles uncooked potatoes.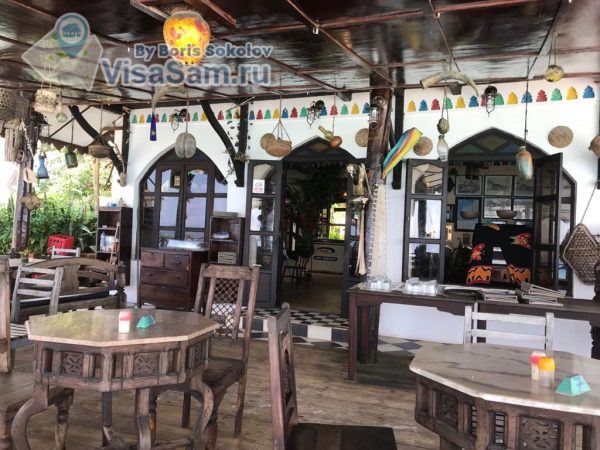 European cafes and restaurants in Zanzibar also exist, but they are very few.
The local eateries, where locals often eat, serve seafood soup, sometimes serve poultry, beef, and French fries.
The assortment of fruit is not very large: bananas, mangoes, coconuts, durian. Fruit is often sold on the street, and is relatively inexpensive.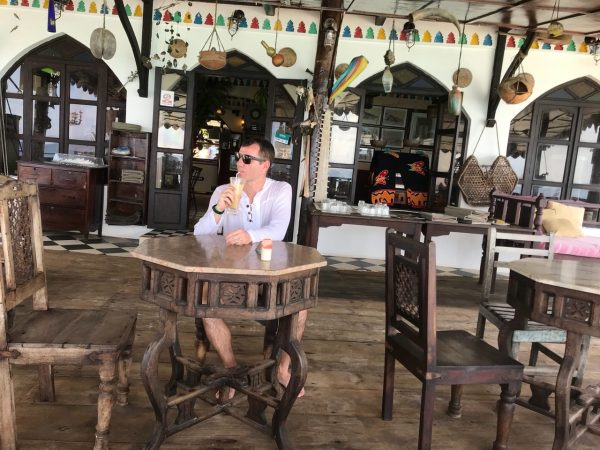 A small cafe on Nungwi Beach (photo by Boris Sokolov)
How much money to bring
Money in Zanzibar will be needed to pay for:
lodging;
food;
Visiting excursions.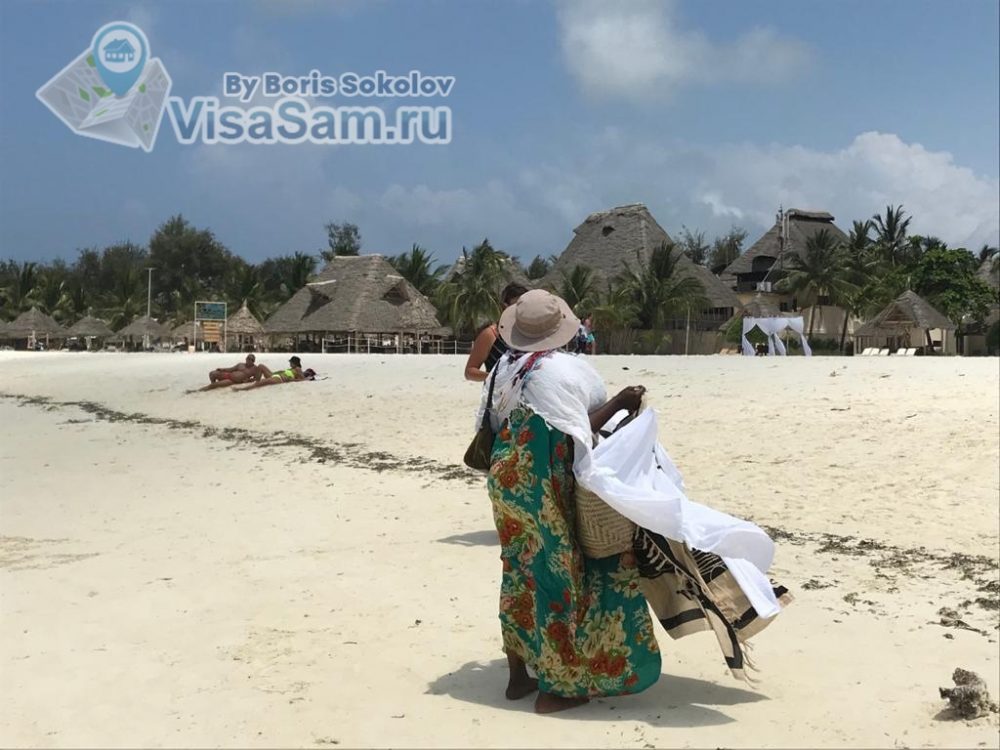 In Zanzibar you can find an acceptable option for 1700 rubles/24 hours.
Hotel 3 * with a good rating will cost at least 3500 rubles / 24 hours.
A 4* hotel with breakfast and a good rating will cost 4,500 rubles/24 hours.
A 5-star hotel will cost 10,000 r./24h. In addition to breakfast, the price also includes dinner.
The minimum amount that would be needed for a good quality meal is 1,000 rubles/1 person/24 hours. Prices for products are the same as in Russia. Fruits on the island are cheaper, alcohol is more expensive.
In general, the vacation of 1 person (when traveling independently) for 7 days will cost an average of 70 thousand rubles. In this case, you should take into account contingencies.
The average cost of the tour for 1 person – 64 thousand rubles. Visa is not included in the cost of the tour.
What currency to bring
You must take a bank card, Euros or dollars (the best variant is large denominations of the new $100 bills).
Dollars can be exchanged for Tanzanian shillings. You can do this at the airport or hotel.
In many places you can pay only in cash: dollars or Tanzanian shillings.
Russian rubles can not be exchanged.
The new $100 bills with a blue protective strip change at a better rate than small or old banknotes.
Learn more about this in the author's video.
Top 5 attractions: what to see
The main attractions of the island:
Jozani Forest. This is a unique tropical forest, which is home to wild cats, huge butterflies, rare birds, chameleons, Suni antelope and red colobus, the rarest monkeys on the planet.
Prison Island. This is a small island, which was uninhabited until the 60s of the XIX century. In those days the slave trade flourished, and the "live goods" were kept in a special prison, which was built there specifically for this purpose.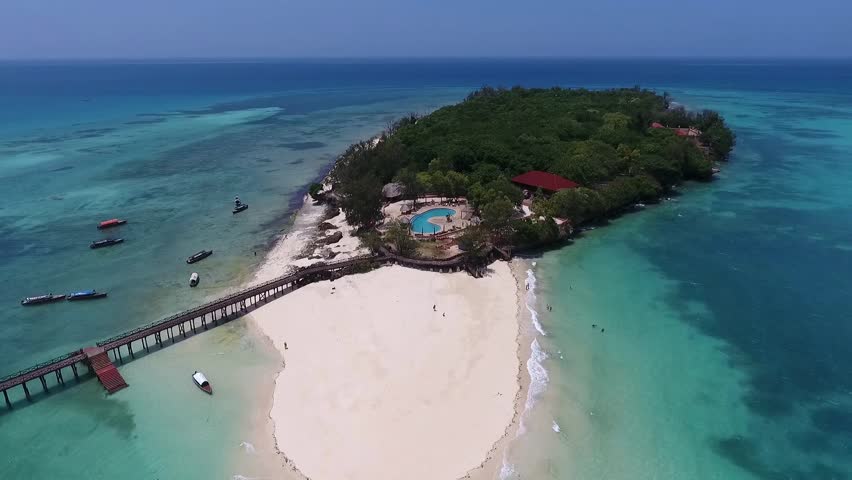 In 1893 the island was bought by the British. It was assumed that dangerous criminals would be kept here. But the yellow fever epidemic broke out, and the slave prison building was used as a hospital. Rumor has it that horrific experiments on humans were conducted there. In the middle of the twentieth century, the convict prison was closed.
On this island, you can not only see the sullen prison building, but also interact with the giant Seychelles tortoises.
Cheetah's Rock. This is a sanctuary where rare animals and birds live. Thanks to the efforts of the staff of the reserve, its inhabitants are not afraid of tourists.
Nakupenda. This island is hidden underwater, and appears only at low tide, and only in the morning.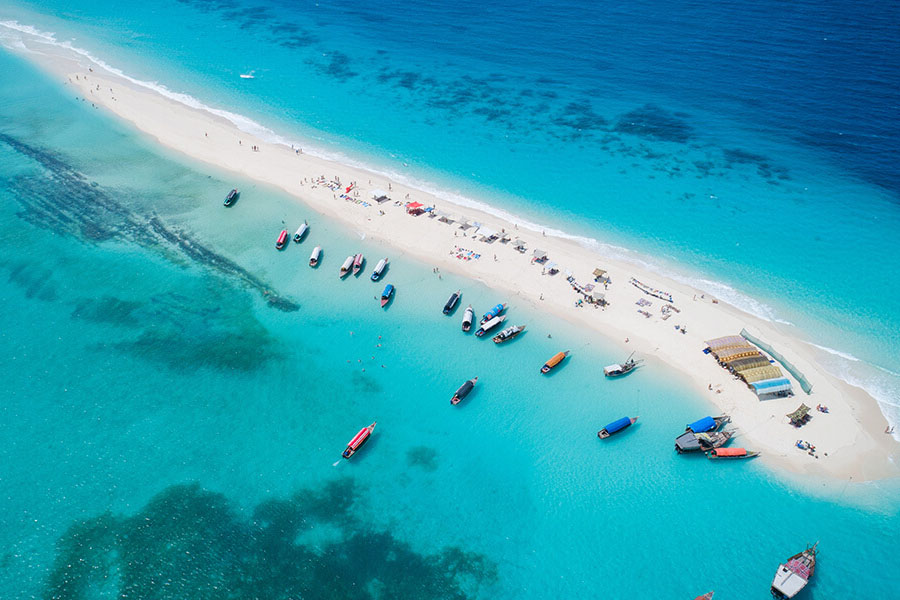 On the disappearing island you can eat shrimp and lobsters: dishes of them are included in the price of the tour.
Kikimzaki. This is the southernmost beach of the island. Almost every day here you can see Indo-Pacific dolphins and bottlenose dolphins, and even swim with them.
You can learn about all the main sights and beaches of Zanzibar in this video.
Scooter and Car Rental
Investing and buying real estate in Dubai. Guaranteed income of 7-10% per annum in foreign currency. All the pitfalls and personal experience of how to earn and not lose 40% due to wrong investments. All the details – subscribe to the verified telegram channel https://t.me/homeindubai. How to move to live in Dubai with your family: residency visa, bank accounts, housing choices, child's school, all from personal experience – https://t.me/homeindubai
The car fleet consists of 95% of the following vehicles:
Toyota Rav;
Suzuki Grand Vitara;
Suzuki Vitara.
There is no car rental station on the territory of the airport terminal.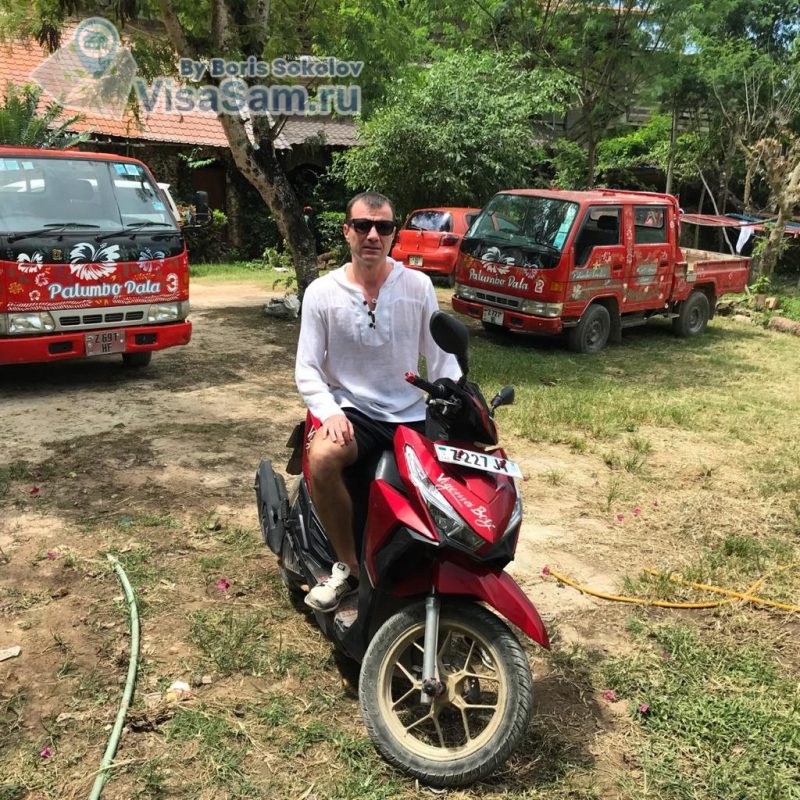 To avoid the possibility of overcharging, the car and scooter should be booked in advance at one of the rental companies.
Mobile Telephones and Internet
It is advisable to buy a SIM card in advance to stay in touch with each other. A 12GB SIM card costs only $12 in Zanzibar.
Internet in Zanzibar is stable and works even in the remote parts of the island.
Wi-Fi is available in all hotels: in some hotels it is paid, but it is very inexpensive.
Q&A
Common questions and answers are as follows:
The best excursions are a one-day safari to Celus Park, Nacupenda Island and Blue Safari. Cost is $60-80 per person, you can haggle, the operator will have options on the spot.
The airport is bad, old and stuffy. Transfer: if with children then individual, if without children – normal.