Santa Susana travel guide


NatashaKanash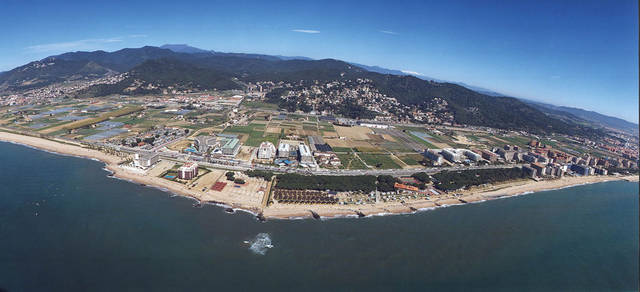 Santa Sussana is an old Catalan town located on the Costa del Maresme. The resort of Santa Sussana is surrounded by pine forests and located on seven hills. This is one of the best resorts for holidays with children. In Santa Sussana, besides the wonderful sandy beaches and clean sea, there are several well-equipped playgrounds, many stores, various cafes and restaurants. And they, among other things, have a children's menu. In addition to beach leisure, active recreation is very developed in Santa Susana.
Where to stay in Santa Susana?

Elena
The Spanish resort of Santa Susana is dominated by hotels of the resort type, which have a special diet, which may be breakfast, may be half-board, and may be full board.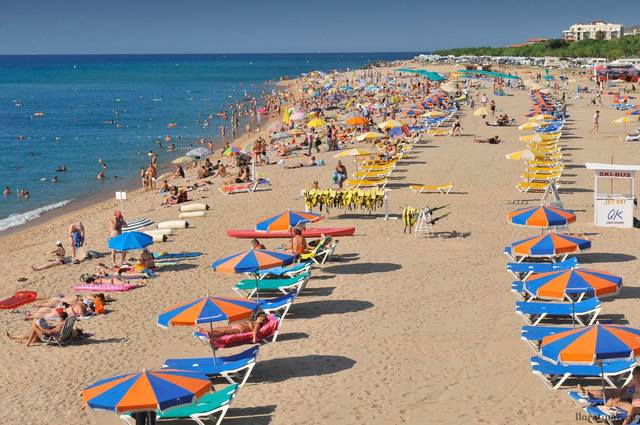 Also on their territories as a rule there are seasonal pools and held various recreational activities right on the same areas. Also it should be noted that most hotels in Santa Susanna are located on the first or second line from the sea, it is easy because the resort is beachfront.
For example, "Aqua Hotel Aquamarina & Spa" 4 stars is located about 150 meters from the beach and is considered one of the best hotels in Santa Susana. Here, it has a large outdoor pool, fitness room, restaurant, spa area and three bars. There is free wi-fi for all guests and private parking is available, but for an additional fee and usually by prior request.
The hotel has rooms designed to accommodate a variety of capacities, including family rooms. Each room has a balcony, telephone, safe, air conditioning, hairdryer, minibar and satellite TV. Depending on what type of room you choose, it may include either breakfast, half board or full board. Also vacationers of this hotel always note the excellent work of the staff, cleanliness and comfort of the rooms.
On the first line of the resort of Santa Susana is a four-star "Hotel Tahití Playa". Here. read completely.
How to get there?

Lera
To come on vacation to the town called Santa Susanna, which is located in the region of Spanish Catalonia in the resort area of Costa del Maresme, you must fly from Russia to the airport of Barcelona. Then, if you bought a tour, you will be taken to the hotel by shuttle. This is the traditional way of travel for most tourists who come to Spain for a holiday on the Mediterranean Sea.
If you already want to travel on your own, staying in Santa Susana in one of the many hotels, the best and fastest way to get around is by train. It runs along the entire coast. You can get to Barcelona in about less than an hour. The cost is about 7-10 euros. In the same way by train you can go to other areas of Catalonia, such as Tarragona, Salou (towards the south of Barcelona), or Calella, Girona (towards the north to the border with France). In each of these cities there are quite remarkable places to visit. In Tarragona, for example, you can see an amphitheater and a circus building that have survived since the Roman Empire. There is probably the largest Catholic Church on the entire coast. The city is also notable for the fact that here, as in Barcelona, has its own pedestrian street called the Little Rambla. Of all the things we saw in Tarragona, the monument that is most memorable is the pyramid of human figures. It is a castels – a monument to the builders of human towers. Similar "figurative" constructions Catalans like to build at many holidays and festivals.
For more mobile, active tourists.
What tours are worth visiting in Santa Susana?

Lera
Holidays in Santa Susanna are good not only for passive time on the beach. To be in Spain in Catalonia and not to see the most iconic places and world-famous attractions – it's a mauvais ton. This is why it is worth spending a few days out of your vacation to visit Barcelona, Girona, and Figueres. Children will be especially interested in visiting the port of Aventura, where they are invited on a trip for a whole day. There are a lot of tours and destinations from Santa Susana worth going to.
Where to buy tours? Of course, your hotel guide offers a diverse list of trips to different destinations and different content. Do not rush to buy up everything at once. There are representative offices of major tour operators like TEZ tour, coral travel, which have exactly the same tours, but for less money. The difference is about 10-15 euros per person. You can buy them, I did it myself. There is no cheating. Also groups of Russian-speaking tourists with a Russian-speaking guide are assembled. The guide is very informed on the topic of the trip. Buses are comfortable. What is the catch? You just buy the tour virtually without intermediaries, without overpaying anyone anything.
From Santa Susanna the longest tour is to Nice. It is designed for two days and costs about 200 euros per person. You can go to France in the area close to the border with Spain. I was not tempted to take this trip, because to go even though in a comfortable bus about 3.5-4 hours did not want, and then even walk in the heat. Had a rest in July.
What is more memorable is… read in full.
What to see in Santa Susanna?

NatashaKanash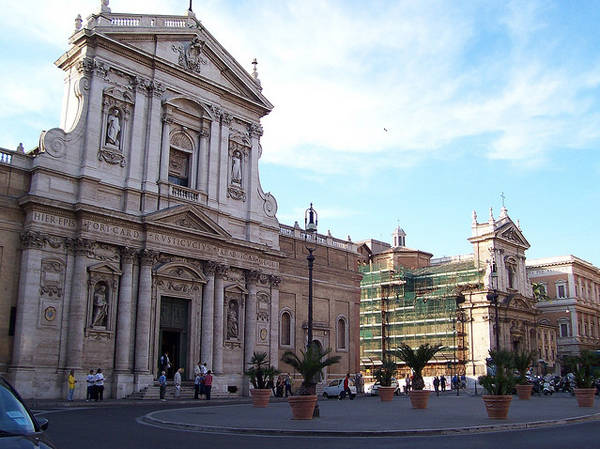 Santa Sussana – a city located 60 kilometers from Barcelona is famous not only for its beautiful parks and beaches. In addition to the fact that it is comfortable to rest there for both children and adults in terms of beach holidays, you can learn and see a lot. After all this city with an ancient history and at the moment when bored with sunbathing and swimming, you can think about sightseeing, which there are many.
First of all, its very location suggests an analogy with the Eternal City. After all, like Rome, Santa Sussana is located on seven hills. But in contrast to the Italian capital, this small town is surrounded by a pine forest.
How to have fun?

Elena
The main entertainment place in the Spanish resort of Santa Susana is certainly its waterfront, along which are actually located all the bars, restaurants and cafes, and of course also the stores.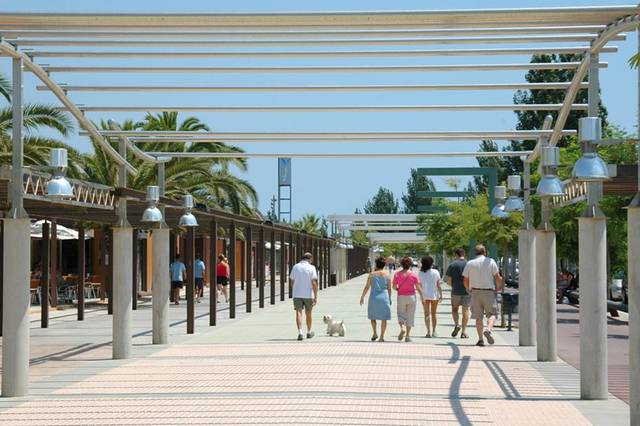 In addition, if you walk along the promenade all the way straight, you can go to a nearby resort. Strictly speaking, it is along the coast here all the fun and happening, there walk and have fun, even despite the fact that in fact the center of the city is located just a kilometer from this most beautiful embankment.
Then almost every month in this town there are various festivals, fairs, carnivals and fiestas. It should be noted that many of them began to be celebrated in very ancient times, and in the same form they have been preserved to this day.
For example, a great interest is the local carnival, when all the people try to play the Spanish guitars and castanets, and dressed in folk costumes. It is also very famous for the festival of Shakespeare, when all the performances and plays are played right on the streets of the city.
If we talk about recreation, the resort is well equipped with everything you need for all kinds of activities. Tourists can go water skiing, water biking and boating, as well as engage in more serious activities, for example, windsurfing, diving and parasailing.
You can also go to the Fon del Boter Nature Reserve at any time if you wish. There is a very popular thermal.
Weather in Santa Susannah by month:
Santa Susannah – a universal resort for every taste
If you want heat, sun, bright colors and Latin American music playing everywhere, you should go to Spain. We arrived in Barcelona in the morning, bus transfer was provided by the ticket, and in time, on the toll highway took about an hour. We stayed at the most extreme hotel in the resort of Santa Susana, where we had a beautiful view of the sea and the wide coastal strip. Nearby was a railway stop, which we used almost every day, except for those days when we rented a car.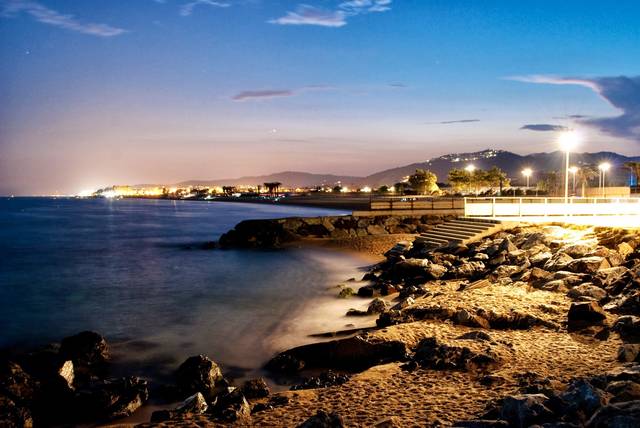 The resort itself is very diverse. In the evening if you want silence you need to go to the coast, along the sea there is a small embankment, but it is nice to walk right at the water's edge and enjoy the sea air and the evening lights of the city. If you want to dance, drink some cocktails, sit in a bar, buy souvenirs you're on the promenade, which is located just behind the railroad. There you can also buy tickets for the train. Take 10 rides at once – it's cheaper, and it's a pleasure to go to Barcelona. The train goes almost all the time along the sea.
Hotels here is a real abundance, for all tastes and pockets. Most of them are located on the side of the promenade, so to get to the beach, you will need to look for the railway crossing. But believe me, there are enough of them and you can walk to the coast in 5-10 minutes. Beaches are public everywhere, it's more profitable to buy yourself a large probe and comfortable mattresses.
Meals here are for all tastes. The first thing you should try.
Santa Susana is the best budget option in Spain!
This quiet resort town of Santa Susana, 50 kilometers from Barcelona on the Costa Maresme offers just great conditions for a vacation with the family, and for us, who went there with four people in the summer of 2015, it would be hard to find better conditions.
Judge for yourself. The sea is wonderful, warm, clean, with a sandy landscaped municipal beach, where everything is great, except the annoying prices of umbrellas and sun beds at 4 euros, which is very easy to get around by buying umbrellas in nearby stores. By the pier come boats, which can go almost anywhere in the Costa Maresme and Costa Bravo – from the bustling party Lloret de Mar to its remarkable fortress Tossa de Mar and the magnificent Blanes, and right to the beach comes quiet train, sitting on which an hour to get to the center of beauty-Barcelona. Practically, as it is sung in the famous song – "Crossroads of Seven Roads" turns out, rather than the quiet Santa Susanna.
The town itself, where we lived in an excellent and budget hotel "Caprici Verd" (4 stars, but all very reasonable prices!) Not far from the sea, very cozy and nice, and there on the waterfront walks – a pleasure! It's a pleasure to walk along the promenade! You won't be long before you arrive in nearby Malgrat de Mar, which is just as lovely. Santa Susana has a water park, which is pretty decent. There's a mountain above the town that has 19th- and 20th-century villas, which are worth a separate visit for their architecture. Here's a look, son. read completely
Santa Susana is the city of your dreams.
This town, located on the Costa Maresme near Barcelona in Spain, charmed us as soon as we arrived there. A wonderful quiet place with an excellent beach and conditions for recreation, and very budget and favorable conditions of accommodation in a four-star hotel Caprici Verd on the first line directly by the sea. The sea is fine, the only drawback is that the shore is very fast, the bay and already at depth. But it's not terrible, but the beaches landscaped, clean water, weather amazing, all the time the sun shines, from which we strongly protected all kinds of creams and bought in a beach store umbrella (there are municipal umbrellas on the beaches, but they are 3 euros a day, so treated bought). Right from the beach you can take a boat trip around the Costa Brava and Costa Maresme, including the wonderful Lloret de Mar with its lively life and casino, and Tossa de Mar with its magnificent fortress. A silent train stops right there on the beach, which takes an hour to get to the center of the beautiful Barcelona, and if you go in the other direction, also along the coast, it is the most convenient mode of transport.
The town of Santa Susana itself is very beautiful. There is a palace-castle of Can Ratetes of the 13th century, a beautiful watchtower of the 16th century, the parks of Colomer, Mirador and Riera and the "coolest" and greenest Parque Natural de la Font del Boter. There is also a good water park with entertainment for all tastes, well, "Kamikaze" we did not complain very much, and.
How much does a vacation in Santa Susana cost? May 2016.
Visa was made Finnish + insurance for 15 days, in total, came out 29 euros. We flew from St. Petersburg by plane on the "fortune" system – 18.000. I was very surprised by the price + quality, for that amount we thought we would be settled in a hotel with two stars, but we lived in a five-star hotel by the sea for 7 days. Food was included in the price of the tour, a posh buffet for such an amount of money was a gift. Transit from the airport to the hotel. We lived in the hotel with Englishmen and Frenchmen, there were no Russians.
There is a railroad not far from the hotel, from Santa Susana to Barcelona is a 1 hour trip in a nice train carriage. We bought several tickets at once, on the advice of the station attendant, so it was cheaper, if you plan to go to Barcelona regularly, buy tickets "in bulk". Excursions in Barcelona are expensive. The famous "City Tour" or less famous "Bus Turistic" cost 26 euros. So we just enjoyed Gaudi's beautiful architecture by walking around the city. If your feet get tired – no problem, transportation costs 2, 15 euros. At the hotel, we bought two tours: Andorra (50 euros) and the amusement park "Port Aventura" (47 euros). Be sure to visit PortAventura, the prices bite, but the experience will last a lifetime. I recommend to art lovers to visit museums in Barcelona, there are a lot of them and all of them are wonderful. I, for example, visited with pleasure museums "Gaudi's Space" (20,5 euros) and "Picasso Museum" (14 euros).
Food in the stores of Santa Susana and Barcelona is inexpensive for 10-15 euros you can buy the usual tourist kit or a bunch of buns and sweets with drinks. Fruits are cheap. Cigarettes and alcohol are expensive: the average price for cigarettes is 4 euros, and the cost of alcohol reaches 18 and 25 euros.
The simplest souvenirs, for example, magnets or pictures with sea views – 1-2 euros. It is possible to buy quite nice dresses, skirts and jeans, the question cost – 10 – 15 euros. I advise to look clothes not in Barcelona, and at fairs in the resort towns, which occasionally arrange, mostly on weekends. For example, at one of these fairs I bought a jacket for autumn for 15 euros, and my wife a nice handbag for 7 euros.
I'm a lover of outdoor activities, and in Santa Susana, you can make a wonderful bike ride along the beach and quiet neighborhoods of the resort town, the cost of such pleasure 10 euros on bail