Hotels in Madagascar
Enter your dates and choose from 660 hotels and other lodging options!
Check information about travel restrictions. Only travel for a specific purpose may be permitted, in particular travel for tourism purposes may be prohibited. Learn more
Take your vacation slow: book your accommodation for a month in Madagascar. Learn more
Accommodation for a month on Booking.com
The longer the trip, the bigger the savings
Some properties on Booking.com now offer reduced rates when you book by the month, which means the longer your trip, the bigger the savings.
Flexible Terms
You can change your reservation if your plans change. Keep your flexibility with free cancellations and choose your check-in time.
More than 900,000 options
We've got homes, hotels, and more. And with verified reviews, it's easier to make your choice.
Madagascar's best cities for travel
Find hotels in Madagascar's most popular cities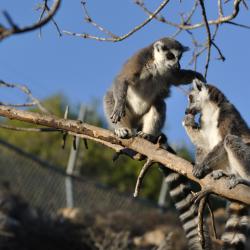 Ile aux Nattes.
Tranquility, Beach, Nature
3 hotels
Fianarantsoa
Old Town, Landscapes, Markets
7 hotels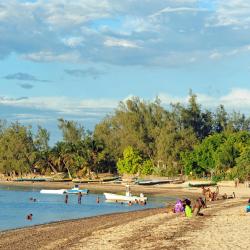 Tuliara
Hospitable people, Swimming in nature, Stargazing
8 hotels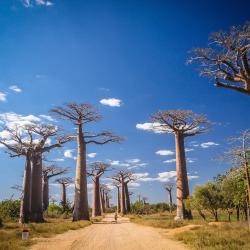 Murundava
Nature Walks, Street Markets, Landscapes
6 hotels
Amboidratrimo
Food, Local Cuisine, Shopping
1 hotel
Hell-Ville
Hospitable People, Sightseeing Tours, Adventure
1 hotel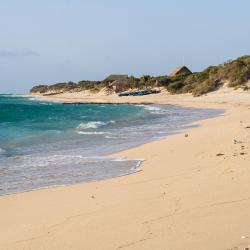 Anacao
Beach, Diving, Snorkeling
5 hotels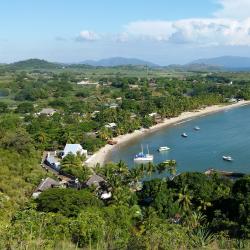 Ambondrona
Excursions, Economical vacation, Botanical garden
3 hotels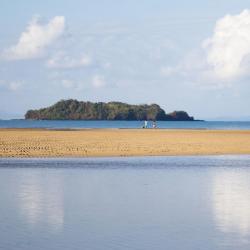 Dzamandzar
Beach Strolls, Tranquility
2 hotels
Ranomafana
Woods, Beautiful forests, Hiking
1 hotel
Hotels in the most popular regions of Madagascar
Discover Madagascar when you travel through the regions of Madagascar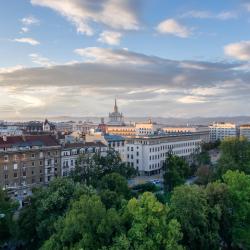 Sofia
227 hotels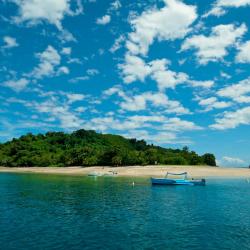 Diana
35 hotels
Hotels in Madagascar near popular attractions
Find a great place to stay and get close to
Malaimbandy, Befitroa
Ikalamavony, Antanifotsy
Lake Vert, Ambondromifehy
Peyrieras Reptile Reserve, Mantasoa
Musee Rabesandratana, Toliara
3 hotels
Isalo Museum, Ranohira
Tsingy de Bemaraha NP Shop, Bekopaka
Big Shop, Sambava
Leader Price, Talata-maty
Lac Alarobia Bird watching, Antananarivo
Kayak's to Rent, Mantasoa
Best Hotels in Madagascar
Stay at one of these popular hotels in Madagascar with high ratings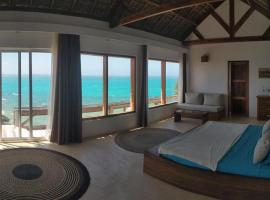 Mazava Loha Resort
Hotel in Antsiranana
Located in Diego Suarez, Mazava Loha Resort features a restaurant, bar, shared lounge and garden. It offers family-friendly rooms and a terrace. A snack bar is available for drinks. AWESOME! Greg really built a little paradise there in paradise. The rooms and views are stunning, the staff is extraordinarily friendly, the food is great, fresh and plenty, and the services provided made the stay unforgettable. I will definitely come back.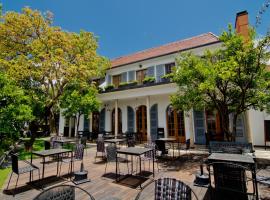 The Citizen
Hotel in Antananarivo
The Citizen Hotel in Antananarivo offers adults only accommodation with a restaurant, a bar and a garden. All rooms have a flat-screen TV with satellite channels and a private bathroom. *the* best guesthouse in Tana. Retro vibe all round. Great food. Room service was awesome. Last but not the least. The view is INSANE.
San Cristobal Boutique Hotel – Ivato Airport
Hotel in Antananarivo
The three-star San Cristobal Hotel is located in the city of Antananarivo, 4 km from Antananarivo Airport. Beautiful hotel: perfectly clean, authentic, spacious, everything works, the restaurant is great. I sincerely recommend it.
Varatraza Wind Riders.
Hotel in Antsiranana
Varatraza Wind Riders Hotel is located in Diego Suarez, just steps from Sakalawa Bay Beach. It offers a restaurant, free parking, a bar and a garden.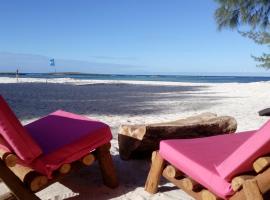 Ocean Lodge Kite & Windsurf
Hotel in Antsiranana
Ocean Lodge Kite & Windsurf is located on the shores of Sakalawa Bay. It features a private beach, garden, 24-hour front desk, restaurant, terrace and free Wi-Fi. Perfect spot for kitesurfers Staff of great help with your kites (prepping & launching even cleaning your kites)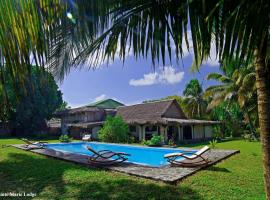 Sainte Marie Lodge
Hotel in Sainte Marie
Sainte Marie Lodge is located in Sainte Marie, 12 km from Sainte Marie Island (Nusi-Boraha). It features a restaurant, free private parking, an outdoor pool and a bar. Our holiday was fantastic thanks to our wonderful hosts Catherine and Bertrand. We spent Christmas and New Year's Eve with them and felt like part of their family. The whole staff is incredibly friendly and helpful. The atmosphere is great and charming in this hotel. The rooms and the whole resort are impeccably clean, tidy and furnished with incredible attention to detail. After three months in Madagascar we can say with certainty that the dinner was by far the best food in Madagascar. Thank you very much for this wonderful stay. Hope to see you soon.
SOUIMANGA HOTEL
Hotel in Antsirabe
SOUIMA-HOTEL is located in Antsirabe, 4 km from Abebo Market. It features a restaurant, free private parking, a bar and a garden. It offers family-friendly rooms and a terrace. Everything! Love this. A little paradise.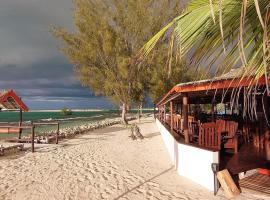 Ecolodge du menabe
Hotel in Belo
Set in Belo, 18 km from Kirindy Mitea National Park, Ecolodge du menabe offers accommodation with a restaurant, free private parking, a bar and a garden. Beautiful bungalows, beautiful location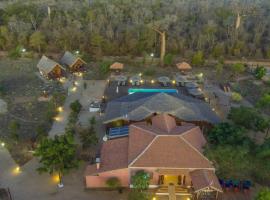 RELAIS DU KIRINDY
It offers a restaurant, an outdoor swimming pool, and room service for food and drinks. It has a terrace, free Wi-Fi and free private parking. The restaurant was excellent. The staff is very friendly and helpful. We were allowed to stay a bit longer in the room. The bungalow is spacious, clean and has a lot of windows with mosquito nets to ventilate the room. Location is magnificent between baobabs and next to the Kirindi Reserve.
SANJEELA-PLAGE COCO
Hotel in Antsiranana
SanJEELA-PLAGE COCO is located in Diego Suárez, 3.7 km from the tropical garden. It offers a restaurant, free private parking, a bar and a shared lounge. Beautiful bungalows with an amazing view and good breakfast The owner lorent was super helpful, gave good suggestions on what to do in the area and even organized a day trip for us
Travelling to Madagascar – Reviews
Good afternoon everyone, I want to tell you about a trip to the island of Madagascar. Perhaps the most exotic island in the Indian Ocean, to which I was lured by the unique nature of the island, baobabs, whales and of course the limousines, which are found nowhere else in the world.
The island of Madagascar is for those who want to dive into unspoiled nature.
Good afternoon everyone, today I want to share with you my impressions of my trip to the island of Madagascar. This incredible, emotion-filled trip happened in 2018. The cost of one ticket, for one person, cost us about.
Madagascar vacation!
Get vaccinated against malaria and bring your own pills. Avoid their bites and make sure there are no mosquitoes in your room or any other room.
The capital is Antananarivo. Madagascar is a vacation for those who have money and a desire to see unexplored places and nature reserves. Here you dive into the exotic world and feel the heroes of the cartoon "Madagascar". К.
A wonderful experience
Hello, I want to tell about my vacation in Madagascar, although it was 3 years ago, but the memories still overwhelm me. Although I was not going straight to Madagascar, but just decided to make a tour. I stayed in.
The beauties of this place are mesmerizing!
Rest in this place, not cheap, but this trip is worth the money. I want to note that the flight there is a bit far almost 16 hours. But then again, it is worth it. When you get there, you will immediately feel.
The beautiful nature, the fabulous color of the ocean, the exotic fruit.
Once I decided to go on a trip and after saving up money I went to Madagascar. What can I say, it was interesting, its wildlife, food, everything was different from ours. Apparently because of remoteness of tourists are not very many – I think this is why.
Unforgettable experience
We chose April for our Madagascar trip. It was a ten-day vacation. But it was not enough for a vacation in this wonderful place, it should have been at least two weeks. Due to the fact that we had to move around quite slowly and.
Delightful!
Hello everyone. I want to share my impressions of travel to gloriously known to all the ridiculous cartoon Madagascar. Immediately, I will say that this trip can not be compared with others, it was just awesome. I saw a lot of beautiful and.
Madagascar
This winter my husband and I were so tired from work and all the bustle that we decided to fly to Madagascar to rest. Madagascar has a tropical climate, all year round the island is warm. With my husband we went to.
Magical Madagascar.
/We spent 10 amazing days in Madagascar in January 2015, it was our wedding trip. Let's say right away that 10 days is certainly not enough, as a lot of time is spent moving around the island on very trashed roads.
Beautiful
Madagascar is really a unique place in the world, as a lover of travel has always dreamed of going there. I fell in love with this island when I watched the cartoon of the same name and had a burning desire to go there. What can I say about my trip. Flight.
Not a trip, but Paradise.
In the center of the city is not very nice, it looks like South-East Asia.
Good day dear travelers. I will tell you about the wonderful trip that I took recently. Madagascar is the most interesting in my opinion. This republic is located in the Indian Ocean. It looks like the middle of the city there.
Everything is delicious and most importantly clean.
I will tell you about all kinds of dishes a little bit at a time. Sauces. Cubans eat everything with sauce, the most delicious I have allocated for myself is a Creole, mojo, or any fruit sauce. In Cuba they eat only meat, absolutely no veganism. They really love it.
Amazing trip.
An unforgettable experience for me was a trip to the island of Madagascar. Such nature, I think, is nowhere else on earth. Exotic plants are found only on this island. And the animals are very rare and extinct elsewhere. Many are found.
The place is beautiful
There are people who love to travel, in the world I am one of them visited me a lot, including in Madagascar, I will not say that heaven on earth, but it is beautiful, there is something to look at going to the hotel.
I have had many excitement.
I always wanted to visit Madagascar after watching cartoons. I always wanted to visit Madagascar after watching the cartoons. My impressions were very positive and I was very pleased with the many excursions, the rain forest, the wide variety of fruits and the warm breeze from the sea, God, it was heaven. Everyone is advised to visit this
Both good and bad experiences in Madagascar!
Hello, our dear readers) Today I want to tell you about my trip to Madagascar. I used to read a lot of great reviews about this island! And always wanted to go to see it, but it was too far away.