Hotels in Lithuania
Enter your dates and choose from 6,077 hotels and other lodging options!
Some lodging options in this destination offer free lodging or substantial discounts to make it easier for guests coming from Ukraine to find safe lodging (you must show identification upon check-in).
Check information about travel restrictions. Only travel for a specific purpose may be permitted, in particular travel for tourism purposes may be prohibited. Learn more
Lithuania's best cities for travel
Find hotels in Lithuania's most popular destinations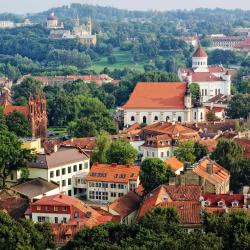 Vilnius
Old Town, City Walks, Architecture
78 hotels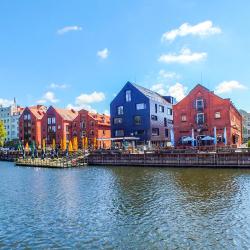 Klaipeda
Old Town, Seaside, City Walks
28 hotels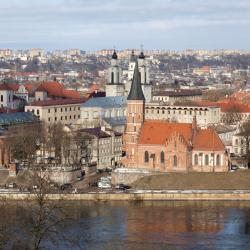 Kaunas
Old Town, Sightseeing, City Walks
24 hotels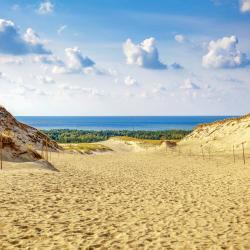 Nature, Natural Walks, Clean Air
9 hotels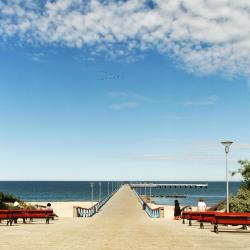 Palanga
Seaside, Sandy Beaches, Nature
36 hotels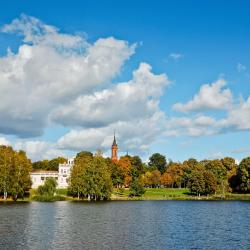 Druskininkai
Relaxation, Nature, Peacefulness
24 hotels
Šiauliai
Sightseeing, Sightseeing, Calm
9 hotels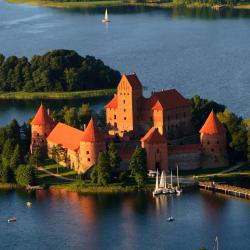 Trakai
Castles, Lakes, Nature
6 hotels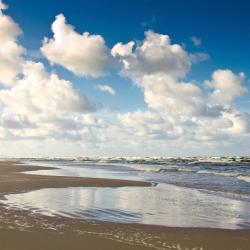 Juodkrante
Nature Walks, Peacefulness, Nature
2 hotels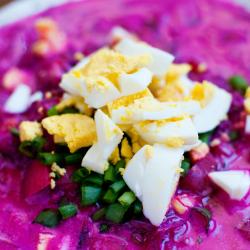 Marijampole
Parks, Cleanliness, Nature
6 hotels
Hotels in Lithuania's Most Popular Regions
Explore Lithuania in the most popular regions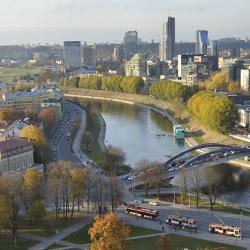 Vilnius
78 hotels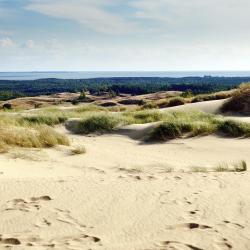 Curonian Spit
12 hotels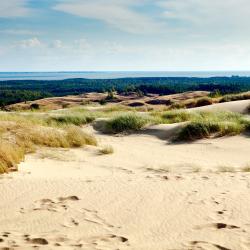 Baltic Sea
80 hotels
Klaipeda
83 hotels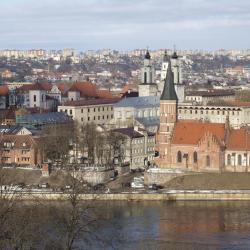 Kaunas
36 hotels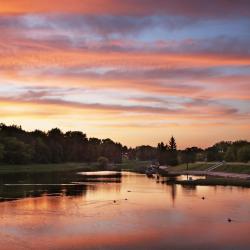 Panevezys
8 hotels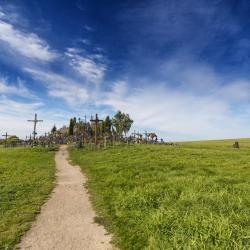 Šiauliai
16 hotels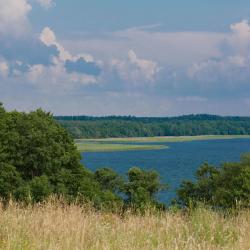 Utena
13 hotels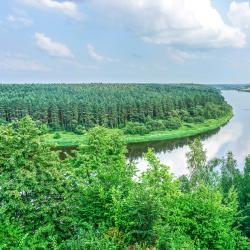 Alytus
31 hotels
Marijampole
6 hotels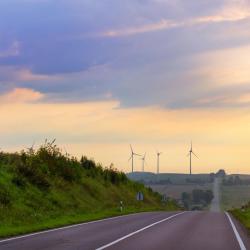 Taurage
3 hotels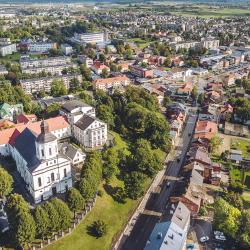 Telšiai
11 hotels
Neringa
12 hotels
Dzukija National Park
Hotels in Lithuania near popular attractions
Find interesting places to stay near
Birzai Highway Strip, Galvokai
Central State Archives of Lithuania, Vilnius
1 hotel
Vilnius Church of Sts. Sts. Michael & Constantine Church, Vilnius
47 hotels
Klaipėda Castle Museum, Klaipėda
National Museum of Lithuania, Vilnius
44 hotels
Ethnographic Fisherman's Museum in Nida, Nida
8 hotels
Akropolis Shopping and Entertainment Center, Vilnius
2 hotels
Mega Shopping and Entertainment Center, Kaunas
1 hotel
Senukai Shopping Center, Vilnius
The Square of the Cock Clock, Siauliai
3 hotels
Adventure park Lokės Pėda, Padaigai
Vilnius Television Tower, Vilnius
2 hotels
Best Hotels in Lithuania
Stay at one of these popular hotels in Lithuania with high ratings
Very Bad Hootel
Hotel in Kaunas
Very Bad Hootel is an adults-only hotel located in Kaunas. It offers a shared lounge, a garden and a terrace. We liked it! Very clean room, interesting interior, hair dryer, nice view from the balcony in room 5. I liked the sauna and the pool. I liked that there were no staff and no one was disturbing the rest. The studio was very well stocked with toys, games, tea and coffee, and lots of good value for money. I will stay again for sure, only pity we can't bring children under 10 years but it's a bad hotel
Hilton Garden Inn Vilnius City Centre
Hotel in Vilnius city center area – Vilnius
Hilton Garden Inn Vilnius City Centre is located in Vilnius, 500 meters from the Museum of Occupation and Freedom Struggle. It offers a restaurant, a bar, private parking and a fitness center. Loved it all! Clean and spacious room, comfortable bed. Nice and helpful staff. Breakfast was delicious and a lot to choose from.
Park Inn by Radisson Vilnius Airport Hotel & Business Centre
Hotel in Naujininkai district, Vilnius
Park Inn by Radisson Vilnius Airport Hotel & Business Centre is located in Vilnius, 6 km from the Vilnius Defence Wall. It offers a fitness center, private parking and a bar. courteous staff and clean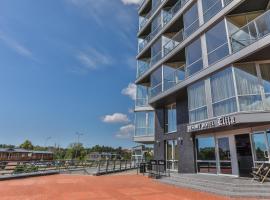 Resort Hotel Elija
Hotel in Šventoji
Resort Hotel Elija is located in Sventoji. It has a restaurant, bar, shared lounge and garden. Calm, comfortable and near the beach. Kind staff. Tasty breakfast.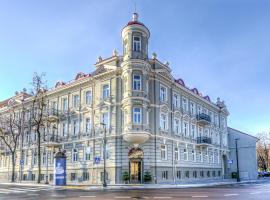 Hotel Vilnia
Hotel in Vilnius city center area – Vilnius
Hotel Vilnia with a lounge bar is located in a 19th century building in Vilnius, a 3-minute walk from the Gediminas Tower.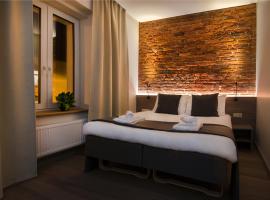 Dangė Hotel
Hotel in Klaipeda
Featuring a shared lounge, free Wi-Fi and free private parking, Dangė Hotel is located in Klaipėda, 2.7 km from Smiltine Beach and 4 km from New Passenger-Cargo Ferry. Nice room, air conditioning is quiet and you can even turn the led lights on it. bed is comfortable. highly recommend
CALVARY Hotel & Restaurant Vilnius
Hotel in Vilnius, Šnipiškės
CALVARY Hotel & Restaurant Vilnius is located in Vilnius, 1.1 km from the Lithuanian National Opera and Ballet Theatre. Private parking is available at the hotel. There is a bar on site. The location of this hotel is very convenient. And though it's situated on a busy street, inside its very cosy and quiet. We stayed here twice and it was a hit both times. The combination of the price and the amenities is hard to beat. The rooms are cosy and well furnished, the bathroom was spacious and pleasant to the eye.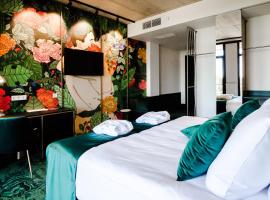 Ego SPA
Hotel in Birštonas
Located in Birštonas, 1.4 km from Birštonas Museum, Ego SPA features accommodation with a restaurant, free private parking and a bar. Everything was perfect from the moment we stepped in to this beautiful hotel. We had a celebration in the restaurant Kitsch'as and let me tell you the food was absolutely fantastic. This young chef creates miracles in your plate. Tasteful, elegant, colorful, relaxing and so much fun ☺️
Moxy Kaunas Center
Hotel in Kaunas
The Moxy Kaunas Center Hotel is located in Kaunas, 1.3 km from the Žalgiris Arena multifunctional complex. It offers a fitness center, private parking and a bar. Free Wi-Fi is available. Incredible value for money. Best possible location.
Amberton Green SPA Druskininkai
Hotel in Druskininkai
Amberton Green Druskininkai Spa Hotel is located in the Lithuanian resort town of Druskininkai in a quiet area surrounded by picturesque nature. It offers rooms with free Wi-Fi. Great restaurant, comfortable beds
What is important to know about Lithuania before a trip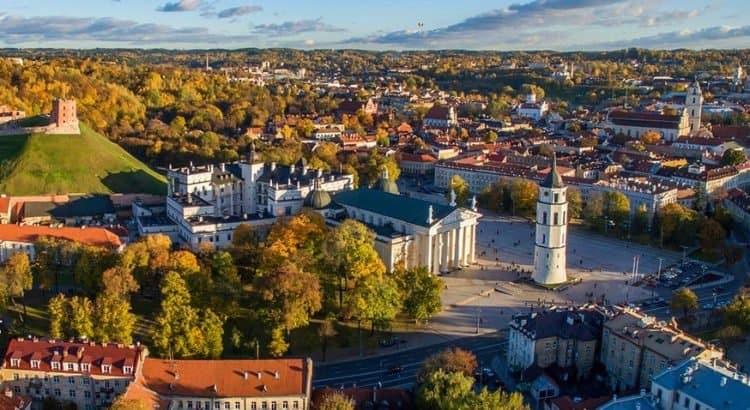 Perhaps Lithuania is not a country where tourists dream to spend their vacation, carefully plan the route and visit the sights. Therefore, this Baltic country is one of the most underrated tourist destinations. Indeed, there are no warm beaches and world-famous attractions. However, most tourists in vain exclude this Baltic country from their itinerary. Lithuania is a wonderful region, which is loved by fans of eco-tourism, northern nature, medieval castles and solitude. Tourists who have opened their hearts to this country will appreciate the absence of bustle and crowds of tourists. Here appreciate the quiet and unhurried. Therefore, this is one of the ideal countries to feel harmony with yourself and the world around you.
Lithuania is a small country sandwiched between Latvia, Belarus, Poland and the Kaliningrad region. But it is lucky to have at least one neighbor – the picturesque Baltic Sea, which is the center of attraction for most travelers.
Despite its diminutive size (an area of only 65,301 km2), it has given the world many famous names. Among them the famous basketball player Arvydas Sabonis, opera diva Violeta Urmana, painter Mikalojus Čiurlionis and many others.
Lithuania is thought to have been formed between the 10th and 13th centuries. It is currently a legal member of the EU and NATO.
Climate
When is the best time to travel to Lithuania? As Lithuania is a server country, it is best to travel there during the warm season. The optimal period for a visit – from May to September. The peak of the tourist season is in July and August.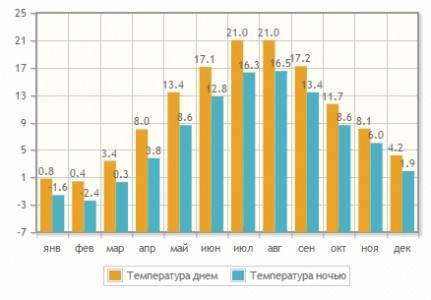 Average air temperature in Palanga
The rest of the months bring a risk of freezing rain or wind chill from the Baltic.
If you're looking for a bit of privacy, however, opt for late spring or September.
Summer on the Baltic coast is a paradise for those who can't stand the heat, but dream to be at the sea. The temperature does not rise above 25 degrees. However, in some years the summer can be very hot, and the air can get up to 35 degrees. This is due to tropical air gusts from the south.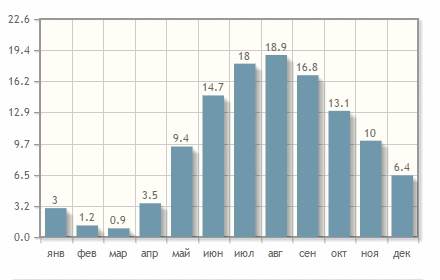 Average water temperature of the Baltic Sea off the coast of Palanga
However, even visiting this country in summer, you should be prepared for variable weather. Therefore, do not forget to bring an umbrella and warm clothing. This is especially true on the Baltic coast, which is exposed to humid Atlantic air. In winter, the temperature in Lithuania is quite mild. It rarely falls below minus 6 degrees. However, this seaside country is characterized by a high humidity, which makes even a small minus is extremely hard to endure. Therefore, before risking to go to the Baltics in winter, you should think carefully. However, many tourists love to visit it in the New Year, because at that time there is a magical atmosphere.
How to get there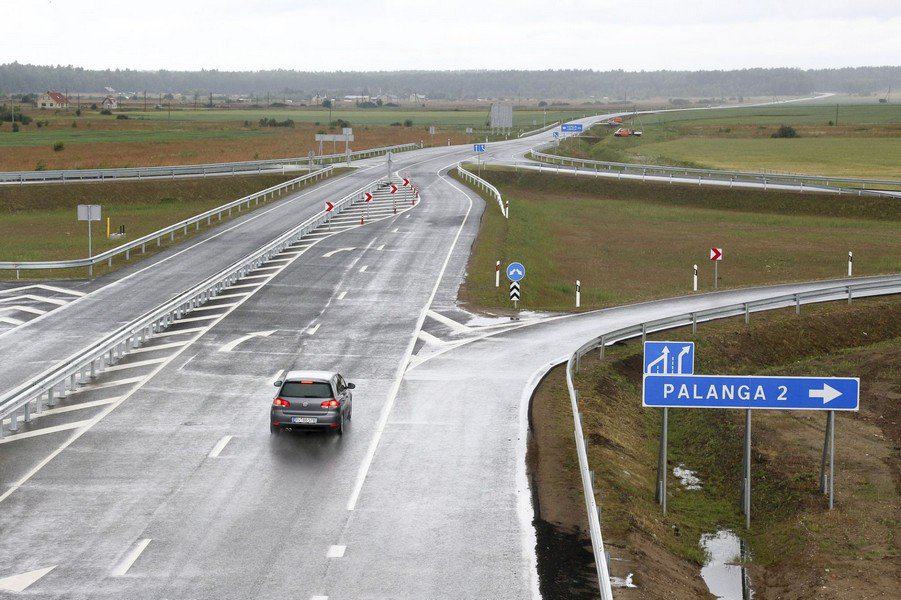 If you have decided to spend your vacation in Lithuania, there are several options on how to get there.
Many Russians prefer to travel by their own car. You can do it either through Belarus or through Latvia. The distance from Moscow to Vilnius exceeds 800 km. In addition, you should take into account the queue at the customs. A more preferable option is to go through Belarus, which has an excellent route. On average, the trip will take one day. In addition, it will save you from the need for a visa: you can transit through the Republic of Belarus without a visa, but you will have to pay the toll road.
A faster and more convenient way is to use a plane. The flight from the capital of Russia to Vilnius takes about 1.5 hours, from St. Petersburg – even less.
From Moscow to Lithuania fly UTair Aviation and Aeroflot. From the northern capital, you can get to Lithuania with the RusLine airline, which flies there three times a week.
If you prefer a leisurely trip by train, you can get to Lithuania from many cities in Russia and the CIS. There are flights from Gomel, Kaliningrad, Kharkov, Lvov and Minsk.
The train Moscow-Vilnius takes a little less than 15 hours. Trains leave from Belorusskiy railway station. There are 2-3 trips per day. Travel from St. Petersburg will take a couple of hours less.
To save time, residents of the capital can buy a train ticket to Minsk, where you can change to a train to Vilnius. This way you'll save two hours, since the documents are checked in the train itself.
Another way to get to the Baltics is to take a bus. Take a bus to Vilnius at Riga Station in Moscow or Vitebsk Station in St. Petersburg. In summer, there is a bus from Moscow to Palanga.
Resorts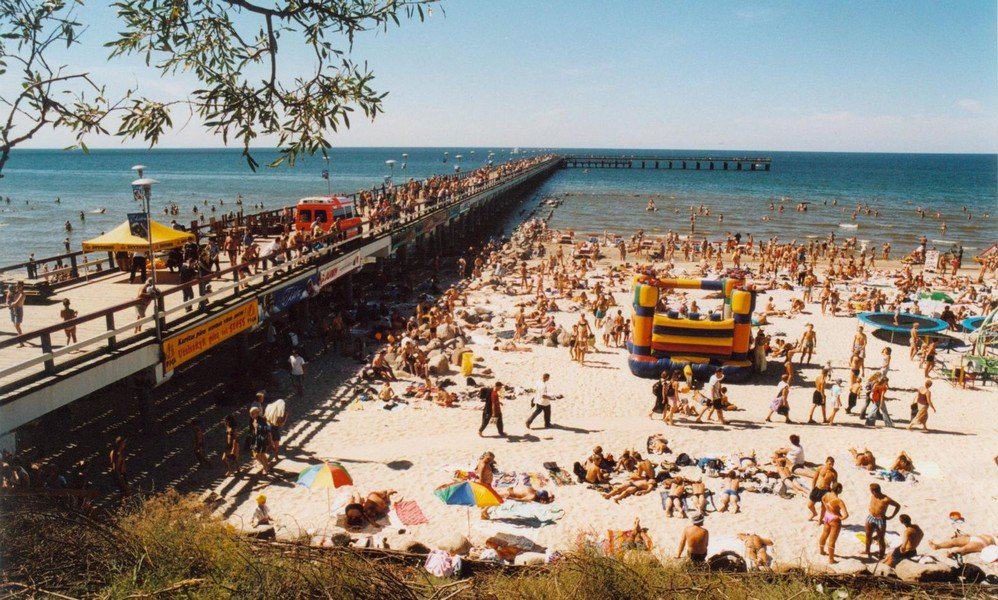 Lithuanian resorts are chosen, first of all, to admire the nature and to improve your health. Here do not go for noisy parties and unrestrained fun. Here people value a different kind of recreation. Therefore, Lithuanian resorts are ideal for family holidays with children, romantic holidays for couples and for retired people.
On the shores of the Baltic Sea are world-famous Lithuanian resorts: Palanga, Shventoji, Neringa and port Klaipeda. The first three are sea resorts, there are also balneological resorts – Druskininkai and Birstonas, but they are not by the sea.
For the most part, all attractions of the Lithuanian resorts are natural. For example, most tourists know Lithuania mainly because of the famous Curonian Spit, which is home to unique resorts. One of them is Neringa. It is known for the highest dunes in Europe.
Natural landmarks of Palanga are Mount Birute, known since the 17th century, and Naglisa Mountain. There are many romantic legends about Palanga, and the locals will tell you about them best.
Birstonas and Druskininkai are the places where you can improve your health. First of all, this resort is famous for its therapeutic muds and mineral waters. Here the nature itself has a healing effect.
Types of Recreation
People come to Lithuania to enjoy nature, to ride bicycles leisurely, to stroll along the coast in search of amber, to sunbathe in the dunes. Here, like nowhere else, you can take a break from the hustle and bustle of the city and get rid of stress.
If you get tired of this type of recreation, for a change you can visit places associated with the ancient tribe Kurshi. One of the most interesting places is the Witches' Mountain. This hill is not far from the place Juodkrante, where the Couronians used to perform their rituals. Now there is an open-air sculpture museum, which attracts tourists from all over the Baltic. As a bonus for vacationers – beautiful view from the hill on the Curonian Spit.
By the way, the Curonian Spit itself is a great place for a relaxing holiday, which can be varied by active sports and ride on the spit, for example, snowboarding.
Hotels
In Lithuania, it is easy to find a hotel for all tastes and pockets. You can stay in a luxurious five-star hotel in Vilnius, as well as in a two-star fisherman's hotel on the coast. However, hoteliers take into account that tourists come to this country mainly to improve health and rest their mind and body. Therefore most hotels specialize in health rest (the best sanatoriums and spa centers). It is not difficult to find a decent hotel, which has its own spa center, gym and dry cleaning. As a rule, in all Lithuanian hotels the continental breakfast is already included in the price.
Entertainment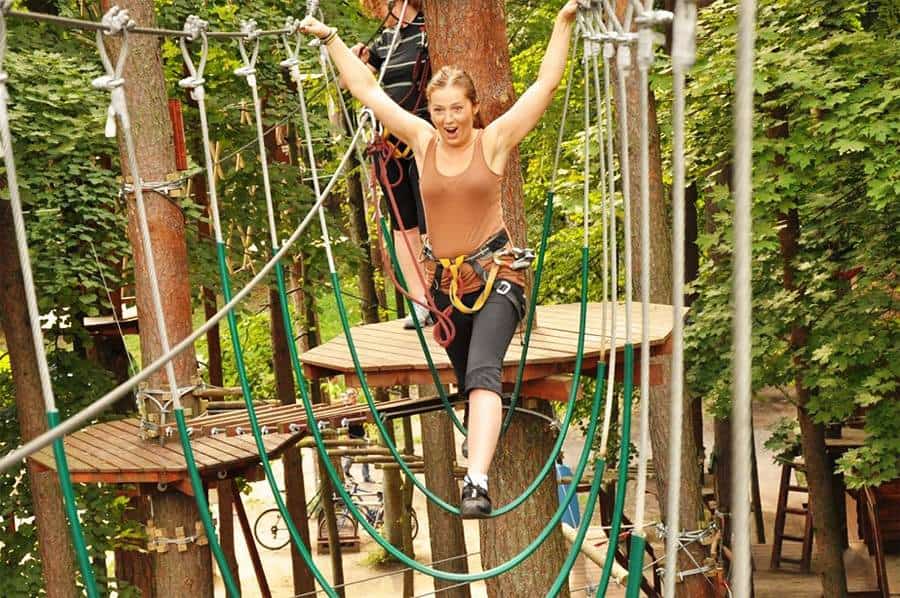 Lithuania is an excellent place not only for rest and relaxation but also for entertainment.
Music lovers will appreciate the folk festival, which takes place in Juodkranta, on the Kursa Spit.
Lithuania is famous for its unusual parks, among which we can highlight, for example, "Center of Europe", "Stalinuord", park of dinosaurs.
Other entertainment, which this country has prepared for you, is associated with active recreation. Among them are the theme parks Grutas and Uno, One, in which you can have a fun time.
Children and adults alike will love the water parks. Visit Vichy and Druskininkai.
In Lithuania, even on a nice summer day, you can enjoy winter sports. You can do so in the Snow Park in Druskininkai where winter reigns all year round.
If you get tired of outdoor activities, go to museums. Fortunately in Lithuania, there is no shortage of them. Among them: sea aquarium and dolphinarium in Klaipeda, amber museum in Palanga.
Shopping
Of course, the Lithuanian resorts can hardly compete with Milan, Paris and Madrid in terms of shopping. However, lovers of shopping will find something to please themselves in this Baltic country.
First of all, people come here for amber. This country has long been known deposits of this natural stone. It is so much here that even walking along the Baltic coast, you can find small stones by yourself. If you want to buy stones in a unique frame, then go to the jewelry stores in Vilnius and Klaipeda. In addition, you can buy amber everywhere on the streets of the capital, Palanga, Šventoji, and Klaipėda.
Shopping in Lithuania is best done in shopping malls. The largest and most popular are Akropolis, VCUP, Gedimino 9, Flagman, Ozas. Here you can buy clothes, shoes, bags, accessories of famous brands in boutiques.
Prices here are lower than in Moscow, so you should not deny yourself the pleasure to go shopping. If you are interested in the question of how much money to take with you on vacation in this country, you can look at the article where we have collected information about the average price of food, meals in cafes and other expenses. We hope this will help you plan your vacation budget.
Souvenirs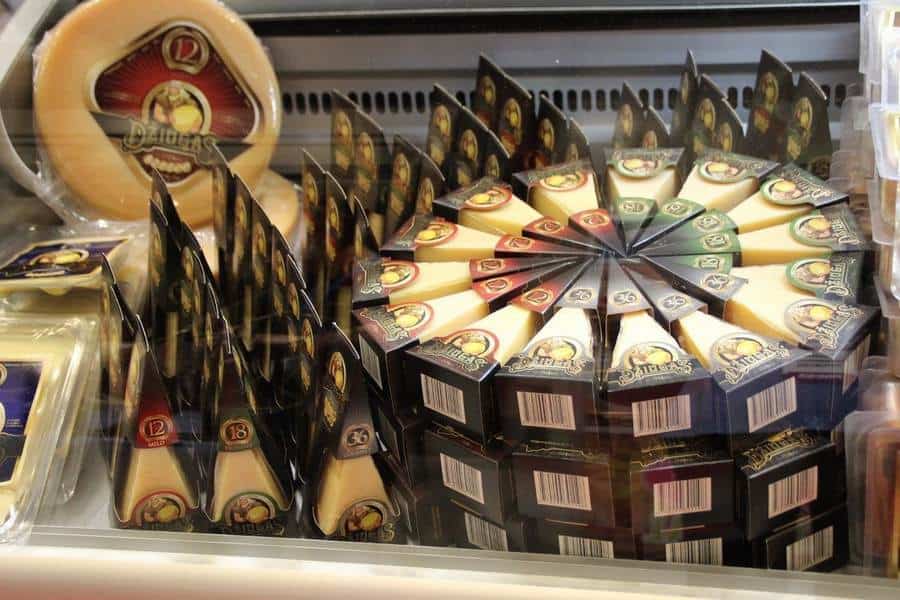 The most famous souvenir that one is asked to bring from Lithuania is amber. But amber is not the only thing this Baltic country is famous for. It is also famous for its textile industry. So if you buy here linen, wool and knitwear, you will not regret it. They are of excellent quality here. So feel free to buy linens and tablecloths.
The Lithuanian liqueurs and tinctures are very appreciated. Many of them are even considered medicinal. One of the popular drinks is Tryajos devinyares (999). Also famous is the unusual red champagne Alita. As a sweet souvenir you can buy candy company Rūta. They are sold in any of the stores in the traditional candy boxes, and in large shopping centers there are small shops where you can buy candy by the piece and by the weight. Here you can already buy unusual candy for fastidious sweet tooth and gourmands. By the way, gourmands can also buy local Džiugas hard cheese. More information on souvenir shopping can be found here.