Holidays in Halkidiki from A to Z
Halkidiki is a peninsula which is located in the North Aegean Sea and is famous for its shape like three teeth, it is the leading resort of mainland Greece. Tourists of all income levels and expectations may travel to Halkidiki in 2022. Hotels of high standard here stand side by side with apartments at reasonable prices. Beaches, entertainment and attractions of the resort are aimed at people of different interests and ages.
About the resort
Halkidiki includes three peninsulas: Kassandra, Sithonia and Athos. You can have a beach holiday almost everywhere in Halkidiki, except in the northern part of the peninsula. Cassandra region is a more youth-oriented place, where you can find beach discos and cheap accommodation.
Sithonia offers a more comfortable and relaxed holiday, suitable for families with children and those who value privacy. The prices here are 2 times higher than in Kassandra.
The northern part of the resort has no access to the coast, but it is interesting for its caves, traditional mountain settlements and the birthplace of Aristotle.
Halkidiki on the map:
The best time to vacation
The climate on the peninsula is Mediterranean. The weather is characterized by lack of clouds and rare rains. Halkidiki has its own microclimate. It is warmer in winter and not as hot in summer as in other regions.
The period from May till October is usually considered summer and you can enjoy the beaches in any of these months. However, the high season is in July and August, these are the hottest and most expensive months.
From late July and during the autumn months the peninsula is a time of harvesting and gastronomic festivals. With the onset of September the sea is not so warm, it's the beginning of a classic velvet season.
In spring (March-April) it is worth to go here for those who prefer to get acquainted with the sights of the region, rather than spend time on the beach. It's a beautiful time of blossoming.
Winter is perhaps the most unattractive time of year. However if you find yourself here on the dates of Christmas or other religious celebrations, it will be a unique cultural experience to experience the original traditions.
Going to Halkidiki
Halkidiki has no airport but the nearest airport is in Thessaloniki and the distance to the villages in Halkidiki is on average 100 km.
The airport of Thessaloniki and Macedonia is connected with Moscow, St. Petersburg and a number of other Russian cities. Non-stop flights are available only from Moscow, the price depends on the airline and the availability of connections. The cheapest price (from 150 euros) can be found with Aegean Airlines, flying non-stop from Moscow.
You can take a bus or a cab from the airport of Thessaloniki to the resort. Bus is the economical option. KTEL Chalkidiks SA operates buses from Thessaloniki bus station to more than 30 towns in Halkidiki. The cost and travel time depends on the destination. Price range: 3-20 euros, travel time: 1,5 – 3,5 hours. From the airport to the bus station there is a cab, the average price is 25 euros.
The transfer from Thessaloniki to Halkidiki by cab is faster and more comfortable, but will cost 30-120 euros.
Transport in Halkidiki
It is possible to move from one area to another or from sight to sight in Halkidiki by public transport, but it is not very well developed here, the routes are short and irregular, forcing to spend a lot of time on the road.
The best way to travel around the peninsula is by car rental, which costs from 15 to 50 euros per day. In this case, car rental in larger companies will cost more.
In addition to a car at the resort you can rent a bike – it's a good way to see the neighboring beaches or neighborhoods of the resort.
A cab in Halkidiki costs €0.7 per km during the day and €1.2 at night. Boarding is charged additionally – 1,20 euros. All vehicles are equipped with a meter.
Beach rest
The total length of the coastline of the peninsula, considered one of the best places for seaside recreation – more than 500 km. All beaches – state, the entrance – free. Use of deck chairs and umbrellas is paid separately – from 2 to 7 euros.
There are areas with sun beds, belonging to bars and cafes. In this case it is necessary to specify conditions of using a deck chair. At some it is the purchase of a drink. At others – a fixed cost, and if the order amount on the menu is less than the fixed price, the difference will have to pay extra.
Families with children should pay attention to Kallifea area of Kassandra peninsula, where the sea is the calmest and the sand is fine and white.
For a more respectable holiday – the beaches of Sithonia peninsula. There is also the beach of Kavurotripes for the lovers of privacy (there are no sunbeds and umbrellas there).
Where to stay
Prices for holidays in Halkidiki in 2022 largely depend on the level of the selected hotel and its location.
So, for example, a hotel on the 1st line in Kassandra you can find already for 40 euros, and a similar room in Sithonia will cost from 60 euros. No matter what part of the peninsula you choose a hotel in Halkidiki, you will always find interesting places to visit, the road to which takes a maximum of 4 hours.
When studying the booking systems, you should pay attention to the following options:
On Cassandra, the best in terms of value for money and comfort are:
Big Blue Studios, a 35-square-meter apartment for €43, located in Kalifaia;
A studio room for two at Summer Dream Hotel, 3 stars for 35 euros, located in Polichrono;
A room at Filoxenia Studios Hotel in Afitos for 2 guests;
A compact room for two at the Aparthotel Avatel Eco Lodge, located in Kriopigi.
On Sithonia, according to the same parameters can be distinguished:
Apartments in the complex Xalonia Seaview (Agios Nikolaos) for 60 euros per night for double occupancy (hereinafter also prices are for two people);
Room at Oreiades Guesthouse (Prafenon) for 63 Euros;
Studio in Chorostasi Guest House (Pratenon) for 65 euros;
A room at George`s House (Nikiti) for 45 euros.
By the way, even more economical accommodation options than the above can be found in localities like Nea Roda and Nea Kallikratia, located on the outer sides of the peninsula. You can rent apartments for a family of three as low as 25 euros.
Things to do and see in Halkidiki
Halkidiki is rich in various attractions, no matter in which part of the resort your hotel is located. Particularly interesting are:
Petralona Cave, the oldest human site in Europe, located in the central part of the peninsula;
Archaeological Museums in Olythos and Polygyros – here you can get acquainted with the history of the excavations and findings from the territories of the ancient settlements – Toroni, Stagira, Afitos;
The monasteries of Mount Athos peninsula. When planning a trip it is worth considering that women can only visit Zigu. There have not lived monks for a long time, and lost all traces of the greatness, to see only the ruins. For men are available Great Lavra, Vatoped, Dionisiat. By the way: tourists, regardless of gender can admire the monastic architecture during the cruise, organized around the coast of the peninsula.
Not far from Halkidiki it is worth visiting Mount Olympus, where you can enjoy picturesque scenery, as well as the cliffs of Meteora with monastery buildings on the tops.
Apart from visiting historical sites Halkidiki offers an extensive entertainment program:
Water activities – there are sporting equipment points all along the coast and the opportunity to ride a banana, catamaran, scooter, etc.;
Snorkeling and diving. The Aegean Sea is not as exciting for divers as the Red Sea, but there are dive sites and dive clubs that offer training as well. The cost of one dive – 45-50 euros, snorkeling – in the range of 40 euros;
The Fisheries Museum in Nea Mudanya will be of interest to fishing enthusiasts;
Water park, located 2 hours drive from the resort, equipped with a children's area, extreme attractions, a lazy river and a pool with an artificial wave. There is a small zoo within the park;
Magic Park, an amusement park located 15 minutes from the water park, which has rides for different ages and levels of daring of visitors. There's a Ferris wheel, extreme slides, scare room and more.
Shopping
It is considered that Greece does not have the best shopping in Europe but there are a lot of shopping malls, smaller stores, markets or supermarkets in Halkidiki, which will not bore the fans of this kind of pastime. Here you can find everything from souvenir trinkets to the famous Greek fur coats.
The main share of stores on the peninsula are still souvenir shops.
Among the souvenirs you can safely include:
Icons;
Gypsum statuettes and sculptures;
The subjects of Greek ceramics;
Coins;
Paintings by local painters;
Silver jewelry, bijouterie;
Natural cosmetics.
Among the edible gifts popular are honey, olive oil, Greek spices.
The tourist should go to:
Alexander store, Nea Moudanya town. There are a lot of souvenirs from 1 euro, as well as icons, statuettes, paintings. The choice is very rich.
Henna Tattoo – a boutique located next to Mount Athos in the town of Ouranoupoli offers guests elite class costume jewelry, the work of local artisans. The peculiarity of the place is that no one else will have a piece purchased here, since most of the goods are sold as one-of-a-kind items.
Icons Stelios, Uranupoli, specializes in selling icons painted by the monks who live here on Mount Athos. In addition to icons, other religious items can also be purchased here.
Mama Natura, the town of Hanioti, offers visitors various souvenirs and edibles. Hand embroidery, wooden handicrafts and Greek ceramics are often found here.
If serious shopping is in your interest, you should pay attention to the major cities in the region, where the centers for the sale of brand clothing are concentrated. By the way, there are two outlets with the same name: J&K Outlet. They are located in the small towns of Furke and Honeyot. Here you can buy clothing from previous collections for 20% of their regular price.
Speaking of discounts. If the period of the trip is in the second half of summer, you have a chance to buy things in regular stores (not outlet stores) at a certain discount, because at this time in Greece are seasonal sales.
If you want to do not only shopping, but also have fun, you should visit the Mediterranean Cosmos, near Thessaloniki. The center is considered the largest in the Balkans, on its territory there are more than two hundred boutiques, restaurants and cafes, an amusement park and an amphitheater.
Markets and supermarkets
If the traveler has chosen the place of his accommodation apartments or other option with its own kitchen and plans to cook on their own, then the local bazaars is the very place to go. It should be said that even if cooking is not in your plans, at least once visit here is worth it. Here you can buy products that are caught, grown or made with special care by local farmers.
In the markets you can buy fresh fish, meat, honey and nuts, as well as cheese and other dairy products.
With just 50 euro cents with you can buy a kilo of different fruits and vegetables, and for 2 euros you can buy a liter of local wine or a couple of rounds of matzo, home sheep cheese.
As for supermarkets, where you can also buy a variety of products, worthy of attention are:
"Masutis" (Μασουτις);
"Galaxias" (Γαλαξιας);
"Arvanitidis" (Αρβανιτιδις) and several others.
It is worth bearing in mind that on Sundays in Halkidiki stores, including grocery stores, do not work. The exception is small private shops.
So do not leave shopping on the last day, especially if it falls on a Sunday.
Local food and restaurants
Halkidiki, as any other region of Greece, has no shortage of gastronomic facilities. You will find an abundance of local restaurants and tavernas, regardless of the resort of the peninsula.
The list of viands reflected in the menu, as a rule, does not differ from institution to institution.
The distinctive feature of Greek cuisine, no matter where you have to have lunch or dinner: everything is healthy and almost always delicious!
In fact, the chosen institution will have differences in price, interiors and beauties, which can be enjoyed during the meal.
A Greek-style meal usually begins with appetizers called mezedes. Their main purpose is to whet your appetite. As a rule, they are pickles, olives, salty cheese, bread, eggplant pasta.
Greek Salad
The choice of salads, here, is great. And most of them are generously dressed with olive oil and seasoned with fresh onions.
Saganaki, the fried spicy cheese or marinated anchovies, is worth ordering.
Main courses are characterized by large portions and, as a rule, two kinds of side dishes at the same time. The menu offers a great variety of fish, seafood, and meat. On the assurance of experienced travelers, fish dishes on the peninsula is much tastier than meat dishes. But here, as they say, it is a matter of taste.
The choice of the first course is not as great as the second. However, there are 2-3 items on the menu of various establishments.
Desserts are quite traditional: baklava, cheesecakes, fruit salads, ice cream, sorbets.
What else you should know about a vacation in Halkidiki
Safety
The hallmark of Greece as a vacation destination is hospitality and almost complete safety, the only thing you should not forget about is to keep an eye on your belongings.
Holidays
Greeks are a nation that loves and knows how to celebrate. There are festivals that are held throughout the country, and there are those that are celebrated in a particular region. The following festivals are of interest in Halkidiki:
The theatrical and musical celebration in the village of Siviri, held in early July. In the open amphitheater every year there are various theatrical performances and musical events.
The cultural festival in Sani, held in July and August, its main idea is to introduce visitors to Greek art. It has an interesting location – on a hill, the top of which is crowned by a medieval tower, and the surrounding views are the sea, lush greenery and sky.
The Sea Festival in Nea Muadania is the main cultural festival of the region. Concert numbers and theatrical productions are performed by the best groups in the country. It takes place in July and August in the open-air summer theater on the Aegean coast.
The gastronomic festival in Nea Mudanya is a festival of sardines. The event lasts all through the second week of July. And at the end of it there is a large-scale festival, where you can taste those same sardines and white wine for free.
Another gastronomic feast takes place on the last day of July in Olinfos. It is dedicated to olives, and on that day every guest has the opportunity to taste the local fruit, as well as to try the tsipouro moonshine.
The beaches, the entertainment and the attractions of the resort are what makes a holiday in Halkidiki in Greece, memorable for different categories of tourists.
Greece, Halkidiki Peninsula – Reviews
A couple of years ago on our tourism market appeared bus tours to Greece, with excursions to European cities. Very tempting cost of such a tour (a total of 385), well, and the opportunity to visit several countries, and even dip in the sea.
Hello! This year, in principle, as in the past, not all so placid in terms of tourism, the border is closed, then open, the Russian Federation in the red zone and need to pass a few PCR-tests at your expense.
As we all know, Halkidiki has 3 "fingers": Kassandra, Sithonia and Mount Athos. This is the most popular and beloved by tourists "finger", with a well-developed infrastructure, a large number of hotels and everything else, for this reason, and we have not chosen it)))) Sithonia, the second "finger"-place, where …

It's the vacation season. Lovers of a comfortable beach holiday I recommend to go to the peninsula of Halkidiki. It is quite possible to buy a ready-made budget tour, but in this case I was lucky – right on the Aegean coast for over 20 years, my relatives live.
This time we are clearly late with the trip. It was hard to get away. But the tour was very cheap, we chose a hotel in Halkidiki, on Kassandra. In summer the prices there were twice as much. When we arrived, the hotel was already half empty. And the weather was nice!
Hello everyone! I love traveling. A few years ago I realized my dream and went to Greece. We started with the island of Zakynthos. And forever fell in love with this amazing country.

Greetings to all readers. Each of us sometimes dreams to be in a secluded and quiet place to rest from all our problems and bustle. And Halkidiki is the perfect place for a quiet rest in silence and solitude.
Hi all. Today I will finally leave a generalized review on my holiday in Halkidiki, its middle part, Sithonia. I got from Thessaloniki by bus from the bus station. It is generally not difficult, but it takes a lot of time.
I was in Halkidiki two summers in a row and it was the best choice. The food on the peninsula is very tasty, I gained 15 kilos in three months the first summer))) very tasty Greek salad, frappe and milkshakes. There are a lot of small towns on the peninsula, where there are a lot of clubs, restaurants, hookah houses.
When planning a vacation in Greece, read a lot of reviews about the best places. From the first views liked Halkidiki. The three fingers of Poseidon is a beautiful legend, beautiful nature. Among the three fingers the choice was made in favor of Kassandra, as there is the most developed tourist infrastructure.
Greece is a wonderful country for a holiday and there are many excellent resorts. But I chose Loutraki and now advise everyone I know to visit it. Before I had never heard about this resort, all I had heard of was Crete, Thessaloniki, Halkidiki, etc.
The Sanctuary of Asklepios the God of Medicine, the largest antique theater in Greece, the ancient stadium and archaeological museum – all this is it, the Ancient City of Epidaurus. Spa resort of ancient Greece. How to get there, how much it costs and what to see!
GOOD DAY! When traveling in Greece every self-respecting tourist considers it his duty to visit the healer of all Greece – Epidaurus, namely Asklepios.
Hiking tour. Ideal mountains for beginners. The weather is changeable. The white nights. The snow in August. The clearest water. Mosquitoes. Active recreation.
Hello! Continuing to write reviews about my travels. This time I want to tell you about the mountain system Khibiny. I am pleasantly surprised that in addition to my review of Khibiny there are already reviews on irec.1. Why is it worth going to Khibiny? 2. What should I take with me? 3. How to get there? 4. A map of the area 5.
Would you like to be on the edge of the world? Be between heaven and earth? Feel like a bird? Well, I did!
Hello, everybody! Ah, Greece. Being in this country of temples and flowers, and that is the impression I had, then, to be honest, I got a little tired of the endless fables of guides about the divine origin of the Greeks, and how proud they are of that, and the unprecedented beauty of shrines, etc.
A unique atmosphere, amazing people and a huge number of attractions. Of course, we are talking about Athens! Where to go, where to buy food, how to get from the airport to the center? I will tell you everything!
Greetings to all lovers of travel, as well as just curious peeps! Here ends my 40-day "vacation with learning" in Athens. Emotions – a carload, thoughts – a cart. I want to share with you all as soon as possible, because I really have a lot to tell.

I have repeatedly written that almost all of Greece – it's mountains, mountains and mountains again. Ranges, mountain ranges, steep slopes. Our tall tourist bus bravely creeps along the serpentines, snaking narrow roads sometimes at a speed of no more than 30 km per hour at an altitude of 3000 meters above sea level.
The first time we were in the Peloponnese at the end of December, because we were celebrating New Year in Athens and decided to diversify our city vacation. It was an organized tour with a great tour guide (no contacts, alas, we took an ad in the square in Athens and did not regret it!).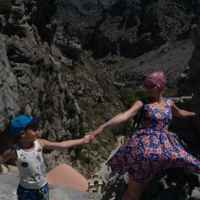 The Gorge of the Winds or the Gorge of Flapping Sails in Crete is a place worthy of attention for tourists coming to the peninsula. Everyone takes away with them unforgettable memories.
Good day, everyone! Today I will share my memories of a wonderful place in Crete: Kourtaliot Gorge. This place has several names, all of which are beloved by tourists.
Preveli Monastery. An interesting tour. A miraculous cross, a holy spring, a mini zoo and a view of the Libyan Sea.
Hello everyone! My review of Preveli Monastery which we visited on a sightseeing trip to the south coast of Crete. This Monastery is on the hillside and from its square there is a beautiful view to the Libyan Sea.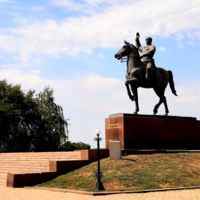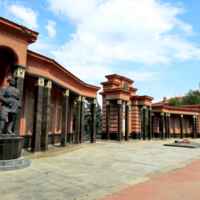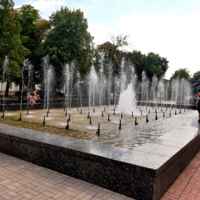 A small, modest town that the whole world learned about in 2014. From humble regional center to the capital of the Republic. Is there life in Lugansk, what to visit in the city, what to bring from the city with you.
Hello! Let me start by saying that I was born in Lugansk region. As a child I've been a few times in Lugansk, and at age of 15 I entered college and moved to Lugansk for good. Since then I consider Lugansk my native city. How not to count? I lived in Lugansk for 11 years!