How to get there, where to stay, what to see, what to do
Do you know what success means? Success is not just a good deal or a bargain. Real success is when a small village, where fishing was most developed, turns into a world-famous major metropolis. It is a place where tradition and progress, history and science, work and entertainment intertwine. All this is the city of Shanghai.
Shanghai – getting acquainted with the financial center of China
The literal translation of the name from Chinese can be interpreted in two ways: "entering the sea" or "city on the sea". Both are natural and logical, since one of the largest seaports is located there. Of course, there are also more romantic names. For example, the Western representatives referred to Shanghai as the "Paris of the East" or the "Pearl of the East. This is not surprising, as the number of luxury boutiques in this city per square kilometer is impressive. Shanghai is also among the fashion capitals on a par with London, New York and Paris.
Where is it
The geographical location of Shanghai is very interesting. If you look at the world map, it is located in the east of China in the delta of the Yangtze River. But in China itself it is considered a southern city. This is due to the fact that it is located a little south of the river itself. The Yangtze has a tributary called Huangpu, which divides Shanghai into two parts. To the east, it is washed by the East China Sea.
Map of Shanghai
A bit of history
The history of Shanghai is very interesting. One could write more than one book describing the process of becoming this city. In the beginning, the area in which modern Shanghai is located was just a part of the Sunjiang County. It was governed by the government of Suzhou. As time passed, Shanghai became a seaport thanks to its access to the sea.
1553 is considered the year when Shanghai became a city. That's when a fortress wall was erected around it. In the 19th century, the city thrived in trade with Western countries. It was a sin not to use the Yangtze River for this purpose. In 1842, Shanghai was opened to foreign trade as one of the treaty ports, which was documented in the Treaty of Nanjing between China and Great Britain.
In 1937, the city was captured by the Japanese. A "Great Road" government (puppet government) was established here, which fully supported pro-Japanese sentiment. It lasted until the end of World War II. It should be noted that at that time Shanghai was almost the only city in the world that opened its doors to Jews. Unfortunately, it didn't last long, and in 1941 special ghettos were created after all. Since 1949, the city fell under communist rule.
Until 1991 it was one of the most important industrial centers of China. After 1992, the leadership of the city takes a course on attracting investment through the reduction of tax rates. This strategy brought its results because the economic growth of Shanghai is impressive to this day and is called "Chinese economic miracle".
How to get there
The easiest way to get to Shanghai from world capitals is by plane. Let's look at a few examples:
Ukraine . You can get to Shanghai by connecting flights from Kiev, Dnepr, Odessa and Lviv. Direct flights almost never occur, the average flight time from Ukrainian cities is 14-30 hours, including transfer time. Land connections are currently irregular and take about 6-7 days;
Russia . Air service offers both direct flights to Shanghai and connections. So, you can take a direct flight to China from Moscow (8 hours) and Vladivostok (3-4 hours). However, it is possible to fly from St. Petersburg, Chelyabinsk, Kazan, Murmansk, Novosibirsk, Perm, Yekaterinburg and Rostov-on-Don with connection only in 9-30 hours. As for railroad connections, from Moscow you can take train No. 3/4 Moscow – Beijing via Mongolia or No. 19/20 Moscow – Beijing via Manchuria. The train is 2-3 times cheaper than a ticket, but you still have 5-6 days to travel;
Belarus . It takes 17-18 hours to get to Shanghai from Minsk with connections. Other types of land and air travel are in fact changing in major cities in Russia and Ukraine;
Kazakhstan . Indirect flights are available from Almaty, Astana, Karaganda lasting on average 8-15 hours. There are no direct flights. You can travel by train from Kazakhstan to Shanghai via China or Russia, it takes 6-9 days.
Weather and Climate
Humid subtropics is a characteristic of Shanghai's climate, though this area has some monsoon features. Regardless of the time of year, there is a lot of rainfall. Snowy winters and rainy summers bring enough water to grow crops around Shanghai. If you tolerate the heat well, this is a city worth visiting in the summer. The average temperature during the summer months here is about +32 °C. Although due to the high humidity created by the numerous precipitations, it is quite stuffy here at this time. In winter the temperature can drop to -10 ° C. For those who like the golden mean, it is best to visit Shanghai in autumn. Dry and sunny weather will be conducive to long walks.
Perhaps the only trouble you might encounter is typhoons. They can happen during the whole year and it's hard to predict them. But even if they do, you needn't worry much, because they don't do much damage to the city. In such a case, the leadership simply decides on the temporary closure of airports for passenger safety.
Main attractions
The main attractions of Shanghai:
"Pearl of the East" – a TV tower height of 468 meters. There is something for everyone here: viewing platforms with glass floor, cafes, stores and elevators that take visitors from the ground floor to the top floor in record time – 40 seconds;
Naturally, it is impossible to list all the sights. The diversity of the city is the reason why everyone will find something to their liking.
Cultural Sites
A number of buildings can be classified as cultural attractions in Shanghai:
The International Exposition Center (SNIEC), a huge exhibition complex where fairs, exhibitions, social and corporate events are constantly held. It is here that the largest automobile event in China, the Shanghai Motor Show, is held each year;
Did you know? There is an interesting phenomenon in this city: the marriage market. It is a kind of offline dating platform. In the central park, prospective grooms, brides, their friends and relatives put up dating ads, as was once the custom in our latitudes in the newspaper sections.
Sacred Sites
The current Jade Buddha Temple is not just a shrine, it is also very popular with tourists. The Sitting Buddha statue from this temple is world famous for its height (about two meters) and beautiful inlay (gold and precious stones).
Seventy monks are in the temple all the time to keep order.
There are not many rules, but visitors and tourists must follow them rigorously:
When entering, you must change into disposable slippers (included in the ticket price).
No photography. But we must admit that this point is the most difficult to comply with, so it is regularly violated.
The observance of silence. In religious buildings of all faiths, silence is encouraged and noise is prohibited.
Sobriety. It is unacceptable to come to the temple drunk (even a little). Buddhism condemns the use of alcohol.
Observing these simple rules, visitors to the temple can feel peace and touch a piece of Chinese history and culture.
National Parks and Reservoirs
Shanghai is known for its natural areas.
Yu Yuan Garden Park, Garden of Joy . In the 16th century the son of a court minister ordered this garden to be laid out as a gift for his father. It took 18 years to create it, and in the XIX century, British colonial troops almost razed it to the ground. But China honors its history. A meticulous restoration in 1956 made the garden what we see it now. Beautiful, though artificial, hills, ponds in which goldfish swim, stone structures, small bridges, fanciful arches – and all this against a background of rare species of plants and trees. The only downside is the large number of visitors;
Lookouts, towers, bridges
In addition to the Pearl of the Orient, there are a large number of places in Shanghai with beautiful views. Here are some of them:
Shanghai People's Heroes Monument – For tourists the monument itself is unremarkable, but for Chinese people it has a special meaning. It is worth a visit as it has a great view of the river;
Posh views and historical sites are not the only things that can interest a traveler in Shanghai.
What else can a traveler do?
If you are not a fan of museums and standard tourist spots, Shanghai has other things to do. It should not be forgotten that this is where the Formula One Grand Prix are held. An incredible number of stores for every taste will easily satisfy even the most demanding shopping lovers. Cinema, opera, theater – everyone will find entertainment to his liking.
Active Recreation
Active recreation in Shanghai is represented by a large number of entertainment centers, namely:
Water park "Playa Maya" – steep rides, large swimming pools and cozy cafes in an area of more than 200 square kilometers;
There are also plenty of travel agencies and private guides in Shanghai ready to give you a tour of the city and its most secret nooks and crannies.
Nightlife
Nightlife in Shanghai is diverse and unusual. The best nightclubs in the city, according to tourist reviews, are considered to be:
Kung Fu Komedy Club – stage for standup performances in Chinese and English, restaurant, and bar;
VUE Bar – lounge, quality bar and an incredibly beautiful view from the panoramic windows;
Bar Rouge – rooftop with a beautiful view, expensive interior and positioning;
M1NT – dancing, guest stars, select audience;
Jazz Club at the Peace Hotel – atmospheric, delicious food and, of course, live jazz.
Night clubs, restaurants, karaoke, discos and bars – you will certainly not be bored.
Where to stay
Nowadays, if you have Internet in your phone, you can easily find a place to stay. But we suggest following the rule: "Who owns the information – owns the world. Let's look at the main options.
Hostels
The highest rated hostels in the city, according to tourist reviews:
Shanghai Haowanmei Hostel – located near Suzhou Amusement Park and the International Exhibition Center. Guests are offered luggage storage and free Wi-Fi. The rooms have everything you need for a comfortable stay. And in the morning, they offer an Asian-style breakfast;
Shanghai Meego Qingwen Hostel – Jinan Temple is about a mile and a half away. Each room at this hostel has air conditioning and a bathroom;
Shanghai Hidden Garden International Youth Hostel – You can check in here even with a pet. The hostel also has a garden with barbecue, a cozy library, and a room with games for children.
In general, there are a large number of lodgings in Shanghai that allow you to find the ideal accommodation according to your needs, abilities and personal preferences.
Hotels
The most expensive and famous hotels in Shanghai are rightly considered:
Stopping your choice on them, you are guaranteed to get the highest quality of service and comfort. If you are limited in money, then the hotels are at your service, the pricing policy of which is pleasantly surprising:
There are no excesses, but it is clean, cozy and friendly staff.
Public Transportation and Car Rental
The public transport system in Shanghai is large and convenient, and is constantly evolving. There are two major international airports. One of the fastest growing subways in the world, which includes 15 lines, one of them is ground. Stations are announced not only in Chinese, but also in English, which is very convenient for tourists.
If you are not a fan of the subway, there are 1,100 active bus routes at your service. There are special rush hour routes, night and tourist buses, and special commuter lines.
Note that each subway line has its own schedule, listed on the website and inside the building itself. It is also worth knowing that the last trains leave the stations already at 22-23 hours.
20 ferry routes will take you to many parts of the city by water. And ships can also take you to other cities such as Wuhan, Chongqing, and Jiujiang.
Shanghai also has a high-speed streetcar and a super high-speed magnetoplane train (magnetic cushion train).
As for cabs (both cars and rickshaws), they are a little more expensive than public transportation, and you can catch them by voting on the streets.
If you are an experienced driver, you can easily rent a car by reserving it in advance. You can also book a bicycle, which is a very common mode of transport in China.
Where to eat and what to try of "exotics"
The Bund is the area of the best restaurants, although in Shanghai it is not a problem to find a place where you can eat well. Since the city is modern, it is not too difficult to find European cuisine here. But fans of "exotics" should try "century-old eggs", rice noodles, mossy crab and red pork with spices.
However, it should be noted that Shanghai cuisine is characterized by the addition of a large number of spices. In this regard, people who have gastrointestinal problems should be careful and cautious.
Communications and Wi-Fi
Internet in Shanghai, as well as in all of China, is available, although it is somewhat limited. Europeans should remember that almost all services Google, Instagram, Facebook and WhatsApp do not work there. But with Yandex, Skype, VKontakte, Odnoklassniki, Mail.ru and WeChat there will be no problems. Restaurants, hotels, and airports have free Wi-Fi almost everywhere.
What to bring.
Almost all tourist spots in Shanghai have souvenir shops, bazaars and stores.
The most in demand are souvenirs with Chinese symbols, a variety of paintings, beautiful antiques, products made of real bamboo and shells of varying complexity, Chinese pearls, souvenirs made of dough, woven straw products, women's Qipao dress, porcelain, Shanghai silk. The choice is great, and the prices for every purse.
No matter what you bring from Shanghai. The main thing is an experience that you will never forget.
Shanghai
Home All World Asia China Shanghai
Shanghai Travel Guide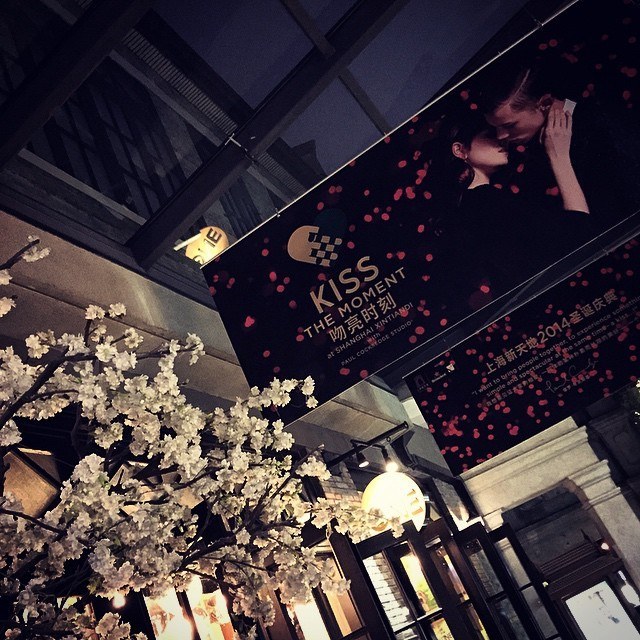 Shanghai Facts and Figures
Past and Future
Exhibitions, conferences, festivals, fashion shows, economic symposiums and international conferences – this is the daily life of Shanghai, the ant city where skyscrapers stand side by side with pagodas and slums, and where modern Europe meets ancient Asia.
It even has its own "Manhattan" – the Pudong neighborhood with its crowning "Oriental Pearl" TV tower, from whose observation deck one can enjoy a magnificent view of the city. Those who want to go even higher can do so at the World Financial Center, where the glass floor is 490 meters above the city. Get a closer look at Shanghai during a three-hour boat ride on the Huangpu River to its confluence with the Yangtze. There are many parks here, but a noticeable inconvenience is the constant smog, which the government has been fighting hard for decades.
On the whole Shanghai is a pretty comfortable metropolis with an extensive transportation system and "space" trains on magnetic suspension, with multi-lane highways, lots of motorcycles and bicycles and special pedestrian zones.
Maps of Shanghai
To avoid getting lost and to navigate perfectly in Shanghai, we recommend downloading offline maps, which work without the Internet and will save you a lot of nerves. The app will also tell you where to go, what to try, and the places around you.
How to get around?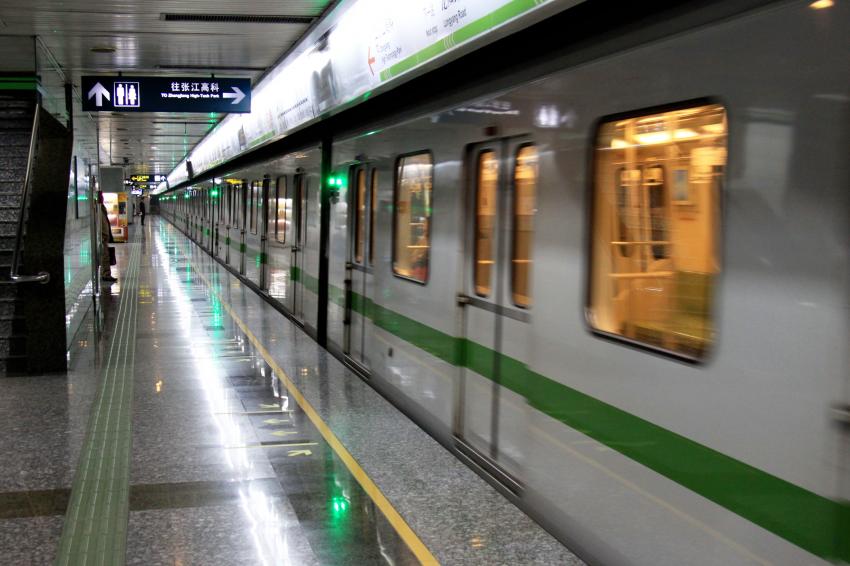 The Shanghai subway is clean, cheap, convenient and comfortable in terms of sightseeing coverage and navigation (all duplicated in English). There are a total of 12 lines for you, including a branch to the airport. Changing from branch to branch can sometimes take a long time.
There are over 60,000 cabs in Shanghai! Cabs are easy to catch on the street, but it's not always possible to explain if you don't speak Chinese. Cabs are required to use meters, but cab drivers don't like to include them, so either clearly negotiate the price or choose another cab. We recommend calling via the app – Didi.
Shanghai Airports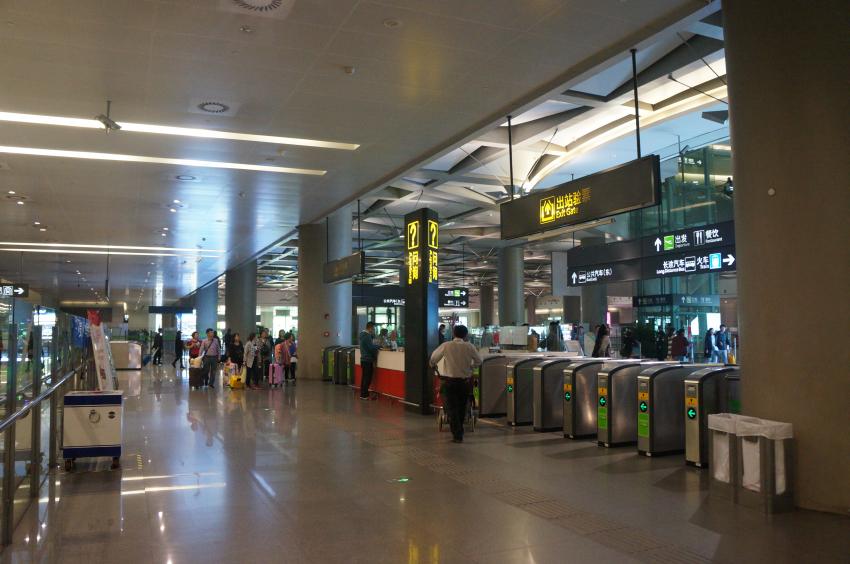 Reviews from social media
" DISNEYLAND I can't say it was a childhood dream. But it's worth a once in a lifetime visit . . . . "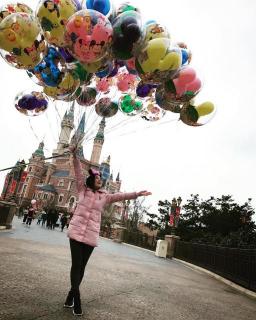 " The usefulness of the post. So, wherever you're going – for cheap airfare, go HERE. You simply can't find cheaper tickets. It's a search through a bunch of agencies and airlines, and you choose the best of the offers. Convenient.
Already bought a ticket? Great, then run to download the citywalks.me app, which will allow you anywhere in the world to quickly and easily navigate the area.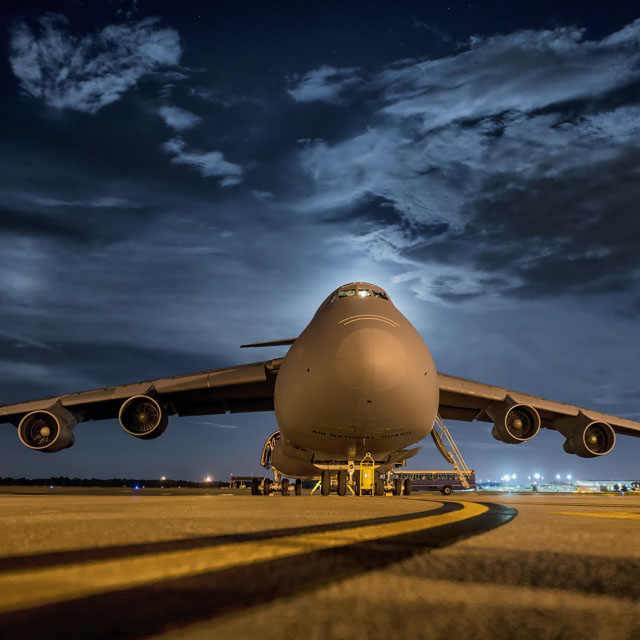 "The other day, we were like fly-in tourists Finally, after a long time, we went to the highest skyscraper in Shanghai, Shanghai Tower. In a minute we reached the 118th floor and . Well such ♀️ dirty windows spoiled all the beautiful daytime view and the city decorated with lights, the evening view of course once in a lifetime you can go to see, but no more ✌ "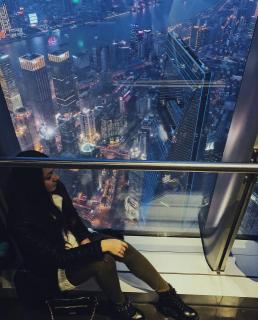 " Shanghai is a city that is truly stunning with its combination of China's modern industrial look while keeping its historical roots in the small streets and everyday life of its citizens. Shanghai is friendly with old fanzas and futuristic skyscrapers. "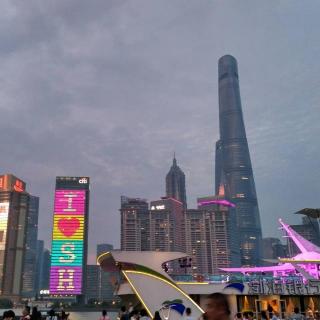 " This pre-holiday Thursday, I'm sharing with you a new location for photos, posing, partying and good cheer! ) Chedun Film Park 〰 中国上海市松江区车墩镇北松公路 4915 号 4915 BeiSong highway, Chedun Town, Songjiang district, Shanghai ⏰ Hours of Operation: Daily 8:30 – 16:30 Entry fee 80 yuan( $12). Who knows how to use the app 大众点评 buy a ticket there 24 hours before visiting, there will be a discount! 〰 This place pleases and surprises me even for the 4th time (if it wasn't located 20 km away from the center, I would come more often). Shanghai Hollywood, Old Shanghai, this place is the movie studio where a good half of Chinese soap operas are filmed. If you've seen the latest (maybe not the greatest) movie starring Orlando Bloom, "Shanghai Carrier", he rides his motorcycle through the streets of this park. The thing is that the park has built the main landmarks of the city of different eras in life-size. There is the Nanjing Street of the 20s, full of stores with store windows in Russian, chic mansions from the time of the French colonization, exact copies of those modestly aging in the city center, surrounded by modern skyscrapers. Here you can take an old streetcar from the 17th-century Chinatown to an elite 19th-century English villa, famous in the past for the loudest Gatsby-style parties. 〰 If you dream of meeting a TV star( albeit most likely a Chinese one) or want to walk along a deserted Nanjing street not overcrowded with tourists, you are definitely here! "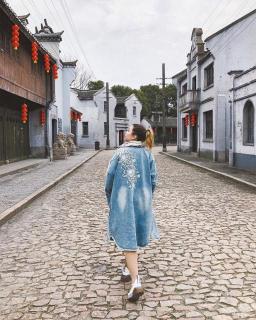 " Here it is again – the Pearl of the East – the third tallest tower in Asia))) locals and tourists love it very much, despite the fact that it looks like from space movies from the 90s)) And indeed, we also quickly got used to it and now have a large number of its photos in the archive) really liked the miracle attraction glass floor at a height of 267 meters! Lovers of tickling the nerves, be sure to visit) But before you get there, you need to take part in another exciting Chinese attraction – the queue! But on the whole chic, money spent on tickets not a bit sorry) "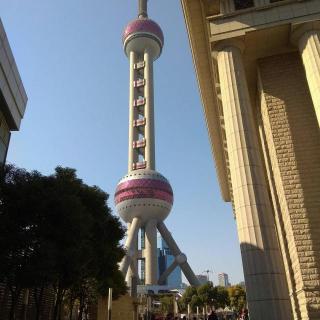 " Such a modest pavilion prepared for Expo 2010, and now it has the Chinese Art Museum ⛩ I was more impressed outside than inside. Good thing the entrance is free every day 2500 tickets are given out. But it's still worth going there, if only because of the view of the other pavilions and Shanghai China Art Museum Metro Station 8 Line "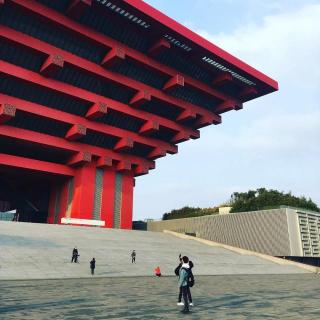 "Let's start with the fact that as soon as we arrived at the entrance were a lot of people and as it turned out there were no tickets (even though we arrived at 8 am) I certainly panicked, tears Artem dragged me to another ticket office, apparently some guy noticed my reaction, came and offered us tickets at twice the price! Usually a ticket costs about 400 yuan, we were offered for 700! We had no choice, we had to take it, Disneyland was the first reason why we chose Shanghai. We really had a lot of expectations. I will not write about them. The downside is a couple of them: – I will write about them in details. -Huge queues at the rides, you have to choose if you want to walk and see everything or wait in line for half a day (you can take a Freepass, but we do not understand where and you need to download Disney Resort, very convenient to watch the queue); -Open prices for souvenirs, they are all original and very high quality, I want to buy everything, but it does not come cheap; -Need to book tickets in advance, then you will definitely have no surprises at the entrance (but this is probably our fault). I liked it a lot It's expensive, but worth it! ☝ Do not skimp on your experiences, this is something you will always remember and it is priceless ❤️ "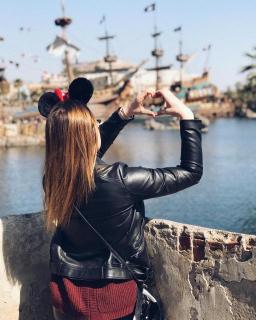 " Despite the rain and cold, the first thing we did after arriving in Shanghai was to head downtown. The time was 04:30. "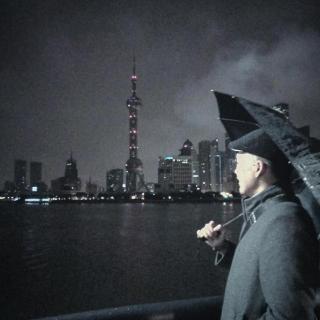 " You think it's an ordinary lamppost? It's not that simple. It turns out to be a fultifunctional device with WiFi, electric car charging, navigation map of the city, video surveillance system, "panic button", etc. Standing in Shanghai on 大沽路 "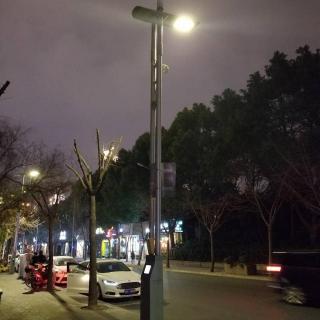 " As I'm getting ready for my next trip, I remembered that I didn't tell you anything about A should have. It's a very interesting city. If you have a choice of arriving between Beijing and Shanghai: definitely choose the latter. It's a very contrasting city, very interesting. The city is very interesting and interesting because of its skyscrapers you sometimes have the feeling that you are somewhere in the old New York but it's still China around the corner. Separately, of course, we should mention the business district (the last pictures). Here you look, especially in the evening, and it feels like you're either on another planet or somewhere far in the future. "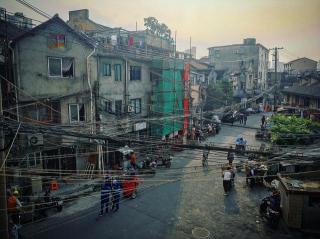 " Another thing I love China for – are the Chinese parks. In Shanghai they are at every turn. It's always different there, and it's always very beautiful. Every tree, bush, well-groomed everywhere is clean, lots of beautiful flowers, swans are swimming, and in the largest parks there are lakes where you can go boating. There are parks in every neighborhood. 2, 3, 4 and sometimes even 5 parks in large areas. Here families come Leisure all day long, eat delicious food and just enjoy life:). I wish we had such parks in our country Places where you can relax, listen to birds singing and just relax after work "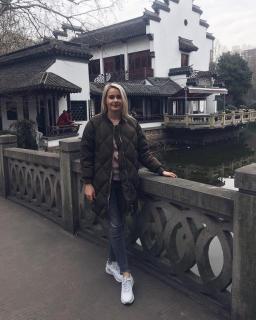 " Our journey to Shanghai began at Beijing Central Station. Evening. …It's dark… All Chinese people. And a strong feeling that from all over the country the Chinese have gathered at this station on this day. With the words "I'm scared, I'm not going in there" we headed into the thick of it. Surprisingly everything went very quickly, although there were a lot of people. And then the second shock – 12 hours in the cabin train, and we are two Europeans in 18 cars. Surprisingly, we survived it twice. But the Russian-Chinese phrasebook is an absolutely useless thing. At least in our case. I had been waiting to see Shanghai for months, but when I first saw it, I was scared. It was overcast, and it looked like those gray clumps were going to fall on us.
We learned a lot of curious things. It turns out that the best husbands are men from Shanghai (only China is concerned), because they can do everything. They themselves cook, clean the house, and a woman can quietly walk with friends. Nanjing Street. Pedestrian.Main shopping street in Shanghai
Here we were convinced of the curiosity of the Chinese, which we had heard about earlier. We stopped near a huge building and started looking up and taking pictures of it. When we turned around, we found a couple of Chinese people standing next to us, also looking up. And it's definitely worth a walk around the evening city. "