Grandma and Grandpa Rocks on Koh Samui – viewing platform and rock penis
Grandma and Grandpa's Rocks is perhaps the third most popular place on Samui for tourist guides to visit on all sightseeing tours of the island without exception.
First, it is located a hundred meters from the ring road and here just a sin not to wrap, second – it is a beautiful view of the sea surrounded by wild rocks, and thirdly, the place has a slightly obscene view, which really likes tourists and their relatives. Well, who wouldn't like to laugh at a photo where you are standing in the arms of a stone dick?
Grandma and Grandpa Stones
The Granny and Grandpa Stones (or Hin Ta Hin Yai Rocks) are a large cluster of huge boulders on the beach, one of which has been lucky enough to be frozen forever in the form of a huge, erect penis. As with Valentine Stone, here you have to get fancy and twirl around the rock to catch "the right angle.
People, of course, in the excitement pose, taking decent and indecent poses, anticipating the moment when they will show their photos in the office. The area of the rock piles is about 150 square meters, sometimes swarming with people during daylight hours.
To keep the stone dick from sticking out alone, a steamy landmark in the neighborhood has been looked out for him. The grandmother had been pegged in a sloping rock (to the left of Grandpa, if you look at the sea) that bifurcates closer to the water and there, in a crevice, in the place where the rocks split, they solemnly assigned a conditional vagina.
The waves of the sea quite realistically added color there, but still, without a clue, it would be quite difficult for a normal person to draw an analogy. Moreover, almost half of those who visited Hin Ta Hin Yai never found Babushka, although they honestly looked for her everywhere. In the pictures, she is about where a man in a yellow T-shirt is bored in the distance. That is, Babushka is not next to Grandpa, but on a nearby rock, where people usually sit and rest.
The lookout is not very popular here, because the view is not God knows what, but a view nonetheless. You need to go back to the alley, find the sign ViewPoint, pay 10 baht and climb the stairs to the stone. From up there you can see the Grandma and Grandpa rocks and Lamai beach stretching toward Chaweng. You can go, it won't be superfluous. By the way, from the observation deck you can see well known Lamai Viewpoint, in the distance on the mountain, and the view is much more interesting from there.
This place, of course, has several legends, but something tells me that there is a guide. In a very short retelling, each of the legends boils down to the fact that love must be cherished. The most interesting and vital, in my opinion, is about old parents who were sailing on a boat from one province to another to find a bride for their son and were caught in a storm off the coast of Samui. They perished and became an eternal monument to pure intentions.
If you omit all the things people have invented and built, we can say that Hin Ta Hin Yai is one of the most beautiful places on the island. It's a very Samui place, authentic and photogenic. In sunny and windless weather you can take nice pictures and you are guaranteed a rush of positive emotions. It's somehow very special to just sit, listen and look at the sea.
For 10 years I spent 16 hours a day making guidebooks for travelers. 1.5 years ago I was almost killed by a stroke. I survived, but am struggling with paralysis.
If my blog helped you, I would appreciate a donation. You can pay with a card of 100 rubles, 500 rubles or 1000 rubles.
This place reminds me something of the Thai piers, going far out to sea, which are usually walked on by locals and foreigners.
At the beginning of the post I wrote that it is the third most popular place on Koh Samui. First and second, in my opinion, are Big Buddha on Bang Rak and Namuang Falls on Taling Ngam, respectively. Click right away so you don't forget to see these places too.
Information for visiting
Entrance to the stones is free. But due to the fact that the place is super-duper popular, the whole area for 200 meters around the rocks is built with stalls, booths, bars, restikami and other buildings of the official weaning of money from the tourist. Parking is available and they are paid – 50 baht for a car and 10 baht for a motorcycle.
If you get here before 8 am, all the stores and stalls are closed, there are no people and parking is free. Also, if you drive a little farther and almost bump into the rock, there will be Rock Bar parking, free for visitors. Think of it as a tip-off. It's such a penny saving though
Visiting the observation deck is 10 baht.
The best time to visit – dawn or noon. At dawn it is deserted and the sun rises, at noon – the best colors by the sea. It is better to come by scooter – very dense flow of people.
For car owners, another tip: don't turn around at the sign to the attraction so you don't get stuck in the crowd of people. Nearby there is an exit to the Ta Yai Hat Bar and Resort parking lot, there is more space, cheaper and easier to park. True, it is a five minute walk to Hin Ta Hin Yai.
Grandma and Grandpa on Samui. What is it? Or how to make a calling card of the island from nothing
June 2016 (updated: 09.04.2019) 3
Even we, who have never had much interest in this island, have heard about the legendary Grandma and Grandpa rocks on Samui. What are they? Why does everyone think some stones are a symbol of Samui? Samui? We visited this mysterious place and hurry to share our impressions.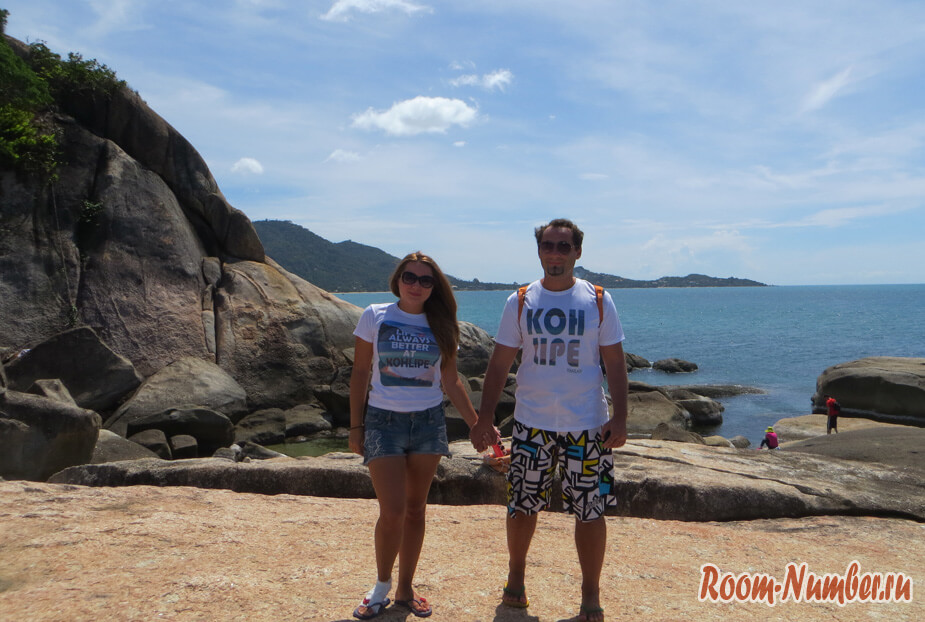 We came to the stones Grandma and Grandpa
The Hin Ta Hin Yai stones.
Here they are called Hin Ta and Hin Yai in Thai. Located on Lamai Beach, the sight is two stones, shaped like a female and male penis. The male protrudes on top of one of the stones, and the female can be seen only from the water.
Photo: Stones Grandma and Grandpa Photo of the beach at the foot of the stones (you can take a dip)
Thai legend
A local legend says that an elderly couple had a son. When he grew up, he needed a bride and the kind grandparents took a boat in search of a soulmate. But they got caught in a storm and died here, after which they turned to stone.
The "vip" tourists even examine the stones from the water
Such a sad story was invented by someone, which now attracts hundreds of tourists every day to come to this place and take original photos with the man stone, thus showing friends in social networks that they are really on Koh Samui. And the place is really picturesque. As always a lot of stones scattered in the sea.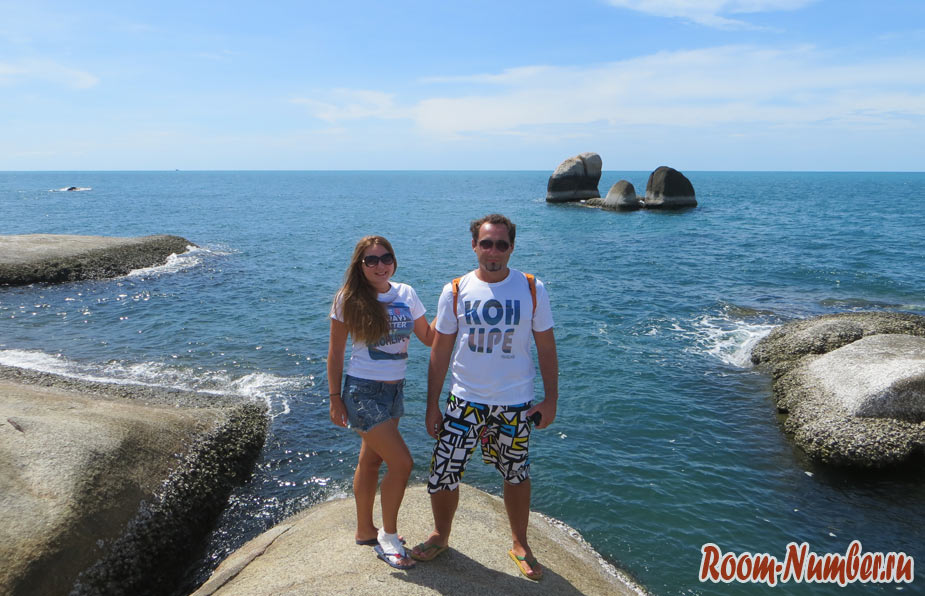 On one of the thighs "Grandma.
When is better to come here, in the morning or in the afternoon, I do not know. We were in the morning and it was decent crowded, although it's low season. In the evening would also be romantic and, if you're lucky, secluded.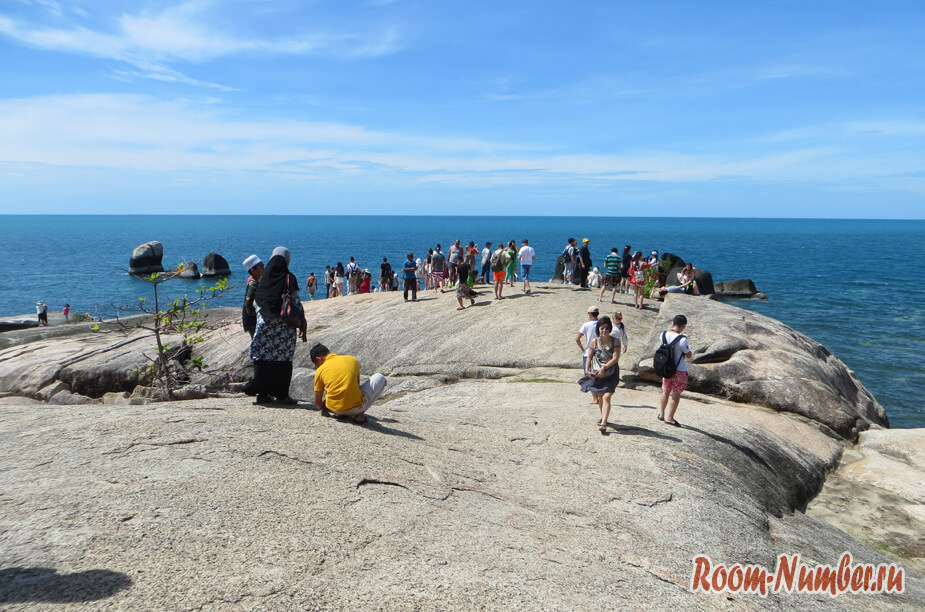 There are guided tours in the morning, including Chinese tourists.
Admission is free. Parking is 20 baht.
A strange attraction "Grandma and Grandpa Stones on Samui. You could say they made a tourist attraction on an empty place, which is now considered the main symbol of Samui. A whole market with souvenirs, clothes and ready-made food has sprouted up on the approach to the attraction. The place is really beautiful though, we loved the views.
To come here especially from the other end of the island, I think there is no point, because Koh Samui has enough beautiful views. But if you find yourself in the area of Lamai, stop by.
A visit to the Stones is usually part of any Koh Samui sightseeing tour.
How to Get There
The Grandmother and Granfather Stones are located on Lamai Beach, on the far right. Learn more about how to get there on your own and travel prices:
From Lamai, if you live in the central area, you can take a red sungteo for 20 baht. Going in the direction of Nathon. If you stay in the southern part of Lamai Beach, such as the hotel KT Residence, you can even walk in 20 minutes. Walking on the beach is not very comfortable because of the loose sand, it is better on the road.
From Chaweng go towards Naton. The fare is 60 baht.
How to get from Maenam and Bophut? Only with a transfer on Chaweng. The fare is 110 baht (50+60) per person one way.
Grandmother and Granfather Rocks on the map

Things to see on Koh Samui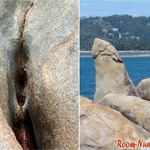 Grandmother and Grandfather Rocks Most Popular Attraction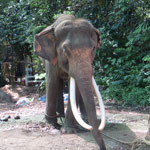 Elephants and Waterfall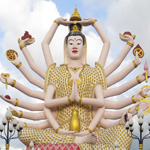 Buddhist, Chinese, and Orthodox Temples and Statues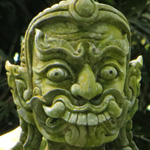 Magic Garden Balinese style sculptures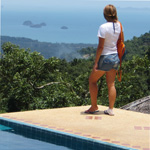 Viewseeing Pavilions Gorgeous Views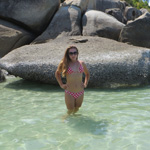 Tongtakian Beach Most Beautiful Beach

Koh Samui Excursions

1 Day Sightseeing Excursion

Tiger Zoo & Aquarium A great trip for kids

Paradise Park Animal Farm

Jungle Safari Jeep Ride around the island

Elephant Ride 30 minute elephant and monkey shows

Ang Thong Marine Sanctuary Islands Tour