Gran Vía is the center of Madrid's shopping and entertainment life
The Gran Vía, whose name in Spanish means "big road", is one of the most visited places in Madrid. Not only architectural buffs will find it interesting, but also for shoppers who love bargains and bargain-basement shopping.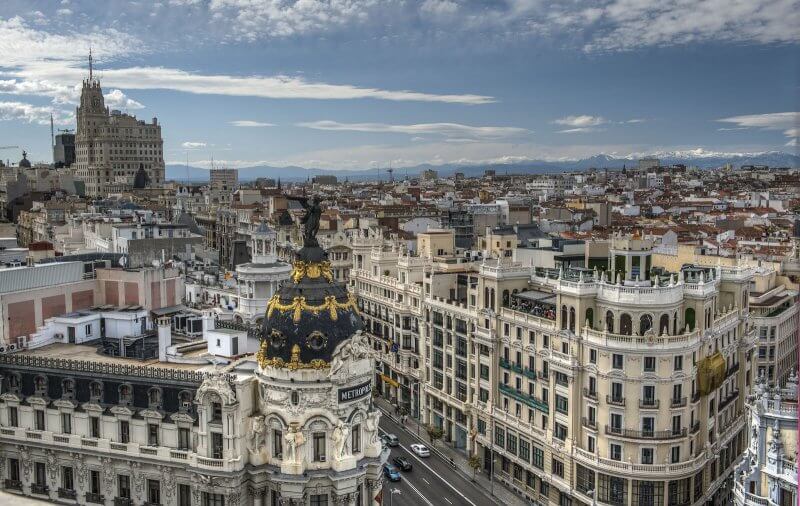 General Info
The Gran Vía is not just the main street of the Spanish capital but also its main symbol. Since its founding in the first half of the 20th century it has become one of the busiest corners of the Spanish capital, attracting visitors from all over Europe. And this is not just because of its abundance of retail outlets, but also because of its unusual architecture, which combines several styles at once – rationalism, modernism and neo-renovation.
The Gran Via Madrid can also be divided into three zones. The first, commercial, contains jewelry shops, fashion boutiques and insurance companies. The second section of the street, the largest, belongs to hotels and large department stores. The third, which extends all the way to Plaça Espanya Square, is home to nightclubs, cinemas, theaters, cafes and other entertainment venues.
Historical note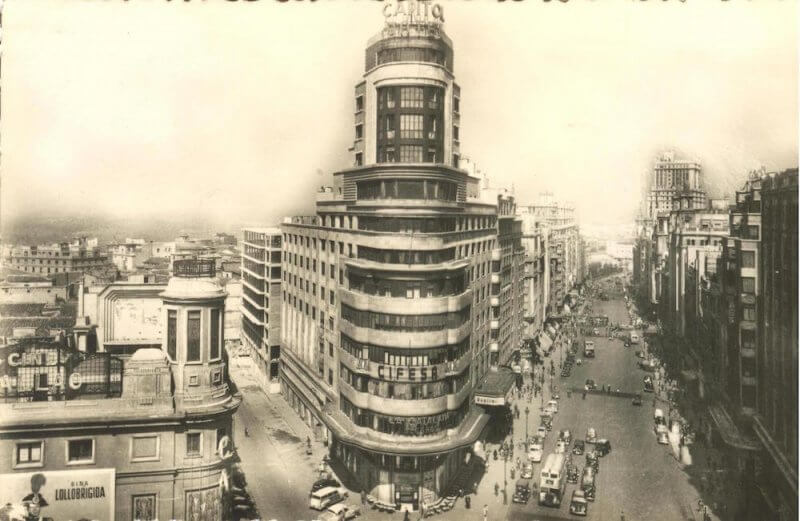 Tourists strolling down Gran Vía in Madrid have no idea that it might not have been there at all. Firstly, the original design of the boulevard, created by a famous Spanish architect back in 1862, was put aside in a long box and forgotten for 40 years. And second, even when it was finally approved, city officials faced violent protests from residents whose homes were to be demolished and street vendors opposed to the appearance of large retail outlets.
But the tribulations of the Gran Via Madrid's history did not end there. The French banker Martin Albert Silver, who had purchased the right to sell the avenue at one of the city's auctions, was not up to the task. The work, which had a final value of nearly 30 million pesetas, was first suspended and then under threat of failure. The situation was saved by Spanish businessman Horacio Echeveriette Maruri, who succeeded the previous owner and brought it to its logical conclusion.
The result of his labors was the new city boulevard, which was 35 meters wide and 1,315 meters long. In order for it to appear on the map of Madrid, the builders had to make enormous efforts: during the construction more than 300 houses were demolished, 14 houses were destroyed and 55 nearby streets were shortened, many old trees were replanted and a lot of buildings were rebuilt.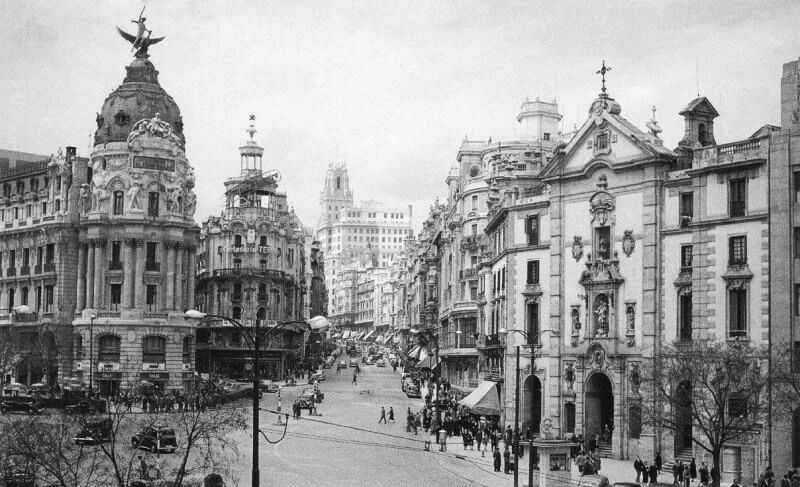 What to see on the street?
The Gran Vía in Madrid is not only famous for its history but also for its many architectural monuments, the oldest of which is the Oportoria de Caballero de Gracia, built during the first half of the 16th century. This monumental building, built for an insurance company in 1911, can be recognized by its classical architecture and its high dome topped with a marble statue of the goddess Nika.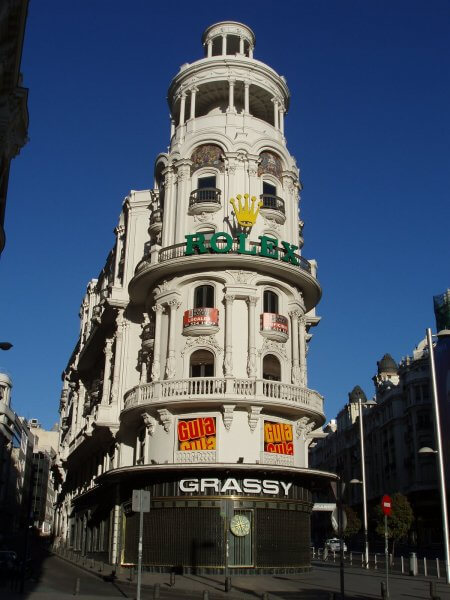 Another of Gran Via Madrid's oldest buildings is the Cultural Center of the Army and Navy, whose interior decoration is striking in its beauty and sophistication. Next comes Grassi, a unique structure created especially for the jewelry firm of the same name and complemented by an unusual spherical tower.
Another decoration of the most famous avenue of the Spanish capital is the Hotel Senator, a luxurious four-star hotel, which has an excellent viewing platform and a large outdoor pool on the roof. Directly opposite it you can see another famous landmark of the city. We are talking about the 80-meter Telefonica, which at the time of its appearance in 1930 was considered the tallest building in Europe. You can recognize this "house" by the luminous clock placed on the facade.
Go a little further and you will see the famous Palace of Music, which at one time played two roles at once – the main cinema and a concert venue. Other Gran Vía architectural landmarks include the famous "Tea Room" which is considered to be the founder of light advertising in Madrid, the Gran Peña Café which serves delicious coffee and the "Chicote Bar" which has not changed its interior since 1931.
Shopping on Gran Vía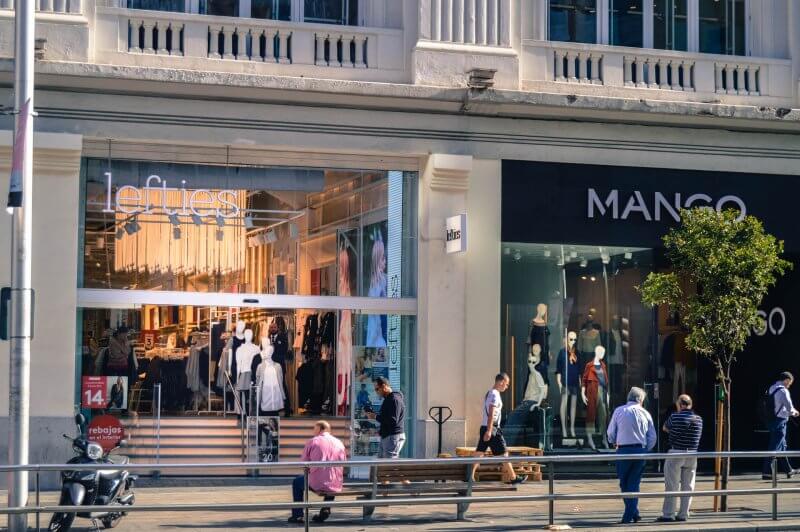 As the center of Madrid's shopping life, Gran Vía del Sol will delight shopping lovers with a huge number of hypermarkets, fashion boutiques, souvenir shops and a variety of stores selling everything you want. Here you can find both famous international brands (H&M, Adidas, Mango, Bershka, Stradivarius, New Balance, Lefties, etc.), and popular Spanish brands offering quality goods at affordable prices (Pull & Bear, OYSHO, Calzedonia, etc.). It's also worth mentioning that most of them have discounts up to 50 percent off the original price, so you're unlikely to go home without your purchases.
The souvenir store belonging to the professional soccer club "Real Madrid" is also a popular place. Prices there, of course, bite, but true soccer fans do not stop it. But housewives and lovers of home comfort will certainly appreciate the network of "ALE-HOP" stores, famous for its wide range of textiles, gifts, decorative elements and all kinds of original gizmos.
El Corte Ingles Hypermarket is another place you can buy not only clothes, dishes, cosmetics, furniture and household appliances, but also various delicacies. The Loewe luxury boutique, the Sans jewellers' shop and the Grassy watch store are the pride of Gran Via Madrid, which have been around since time immemorial.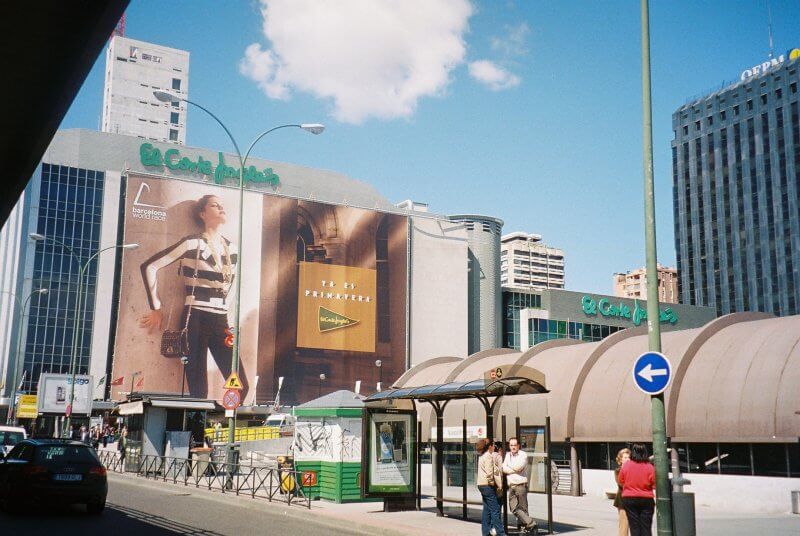 Useful tips
When heading to Gran Vía in Madrid, be sure to pick a few helpful suggestions: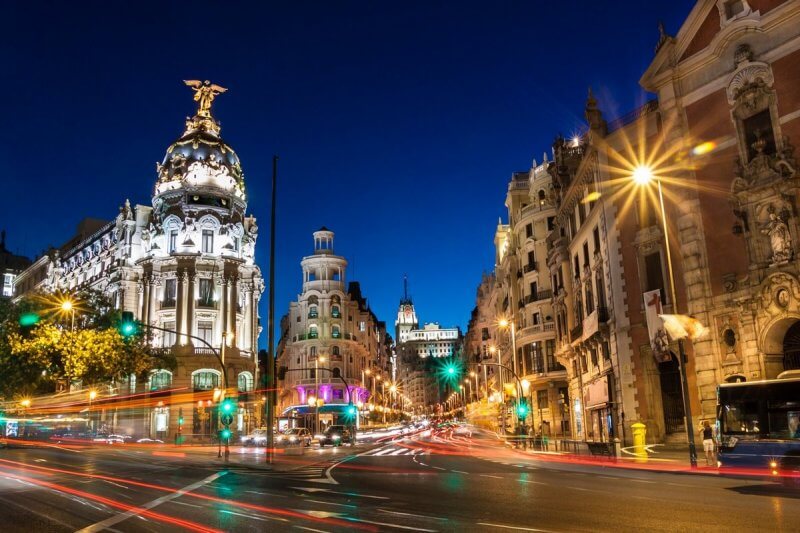 You can reach the famous avenue both by metro (Callao L3, L5, Gran Vía L1, L5, Plaza de España L2, L3, L 10, Santo Domingo L2) and by bus (#202, 44, 2, 148, 1, 74, 1, 146, 3, 46 and 133).
As in any other tourist spot, there are quite a few beggars and pickpockets, so be careful about your belongings.
Walk down the main boulevard of the Spanish capital not only during the day but also in the evening. Shimmering colorful lights of signs and street lamps look very smart.
In close proximity to the Gran Vía are the most famous landmarks of the city (Cibeles Square, Chueca District, Royal Palace, Prado Museum, etc.), so familiarity with these objects can be safely planned for a day.
If you go to Madrid just for shopping, remember that winter sales last from January to March and summer sales from July to September. Discounts during this period range from 15 to 70%.
El Corte Ingles – one of the largest hypermarkets in Madrid:
Author: Olga Sheiko
Updated: 12 Jan, 2020 The Barajas Airport, which receives international flights, is located in the city of…
Updated: 17 Nov, 2019 The Queen Sofia Center for the Arts is one of the most…
Updated: 28 Nov, 2019 The Madrid Metro is one of the fastest, most comfortable…
Updated: 17 Oct, 2021 Gran Canaria is one of the largest islands of the Canary archipelago,…