Public transportation in Tirana
Public transportation in Tirana is very backward and represented only by buses and shuttles. In this article we will talk about buses, as well as the international bus station and the railway station of Tirana.
Buses in Tirana
Tirana has a well-developed network of city buses. It costs 40 lek (€0.3) to travel around the city by bus. The fare is paid upon boarding to the conductor. Most of the city's sights can be reached on foot. The city buses are open from 06:00 to 22:00. The city bus fund of Tirana has recently been well renewed. Modern buses are now equipped with air conditioning, which was a significant relief when traveling in the heat. Current routes and schedules can be seen at the bus stops.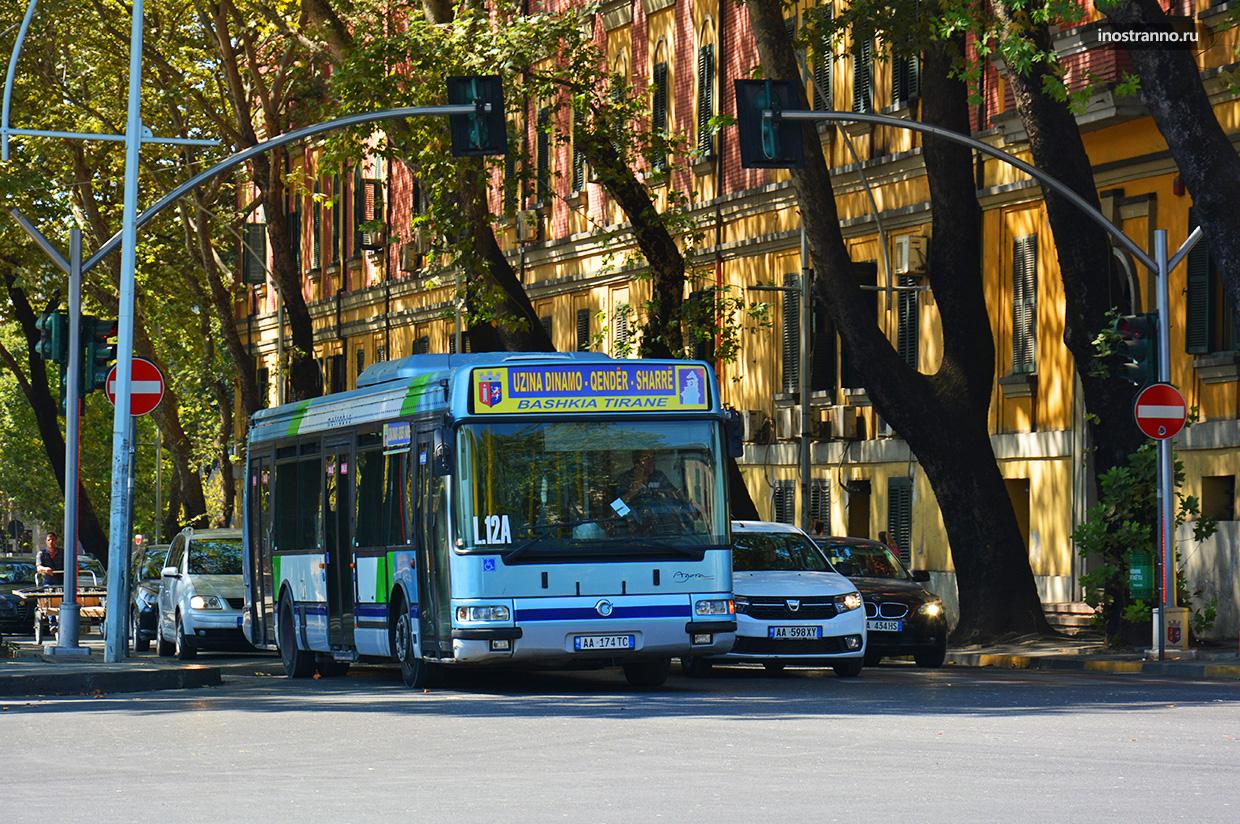 International Bus Station in Tirana
The new International Bus Station in Tirana can be found on Google Maps by entering its name in Albanian: Stacioni Qendrore i linjave Nderkombetare. The bus station is located on the outskirts of the city at Rruga Ali Kolonja, Tirana next to the Tirana Ring shopping center. It is in this shopping center that you can spend your time waiting for your flight, as there are no waiting areas or covered areas where you can hide from the scorching sun at the bus station. Tirana Bus Station is an open space with separate toilets and cafes.
From the International Bus Station in Tirana you can reach the following neighboring countries: Greece (Athens), Kosovo (Pristina, Pec), Montenegro, North Macedonia (Skopje, Tetovo) and even Italy. The schedule is available only on site, and tickets are sold right there at small ticket booths.
You can also take minibuses to Albanian towns Berat, Elbasan, Gjirokastra, Korca, Kukes, Pogradec and Shkoder, as well as resorts on the southern Albanian Riviera – Saranda and Vlora.
In general, a trip by intercity bus in Albania – it's roulette. You never know how rickety the bus will be. To visit neighboring countries is better to use a rental car or go on a tour To Albania from Montenegro – breaking stereotypes.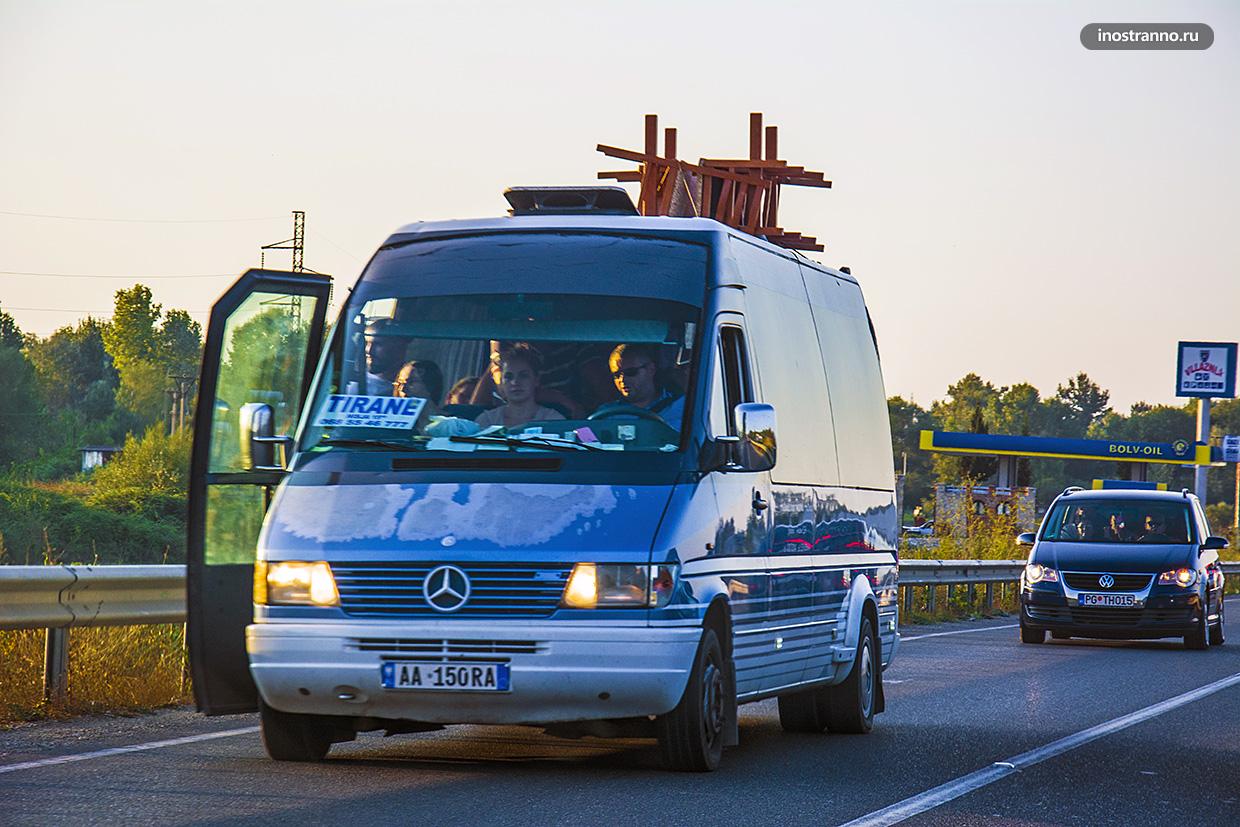 The railway station in Tirana
At the moment there is no central railway station in Tirana – it was closed in 2013. The capital railway station was temporarily moved to the suburbs of Tirana – the city of Kashar (full name in Albanian Stacioni Kashar). From Tirana to Kashar you can get by bus – for this you will have to travel about 10 km. A detailed map-scheme of railroads in Albania is available below – it's clear and downloadable. However, it is not a fact that these routes in principle work today – the fact is that due to unpaid bills and insufficient funding, transportation is periodically frozen.
There is almost no information on the Internet about train travel in Albania, but I doubt that it is reliable, convenient and safe. Rather, such a trip is a kind of attraction.
However, if you do decide to travel by train, you should know that the approximate cost of travel from Kashar to Shkoder is 145 lek (€1.2), from Kashar to Vlora is 250 lek (€2) one way per person.
Tirana International Airport
Mother Teresa International Airport Tirana is the only international airport in Tirana and Albania that receives flights from European cities. Tirana International Airport serves as the main hub for Albania's national carrier Air Albania and Albawings, as well as a hub for the low-cost airlines Blue Panorama Airlines and Wizz Air. It can be reached from the center by a special shuttle bus or cab.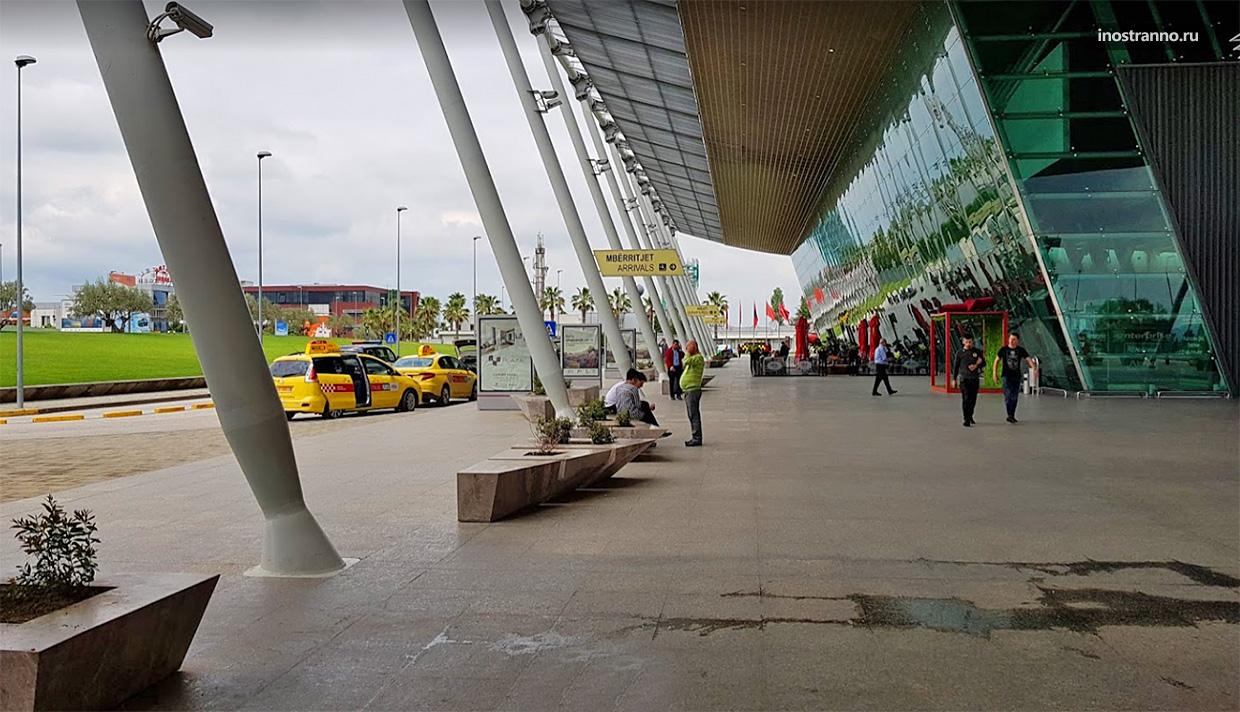 Bicycles in Tirana
Travelling around the Albanian capital by bicycle is now regaining its former popularity. Bicycles can be rented at the city's hostels. In addition, the bikeshare service Ecovolis operates in Tirana with 23 branches throughout the center. Bicycle rentals are only 60 lek (€0.5) per hour.
Car hire in Tirana
Car rental in Tirana is suitable for tourists who want to visit nearby countries and the most interesting and remote corners of the country. In addition, you can visit the neighboring countries: Montenegro, Northern Macedonia by a rental car.
Albania's largest cities are now connected by one- and two-lane roads. In the countryside, however, you can often find country roads without asphalt surface. One of the main highways of the country is a four-lane road Durres – Tirana – Lezha – Kukes. This is the only toll road in Albania. It connects the Albanian coast of the Adriatic Sea in Durres with the Albanian Alps.
When planning a trip to Albania by car, you should know that the roads here are mostly two-lane, and on the way there are no decent eating places (such as McDonald's) – only local eateries. When approaching major cities often traffic jams, especially in the morning and evening. Drivers are more or less polite – at least their driving style seemed better than Montenegrin.
In the cities, traffic is slower and safer than in the countryside. Outside the city, you should keep a close eye on the road, which is often uncontrollably rushed out by pedestrians. Be sure to download yourself updated road maps, as new roads are often added to the Albanian road network. The southern part of Albania is more mountainous and hilly, so road serpentines are frequent here. Average speed on such roads is 30-40 km/h.
Renting companies in Tirana are Avis, Hertz, Sixt. Rental prices are very favorable: a Volkswagen Polo with unlimited mileage and insurance against theft and damage will cost you only €107 per week. Rent a car in a couple of clicks on the Rentalcars website. We have told in detail about the route planning in Albania and the Balkans in the article "Itinerary of our trip through the Balkans (Macedonia, Albania, Montenegro, Croatia)".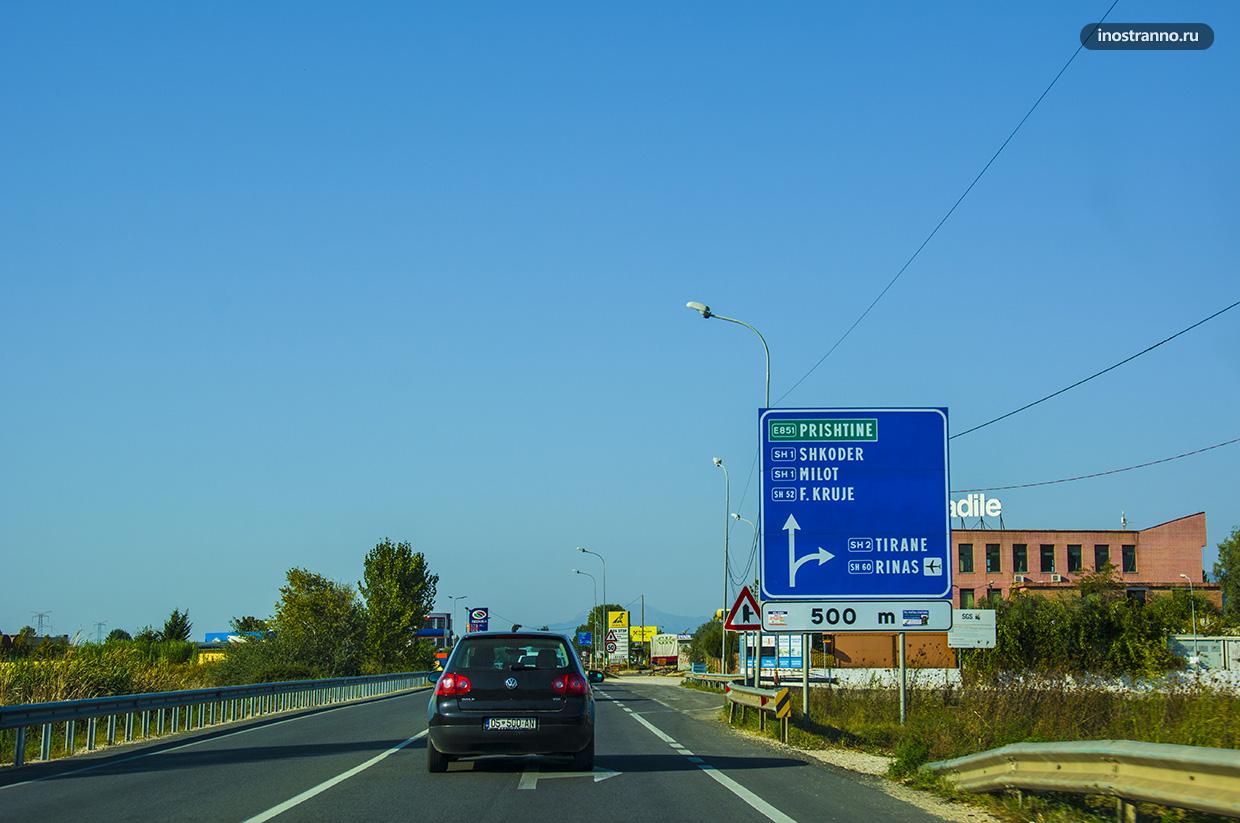 Cab in Tirana
Cab stands are scattered throughout the city center and the outskirts. The most expensive cars stand in front of major hotels, where tourists stay. Rides start at 300 lek (€2.5) around the city during the day and 500 lek (€4) at night. Negotiate the fare with the driver before the trip and make sure he turns on the meter. Official cabs in Tirana are yellow; current fares and the city's coat of arms are displayed on the sides of the car.
Buses stop running after 10 p.m., and cabs are the only way to get from downtown Tirana to the outskirts. Do not forget that Albania is notorious for dishonest cab drivers, and use only trusted cab drivers. Book a cab online in advance at the best price with a guarantee of good service.
Albania by yourself: from awful to wonderful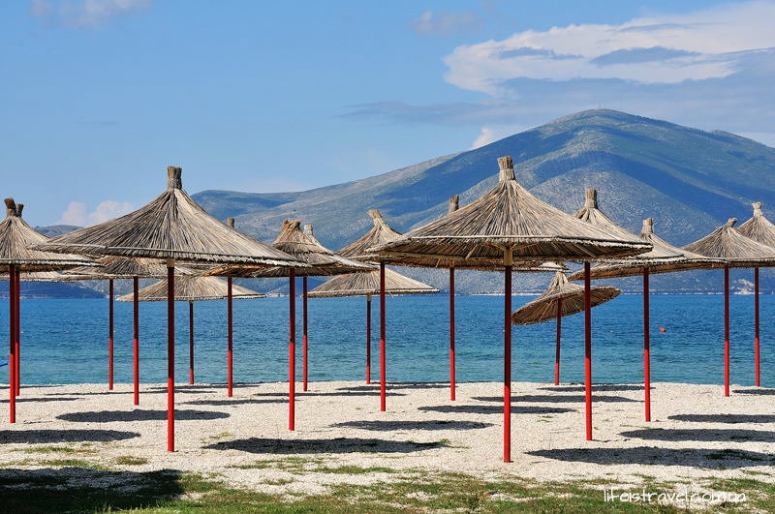 Self-driving in Albania by car. Roads, divisions, life, beaches, coast, sea, prices and vacation opportunities in Albania.
There will not be any hair-brained stories and beautiful pictures taken by quadcopter during regime time. Only the harsh reality and the truth of life. Let's go.
Albania is for the second year now an incredibly popular country among our citizens who prefer budget holidays by the sea, the mountains or just adventures without a specific goal. This year, 2020, Albania was one of the first to become available to Ukrainian tourists.
Some people consider this country to be a Euro trash with dumpsters, poverty, gypsies, beggars and street gangs. And what else can you expect from people who for decades have been governed by a manic paranoid with the insights of a dictator?
Others have found their Albanian paradise somewhere in the region of Ksamil or Saranda and enjoy the warm sea, organic food and pleasant prices. Today, Albania is the cheapest country for seaside holidays in Europe.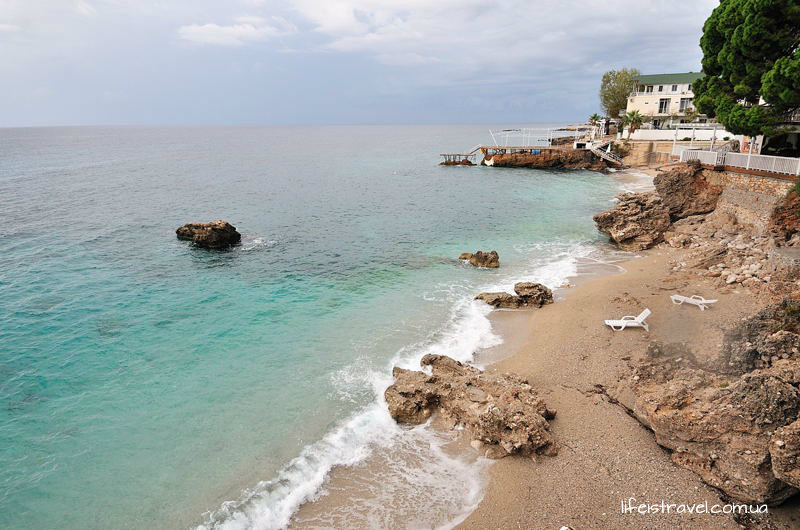 Both will always find and get what they came for.
We did not expect and were not looking for anything. We were satiated with a healthy curiosity, and the opportunity to see another Europe. Plus Albania is in the Balkans, which we were going to drive around the perimeter. We crossed the country from south to north through the Greek border high in the mountains (checkpoint Kakavia) and the border with Montenegro at Lake Shkoder.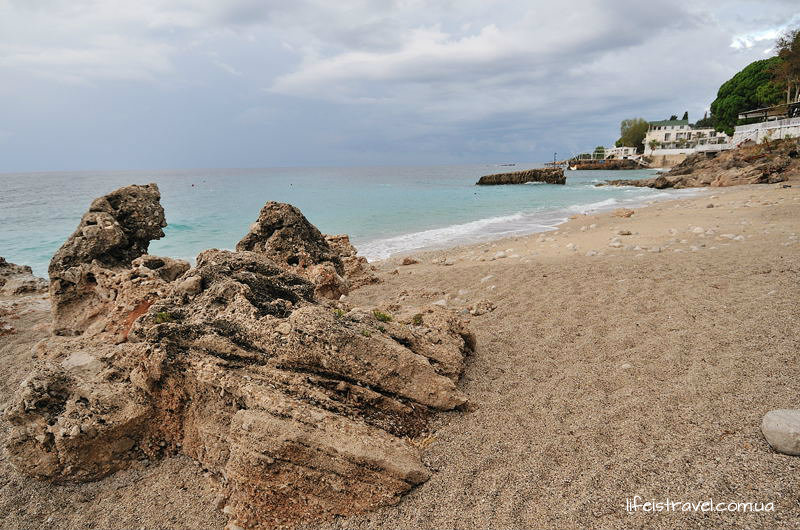 I will also write a review post on Tirana, an article on the Albanian sights and some interesting places . Now little by little about everything – fresh impressions from the trip on arrival. Perhaps somewhere does not coincide with what you "drew" in the travel agency, but that's how it is …
The first "dislike"
The first emotion of crossing the Greek-Albanian cordon – so grim and so interesting. Destroyed buildings, gray-black bare mountains with no forest or greenery, graffiti on abandoned buildings and protruding bunkers – sometimes by the dozens standing just above the road. Half an hour later, a gypsy camp – hundreds of meters of gray barracks, scattered rags (or was it clothes?), strange people along the road with unkind faces.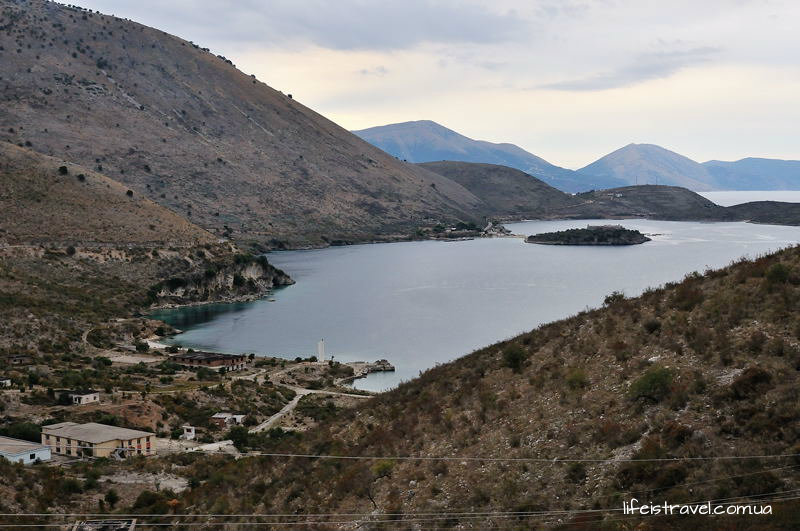 All of this was reinforced by torrential rain and thunderstorms, as well as several hours of serpentine mountain climbing before the coast was in sight. The same mood was dictated by the first post on facebook, it was the last because of problems with reading the SD-card, after which all the experienced decided that I didn't like Albania and got ready to cross it off my list of friends. Take your time, it's okay. Albania is beautiful! Just not everywhere.
You have to know the places.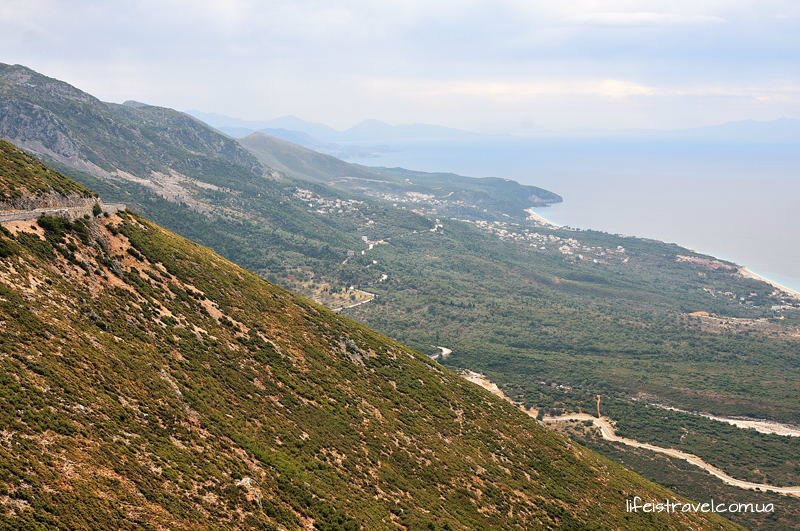 Such as in Greece Halkidiki (Sithonia), when a kilometer of coastline can stop at any place, catch zen and shoot until the space on the memory card, I did not see. At least on the section from Saranda to Vlore. To be exact, there are beautiful places, one of them is on the photo, but in Albania you need to know the places – it is not worth going to the country without information.
About the Albanian roads
To see Albania you need a car. You can drive your own, or you can rent one from a trusted resource . We used this site in the Balkans, Cyprus, Thailand, and Georgia.
On the section from the border with Greece almost to the town of Vlorë is a very steep and insanely beautiful serpentine road. The road winds along the sea, going up and down, sometimes going into the mountains. After Vlora begins flat and something like an autobahn, from Tirana to Shkoder Lake there is a good quality road. There will also be material about driving on the roads of Albania in detail.
A hundred kilometers in the mountains you have to drive more than three hours, and if you stop on the cliffs overlooking the coast and mountains – all five hours. Take into account when planning.
The quality of roads is excellent, though not Croatia, of course. Mountain roads are extremely narrow, in some places for one car. No tunnels. No gas stations in the mountains – have to go down to the city or fill a full tank before the trip. I did not see this as such a big problem.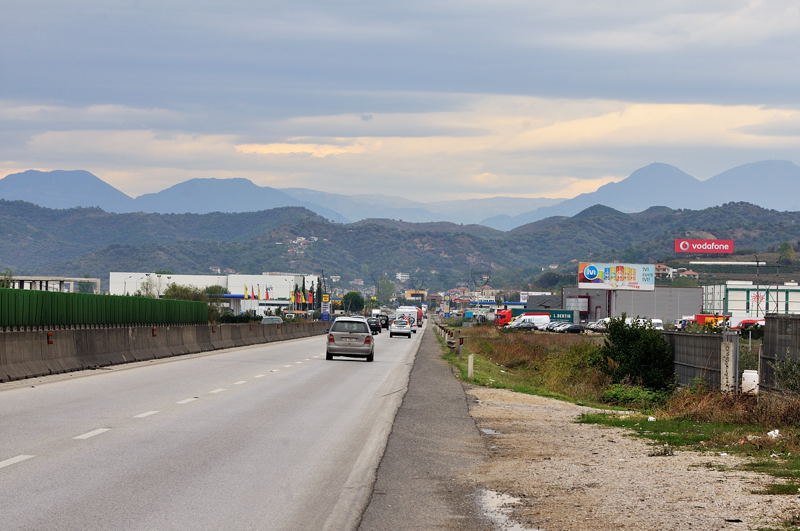 In Albania you can easily drive without a navigator, there are signs everywhere, even in remote places and villages. To get lost is difficult if you know the name of the settlement you are going to.
About the drivers
In some places they are similar to the Kiev drivers, just a little bit different "habits". Stopping in the middle of the road in front of you without changing course or pulling over to the side of the road to talk to a pedestrian you know is the norm for all without exception. Naturally, no showing turns when changing lanes, turning, or parking. This is the way 90% of drivers in Albania drive. Don't think of it as a violation or disrespect – it's just the way you drive, the normal way.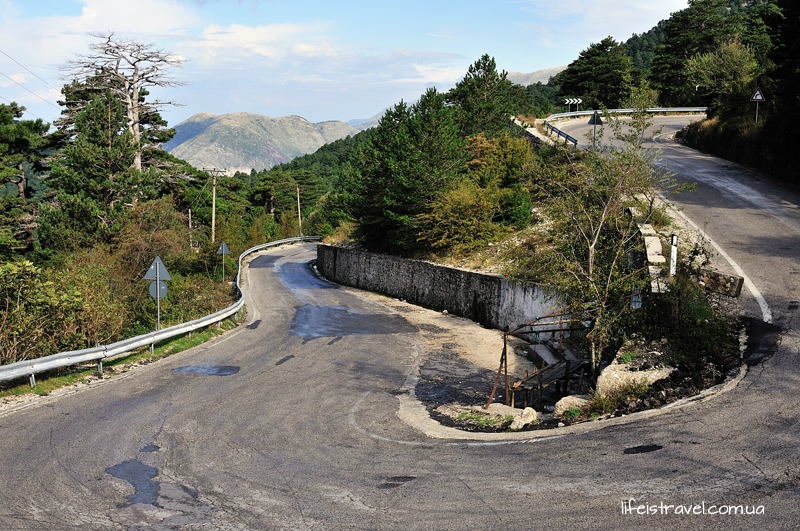 Cars on the streets are often second hand BMW, Audi or Mercedes, in Albania as well as in our country they like to show their status. The percentage of new luxury cars is high, which is typical of corrupt developing countries. Many of them are rumored to be stolen, the percentage is as high as 90.
Albania's currency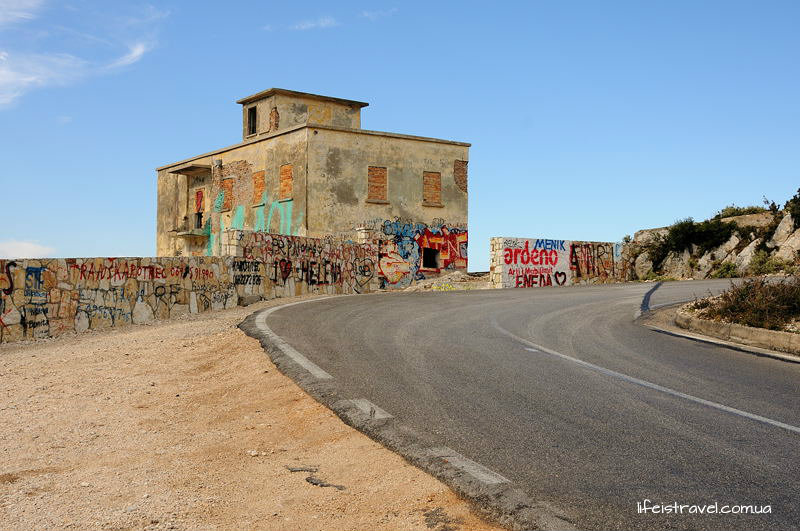 The official currency of Albania is the Albanian lek, the exchange rate to the euro at the end of 2018 – 124 lek per 1 euro (strengthened over the past year). Not even all experienced travelers know about this currency, as well as not everyone is interested in the exchange rate of the lek to the euro. This is a mistake often made at petrol stations or markets. Read more about scams in Albania.
About Albanian scams.
I have already written on Facebook, but I'll repeat it for those who are not subscribed to me.
You can make fun of dirty Albanian streets and beaches and not always European people, but people who built bunkers for 40 years by order of a crazy leader are surviving the best they can.
One of the main draws for foreign visitors is the gas station. "Kastrati" – remember that name. It is at the gas stations of this network that the business thrives on foreign suckers, especially those who transit through Albania.
Gasoline is inexpensive compared to Greece – only 1.20 euros. In 2020, it is already 1.50 euros – more expensive. Payment cards are theoretically accepted, but not everywhere. Out of five attempts, the card was accepted only at the first gas station in Dhërmi. But they willingly accept euros.
As we approached the gas station "Kastrati", I asked "Credit card, visa? The answer of a guy in sweatpants – only cash, euros OK. Well, I give 50 euros, pre-calculating how much fuel dude has to fill up – a little over 40 liters.
Dude pours 22 (.) liters and kindly nods his head, OK? No, I said, go ahead and press the gun and do not be fooled. He doesn't understand English or pretends not to, but pulls the trigger and gives me 10 liters more. Takes the gun out of the tank and again the same story – OK? I calmly say, another 10 liters and you will be okay. I get a refusal and slight aggression in response.
Playing cat and mouse stopped Tanya, who convincingly explained to the guy in a mixture of Russian, Albanian and English that it will happen to him if he does not fill up to the right numbers on the counter. It worked
The conclusion is that people are weak.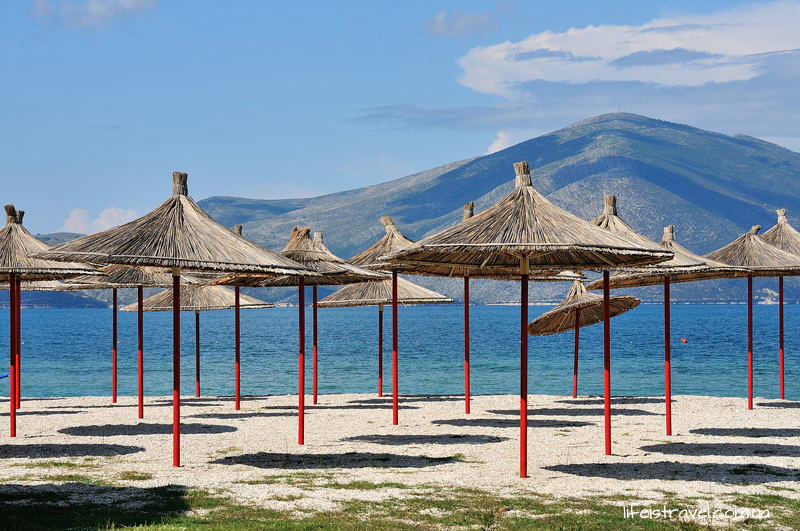 This, of course, is an isolated case – people are good, and the number of such marginalized people is no more than in the post-Soviet countries. Besides, there are scams in many countries, so just control your actions and nothing bad will happen.
About tourism in Albania
With such a location, climate and generally decent cuisine it would be strange not to develop tourism. Suddenly at the end of the season tourists in Albania were even more than in Greece or Croatia. A lot of Serbs, Kosovars, Germans, Ukrainians and Moldavians, Russians are much less than, for example, in neighboring Montenegro. I judge both by speech and by license plates. Completely there are no Chinese, even in the season, according to local people who we lived one night.
There are a lot of hotels, and in cities such as Chimera or Dhërmi (Zermi) they build the whole coast. Hotels are even there, where they logically should not be – far from the sea and mountain routes, along boring highways and even secondary roads, 30-40 km. from the capital.
Near the towns of Vlorë or Durrës, the coast is also full of hotels – large chain hotels in the center, small 2*-3* and boutique hotels – on the outskirts or in various secluded places. The beaches near these towns are clay sand mixed with small stones. In this regard, there were a lot of questions about why people who live in these hotels come here. Apparently it is about the price. I tell about the prices below. If we go to the sea in Albania, then only in Saranda, Chimera, Dhermi or Ksamil. Vlora and Durres are too big cities with flat and boring beaches.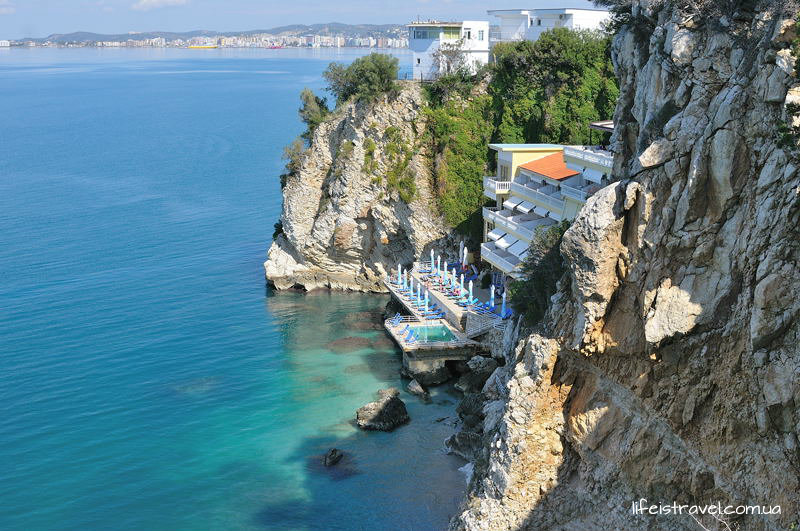 At the end of September in Dhermi our hotel 3*, quite nice – with a large room for three, a balcony, free guarded parking and breakfast, at breakfast all tables were occupied, many people stood waiting for a place. Interest in the country is at a peak, then everything depends on the Albanians themselves.
About the prices in Albania
Albania is considered by many people the cheapest country for a holiday in Europe. We stayed in a small 3 * hotel in Dhërm i and a gest-house in Durres. Lodging prices start at 5 euros for a room for two, but it will be a fleabag with a view of a dump, ruins or construction site. We paid 30 euros with breakfast in the first case and 18 euros for a hostel in Durres. At this price range and be guided, for 25 euros you can find either a good hotel or a nice apartment.
Eat at a restaurant by the sea – 20-25 euros for three people. The lunch-dinner includes one dish – portions are big, but we were not frightened, water, bread, a decanter of house wine. In simpler places without a view and without the sea – two times cheaper. The local fast food is called burek – a bun with meat stuffing, costs less than euros. Olives – 1 euro for 200 grams, olive oil – 4-5 euros for half a liter, pomegranates – 1 to 1,5 euro per kilo, other fruits – less than one euro. In tourist places it is more expensive, but not by much. Cigarettes cost one and a half euros. Local people think that's very cheap. I had to tell them how much cigarettes are at our place – they were very surprised.
A large package of food in the supermarket cost 15 Euros, it was cheese, prosciut, cookies, vegetables, fruits – good quality food, the Albanians haven't got money for "chemicals" yet, so everything is organic.
In general, everything is about 1.7 times cheaper than in Montenegro, and 2.5 times cheaper than in Croatia.
Gasoline – 1.20 euros (170 lek), lots of gas stations, avoid the network Kastrati – wrote above why.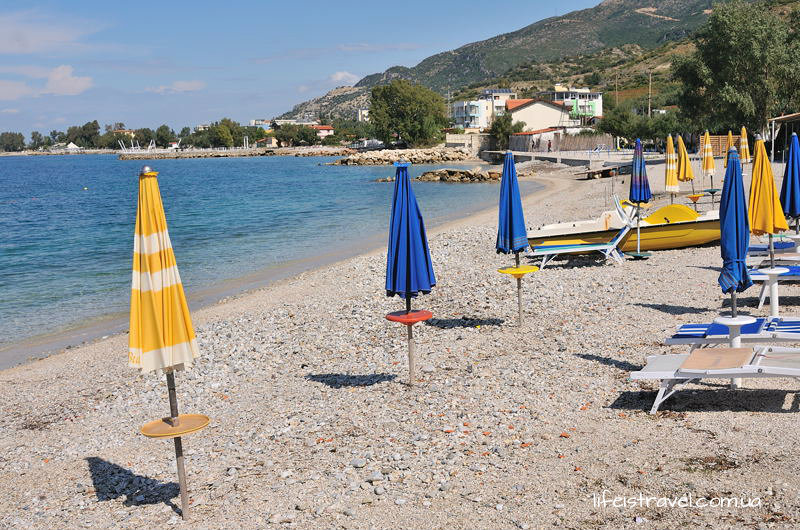 In general, prices are proportional to quality, about the same situation in our country.
About the capital of Albania – Tirana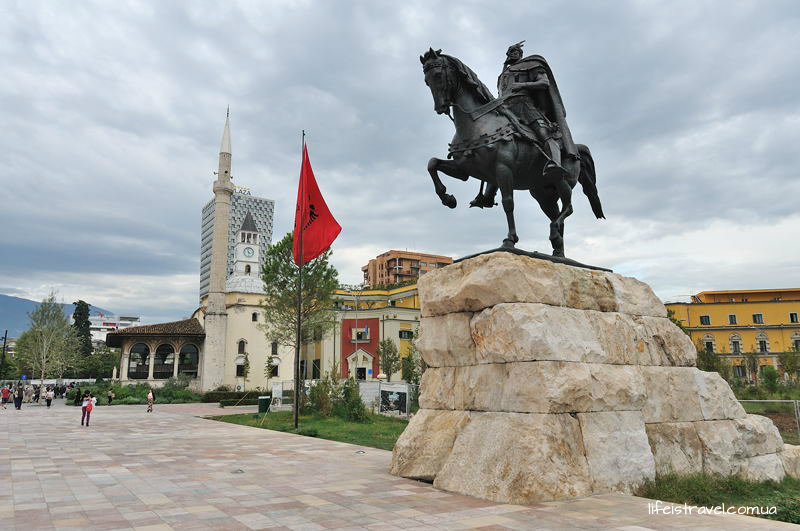 The expectations were that Tirana would be something like Skopje, the capital of Macedonia, which stayed at the top of my rating as the strangest capital of Europe. In Tirana, however, everything turned out to be much more fun quite beautiful to come here. A modern city with bars, street food, traffic, roads and little free parking in the center. This is the only city on the itinerary where I paid for parking – about 2 euros for three hours.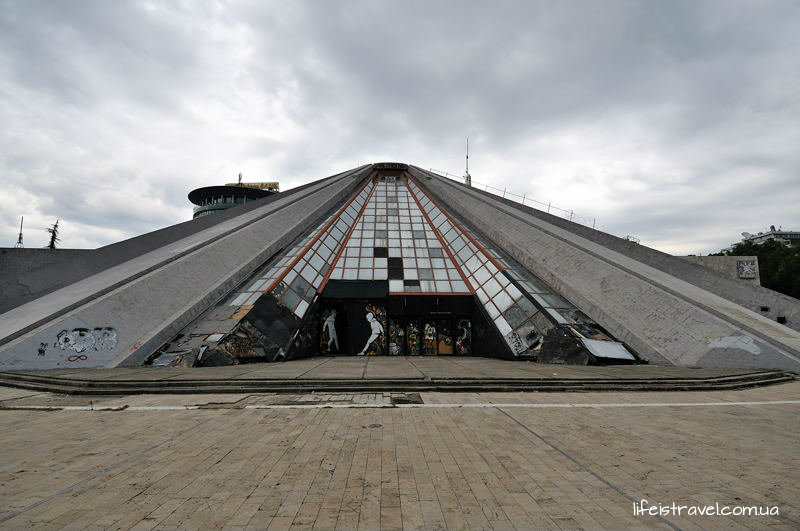 There is not much to see in Tirana, except the central square with a mosque and a library, a bunker converted into a museum and an unfinished pyramid – an abandoned building, like a mausoleum – obviously a difficult legacy of the past regime.
Beaches and sea in Albania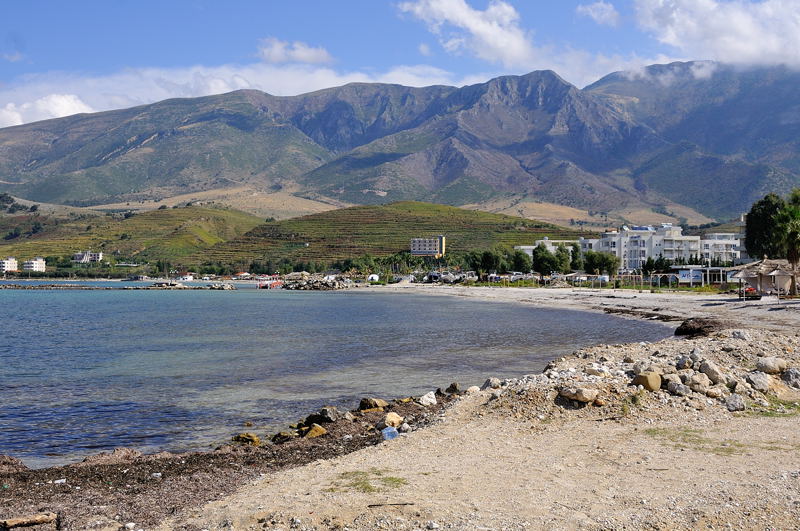 In Albania there's the Ionian Sea which turns into the Adriatic Sea and both are part of the Mediterranean, as you know. The sea is gorgeous and the color will be more beautiful than the Aegean. Even in rainy weather it has a rich emerald hue.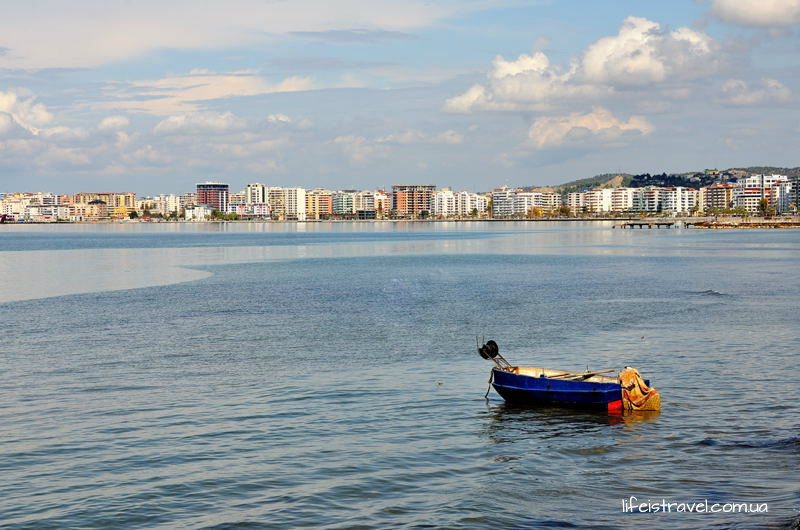 We were not in the tourist Xamile – it is a famous nature park and tourist reservation near the Greek border. In all other places, the beaches evoked different emotions – from never more to Wow! There are clay beaches, there are coarse sand mixed with stones, there are dirty beaches, there are beaches with perfect sand. To the beaches of Albania should be approached carefully and – you can go wrong. Although for us the beaches are just an additional item on the program of independent travel and a bonus in the case of Albania. Perhaps the trash and untidy seaweed in places is a consequence of the fact that the season is over. In general, according to 2019, Albania has greatly increased the quality of the sea and beaches, due to the construction of sewage treatment plants. So it is possible and necessary to go here.
In Albania there are almost no cozy romantic rocky bays that we are used to in Halkidiki, at least on the part of the coast from Saranda to Vlora. Very nice in Xamile, this is where you have to go to have a rest. In general, the beaches are long and wide with hotels on the perimeter. Of those where we were, I liked the beach and the bay in Himarë more or less. Most of the beaches are made up of gravel. Because of the fact that the pebbles are poured on top of the sand or clay, it's a little slippery and not very pleasant to the touch. But maybe I'm picky after Greece, which is unique and perfect. But Greece is many times more expensive than Albania with comparable quality of the sea.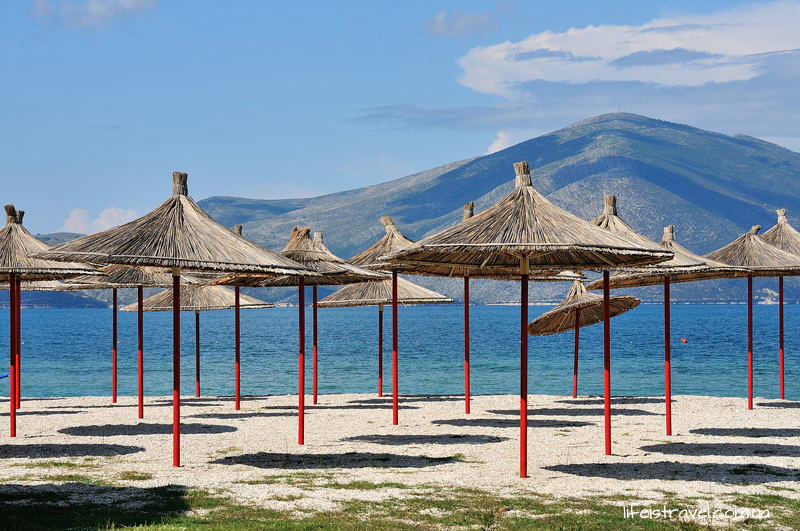 Is it worth to go on holiday to Albania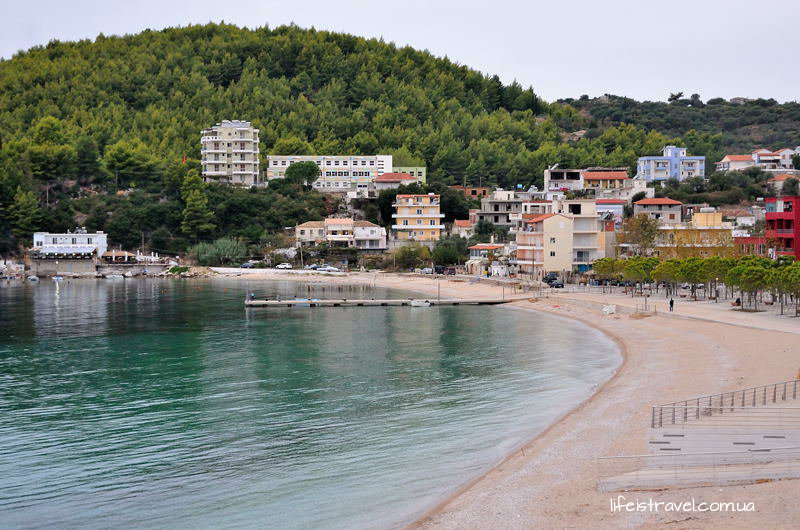 You should definitely go to Albania before it has become like other European resorts. Here are the magnificent mountains, the beautiful sea and nature in general.
The conclusion – to go only and only on the beach holiday in Albania is wrong. Because the country was created to combine the sea and active travel by car or sightseeing. The number of unbeaten and truly interesting places is off the scale. In addition to the beach locations such as Ksamil, Saranda or Borsch, there is the Logara Pass, Gjirokastra, Lake Koman, the city of Kruje. In the north of Albania – Vermosh, Kelmendi, Tamare, Boge, Valbona and Theth. But sitting on the beach, especially if it is not the best, you can go into a state of increasing depression, or become addicted to alcohol.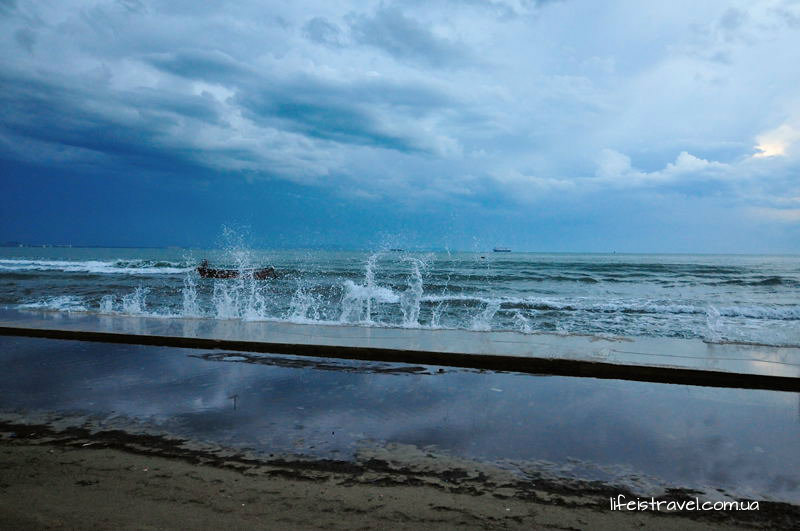 About the Albanian cuisine
In short – the same as in other Balkan countries, but cheaper. Products in the markets are considered by many to be organic. They say that Albanians do not use chemicals because they cannot afford them. Our first experience with Albanian food was in Dhermi, which many people praised. In a restaurant on a terrace above the sea we tried fried lamb, veal, and chicken. Tasty, but not Wow. But in the mountains we found a great tavern without a name. Local homemade wine is also great – tastes slightly carbonated and looks like a young wine. Seafood is not ordered – had enough in Greece. And the prices, yes – lower than in Greece and significantly lower than in Croatia, but everything is as easier and worse as cheaper. In general, again – you have to know the place, as they say. Perhaps somewhere we passed them.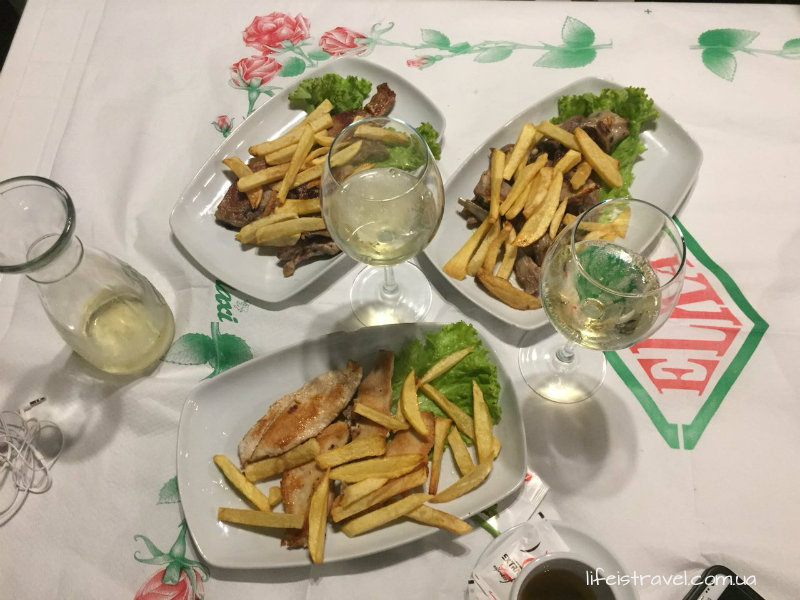 Definitely, Albania is a country where it's half a step from awful to beautiful. Next to a beautiful beach or cliff can be trash, abandonment or construction site. Many strange buildings painted with monstrous graffiti, bunkers everywhere that were built to save you from nuclear war. The beautiful pedestrian zone with summer cafes in Shkoder borders with the barracks of a gypsy tabor on the shore of a mountain lake. In historic towns there are often construction sites and restorations – and this is completely normal and understandable. It is necessary to go to Albania by all means, both on beach seaside rest, and to travel – by car or with excursions. Then the beach vacation will be an easy pleasant addition to the emotions and experiences you get.
It is a very, very fascinating country, in fact. Especially if you do not expect from Albania more than it has to offer. We are going to go again next year, to get to know it better, combining it with Serbia, Montenegro and Bosnia.
Did we like Albania? In its own way yes, but more importantly, we were interested in it. And upon our return, it became clear that Albania is a love deferred in time. Until next season – wait for us to visit you, country of mountain eagles.
Useful links for independent travel planning
Aviasales – low cost flights around the world
RoomGuru – search for budget lodging, hotels, and suites worldwide and on all popular booking sites, including Agoda, Booking.com, and other popular booking systems
Booking.com – conveniently search and book accommodation around the world
LocalRent – car rental in Albania with free cancellation option, good prices