The Top 5 German Christmas Foods
So what do Germans eat for their most important holiday, Christmas? After all, it's Christmas, not New Year's Eve, that has that wonderful fairy tale atmosphere in Germany. We present to your attention the 5 most popular dishes that the people of Germany eat before and during the holiday.
Roast Goose
The goose (die Weihnachtsgans) is the main and traditional dish at the German Christmas table. And the fattier and larger the bird, the better. Just as every Russian housewife has her own recipe for borscht, so every German Hausfrau has her own special, unique way of cooking this dish. It can be baked with prunes and apples, dipped in wine, stuffed or served with dumplings – whatever you like. I'm drooling already.
Interestingly, in neighboring Austria, it's considered bad luck to cook a goose or any other bird for Christmas. There they say that you shouldn't eat goose, duck, chicken, etc. on Christmas Eve.
Gingerbread
Gingerbread (or der Lebkuchen ) – aka Lebzelten , aka Pfefferkuchen , aka Gewürzkuchen , aka Honigkuchen (depending on where in Germany you are) – is the most aromatic Christmas pastry in Germany. It smells like German Christmas and all kinds of Christmas fairs.
There's a lot to see at these fairs: gingerbread houses, little men, stars, angels, lambs, shepherds and much, much more. Gingerbread House, probably, is familiar to each of us from the famous Grimm's fairy tale "Hansel and Gretel" – a kind of personification of carefree childhood. Not only the pre-Christmas period in Germany is not without gingerbread cookies, but also Christmas dinner. Many families bake their own gingerbread men, making it a kind of home bonding ritual, since Christmas is a family holiday.
But even those who don't have time can't be without this holiday symbol, as every market offers them!
Read more about when and what the traditional Christmas markets have to offer in our earlier article.
Potato salad
Der Kartofelsalat is a traditional and often very greasy side dish served with the main dish (meat, sausage, etc.). Usually it is just a mixture of coarsely chopped boiled potatoes with other ingredients (for example, pickled cucumber, onions or fried bacon). It is usually dressed with mayonnaise, but for those who watch out for a figure there is a "light version" – yogurt dressing.
Do you want to improve your German so that you can read German books in the original language, watch films or speak it when you travel? At Deutsch Online you can sign up for group German courses with certified teachers. You can find lessons, preparation material, tests and assignments in our user area. Enroll now, places are limited!
Christmas Strudel
"Strudel is always strudel," you might think. But it isn't! For Christmas dinner, it is slightly modified. The Christmas strudel doesn't look much different from a regular strudel, the difference is in the ingredients: in addition to the usual apples and raisins, the filling also includes dates and/or pine nuts, which give this dessert a spicier flavor and a more tart taste.
Gluhwein
Der Glühwein is the famous hot red dry wine with spices and lemon peel. The perfect drink for the cold season, according to the Germans. My friend from Germany says that from about mid-November it's "gluhwein time", which makes her and all Germans feel like Christmas.
Real German mulled wine can be different: low-alcohol and strong – with the addition of rum, cognac and herbal tinctures. In general, everyone brews it according to their taste holiday preferences. Recipe for mulled wine – on red or white wine, as well as non-alcoholic – look in our article.
It's worth noting that you certainly can't find all of these dishes on every table in the country, simply because there are so many regional differences. For example, potato salad is most often found on tables in the southern part of the country. Goose in some regions may be replaced by fish (carp or herring), but the gingerbread and mulled wine are indispensable components of such an important, so beloved and such a bright holiday in Germany – Christmas.
Material prepared by Christina Zakharova, Deutsch Online team
Christmas fairs in Europe
At first glance December does not seem a good time to travel. The daylight hours are so short and gloomy that you don't have time to see anything, the weather varies from cold to slushy and does not really lend itself to long walks. The forces of evil would reign supreme in December if not for a wonderful invention of the European part of mankind – the Christmas markets. While darkness reigns all around, there are colorful lights burning, mulled wine steaming in a cauldron, and all sorts of little things sparkling that you can't wait to buy. Read our overview of Europe's Christmas markets – and may the Christmas spirit be with you.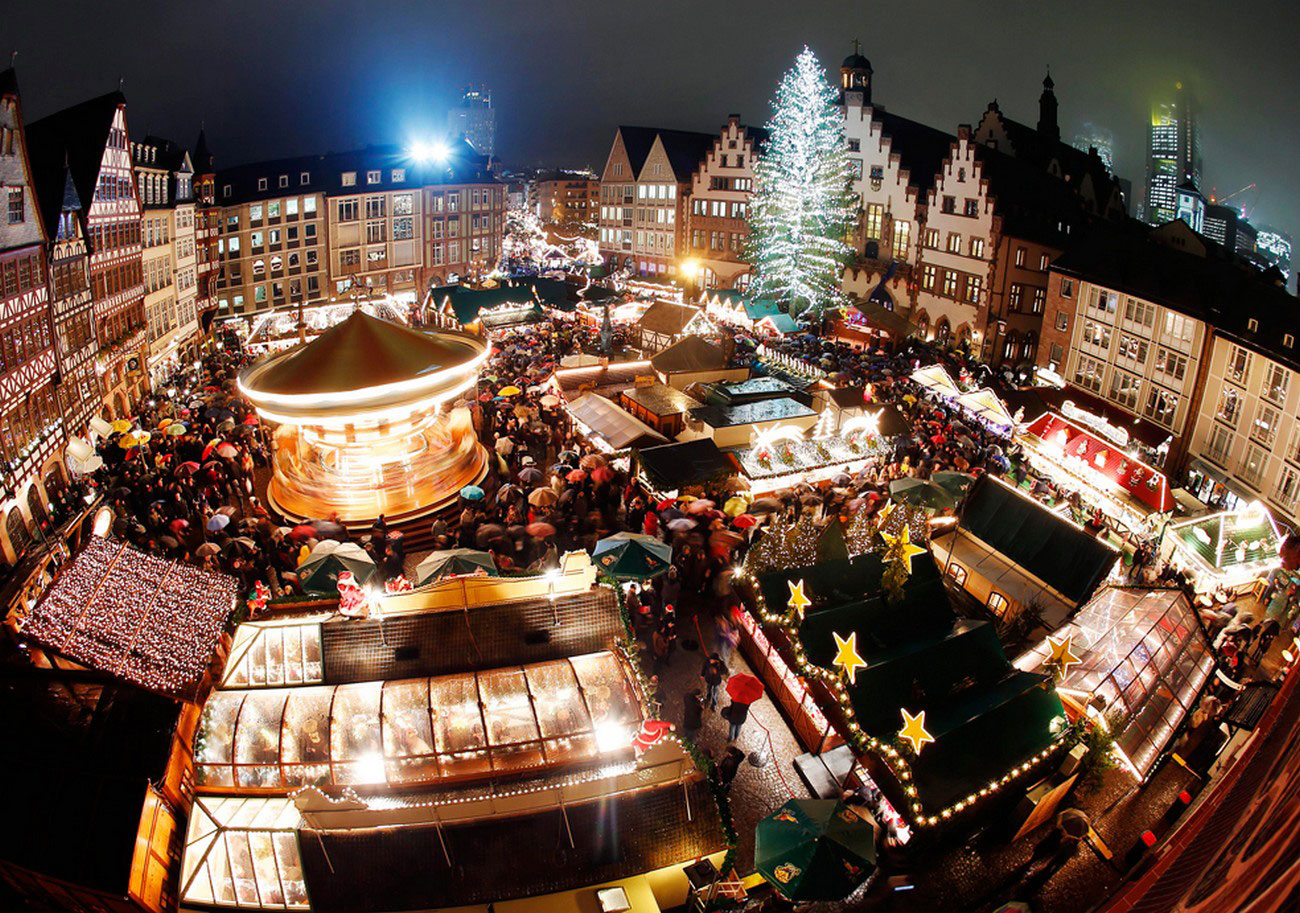 Germany is considered the birthplace of Christmas markets. They first appeared in three German cities: Frankfurt, Munich and Dresden, and now take place in literally every town (look for them in cathedral squares, in front of town halls and central markets). Note that most fairs close on December 24 – that's Christmas Eve, time to sit at home and sip mulled wine with the family. If you want to experience the real Christmas atmosphere, plan a trip to Germany before then.
Berlin, the city of endless freedom and great partying, adds a bit of fairy tale atmosphere to its cauldron in winter. There are fairs in every district of Berlin, the most popular being at Gendarmenmarkt and Alexanderplatz. Each fair has its own chips. On Potsdamer Platz you can go down the slide on the toboggan, skate or even play curling. In the Botanical Gardens (Königin-Luise-Straße 6-8 ) you can look at light installations. The fair in the Nikolaiviertel (Nikolaikirche am Nikolaiplatz) is entirely dedicated to the classic 1944 film "Burned Sugar Punch". In Friedrichshain there is a historical fair (RAW-Gelände Revaler Str. 99) with jugglers and acrobats. And on Kollwitzplatz you'll find an eco-market. In general, check the program and choose what you like.
What to try? Sausages, potato salad, roasted almonds and Feuerzangenbowle punch
When. November 25-December 31, but check the schedule for each specific fair.
Program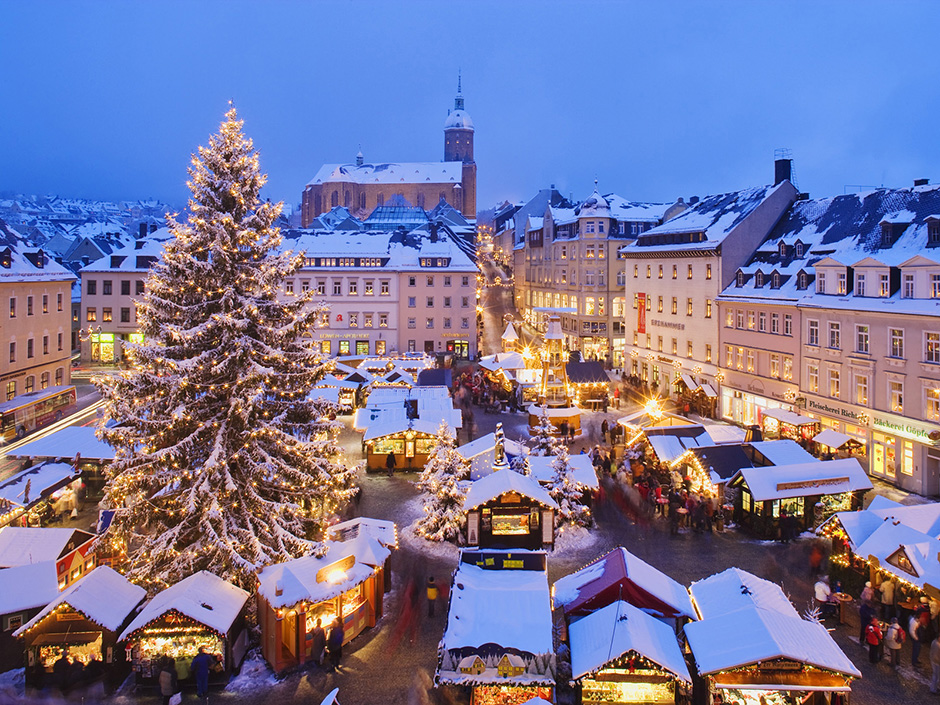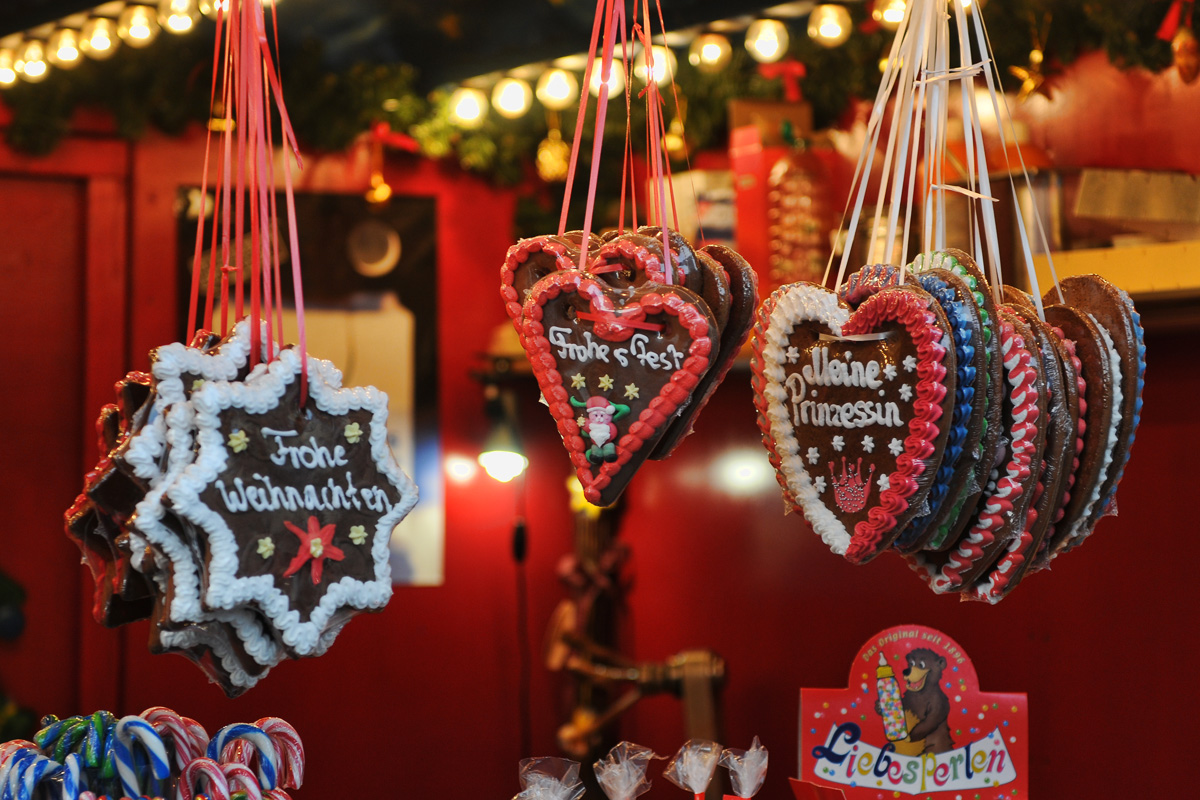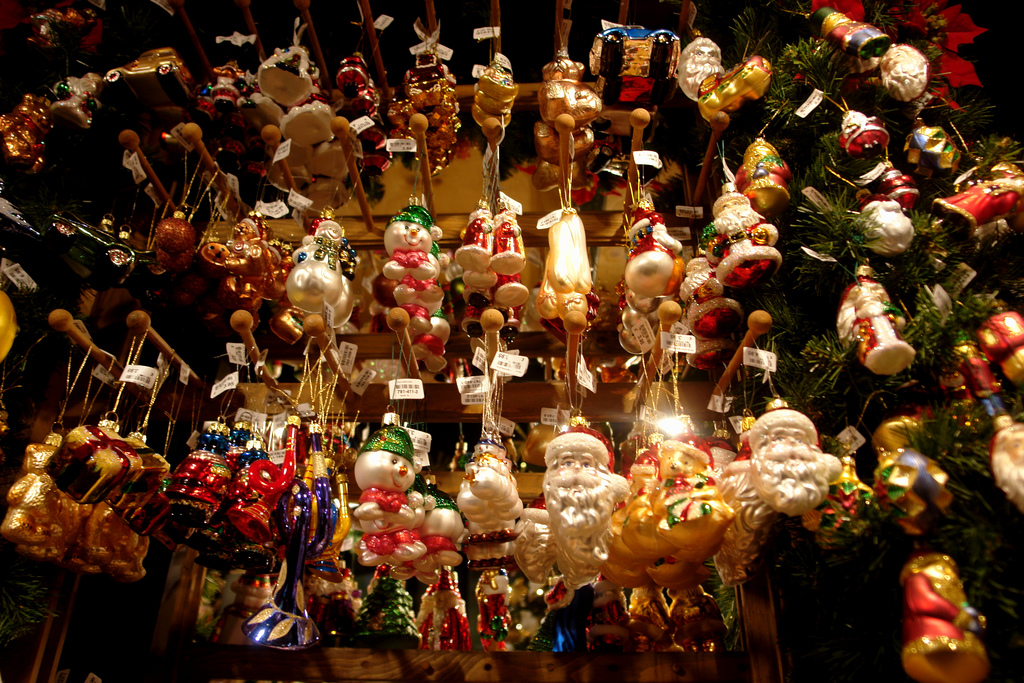 The Dresden Striezelmarkt is one of the oldest Christmas markets in Germany and has been held since 1434 in the center of the Old Town (Altmarktplatz). The name comes from the old German word Struzel or Striezel – a pastry that is now called "stollen". As at any Christmas fair, among the two hundred wooden houses on the square you will find a lot of magical things: toys and decorations made of wood, glass and ceramics. Don't be lazy to head over to the Neustadt district on the other side of the Elbe: It's a center of informal culture with its own fairs, some of which take place only for a few days. And in the Kunsthofpassage artists' quarter you can buy the best gifts.
What to try? Stollen is a traditional Christmas cake filled with candied fruits, raisins and nuts. During the Christmas fairs there is a stollen festival where the biggest pie weighing several tons is baked.
When. November 27 to December 24.
Program
Just like in Berlin, Hamburg has its own fair for each neighborhood. The most splendid fair city is on Rathausmarkt, where artists and craftsmen from all over Germany flock, so you can go shopping for souvenirs. Or head over to the Überseequartier in the harbor quarter and check out how modern architecture and Christmas lights blend in. There's also a small prize from the special Advent calendar every day. And of course, don't miss the fair on Spielbudenplatz in the trendiest district of St. Pauli. Pauli . Instead of Jingle Bells you might listen to a rock concert or watch a striptease show, and instead of gingerbread and candy can buy merchandise from a sex shop. Bad, bad Santa!
What's to try? Remember that Hamburg is a port city, so in addition to the traditional sausages, roasted nuts and sweet donuts, try a shrimp sandwich (on Sunday mornings the freshest are at the fish market, Grosse Elbstrasse 9).
When? November 21-December 24
Program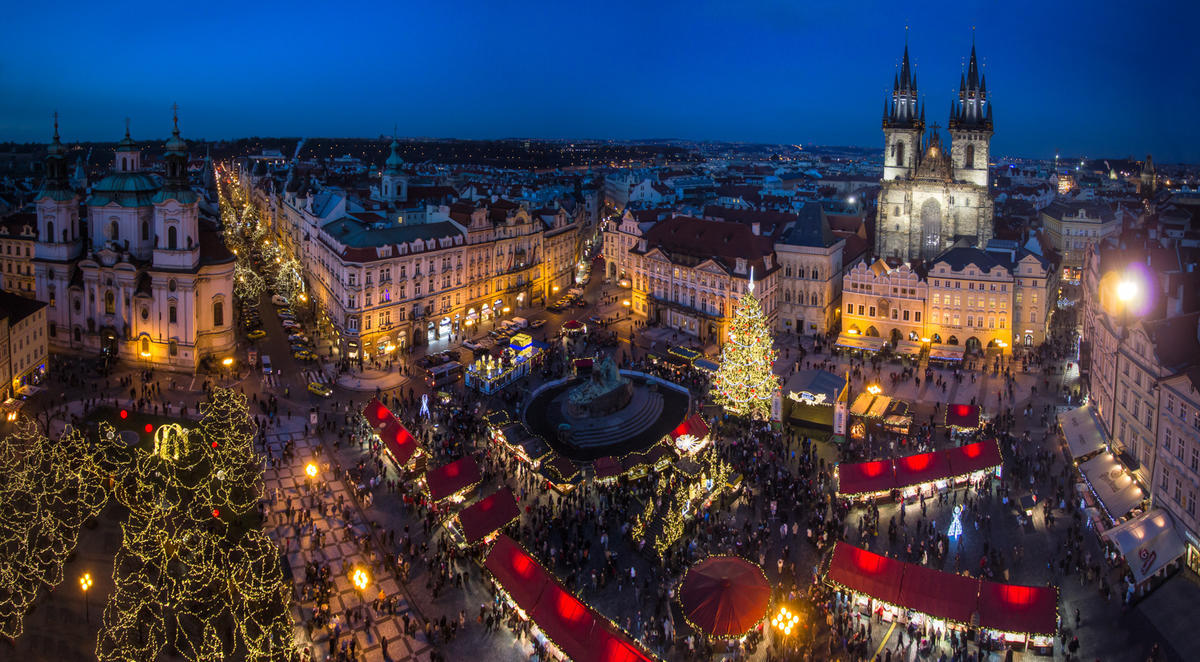 The Czech Republic is another country that we associate with the Christmas fairy tale. This time of year is perfect to have a glass of mulled wine instead of the wonderful Czech beer. It doesn't snow very often in winter in the Czech Republic, but the Christmas illuminations, combined with the ancient streets and squares, have a magical effect on their own.
In addition to traditional souvenirs and delicious greasy food, Prague's fairs host theatrical performances, concerts, dances, folk performances and presentations of charitable projects. The main places of power are the Old Town Square and Wenceslas Square.
What to try? The most traditional Czech Christmas dish is roasted carp, but it appears on the tables of Czech families on December 24. And at the fair, treat yourself to sausages, pancakes, marzipan and aromatic twisted trdlo buns.
When? 26 November – 6 January
Program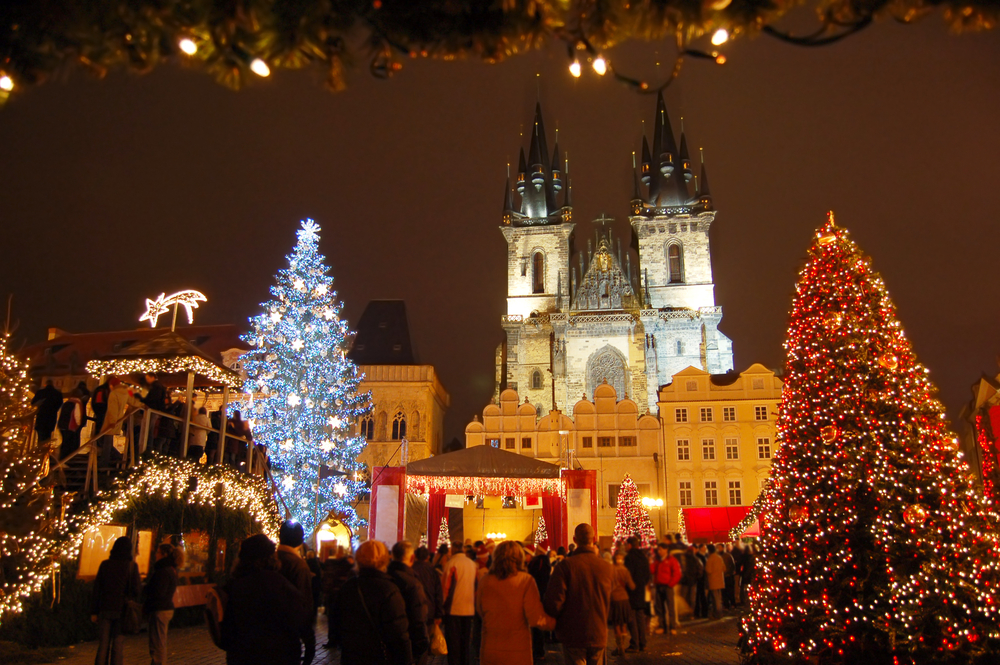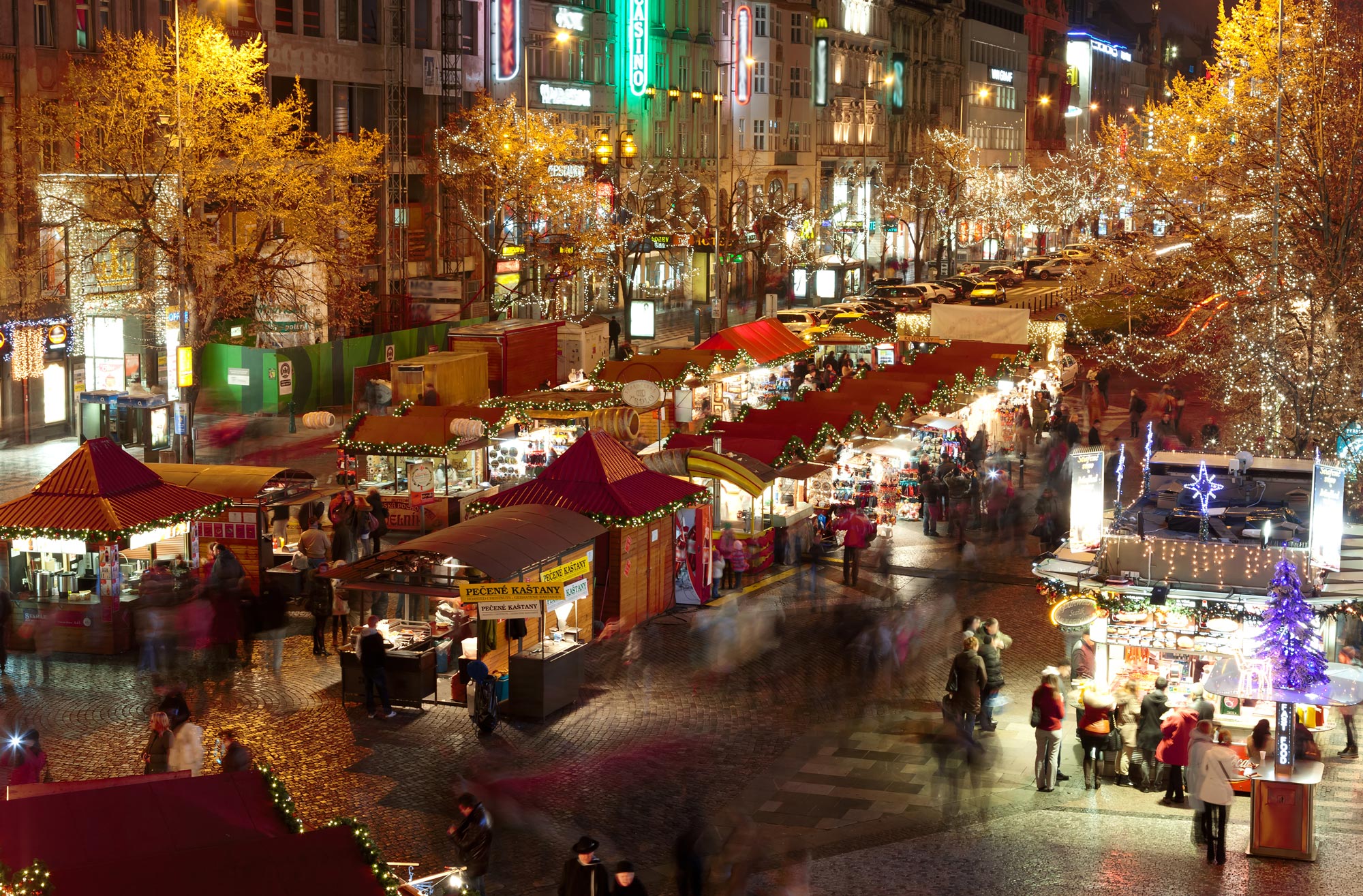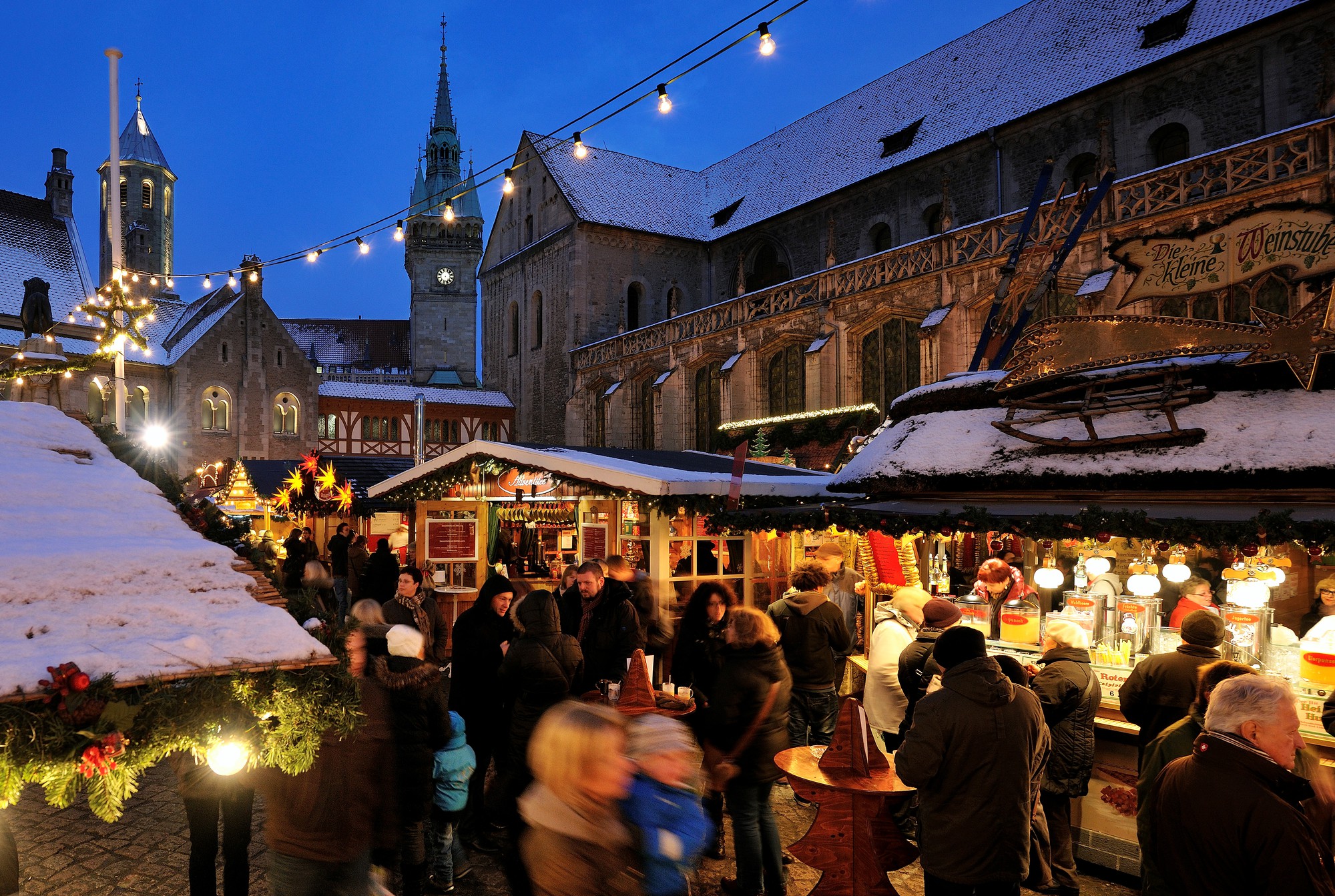 Prague is for tourists and Brno is for life! The second largest city in the Czech Republic this year boasts a Christmas streetcar that travels through the old town, wrapped in glowing garland, and cozy fairs set up in three squares in the city center. In náměstí Svobody (Freedom Square) – the city's main fair, light projections of falling snowflakes on houses and concerts every evening. In Zelný trh square you can buy the best souvenirs, this is a traditional place for craftsmen – Christmas toys, gingerbread made according to old recipes, designer decorations, medieval glasses. Moravské náměstí Square has the most diverse food, with several restaurants (we recommend the couscous from Soul Bistro), the most creative beehive tree (you can also buy honey) and the most informal music in the concert program.
What to try. Grilled cheese with lingonberry jam, sweets and hot cocktails with apple juice (look for the Turbomošt sign).
When. November 25 – December 23
Program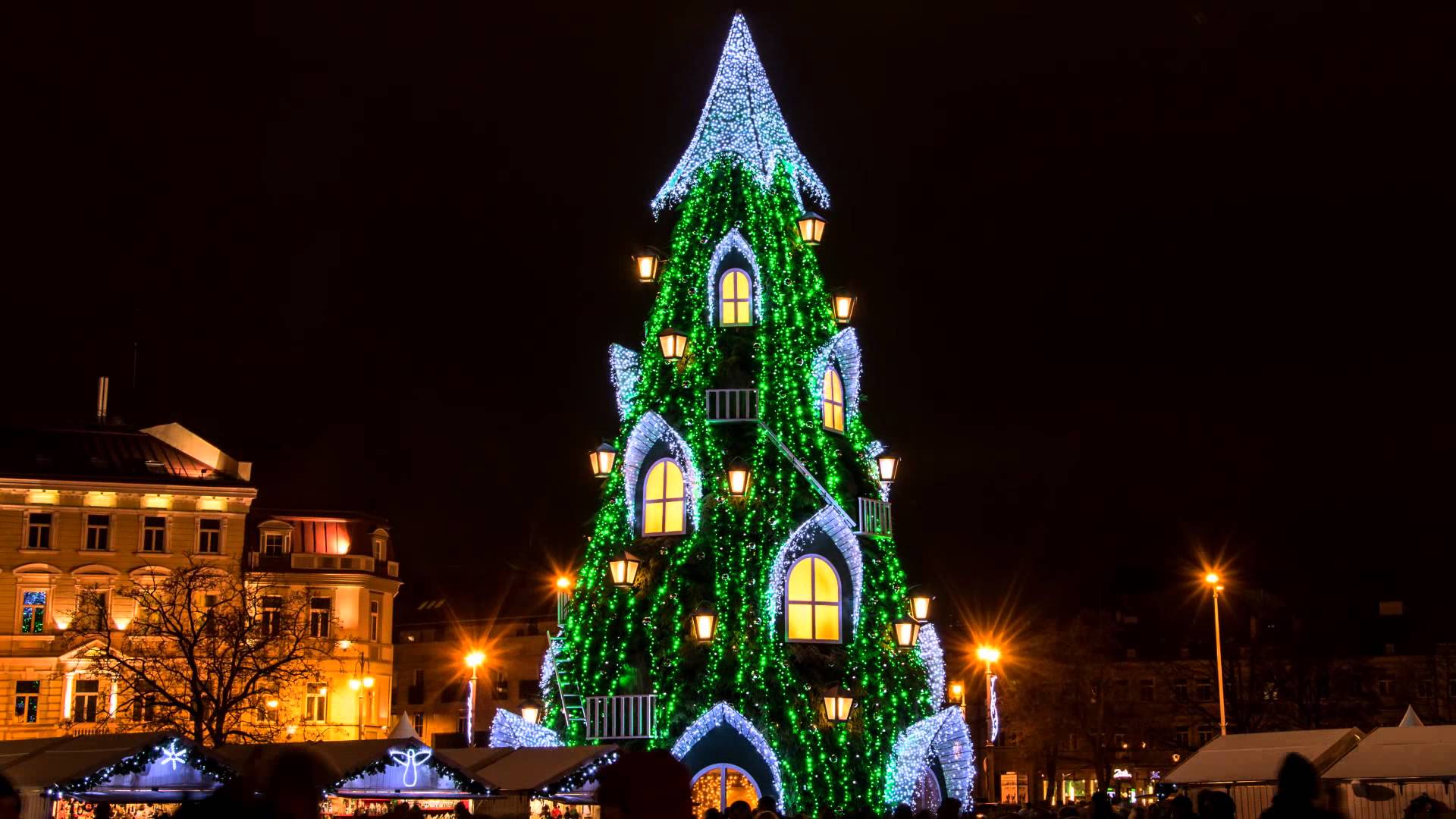 The traditional Christmas market in the Cathedral Square will be open until December 29 – there will be about 50 decorated small houses where you can buy Christmas souvenirs. A Christmas train will be running through the center of Vilnius. This year's novelty will be a square of Christmas design, which will run from December 15 to 23 on Kudirkas Square. Young Lithuanian designers and craftsmen will present their creations there.
Pay attention also to alternative Christmas markets. On December 10-11, there will be a Kalėdų Pop Up at the Kablys cultural bar, where you can buy jewelry, interior items, clothes, perfumes and other goodies from local producers. The next Commune Art Kalėdų mugė market will open at the Pelėda Club (in Tauro Mountain) on December 14. And the slowest ones will have an opportunity to find handmade gifts for themselves and their loved ones at the "Last Minute Market" on December 22-23 at Loftas club. Here you can treat yourself to street food and mulled wine with pleasant music.
When? November 26-January 8
Program
Vienna is another city with a long tradition of fairs: They have been held here since the 13th century. There is an ice-skating rink near the large market in front of the Vienna City Hall, and a Christmas concert inside the City Hall on Fridays, Saturdays and Sundays. At the fair on Maria-Theresien Platz you can buy traditional souvenirs (chocolate, gingerbread, sweets – everything as it should be), and on Karlsplatz is an art fair – jewelry and toys from local designers. Mulled wine is made from ecological wine, there's a musical instrument tent and a merry-go-round – but not with the customary horses, but old bicycles and other mechanisms (a celebration of steampunk). Locals are most fond of the fair in the Museum Quarter in front of the Mumok Museum of Contemporary Art: in the little stalls, lit up by red lights and the glow of discos, you can sit cozily to lounge music, blanketed and warmed by cocktails from cute barmen.
What to try? Roasted chestnuts, raclette cheese, Vienna sausages and all kinds of punch: cherry with almonds, orange, berry or even non-alcoholic.
When. November 11-December 26
Program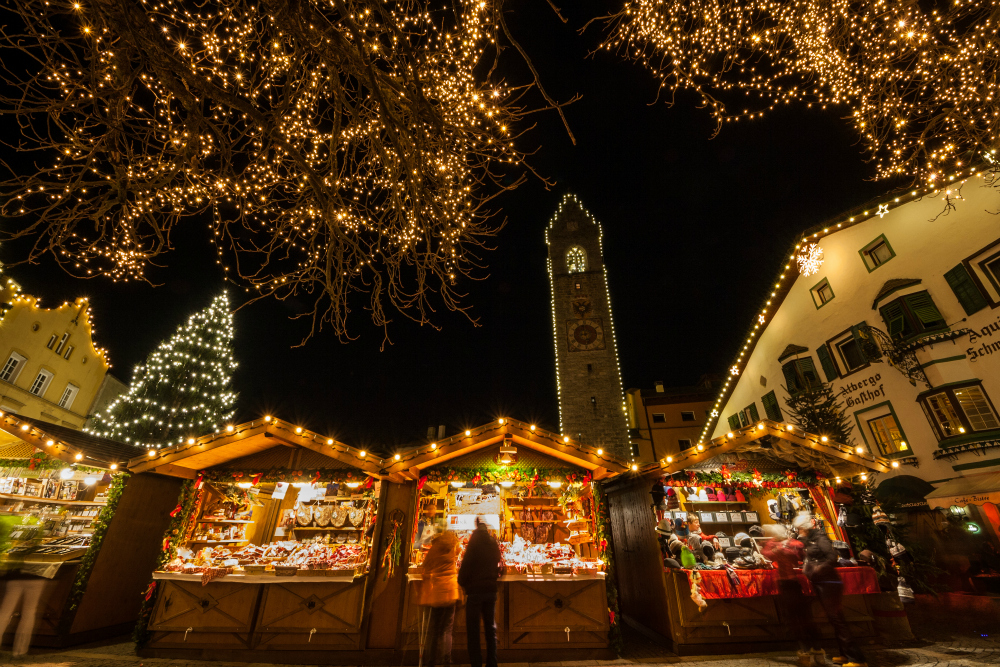 Christmas is the most beloved holiday in Italy. It is a time to spend with the family and cook traditional Christmas dishes, which are different in every region of the country. As early as mid-November, store windows of Italian stores begin to sparkle with Christmas decorations, and all residents of the country is covered by the pre-holiday rush. In the cathedral squares they put up Christmas trees and manger with the scene of the birth of Jesus. The festive lights on the Italian Christmas trees are traditionally lit on the Catholic feast day of the Immaculate Conception – December 8.
North Italy: South Tyrol
If you want to get into a Christmas fairy tale, you need to go to the north of Italy, namely South Tyrol. The snowy tops of the Alps and the cool air reminds us that it's winter, while the colorful facades of houses decorated with garlands of lights and Christmas tree branches create a festive mood. These territories belonged to Austria only a century ago, so as a greeting everywhere be ready to hear Guten Tag instead of Italian Buongiorno, and the names of towns and streets and road signs will be in two languages – Italian and German. And of course, the tradition of Christmas fairs here is most similar to the German-Austrian.
The town is only 5 km from the Austrian border. The small and cozy medieval town, dominated by an ancient tower, turns into a real Christmasland in December. Festive concerts are held in the churches and the main square, and on December 5 Santa Claus arrives in a festive procession. In the square under the clock tower, local delicacies, wooden sculptures and blown-glass Christmas decorations are sold in stalls. The smell of cinnamon and vanilla, grilled wieners and mulled wine is all around. You can grab a bite to eat and warm up with a spiced wine for €5-8.
What to try? Strudel – the local recipe adds pine nuts to the apple filling.
When? November 25-January 6
Program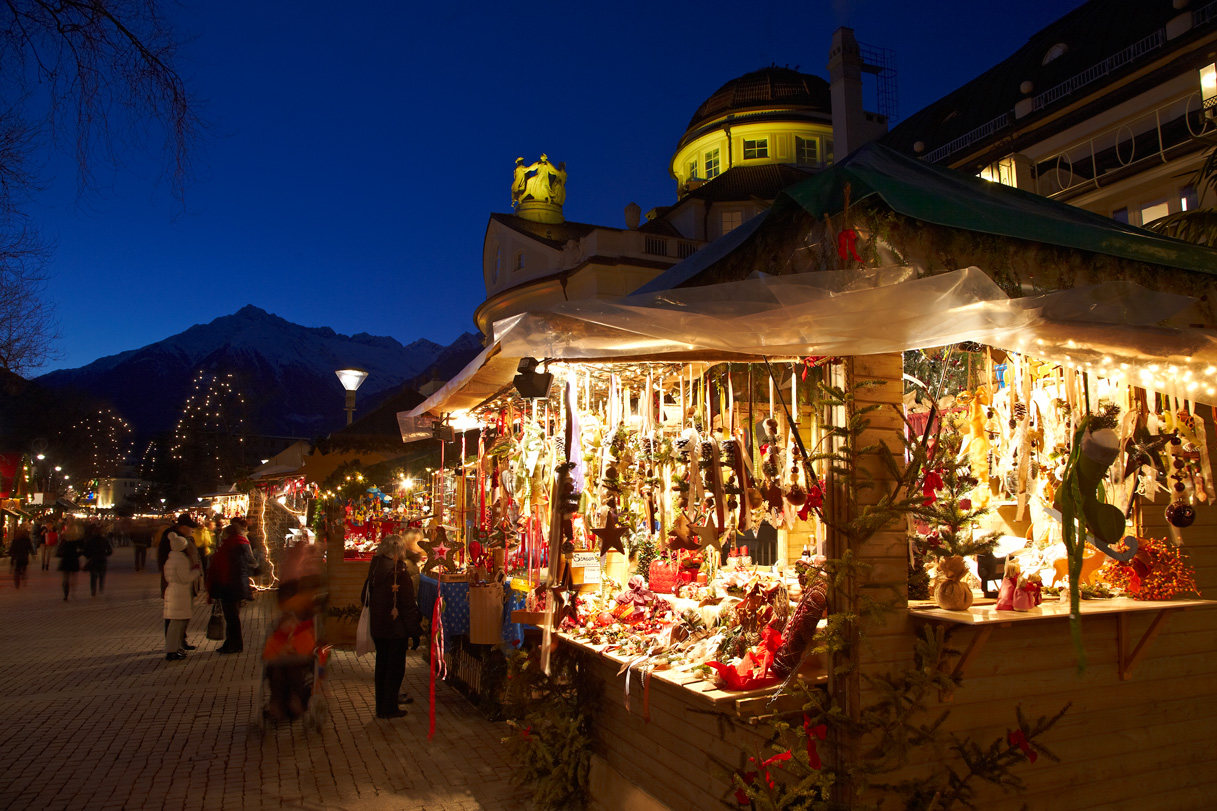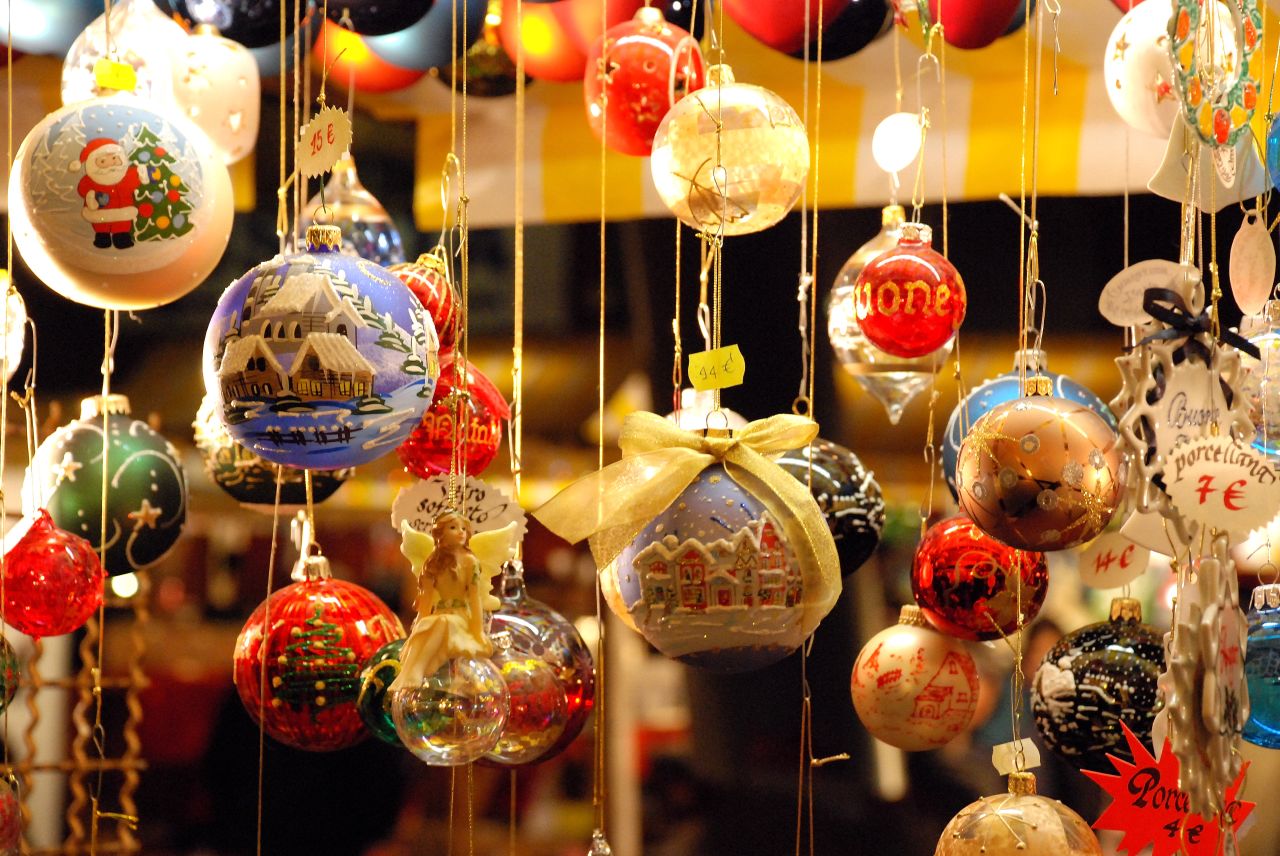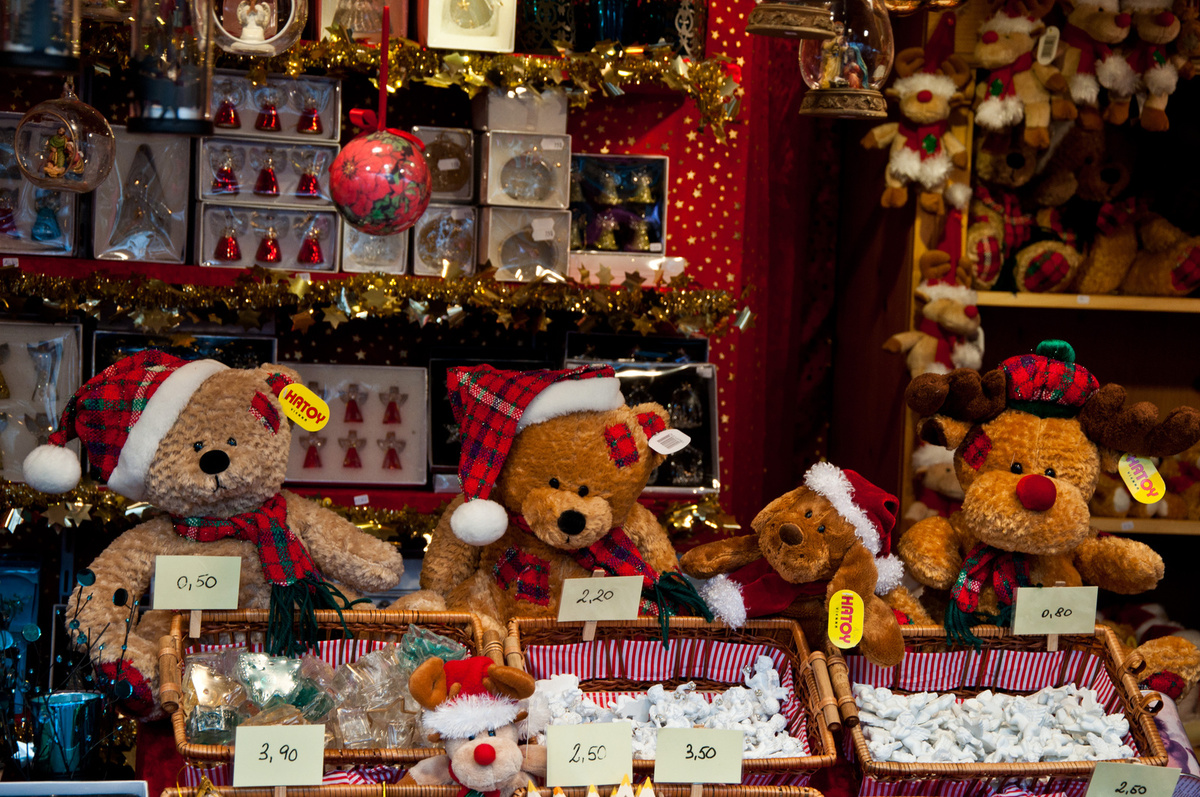 Just 30 minutes from Bolzano is the small town of Merano, famous for its thermal springs, which Franz Kafka loved very much. You can follow the example of the writer and enjoy a pampering spa treatment and walk through the Christmas market, rent ice skates for a few euros and go to the skating rink. Among the hundreds of stalls at the fair, look for the store guarded by a huge wooden Nutcracker, which, once inside, puts you in a Hoffmannian fairytale. This is the store of the German company Käthe Wohlfahrt, which was born as a small family business, famous all over the world for its wonderful handmade Christmas decorations.
Merano in December is perfect for couples in love. For only € 6 you can book a romantic walk through the evening city with a professional guide (the tour can be purchased directly on the spot in the tour bureau Merano). But the highlight for Christmas romantics will be dinner in the giant Christmas tree ball at Bistro Terme Merano (Piazza Terme, 9, Merano).
Once a week in December, Merano hosts the Krampus procession. The actors, dressed in shaggy animal skins and evil masks with goat horns, are very reminiscent of demons from the underworld. According to Alpine folklore, Krampus, the antagonist of St. Nicholas, only comes to naughty children and leaves them a lump of coal instead of the expected gift at Christmas.
When? November 25-January 6
Program
The city is nestled in the valley of the Adige River, surrounded by majestic mountains. Trento went down in history as the site of the famous Council of Trident in the 16th century, so besides the fairs, check out the Cathedral of St. Vigilius, the cathedral square and the medieval Castle Buonconsiglio with Gothic frescoes. Christmas markets in Trento are held in the two main squares: Piazza Fiera and Piazza Cesare Battisti.
What to try? The traditions of local cuisine are very different from the familiar pasta and pizza, so if you find yourself there, try everything. Hot mushroom soup, aromatic goulash, polenta porridge made of corn flour, potato dumplings with venison stew or in ghee with sage. You're sure to love the tortel di patate – potato pancakes (practically native draniki), which are cooked right in front of you and served hot and cold with a creamy cheese. Finally, you can't leave Trento without tasting the local meat delicacy, speck – smoked meat with spices and alpine herbs. Warm yourself with traditional mulled wine, hot apple cider, raspberry tea and warm chocolate.
When. November 19 – January 6
How to get there? The most convenient way is by car, so you can go around several towns in two or three days. You can also take a train to Bolzano. From Bolzano in the pre-Christmas period you can buy a ticket for a bus that operates daily flights to neighboring towns.
If you're planning a 2-3 day trip to Tyrol, buy a Museumobil Card – it's valid for 3 days, costs €30 for adults (€15 for children 6-14 years old). This card entitles you to multiple use of public transport, including intercity buses and free admission to South Tyrol's museums.
Program
The center of Italy: Tuscany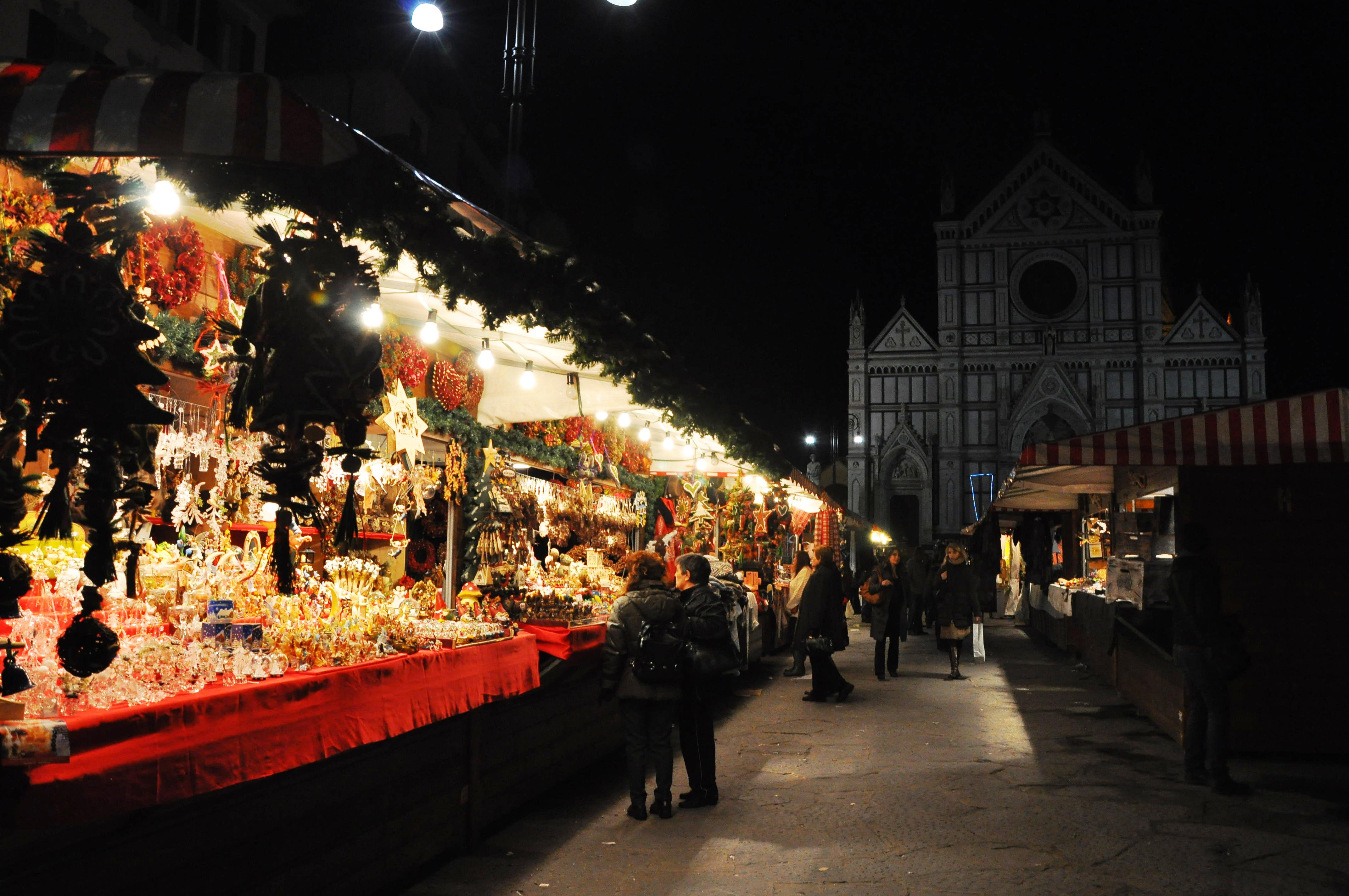 Every year a Christmas fair is held in Piazza della Santa Croce, one of the most beautiful squares in the city. Here you can buy Christmas decorations, children's toys, fragrant oils and handmade soaps, oriental spices and knitted woolen items.
What to try? Here, as at any fair, you can refresh yourself with traditional grilled sausages and drink hot mulled wine, but unlike the Tyrolean markets, this fair is international. French cheeses, Swiss chocolate, English teas and jams, Austrian bread and German gingerbread are sold from the stalls. In one city, you can take a gastronomic mini-trip through Europe.
When. November 30-December 22.
How to get there? By high-speed train from Rome, Milan, and Venice – the trip takes less than two hours. You can buy tickets online: italotreno.it or trenitalia.it .
If you want to take a trip back in time, find yourself in the 14th century and learn how Christmas shopping was done in the Middle Ages, go to Siena. Famous all over the world for hosting the Palio di Siena in the summer, Piazza del Campo is transformed into a medieval marketplace at the beginning of December, with about 150 wooden stalls offering Tuscan cheeses, mushrooms, sausages, honey, fresh pastries, sweets, and spices. Be sure to stop by the courtyard of Palazzo Podesta for a wine tasting of Tuscan wines during the fair.
What to try? The traditional dessert of Tuscany is panforte, a gingerbread or cake with nuts, dried fruits and berries.
When? The first Saturday and Sunday in December.
How to get there? From Florence by train from Santa Maria Novella station.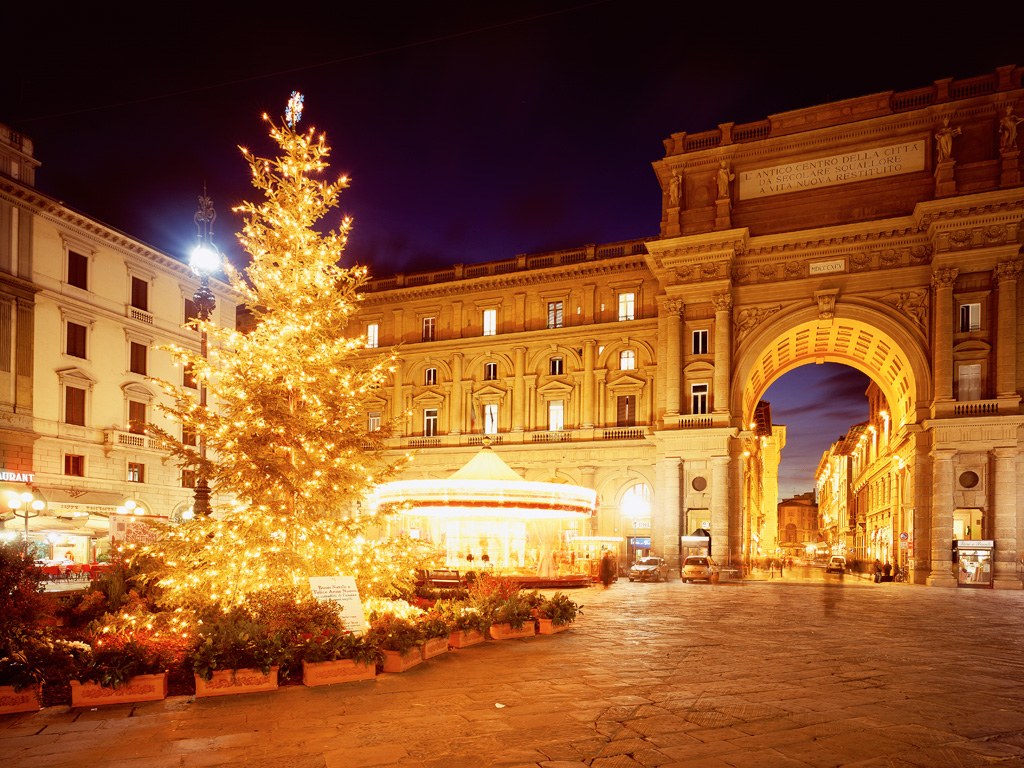 Mulled wine at the fairs is usually sold in decorated ceramic cups – the cost of the drink includes a € 2-3 deposit per mug – you can return or keep it as a Christmas souvenir.
At tourist information points you can usually find a program with all the pre-holiday events.
Check the state weekend dates when museums and stores will be closed. In Italy, for example, these are December 8, December 25, December 26, January 1, January 6.
Christmas is a time of generosity to loved ones and yourself, so enjoy the holiday atmosphere around you.