Poland, Gdansk – review
What to do in Gdansk for three days? What to see? What to do? What to bring? A long story and lots of pictures! It came out budget and very emotional!
As soon as they introduced visa-free travel, my friends and I began to travel. We first discovered our neighboring countries. First was Krakow, then Gdansk.
We took WizzAir low-cost airline. The tickets cost 15 dollars only. We flew for 3 days just to walk, to look at the city, to try local food.
Went from Kiev to Zhulyany.
The flight was an hour and a half.
So, you arrived. What's next?
Next thing you need to do is get to your lodging or the city center. You can do it in two ways:
-Take the bus 210, which takes you to the central station.
We chose the second way. The ride took about half an hour and cost 14 PLN each. I will write the prices in PLN.
In order to make it easier to understand:
one zloty is 18 rubles (or $0.25, or 6.8 hryvnia).
Money change on arrival is not necessary. Cards are accepted everywhere. Buses have contactless terminals, where you can pay with Applepay or Googlepay.
You arrive at the station. What's next?
Next thing you want to do is get something to eat. KFC, for example.
Then you can walk to the center of the city and walk, or check into a hotel.
Where to stay?
In the center there are both cheap and expensive with different conditions. We did not care and we took 40 PLN per night for a room a little away from the center (average quality room with amenities in the room, but the kitchen is common to all). As in all cities, the farther from the center, the better conditions for the same money as in the center.
How to get to the hotel?
You can take Uber, or you can take public transport.
We tried both.
A huge plus of public transport is that at all stops hangs the route and schedule. You know exactly what time it's going to be there.
There are ticket vending machines near the stops. You can pay by card or contactless or cash.
It's very advantageous to buy a day ticket for 13 PLN. It's valid for buses and streetcars. You buy it once, and then you can ride for as long as you want. Except for intercity trains, which have separate tickets. Or you could buy a 20-minute ticket. It costs 3.40 PLN. You buy one, get on the vehicle, stamp it on the ticket (you put the date and time on it), and it's yours.
There is another separate type of transportation, which we enjoyed.
It's electric scooter rentals!
You walk around town and they're parked everywhere.
How it works:
You download an app on your phone, attach your payment card. You look for the scooter you like, you activate it by scanning a QR code through the app, it starts, and you go wherever you want! At the end of the trip you put the STOP and you are shown how much you have traveled and how much you owe.
For example, after riding for 23 minutes and driving 5 km around the city, I paid 11 PLN (almost $3).
In the application, the map shows where the nearest scooter is, its number and its battery level. Picked and ran! Cool! We had a great ride!
I was especially pleased that there are bicycle lanes EVERYWHERE and you can ride your scooter EVERYWHERE.
Even at intersections everything is marked and there are traffic lights for cyclists and scooters. And no one walks on these bike lanes with their feet like we do, just bikes and scooters. We got a buzz out of that!
The first day went very quickly, because while we arrived and settled in, evening came. We went for a walk in the evening city.
Evening Gdansk is beautiful!
Everything is beautifully illuminated.
There are signs everywhere, so you won't get lost. (Although everyone has a navigator in his phone).
You can walk to the Polytechnic University. It looks bombastic in the daytime, and in the evening at all!
Or go to the bar.
The second day we spent walking around the city center.
It looks just chic and very comfortable. You can't go by and not get in the letter and take a picture.
Then you can go into a cafe and try something local. They have very tasty pastries and a lot of confectionery cafes.
We don't have Starbucks in Ukraine, and I really wanted to go there. And of course we went there, too.
I also went to McDonalds for comparison. The menu is a little bit different. The prices are almost the same:
You can eat local food, for example, pirogi (emphasis in "o") and go to the varenyaya. These are dumplings.
And if you want to save money, you have to go to supermarkets and stores. There's a chain called Zhabka. There's one on every corner here:
A little photo with prices, so you understand (clickable, enlarged by clicking):
On the third day you can take a comfortable train to the neighboring town of Sopot and see the legendary crooked house and buy a magnet with it.
What to take as a souvenir from Gdańsk?
Items made of amber. They are sold there in many places and they are very beautiful. I took myself a silver pendant.
There are also a lot of souvenir stores. It's little things, but nice and reminds you of where you've been. Notebooks and bags and stuff.
"Being Russian in Gdańsk": how Kaliningraders are treated in Poland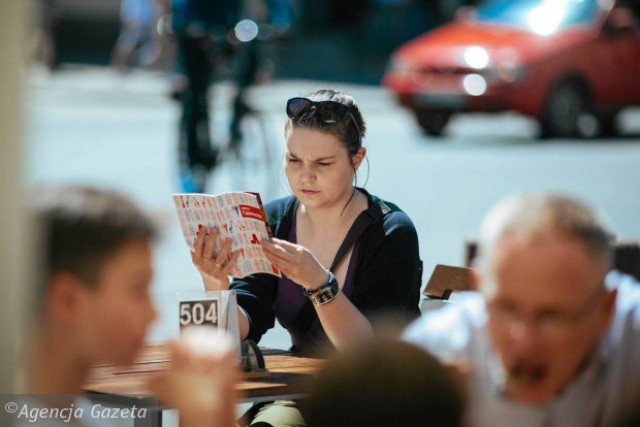 How are Kaliningraders treated in Poland? This question has been tormenting inhabitants of the region since the start of the project of small border traffic between the countries. Three years ago our neighbors were waiting for us with open arms, inviting us to restaurants, stores and hotels.
However, the political situation has forced some people to change their minds. Unconfirmed information appeared in social networks and mass media that people from Kaliningrad were no longer welcome in Poland. For their part, travelers wondered if it was worth it to go to the neighboring republic at all.
The journalist of the popular Gazeta Wyborcza newspaper Paulina Szczegren decided to find out what it is like to be Russian in Gdansk. For several days she conversed with the staff of restaurants, bars, information centers and stores exclusively in the "great and mighty" language. Her observations were published in the weekly Magazyn Trójmiejski. Internet-portal Kaliningrad.Ru presents to your attention translation of this material.
A year ago Kaliningrad mass media very often published information about attacks on Russians in Poland. Someone was spat on, someone had his tires slashed, his car scratched. There was a story about a Russian woman who left her car near the Trójmiasta ring road and found it with a broken windshield on her return. There was also a story about a Kaliningrad family on their way to Gdansk being shot at by unknown people in a black BMW.
Many consider such stories to be the usual provocation, designed to turn Kaliningraders against Poles, and to discourage them from traveling.
For several months there was no such information. However, the media recently reported that there were new incidents on the border highway, on the section Elbląg – Grzehotki. Two teenagers on the bridge threw stones at Russian cars. They hit one family straight through the windshield.
In the comments to the article, there were heated arguments as to whether it was just hooliganism or a manifestation of Polish Russophobia. And once again, the question of the safety of Russians has become one of the most discussed.
The atmosphere of a real big city
I polled my Kaliningrad acquaintances, frequent visitors to Poland, to find out how they feel when they visit and what they think has changed over the last year.
Vitaly, businessman
Nothing has changed with the service. Everyone in the border area is happy with Russian customers. When someone comes to Kaliningrad and wants to rent an apartment in my firm, I have a positive attitude. And it doesn't matter whether it is a Pole, a German or a Ukrainian. In English it is called "business as usual". I have the impression that because of the political and economic situation Polish businessmen have become distrustful of Russian business conditions.
Maria, student
When small-scale cross-border movement first appeared, we were flooded by a wave of Polish stores, services, tourist offers from Gdansk, as well as Warmia and Mazury. Now the Poles are not so active in inviting us to visit. And we also go less often. And we do not spend a lot, the zloty has risen in price by almost 1.5 times. When I'm in Gdansk, I feel good, like in a big European city. People don't pay attention to the fact that we speak Russian with our friends. And I like it, a real atmosphere of the big city.
Tatiana, insurance company employee
I haven't traveled to Poland for several months. Because of Ukraine. The media wrote, and people I knew said Poles were offended by Russians and could be rude. And the ruble depreciated. Now I`m visiting your country again. And I do not have the impression that something has changed in relation to the Poles. The staff in the stores and restaurants are nice and helpful. But in Gdańsk they see us only as customers. In Warsaw, people pay attention when I speak Russian. But so far it has been only a positive experience, I have made a couple of good acquaintances.
I decided to find out from personal experience what it is like to be a Russian in Gdansk after three years of the MPP with the Kaliningrad region. It's quite difficult to impersonate a foreigner, especially when it comes to language. However, I did give it a try.
Friday night in Gdańsk
Russians have already mastered the center of Gdansk, and the city is already used to them. My husband and I go into a restaurant. I say out loud: "Hello!" I didn't notice any of the guests paying attention to me. The waitress immediately brought out a menu in Russian. We thanked her. However, the staff spoke to us in Polish.
I shook my head at the menu, saying several times: "Expensive, very expensive". And then I noticed that people were looking at me. It turns out that Russians do not complain about prices. The tourists themselves confirm it. I told my husband in Polish: "Let's go somewhere else. We leave. The waitress didn't even seem to notice the "switch".
Since the prices cooled our appetite, we decided to have a beer. At the restaurant, which is popular among the Russians, everything goes smoothly. We receive the menu in Russian, the waitress understands us, although she is not very talkative. However, she does say "please" and "thank you". When we asked for the bill, she immediately brought us the check and asked "card or cash? We pay, we thank. On the way out, we realize that we are hungry.
We've been looking for a new place for a long time. We choose something in between a restaurant and a bistro. It turned out that there were waiters in the place, which meant that we could talk.
The menu, of course, is in Russian. The waitress, however, does not know the language and tries not to speak at all. We order "zhurek", a favorite dish among the Russians, pointing to it with a finger on the menu.
The long-awaited dinner appears on the table. It smells wonderful, we eat quietly. The waitress comes up and asks if it's good. As if not understanding, we nod our heads. A real Kaliningrader who has been to Poland at least once a month knows all these gestures.
I love Russians!
We decided to explore the situation in the pub as well. We chose something more youthful, where tourists rarely go on their own. I have never seen or even heard any Russians around this place, except those I brought here myself.
The bartender has no problem understanding the word "beer." He shows us the labels above the taps and we choose. He pours, we pay – nothing to talk about. We sit outside and try to talk loudly, because that's what Russians usually do abroad. And they themselves confirm this negative stereotype. People at the next table look at us, but then go back to their conversation.
A group of cheerful and not quite sober young men walk past us. "I love Russians," one shouts to us. We are surprised, it seemed that the unselfish love of Poles for Russians was lost back in the days of the Kiev Maidan. I smile and say: "We are not Russians, we are Belarusians. The man's face changes, he did not know that he loves Belarusians too. With a quick step, the Pole returns to his friends. The fact is that everyone who speaks Russian in Poland is perceived as a Russian, or rather as a Russian. And there is nothing surprising about that.
The center of Gdansk is already used to tourists from all over the world. The staff does not pay attention to the language spoken by the guests. True, I have heard more than once that translation of menus in Polish restaurants can be very funny and sometimes completely incomprehensible to tourists.
Kaliningrad citizens know that "żurek" is jurek, and "pork breast" is not an alien word for Russians either. But tartar, which in Russian is called "beefsteak", is shrouded in legends. When ordering this dish many guests are surprised: instead of fried beefsteak they are brought a pile of raw meat with a raw egg.
Saturday at the sea, Sunday in the stores
Saturday circling near the sea between Brzezny, Jelitkowo and Sopot. The weather is not nice, relaxing on the beach is out of the question. Sometimes you can hear echoes of Russian, sometimes English.
At one of the beach bars we order beer and cider. The bartender doesn't know Russian, so he speaks English. I insistently repeat my order in Russian. The bard reacts in no way and says: "Card or cash?
There are many similar words in Polish and Russian, you can help yourself with your hands and then everything will be understandable. But English does not help Russians. When the waiter asks me a question, I take out my wallet and show him my money. Everything ends successfully.
In another beach restaurant, there are middle-aged people working behind the bar. They had no problem serving the Russian woman standing next to us.
On Sunday my friends, Sergey and his sister Ira, arrive in Gdańsk. We are on our way to Ikea to buy a dresser. On the way, I ask them about Poland.
"We often choose self-service stores because it's easy. No one has to understand anything. You take what you want, go to the cash register, pay, and leave. The problems start when you want to buy some specific product. There are many Polish companies which have their sites in Russian, but if you ask them a question, they answer in Polish – if they answer at all. My friend wanted to buy a piece of onyx. It didn't work out. None of the border companies answered him, and somewhere said they could not help," commented Sergei.
During the conversation my phone rang. I answered in Russian, and the older woman sitting next to me threw me a look of hatred. I switched to Polish, and the rest of the way she looked at me with concern.
In "Ikea" everything looks like what I was told: the goods in the stroller, at the checkout "pick-up", before paying, Sergey asks for "tax free", gives the bank card. Everything. Minimal language contact. We go with the check to the customer service point. Ira forgets some of her purchases at the checkout, she is shouted loudly, "Hello!" It worked.
At the customer service point I ask a young man if he speaks Russian. He immediately cut me off: "Only English."
Lunch bypassing the tourist route
Not far from my house there are several restaurants: pizza, kebab, Asian cuisine, "milk" bar. More than once I have met Russians there. There is a language barrier between guests from Russia and the staff, but the situation has never been tense.
Once in a pizzeria I heard guys talking that "Russians came and couldn't talk to them. If they come to Poland, they should speak Polish. And no one here is obliged to know Russian.
My husband and I thought it would be nice to go to such a local place, where a tourist has no chance to wander. We go to a restaurant in the Zhabianka neighborhood, park as far away from the entrance as possible, so that the license plates don't give us away.
Sitting near the bar, so that there was an opportunity to overhear an interesting conversation. It turns out that the restaurant only has a menu in English. I read it, while my husband is studying the same one in Polish. He does a poor job of mimicking incomprehension. I take my computer out of my bag, ask in Russian for the Wi-Fi password. The girl points to the sign with the corresponding information. Neatly.
We order burgers. The task is complicated, they can be either with fries or salad. We decide we're going to have "salad," we try to explain to the waiter. We end up getting burgers with fries.
During lunch, the waiter approaches the other guests, wondering if they liked it. He bypasses us. Only when we're done eating does he ask: "Is everything okay?" We nod our heads in response. We tried to order more. But the waiter interrupted us and spoke Polish the whole time. After the coffee we leave in silence. I smile and wave goodbye.
During the week I also went to the tourist information office at the High Gate and to Dlugim Targu. The first place told me they didn't speak Russian. Asked for some information. They gave me a folder and a map. When I asked how many Russian tourists are here, they said that there were many.
On Dlugim Targu, a nice girl told me that she spoke "a little bit" of Russian. At the same time, she spoke very well. I learned that a year ago many more Russians came to Gdansk than now. They asked how to spend their time. The tourists could be divided into two groups: the younger ones asked about museums and sights, the older generation asked about the stores. An employee of the center also handed me a folder – "Sights of Gdańsk" – in Russian. It was different from the previous one, but the map was the same.
After a few days as a "Russian," I didn't feel that I was perceived any differently than usual. However, my Russian acquaintances are right that the attitude in Gdansk is built on business pragmatism. In my opinion, such "indifference" is a healthy reaction to a foreigner in such a big city with centuries of culture and different traditions.
Paulina Siegień, Gazeta Wyborcza, Magazyn Trójmiejski

Subscribe to Kaliningrad.Ru in social networks and messengers! Find out more about life in the region, read only the most important news in Viber, get daily digest of the main news of the day in the main channel in Telegram and enjoy a cozy atmosphere and facts from the history of the region – in the second Telegram-channel