OUR PARADISE IS THE SEYCHELLES. Part 10. The way home, my conclusions, tips for planning a trip.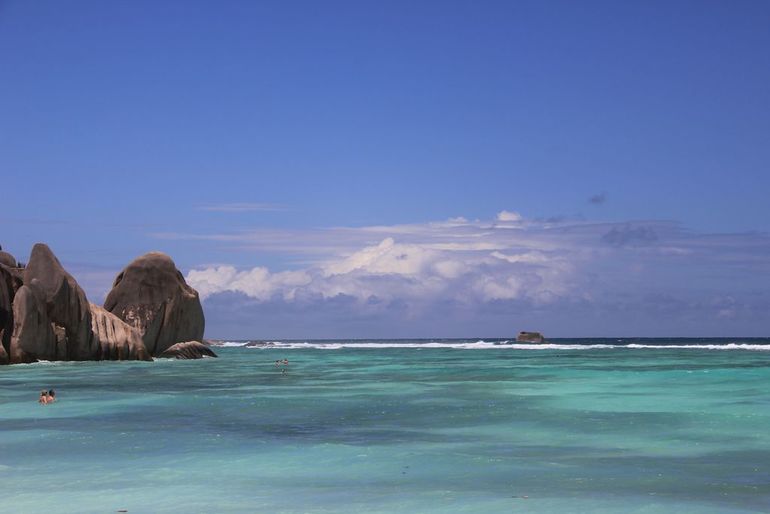 Our flight back was at about 9 pm, so we went early at 10 am to make the final payment to the hotel. We didn't have enough rupees to pay, we had to change euros for rupees at the hotel, the exchange rate at the hotel was not favorable) It was better to pay in rupees. Our luggage was already packed and taken to the luggage room without us, and we went to the North beach to spend the last day there. Since the account was already closed, we paid in cash at the bar on the beach. Closer to 16 hours we went back to the reception, took our things from the luggage room and went to the guest lounge to wash and change clothes. Lounge is small, 3 sofas, a couple of chairs, TV, books, 2 computers with the internet, 2 showers with towels, very convenient and comfortable to spend time before leaving and clean up before the road.
At the appointed time our guide came for us and took us to the airport. There we packed our luggage. ) Registration for our flight was going on (Emirates starts 3 hours before departure), received boarding passes for both flights at once for the seats that I chose online when buying tickets in April. Very convenient! Stopped at the Duty Free to buy a couple of bottles of Seychelles Takamaka rum! I recommend it!) Even my husband, a whiskey lover, appreciated it)) And for the women we bought 25 degree coconut rum, also very nice)
Goodbye Seychelles! We will miss you!)))
Departure from Mahe on schedule without delay. Knowing that we had a long overnight layover in Dubai, I slept through most of the flight. In Dubai, it took a long time to get around the field, but brought us to the correct terminal 3, section B of the gates. I already wrote that the flight from Mahe to Dubai was rescheduled and we had an 8 hour connection here. For those who have a layover longer than 4 hours, Emirates gives out special meal vouchers that can be used to eat at several cafes. We got them (at the Emirates counters) but didn't use them. We spent 2 hours walking around the duty free stores, of which there are a lot at the Dubai airport. Some of them are very interestingly decorated: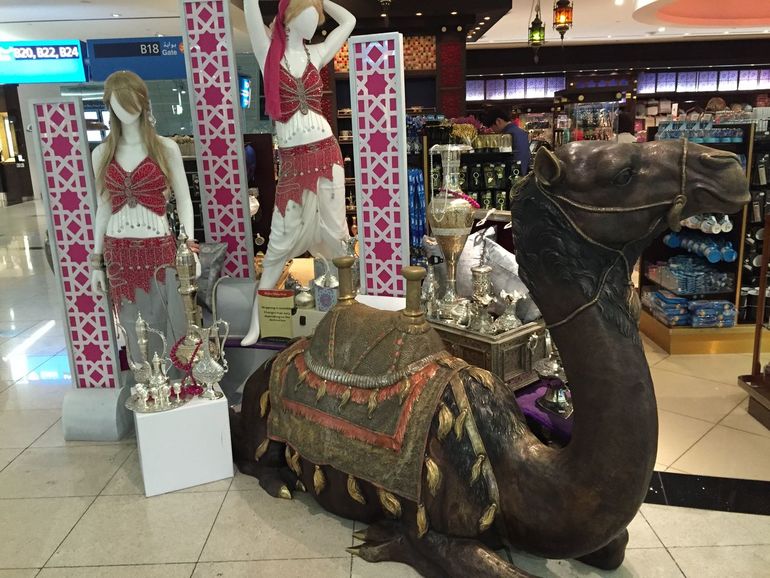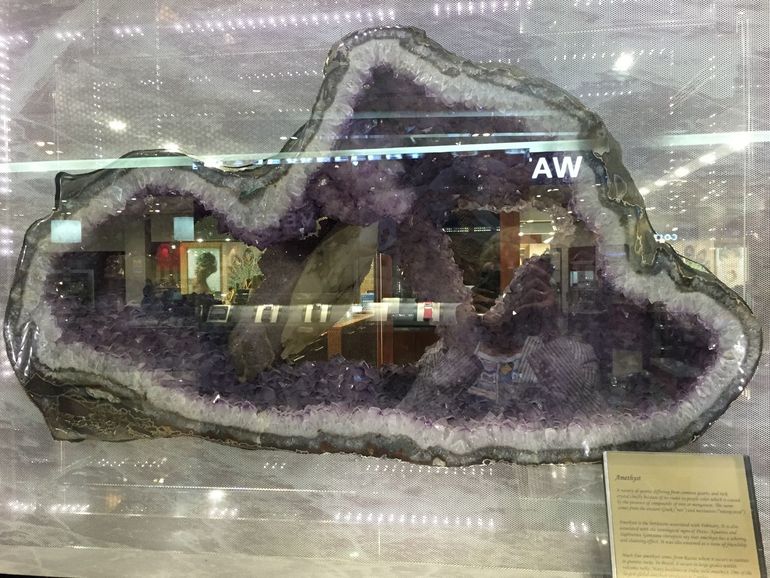 Closer to 4 am the energy was running out, and we went to look for a business lounge Marhaba Lounge. In Part 1 I have already written that especially for this connection my husband got a Priority Pass and the two of us used it to get into the lounge for free. The usual price at the rate of about 3600 rubles per person for 4 hours, but in fact no one takes into account the time. The lounge is big, but it was crowded too! At 4 am the occupancy was around 70%, half of the hall was asleep in the chairs. We could hardly find two chairs next to each other. The hall looks like this: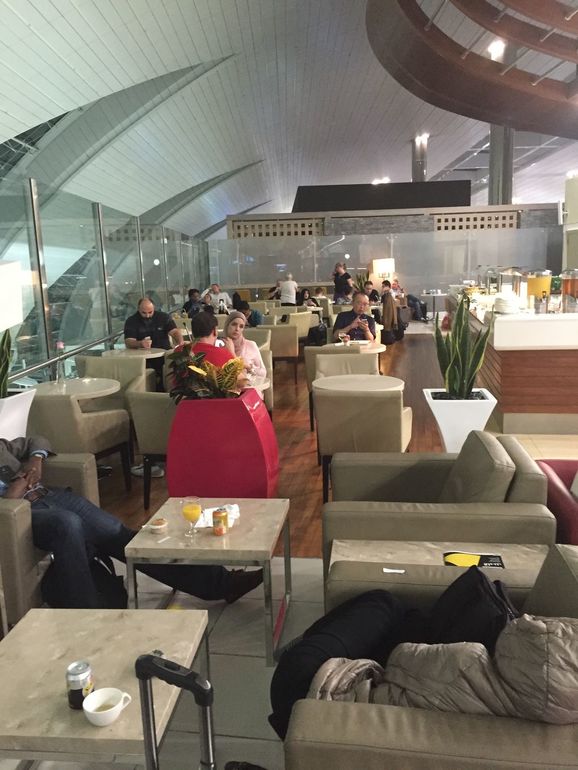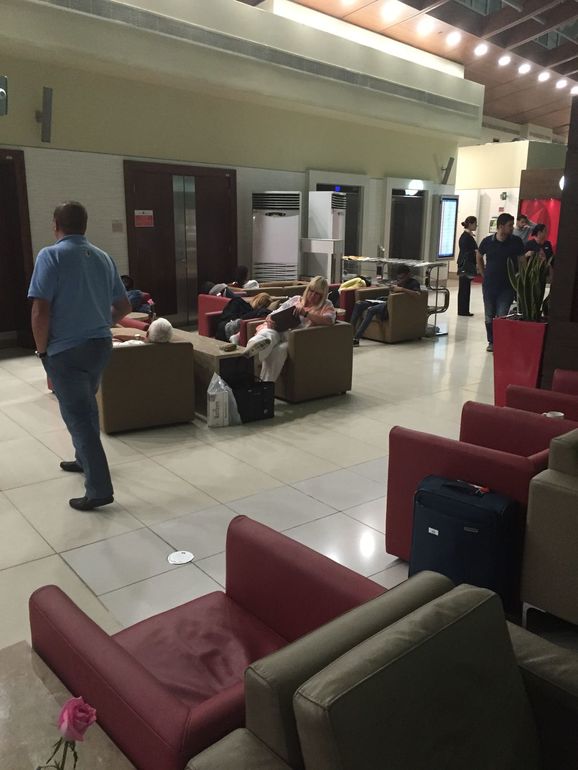 The food in the hall is not bad, not a restaurant, but definitely not hungry. Cold drinks, spirits, coffee machines – everything is there. So after eating here, we did not use the free coupons from Emirates.)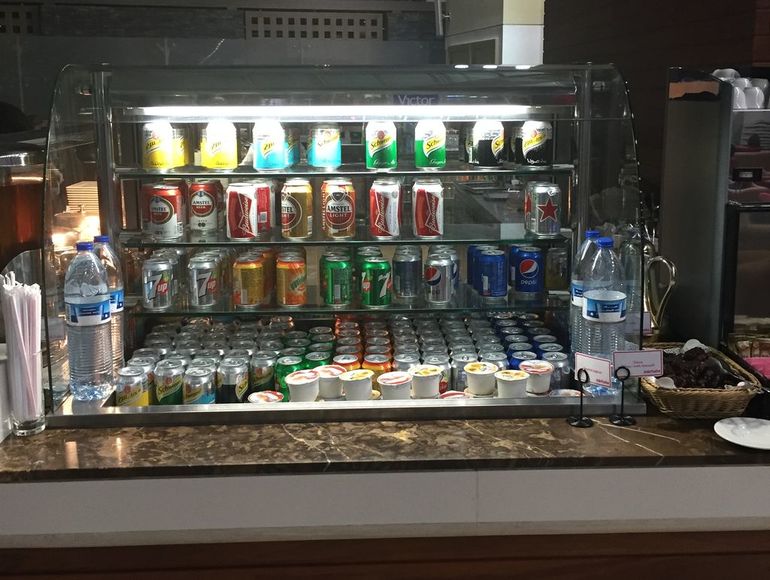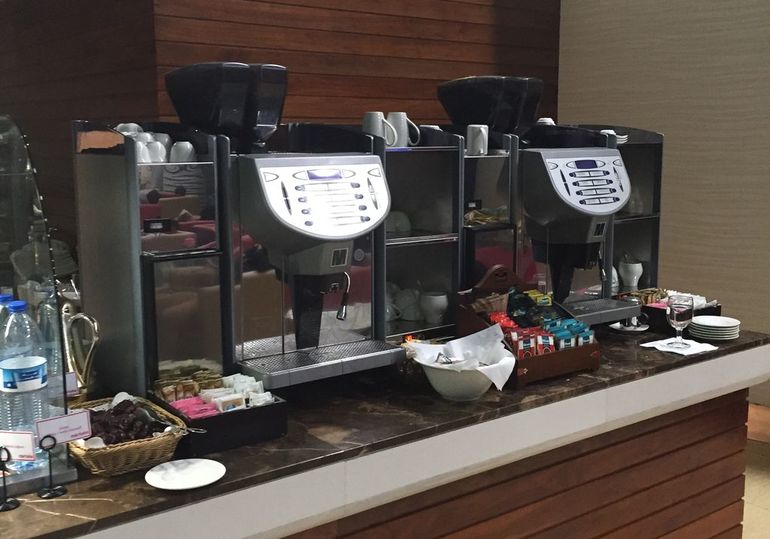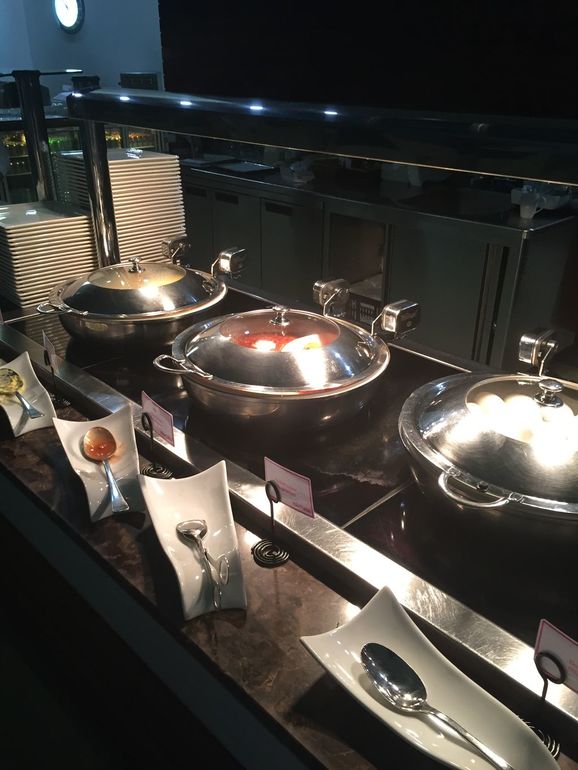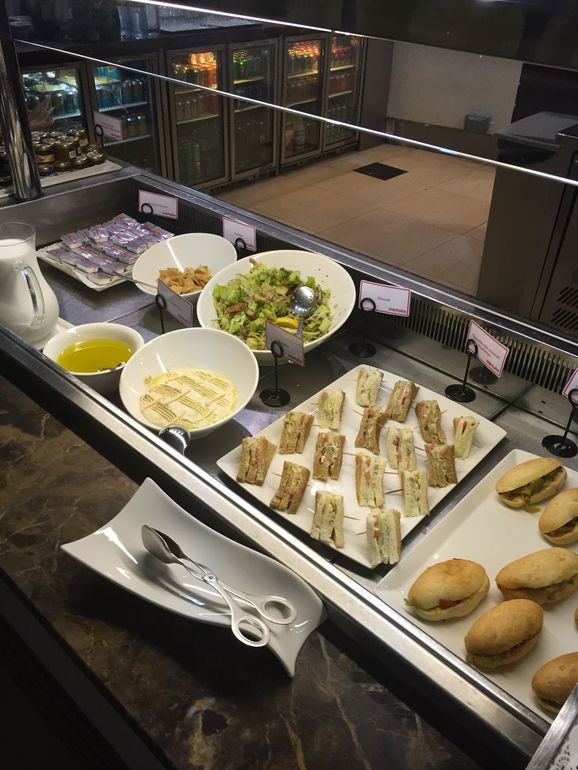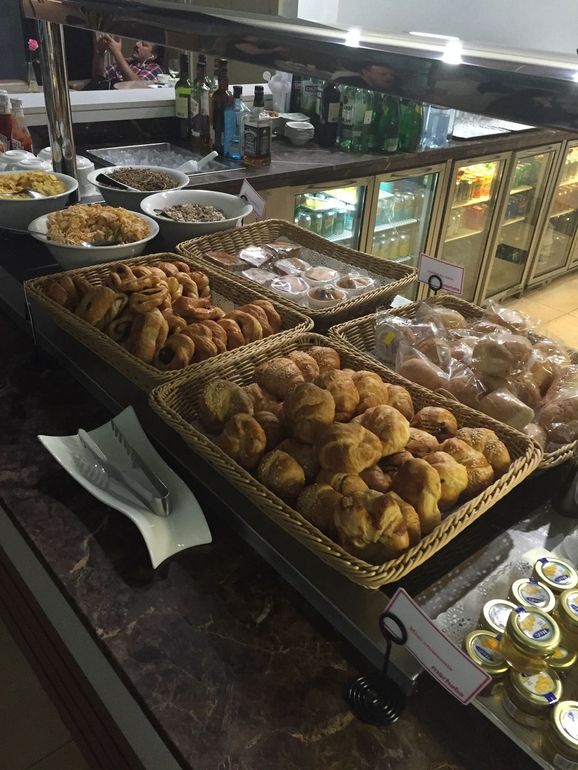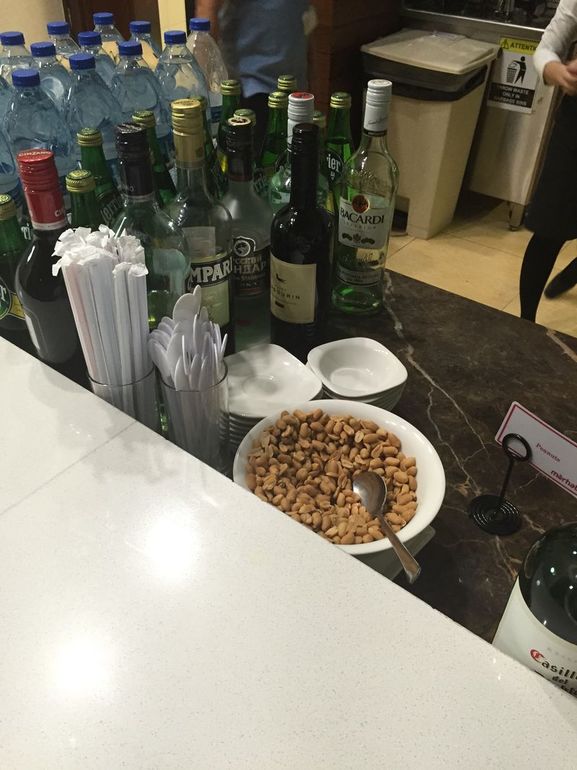 There is also Wi-Fi in the lounge. After having a snack, sitting in the internet, we moved to the vacated chairs in front of each other, and throwing my legs on my husband, I went into hibernation for 2 hours)))) Very comfortable to snooze in their seats, though at that point I did not care where to sleep))) By the way, the airport itself has semi-reclining chairs with footrests near some gates, but at 1 am when we arrived from Mahe, they were all occupied.
The flight from Dubai was delayed, and it was after landing on the plane. At first we were in the plane for 40 minutes after everyone had boarded. Then we got to the tarmac and waited another 20 minutes in line for the departure and missed about 10 planes. It was just a succession of Emirates planes)) I forgot to write, it's a steam room in Dubai! I do not know how to rest here in the summer, it is a furnace!) Enough 5 minutes on the exit and enter the plane to feel it)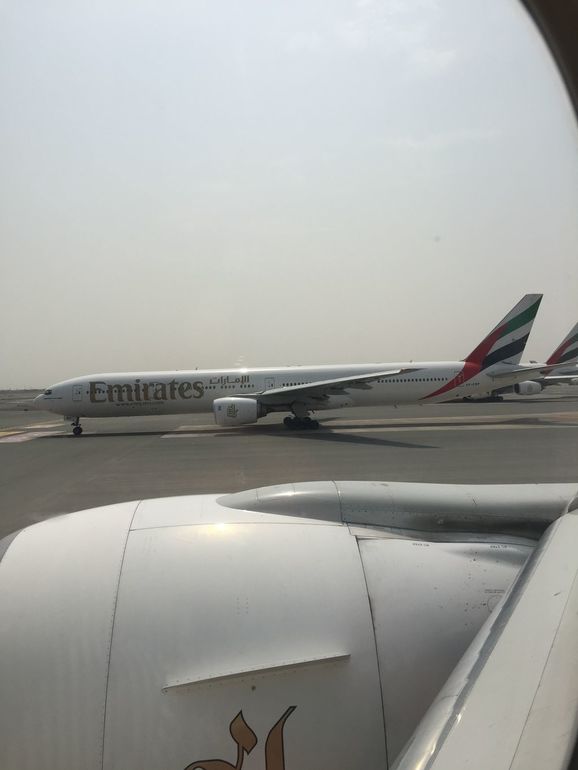 The food on the plane was as good as always. My husband was the first to get his tray, because I ordered the sea specials for him. Although the regular menu was even better in my opinion).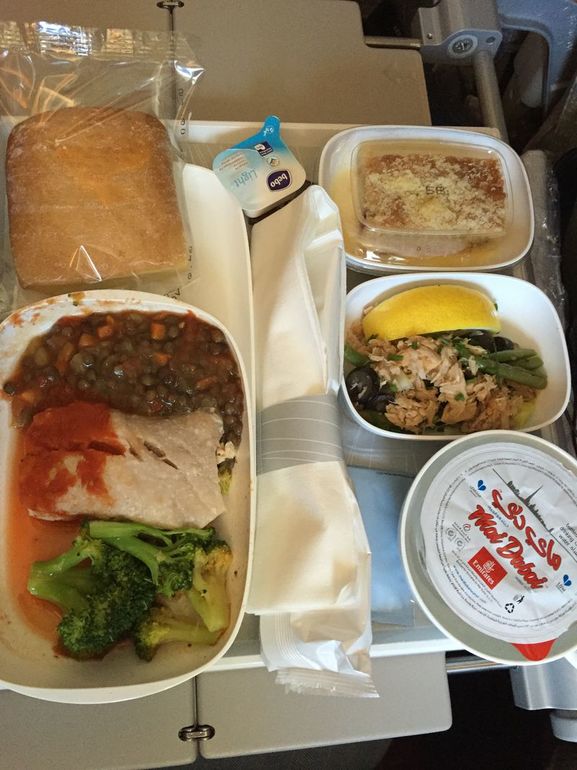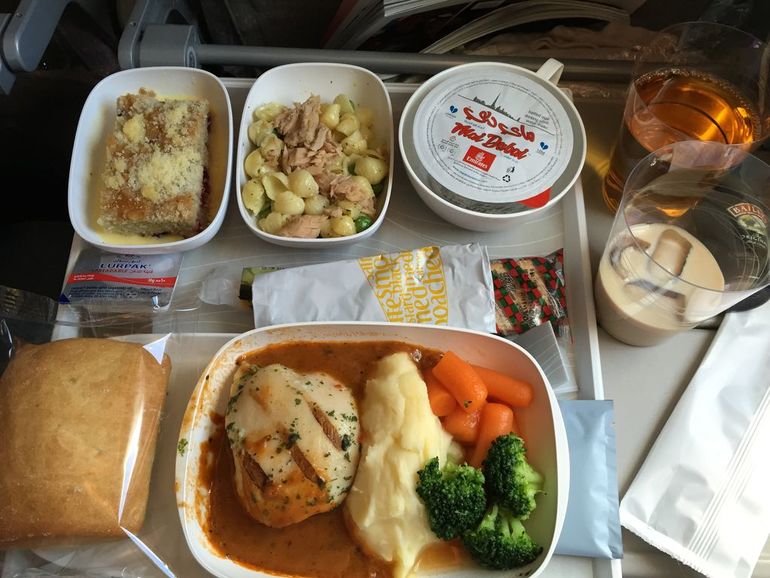 Only on this flight we got ice cream) Tasty))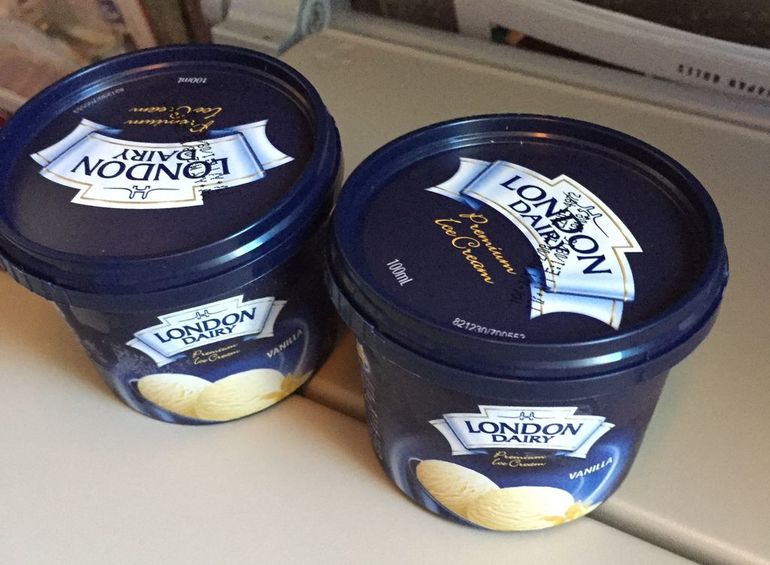 Yes, I will write about the Emirates airline joint. Knowing that Emirates has a free congratulations service for dates and birthdays, before the trip I wrote to the airline (Russian office) that our trip was timed to coincide with our wedding anniversary, and I would like to make a surprise congratulations to her husband on the flight Dubai-Moscow. Usually it would be a cake. My request was confirmed and accepted. But when on board I asked the cabin attendant, he looked at me surprised and said there was no cake on board. But you have to give the staff their due! He said we would figure something out. I went back to my seat and after about 10 minutes he came back with a Russian flight attendant and a tray with 2 champagne glasses and some cakes from business class.) He congratulated us in English, she translated into Russian, the other passengers clapped, my husband was very surprised by this attention, it was a surprise to him)) And then they took our picture with their camera, and 5 minutes later they brought us the picture in a frame with a greeting card with a signature.)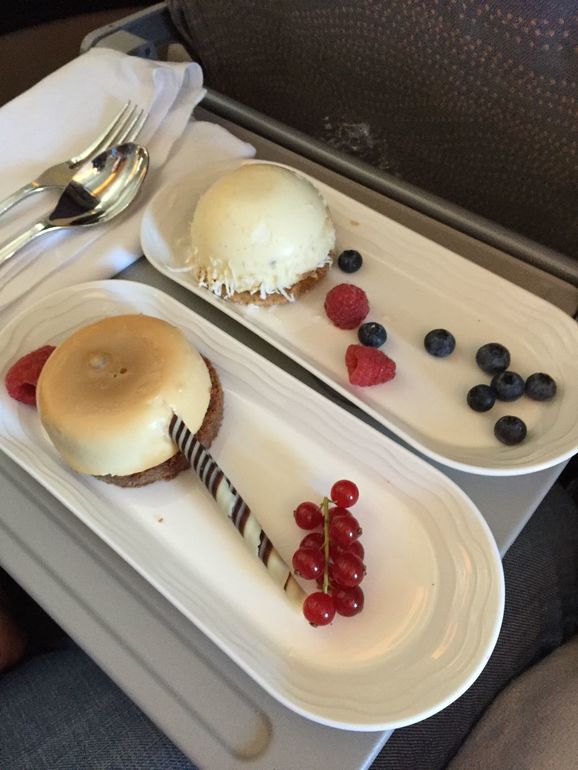 On this sweet note, I will end the story about our romantic trip to the Seychelles!)
But I want to write a couple of words about the overall impression of the Seychelles.
We dreamed about them for 2.5 years and all our dreams came true! Despite the vagaries of the weather, Seychelles make a great impression! Extraordinary nature, heavenly beaches, azure ocean! Seychelles is definitely worth at least once in your life to see them! Yes, the trip was not cheap, but we don't regret a bit that we strained ourselves and decided to realize our dream! A romantic trip to the edge of the world with your favorite man, what else can you dream about?) Just a new trip!))
If we had visited one main island Mahe, as many tourists do, probably the picture of Seychelles would not have been so enthusiastic. All the same, the best beaches in Seychelles are Georgette on Praslin and Anse Sours D'Argent on La Digue. The latter is a well-deserved symbol of the Seychelles!
I forgot to write about the unpleasant moments, they were unfortunately, too.
First of course the burns on my husband's legs, which he didn't put sunscreen on one of the days we spent in the active sun. A thick layer of Pantenol every day and after 3 days the discomfort was gone.
Second – I don't know where exactly, but on La Digue we were bitten by an unknown insect and then there were red, rash-like dots all over our bodies, mostly on our feet, that were very itchy. Not mosquitoes for sure. Phenistil ointment with you to help!
Third. Mosquitoes are also in Seychelles, we were bitten by them in the room on Mahe, which is not surprising, given the presence of mangroves in the hotel. Fumigator in the room was not, it is better to take with you. We did not see any mosquitoes on Praslin and La Digue).
Fourth. Two days before the end of the holiday, my husband was bitten on the neck by a caterpillar that fell from a tree on the beach. He didn't even think caterpillars could bite at first when he brushed it off his neck. But then the place began to itch terribly, he naturally scratched it, and apparently blew it all over his neck, the next morning everything was terribly swollen. Again, Fenistil ointment to help.
But these moments do not spoil the impression of rest in Seychelles!) Positive experience was many times more. )
Before the trip, I talked to a friend, and she told me: We have friends went to the Seychelles, they did not like it. I asked: What did they dislike? She told me: It was too expensive!
The Seychelles is positioning itself as an exclusive expensive resort and you have to be prepared morally for the prices on the islands. Also, you have to understand that the islands are located in the Indian Ocean, and except for fish and coconuts, almost everything on the islands are imported from the continent! What they grow doesn't even provide for their own needs, let alone for tourists. Therefore, the prices on everything are quite high. Well and the ruble exchange rate to the euro leaves much to be desired, a year ago 1 rupee was worth approximately 3 rubles, now – 5 rubles. For Russians all expenses have increased by 60-70%.
However, there are a few things that I will try to describe based on my own experience, how to minimize travel expenses. I will say right away that the purpose is not very economical, we chose a decent not cheap hotels on Praslin and Mahe. But of course I was looking for the best possible for us. So, how can you save money to see Seychelles and die of happiness))))
Flight. There's a golden rule that the best airfare is about 29 weeks before you travel. So planning your trip ahead of time is the main key to saving money! You can fly to Seychelles with Emirates or Etihad with a connection, direct flights are extremely rare on New Year and May holidays and are more expensive. We bought tickets 4.5 months before departure for a special offer with a 10% discount. Almost all airlines run promotions periodically. The week before departure tickets were about 25% more expensive. But this year I saw specials on flights to the Seychelles for 26 thousand!
Accommodation. If you are a supporter of good and quality rest, and your choice – hotels, then you need to pay attention to the following:
1) In any country, and Seychelles is no exception, there are high and low seasons, prices for accommodation in different periods differ a lot, and by choosing the low season you can save up to 30% of the regular cost of hotel rooms. Also, from time to time Bucking sends a newsletter with discounts on the chosen direction. But if you want to get in a certain hotel (for example, Lemuria), you need to consider the popularity of this hotel and chain Constance, usually 2-3 months before arrival, there are no free rooms. On our vacation, the hotel occupancy was 99%, and since May it was already at a standstill. By the way, we specifically chose the period of check-in at the hotel after August 24, because at this time they were giving 30% discount. Although I found a couple of weeks before the trip hotels at good prices, but in those hotels there were certain disadvantages (eg lack of a good beach nearby), and to take a car for the whole period in Seychelles – also not a pleasure.
2) Many chain hotels have discounts such as honeymoon or anniversary date, which are valid for 6 months. before and 6 months after the date, so timing your trip to 5-10-15-20 wedding anniversary can be a nice saving!) I personally, all the specials on hotels look at the site "Sodis", specializing in exclusive recreation. They are very easy to make a selection by country, by action (for example there is a special offer in some hotels – accommodation 1-2 children for free), look through everything, and then write to the hotel itself, perhaps they will offer better prices! Correspondence with the hotel, even without knowledge of English is not too difficult, all translated by Google-translator, and they try to understand you!) Do not hesitate to write to the hotel, if you have a birthday or usual wedding anniversary during the trip. At La Digue, after my letter like that, they put us in a honeymoon suite that cost twice as much)
Yes, the guide who took us on a tour of Mahe, said that before the trip you can write to him, he has connections in the Mauritian travel company and they can offer better prices than the same Bucking. That tourists who booked through him save 500-1000 euros on accommodation. So if anyone is interested, I can give his contacts in person)
If you are a supporter of more economical vacation, then Bucking and airbnb to the rescue! Many offers with rooms, gest houses, cottages, oooh very cheap nothing, but within 100 euros per day you can find acceptable options.
Transfers between the islands. Book everything independently on-line (references were given in Part 1), so you can save about 10% on the ferry and up to 20% for the flight. If you don't want to overpay for a flight, then ferry and Dramina against motion sickness will help).
Excursions. Personally, I think that come to such a distance and sit in a hotel – it is a crime, so the excursions should definitely lay out a portion of the budget. Marine excursions from agencies have almost no alternative. You can save money and not take sightseeing tours in the islands, and take a car for the day and drive around the islands of Mahe and Praslin. Nothing wrong with the left-hand traffic is not, though on Mahe you need to be much more careful on the road, because a lot of mountain roads and turns. On La Digue, from our experience, you can even get around on foot, if you're not friendly with a bike. Want to save money – do not spend 305 rupees per person for the reserve Vale de Mey, Coco de Mey can be seen and the Botanical Gardens on Mahe or on the road to Anse Georgette, will be cheaper or even free)
Food. Eating in a cafe is quite expensive, but on any island there are stores with products, prices are more expensive than in Russia, but in any case will be cheaper than eating in a cafe) If you have chosen a guesthouse with a kitchen, then cook no problem, save a very decent piece of the budget. Yes, we take alcohol from Dubai Duty Free, everything on the islands is more expensive.
Nuances. We try to bring all the necessary vials, medicines and tubes. Especially pay attention to sunscreen! They are needed during the entire vacation, because the sun is very active. It is better to take a lot of them, because the price for Nivea starts at 2000 for a tube. Bepanten or Panthenol is also better to take. The islands are quite possible to travel by local bus, if you know English and can explain and ask where he goes. Also when you book the ferry I got a bunch of coupons from different Seychelles companies, offering 5-10% discount on car reservations, tours, restaurants.
That's all, I end my long story!) If you have any questions, I will gladly answer, advise and help)
Seychelles, it's a magical place. I will definitely take my children here when they grow up.
The aquamarine paradise of the Seychelles
You can always fly in a day or two earlier, or stay here after the trip, and we will be happy to find you the most comfortable hotel.
Entry conditions
Currently the following rules apply to Russian citizens entering the country:
PCR test done no later than 72 hours before departure.
A valid permit for travel to the Seychelles, made through the mobile application Seychelles Travel (cost 45 euros).
The aquamarine paradise of the Seychelles
Write to us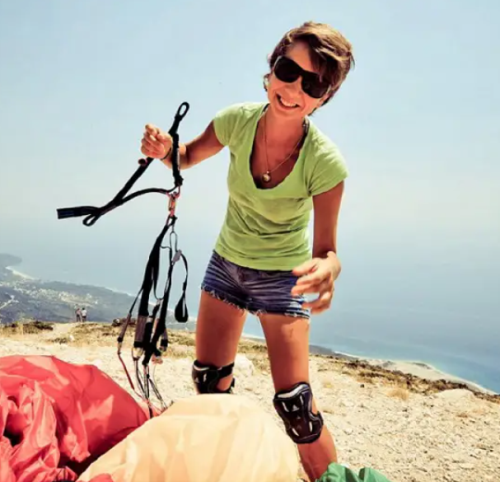 Expert and guide in North and South America, tour leader in paragliding in Latin America since 2009, manager and tour guide in Europe.
Itinerary
Tour description by day
Arrival on Mahe. It is convenient to fly with Aeroflot in the morning. Since you will be arriving by catamaran after 3 p.m., you will have time for a walk in Victoria, the capital of the island and the entire archipelago. The old town is extremely colorful and combines British, French and African cultural styles. We meet at the Eden Island Marina. We buy provisions. By evening we gather for a dinner. Overnight on board.
We leave the marina in the morning. Long crossing, about 4-5 hours. We set the course for La Digue, one of the most picturesque islands of Seychelles archipelago. On the way we will make several stops and explore the beautiful beaches. Cute pier La Pass, an estate with old Creole houses, the house where they filmed the cult movie "Emmanuelle", the most photographed beach in the world with white sand and pink granite boulders, an unusual color of water – all this La Digue. Here you can travel by bicycle or ox-drawn cart, experiencing a measured pace of life.
Day 3. La Digue – Ile Cocos – Curieuse, 12 miles, Giant Turtle Island
In the morning we leave for Ile Coco Island, about an hour away. This small uninhabited island is an ideal place for snorkeling. We will explore the coastal area with masks and admire the underwater world. After lunch we go to Curiosity Island. In 2 hours we will anchor here and explore the surroundings. Curiosity is a protected island, a National Marine Park with no hotels or restaurants. The first thing that catches your eye is the contrast between the green foliage and the red earth. Not for nothing this island is also called Red. Here you can see the famous Coco de Mer, mangrove forests, takamaka trees, bissa turtles, Seychelles Black Parrot. This island is home to hundreds of giant tortoises, from baby tortoises to ones weighing over 200 pounds. You can interact with these adorable creatures, pet them, scratch their ears and feed them.
In the morning after breakfast we will have a short crossing (about 2 hours) and we are on the island of Praslin, on the beach of Anse Volber. Praslin is the second largest island in the Seychelles. Its main pride – the beaches of Anse Lazio and Côte D'Or are constantly included in the top ten most beautiful beaches in the world. Another jewel of the island is the May Valley, Vallee de Mae – a reserve, a UNESCO World Heritage Site. Here grows the famous palm tree Coco de Mer – the symbol of the Seychelles. The fruit of the palm tree are the largest seeds in the world and reach a weight of over 40 kg. The palm may grow in other places, but it bears fruit only here. Overnight at the anchorage in Anse Lazio.
Today we leave Praslin and go to another islet nearby, Cousin, known as bird island. We will be about two hours on the way. Birds on this island are literally everywhere: in the sky, in the trees, on the bushes, on the ground. They are not afraid of people – they trustfully take a seat in your arms, let you up to their nests. Since 1992 Kuzin Island has been privately owned by a South African businessman who wants to return the island to its pristine state.
On this day we will make a long walk (about 4 hours) to St. Anne's Marine Park, a unique sanctuary in the middle of the Indian Ocean, consisting of six islands and the water area between them. Here you can walk among wildlife, exotic animals and plants, swim with turtles and dolphins, visit ancient pirate graves, discover high-quality snorkeling. By the way, Jacques-Yves Cousteau, the famous diver and scientist, filmed his underwater adventures "Monde du Silence" right here in the Seychelles. Here we stay for the night anchorage.
In the morning we continue to enjoy the beauty of the reserve. After lunch we leave for Mahe. A short crossing, about an hour on the road, and we are there.
In the morning by 09:00 we rent catamarans. Who is ready to part with paradise, you go to the airport. Whoever's ready to keep on chilling out, stays in the local hotels – there's plenty to see… The Royal Garden of Spices, founded in 1772 by French colonists, and its charming hostess Madame George, great-great-granddaughter of Louis XVI. Rum lovers should visit the distillery where Takamaka Bay rum is made, to learn how it is made and to taste…