Fraser Island
Fraser Island or Great Sandy Island is the largest sandy island in the world off the east coast of Australia. The island has an elongated shape along the coast, its length – about 120 km, width – from 7 to 23 km. The area of the island is 1840 km². Since ancient times, this picturesque corner of nature the Aborigines called "K'gari", which in translation from Butchulla means "paradise".
In 1992, the paradisiacal island of Fraser was included in the list of UNESCO World Heritage Sites as a unique natural monument. The dunes that make up the island were formed about 400,000 years ago and are 240 meters high. The island has more than 40 freshwater lakes, the so-called Hanging Lakes. The largest of them, and the largest hanging lake in the world, Boemingen covers an area of 200 hectares.
Save money on your trip!
Video: Fraser Island
Flora and fauna.
The west coast of the island is occupied by mangrove forests and swamps, while the east, facing the ocean, is a white sandy beach about 100 kilometers long. In the northern part of Fraser there are pristine rainforests of the equator. The animal world of the island is also interesting. In small well-warmed lakes there are freshwater turtles, on land you can find a wild dog Dingo. And this is not all the flora and fauna of Fraser Island.
Under the guidance of a ranger, tourists can watch raptors and electric rays on a canoe trip, and on the island itself, more than 354 species of birds. Rare bird species like the ground parrot, great eagle owl, and 18 species of birds of prey are found here. Walking under the sail, you can see dugongs, turtles, dolphins and sharks. On a walk along the beaches and along Cape Indian Head, from August to October, you can witness the migration of humpback whales. And on a night trip, you'll encounter a bat, a flying fox, a sugar-flying possum, and a frog. The island is also a must-see for kangaroos, wallabies, possums and echidnas.
Island Name
This charming island gets its name from a married couple, James and Eliza Fraser. In 1836 the ship Stirling Castle, captained by James Fraser, was wrecked off the island and surviving sailors came ashore. The relationship between the natives and the Europeans was hostile and even aggressive. Even today, travelers listen with interest to the stirring story of a strong woman, Eliza, who survived the loss of her husband and newborn baby and was captured by the Aborigines.
Tourists
On Fraser Island, history is literally in the air. You can trace 700,000 years of evolution through the wildflowers and centuries of climate change through the huge sand dunes. Travelers will be interested to see with their own eyes the hills formed by the domestic waste of primitive people, fishing gear, notches on trees and camp sites that are at least 5,000 years old.
Visiting the colored Arches Cliffs, you'll see the place where Aboriginal male ancestors played the didgeridoo to migrating humpback whales, and Moon's Heel, a sacred place for women where they gave birth to their children. Real explorers in Happy Valley will find the wreckage of the steamboat Mahino, built in 1905 and serving as a luxury trans-Tasman passenger ship, later a floating hospital during World War I, and then washed ashore during a cyclone. Visit the abandoned McKenzie Wharf, originally used to connect loggers to the mainland, and during World War II used by the famous Z Force assault force. Thus, step by step, the rich history of the island will be revealed.
After all the amazing discoveries, you can stay in an eco-friendly boarding house and treat yourself to a wellness massage, exotic cocktails and gourmet food, or enjoy the solitude of a house overlooking the coast. There are many hotels and individual cottages on the island with luxurious views of the ocean and surroundings. And for a complete reconnection with nature, you can pitch your tent at one of the following locations: the campground at Central Park, Bumangin, McKenzie, Dundubara, Waddy Point, Wathumba, Dilley Township, Cathedral Beach, or East Beach.
Once you've been to Fraser Island for at least a day, no one has any doubt why it's called "paradise. Hundreds of freshwater lakes with turquoise and clear waters, ancient tropical forests, snow-white quartz beaches – all this creates a unique magical landscape, looking at which you can forget about everything.
Summary: Fraser Island (Australia, Queensland) – Wild dingoes, shipwrecks, and lakes of amazing colors: that's all Fraser Island!
Fraser Island is a pretty popular natural attraction in Australia. Located in the picturesque state of Queensland, it attracts tourists with its flora, fauna, amazing lakes and shipwrecks. I've already written separate reviews about the island's two main attractions (Lake Mackenzie and the SS Maheno wreck), but now I want to tell you about the island as a whole. I invite you to take an online tour:
The review will be divided into several parts. First, I'll talk about how you can get here in general, then I'll take you through the main sights of the island.
I went to Fraser Island for a day excursion (there is a separate review about the tour operator) which cost about $240. Some would say it was expensive and I would agree, but alas, it was very difficult to find a lower price. The lowest price for a day excursion to Fraser Island that I saw was $220. Multi-day excursions, of course, are much more expensive.
I chose an excursion online, before the trip, booked it in advance. I looked up what sights were included in the tour, but it didn't matter much – personally, I was interested in anything at all.
I got to Fraser Island from Harvey Bay – it's the nearest town to the island, but tours to Fraser Island are organized from other Queensland towns, even Brisbane, only from Brisbane to the island is several hours away, and from Harvey – just a couple of steps.
One day isn't enough to see the whole island at all. But even in one day you can see a huge number of amazing, unbelievable, memorable places on Fraser Island.
I'll start my review with Lake Mackenzie: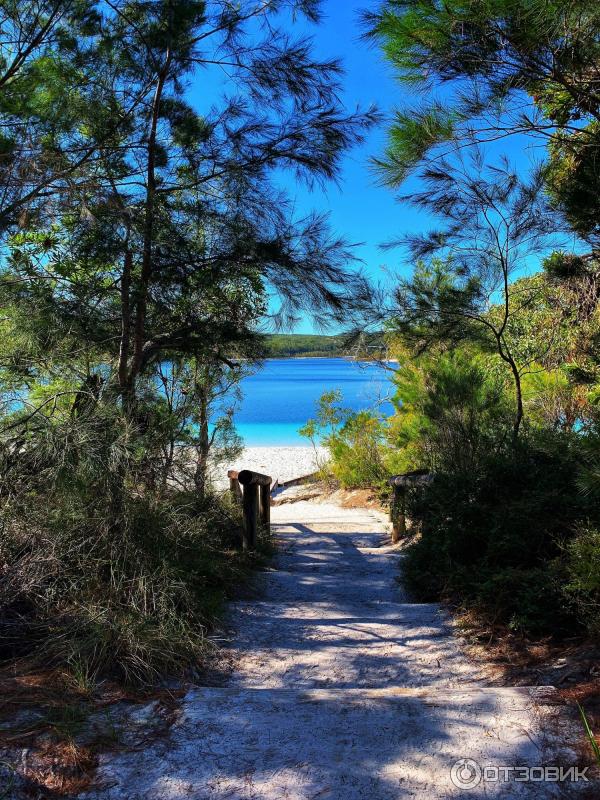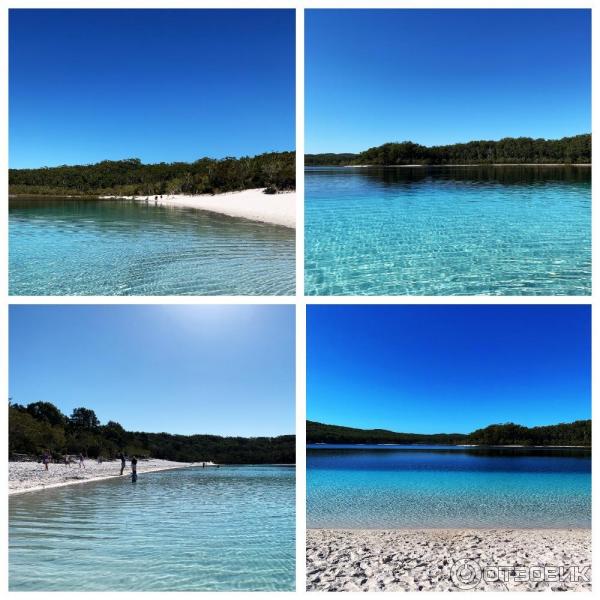 I have already touched Lake Mckenzie in my reviews, but I just can't not mention it in my overall review of Fraser Island. Lake Mckenzie is an icon of the island, one of the most visited places. And definitely one of the most beautiful!
I loved everything about it: the softest sand, very clean, and the amazing colors of the lake – several shades at once. It's a rainwater lake, it doesn't flow into the creek or the ocean. Yes, you can swim here! No sharks or crocodiles. The water is very warm, even in May (practically winter). The lake is in a national park, so no trash, no cigarettes, and even no food – there are a lot of rules, they better follow. Yes, and agree, a lot more pleasant to relax in such a beauty than on the beach, where at every step – the cigarette butts.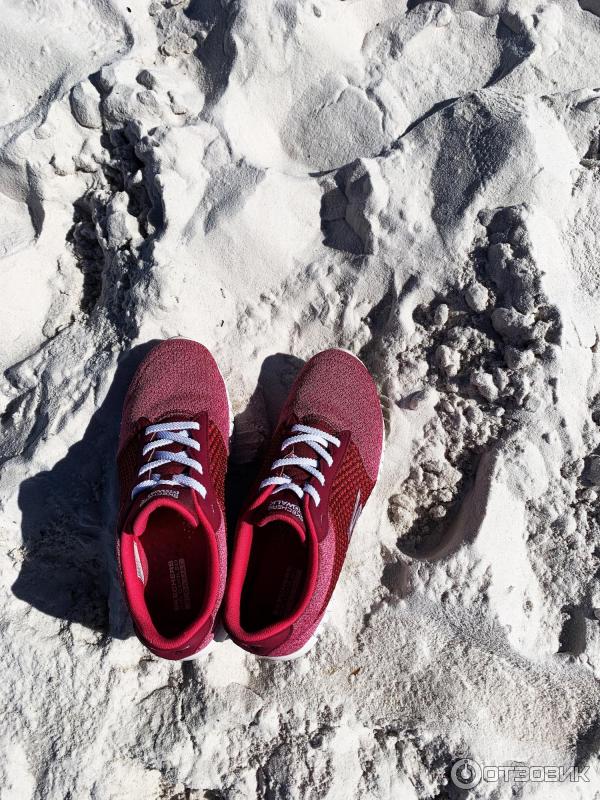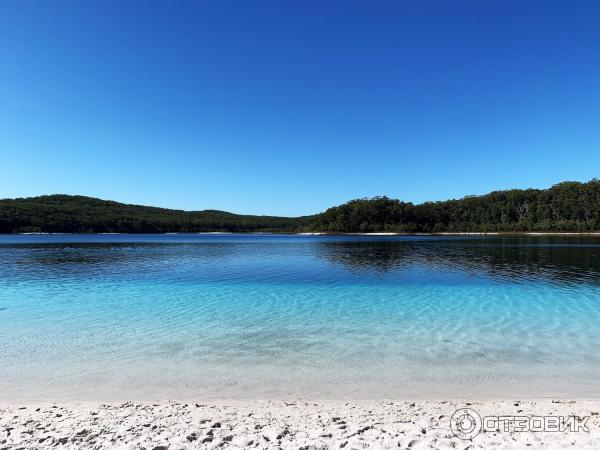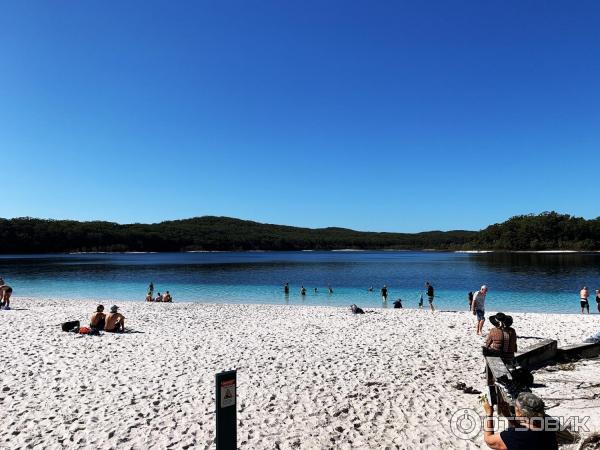 On Fraser Island there are tours of different tour operators – you will definitely meet their buses, they are everywhere. There is no public transportation, so:
– you go here either with a tour group (for one day or for several days) – or with your own car – or with a rental car
Unfortunately, the island is too big to walk around on foot. Keep that in mind.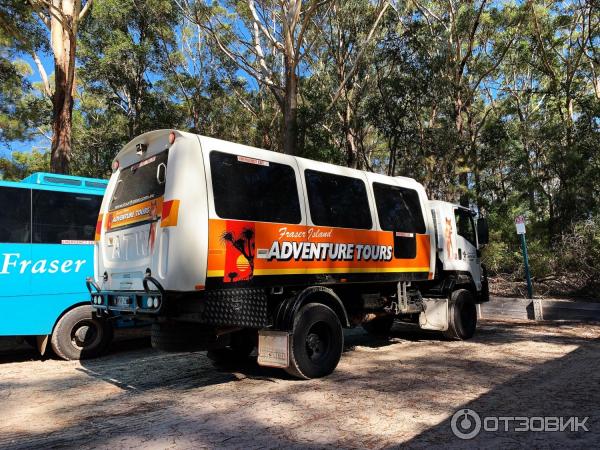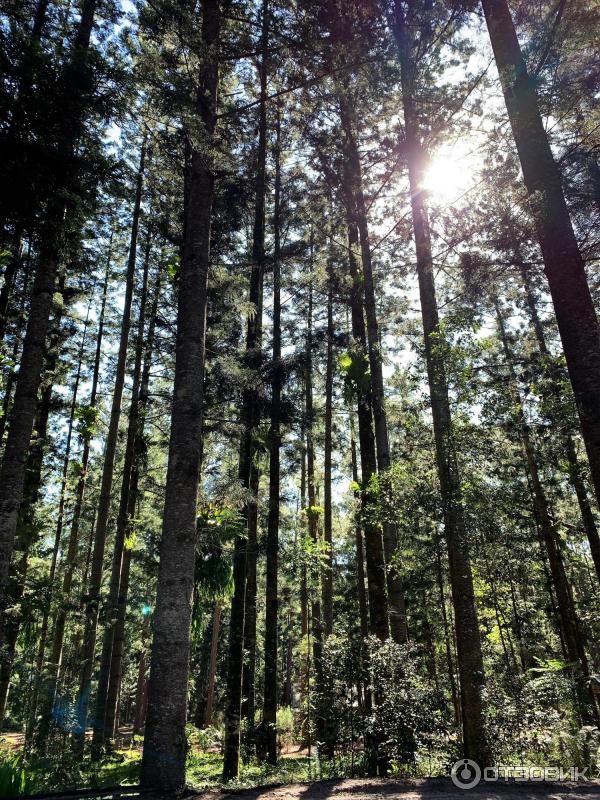 After Lake Mackenzie, we went to an area of the island called Central Station. Basically, it's a walking route inside a huge national park – a chance to explore the flora of the island. You're walking through a rainforest – there are plenty of them in Australia, but each time you'll have a completely different experience. Whereas in Cairns you can fly over the rainforest – on a cable car, here you'll walk along boardwalks, see the forest from inside rather than above, and maybe see some of the locals!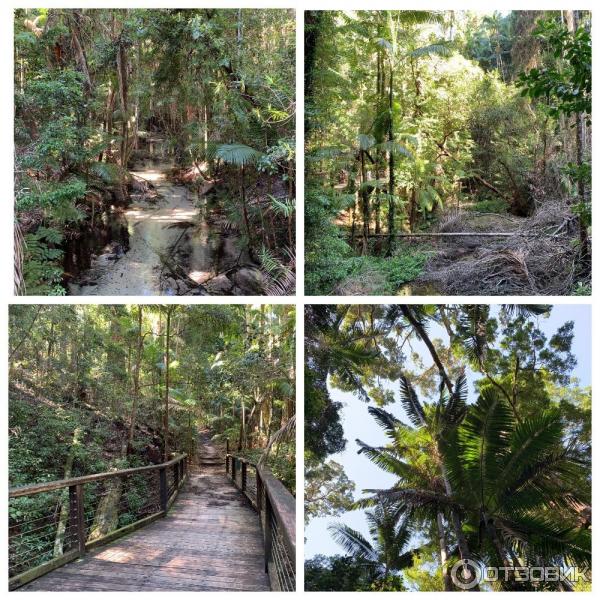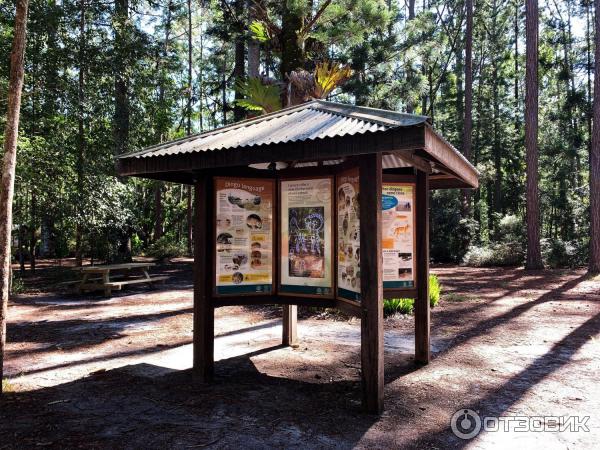 Central Station is the official walking trail. There is a parking lot near the beginning of the trail, and there are information boards, quite interesting and pretty, with colorful pictures and drawings. There is a lot of information, but it is presented in an easy way. If you have time, stop and read the text, especially if you do not know anything about the island. Note that the text is in English only (use a dictionary, if you know it not very well).
I would like to show you some interesting trees that I saw at Central Station, and in general the pictures from the hiking trail: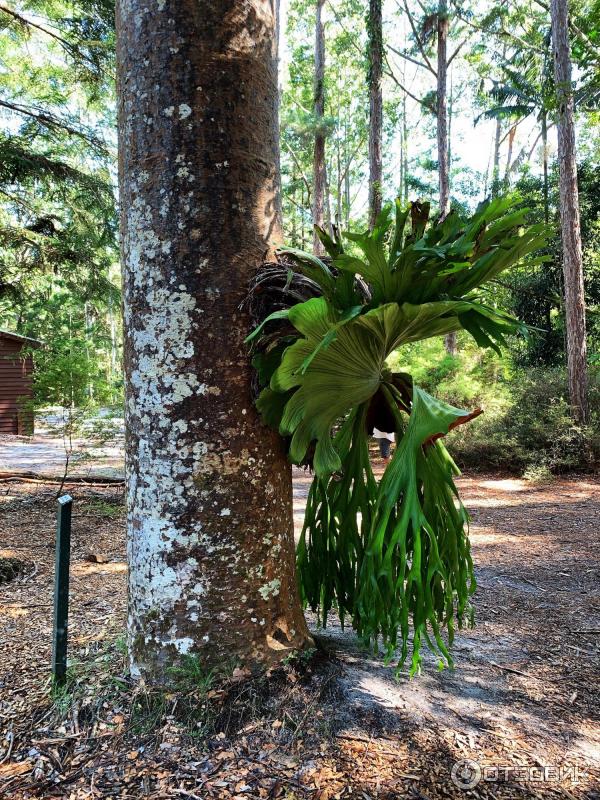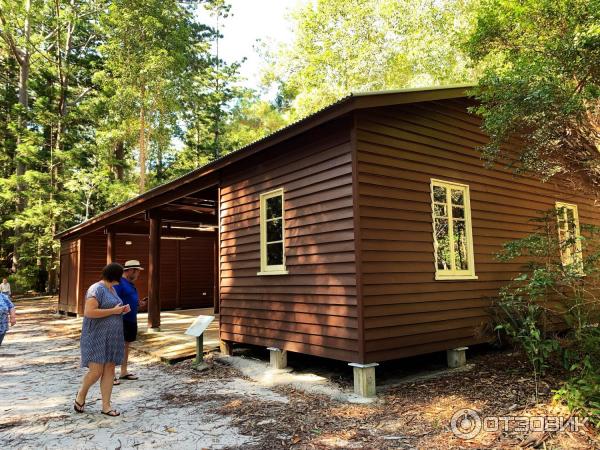 As we travel along the hiking trail through the photos, I'd like to make this observation: many people don't come to the island just for the beautiful blue lake and shipwrecks, of which there are many. Fraser Island is the natural habitat of the wild dingo dog. And tourists sometimes come here just to see the dingo.
I only saw one dingo dog in one day on the island, but I was glad I did! If you are on the island for a few days, you have a much better chance than I did. Do not forget that dingo is a wild animal, and therefore you should behave appropriately. But about the rules of conduct around the dingo you will be told on the ferry on the way to the island.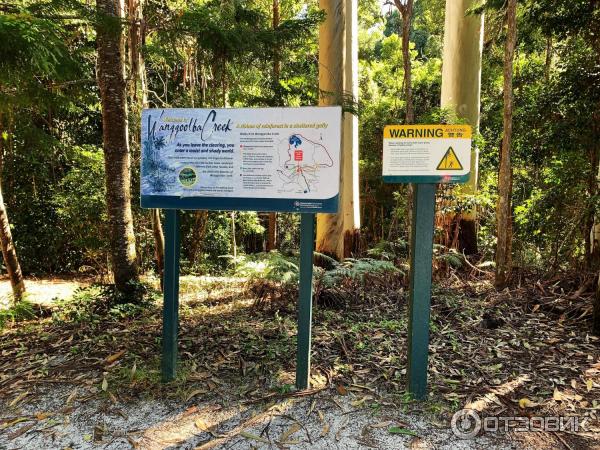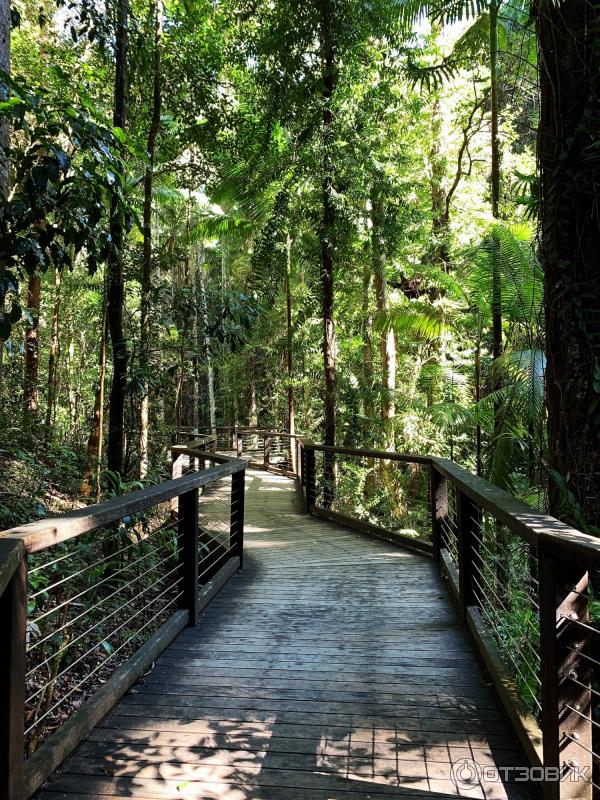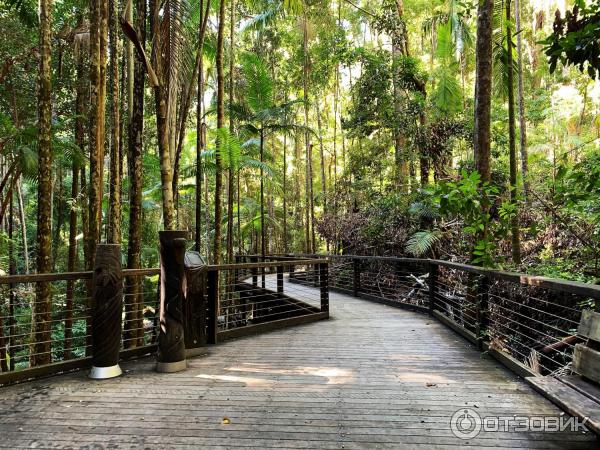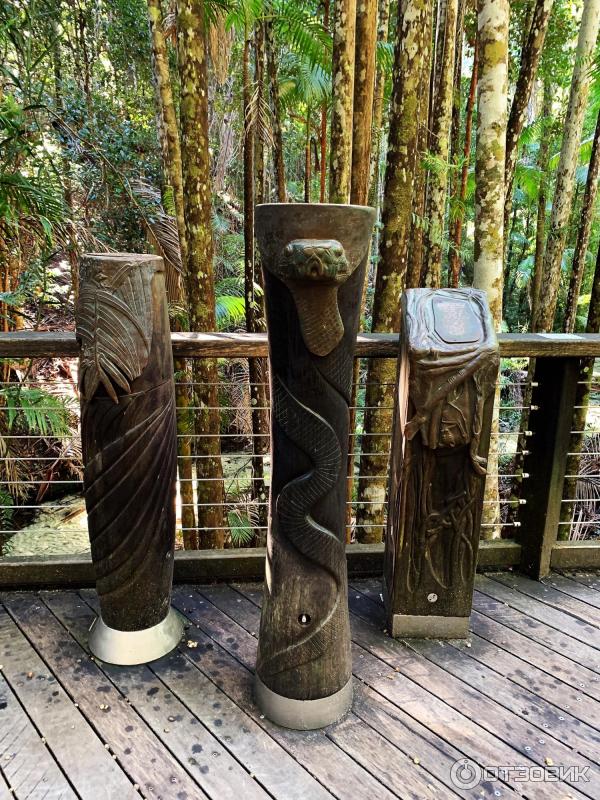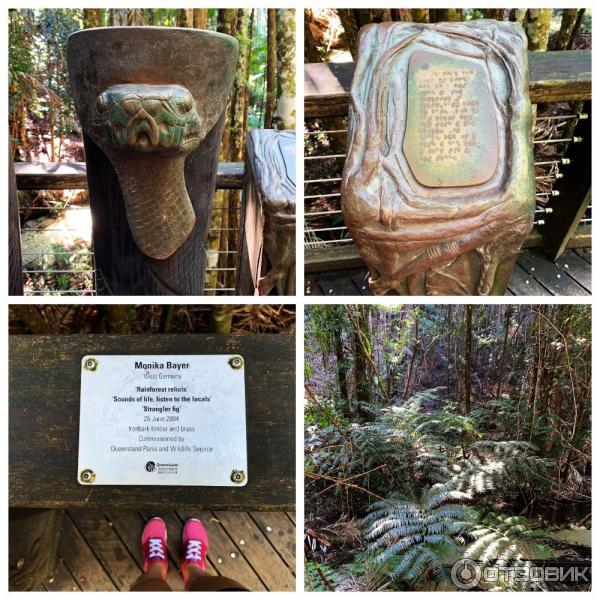 After strolling through Central Station we headed out for lunch and then onto the beaches and shipwrecks. Fraser Island is one big coastline. The beaches here are sandy, very, very beautiful, and the views are mesmerizing. While we were waiting for everyone to gather, I ran down to the beach – I'll show it to you now: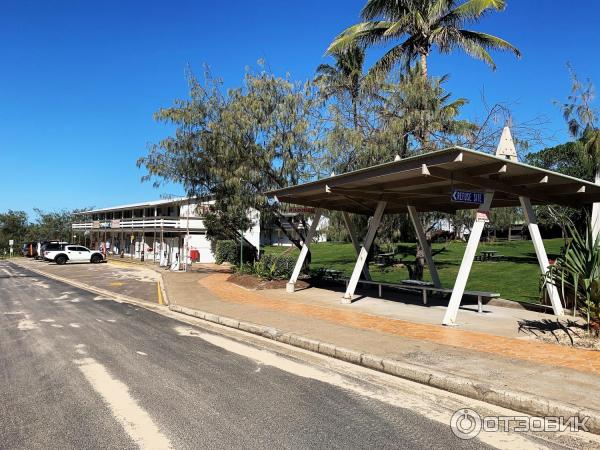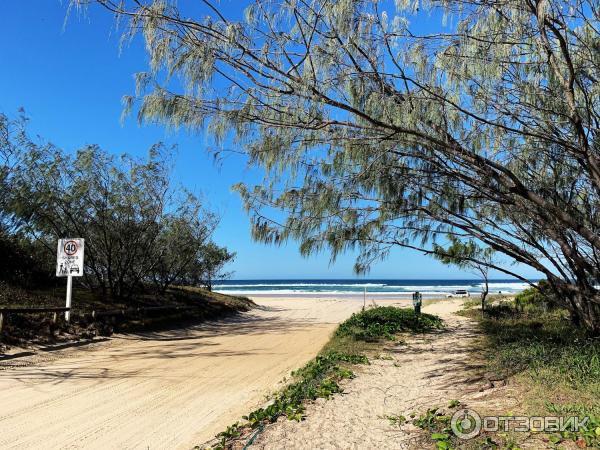 It's not a separate part of the tour, it's not a "landmark," it's just Fraser Island, it's just its beach: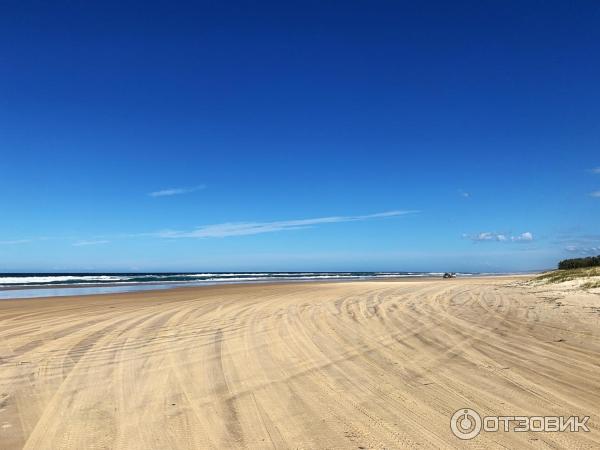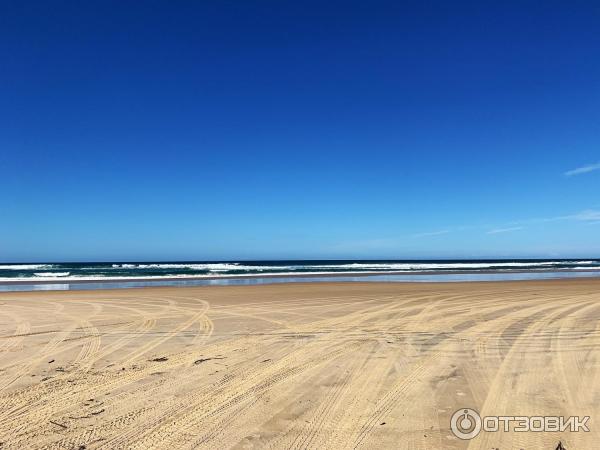 The wreck of the SS Maheno is another of the island's main attractions – I wrote a separate review about it too, but, as with Lake Mackenzie, I just can't not mention the Maheno in my Fraser Island review. The ship crashed early last century – its wreckage has been resting on Fraser Island ever since. Here they are: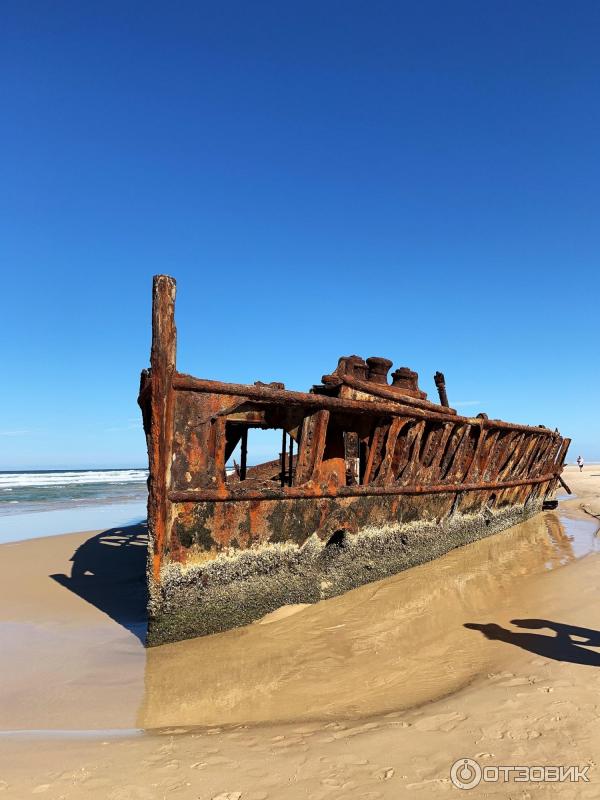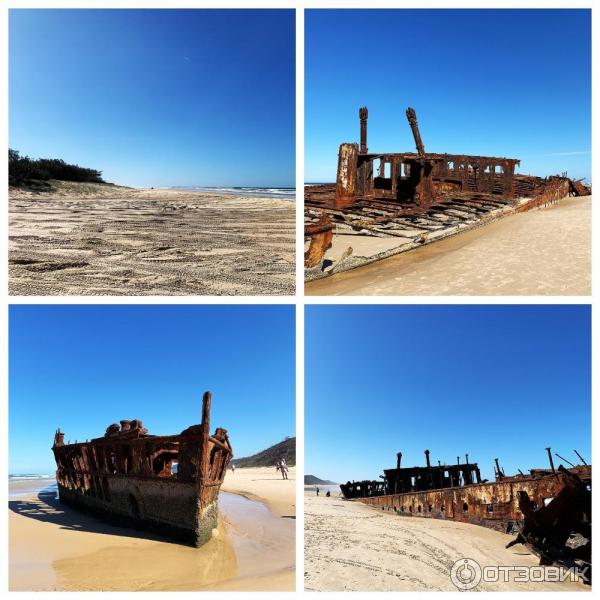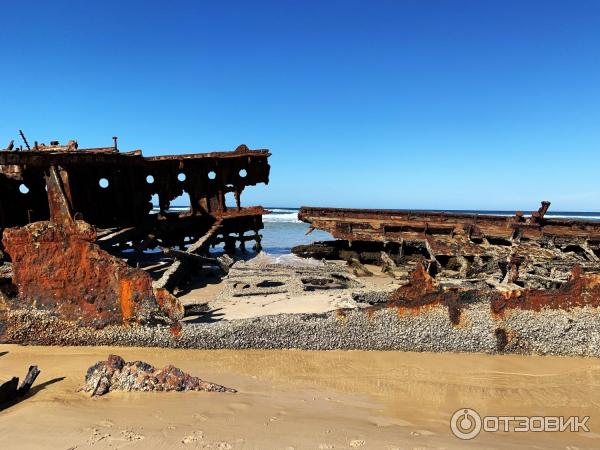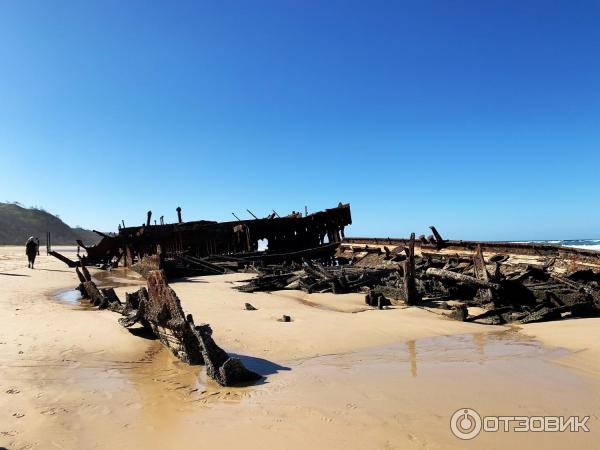 You can get very close to the ship – there's no fence here, no fencing either, just signs with rules of conduct. It is better not to touch the ship for your own safety.
After visiting SS Maheno, we went to a site called The Pinnacles (full name – The Pinnacles Colored Sands). These are sandy rocks, but not "regular" rocks, but. colored rocks! My photos didn't come out well – because of the sun, but this is just a tip – you can Google The Pinnacles and see professional shots of this unusual place: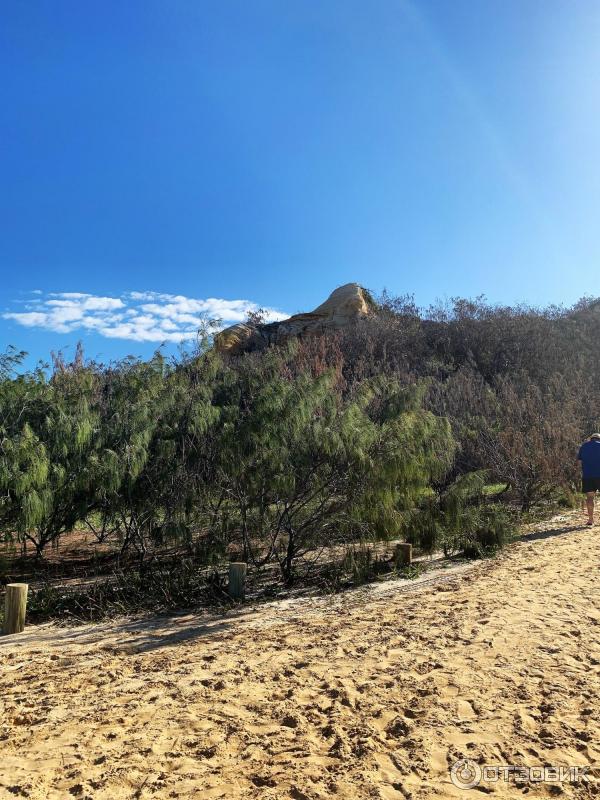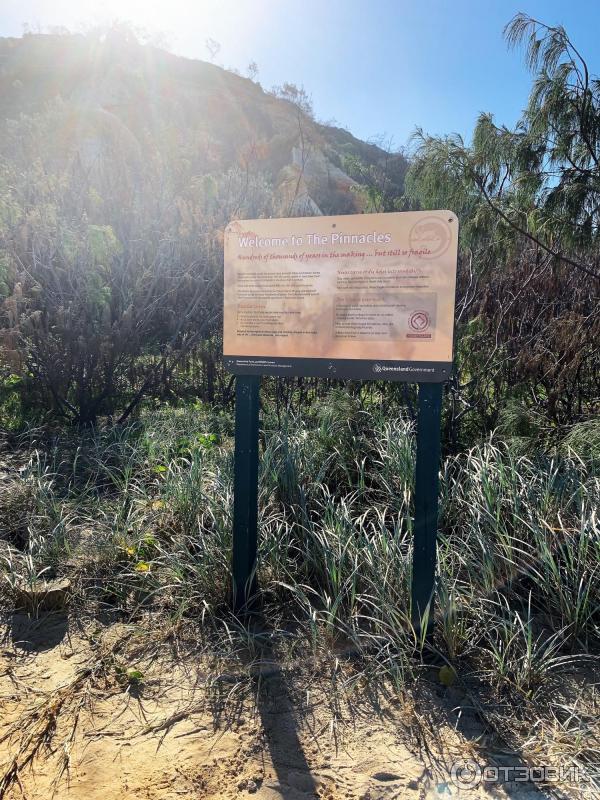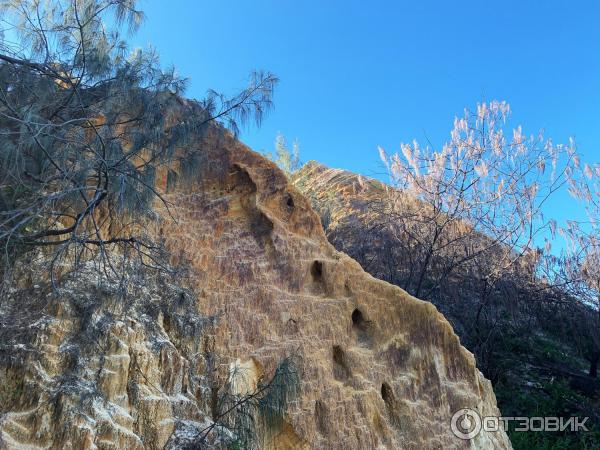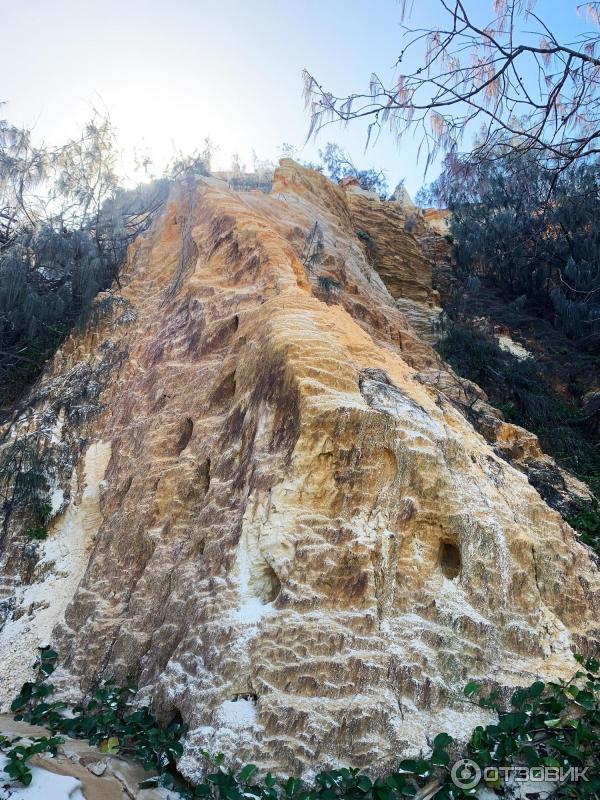 All over the island, you can find information boards like these that tell you how to behave if you happen to run into a dingo. I advise you to take these rules seriously – dingoes are not crocodiles, but they can be dangerous: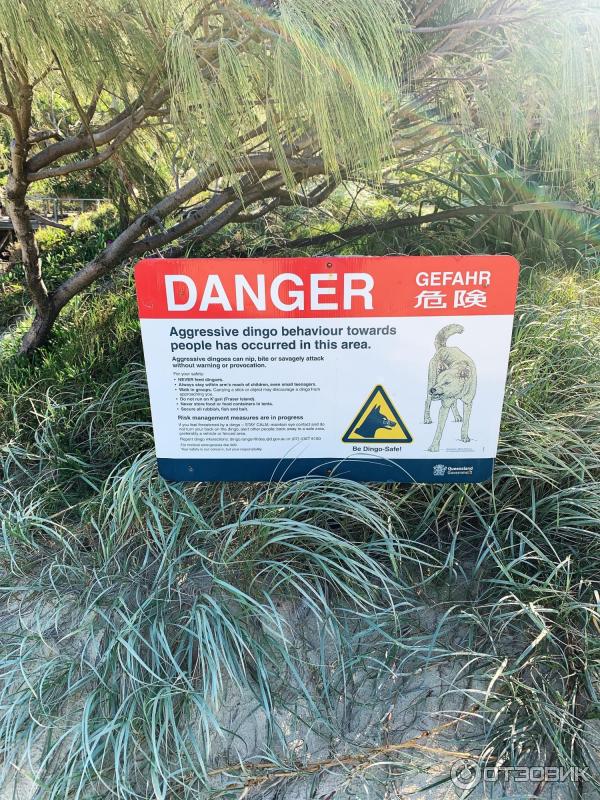 Next we visited Eli Creek, another swimming spot. Especially appealing to families with kids. The creek is long and interesting. There is also a hiking trail – a great way to get to know the island from a slightly different angle. Now I'll show you how it all works: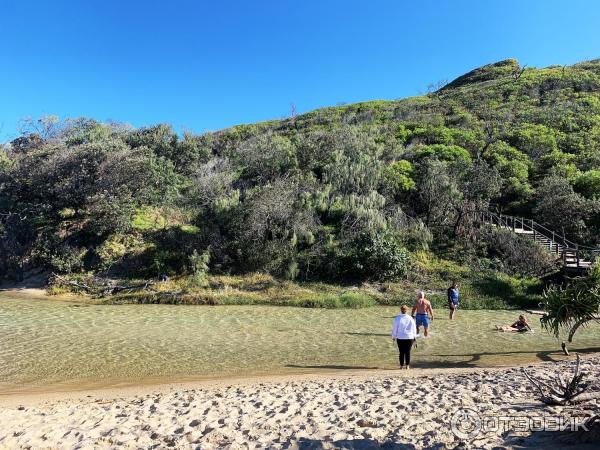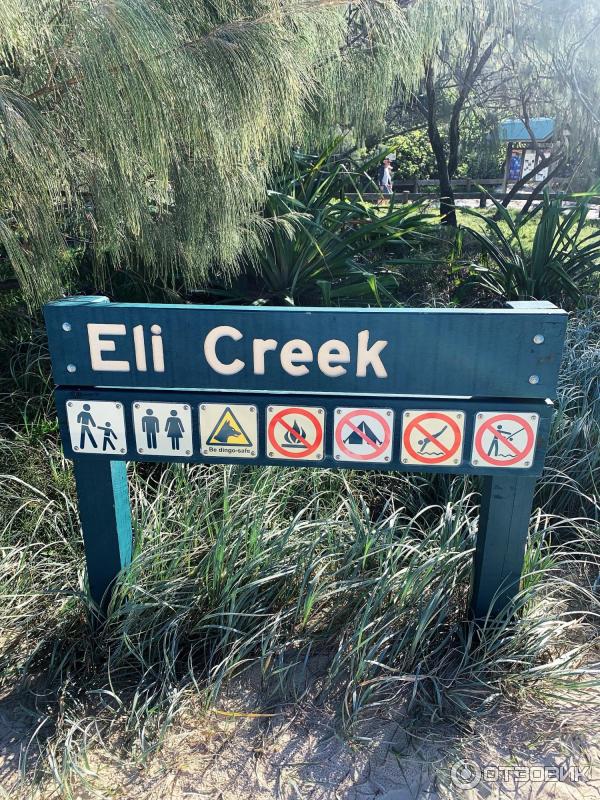 As usual, the rules of conduct are upstairs: no campfire, no tents. At the bottom is an information board with colorful pictures. It tells you about the wild world of the island: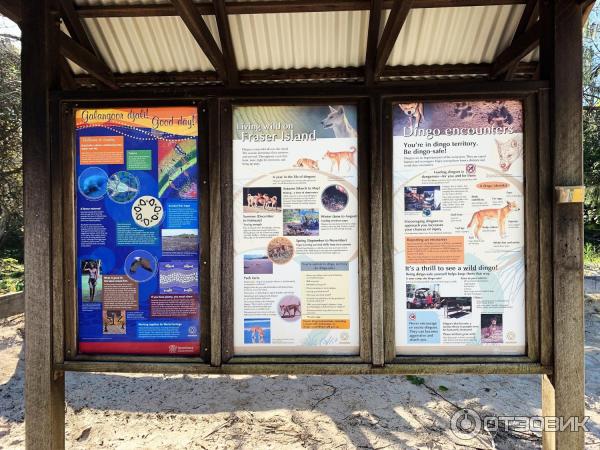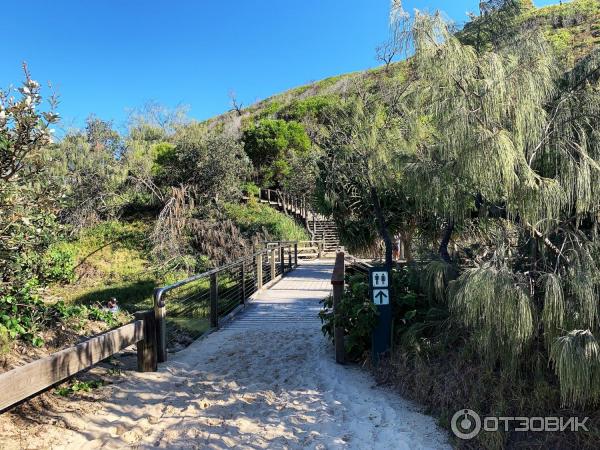 The following photo perfectly shows exactly how people travel around Fraser Island – either in large tour buses or in private cars.
There were surprisingly many people at Eli Creek – surprising because a) it's still a pandemic, b) Australia has an extremely small population, and there haven't been tourists here in a long time. But, as I wrote above, it was families who came here – the kids love the creek. It's shallow, safe, a great place to play and swim.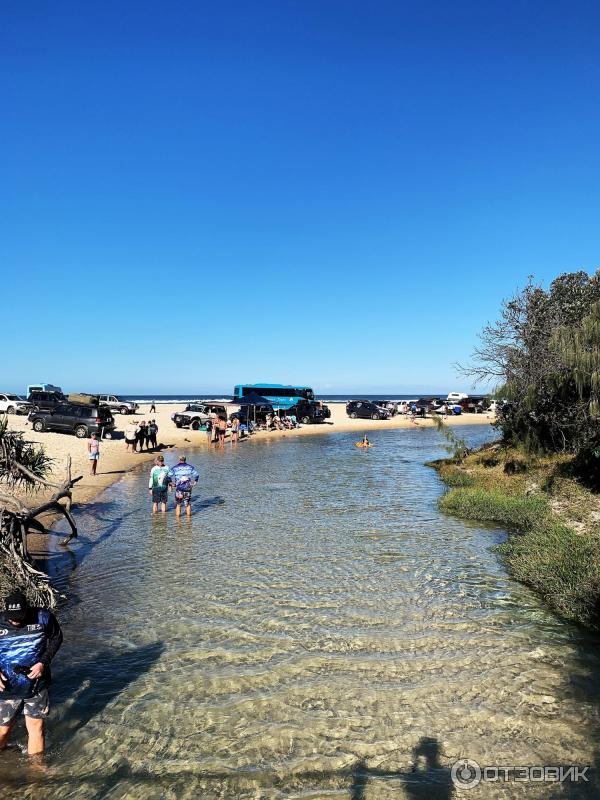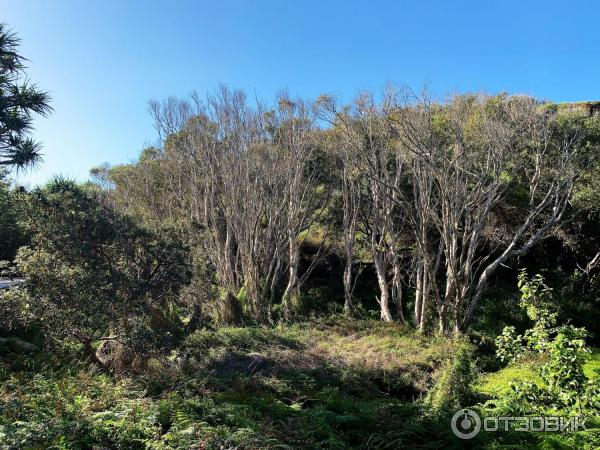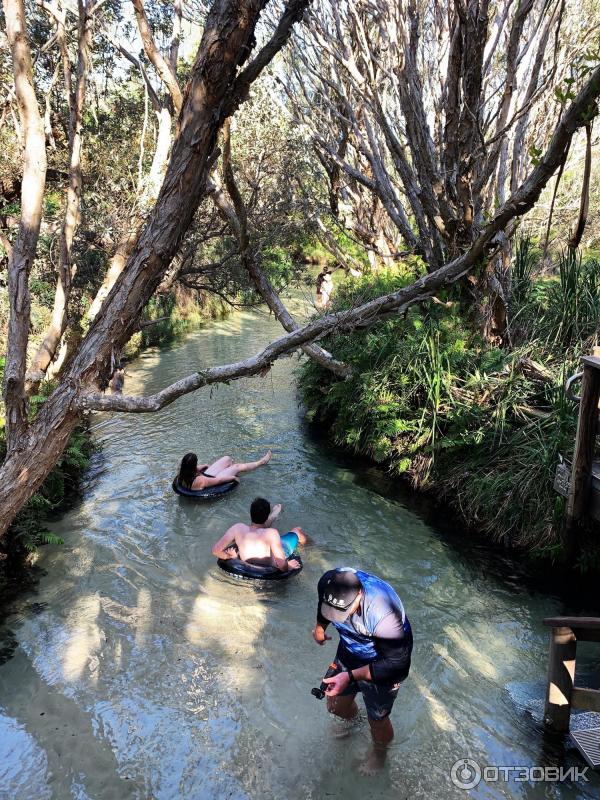 This is where the hiking trail ends. You can go down and come back by the creek: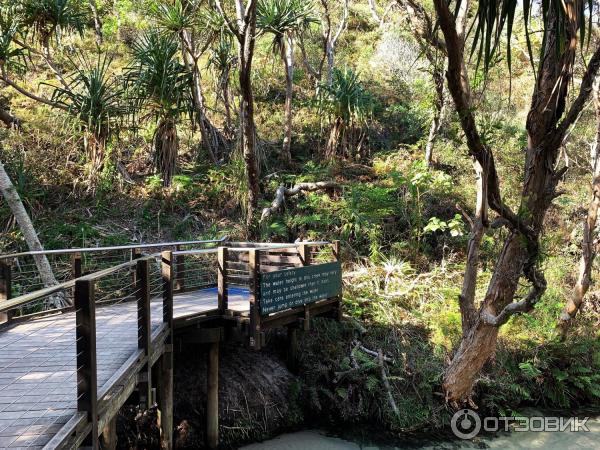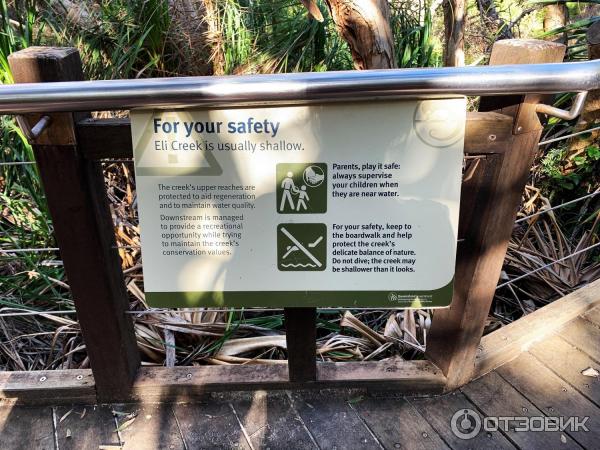 I would like to end my review with some photos taken in the Forests of K'gari – it was a spontaneous stop, very short. We stopped for literally 5 minutes to take a couple of pictures. Our guide really liked this particular section of the forest and national park, because the trees here are tall, so tall that you could gasp: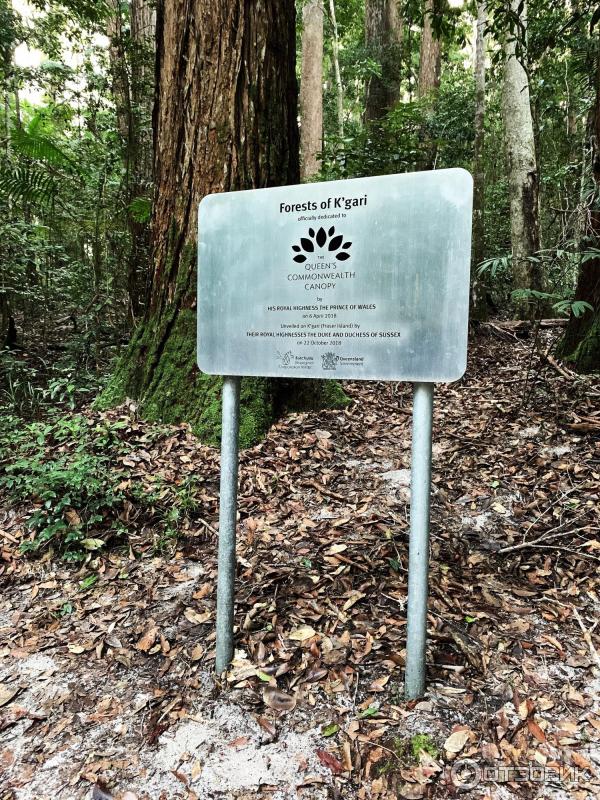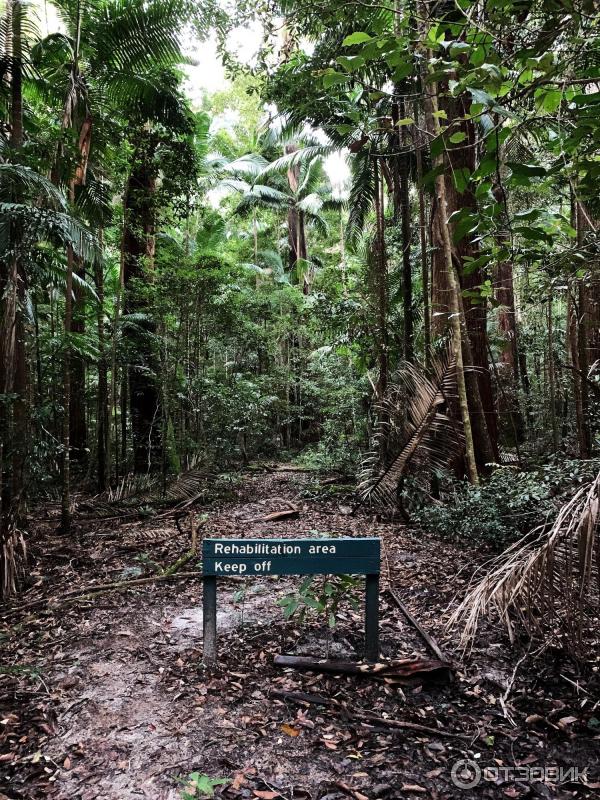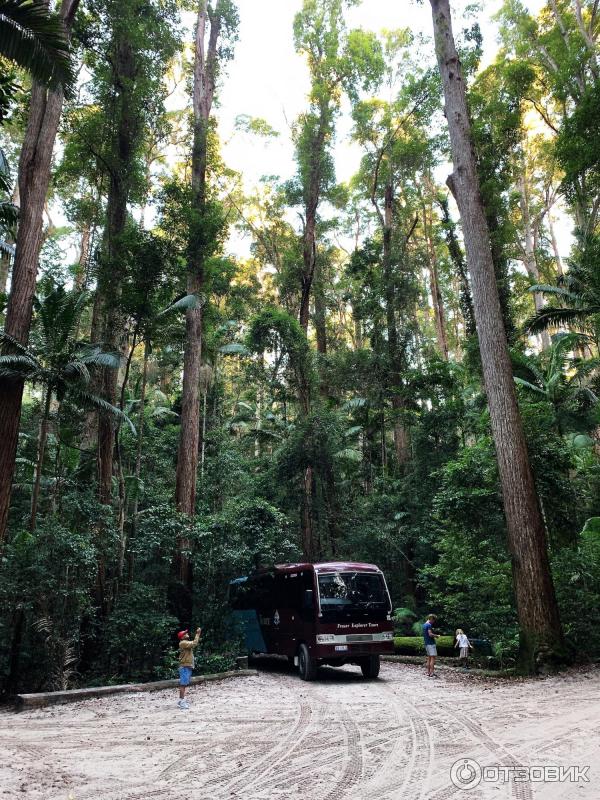 Fraser Island is a very beautiful and interesting island in Queensland, worth a visit if you're planning a trip around Australia after quarantine. Usually tourists only look into the state capitals of Sydney, Brisbane, and Perth, completely forgetting that there is incredible beauty outside of the major cities too. Personally, I loved it on Fraser Island: I loved Lake Mackenzie, the first time I'd ever seen a shipwreck – and dingoes in their natural habitat. There's just nothing to complain about, except for the price of a trip to the island. But it is worth it.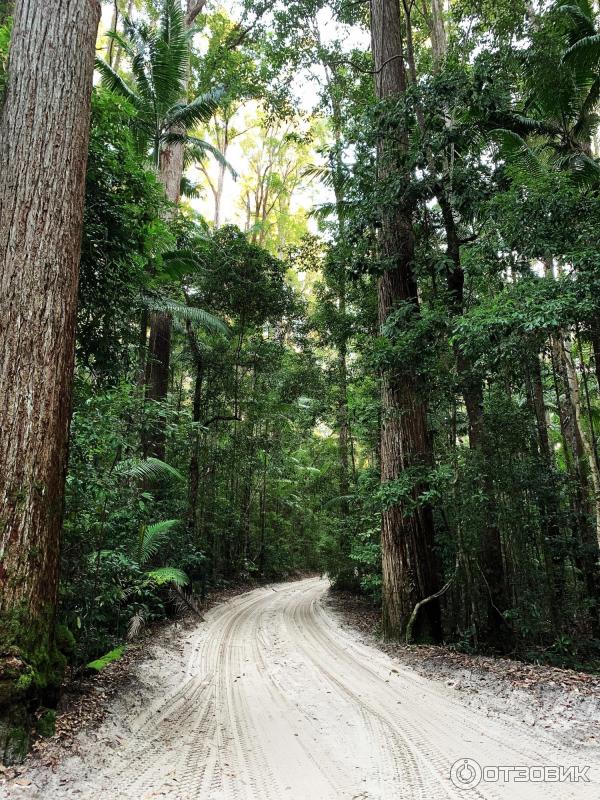 Lastly, pictures of the sunset, which I took while waiting for the ferry back to Harvey Bay. Thanks for the heads up and happy holidays!