Three smarthacks when buying tickets in 2019. Only what works
Sorry for the headline, but there are some really good tips inside, and the comments were given by an expert on finding cheap tickets.
You're probably tired of the annoying airfare-buying best practices. But you still open texts with similar titles in the hope that there will be something useful there. We're happy to tell you what works in 2019.
The third knee, or third leg
A famous tip that's been flashed often on Secret Flying, Samokatus and Vandrouki. Its essence is that you make a complicated route, to which you add a third flight. You are not going to fly that flight, but it reduces the price of the entire itinerary. So you have three segments (there, back and again there), but the flight becomes cheaper than the two segments you need (there and back). It's not clear and you need an example, right? Coming right up!
Why it works: Global reservation systems recalculate the amount of airport and fuel charges. In professional circles this is called fuel dumping; the Secret Flying project even has an app called Fuel Dumping Tool (although it was recently frozen and is not working yet), where users are looking for that third segment which allows you to reduce the amount of fees and hence the entire ticket.
How it works: It's easy to become a fule-dumper, because Gulf Air of Bahrain hasn't closed this loophole in years. It works especially great for flights to Asia: Bangkok, the Philippines and Sri Lanka.
Go to the Gulf Air website, pick a destination, and pick the lowest price.
Go to Aviasales and choose "Create a complex route", enter the desired dates and directions Moscow – Bangkok, Bangkok – Moscow (we chose May 15-31) and, for example, fly Antalya – Istanbul. It's not the flight you want to take!
Compare prices. The Gulf Air website costs 27,642 rubles (at the time of writing), and by adding a third flight – 24,527 rubles – 3 thousand cheaper. And if now there are cheaper flights on the same dates (eg, Oman Air), then closer to winter and around the holidays, such tickets can be a real salvation. We in the newsroom flew Gulf Air with the addition of a third segment in December 2018, when any flight to Bangkok cost space money.
Where and what to read about Fuel Dumping: naturally, on Secret Flying. Here's the basics and an explanation of how everything works, and this link is a step-by-step guide.
Danis Sahabutdinov (Samokatus) : Yes, these tickets do happen a lot, it is absolutely safe to buy them, you will be put on all flights and no one will fine you. I myself used this tiphack in the winter of 2018, and then I used the third segment as well – I specifically planned a trip to Turkey and the third segment was for the date I needed from Istanbul to Antalya.
It is important to understand that doing it on your own and for yourself is a big waste of time: you can search for flights for hours and end up saving one or two thousand rubles (this is why we need projects to find cheap airline tickets. – Ed.). Plus it is important to realize that the ticket from the example Moscow – Bangkok – Moscow will have one booking code (even if you're looking for a compound route), and the third segment – with a second booking code. And most often your third segment will be an unknown Japanese or Turkish lowcoster. So if you see these tickets somewhere, feel free to buy them!
Don't fly on the second segment (hidden city ticketing).
A very similar tip to the first one. For example, you want to go to Paris, but direct flight costs dear, but flight Moscow – Nice or Strasbourg with connection in Paris is cheaper than a direct flight with the same route to the capital. From time to time Samokatus and Vandrouki airline ticket search projects find such tickets.
There are also such examples: you may fly from Moscow to Tokyo and get a return ticket to Ekaterinburg which is cheaper than the Moscow-Tokyo-Moscow flight. But your return ticket to Yekaterinburg goes via Moscow! This means that you don't need to fly the last segment (Moscow – Yekaterinburg), you just need to check-in your luggage up to Moscow.
How it works: you buy a ticket on the Moscow-Nice route with a connection in Paris Air France. You register your luggage at the counter only to Paris and fly to the French capital cheaper than a direct flight of the same Air France or any other airlines with a connection.
What you need to know: You should buy such a ticket only for a one-way flight. Because according to airline rules if you miss even one segment, all the following ones are canceled. Plus such stories can have restrictions (more about them below), and even an unpleasant ending: this year Lufthansa is trying to sue the enterprising passenger who decided not to fly the last segment.
Where and what to read about Hidden City Ticketing: read on the Points Guy project, an authoritative site about accumulating miles.
Danis Sakhabutdinov (Samokatus): But it's not easy here: airlines try to monitor and suppress such stories. And if Lufthansa is trying to sue their passenger for skipping the last segment, then, for example, with Air France everything is much more complicated (details – in a special post on Travelhacks). They simply will not give you luggage in Paris, if the connection is less than 12 hours. Or they will, but with a penalty of 275 euros, which completely negates the savings (so fly with this fare only with hand luggage). But the tiphack works in the case if there is an airport change. For example from Moscow you fly to Paris Charles de Gaulle airport, and you fly to Nice from the Paris Orly airport. Bottom line: yes, such tickets also exist, but buy them with caution, there may be pitfalls.
Charters at the beginning and end of the season for pennies
A flight from Moscow to Bangkok for 7 thousand one way is amazing? And Moscow – Varna or Burgas (Bulgaria) for 500 rubles? It's simple – airlines fly to pick up tourists at the end of the season, so they sell out low-loaded flights at very low prices. The same thing works in the opposite direction, when they fly tourists from Russia, and there is no one to take them back.
Why does it work: Because it is necessary to take Russians from the resorts: the whole plane will be packed on the way back, and almost no one flies there. Or you have to take tourists on vacation, and fly back empty.
What you need to know: How does the seasonality work: you can fly to Bulgaria in July and August (tickets, by the way, are already slipping through now); in Thailand and Goa (India) are already available for May (for example, April 1 on Samokatuse found flights to Bangkok for 7 thousand rubles and to Goa for 5,200 rubles). However, you will have to decide by yourself how to get back – it suits those who like spontaneity, adventure and a lot of movements!
Danis Sahabutdinov (Samokatus): And it's not easy, especially in the case of Goa and Thailand. There you can be asked for a return ticket and not allowed into the country, and the return ticket must also be a charter flight. The Russian-speaking Facebook group of the state of Goa keeps bringing up questions about this. By the way, I recommend adding Dubai and Sharjah to this list – you can often fly there almost for free for the same reason.
Be sure to send us your actual tips and tricks, we'll add the ones that really work!
How to buy cheap airline tickets: 8 clever ways
Air travel is one of the easiest and most convenient ways to travel, and it's often also one of the most expensive. If you're used to buying ready-made vacation tours, the price for the airfare is immediately included in the price of the tour. However, if you like to travel on your own and you want to learn how to buy tickets at a better price, this article will give you some clever ways to help you save money from your family budget. So, let's get started.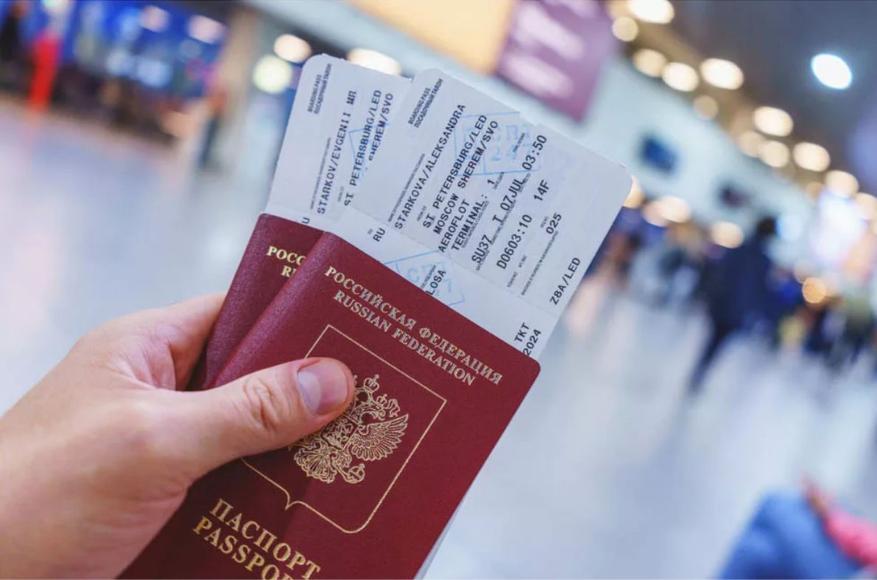 Content .
Don't be tied to specific dates.
The first and most important rule for any traveler: you should never be tied to specific dates. First you need to find and buy airline tickets, and then only write an application for a vacation. We simply forget about this simple, but very effective rule. As a result, we have no choice but to buy airline tickets for the planned dates of vacation at the usual or overpriced. If your main goal – is to try to save maximum family budget on airline tickets, then you should always remember this simple rule.
What days of the week and times of day to buy airline tickets
Every airline analyzes supply and demand on different days and times of day. Usually, business travelers fly on Monday and Friday, and on Friday, Saturday and Sunday people like to fly on vacation. Therefore, on these days are usually all the tickets for flights sold out, and their cost only in very rare cases can be reduced. Because almost any airline does not see the point in undercutting the cost of the ticket, which is already bought. So if you decide to buy an airline ticket, it is best to buy it from Tuesday to Thursday.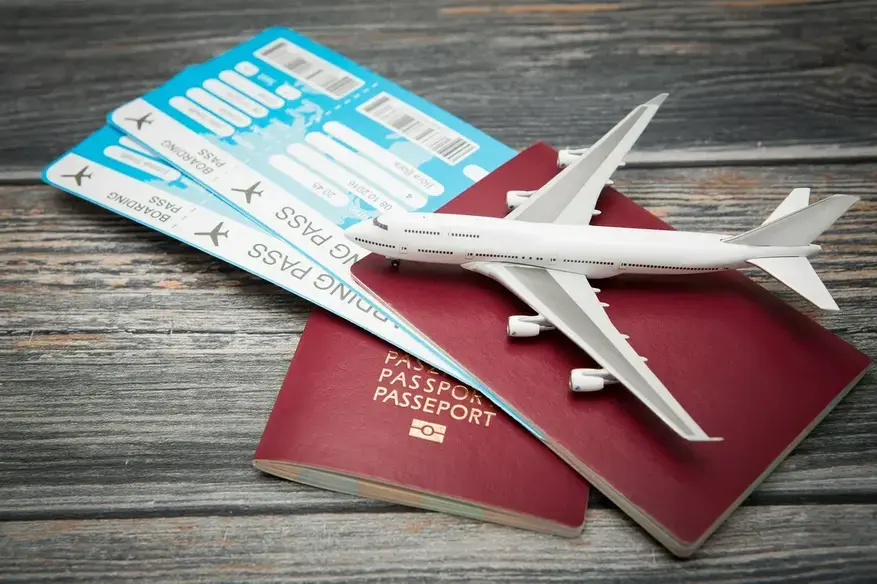 In addition, the time of day, also significantly affects the cost of the airline ticket. Because mostly people like to buy tickets during the day or evening, and at night no one likes to fly. So it's night airline tickets are considered the most inexpensive.
Buy airline tickets incognito
The cost of each airline ticket depends on many factors, some of which are completely unrelated to both the cost of fuel and the amount of airline fees. If you have been monitoring certain dates and destinations for a long time, you can replace that in most cases the price of an airline ticket increases slightly, but not significantly, from day to day. However, if you go to a given airline website with a different browser, the price will somehow miraculously drop again. The fact is that airlines have long since learned to track your online activities and change the price. That's why many recommend constantly clearing your cache, cookies, and buying airline tickets in incognito mode.
Watch for discounts and promotions on airline tickets
A simple and proven way, which can be a good way to save the family budget, if you properly track promotions and discounts on airline tickets from the carrier of interest to you or from several at once. To do this, you need to subscribe to the mailing list of airlines or use a popular messenger, such as Telegram, to quickly get information about bargains and special offers.
There are many useful channels in Telegram, which monitor the information about reducing the prices of tickets for different destinations and post this information on their channels. In addition, you can use and special bots in Telegram, which track exactly the direction you are interested in, as well as the dates. In case the price changes in one direction or another, the smart bot will send you a notification about it. Such subscription to the Telegram channel with promotions from airlines or special bot takes only 5 seconds, but thanks to it you will be the first to know about the price change! Moreover, it is very convenient to use telegram channels. In the period when you do not need them, you can simply mute the notification. Keep in mind that cheap airline tickets sell up very quickly, so if you find a good deal, do not hesitate to buy it.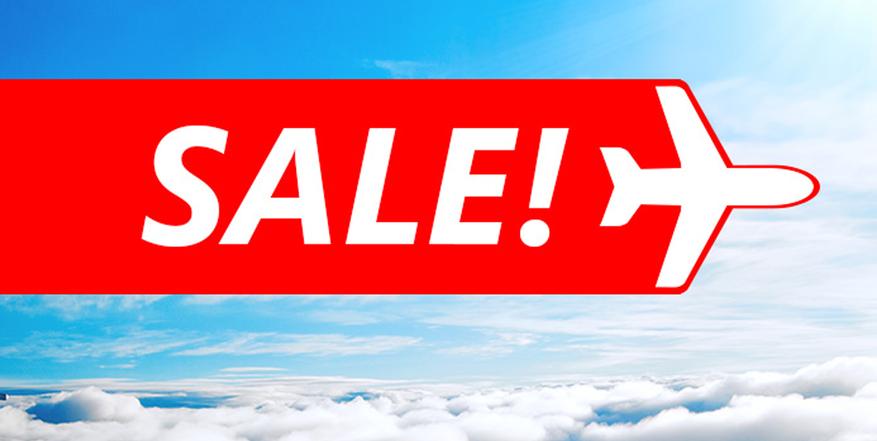 Use aggregators and the low price calendar
Another great way to save money is to use an aggregator for cheap flights, such as Yandex.Travel. The main advantage of this system is that the aggregator, such as Yandex.Travel or any other aggregator is not tied to a particular airline, it compares prices from different carriers and gives you the best option. Such a search engine usually has 24/7 phone and chat support. Even on weekends. There are also fairly handy schedules available, as well as price calendars. You can use them to move up the date of your trip, find the best price for your airfare, and of course save a significant amount of money.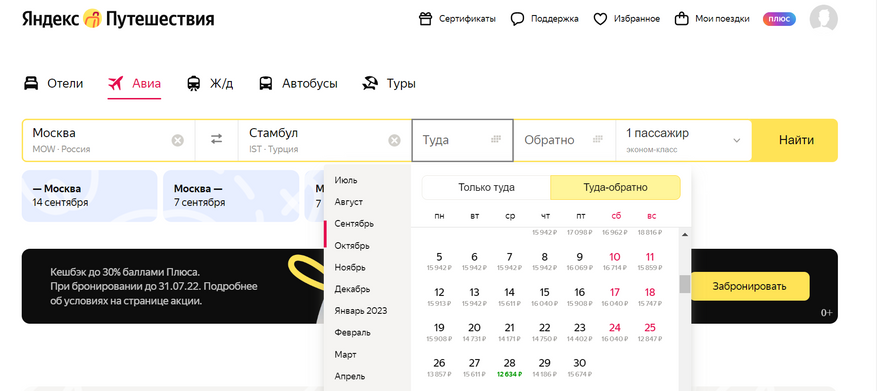 The main thing is to learn how to use such a cheap ticket search engine properly. To do this you need to immediately select a destination, for example, Moscow-Istanbul, but you do not need to enter specific dates, just try to look at the price calendar, as shown in the picture above, and then choose a suitable airline ticket. It's better to choose a round-trip ticket at once than to just go there and then buy a second flight back. So if you're travelling alone on your own, it's probably best to book your trip together with someone else. You can find out more about why this is the case in this article.
Buy one round trip ticket
You can save a lot of money on buying a return ticket, of course there are exceptions, but in most cases this method works well enough for both foreign trips and domestic flights. This is explained by the fact that if you buy a return ticket at once you give a certain guarantee to the carrier that the seat for the return flight will be occupied, which in turn reduces the carrier's costs for finding a new passenger. Even the biggest airlines are very good at counting their money and always use this way. That's why they usually don't take passengers one-way cheap.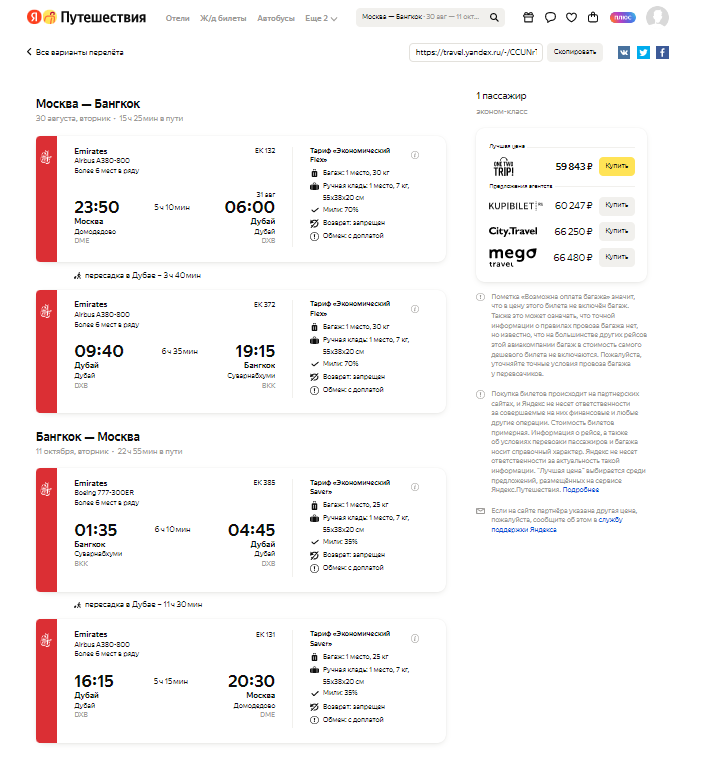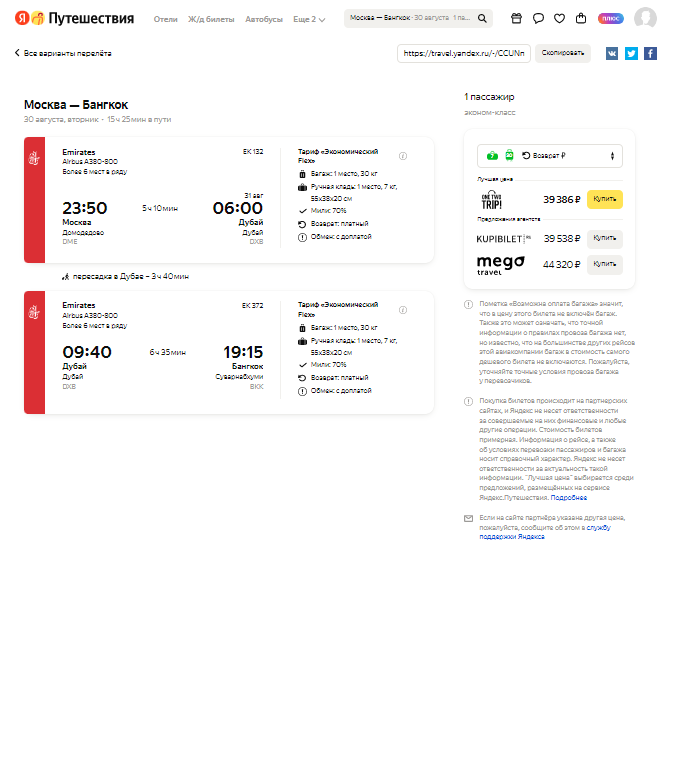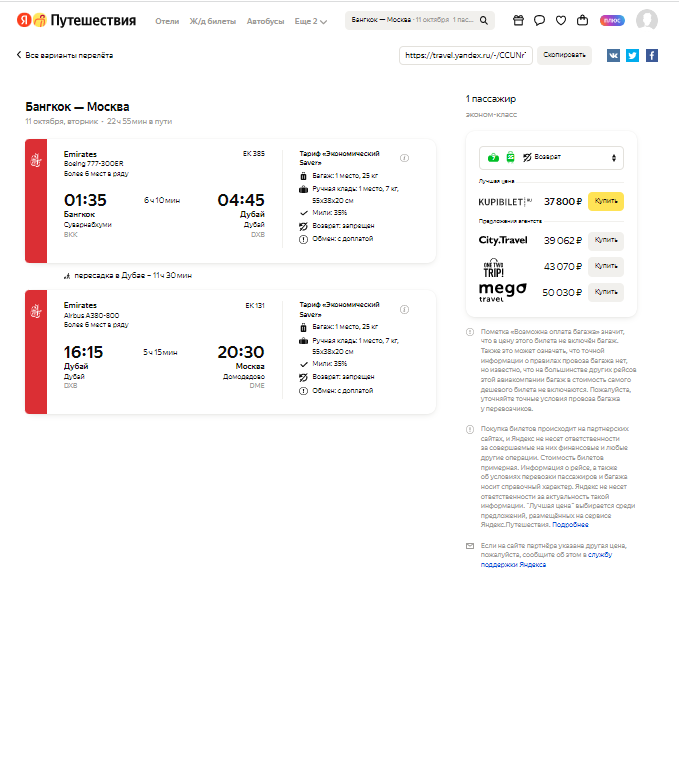 To find cheap airline tickets we use the proven service Yandex.Travel. Let's say we want to visit Bangkok, for this we are looking for a round trip airfare Moscow-Bangkok. The cost of a single round-trip ticket is 59,843 rubles. Now we check the cost of a separate one-way ticket on the same date for one person, its cost is 39,386 rubles, and the cost of the return ticket is 37,800 rubles. In the end, if we buy two separate tickets, the total cost is 75 186 rubles, but if we buy one round trip ticket with the same dates and time at once, its cost is 59 843 rubles. Using this method it would be possible to save 75 186 – 59 843 = 15 343 rubles. It seems to me that this is a pretty decent amount.
Fly with connections
If you don't book your trip well in advance (2-3 months beforehand) you may notice, for example, that Thursday flights are cheaper than Sunday flights. But be prepared for the fact that you may have to change airports in your city of transfer. If you don't book your trip well in advance (2-3 months beforehand) you may notice, for example, that Thursday flights are cheaper than Sunday flights. In addition, you need to learn how to properly compose a route with connections. To do this, you need to find a map of flights on the Internet and see what major cities, which, of course, has an airport located on the way to your destination. After using aggregators, the official websites of airlines and available promotions need to make a convenient route for you. Yes, of course, it will take time, but as a result you will not only be able to save on airline tickets, but also to visit other places.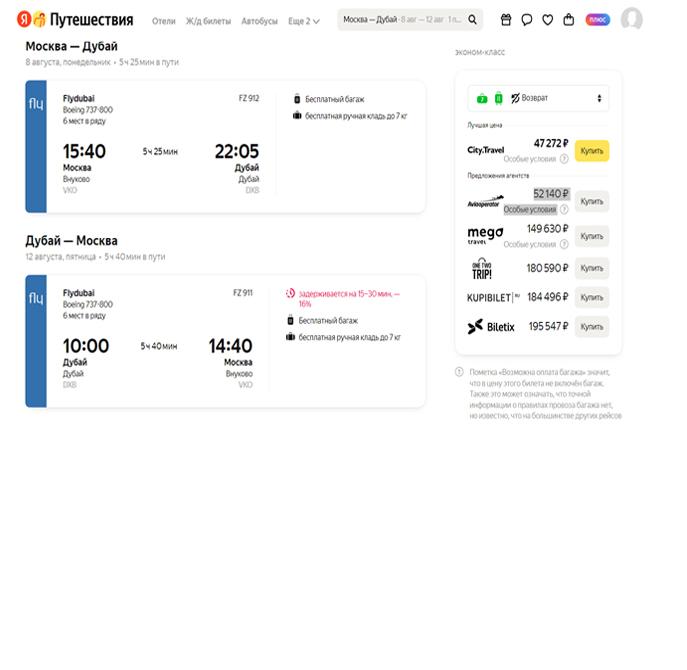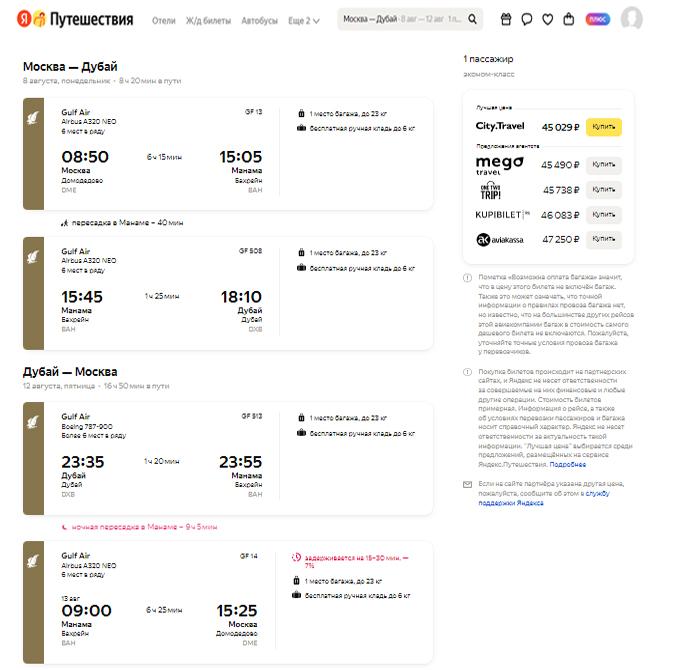 For example, if you buy a roundtrip airfare Moscow-Dubai, the minimum cost of the flight is 47,272 rubles, but the ticket has some conditions, it is not refundable. So if you happen to have some unforeseen situation, you will lose your money. However, if you buy a roundtrip ticket, the cost of the ticket will be lower – 45,029, and there are no additional conditions and the ticket can be returned if necessary. If you use this method, then the savings in my case would be 47,272 – 45,029 = 2,243 rubles. Of course, for many this is not a significant savings, but it is. In addition, this direction and the dates were chosen only as an example.
Choose the right time to buy tickets
Travelers are often interested in this question: when is the best time to buy tickets? On this subject there is just a huge variety of opinions. But the easiest advice that every traveler should remember – do not buy tickets too early or too late. On average, price reductions begin 4 months before departure for domestic flights and 5 months for international routes. When exactly on which day to buy the most advantageous to say, because it affects a huge variety of factors. Much depends on the seasonality, aircraft load, the day of the week, etc. If you refer to expert opinions, they also vary, for example, representatives of the Airlines Reporting Corp state that the best time to buy tickets – 6 weeks before the scheduled departure, the Economist Makoto Watanable say that you need to buy 8 weeks before departure, well, the data from the site Kayak say that buying tickets for domestic flights should be 21 days before departure, and for international – 34 days.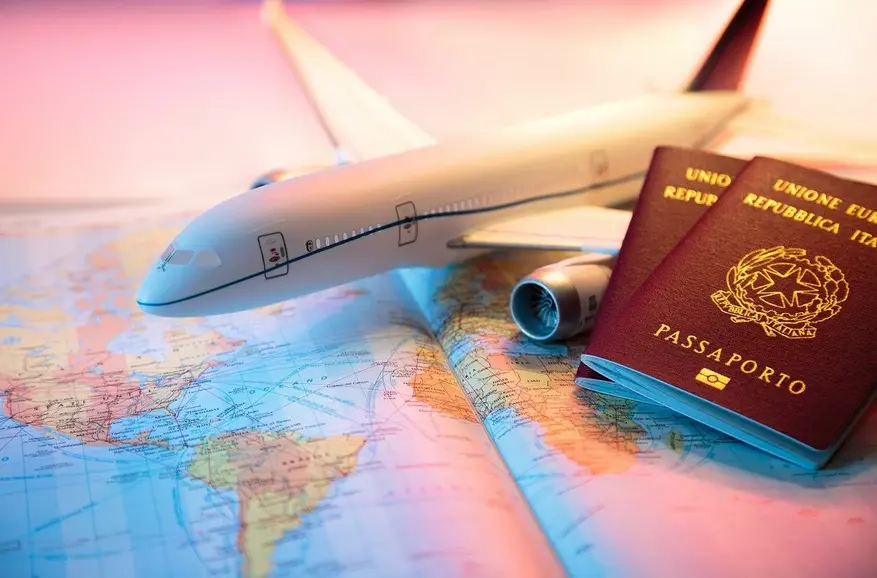 Conclusion
Each of us likes to travel, because it is very interesting and informative, but this pleasure is not the cheapest. So in order to save your family budget, take an interest in finding airline tickets and buy them yourself, and do not forget to use these simple, but working tips you learned from the article. So that the trip for you comes out not as an expensive treat, but as a pleasant pleasure for reasonable money. And it does not matter where your plane is flying: to Sochi or the Maldives, the principles of buying bargain tickets are always the same.
That's all. Thank you all for your attention. If you know any tips on how to find flight tickets, don't forget to share interesting ideas in the comments.