Features of cultural, gastronomic and beach holidays in Tel Aviv
The history of Tel Aviv is relatively short. It appeared on the map only in the first half of the last century. Since the founding of the city in 1909, a little over a century has passed, so the historical sites of the settlement can not boast. However, lovers of antiquity here are a few impressive and noteworthy objects.
Cultural Tel Aviv
Proponents of a combination of beach vacation with a rich cultural program can visit the local museums and visit the Palace of Independence, which took place a memorable event for all Israelis – the proclamation of the State of Israel. Special attention should be paid to the Museum of the Jewish Diaspora, the Eretz Israel Museum and the Tel Aviv Museum of Art.
Jaffa has already merged with Tel Aviv. Jaffa has a history full of legends, stories and authentic, documented facts. Jaffa's variety of attractions has made it a major world artistic and tourist center. The immediate proximity to Tel Aviv has been a favorable factor in the annual increase in the flow of tourists from all over the world. There are numerous museums, salons, flea markets, workshops, galleries and restaurants.
Jaffa – a unique city in every way. Despite all the disasters and tribulations, it has remained inhabited throughout the centuries. It was here, according to biblical legend, Noah was able to complete the building of the ark, and for the prophet Jonah the city was the starting point for a long journey. In Jaffa the apostle Peter observed a vision and the resurrection of the righteous woman Tabitha took place. Earlier myths attest to the rescue of Andromeda by Perseus. Archaeological excavations are being actively carried out now, so the expositions of museums are constantly replenished.
Gastronomic Tel Aviv
Tel Aviv has a wide variety of cuisines. They can satisfy both the unpretentious tourist and a true gourmet. There are a lot of various cafes, restaurants and eateries in the city. They offer a wide range of American, French, Russian, Eastern European, Pan-Asian and Middle Eastern dishes.
Paradoxically, in one of Israel's most populous cities, local cuisine is not as well represented. Service is oriented to foreigners, and this fact has made adjustments to the menu of local establishments. Those wishing to experience the taste of traditional Jewish cuisine, you should visit the old city. Its southern part is famous for Shmulik Cohen serving hearty Ashkenazi dishes.

Vegetarianism is in high esteem among the local population. There are also authentic fish restaurants in many places. It's worth checking them out for shrimp or specialty mussels. Seafood is intended mainly for tourists, since for the majority of Israelis it is very important to observe kashrut. Lovers of delicious hummus need to visit Abu Hasan. This small cozy cafe is located on Ha Dolphin. The authentic restaurants of the old town have a special flavor. They are cozy and always crowded, so a little noisy. The menu is vast, but definitely worth experiencing the unique taste of tender beef steaks, the cost of which ranges from 60 to 70 shekels, and the local carpaccio.
Because of kashrut, local chefs are constantly experimenting, trying to diversify the menu, but cook only according to kosher recipes. Therefore, 80% of all traditional Jewish food can be tasted only in the cities of Israel. Foreigners can order any local dishes without fear of consequences. Israelis are extremely sensitive to the quality of products and it can be seen in all establishments without exception.
The originality of local food can be felt regardless of the financial capacity of the tourist. At a budget variant of the trip is worth a visit in falafels. A full meal at these inexpensive establishments will cost you 15-20 shekels. The quality of national food here is excellent. In addition to hummus, saviyah and falafel, you can eat there the usual sandwiches. The coffee is delicious here as well.
It is worth visiting the full-fledged restaurants and cafes for sophisticated gourmets. The prices of meals in them are significantly different. At Goldman's Yard a full meal will cost about 50 shekels and at Mantaray a similar order will cost about 80 shekels. If you want to have dinner at Catit, the most prestigious restaurant in Tel Aviv, you will have to pay at least 500 NIS.
An important rule in Israeli restaurants and cafes is the tip. They are about 10% of the cost of the order. If a visitor has not left the amount to the waiter, then either he is extremely dissatisfied with taste and service, or simply bad manners.
Beach Tel Aviv
Tel Aviv is not one of the most popular destinations for tourists coming to the country for seaside vacation. In this respect, it is inferior to the world-famous Eilat and Haifa. Such a preconceived notion of the city by tourists is not justified. There are also many places that allow excellent swimming and spend a few hours under the rays of the hot sun. Local beaches are well-maintained and diverse.

Unique beach holiday in Tel Aviv contributes to a successful geographical location. One large continuous sandy beach can be considered a coastal part of the city. Such a vast area does not look monotonous. It is divided into sections, each of which has its own unique flavor. Another important factor is that the local beaches are free. Only in one place for the opportunity to relax near the sea will have to pay a certain amount, but paid Ha-Tsuk favored by locals and foreigners there are few. Foreign holidaymakers prefer the nearby free Tel Baruch. The differences in infrastructure are few: the abundance of lawns for recreation, it is possible or not to rent a catamaran and so on. The youngest tourists can frolic on the playground, and their parents can sit in a cozy beach cafe. True, and here you can meet more Israelis among vacationers.
Further southward begins the variety of traditional tourist beaches. Visitors to the country can appreciate the delights of Gordon, Hilton, Jerusalem, and Metsim. Here is already observed a mass of foreigners. The area of southern beaches of Tel Aviv is adjacent to the recreational areas of Jaffa. The transition is conditional and almost imperceptible. Of particular interest to visitors is the beach dolphinarium, also called the beach drummer. The most bohemian of all the beaches of Tel Aviv is considered Alma. Its location is unique: on one side the sea, on the other – the green part of the famous Charles Clore Park. The diversity and uniqueness of beaches in Tel Aviv, any vacationer will find a place to his liking.
Tel Aviv: tips for your vacation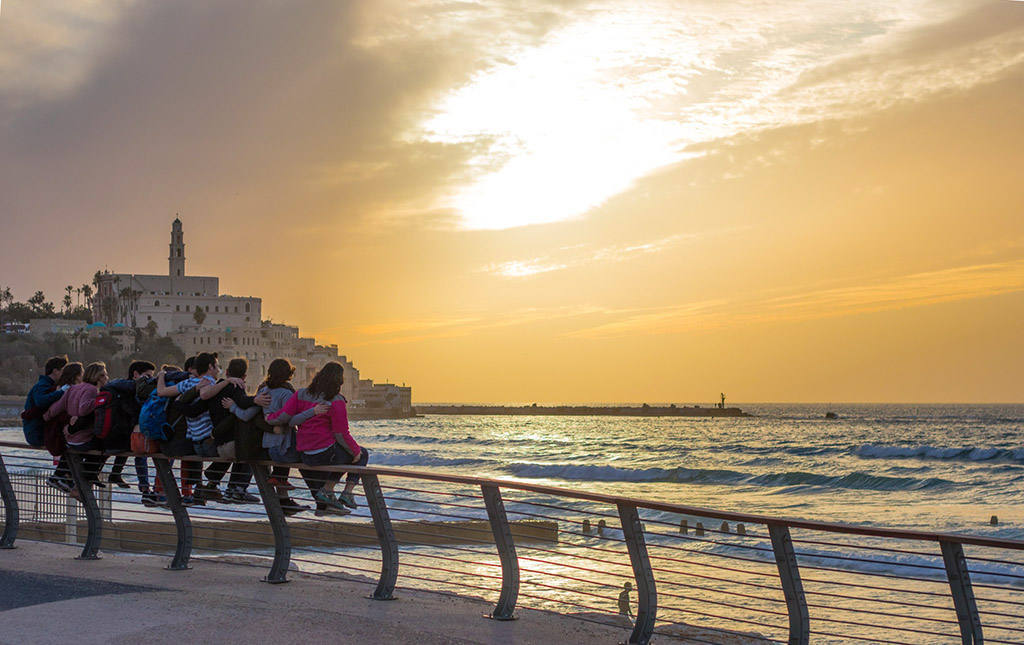 All you need to know about rest in Tel Aviv: how to find a cheap tour or self-organization of the trip. Prices for tours, hotels, tickets, food and tours in 2022. How much are the groceries and what to try in Tel Aviv? On which beaches is better to bathe?
Israel only accepts vaccinated tourists, "Sputnik V" qualifies. No direct flights yet, tours are not on sale (pre-pandemic prices are listed). Check the list of open countries.
Contents:
Exchange rate: 1 Israeli shekel (ILS) ≈ 17 RUB.
Remember that Israelis have Shabbat – after sunset on Friday and until sunset on Saturday they rest. Transport also does not drive, take it into account.
Visa to Israel
You do not need a visa to Israel for a tourist trip, but you must bring the following documents:
round-trip air tickets;
proof of financial solvency;
passport;
Birth certificate for children;
health insurance;
documents confirming the nature and purpose of the trip.
Medical insurance can be obtained free of charge when applying for the card "Tinkoff Bank" All Airlines.
Read more about the visa to Israel.
Tour prices in Tel Aviv in 2022
Tour prices are for two people with a flight from Moscow.
Cheap vacation in Tel Aviv can be on a last minute tour – look for travel on the websites Travelate and Level.Travel. You can still save if you buy tours in advance. Organized vacation has some nice moments – no need to worry about accommodation, transfers from the airport to the hotel, insurance, and sometimes even meals – everything is already included.
Before the trip decide what you want to do on vacation. For the cultural and sightseeing holidays in Tel Aviv should go in low season (from November to April) – in these months the prices for tours in Israel are lower. For a beach holiday – in the high season, but the tours are more expensive.
We found the minimum prices for tours to Tel Aviv in hotels of different categories.
In the low season (December) :
7 nights.
11 nights
Hotel 3*
from 79 thsd
from 103 thousand
4* hotel
from 79 thsd
from 104 thousand
5* hotel
from 111 thousand
from 107 thousand
In high season (in August) :
7 nights.
11 nights
Hotel 3*
from 94 thousand
from 119 thousand
4* hotel
from 108 thousand
from 139 thousand
5* hotel
from 123 thousand
from 167 thousand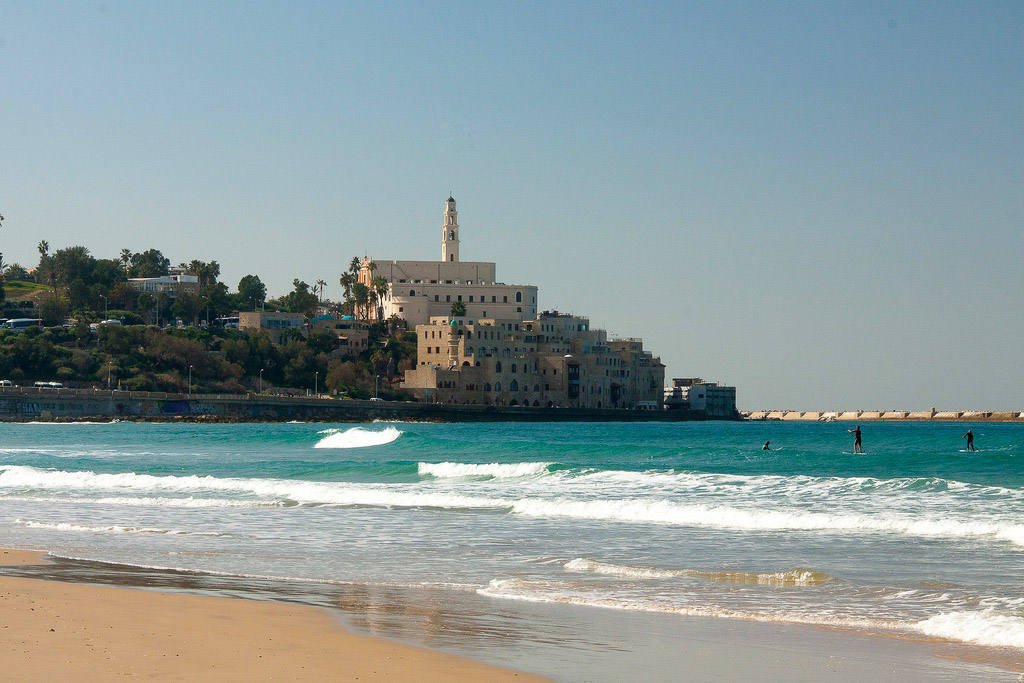 (Photo: papposilene / flickr.com / CC BY-NC-ND 2.0 license)
Prices for air tickets to Tel Aviv
Prices are per person round trip.
Decided to go on vacation to Tel Aviv on your own? It's cheapest to fly from Moscow, a little more expensive – from St. Petersburg. Here are the ticket prices:
From Moscow :
In low season – from 9,000 rubles;
During high season – from 12,5 thousand rubles.
From St. Petersburg:
In the low season – from 15 thousand rubles;
In high season – from 18 thousand rubles.
Where to find cheap tickets? Use the search engine Aviasails – it compares prices of all airlines. Learn the secrets of finding cheap airline tickets.
Tips for buying. Look for tickets not only from your own city, but also from neighboring cities – so there is a better chance of finding a cheap one. To save money, buy tickets in advance and look for sales. The price also depends on the luggage: if you choose a fare with only hand luggage, the cost of the ticket will go down.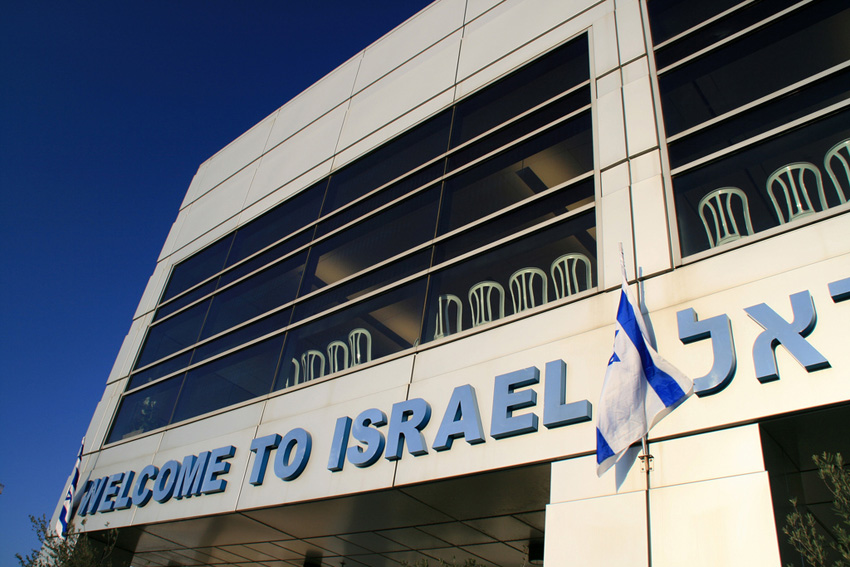 (Photo: fabcom / flickr.com / CC BY-NC 2.0 license)
Hotel Prices in Tel Aviv – 2022
The city has a rich selection of hotels at different prices. It all depends on your preferences: choose a category, location and additional hotel offers if you need them. If you wish to stay in Tel Aviv, use our booking engine at Hotelluk. The prices of hotels in Tel Aviv are high, but you can find budget options if you watch the sale.
We have researched the minimum prices for a one night stay in a double room in the high and low season:
7 nights.
11 nights
Hotel 2*.
From $95
from $85
Hotel 3*
from $170
from 125$
4* hotel
from $195
from $155
5* hotel
from $190
from $185
Prices for a room for two during the beach season start at $23, but for that money the conditions will be Spartan. If you're going as a family or a group of friends, it's more convenient to rent an apartment or house. A decent apartment in its entirety costs from $ 55.
(Photo: xiquinhosilva / flickr.com / CC BY 2.0 license)
Tour Prices in Tel Aviv
Search for interesting tours on Tripster. Individual and group, no crowds and in Russian.
Here are the prices for tours in Tel Aviv and other cities in Israel in 2022:
Tel Aviv walking tour – $115;
Bethlehem and Jerusalem – $90;
Caesarea, Jaffa, Acre – $95;
trip to the Dead Sea – $740;
Jaffa, $220-$270.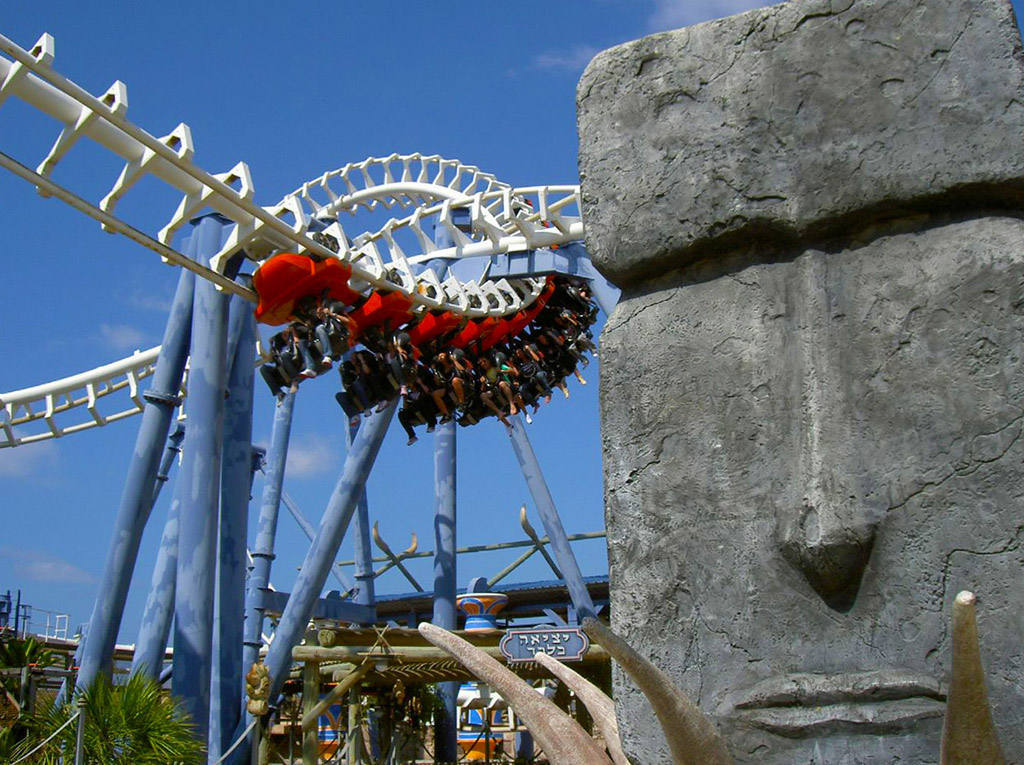 (Photo: ItaiNathaniel / flickr.com / CC BY-NC 2.0 license)
What to see in Tel Aviv on your own
You can find quite a few activities without spending money on tours. For example, see the city from the heights of the Azrieli Center or Migdal Shalom Tower. Take a family walk through Hayarkon Park with its rock garden and Tsapari Bird Park or Sarona Park with its galleries, alleys and ponds.
There are many fascinating museums in the city:
Tel Aviv Museum of Art;
Eretz Israel;
Palmach Museum;
Elena Rubinstein Pavilion;
Rabbi Yitzhak Center;
Independence Hall;
Jewish Diaspora Museum and others.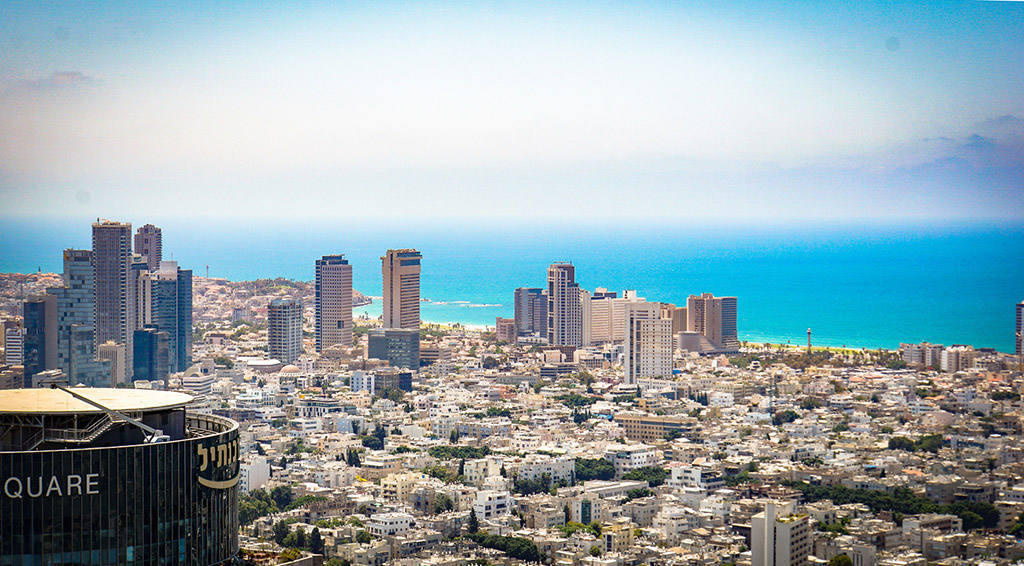 (Photo: tedeytan / flickr.com / CC BY-SA 2.0 license)
When to go to Tel Aviv
Tel Aviv has more than 300 sunny days a year, only in December and January there is a regular rainy season.
The high season comes in the spring. If you prefer a cultural and sightseeing vacation, it is best to come to Tel Aviv at this time. The heat is still warm in March, but to swim at this time of the Mediterranean Sea is still early. In April, too, still cool, but the temperature rises. In this month come the pilgrims for Easter. It gets even hotter in May.
Hot and dry weather (above +30 ° C) is established in the summer, the water in the Mediterranean Sea is ideal for swimming. On excursions because of the heat can be difficult.
The high season continues in autumn: in September and October the weather is about the same as in May. Prices for holidays in these months in Tel Aviv are still high.
Winter is good for the pilgrimage. At this time comes the rainy season, for bathing is cool, but the prices of tours and tickets are cheaper.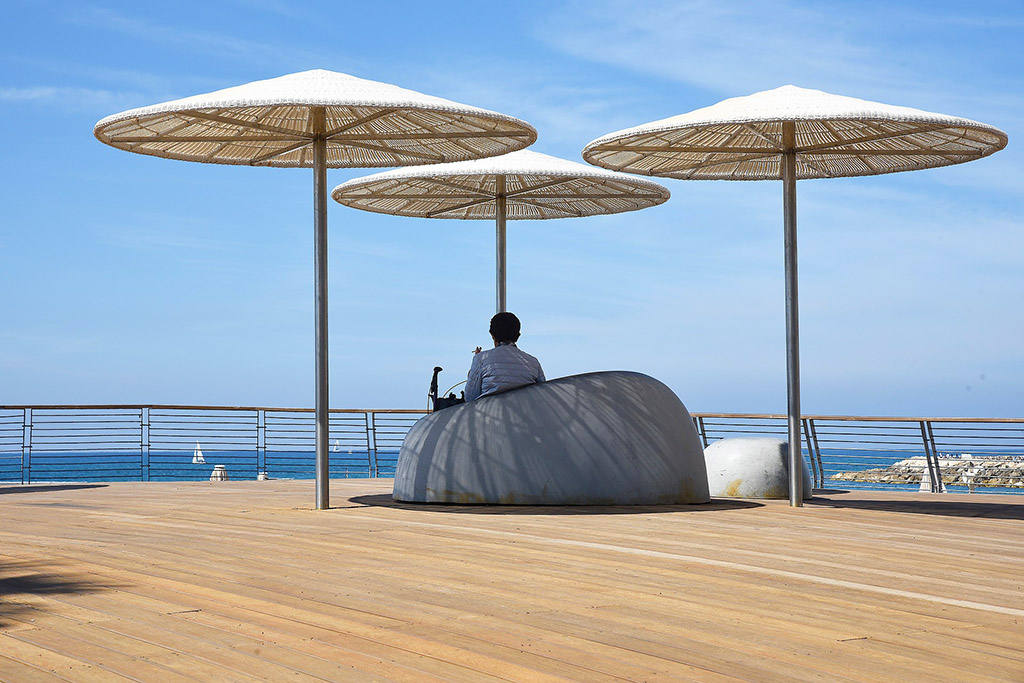 (Photo: moshehar / pixabay.com)
Beaches in Tel Aviv
For a beach holiday in Tel Aviv is ideal for April, May, September and October. In summer it is hot, but some tourists are not embarrassed by this.
On the west side of the city is washed by the Mediterranean Sea. All beaches (except Ha-Tsuk) in the city are municipal and free. Rest here is perfect for children.
Ha-Tzuk, Metszim, and Tel-Baruch are considered beaches mainly for locals. At the orthodox Nordau, almost all days are divided into men's and women's.
We made a selection of the most popular beaches for vacationing in Tel Aviv:
Dolphin Beach is divided into two parts: Banana Beach in the north and Drummer Beach in the south. The former is a quiet beach, and the latter is known for hosting "Welcome Weekend" parties and gathering drummers.
Gordon is a clean equipped beach, suitable for athletes; it has a saltwater pool and children's slides.
Rishon-les-Tzion – quiet beach with fresh air, well equipped.
Jerusalem – the most crowded and largest beach, awarded the Blue Flag, it is chosen by travelers with children.
Beaches Bugrashov and Frishman offer a quiet holiday near the center of Tel Aviv.
Alma – a clean and pristine beach where you will enjoy the seclusion and views of Old Jaffa.
Hilton is a popular beach known for its calm waters. There is free parking and a surfing center.
Jaffa – one of the newer beaches, but the infrastructure is not very developed, you will also have to walk a little bit to the nearest cafes.
Charles Clore is a quiet place, there are playgrounds and exercise areas.
Many beaches offer umbrellas, sun loungers and other equipment for rent; lifeguards are on duty, and there are places to eat lunch. For those who like sports there are grounds. Surfing stations are at the Hilton, Tel Baruch and Drum Beach. Tel Aviv is one of the famous diving centers, sportsmen will find here a lot of objects to explore.
Video – Beachfront of Tel Aviv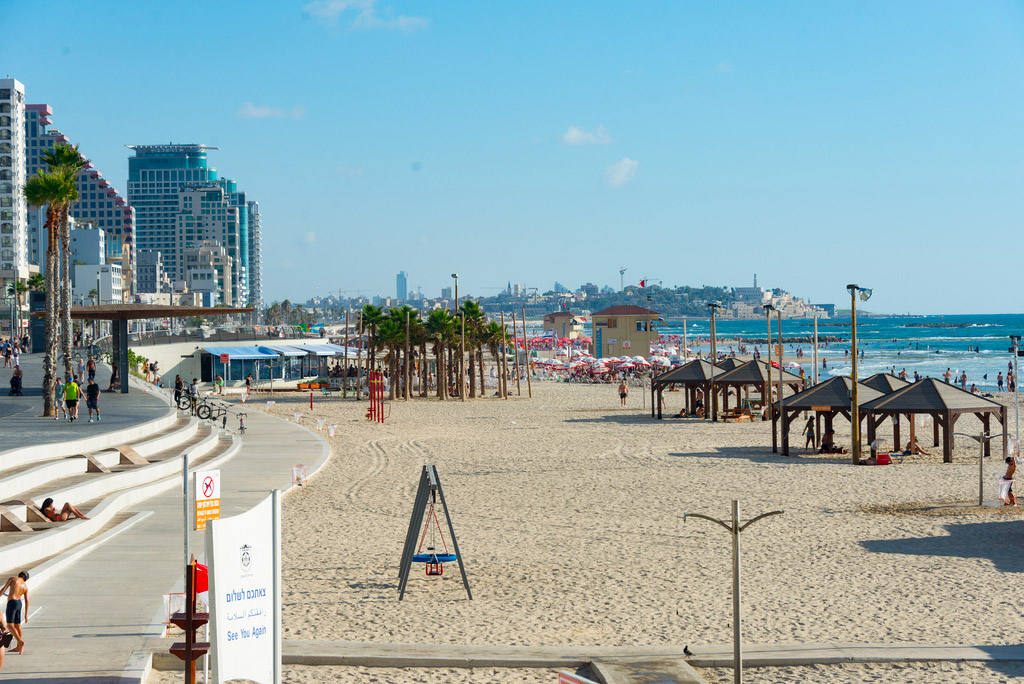 (Photo: xiquinhosilva / flickr.com / CC BY 2.0 license)
What to try in Tel Aviv
The cuisine of Israel is very diverse and includes many dishes and traditions of the West and the East. It should be remembered that the food here is cooked with observance of religious rules, so pork or shellfish are prohibited. No cooking on the Sabbath, except for food that has been made in advance and which has been stewed in the oven.
What to try in Israel:
Falafel – balls of shredded beans fried with spices and garlic. They can be served with salad and sauce, potatoes and flatbread.
Pita with hummus is an appetizer made with mashed chickpeas, olive oil, garlic, onions, lemon juice and spices. It can be with eggplant, peppers, eggs and other ingredients.
Shakshuka – a dish of eggs with tomatoes and spices, bell peppers.
Burekas – pies made of thin unleavened dough or puff pastry filled with cheese, potatoes, spinach.
Cholnt – a hearty stew of meat, potatoes, beans, onions, chickpeas, and spices.
St. Peter's fish – grilled tilapia.
Sweets: baklava, doughnuts fon trevore, blinchikes, hamentas, candied fruit, knafe, bamba.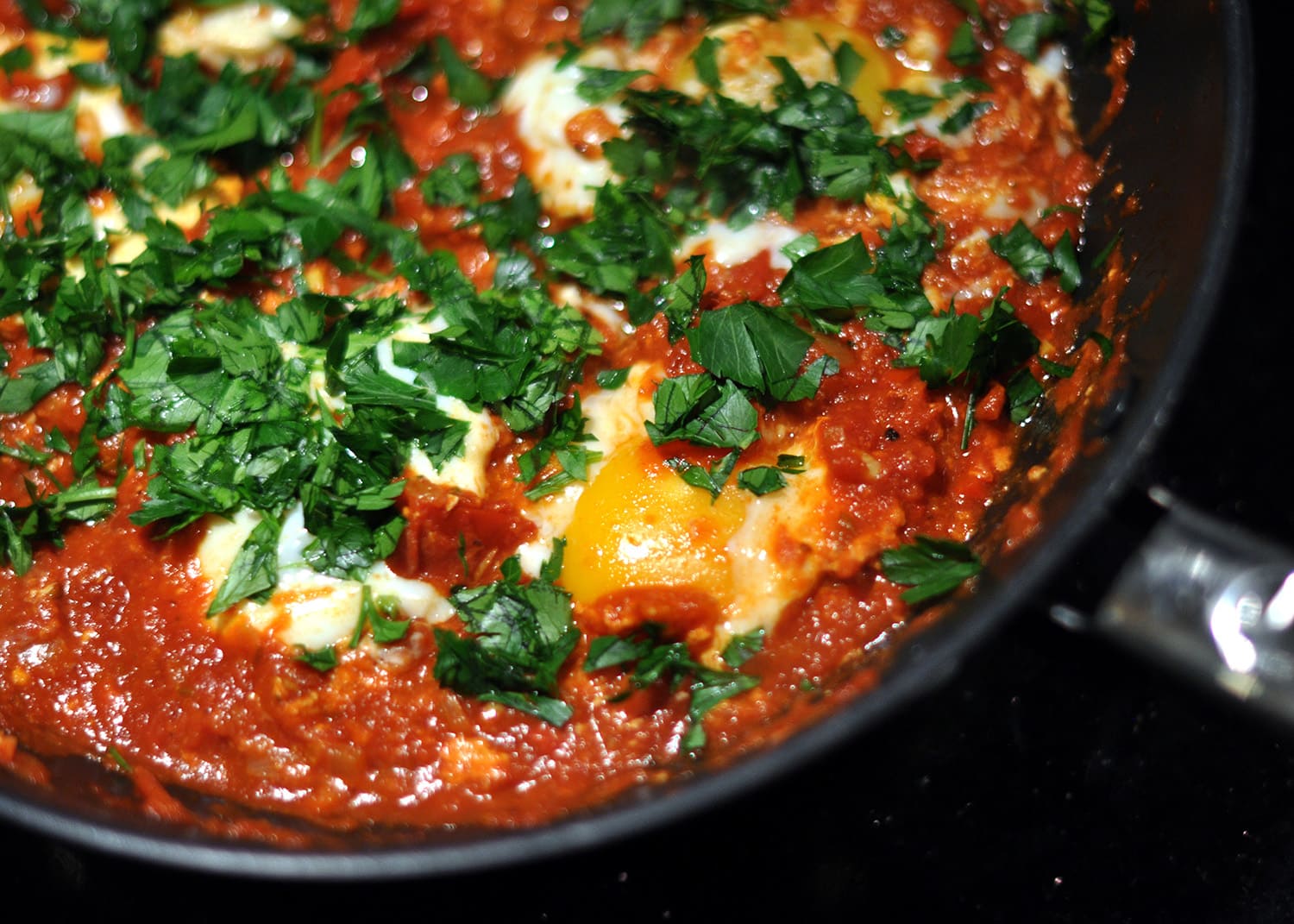 (Photo: cyclonebill / flickr.com / CC BY-SA 2.0 license)
Prices in Tel Aviv for food – 2022
Eating in restaurants is not cheap, but you can save money if you get away from the tourist spots. Another option is to periodically try street food, which is very popular here. It's a bargain, plus you'll learn about the cuisine of Tel Aviv from all angles. But remember, it's not healthy to get addicted to fast food.
Here are some examples of restaurant prices in Tel Aviv:
Budget breakfast – 20-30 ₪;
Lunch or dinner at a cheap restaurant – 55 ₪;
three-course lunch or dinner for two at a mid-priced restaurant – 230 ₪;
budget lunch (falafel, hummus, or other local dishes) – 24-40 ₪;
local beer (0.5 l) – 30 ₪;
imported beer (0.33 l) – 29 ₪;
a glass of wine – 20-30 ₪;
cappuccino – 11.75 ₪;
water (0.33 l) – 7 ₪;
coffee to go – 8-12 ₪.
How much does street food cost in Tel Aviv:
kebab – 10 ₪;
large shawarma – 35 ₪;
falafel – 7 ₪;
hamburger – 12-16 ₪;
grilled chicken and rice, 45 ₪;
coffee or a drink with a bun, 5 ₪;
water in vending machines – 8-10 ₪.
Prices in supermarkets:
milk (1 liter) – 5.7 ₪;
white bread (500 g) – 7.23 ₪;
eggs (12 pcs.) – 12.5 ₪;
local cheese (1 kg) – 45,5 ₪;
apples (1 kg) – 9.23 ₪;
bananas (1 kg) – 8.8 ₪;
oranges (1 kg) – 5.66 ₪;
tomatoes (1 kg) – 5.64 ₪;
potatoes (1 kg) – 4.61 ₪;
lettuce (1 piece) – 6.25 ₪;
water (1.5 liters) – 4.1 ₪;
bottle of wine – 40 ₪;
local beer (0.5 l) – 9.28 ₪;
imported beer (0.33 l) – 11.16 ₪;
a pack of cigarettes – 34 ₪.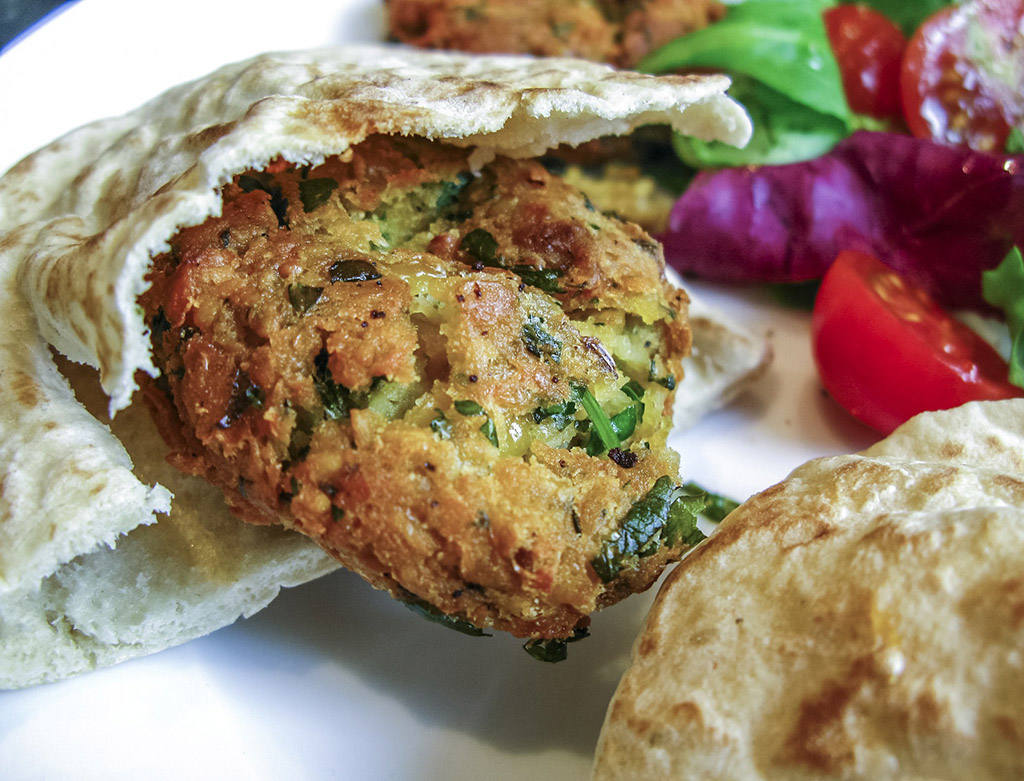 (Photo: riopix / pixabay.com)
Transportation in the city.
On the Sabbath, you can only leave on a shuttle bus – the rest of the transport is out of service. Shuttle buses travel faster than buses, and the ticket is cheaper.
Public transport
The city has a well-developed network of buses – they can get almost anywhere in Tel Aviv or the suburbs. They run from 5:00 to 00:00, and some even until 03:00. A trip around the city costs 6-6.4 shekels one way. Map the route on the website of public transport in Israel.
There is a system of passes. For a long time is advantageous pass for a month for 213-250 shekels. Read more about day, week or month passes on the official website of Eged.
It is convenient, but a little more expensive, to travel by train. However, their route is limited – for example, you can't get to the far south or north of the country. In addition, there are fewer stops than buses. A train ticket from the airport to the city center costs 13.5 shekels. Check the Israel Railways website for schedules and prices.
(Photo: rliessum / pixabay.com)
Cab
For those who like comfort, we suggest ordering a cab. Prices in Tel Aviv are as follows: a pickup is 11.5 shekels, a 3-kilometer ride around the city is 20-30 shekels, and from the airport to the city center is 140-175 shekels. Negotiate the price in advance or arrange to ride on the meter.
It is better to book a cab from Ben-Gurion Airport to Tel Aviv online at Kiwi Taxi.
Rent a car
If you want to plan your own route and not to depend on public transport, then rent a car. With Rentalcars.com you can reserve a car in advance without overpaying – rental costs from 117 shekels per day. A liter of gasoline in Tel Aviv costs 6.11 shekels.
Bicycle
For those who like sports and fresh air, we advise to rent a bike. Roads in the city are convenient, there are many bike lanes. But be careful: put a lock on the bike and bring it indoors at night.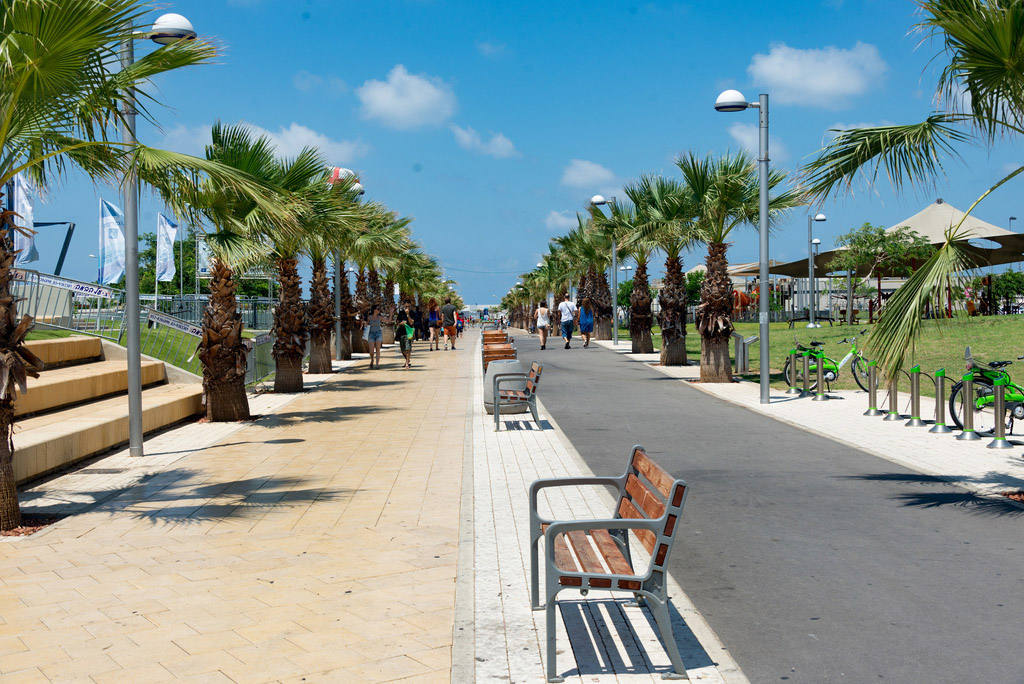 (Photo: xiquinhosilva / flickr.com / CC BY 2.0 license)
Safety on vacation in Tel Aviv
The crime rate in Israel is low, it is a safe country. However, we recommend not to go on vacation in the areas on the border with Palestine and in the Gaza Strip.
Be prepared for the police to check your documents – take your passport with you. Because of the terrorist threat, they may inspect your belongings. It is best not to take pictures or video of strategic locations (train stations, airports), this could be taken as espionage.
Beware of being cheated in shopping and cabs. Refuse unnecessary "help".
Use sunscreen and drink water in hot weather. Choose beaches with lifeguards and beware of jellyfish. Before the trip take out health insurance and a travel kit.