Diving in Vietnam
The coastline of Vietnam, densely rugged with river deltas, stretches for 3,444 km. The country is washed by the South China Sea, part of the Pacific Ocean. The shores of the Red River Delta Economic Zone and the Northeastern Region are overlapped by the Bakbo Bay (Tonkin Bay), and in the southwest, in the Mekong Delta Zone, by the Siamese Bay. About 4,000 square kilometers of the territory of the Asian state are not continental land, but islands, including the archipelagos: the Paracel, Katka and Spratly. The largest among them is Phu Quoc Island, part of the province of Kien Giang. The potential of the sea coast of Vietnam in combination with the tropical climate contributes to the development of active recreation on the water, where the diving takes a leading position.
Fashionable trend in tourism associated with diving in special equipment, began to gain momentum in Vietnam only at the end of the last century. A clear state program for the development of diving in the country is not provided. The issuance of a license for private enterprise related to training and diving on a commercial basis are engaged in dealer departments of international federations. Among them a branch of Scuba Schools International (SSI) has the key position.
Certified diving schools (clubs, centers) in Vietnam
Vietnamese diving schools are located almost at all popular resorts, in particular, in Nha Trang (the capital of Khanh Hoa Province) they number over two dozen. The most titled school recognized Rainbow Divers, founded by the British back in the 70s. It has a network of branches scattered along the coast. Branches are opened in Hoi An, on the islands of Phu Quoc, Whale and Con Dao. It is important that the majority of dive clubs employ Russian-speaking instructors, and such a center, such as Amigos Divers, can rightfully be called a Russian because of its specialization in the training of Russian-speaking tourists.
Prices for diving in Vietnam
Schools offer one-day programs and certified courses lasting 3-7 days. The main trump card of diving in Vietnam – very low prices, some of the lowest in the Asian region and in the world. For example, a full course of Open Water Diver in the center of PADI, including the rental of equipment will not exceed 250 dollars, and the cost of two double dives with access to the open sea on a speedboat barely cross the mark of 60. For a higher fee tourists in Vietnam can also receive a diploma of instructor or guide for diving.
Thus, diving on the Vietnamese coast completely destroys the stereotype that this kind of recreation is only available to wealthy people. Because of its low cost, diving in the depths of the sea are available to all tourists. To dive under the water twice for the first time, it is enough to allocate $ 50 for an introductory excursion. This amount includes, as a rule, paying for the transfer from the hotel to the pier, boat charter, rental equipment, Russian-speaking instructor, and a hearty lunch.
Diving spots in Vietnam
Due to the diversity of marine flora and fauna, almost the entire coast of Vietnam is of interest to diving enthusiasts. But diving at different resorts differs in spectacular and conditions. Somewhere it is developed, and in other popular tourist beach locations to find a good dive is almost impossible. One of the most accessible resorts for diving is Nha Trang. Excellent diving is offered at island resorts such as Phu Quoc and Condao. Here is a list and a brief description of the most popular diving spots in Vietnam:
Nha Trang
Diving season – from March to October
Depths – down to 30 meters
Water temperature – 24-29 ° C
Air temperature – 26-33 ° C
Visibility – up to 20 meters
Nha Trang resort is the most popular and affordable diving spot in Vietnam. This is also the most popular beach resort. In the tourist area of Nha Trang diving centers are found almost at every step, offering tours along the coast, as well as on islands. There are instructors of different categories and speak different languages, including Russian. By the way, there are even dive centers, which are fully operated by Russian founders.
The natural conditions and underwater life of experienced divers are unlikely to surprise here. But for beginners or just to have some fun the conditions are ideal. Prices are very low, perhaps the lowest in the whole of Vietnam, instructors and equipment are also on point. It is also believed that the sea here is the cleanest.
Dive spots in the water area of Nha Trang a lot. This is an island Hon Mun (15 km from Nha Trang) with spots Madonna Rock, Mushroom and coral reefs, in the same area Hon Ong or Whale Island, where you can meet whale sharks and their mustached relatives, nicknamed nurse. Mushroom reef is unique in that it is inhabited by octopuses. On the island of Hong Ong (While Island), 50 kilometers north of Nha Trang, there is a hotel While Island Resort and dive center.
Phu Quoc Island
Diving season – December through June
Water temperature – 28-31 ° C
Air temperature – 30-33 ° C
Not to mention a peculiar Mecca of diving in Southeast Asia – Phu Quoc Island. Its coastal waters are favorable for diving six months a year: from December to June. The underwater life on Phu Quoc is richer than in Nha Trang, but prices are higher, and in general the diving infrastructure on the island is still underdeveloped and mostly works only in high season. A big plus of Fukuok is warmer water than in Nha Trang and other resorts in the country.
The best dive spots in Fukuoka:
Cape Nail with clear water at 10-15 m depths, swimmers can view the stone ruins of an ancient city, the carriage and trunks of ship cannons and enjoy the coral plantations;
Turtle Island, diving depths for diving ranges from 5 to 12 m, in addition to the nimble flocks of coral fish are sure to meet waddling turtles, captivating and a tour of the coral reef;
Bat Island, the local current is an extreme challenge even for professional divers;
Cape Angel, a sheer 14-meter cliff;
Gemini Rock, a stepped underwater massif with vertical stacks;
Tom's Nose, at depths of up to 30m explore the inhabitants of grottoes and caves.
Kondao Island.
Diving season – March through June
Water temperature – 28-31 ° C
Air temperature – 30-33 ° C
Visibility – up to 20 meters
A veritable Klondike of dive sites is scattered throughout the Con Dao Archipelago. This is the best place for diving in Vietnam in terms of conditions and diversity of underwater life, but it is not cheap. First, to get to the island is quite expensive (plane or a long 12-hour voyage by boat), and secondly, because of the underdeveloped tourist infrastructure prices for accommodation and services are monopoly-high. And there are only two dive centers, so the prices are also high. Here are the best dive spots in Kondao:
Misty Dalat, notable because you don't have to take a boat to see the coral reef, as it's located right off the shore;
Fish Prospect, a submerged in the bottom sands of the ship's hulk, is beloved by a huge number of exotic fish;
Giant Perch Grotto, a fishing trawler sunk 35 meters deep, the well-preserved vessel has become a habitat for sea bass of gigantic size;
Cape Barracuda, beds of soft and hard coral are the hunting grounds of harmless human shark species;
Sask Wall, a sheer cliff covered with coral growths, dropping 40 meters.
Mui Ne and Phan Thiet
Diving season – from March to October
Depths – down to 30 meters
Water temperature – 25-29 ° C
Air temperature – 30-34 ° C
Visibility – up to 20 meters
At the popular resort of Mui Ne/Phanyet diving is poorly developed, no dive centers. The whole thing in the constant waves, because of which a comfortable and safe dive is impossible. Visibility because of the same waves inferior to other places, including Nha Trang. Nevertheless, underwater life is rich: there are corals, squid, octopus, cuttlefish, puffer fish, moray eels, clams and clownfish. Large fish species such as mantas and barracuda are also found.
North Vietnam
In the north of Vietnam diving in the coastal zone is less attractive because of the periodic flow of turbid streams in the delta of the Red River, and in general the beach resorts are very few, or rather one – Cat Ba Island in Halong Bay. In addition to resting on one of three well-kept beaches and excursions to freshwater lakes, tourists are invited to dive in the waters of the National Park of Vietnam, covering the eponymous archipelago. There are about half a thousand different types of mollusks, almost as many arthropods, over 200 species of fish. From marine animals diving lovers often meet dolphins and even seals.
❤ Join us on VK, Telegram, Viber or read the most interesting in Zen
Find and book tours online on Onlinetours.ru and Travelata.ru
✈ Buy airline tickets on a trusted search engine – Aviasales.ru
Book a hotel at Agoda.com or Booking.com
☂ Take out insurance to be safe at Sravni.ru or Cherehapa.ru
Rent a car at Rentalcars.com or Localrent.com
Book a transfer from the airport to your holiday destination on Kiwitaxi.ru
View tours online on tripster.ru
| | | | |
| --- | --- | --- | --- |
| CITY/DESTINATION | DEPARTURE DATE | RETURN DATE | FIND TICKET |
| Ho Chi Minh City | 2023-06-06 | 2023-06-16 | FIND FROM 42,085 ₽ |
| Hanoi | 2023-05-14 | 2023-06-02 | FIND FROM 57,650 ₽ |
| Da Nang | 2023-05-12 | 2023-05-27 | FIND FROM 58,960 ₽ |
| Nha Trang | 2023-04-03 | 2023-04-14 | FIND FROM 64,256 ₽ |
| Phu Quoc | 2022-10-23 | 2022-11-21 | FIND FROM 65,210 ₽ |
| Dalat | 2023-02-06 | 2023-02-20 | FIND FROM 68,453 ₽ |
Курорты Вьетнама. Какой курорт выбрать admin 10 Ноябрь, 2013 На сайте представлена информация о курортах Вьетнама:r>Курорты Вьетнама: обзор, какой курорт выбратьr>Куда поехать: в Нячанг или Фантьетr>Лучшие пляжные курорты Вьетнамаr>Достопримечательности Вьетнама, которые обязательно стоит увидетьr>Discuss here about choosing resorts in Vietnam .
Re: resorts in Vietnam. Which resort to choose Nastya November 24, 2013 Hello! And put here too resorts star, as you have about resorts in Thailand is done. Very clearly this. Thank you.
Re: Resorts in Vietnam. Which resort to choose Lavrova January 17, 2014 Since I was in Phan Thiet, I would like to get acquainted with Nha Trang.
Re: Vietnam resorts. Which resort to choose Murzyk 4 November, 2017 Nha Trang is an amazing place. I honestly did not even think that you can relax so well here. Went to Nha Trang this year as a family with my wife and kids. For our stay we chose ANVISTA HOTEL. It was a nice place with good service. Everything you need is within walking distance, in particular the pharmacy "Drugstore 777". We bought sunscreens and joint drugs for our relatives here. All at low prices. The vacation was wonderful.
Re: resorts in Vietnam. Which resort to choose ilja.barskih 5 November, 2017 And when the season starts in Vietnam? How is the weather on New Year's Eve? And how do they celebrate it there? With what currency is better to go?
Re: Курорты Вьетнама. Какой курорт выбрать admin 6 Ноябрь, 2017 r>Here – https://nashaplaneta.net/asia/vietnam/kurorty-vietnama, and here – https://nashaplaneta.net/asia/vietnam/money.html answers your questions. They celebrate the new year as elsewhere, especially in tourist places, because that is why many people go there on New Year's Eve.
NashaPlaneta.net uses cookies. "Cookies are small files on your device that store information about your previous visits to the website. If, by reading this message, you remain on our site, it means that you agree to our use of cookies. Read more.
Follow low prices and our news in our VK, Facebook groups, OK, and Telegram channel
Diving in Vietnam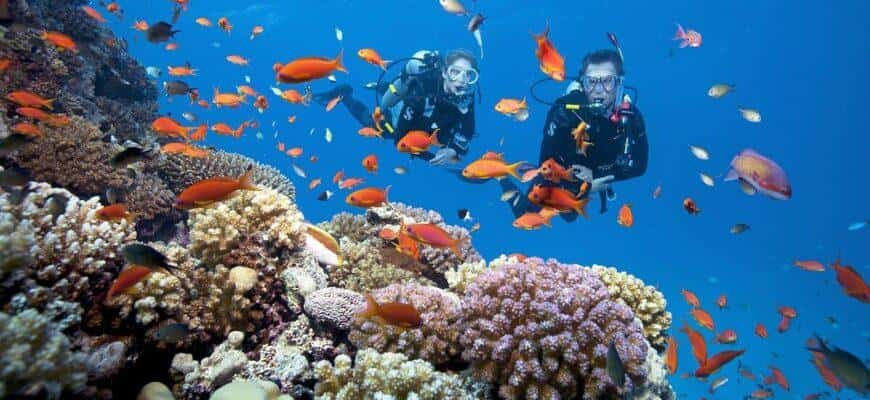 Diving
When popular resorts for diving have been explored, tourists begin to think about visiting other unexplored places. Lately the islands of Oceania, cities in Australia and Indonesia have been attracting attention. The road from Russia to these places is very tiring and expensive. In this case a visit to Vietnam and its resorts will be a good option.
Diving in Vietnam, the best places for diving and other useful information is presented on ToursVietnam.
Features of diving in Vietnam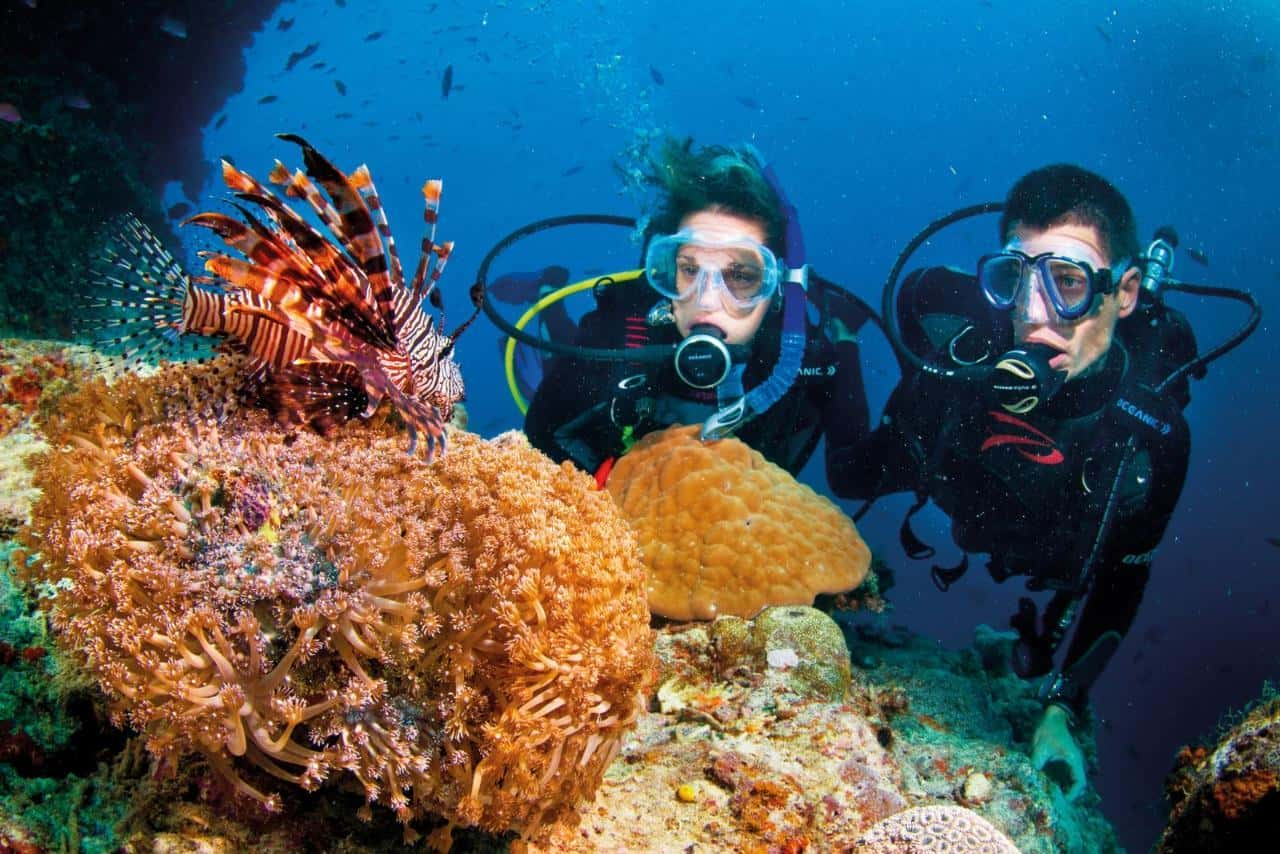 First of all, Vietnam is attractive because of its low-cost holidays. People go here to relax on the beaches, swim in the warm sea, have fun. And do water sports, including diving. The local waters are inhabited by many species of fish, including rare:
sea mice;
devilfish;
seahorses;
turtles and the usual representatives.
The amazing colored corals also attract attention. Some divers may be doubly lucky – they find shells with real pearls on the seabed.
It is because of the favorable climatic conditions in the country, vacationers can see the amazing and diverse flora and fauna.
Another advantage of Vietnam is that at any time of the year here you can find places where you can do scuba diving. The most suitable time for diving in Nha Trang and on the island of Hoi An is spring, summer and first half of fall. But in Phu Quoc, you can dive from November to the end of August.
Many are surprised by the low rates for the classes. In this case, swimming is absolutely safe. On the beaches work a lot of specialized schools. They meet all established standards and safety regulations, have a permit and all necessary equipment. On the most popular beaches you can rent the latest equipment.
Which is the most popular island for diving?
Where to go scuba diving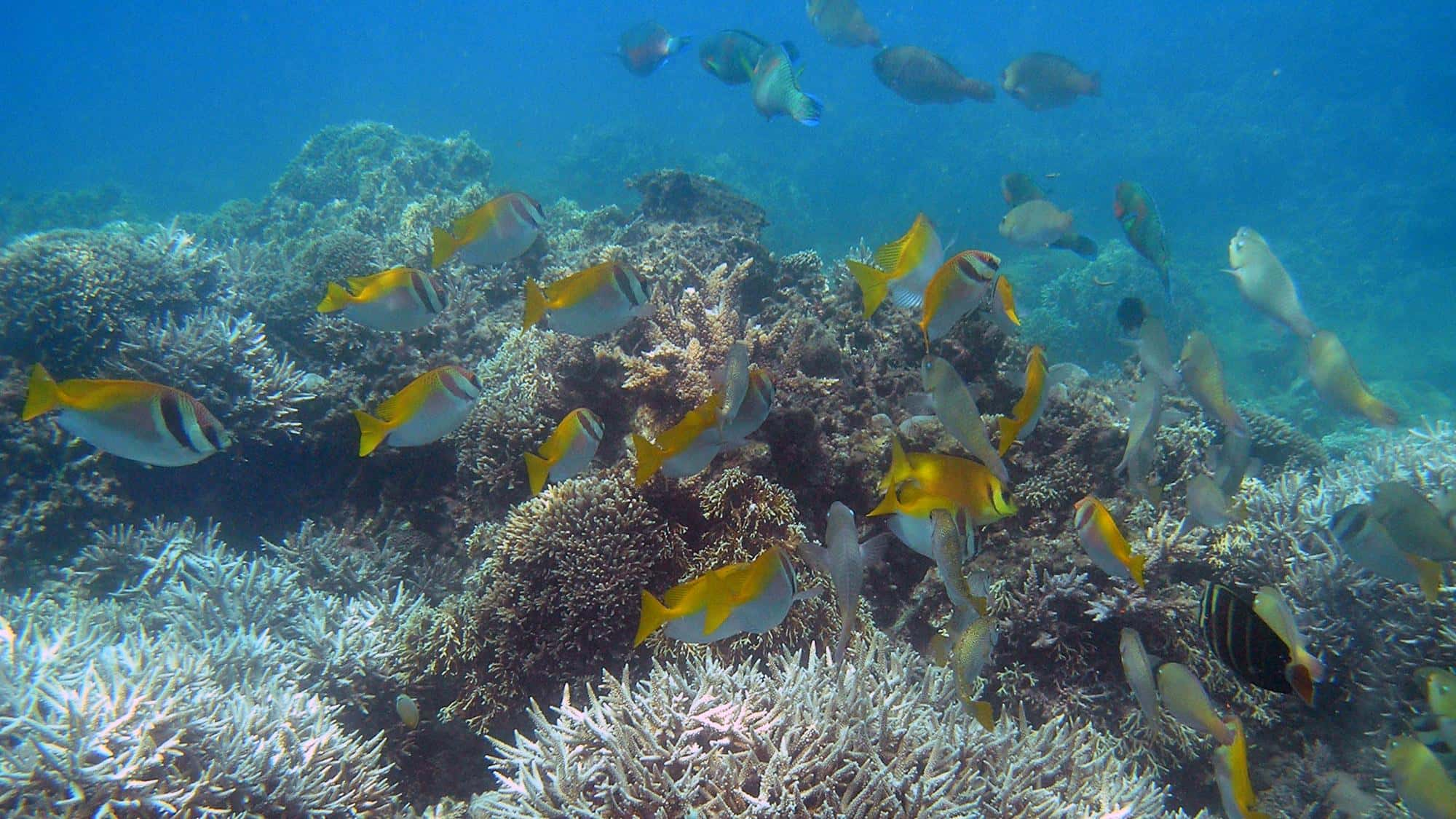 Diving in Vietnamese resorts can be done by both beginners and professionals. Most often choose Nha Trang and its surroundings. It will also be interesting to visit such islands as:
Hong Mun Island is located within the nature park.
The underwater world is represented by over 100 varieties of coral and over 200 species of rare fish. To see them, you need to dive to a relatively great depth.
To dive on your own in this case will need to request a special permit. The easiest option is to sign up for a lesson at a diving school.
Many centers organize trips to the islands in the surrounding area. Such a trip will cost a minimum of $ 50. To visit such places better to choose the morning, because on the beach is not so many people and the sea waves have not yet risen.
On your own trip to the island will cost more, because the visit itself is a fee, about 20,000 VND. At the pier in Nha Trang, you can rent a boat. The fastest way to get to the island is from the southern part of the resort.
Hong Mun attracts the following underwater attractions:
underwater tunnels;
rocks;
reefs, hard corals;
amazing representatives of fauna: sharks, squids, morays, clown fish.
From the coast of Nha Trang you can go to any islands in the vicinity.
Professionals often choose the waters of Nha Phu Bay. They go to these places not only for water activities, but also to explore the surrounding area. Therefore, even ordinary tourists who have no experience in diving can go here.
Those who are just planning to get acquainted with diving, it is better to choose the island of Phu Quoc. In the northern part of the maximum depth near the shore reaches 10 meters. The southern side is of particular interest to professionals. The coastal waters are inhabited by large jellyfish.
Wale Island is in the distance from Nha Trang – 80 kilometers. The way by boat takes about 1.5 hours. Here are the best conditions for diving. In this area there are many well-equipped places for diving. They are available to both experienced divers and beginners. The depth of diving ranges from 10 to 32 meters.
Also on the island is a great place to visit a turtle farm.
Snorkeling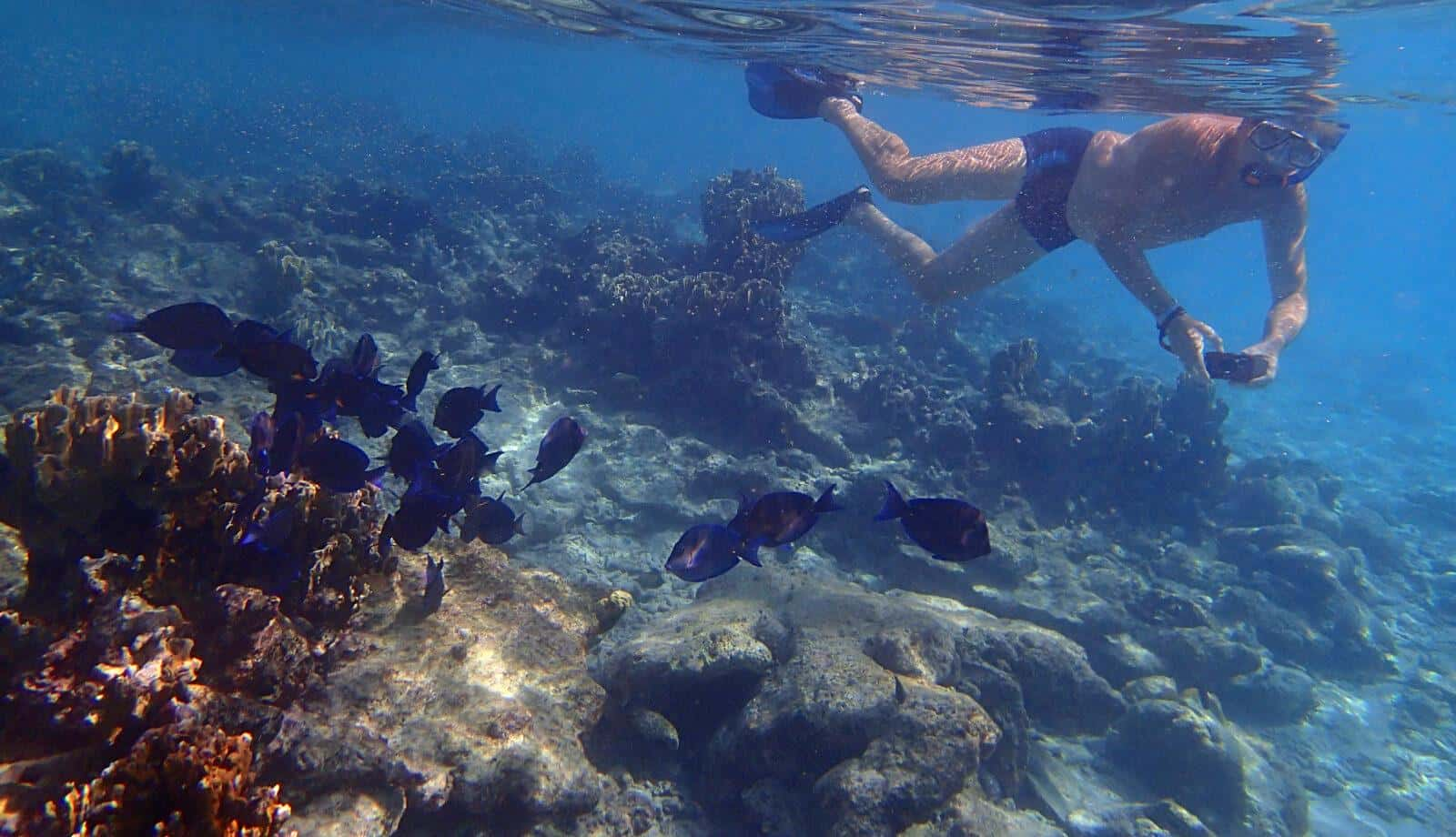 In addition to diving, another water sport is popular among active travelers – snorkeling. For this purpose, vacationers also go to the island of Hon Mun.
The main difference from diving is that in the case of snorkeling is not necessary to dive to great depths. Swimming takes place on the surface of the sea, where you can also get acquainted with the underwater world.
An important condition for this is a calm sea and clear water.
An excursion to the island is also organized for snorkeling.
It will cost 30-40 dollars. In this case, there is no need to have your own equipment, since it is already included in the price. Swimmers are given a mask, flippers and snorkel.
For diving choose the most picturesque places away from the coast.
Most tours include a delicious lunch.
On a side note! If you want to do their own snorkeling, it is better to team up with others wishing to rent a boat together. In this case, all the necessary equipment should have with them.
There are some boat owners who rent masks and snorkels. It is not superfluous to bring sunscreen and a camera for scuba diving.
Share your experiences of diving in Vietnam on ToursVietnam.