Brazil's national cuisine
Carnival in Rio de Janeiro, the FIFA World Cup, the wildlife of the Amazon, the production of quality coffee of elite varieties, lively beaches and a warm climate – that's not all Brazil is famous for. This country in South America will also delight tourists with its exotic cuisine, which is sure to delight any foodie. Let's take a look at the traditional dishes and drinks that are worth tasting when you visit Brazil.
Peculiarities of Latin American cuisine
Recipes of traditional dishes are a combination of culinary preferences of different nationalities – Portuguese, natives, Africans and South American Indians. Each region of the country is distinguished by certain dishes peculiar only to that particular region.
Temperamental Brazilians abundantly add spices and seasonings to prepared foods. The most popular are chili, pepper, coriander, and onion. Brazilians also often use different spicy sauces.
Spices not only give dishes a spicy and unforgettable taste, but also have powerful antimicrobial properties, which means they disinfect the food, which is important in hot climates. That is why spices and seasonings have long been popular in India, Mexico, Spain and other countries.
The most commonly used spices in Brazilian cuisine are:
meat (duck, pork, chicken, beef, chicken);
seafood (crayfish, shrimp, fish, crabs and clams);
legumes;
Cereals (corn and rice);
vegetables (pumpkin, different kinds of cabbage, and tomatoes);
Fruits (mango, papaya, guava, orange, pineapple, banana).

Meat dishes
The most popular dish, which is revered in every corner of Brazil is considered Feijoada or Feijoada. The classic recipe for this hearty stew involves the use of pork shanks and meat trimmings. According to traditional cooking, the beans are soaked and the meat is preserved in advance, so it takes almost a day to prepare the dish. Feijoada is now cooked with different kinds of meat and sausages, black beans or beans, and seasoned with pepper sauce. The stew is served with orange slices, rice, cabbage, or cassava flour breads, called farofa.
Brazilian cuisine is also famous for such meat dishes:
Lombo de porco – pork sirloin fried in olive oil.
Shurasco – slices of elite beef, grilled and served in a spicy tomato sauce.
Chicken legs.
Sarapatel – a dish of meat and by-products (liver heart, sausages and sausages).
For tourists, restaurant chefs, in addition to dishes of the national cuisine also prepare exotic recipes, such as turtle or alligator meat.

Seafood
Gifts of the sea are quite often used in the preparation of various dishes. The most popular are:
Itapoa – a pudding with river crayfish and crab meat, eggs and milk.
Takaka no tukupi – a recipe based on dried shrimp, cassava flour, sauce and jumbo grass, which has an astringent taste.
Frigideira is a dish served in a clay pot. The main ingredients are clams in batter with coconut milk and fried fish of different varieties.
Watapa is a stew whose basic ingredient is dried shrimp meat and fish slices. Onions, garlic, chilies, and tomatoes are sauteed in palm oil with lime juice, seafood, and nut oil.
Moqueca – Brazilian fish soup with coconut milk and vegetables.
Takaka – spicy soup with garlic and dried shrimp.
Karuru – salted shrimp with vegetables and caviar served in a spicy sauce. The highlight of the dish is the kiabu plant.

Desserts
Lovers of sweets will also find interesting recipes. A popular treat in Brazil is Quindim, made from coconut shavings, eggs and sugar. The cupcake is smeared with cream after baking.
Brigadeiros are Latin American candies similar to chocolate truffles. Appetizing balls are made of condensed milk and cocoa powder. A variety of culinary shavings are used for decoration.
Other famous candies in Brazil are Cajusinho with cashew nuts, Bombom de noses with walnuts and Suspiro with egg white.

Appetizers
A variety of fried treats are traditionally served with cold beer. These can be:
Crispy pasteis made of puff pastry with ground beef and cheese filling;
cassava root sticks;
bolinhos salt cod cookies;
coxinha puff pastries made with mashed potatoes and chopped chicken meat. The snacks are garnished with croutons, which gives them a golden hue.

Drinks
Coffee occupies a special place of honor in the non-alcoholic segment. In Brazil, people drink it a lot and often. Preference is given to the sweet drink Caffezzino (espresso), served in small cups. In hot climates it is also possible to quench one's thirst with various cocktails and fruit juices.
Stronger drinks are represented by vodka from the juice of sugar cane – Cachaça. It is also used to make various cocktails, such as Caipirinha with lemon. Rum, beer and various kinds of wine are highly valued in Brazil.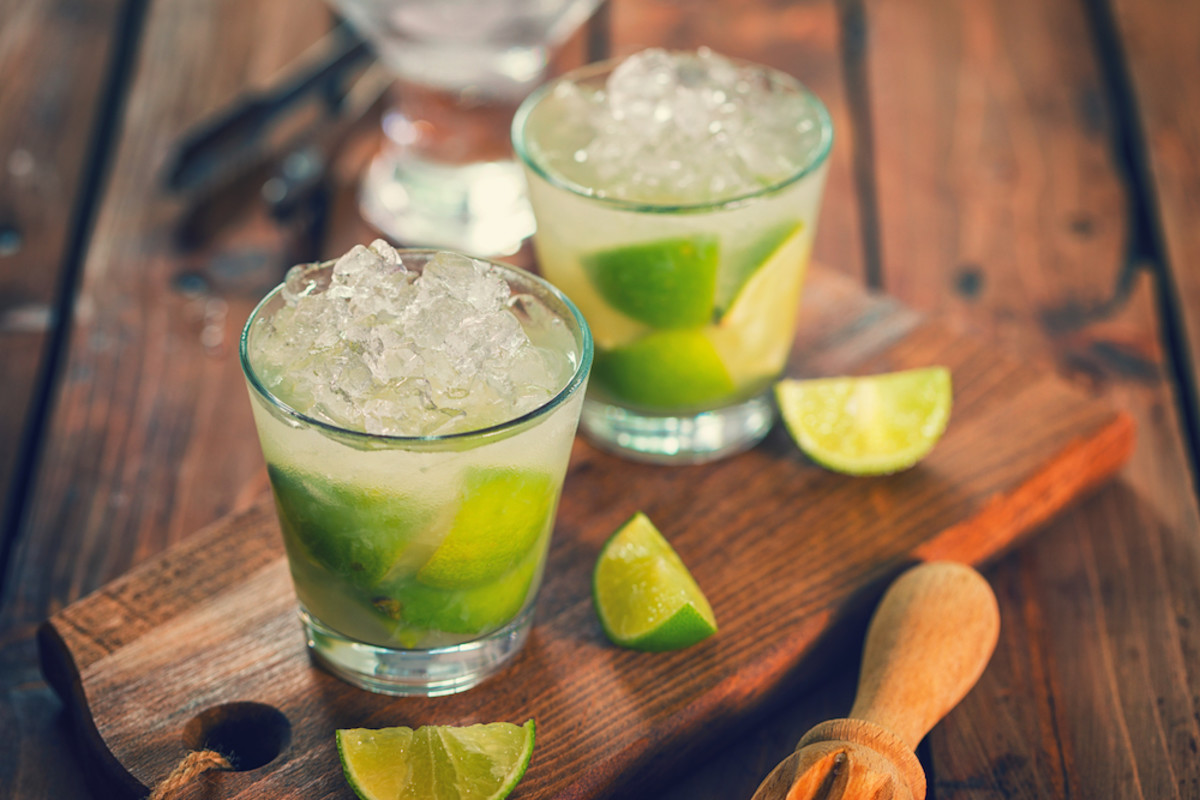 Peculiarities of Brazilian cuisine are explained by the proximity of rivers and seas, a hot climate, which encourages the growth of exotic fruits–cherimoya, assai berries, mango, guarana, etc. Local herbs and spices make Latin American cuisine unique and inimitable.