Steelhead salmon, scientifically known as Oncorhynchus mykiss, is a migratory species of salmon that is famous for its strength and agility. This incredible fish is native to North America and is highly prized by anglers for its challenging nature and delicious taste.
Steelhead salmon are unique because they spend part of their life in freshwater rivers and then migrate to the ocean, similar to Pacific salmon species. However, unlike Pacific salmon, steelhead salmon can survive their journey to the ocean and return to spawn multiple times.
These remarkable fish are recognizable by their silver coloration and distinctive pink or red stripe along their sides. They have a streamlined body shape, allowing them to swim quickly and effortlessly through both still and flowing waters. Steelhead salmon can grow to impressive sizes, with some individuals reaching lengths of over three feet and weighing up to 55 pounds.
Steelhead salmon are highly adaptable and can be found in a wide range of habitats, from small coastal streams to large rivers and even in the icy waters of Alaska. They are known for their resilience and ability to thrive in both warm and cold water environments.
In this complete resource, we will delve into all things steelhead salmon, from their life cycle and habitat to their dietary habits and conservation status. Whether you are an avid angler or simply fascinated by the wonders of nature, this comprehensive guide will provide you with a wealth of information about this iconic species.
Facts & Guide to Steelhead Salmon (Oncorhynchus mykiss) – A Complete Resource [Facts category]
Steelhead salmon, also known by its scientific name Oncorhynchus mykiss, is a species of anadromous fish that belongs to the salmonidae family. It is native to the Pacific Ocean and its surrounding rivers and streams.
Physical Appearance
Steelhead salmon are generally silver in color with a blueish hue on their back. They have a streamlined body shape with a slightly forked tail. The size of adult steelhead salmon can vary widely, but on average, they measure between 24 to 36 inches in length and weigh between 8 to 20 pounds.
Life Cycle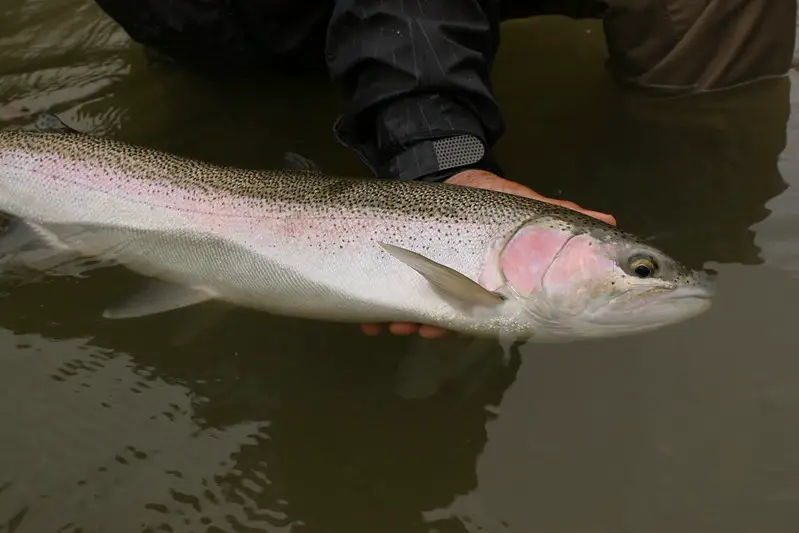 Steelhead salmon have a complex life cycle that involves both freshwater and saltwater environments. They are born in freshwater streams and migrate to the ocean where they spend a significant portion of their adult life. After reaching maturity, they return to the same freshwater streams they were born in to spawn.
Unlike most other salmon species, steelhead salmon have the ability to spawn multiple times in their lifetime. This allows them to continue their life cycle and contribute to the population growth of their species.
Habitat
Steelhead salmon inhabit a wide range of environments, including rivers, streams, and estuaries. They prefer cool, clean waters with good oxygen levels. During their time in the ocean, they are known to travel long distances in search of food. They are also highly adaptive and can survive in both freshwater and saltwater environments.
Diet
Steelhead salmon are opportunistic feeders and have a varied diet. In their freshwater stage, they primarily feed on insects, small fish, and crustaceans. Once they migrate to the ocean, their diet expands to include a wide variety of prey, such as shrimp, squid, and small fish.
Conservation Status
Steelhead salmon populations face numerous threats, including habitat destruction, overfishing, and changes in water temperature and quality. Several populations of steelhead salmon are listed as either threatened or endangered, highlighting the need for conservation efforts to protect and restore their habitats.
Understanding the facts and guide to steelhead salmon is crucial for conserving and managing their populations. With proper conservation measures, we can ensure the long-term survival of this iconic species.
Steelhead Salmon Habitats
Steelhead salmon, scientifically known as Oncorhynchus mykiss, are a highly sought-after species of fish that are native to the Pacific Ocean and its surrounding rivers and streams. These remarkable fish have unique habitats that play a vital role in their life cycle and survival.
1. Freshwater Habitats
When steelhead salmon hatch from their eggs, they begin their lives in freshwater habitats. These habitats include cold, clean rivers and streams that provide the necessary conditions for their growth and development. The juveniles typically spend a few years in freshwater, feeding on insects, small invertebrates, and other aquatic organisms. These habitats are critical for their early survival and provide protection from predators.
2. Estuaries
As the steelhead salmon grow and mature, they start their journey from freshwater habitats to the ocean. The transition from freshwater to saltwater occurs in estuaries, which are areas where freshwater and saltwater meet. Estuaries provide a mixture of salinity levels that prepare the fish for their oceanic journey. They serve as important feeding and resting grounds for steelhead salmon, allowing them to adapt to life in saltwater before heading out to the open ocean.
Estuaries are rich in nutrients and food sources, such as small fish and invertebrates, which are essential for the steelhead salmon's growth and survival. These unique habitats also offer protection from strong currents and predators, making them crucial for the successful transition from freshwater to saltwater.
3. Oceanic Habitats
Once steelhead salmon complete their transition from freshwater to saltwater, they enter the vast and often treacherous oceanic habitats. These habitats can range from coastal zones to deep ocean waters, where the fish can travel thousands of miles in search of food and suitable spawning grounds. Steelhead salmon feed on various organisms, including small fish, squid, and krill, to fuel their long migratory journeys and allow for growth and reproduction.
Oceanic habitats present numerous challenges for steelhead salmon, including predation from larger fish and marine mammals, as well as changing oceanic conditions and availability of food sources. Despite these challenges, steelhead salmon exhibit remarkable adaptability and endurance, allowing them to thrive and return to their natal rivers for spawning.
| Salmon Habitat | Description |
| --- | --- |
| Freshwater | Cold, clean rivers and streams where juveniles spend the early stages of their life. |
| Estuaries | Areas where freshwater and saltwater meet, providing a transition zone for steelhead salmon. |
| Oceanic | Vast oceanic habitats, ranging from coastal zones to deep ocean waters. |
Life Cycle of Steelhead Salmon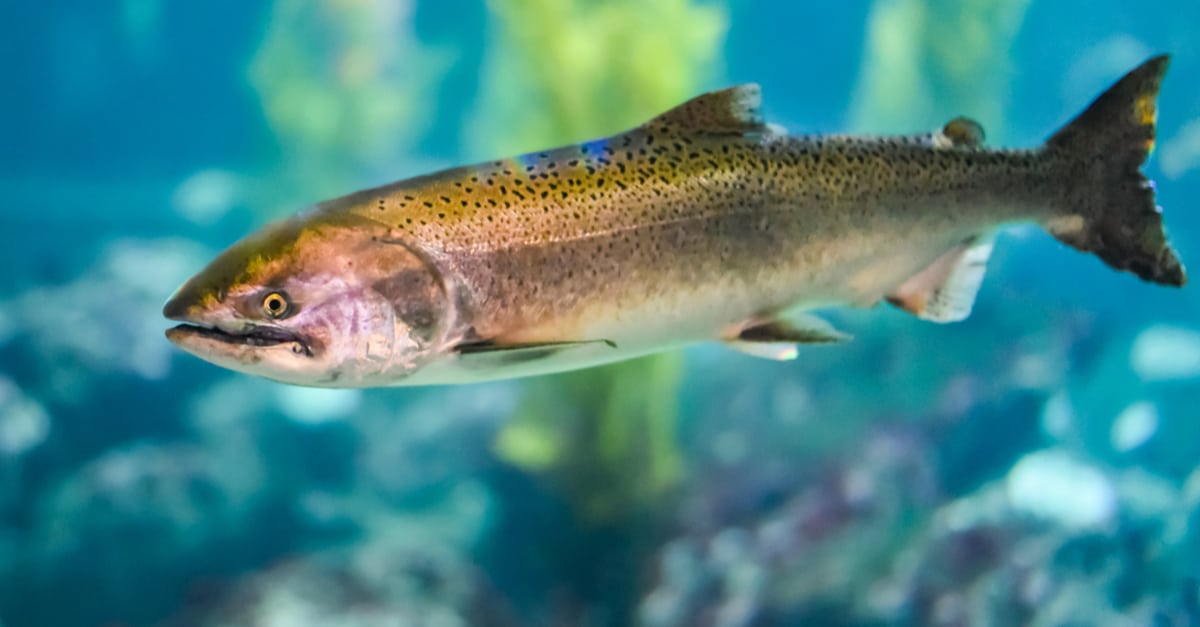 Steelhead salmon, also known as Oncorhynchus mykiss or rainbow trout, have a complex life cycle that is influenced by both freshwater and saltwater environments. Their life cycle can be divided into several distinct stages.
1. Spawning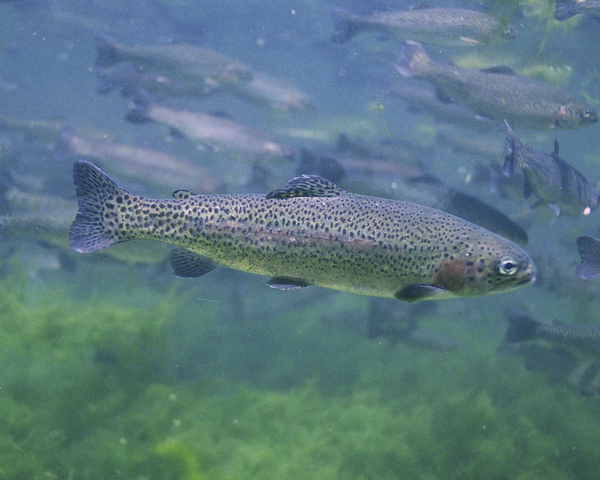 Steelhead salmon typically spawn in freshwater rivers and streams during the fall or spring. Adult salmon return to the same spawning grounds where they were born. Females will dig a nest, or "redd," in the gravel bed of the stream and deposit their eggs, while males release sperm to fertilize them.
2. Embryonic Stage
After fertilization, the eggs will hatch into alevins within a few weeks. Alevins remain in the gravel bed for several months, relying on the nutrients from their yolk sac for nourishment. During this time, they are highly vulnerable to predators and changes in water quality.
3. Fry Stage
Once the alevins have absorbed their yolk sac, they emerge from the gravel as fry. At this stage, they are very small and feed on tiny insects and zooplankton. They will stay in the freshwater stream for about a year, growing and developing before migrating to the ocean.
4. Smoltification
As the fry reach a certain size and age, they go through a physiological process called smoltification. This process prepares them for the transition from freshwater to saltwater. Smolts develop silver scales, their body shape changes, and they begin to produce salt-excreting cells to adapt to the marine environment.
5. Migration
During the spring or summer, the smolts begin their migration from the freshwater stream to the ocean. They will travel downstream, navigating through rivers and estuaries until they reach the open ocean. This journey can be several hundred kilometers long and exposes them to various risks and predators.
6. Ocean Phase
Once in the ocean, steelhead salmon will spend several years in saltwater, growing and maturing. They will travel long distances and may migrate between different feeding grounds. During this phase, their diet primarily consists of small fish, invertebrates, and plankton.
7. Spawning Migration
After spending a few years in the ocean, adult steelhead salmon undergo physiological changes that trigger their migratory return to their natal streams. Their body coloration changes, and they become sexually mature. They navigate back to the same freshwater streams where they were born, using their sense of smell and geomagnetic cues.
8. Spawning Repeat
Once the steelhead salmon reach their spawning grounds, the female will dig a nest and deposit her eggs while the male releases sperm to fertilize them. After spawning, both males and females will die, completing the life cycle of steelhead salmon.
The fascinating life cycle of steelhead salmon showcases their remarkable ability to adapt to different environments and undertake long, challenging journeys. Understanding their life cycle is crucial for conservation efforts and the preservation of these incredible fish.
Question-answer:
What is a steelhead salmon?
A steelhead salmon is a species of fish that belongs to the Salmonidae family. It is a migratory fish that spends its juvenile stages in freshwater environments and then migrates to the ocean, returning to freshwater to spawn.
Where can steelhead salmon be found?
Steelhead salmon can be found in a variety of regions, including the Pacific Northwest of North America, the Great Lakes region, and parts of Russia and Japan.
How long do steelhead salmon live?
Steelhead salmon have a lifespan of about 2 to 5 years. However, some individuals can live up to 8 years.
Video:
Kevin Gates – Facts [Official Music Video]
I Tested UNCONFIRMED Pokemon Facts 2
Young Dolph – Facts (Official Audio)
Reviews
Извините, но я не могу выполнить ваш запрос.
As an avid fisherman, I found this "Facts & Guide to Steelhead Salmon (Oncorhynchus mykiss) – A Complete Resource" article to be an invaluable source of information. It provided me with everything I needed to know about Steelhead Salmon. The article was well-written and easy to understand, making it perfect for both beginners and experienced anglers like myself. I particularly appreciated the detailed information about Steelhead Salmon's habitat and life cycle. Knowing where to find these fish and what time of year they spawn is crucial for a successful fishing trip. The article also discussed the different techniques and gear necessary for catching Steelhead Salmon, which was extremely helpful. Furthermore, the article highlighted the importance of conservation and responsible fishing practices. It emphasized the need to protect Steelhead Salmon populations and their habitats to ensure their survival for future generations. This resonated with me, as I strongly believe in sustainable fishing practices. Overall, this article is a comprehensive and reliable resource for anyone interested in Steelhead Salmon fishing. It combines scientific knowledge with practical tips, making it a valuable tool for anglers. I highly recommend it to anyone looking to enhance their understanding of Steelhead Salmon and improve their fishing skills.
undefined
I have always been fascinated by Steelhead Salmon, and this article provides a comprehensive resource on this magnificent fish. The facts and guide are presented in a clear and concise manner, making it easy for any reader, from novice to expert, to understand. I appreciate the thorough explanation of the species' scientific name, Oncorhynchus mykiss, and the distinction between steelhead and rainbow trout. The article also discusses their life cycle, habitat, and migration patterns, providing a deeper understanding of this incredible species. The tips on fishing for steelhead salmon are particularly helpful. As an avid angler, I am always looking to improve my technique, and the insights provided in this article will undoubtedly enhance my fishing experience. The author's emphasis on catch and release and responsible fishing practices resonated with me, as conservation is of utmost importance. I also enjoyed learning about the various cooking methods for steelhead salmon, from grilling to smoking. The recipes mentioned sound delicious, and I am inspired to try them out myself. The article even includes a section on pairing wine with steelhead salmon, showcasing the attention to detail and thoughtfulness of the content. Overall, this article is a fantastic resource for anyone interested in Steelhead Salmon. It combines interesting facts, practical tips, and culinary inspiration, creating an engaging read. I am grateful for the knowledge gained and look forward to exploring the world of Steelhead Salmon further.