Prague transport
Prague has one of the best transport connections in the world. In one day you will be fully accustomed to Prague and feel comfortable. Going down the subway, at the stands at once take a free map of public transport (available in Russian) and try to carry it with you, it will give confidence and help quickly orientate.
Prices for tickets and passes
Tickets
Adult
Kids
Teen, Student
Seniors
Disabled
Standard 90 minutes
40 CZK
40 CZK
40 CZK
20 Kč
0 Kč
Short 30 minutes
30 CZK
30 CZK
30 CZK
15 Kč
0 Kč
1 day 24 hours
120 CZK
120 CZK
120 CZK
60 CZK
0 Kč
3 days 72 hours
330 CZK
330 CZK
330 CZK
•
0 Kč
Pass
30 days
1000 Kč
•
•
•
•
90 days
2700 CZK
•
•
•
•
1 year
7800 CZK
•
•
•
•
Lítačka
30 days
550 CZK
130 CZK
130 CZK
130 CZK
•
90 days
1480 CZK
360 CZK
360 CZK
360 CZK
•
5 months
2450 CZK
•
•
•
•
1 year
CZK 3650
1280 CZK
1280 CZK
1280 CZK
•
Definitions
| | |
| --- | --- |
| Adult | Persons from 15 to 60 years old. |
| Kids | Children from 0 to 15 years old. From the age of 6 years old a certified document (PID "Dítě 6-15") with name and surname, date of birth and photo is required. |
| Adolescent, student | Child from age 15 to 26. From 15 to 18 years old a certified document (PID "Junior 15-18") with name and surname, date of birth and photo is required. From 18 to 26 years old the discount is applicable with a PID card "Student 18-26 let" and with a document proving student status (accreditation in the Czech Republic or ISIC) |
| Disabled | ZTP and ZTP-P card holders – free of charge. |
| Senor | Persons aged 60 to 65 years. Preferential fare is applicable only with PID card "Senior 60-65 let". |
Special fares and free travel
To be eligible for reduced fares, you must be in the concessionary category. It is issued either electronically (for the Litačka card), or on paper. For issuing a PID card it is necessary to have a passport (birth certificate for children's tickets), 4.5*3.5 photo (no older than one year). Filled out at ticket offices PID at metro stations or in the info centers. Price 60 CZK. Card holder: 10 CZK.
Children aged 6-15 years old get a card for 5 years, teenagers aged 15-18 years old get a card for 3 years, students aged 18-26 years old get a card for 5 years, and pensioners aged 60-65 years old get a card for 5 years.
Pensioners over 65 years old need only provide a passport.
Tickets
For all modes of transport (subway, streetcar, bus, funicular to Petrin Hill, river transport across the Vltava River and trains within Prague) a single ticket without limitation on the number of transfers.
The validity of the ticket is NOT paused. If a ticket is purchased for 30 minutes and stamped, you have exactly 30 minutes to travel on any transport, including transfers.
Single ticket is limited in time (from 30 minutes to 72 hours). The ticket is validated immediately after boarding at the yellow validators (on the rails of the streetcar or bus, at the entrance to the subway). When the ticket is checked by the conductor it must be valid (stamped, the date and time of activation is printed on the ticket).
Passes
Passes are issued either in electronic form (name ticket) or in paper form (portable ticket). Portable ticket is suitable for transfer to other persons.
Are you coming to Prague for a week? Do not hesitate to buy a paper pass for 1000 CZK. In our forum you can buy and sell a valid pass. Save money!
Passes are sold at PID (Pražská integrovaná doprava) and Info Centers, in both airport terminals. It takes 3-5 minutes and you can pay in cash or by bank transfer. On the ticket the dates of the beginning and the end of the validity period are indicated. If you wish the ticket is laminated for a fee of 10 CZK.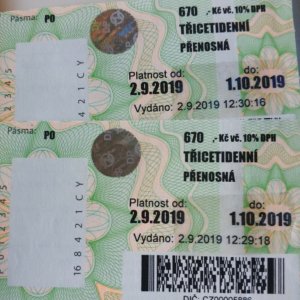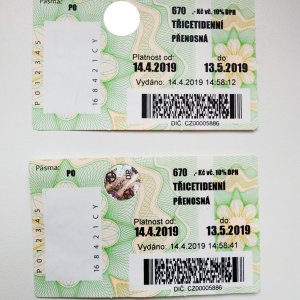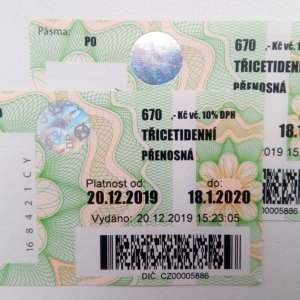 Attention, the pass can be bought only at the following metro stations:
Line A: Nemocnice Motol, Nádraží Veleslavín, Bořislavka, Dejvická, Hradčanská, Můstek, Náměstí Míru, Želivského, Strašnická, Skalka, Depo Hostivař.
Branch B: Zličín, Luka, Hůrka, Smíchovské nádraží, Anděl, Karlovo náměstí, Můstek, Florenc, Palmovka, Vysočanská, Rajská zahrada, Černý Most.
Branch C: Háje, Opatov, Roztyly, Kačerov, Vyšehrad, I. P. Pavlova, Hlavní nádraží, Nádraží Holešovice, Kobylisy, Ládví, Letňany.
Passes for a month are sold in both terminals (from the first terminal to the second 3 minutes on foot). Ticket offices are open daily from 7:00 to 22:00.
Check out ticket offices hours and location here.
SMS ticket
Convenient solution for those, who are in a hurry in Prague and are popular in certain circles. SMS ticket can be bought at any time and in any place with the use of cell phone. Ticket is valid only in Zone P, regular tourist does not go outside its boundaries.
Text message number: 902 06
Text sms
Ticket
Price
DPT42
30 minute ticket
42 CZK
DPT31
90 minute ticket
31 CZK
DPT120
24 hour ticket
120 CZK*
DPT330
72 hour ticket
330 CZK*
*) In order to purchase this ticket you will need a confirmation of your order. Send the word "Ano" to the number 90206 (SMS is charged according to the tariff of the mobile operator).
Important information
The SMS ticket will arrive in approximately two minutes.
If you accidentally delete your ticket, you can get a duplicate by texting DPTA to 90206 (cost 3 kronor).
The ticket is only valid in zone P.
It is not valid on PID trains and in the O zone.
For those who are planning to cheat and buy an sms ticket only when meeting the conductor, it will not work, a fine is guaranteed, don't even try.
Carriage of luggage
The fee for a piece of luggage or a baby carriage without a child is 16 CZK. The validity is the same as for the ticket, but limited to 300 minutes.
The 24-hour tariff for a dog outside the box is free of charge. On AE (Airport Express) the fare for a dog is 30 kroner.
A stroller with a child is free of charge.
Bicycles are free of charge only on the subway, ferries and the cable car to Petøín Hill.
You can transport the following luggage free of charge:

suitcase up to 25x45x70 cm;
flat luggage up to 100x100x5 cm
baby carriages;
a dog with a muzzle;
tubular baggage up to 150 cm in length and 20 cm in diameter
a cage for carrying animals up to 25x45x70 cm;
no more than two pairs of skis, including ski poles, snowboard or wheelie bag.

During all my stay in Prague I've never seen, that a conductor demanded to show the ticket for the suitcase, even if it was bigger.

Fines for fare evasion

Prague has a new system of fines.

It is possible to reduce the fine to 800 CZK by buying an annual name subscriber (1350 CZK). The fine must be paid within 5 days. It is important to have an issued travel card before paying;
The standard penalty for a stowaway is 1,500 kronor. If you pay on the spot (to a conductor) or on the same day – 1000 CZK.
If you forget a valid ticket, the penalty is 50 CZK. When paying the fine, you must present or confirm your ticket (if paying on the Internet).

You can pay the fine at the ticket office.

Address Na Bojišti 5, Praha 2 METRO I. P. Pavlova. OPENING TIME Monday, Tuesday: 10:00-17:30; Wednesday, Thursday: 8:00-18:00; Friday: 8:00-15:00

Or on the DPP website. To pay, you must enter the number from the ZOPPK (issued by the controller). The fare can be paid either in full (reduction of the amount for timely payment will happen automatically when selecting the type of payment), or the system after clicking on the option "Ověřit kupón" (can only be used for electronic fare, does not apply to paper tickets) will automatically assess and possibly reduce the fare surcharge (forgotten coupon during the checkout or reduced fare).

Route Planner

When planning a vacation in Prague, or already there, if you have access to the Internet, you can create a route through a special route planner. In the "From" field enter where you want to go from and in the "To" field where you want to get to. In the "Via" field you can specify an intermediate point. You will be offered a large number of route options, both in terms of time frames, and combining ways of reaching the destination. Clicking on the "Map" you can visually view the proposed route.

Working time

From January 1 to January 31, 2022, public transport operates on a reduced schedule, with longer waiting intervals, even during rush hours.

During rush hours, the subway is 10-30 seconds late and the streetcar is 1-2 minutes late. Buses of the main lines run at 7.5-minute intervals in the morning and 10-minute intervals in the afternoon. Additional bus lines have increased the interval to 15 minutes in the morning hours and up to 20 minutes in the afternoon.

The main reason for the measure is the reduction of passenger traffic. To date, due to the pandemic, 30% fewer people use public transport. The second reason is the decrease in the number of attendants due to quarantine and illness.

The return to a normal schedule of transport is scheduled for Monday, January 31, provided that the pandemic situation improves.

Metro

Daily from 5:00 to 24:00.
Intervals between trains: 2-4 minutes during rush hours, 5-10 minutes at other times.

Tramway

Every day from 5:00 to 24:00
Waiting intervals during rush hours: 8 minutes, 10-20 minutes at all other times. Busy routes #9, 17, and 22 run every 4 minutes during rush hour, and every 5-10 minutes at other times.
Night schedule from 0 a.m. to 5 a.m.
Intervals for the night schedule: 30 minutes, on weekends – 20 minutes.
Central stop for transfers during the night schedule: Lazarská.

The funicular railway

Daily from 9:00 to 23:30
Intervals in summer: 10 minutes, in winter: 15 minutes.

Buses

Every day from 5:00 to 0:30.
Intervals during rush hours: 6-8 minutes (subway, lines with short intervals), at other times 15-30 minutes.
The night schedule is from 0:00 till 4:30.
Intervals for the night schedule: 30 minutes, on weekends – 20 minutes.

Description of transport system in Prague

Fares for public transport in Prague are divided by zones, there are two of them.

Zone P – includes metro, streetcars, buses (routes 100 – 299 and 901-915), cable car to Petrin Hill, ferries and some sections of the railroad.
Zone 0 – includes commuter buses (routes 300 – 750 and 951-960) and selected portions of the railroad.

The most popular means of transportation in Prague are the subway and streetcars. The subway is convenient if you are going to the other end of town, as well as if the subway station is near your final destination. Streetcars run on the surface and do not lose their popularity, because the stops are located logically in relation to the area, sometimes the streetcar can ride directly to the entrance to the mall or any point of interest.

Buses are also popular, because the tramway tracks are not laid throughout Prague, and to get to remote areas, the best way to travel than the bus, you can not find. It is also convenient to travel by bus outside the city from the bus station.

Cab is a convenient option for fast travel, especially at night, when public transport moves at long intervals.

Do you want to see the embankments of Prague? Then do not miss the opportunity to take river transport.

Another way to get around is the funicular on Petřín Hill. With its help you can easily get to the top of the hill.

If you like to travel by train, then Prague has a posh train station, from which the trains run in different directions. Also we suggest you get acquainted with popular directions to/from Prague. In numerous articles you can learn how to get from Europe to Prague and from Prague to EU countries. Also available information on destination from Russian cities.

At each subway station you will find this free transport scheme.