VeloFinland with children. Along the shores of Saimaa: description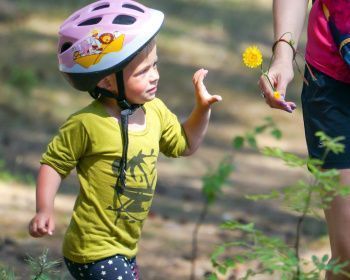 A bicycle hike is a great vacation choice for children with parents on the move! During the hike you will:
Ride through one of the most comfortable and well-appointed countries in Europe;
breathe the cleanest air of Suomi;
enjoy a cycling trip on the bicycle paths of your dreams;
admire unforgettable northern sunsets;
Have fun with games, competitions, and contests;
learn to cook real camping food;
feel like explorers and treasure hunters;
learn a lot about your hidden abilities;
become stronger, healthier and more confident;
take your most vivid impressions with you – in your memory and photos;
look at your children in a new way – so strong, enduring and enthusiastically happy!
Finland has a lot of good and wonderful things: tranquility and cleanliness, excellent ecology and original northern cooking, home of the local Santa Claus (Joelupukki) in Lapland and Scandinavian steam sauna. But special mention should be made of the unique Finnish nature.
Of course, everyone has heard that Finland is the country of a thousand lakes. But it is not true! In fact, there are almost 190 000 lakes! These are the "blue eyes of Finland," making the nature of the country unique and enchanting. The most extensive of the lakes is called Saima and is the 4th largest in the list of the largest freshwater lakes in Europe. It would be more accurate to say that it is a lake system, which has an elegantly rugged coastline with many islands and peninsulas, with rocky and sandy shores and impossibly blue water.
Finns with all their souls love the outdoors – fortunately there are many opportunities – and from early childhood teach their children a healthy way of life. The bicycle is a means of transport, just like public transport. It is much more than just two wheels. It's a way of life. It's a habit. It is a national love. The infrastructure matches! The bicycle paths here are just perfect, the whole country is dotted with numerous bicycle routes – thoughtful and carefully marked.
We suggest you enjoy such a close and cozy Europe!
Route features. We'll drive 25-40 km a day. Most of the route is paved with asphalt, but there are also unpaved roads of minor length.
Backpacking weight. Organized car support: personal belongings of participants, as well as public equipment and food are transported by car. Cyclists ride light.
Conditions and comfort. Overnight accommodations at the camping sites and forest parking places – laavu.
food and water. It's like a camping trip. Cooking all in turn on a system of duty.
Communication. Cell phone service on the route is not everywhere. Electricity and charging for electronic devices will be available at the campsites.
Visa and documents. Necessary documents for participation in the hike: a passport with a valid Schengen visa for parents and children. "Adventure Club" on request provides documents confirming the trip for the Finnish Consulate. The coordinator of the trip will advise on obtaining a visa.
Participation of children. It is possible to participate with children from 1 year old (in bike seats). Children aged 5-6 years and older can ride their own bikes. But note that this is a family hike of medium difficulty, it is recommended for hikers with hiking and biking experience.
Did you know that.
Finland and Russia have the longest joint border in Europe – 1271,8 km. Most of it passes through forests of Karelia.
Any Finnish noun can have more than 200 different forms – thanks to numerous cases and suffixes.
The longest word in the Finnish language Lentokonesuihkuturbiinimoottoriapumekaanikkoaliupseerioppilas, "apprentice junior mechanical officer", has 61 letters.
The Finnish term Jokamiehen oikeus translates as "Everyone's right to nature" and means that in Finland you are free to walk in nature wherever you want. A resident of Russia would say, "Well, what's the big deal?", but a European would be surprised by such freedom and opportunities.
Helsinki has the cleanest tap water of any major city in the world, and the cleanest air in Europe "lives" in the village of Kilpisjärvi in northern Lapland.
The game Angry Birds is a Finnish invention. Here were born and good Moomin-trolls, invented by the writer Tuve Jansson.
Lake Saimaa is home to the Saimaa ringed seal, a species of freshwater seal. There are only 310 individuals of this animal left in the world.
Among the inventions of the Finns are extravagant competitions of carrying wives, throwing cell phones and playing air guitar, where contestants pretend to play the guitar, in fact, they have nothing in their hands.
Finland is ranked 7th on the Good Country Index, a system for assessing each country's contribution to the common good of humanity. It takes into account the contribution to science, technology, culture, peace, security, climate and prosperity.
There is still a Lenin Museum in Tampere.
On October 13, Finns celebrate Loser's Day. On this day it is customary to share the stories of one's failures and learn from them.
Finland has more bands playing heavy metal than any country in the world. There are 54 "metal" bands for every 100,000 people here.
In Finland you have to keep your headlights on at all times, and traffic fines here are directly related to the offender's annual income. The largest fine issued was 116,000 euros.
In total there are about 3 million saunas in Finland – not bad for 5.5 million people!
The program by day
Day 1
St. Petersburg – Brusnichnoye (170 km by bus) Brusnichnoye – Nuijamaa – Saimaa Canal – Lappenranta (33 km by bicycle).
Our day will start early. We meet, load things with bicycles and rush to the Russian-Finnish border.
After crossing it at the Brusnichno-Nuijamaa border crossing, we finally turn into the vehicles ourselves and ride along the Saimaa Canal.
Did you know that this is Russia's only artificial waterway linking our country with another country?
Opened in 1856, it connected Lake Saimaa in Finland and the Bay of Vyborg in Russia. By the way, cruise ships still sail along the Saimaa Canal.
Closer to the evening, we arrive at the campsite. Setting up our life, for the first time we put up our tents, and surely we get acquainted!
Overnight stay at the camping.
Day 2
Lappeenranta – Imatra (42 km by bicycle).
Lappeenranta is a quiet and nice Finnish town with population of 72 000. However, in Finland it is the 13th largest city. The scale is quite different.
It's peaceful, quiet, and the winds are cheerful and bouncy. You get the feeling that you are in a seaside town. But no! We are on the shore of Lake Saimaa, where we will travel throughout this bright and eventful week!
Today we will see another Finnish city, Imatra, famous for its rocky-pine scenery.
We arrive in Imatra in the middle of the day, and in the afternoon we go for a walk to Imatrankoski Canyon, which sometimes turns into a real Finnish Niagara. We walk through the country's oldest nature reserve, Kruunununpuisto, and get in touch with controversial Scandinavian sculpture – we see monuments to a turbine and power lines.
By the way, Imatra, like Priozersk, is located on the Vuoksa River. It turns out that its length is 143 km, and it runs through two countries.
Overnight stay at the camping.
Day 3
Imatra – Mulluniemi (23 km by bicycle).
Today we say goodbye to the city life and following the rugged coast of Saimaa, we slowly find ourselves in the Finnish countryside.
However, even the province is quite comfortable here: the asphalt road runs beneath our feet, and the roadside landscapes are strikingly well-maintained and clean.
Separate impression of the day will be an overnight stay in laavu. In Finnish laavu means "awning". It is a canopy or a small building, equipped in a sparsely populated area for the rest of travelers. For us, friends!
Overnight in laavu.
Day 4
Mulluniemi – Utula (33 km by bicycle).
Again the obedient kilometers are laid under the wheels, again our brave and friendly team is on the way.
On the way instructor says that the territory of Finland more than a hundred years was part of the Russian Empire, and in 1812 Alexander I by his decree transferred the capital from the city of Abo (now Turku) in Helsingfors, which we know under the name. right, Helsinki!
By the way, the name "Finland" itself comes from the Swedish Finland, "land of the hunters."
Overnight stay in laav.
Day 5
Today is an unusual day: today we have a day trip! No need to pack the tent and load things in the car, hurray!
But we take our time to explore the area around us and have some fun on the beach.
We'll also have plenty of time for games, quests, and quiet, unhurried conversation. We will gain strength for new challenges, adventures, and roads!
Overnight stay in laav.
Day 6
Utula – Rastinniemi (20 km by bicycle)
Today we will get acquainted with the famous Finnish ferries. In this region of the lake, locals use them as we do buses in our everyday city life.
After overcoming the water barrier, we are on a real island, where we will robo-boobing at heart! The more so, as the Finnish nature always pleases us with forest and lake landscapes, and the world turns around with bright and colorful summer wheel.
Overnight stay in laav.
Day 7
Rastinniemi – Lappeenranta (26 km by bicycle)
In the morning we cross the island and drive to Lappeenranta, which we already know.
The road winds again between islands and peninsulas, criss-crossing Lake Saimaa. It's simply impossible to forget that we are in the country of a thousand lakes: the water sparkles here and there, constantly adorning our way.
We again spend the night in the camping site. Tired of a long and active day, the kids quickly fall asleep – this is parental happiness!
Overnight stay at the camping.
Day 8
Lappeenranta – Saimaa Canal – Nuijamaa – Brusnichnoye (33 km by bicycle) Brusnichnoye – Saint Petersburg (170 km by bus).
Another happy cycling day, asphalted Finnish roads, well-trained legs, and good company ensure that the time on the road will fly by without a trace and with pleasure!
The last kilometers along the road that's already familiar to us – and here we are already at the border. After days spent in woods it's so strange to come back to civilization, to people. To cars, buses and stores. To the friends and relatives back home. To everything familiar and, in fact, also very much loved. But to feel this love and affection, sometimes we need to be away.
We say goodbye to cozy Finnish paths and our settled camping life. But we don't want to say goodbye to our friends: we will meet them in new tours and on new unexplored paths!
Biking in Finland: very cheap and very easy
What is biking in Finland? In fact – it is very simple, clear and economical tourism, because bicycle paths in Finland are available in almost all cities, and where they do not, cyclists feel quite safe.
Almost all bicycle tourists have to make important choices at the beginning of the trip. It concerns the border crossing and travel to Finland. There are several options.
By train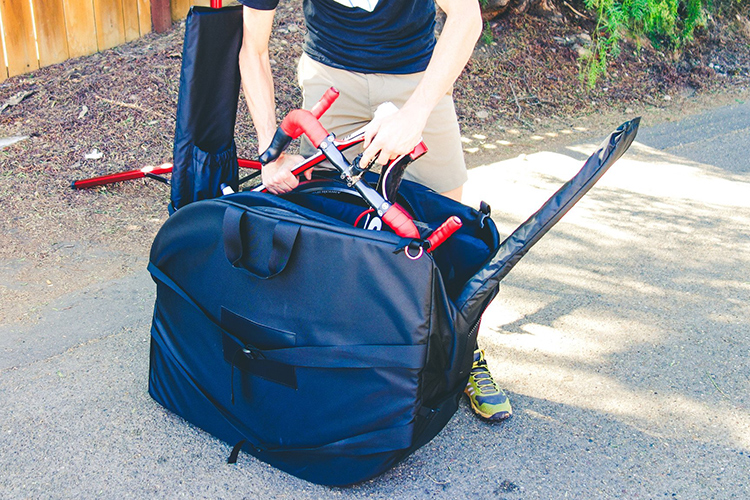 Photo: shopify.com
You can take a train that will take you somewhere in the middle of nowhere. If you take the Allegro, for example, and you have your two-wheeled friend with you, you won't have to pay extra for its transportation. But you'll have to pack it up and pack it away! You can pack it in cling film, or in an empty bike box you can easily pick up in any store. The best option is a transport case, it is sold in online stores and is inexpensive. You will have to twist the front wheel and pedals. It is also better to twist the attachments (brakes, handlebars, etc.) and attach them to the frame with tape or slings. It is important that the size of the assembled bike does not exceed these dimensions: 100 x 60 x 40 cm. Not every bike can be so compact.
Alas, packaging is a matter of principle. Otherwise they wouldn't let you in the carriage. But if allowed, your journey becomes in many ways as comfortable as possible. For example, passing the border on the train – it is a free procedure during which you approach the border guards and check documents. You don't even have to get up.
Bus, transfer, plane or ferry?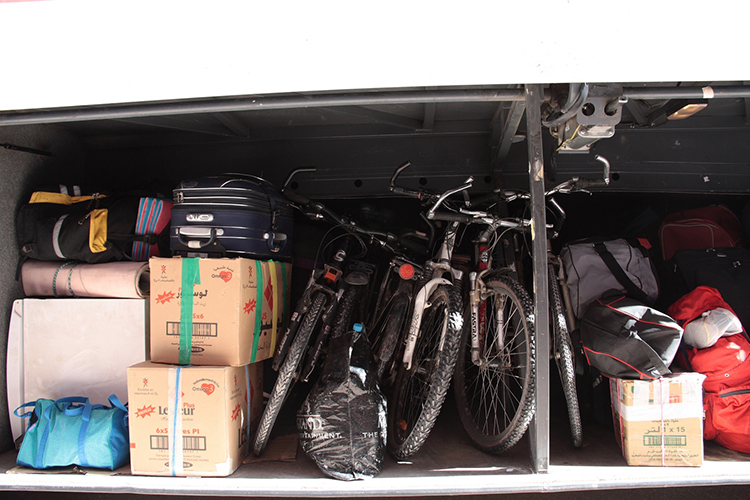 Photo: velotrips.ru
You may also be allowed on the bus with your bike. But the conditions will be the same – the packaging and dimensions. A lot depends on how you agree. Sometimes drivers allow you to put the bike in the luggage compartment without removing the wheels, provided that they are securely covered and do not stain the bags of passengers.
If you fly by plane, you have to pay for the luggage. Again, the bicycle must be carefully packed. It is possible that they would take an additional fee. It all depends on the airline: some carriers love to charge extra centimeters and kilos.
Another way is to transfer to Finland with the condition that you carry your bicycle. Some carriers pack the bike themselves, and the price of the fare does not increase. The cost of such transfers varies in a wide range, but you can get to Lappeenranta or Imatra for a thousand and a half anyway.
Of course, you can also take a ferry with a bicycle – such service is provided by all companies. But you should take into account that you will have to pay for bicycle transportation. For example, for a 4-day cruise by MOBY SPL in May, the service will cost 16 euros.
Car + bicycle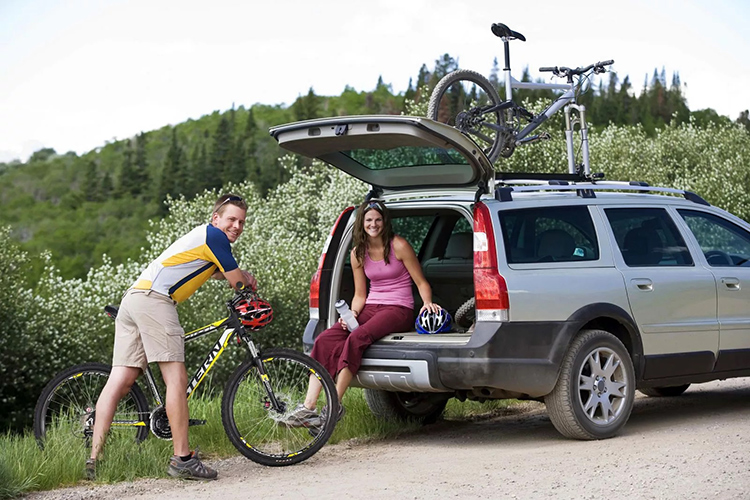 Photo: veloplus.ua
Some people travel around Finland in their car and with bicycles on the roof. The idea is simple and clear. With it you kill two, or rather three birds with one stone: get a lot of fun, ride bicycles where you want, because you get there on your own, and do not spend money on transportation services carriers – only on gasoline.
There is an option in which you get to the border by car with bicycles mounted on the roof, leave the car in the parking lot, sit on the two-wheeled friend and go on a trip. In practice, not many people do that. There are too many disadvantages and additional costs.
The option where you come to Finland and rent bicycles there for a long trip of several days is even more costly.
Drove to the border and switched to a bicycle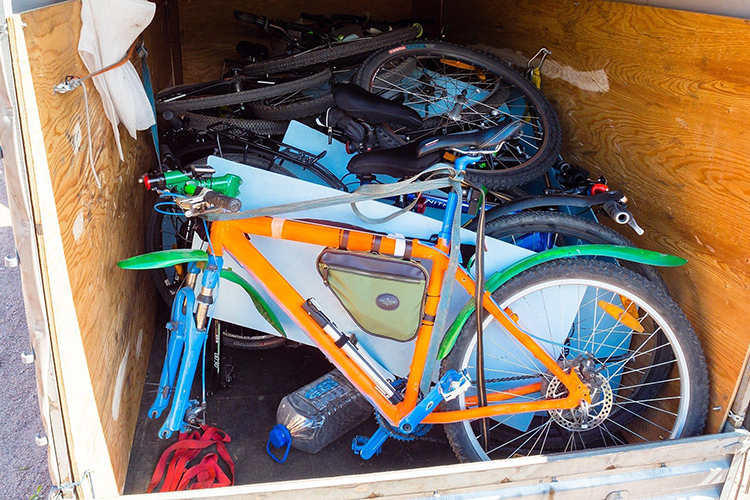 Photo: fresh-trip.ru
It is clear that pedaling from St. Petersburg to the border is a pleasure, to put it mildly, questionable. Therefore, even the most athletic travelers should just get to Finland, and there get out of the bus or out of the car, pack a bike, sit on it and head for the border crossing. The idea is quite sensible and easily doable, thankfully there are many carriers who provide such services.
But there is one nuance that should be taken into account if you decided to get on a bike before the passport control. The fact that near the Russian border is not everywhere you can get off the bus. Where exactly is the best place to do it? Here you need to negotiate with the driver. First, they know better if they take cyclists regularly, and secondly, no matter how much you mark on the map to the right place, you can easily miss, and thirdly, the road situation may be different and then without the waving of the driver can not do without it.
At the border
When you unload and collect the bike, the order of your actions does not involve complex manipulations: you just need to follow the bus lane, keeping to the edge. Under no circumstances should you enter the car, car or truck lane. If the light is red, you stand and wait – a bicycle does not give you the right to pass on red.
At the border, everything is very simple: you have to show your documents, and the bike itself in the declaration. Finnish border guards usually have no questions to cyclists, but there are two rules that you have to follow in any case – helmet and brakes. You simply can't enter Finland on a bicycle without them.
Rules of cycling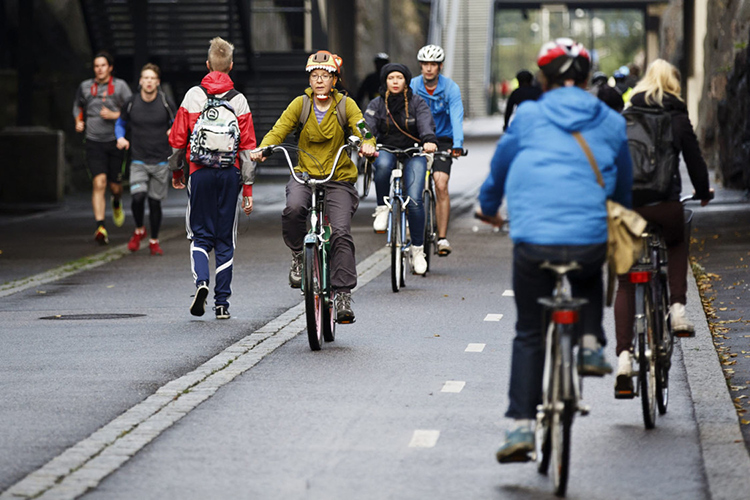 Photo: kidskunst.info
Before you embark on a cycling trip, remember one important rule – riding outside cities and not on bicycle paths must be done with a helmet on your head! No exceptions are allowed. In Finland, helmets cost about the same as in Russia (from 30 euros and above).
Otherwise it's pretty simple. Bicycle rules in Finland are not particularly complicated. If you ride on a bicycle lane, you can not enter the pedestrian area, if on the side of the road – keep to the curb. Only children under the age of 12 can ride on sidewalks in Finland.
Signs for cars must be taken into account. If a "brick" hangs, then it hangs for cyclists, too. Watch your turns. No need to rush and cut corners – Finnish cameras and police officers will not forgive you for that.
Driving on the highways is prohibited without an escort car and special permits. Driving on small roads again requires keeping to the edge.
You can only carry one passenger, and he must sit in a specially equipped seat. If you go with a child, keep this in mind.
Routes in Finland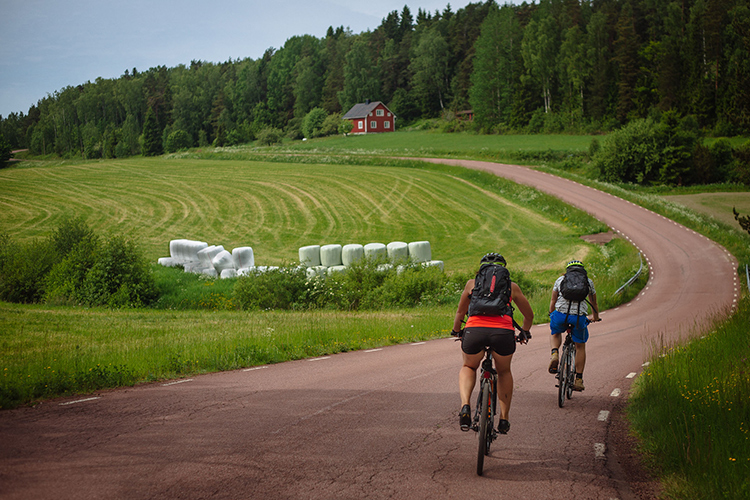 Photo: engineerontour.com
As for routes, there are a huge number of them. It's really difficult to choose. You can even not choose at all and give in to improvisation. This kind of unintentional biking has become popular among Russians recently.
"Last summer I decided to ride at random. Didn't regret one bit. Started in Savonlinna, and the next city I chose spontaneously. By late afternoon I had reached Mikkeli. The road was like a fairy tale! – Yuri, an experienced biking tourer from St. Petersburg, shares his impressions. – This year I want to ride somewhere to the south, to Hamina, from Lappeenranta. And then, closer to June, I'll go to Åland.
The Aland Islands are especially loved by cyclists. There bicycle routes are designed in advance and there are a lot of them. Special signposts orient cyclists, and the roads are ideal for cycling. And the biggest reward is the views. They are stunning in Åland!
For the sake of vivid emotions it is not necessary to plunge into the chaotic traffic on the Finnish roads. You can just type in Google points of interest and move according to the tips of Google Maps. The choice of routes is again enormous. Western Finland, Eastern Finland, national parks, Lapland, islands – everything appeals. You can also just go for a ride in the cities. Thankfully there are bicycle paths everywhere in Finland. For example, Tampere cycling is a succession of alternating cityscapes that contain industrial architecture, picturesque embankments and wonderful parks. In a couple of hours you can see the city's main sights and stroll along the lakes. Bike tours through Helsinki, Turku, Lahti, Kotka and Hamina are also a delight.
Bicycle tours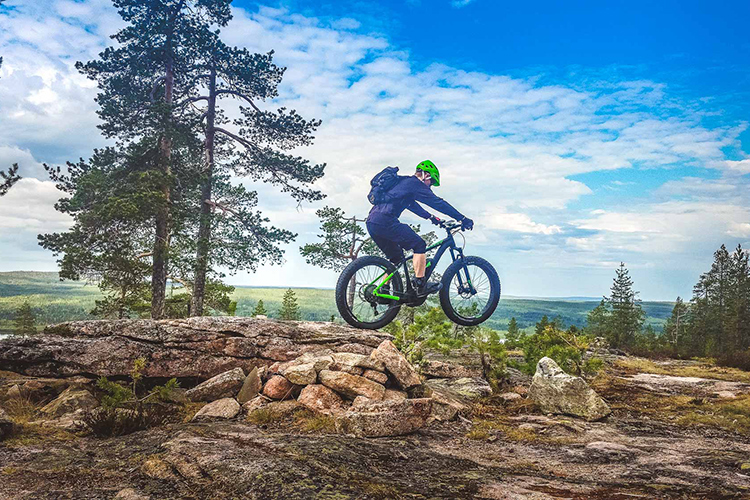 Photo: rolloutdoors.com
If you don't want to choose for yourself, you can buy a bike tour. This option is suitable for those who do not want to bring their own bicycle. The cost may seem high, but you are not tied to a vehicle.
There are a lot of bicycle tours, they are different and the routes are usually well thought out. For example, there are cycling tours in Lapland, which can be found in detail here. You are not likely to be able to organize such a trip by yourself. Summer Lapland cycling tours cost from 83 euros. There are variants with electric bikes at a price of 130 euros per person. It should be understood that in this case you pay not only for the exclusive route, but also for renting a bike that rides itself.
A lot of bicycle tours around Helsinki are sold. Their prices range from 15 euros to 100 euros and above, some are very popular. For example, tours are organized under the brand name HELtours. Ride a bike in the Finnish capital is very nice, but for such a walk will have to pay 70 euros. If you just rent a bike, read in advance about this wonderful city, and then choose your route, it will be much cheaper.